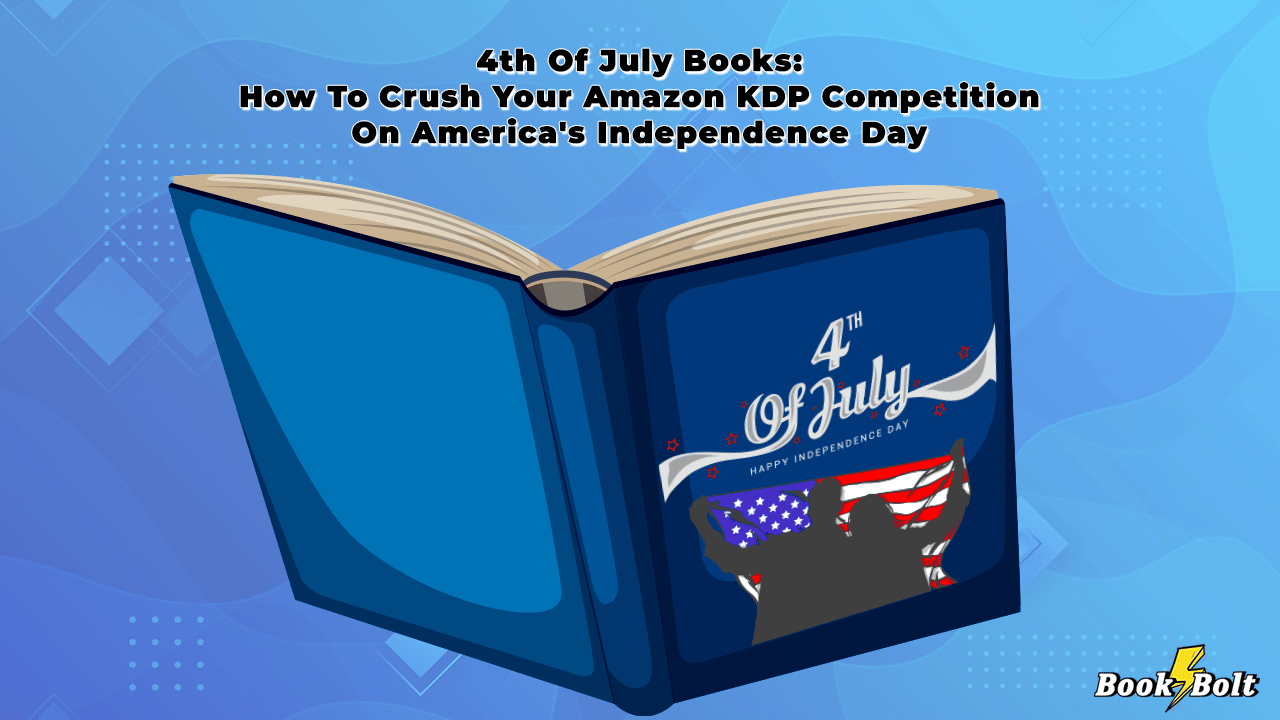 Designing a rewarding Seller strategy for no- and low-content books on Amazon KDP consists of different steps. Perhaps one of the most important ones is selecting a profitable and attractive niche. Why? Because niching down helps you separate yourself from the rest, communicate with a specific target audience, and maintain a competitive advantage.
One of the most fruitful niches on Amazon KDP is the holiday niche. And one of the most important days for Americans, the 4th of July, is just around the corner. As a Seller, this is a chance for you to diversify your portfolio and grow your sales volume.
But how popular is this holiday niche and what can you do to remain competitive in the market?
The Size Of The 4th Of July Market For No- And Low-Content Books On Amazon KDP
Size matters when it comes to choosing a niche market. Your ability to thrive will depend on how many competitors you're facing. In the case of the 4th of July niche on Amazon KDP, it's safe to say that the competition is not as aggressive as in other holiday-related niches. In fact, it's rather low. With just over 100 4th of July listings, it's perfectly achievable to stay ahead of the pack.
Apart from the number of no- and low-content book listings using the main keyword, we also explored search volume. The monthly search volume of a keyword reveals how popular it is among buyers. It gives a numerical representation of how many users have searched for the keyword on a monthly basis. We used Book Bolt to do some digging and analyze not only "4th of July", but other related keywords. Here is what we discovered:
4th July – 228 803
4th of July – 272 612
Independence day – 16 666
America – 211 753
Patriot – 15 283
Patriotic – 22 850
Patriots – 19 095
Fourth July – 27 853
Fourth of July – 33 456

In other words, these keywords are highly searched for and certainly of interest to users. The best part is that the software also informed us that all of these keywords have low competition.
What does this mean? That few other Sellers are using them in their listings. This empowers you to quickly gain a competitive edge and boost the visibility of your products on Amazon KDP.
Winning Strategies To Employ As A Seller
When looking into the Independence Day niche, we observed several recurring strategies used by the bestsellers in the space.
Keywords
Top-performing 4th of July low-content books are fully optimized for popular and rewarding keywords. Some of the most often used ones include:
4th of July
Fourth of July
America
Proud to be American
Patriotic
American flag
USA
Eagle
USA flag
Firework
Independence Day
There are also a range of different related keywords for each that could potentially be used to optimize even further. However, the keywords from the list are present in the majority of the bestselling low-content books from the niche.
Product type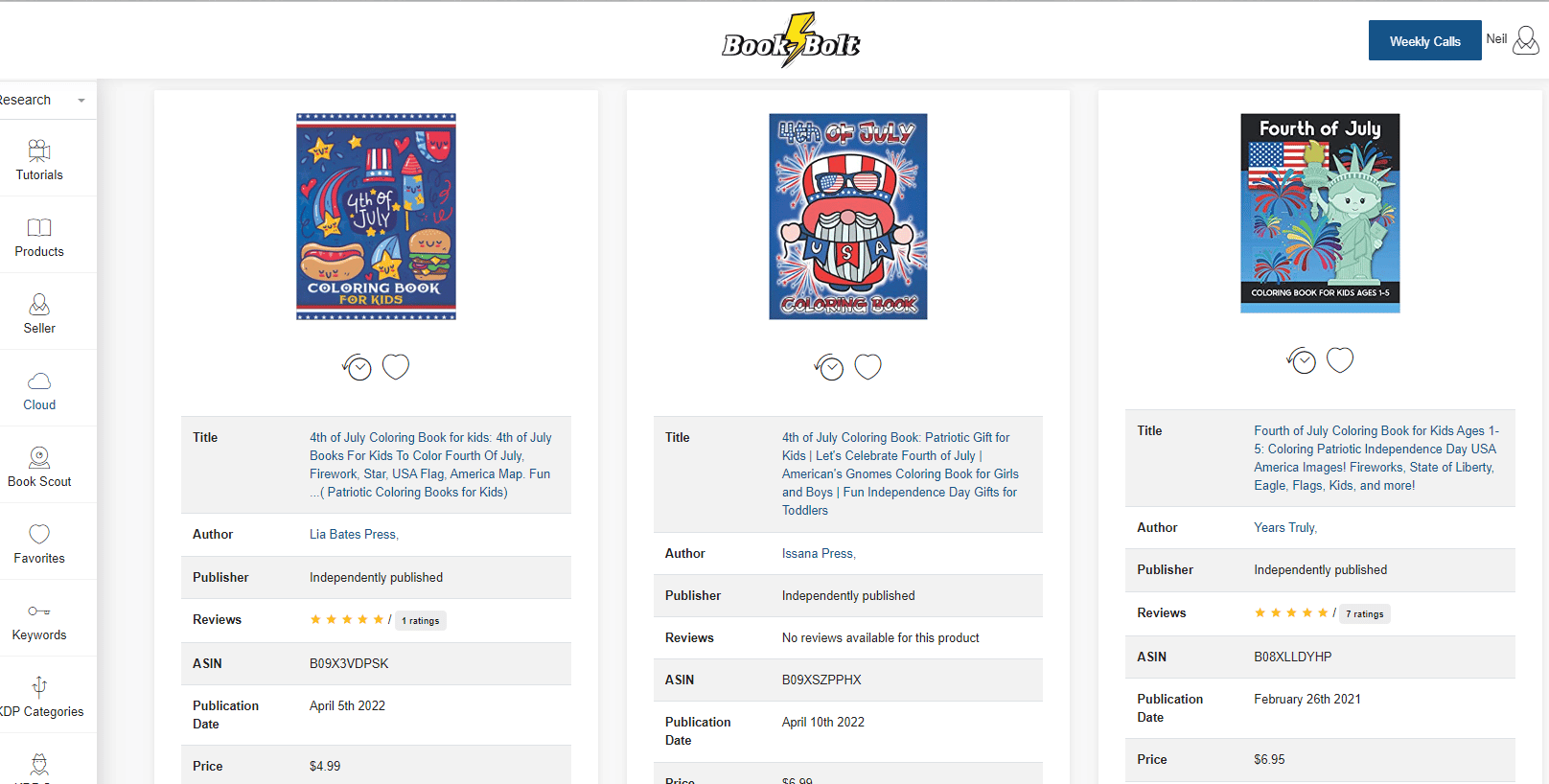 Without a doubt, coloring books dominate the 4th of July theme. And this is only natural. Although there are a ton of no- and low-content book categories, only coloring books make the most sense for such a holiday.
They offer a multitude of coloring pages with different holiday-related images, shapes, and figures. Some of the most popular coloring ideas include the American flag, eagles, the American map, fireworks, and more.
Pricing strategies

Pricing is perhaps one of the most essential elements of your Seller strategy on Amazon KDP. By understanding how your competitors are pricing their products, you can get an idea of the scope you can comfortably swim in.
We used Book Bolt to see what the top-performing listings looked like in terms of price. The average price of 4th of July listings is $7.75. The lowest price is $4.99, while the highest price is $25.99. Overall, the majority of listings were priced between $5 and $7. Considering the discoveries from our research, this is the golden spot for Sellers in the niche.
Target audience
When looking at the top-performing listings, we were able to identify one dominant target audience – children. Children's coloring books with a 4th of July theme are perhaps the most fruitful combination in the niche.
Unsurprisingly, most listings use audience-related keywords like "kids", "children", "boys", and "girls" in their titles and descriptions. This represents a niche target audience for a niche product.
Top-Performing Independence Day Listings And Sellers
You now have insights into some of the most effective strategies used to dominate the 4th of July niche in low-content books. Next, let's look at some of the actual bestsellers.
The first top-performer that it's worth exploring is the "4th of July Coloring Book for kids: 4th of July Books For Kids To Color Fourth Of July, Firework, Star, USA Flag, America Map. Fun …( Patriotic Coloring Books for Kids)". The product is priced at $4.99. In other words, it's one of the lowest-priced listings from the niche. It currently has a BSR of 123,022, with an estimated monthly sales number of 217. The design of the product includes the American flag colors. It's targeted at kids and is from the coloring book category. The listing also uses niche-based keywords like "4th of July", "fourth of July", "firework", "USA flag", "America map", and "patriotic".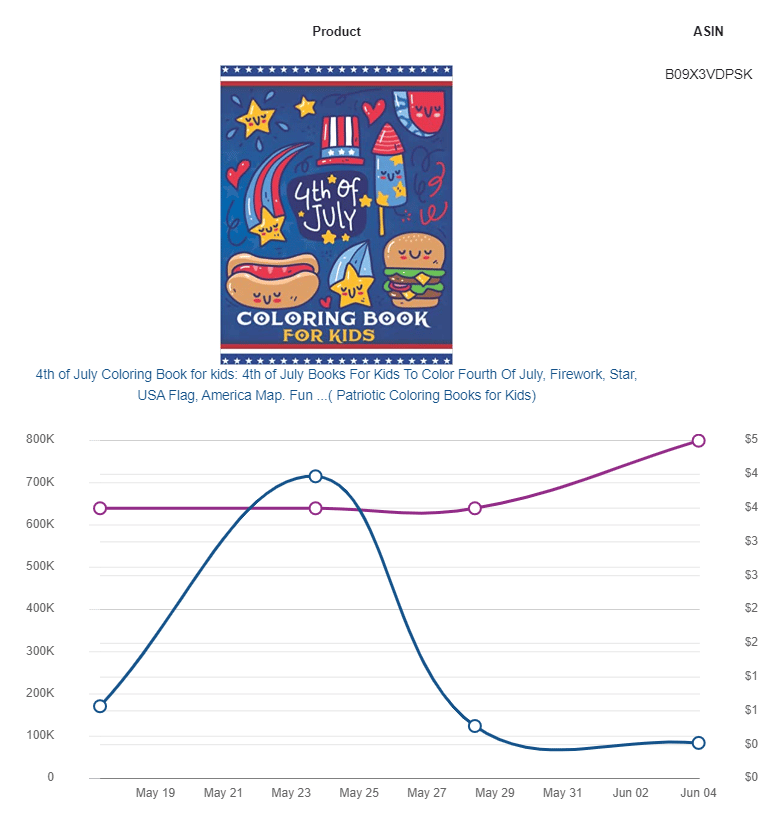 All of these elements were outlined above as part of the winning strategies in the niche.
Another example is the "Fourth of July Coloring Book for Kids Ages 1-5: Coloring Patriotic Independence Day USA America Images! Fireworks, State of Liberty, Eagle, Flags, Kids, and more!". Here, the price is higher. The listing sells for $6.95 and generates around 166 sales per month.  The listing has a BSR of 222,700 and is also targeted at kids. However, in this example, the target audience is even more specific – kids aged between 1 and 5. Again, we can immediately spot certain keyword usage. Some recurring keywords are "flag", "eagle", "fireworks", "patriotic", "USA", "America", "and Independence day".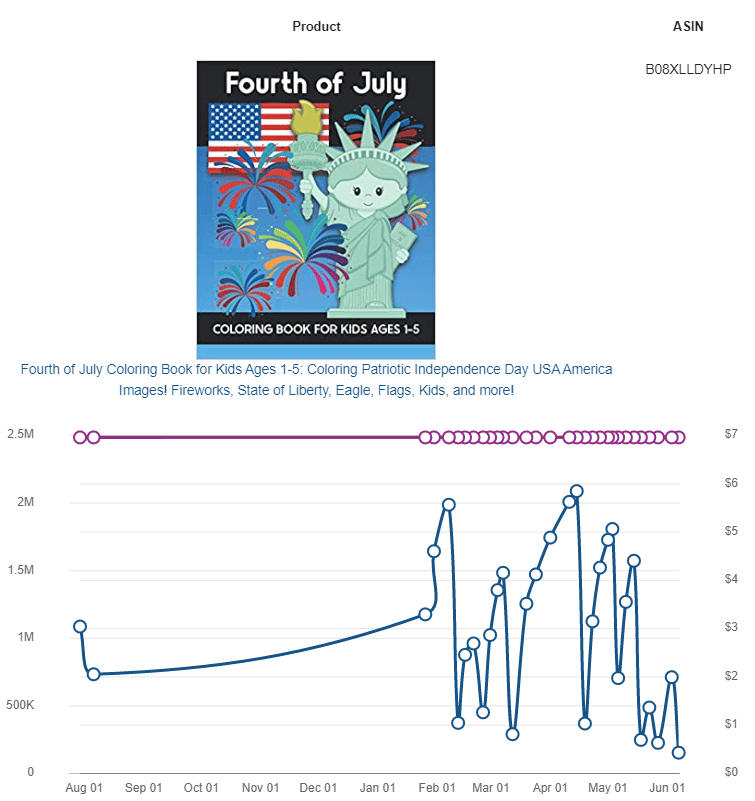 What does all of this information tell you as a Seller? That there are unwritten rules in the niche. By following them and upgrading your listing beyond the basic principles, you can make your products distinguishable and also attractive for buyers.
Here's how to achieve this.
How To Compete In The 4th Of July Niche On Amazon KDP
From the research performed on Book Bolt, we extracted a few valuable tips from Sellers. They will help you stay ahead of the pack in the 4th of July niche and score more sales.
Use intelligently selected keywords
One of the most important factors influencing your sales volumes is the use of keywords. Keywords are responsible for describing your product to users. However, they are also crucial for your rankings on Amazon KDP. When optimizing your listings for keywords, think about how potential buyers would search for a product like yours.
Above, we mentioned some of the most popular keywords from the niche that the majority of bestsellers use. To make your products even more visible, you can also use other related keywords like "state of liberty", "proud", "states", and others.
To discover the best keywords, use Book Bolt to analyze the competition or run detailed keyword research.
Don't experiment too much with pricing
From the best-performing strategies, we saw that there isn't a lot of space to experiment with pricing. A safe approach is to always strive for the price balance point. In the case of the 4th of July low-content books, this is the $6 tag.
You can adapt your pricing strategy based on the level of experience you have as a Seller. For example, a lower price will certainly make your listings more competitive if you're just getting started.
Sell children-targeted 4th of July coloring books
A winning strategy for the Independence Day niche on Amazon KDP is to sell children's coloring books using this particular theme. These are the dominant listings that we came across.
In A Nutshell
By exploring the 4th of July niche on Amazon KDP we can conclude that it's an opportunity-rich market that you can tap into. With the holiday approaching, you can start preparing your strategy by using the insights we covered and the tips we provided. Take advantage of one of America's most special days and let your low-content book sales skyrocket.