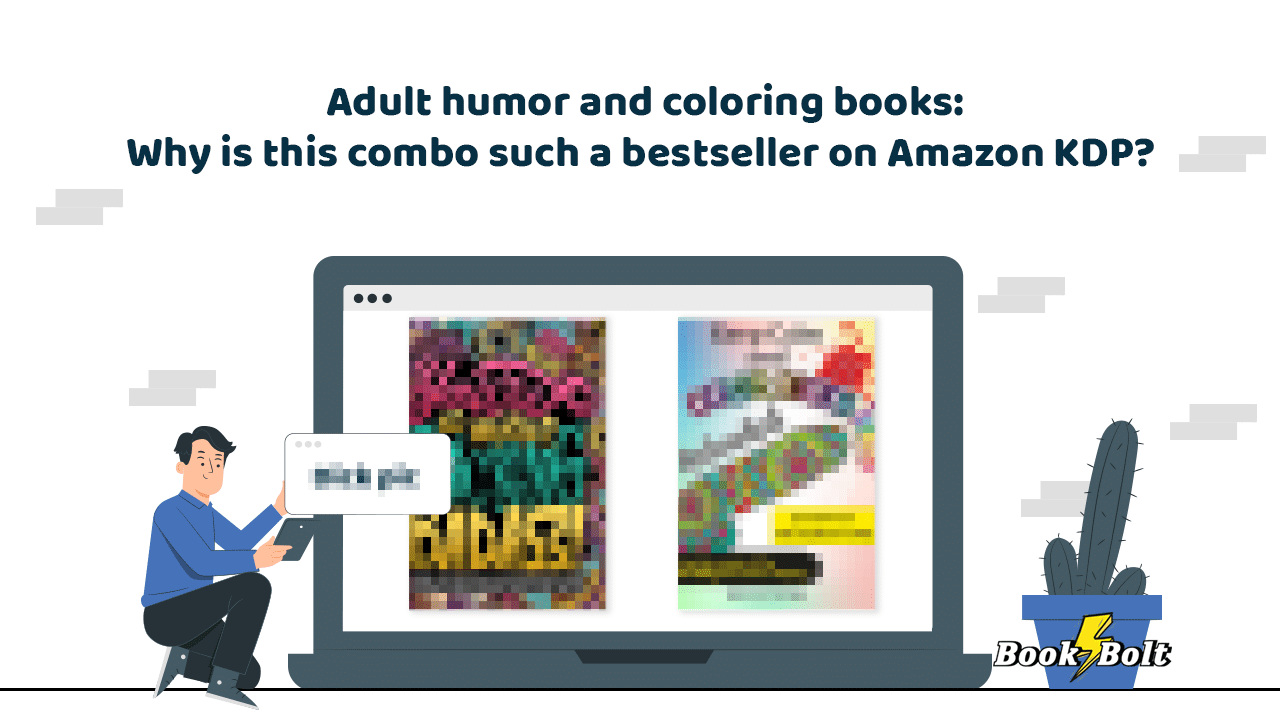 Adult humor coloring books are an amazing niche to get into. They offer sellers the chance to earn significant sales because the demand for them is so huge. In fact, when we looked at Book Bolt's Products Search tool, we discovered a massive search volume for precisely these types of books at over 310,000.
With this in mind, we set out to explore this niche in more detail to help you determine if it's something you want to get into, and if so, how to optimize your efforts.
Let's take a closer look.
How big is the market for adult humor coloring books?
We used Book Bolt's Products Search tool for our initial research. We refined our query to the keyword "adult" and selected the coloring books category.

What we discovered was that many of the products aimed at adults have a low best-sellers rank (BSR) and a high search volume.
For example, although the average BSR for the keyword "adult" in the coloring book category is 686,812, one of the bestsellers has a BSR of a low 35,523. Not leaving the research there, we explored other relevant keywords and their associated search volume.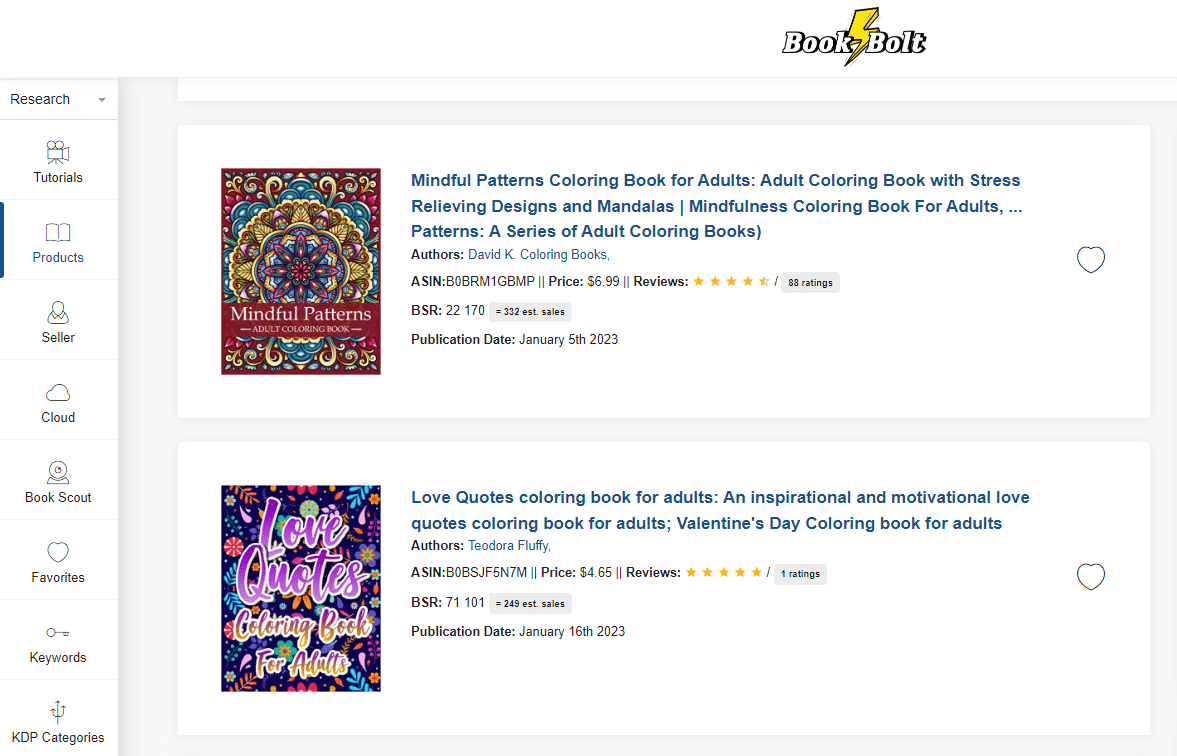 Keywords and search volume
The adult humor coloring book niche is highly specific. This is why it's crucial to extract highly specific keywords. We did this with a detailed search using Book Bolt.
This is what we found when it comes to the seed keyword:
"Adult coloring book adults": search volume – 310,275
"Adults": search volume – 183,064
"Fun adult": search volume – 9,800
"Adult coloring books for adults": search volume – 6,515
And these are our discoveries when it comes to related keywords (please, excuse us for the profanities, we're just researchers):
"NSFW": search volume – 112,962
"Sexy": search volume – 114,926
"Naughty": search volume – 48,741
"Dick": search volume – 27,471
"Cock": search volume – 16,448
"Fuck": search volume – 16,458
These are just some of the major keywords that have a high search volume. There are plenty more. It just goes to show that adults use a great variety of ways to express themselves through adult humor in coloring books. And it's paying off.
If we were to add up the search volume of just the few selected keywords mentioned here, we would get a total of over 500,000 monthly searches. That means that the adult humor coloring book niche is booming and it has great potential if tackled correctly.
Keyword saturation
Keyword saturation refers to the types of keywords that sellers have used in their print-on-demand (POD) product titles to get in front of an audience.
Book Bolt makes it easy to identify how you fare against the competition and what you should be doing to optimize your title.
Here is a non-exhaustive list of some of the most prominent keywords used by sellers in their titles:
Coloring (148), book (110)
Penis (76), cock (36), dick (35), dicks (33), cocks (11)
Adults (57), adult (26), grownups (7)
Funny(43), naughty (29), hilarious (15), fun (5), dirty (5), rude (3)
Overall, these keywords in titles confirm what the keywords and their search volume indicate: sellers are actively using very specific language to target adult humor for the coloring book niche. These keywords are targeted at audiences 18+ and are of a primarily sexual nature featuring phallic symbols and swear words.
Pricing
We also used Book Bolt to explore sellers' pricing strategies and discovered that the lowest price for books featuring the keyword "penis" is $3.99, the highest price is $15.00, and the average price is $6.66.
We chose this word because it falls within the sweet spot of high search volume and a high volume of sales.
What are some of the best-selling merchants doing right?
Although these books are generating a lot of sales, two sellers in particular stand out. The first is Meherjan Publisher and the second is Rocco Vidal. Let's take a look at what these two have done right to earn their well-deserved sales.
Keyword usage
We first look at Meherjan Publisher's adult coloring book's title, which is "FUCK OFF I'M COLORING DICKS SWEAR WORD COLORING BOOK: Naughty Penis Coloring Book For Adults Containing 50 Stress Reliving Funny Cock Coloring Pages … Style Adult Colouring Books(DARK EDITION)."

Rocco Vidal's product, on the other hand is titled "KEEP CALM AND COLOR DICKS (WHITE EDITION): 50 Funny Dick Pages Coloring Book. An adult coloring book with amazing designs, like abstract flowers, … penis coloring book for a memorable gift!"

When comparing the two titles, we immediately see that they flow smoothly. In other words, there is seamless keyword integration.
Secondly, we see an indisputable incorporation of vital keywords that define this category. These include words like "fuck", "swear", "dicks", "naughty", "penis", "cock", etc.
Pricing
As for the pricing, Meherjan Publisher asks $4.95 for their book while Rocco Vidal's asking price is $7.00. In essence, this is very near to or just above the average in this category, which is an outstanding pricing strategy indeed.
Cover design
There are some similarities and differences between the two sellers' cover designs. We first look at the contrasting backgrounds; one is black and the other is white. In terms of similarities, both feature a large phallus where one is in the center of the cover and the other is on the left-hand side.
The positioning of these objects seems to have worked well for both sellers as you'll soon see below when we talk about profitability. In addition to this, they've used different colors. Rocco Vidal, for example, has used a rainbow theme color palette across a neat mandala background, while Meherjan Publisher has primarily used purple with a text-heavy blurb on the right-hand side.
What is the profitability within this niche?
Whereas Meherjan Publisher gets $0.82 for every item sold, Rocco Vidal receives $2.05. We multiplied this by the number of sales each seller has made to date and got the following levels of profitability:
Merherjan Publisher: $291.92
Rocco Vidal: $1,406.30
It's clear that pricing is a major factor and the closer one prices near the average as Rocco Vidal has done, the better the levels of profitability. Both books have nearly the same number of pages and the main difference in their offering is the price.
This is why we always argue that pricing as close to the average as possible is the most profitable way to earn sales.
Despite their success, Meherjan Publisher pales in comparison when looking at his competitor's levels of profitability as the price difference between their and Rocco Vidal's POD books is in the range of one dollar only. Yet it makes a huge difference in terms of profitability.
Our recommendations
Targeting adult humor should be approached strategically, especially in the coloring books category. Here are a few key recommendations we'd like to offer to sellers who want to make an impact on their bottom line:
Ensure that you incorporate as many of the adult-themed keywords in your title as possible. This does not mean using keyword stuffing tactics but rather a seamless integration that leads to an easy-to-read flow of descriptive keywords to specify exactly what the customer is getting. Examples of these keywords include:  "fuck", "swear", "dicks", "naughty", "penis", "cock", etc.
We cannot stress this enough but pricing is huge. A difference of one dollar in pricing can mean earning a few hundred dollars or earning in excess of $1,000. This is perfectly illustrated by the two examples of bestsellers introduced above.
Whether you choose a black or white background for your adult humor coloring books, one important feature is that its cover should feature adult content. The big sellers in this category are showcasing phalluses that can be colored in. However, there are other top sellers who use manga style illustrations of sexy and naughty women to color in as well. You can also choose to focus on swear words only. The options are limitless.
Finally, consider making use of Amazon's advertising platform to get even greater visibility and higher sales. It's easy to use and it doesn't have to cost you much. You set the budget to what you are comfortable with. However, the chances are high that you'll get more eyeballs on your POD products.
Final remarks
Although we only identified two bestsellers in this niche, there are plenty more earning hundreds of sales.
If you want to study them and their strategies, make Book Bolt your trusted partner. It offers you the ability to carry out limitless in-depth research and gives you results in mere seconds.