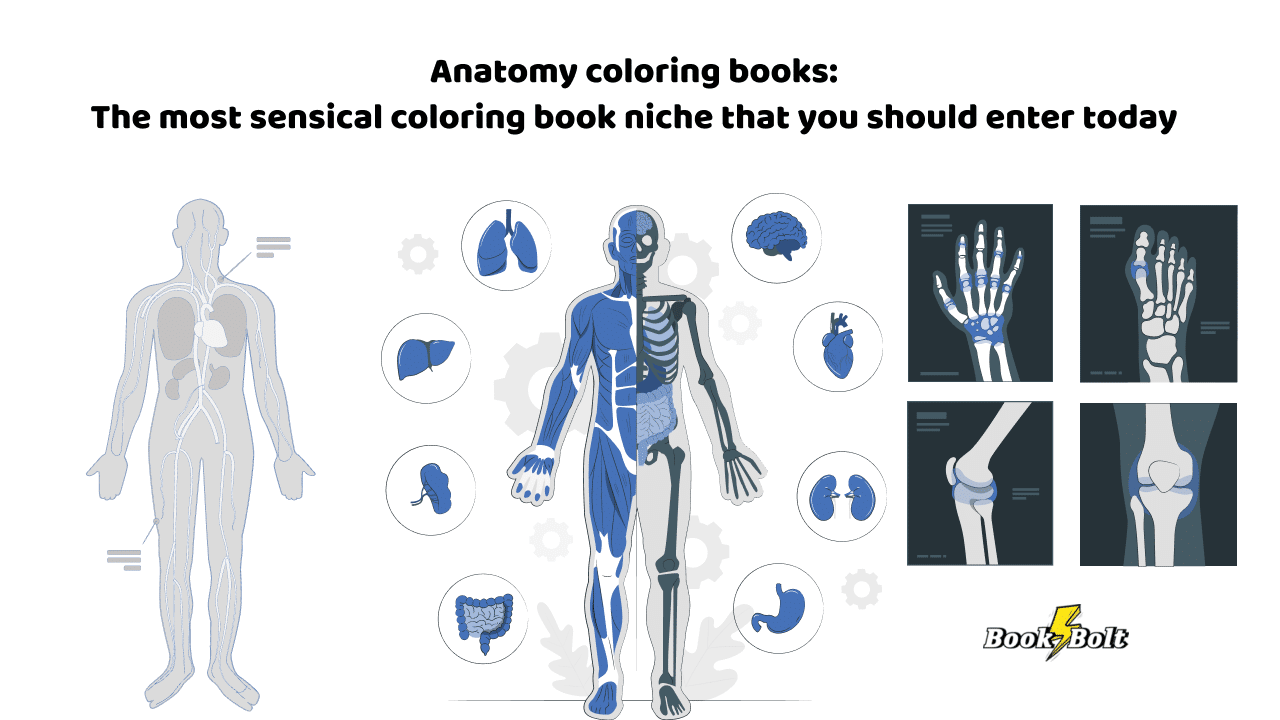 Anatomy coloring books are coloring books that depict the human anatomy or the anatomy of various animals. They are perfect for doctors, medical students, veterinary studies, physiotherapists, dentists, and others interested in understanding the functioning of the human and animal bodies.
If you haven't considered this niche yet, it's definitely time to do so. According to our research on Book Bolt, the top five sellers in this niche have a combined sales figure of over 1,500. Additionally, the average best-seller rank (BSR) is impressively low at 532,012.
This makes it a highly lucrative and profitable niche that you should consider. Wondering how to get started? We provide you with all the answers in this blog post.
How big is the market for anatomy coloring books?
Having mentioned that the average BSR in this niche is in the 500,000s, it's worth noting that the bestseller has an incredibly low BSR of only 23,490.
Other bestsellers also fall below the 50,000 mark in terms of BSR, making this niche one that's worth exploring. Let's delve into it further.
Keywords and search volume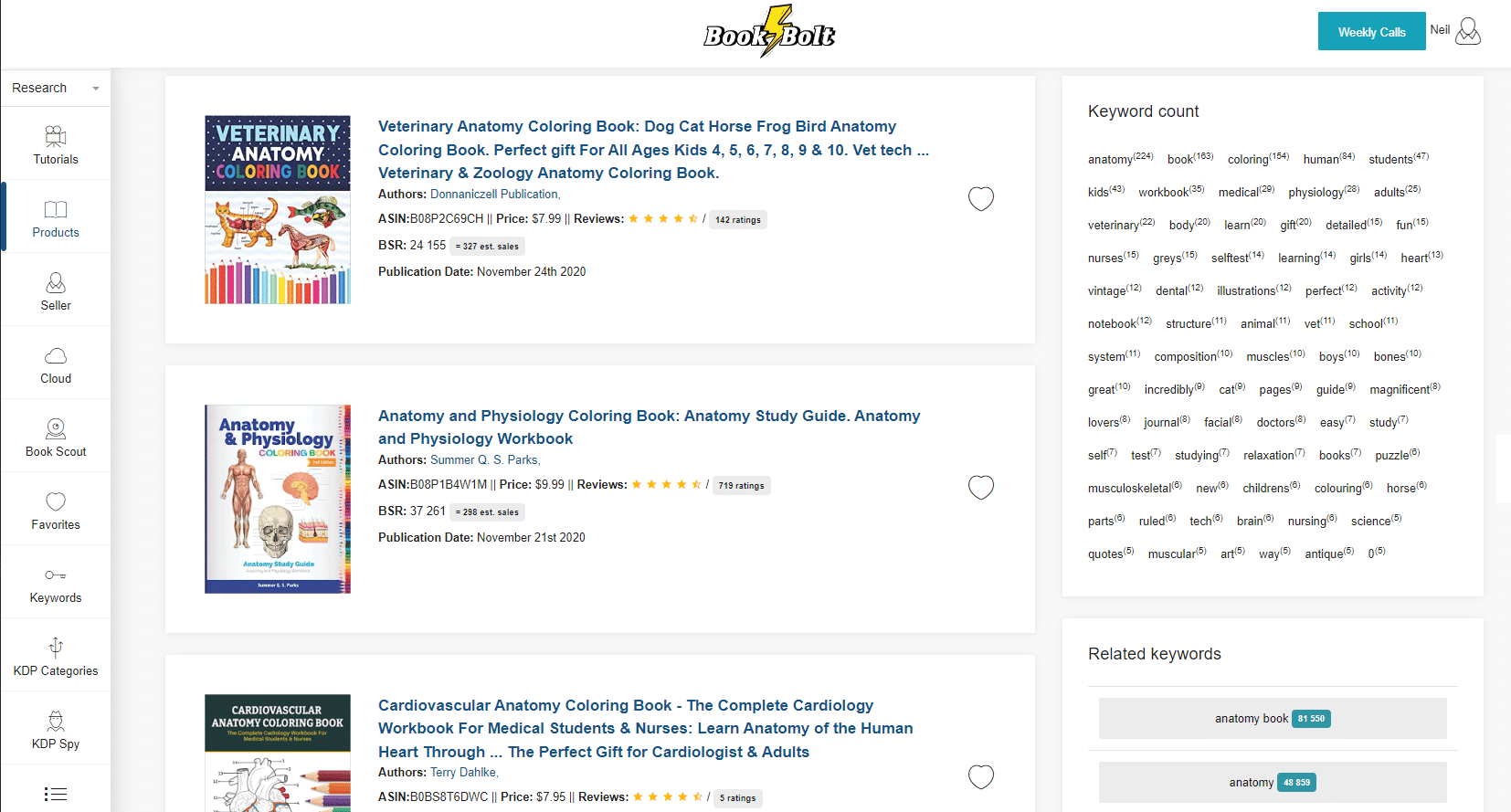 With the help of Book Bolt's Product Search module, we discovered a total of 48 relevant keywords and long-tail keywords in this niche. The combined search volume for these keywords is notably high at 334,858. We have categorized these keywords (with a search volume above 1,000) into general, human, and animal anatomy, so you know which ones to target when creating your product.
General anatomy keywords
"Anatomy book": search volume – 81,550
"Anatomy": search volume – 48,859
"Anatomy art": search volume – 28,407
"Anatomy for sculptors": search volume – 3,100
"Artistic anatomy": search volume – 2,152
"Anatomy artwork": search volume – 2,045
"Anatomy artist": search volume – 1,930
Human anatomy keywords
"Neuro anatomy": search volume – 4,814
"Brain anatomy": search volume – 4,736
"Human anatomy": search volume – 4,731
"Medical anatomy": search volume – 2,082
Animal anatomy keywords
"Cat anatomy": search volume – 3,896
"Animal anatomy": search volume – 3,461
"Animals anatomy": search volume – 1,700
From this short list, we can identify a couple of trends. In the broadly searched "general anatomy" category, we observe a high combined search volume exceeding 165,000. Moreover, it's interesting to note that artists and sculptors are also searching for anatomy books. This implies that you can target a completely different audience, not just medical practitioners and students.
In the "human anatomy" category, the highest search volume is found in "neuro" and "brain" anatomy keywords. However, the term "human anatomy" follows closely.
Lastly, in terms of the "animal anatomy" category, searches for cats exceed searches for animal anatomy in general, albeit by a small margin.
As a result, we can see that there is generally higher search volume for human anatomy books compared to animal anatomy coloring books, and more broad and general terms garner a significantly higher search volume. We will explore this strategy in more detail below, but it's important to keep this in mind.
Keyword saturation
After examining the demand for anatomy-related searches on Amazon KDP, it's worth considering the supply side: namely, the keywords sellers are using in their titles and how they leverage them to achieve attractive sales. This is where we explore keyword saturation with the assistance of Book Bolt.
Here's what we found:
Seed keyword: anatomy (202)
Type of book: coloring (193), book (182), workbook (32), activity (16), colouring (10)
Sub-categories: human (95), body (31), physiology (30), veterinary (27), medical (26), animal (18), heart (17), dental (14), eye (12), cat (10), horse (8) nursing (8) bones (8), animals (6), science (6), muscles (5), brain (5), biology (5), cardiology (5), musculoskeletal (5), lung (4), dog (7)
Audience type: kids (61), students (48), adults (32), girls (18), vet (16), boys(16), nurses (15), doctors (9)
Purpose of book: gift (22), learn (19) learning (14), studying (6)
Examining these words closely, we observe that over 200 sellers have used the seed keyword "anatomy" in their titles. In most cases, the category is coloring books, although it can also be referred to as an activity or workbook. The sub-categories indicate the focus of the book, ranging from cat and dog anatomy to the anatomy of the heart or eye. The primary target audience is kids, followed closely by students and adults. Finally, the purpose of the book is learning and gifting.
Pricing

We couldn't overlook the prices charged by sellers. Book Bolt provides us with a quick and easy breakdown of the lowest, highest, and average prices in this niche.
These are as follows:
Lowest price: $3.99
Highest price: $19.99
Average price: $8.19
What are some of the best-selling merchants doing right?
Among the multitude of bestsellers in this niche, we have identified two that are absolutely stellar. Here they are:
Seller 1: Donnaniczell Publication
Title: "Veterinary Anatomy Coloring Book: Dog Cat Horse Frog Bird Anatomy Coloring Book. Perfect gift For All Ages Kids 4, 5, 6, 7, 8, 9 & 10. Vet tech … Veterinary & Zoology Anatomy Coloring Book."
Price: $7.99
BSR: 24,155
Number of sales: 327

Seller 2: Summer Q. S. Parks
Title: "Anatomy and Physiology Coloring Book: Anatomy Study Guide. Anatomy and Physiology Workbook"
Price: $9.99
BSR: 37,261
Number of sales: 298

Keyword usage
Seller Donnaniczell Publication targets the animal anatomy niche. They have included the names of different types of animals in their title, emphasizing that it's a veterinary anatomy coloring book. However, they have repeated the words "coloring book" three times in the title, which is not ideal. Mentioning that this is a book for kids, though, is a good strategy.
Seller Summer Q. S. Parks, on the other hand, has kept their title short and sweet. They have included both main keywords we discovered earlier (workbook and coloring book). Although the seed keyword "anatomy" is used three times in the title, it doesn't sound spammy or keyword-stuffed due to the sentence structure.
Pricing
The average price for books in this niche is $8.14. Donnaniczell Publication has priced their book slightly below this at $7.99, while Summer Q. S. Parks has priced theirs slightly above the average at $9.99. Both sellers' pricing strategies have proven effective, as we will soon discover when looking at the profitability within this niche.
Cover design
The cover designs of both bestsellers' books are perfect for their intended audience.
The veterinary anatomy coloring book presents various different animals and their internal organ structures.
The human anatomy coloring book presents the human body, including an image of the brain, skin structure, and more.
While the vet book's cover features a bit more color in the title to appeal to younger kids, the human anatomy book's cover uses a dark blue font that looks professional and perfectly targets the intended audience.
What is the profitability within this niche?
To determine the profitability within this niche, we can refer to Amazon KDP's royalties calculator. By multiplying the royalty amounts by the number of sales of the top performers in the niche, we can estimate the following profit.
Donnaniczell Publication: $836.88
Summer Q. S. Parks: $1,194.27
Overall, the two top sellers in this niche are making over $800 with their quality book products. This demonstrates incredible potential for profitability.
Our recommendations
To succeed in this lucrative niche, you need a powerful strategy to propel you ahead of the competition. Here is our advice:
Keywords: Choose whether you are offering artistic, human, or animal anatomy books and tailor your keywords accordingly. However, using the word "anatomy" is an absolute must in your title.
Price: Both bestsellers that we've identified have priced their books very close to the average, resulting in profit of over $800 for each. We can therefore conclude that pricing around $8 per book is a smart strategy to follow.
Cover design: The nature of the covers for the two bestsellers differs, with one focusing on the human body and the other on animals. Previewing what your buyers will get is essential, and it's important to tailor the color usage to the target audience. Anatomy coloring books for kids should feature more primary colors, while anatomy coloring books for adults should use less nuanced colors, focusing on dark blue and black.
Final remarks
The anatomy coloring books niche is definitely worth exploring, but it requires a combination of efforts to surpass the competition. With Book Bolt, you can do your keyword and competitor research, design your cover, and easily upload to Amazon KDP.
For a small investment of only $9.99 per month, Book Bolt offers valuable tools and support that can help you compete effectively in this niche.