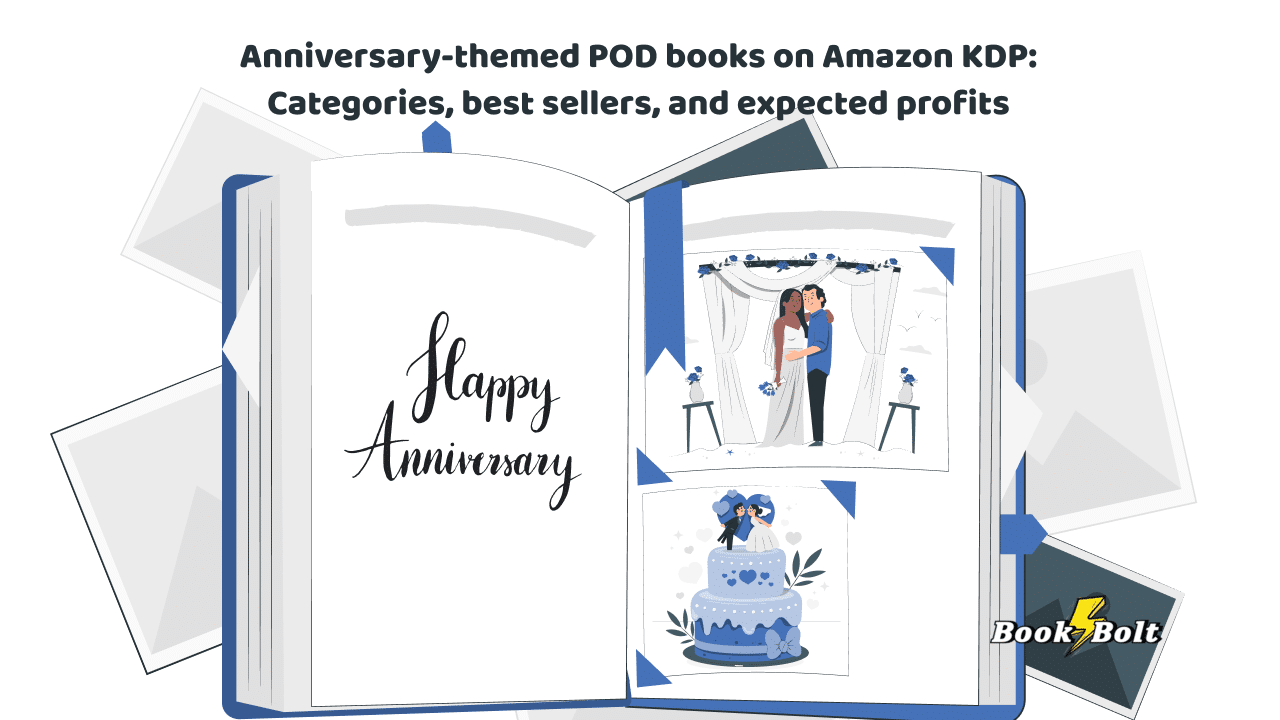 Anniversaries are special occasions celebrated by people for multiple reasons. And a no- or low-content book can make for the perfect gift as part of the celebrations.
But is there a print-on-demand (POD) no- or low-content book that really exceeds expectations in this category?
In this article, we explore the answer to this question by looking at categories, best-sellers, and expected profitability.
How big is the market for anniversary-themed POD books?
To help us figure out the size of the market for anniversary-themed POD books, we headed over to Book Bolt and began our search using the Product Search module.
To get a gist of the niche's performance, we first selected the keyword "anniversary" and then chose the "general" category.

The results show that with an average best-seller's rank (BSR) of 1,165,745 and the top seller earning in excess of 200 sales, there's definitely potential for profit in this niche.
But we wanted to also explore each category on its own.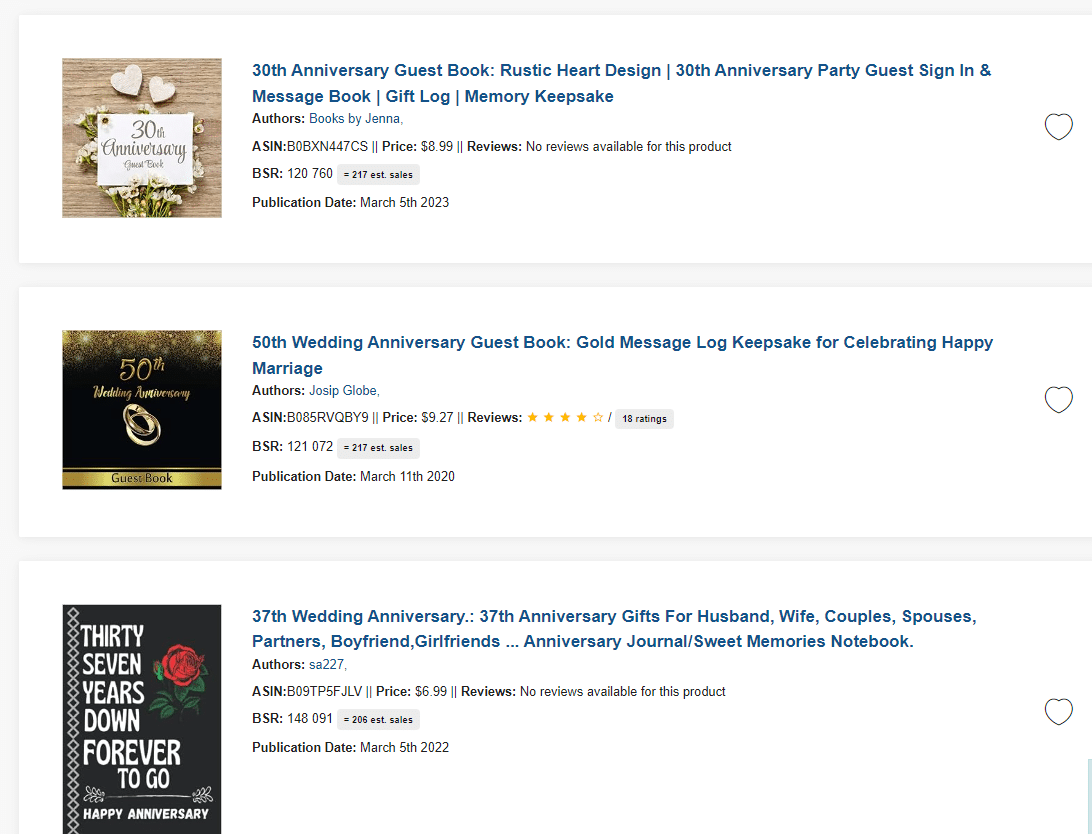 Here's what we discovered (in order of the highest number of sales by the top bestseller to the lowest number of sales):
Guest books: BSR – 1,143,389; Maximum sales for the top seller – 232
Journals: BSR – 1,410,397; Maximum sales for the top seller – 201
Notebooks: BSR – 1,204,704; Maximum sales for the top seller – 195
Calendars: BSR – 1,962,251; Maximum sales for the top seller – 195
Log books: BSR – 1,369,808; Maximum sales for the top seller – 152
Coloring books: BSR – 3,965,922; Maximum sales for the top seller – 97
Music sheets: BSR – 3,534,317; Maximum sales for the top seller – 28
Planners: BSR – 1,558,368; Maximum sales for the top seller – 1
Trackers: BSR – 3,259,739; Maximum sales for the top seller – 1
Perhaps unsurprisingly, there were zero sales for comic books and because there are no such options, there is no available BSR for this category. However, based on the above, we note that the two categories earning the highest number of sales are guest books and journals. That's why we'll explore these in more detail below.
Keywords and search volume
In terms of keywords and search volume, Book Bolt also helped us identify the main keywords that buyers are using to find these products.
Here is a breakdown of the key search queries in the guest book and journals categories:
"Anniversary": search volume – 271,855
"Anniversary gift": search volume – 91,459
"Happy anniversary": search volume – 5,804
"Anniversaries book": search volume – 1,873
"Anniversary journals": search volume – 1,507
"Anniversary diary": search volume – 1,247
"Anniversary book": search volume – 1,193
From this, we can conclude that there is a massive search for the term "anniversary", followed by "anniversary gifts". However, the search volume contracts significantly when it comes to more refined searches mentioning types of no- and low-content books. That is to be expected, as any longtail keyword typically displays lower, but more actionable search interest from buyers.
That is why we believe that the combined search volume of over 5,000 for queries such as "anniversary journals", "anniversary diary", "anniversary book" etc. warrants further investigation. This is especially the case since we already saw that there are sellers making over 200 sales in the anniversary niche.
Keyword saturation
In terms of keyword saturation, or the keywords that sellers use in their listing titles to rank higher, we see the following:
Guest books
Type of item: book (157), guest (139), guestbook (28), log (28), tracker (16)
Occasion: anniversary (129), wedding (75), party (59), birthday (53), memory (46), keepsake (46), bridal (17), events (9), reunion (5), gatherings (5)
Purpose: sign (43), gift (35), message (22), wishes (18), 50th (17), celebrating (8), 1st (15), first (15), golden (14), gold (13), 60th (8), messages (6), silver (7), 25th (5)
Audience: baby (30), family (25), guests (13), boy (12), girl (10), friend (8), couples (7), friends (7)
Journals
Type of item: journal (117), notebook (74), book (27), diary (14), blank (11)
Occasion: wedding (33)
Purpose: anniversary (145), gift (101), anniversaries (13), valentines (9), keepsake (6)
Audience: wife (16), husband (13), women (12), couple (12), couples (10), team (10), woman (9), man (9), boyfriend (7), girlfriend (7), family (6)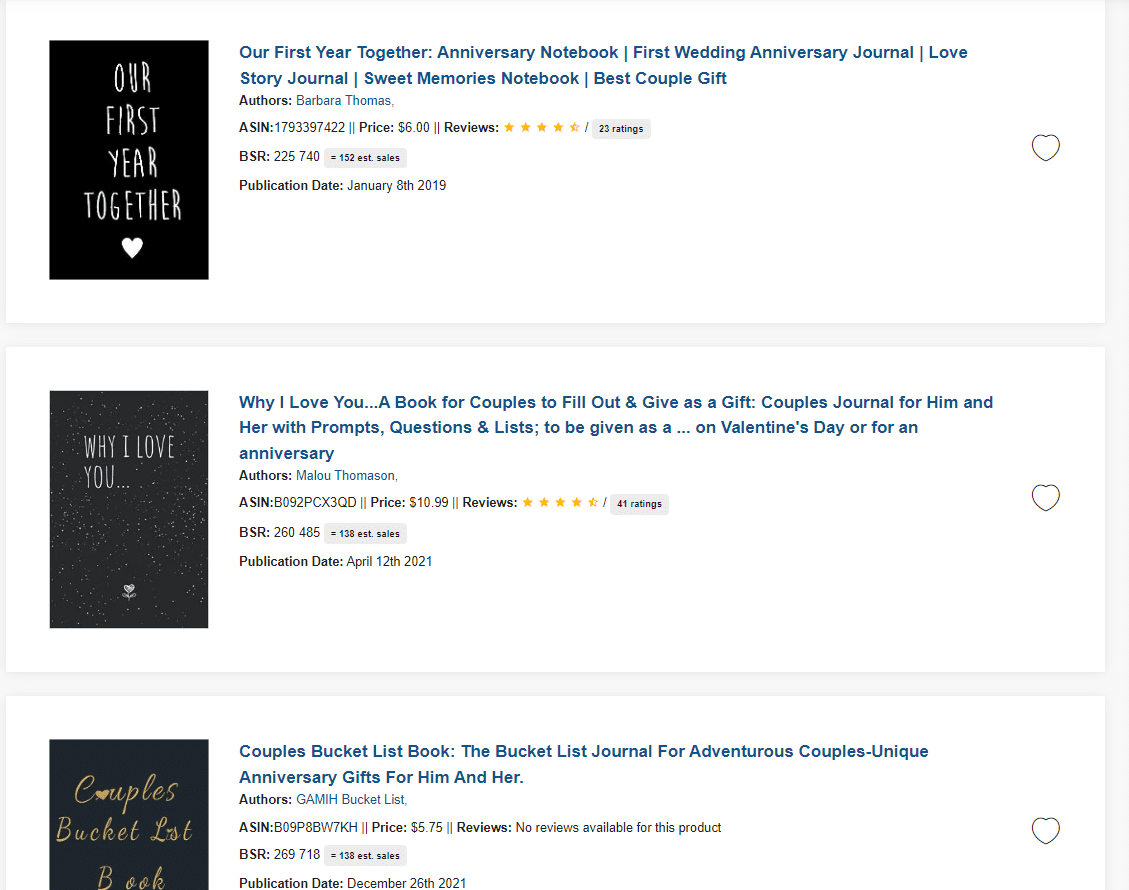 Guest books positioned in the anniversary niche appear to be quite a bit more diverse than journals. As demonstrated, occasions include weddings, birthdays, reunions and other parties, whereas journals are primarily focused on weddings.
Audiences also differ, with guest books aimed at families and children, and journals targeting married men and women separately.
An important note here is that these observations should be viewed as a rough guideline, and not a strict strategy to follow. The main reason for the variety in keyword saturation stems from the differences between these two book formats, not the peculiarities of the niche itself.
Pricing
Pricing is another crucial factor in a successful sales strategy. We were able to quickly determine the lowest, highest, and average prices for each category with the help of Book Bolt.
Guest books
Lowest price: $5.99
Highest price: $14.79
Average price: $9.20
Journals
Lowest price: $3.18
Highest price: $20.00
Average price: $8.02
From this, we see that the prices are, on average, hovering around the $8-$9 mark for both of these categories.
What are some of the best-selling merchants doing right?
Next, we explore some of the bestselling listings on Amazon KDP. This exercise aims to determine what the best practices are, so that you can emulate them to achieve success.
Anniversary guest book bestseller
Title: 50th Wedding Anniversary Guest Book: Gold Message Log Keepsake for Celebrating Happy Marriage
Author: Josip Globe
Price: $9.27
BSR: 96,502
Sales: 232
Anniversary journal bestseller
Title: Our First Year Together: Anniversary Notebook | First Wedding Anniversary Journal | Love Story Journal | Sweet Memories Notebook | Best Couple Gift
Author: Barbara Thomas
Price: $6.00
BSR: 152,317
Sales: 201
Keyword usage
Both bestsellers strategically use the highly sought-after keyword "anniversary" in their titles. Barbara Thomas goes a step further, incorporating this keyword twice to maximize visibility. Additionally, these books are categorized as "notebooks," "journals," and "guest books," with a significant focus on gifting potential.
Pricing
Josip Globe has priced their product near the average, which is a well-balanced and recommended approach. On the other hand, Barbara Thomas has opted for a slightly lower price point. The impact of this choice on profitability will be examined below.
Cover design
The attention to detail is evident in the cover designs of both of these books. Josip Globe's 50th wedding anniversary guest book features a sophisticated black and gold design, perfect for older couples celebrating a golden event.
In contrast, Barbara Thomas' one-year anniversary journal boasts a charming, simplistic design with white text and a small heart on a black background, catering to a broader, but no less sophisticated audience.
The intricacy of the cover designs is important. Seeing as these are no-content books, the primary differentiating factor is exactly the cover design. Great care should be given to composing it, just like these bestsellers have.
What is the profitability within this niche?
Finally, we must discuss profitability. Here's what we discovered using Amazon's royalties calculator:
Guest books
Author: Josip Globe
Price: $9.27
Sales: 232
Profitability: $756.32
Journals
Author: Barbara Thomas
Price: $6.00
Sales: 201
Profitability: $98.49
Our last finding in the anniversary-themed niche is that the number of sales doesn't matter if you fail to price your items correctly. Although this is true for all POD books, the difference between these two bestsellers is one of the starkest we've discovered so far.
Barbara Thomas has charged around $2 less than the average for the anniversary guest book category. However, this decision has backfired, earning them just shy of $100 per month from this listing. Now, compare that to the $700 earned by Josip Globe and their guest book. It becomes clear just how much more you can gain by simply following the golden rule: "Always price around the average".
Our recommendations
Our recommendations for entering this niche successfully involve a three-pronged strategy. Here's what to bear in mind as you approach it:
Keywords: the high-search volume keyword "anniversary" must be included in your listing title in order to qualify for this niche. Next, be sure to type in the low- or no-content book category. Other details to mention include the type of anniversary, and the intended audience.
Pricing: we've seen what a massive difference $2 can make in one's pricing strategy. It can mean the difference between earning just shy of $100 for over 200 sales or over $700 for the same amount. That's why pricing as close as possible to the average is highly recommended. And if you don't have hours to waste doing manual calculations, then Book Bolt is the answer.
Design: your cover design should be perfectly tailored to your audience. A 50th wedding anniversary warrants status, gravitas, and class. Meanwhile, a one-year wedding anniversary can be cutesy and more lighthearted.
Final remarks
As we wrap up, remember these three strategies for effective sales. And if you are struggling with researching and decision-making, let Book Bolt help you.
The monthly subscription is only $9.99 per month – a wickedly good deal for everything you get in one package.