Restaurant reservation books are designed to help hosts and hostesses keep track of table reservations in restaurants, coffee shops, bistros, dine-in locations, and more.
As an Amazon KDP seller, you may be considering this diverse market for portfolio diversification and additional revenue streams.
But is the niche landing sales? What is its potential for profitability?
These are some of the questions we explore in this article.
Let's take a closer look.
How big is the market for restaurant reservation books?
We started our discovery process by heading over to Book Bolt's Products Search module.
We typed in "restaurant reservations" in the keyword search bar and selected "General" as the category.
Immediately, we noticed impressive results.

The top five sellers in the niche have combined monthly sales of 573. But that's not all. There are many other book creators landing sales in the market.
In addition to this, the best-seller's rank (BSR) for this category of no- and low-content books is extremely low. This confirms that sales are being made and this item type is in demand.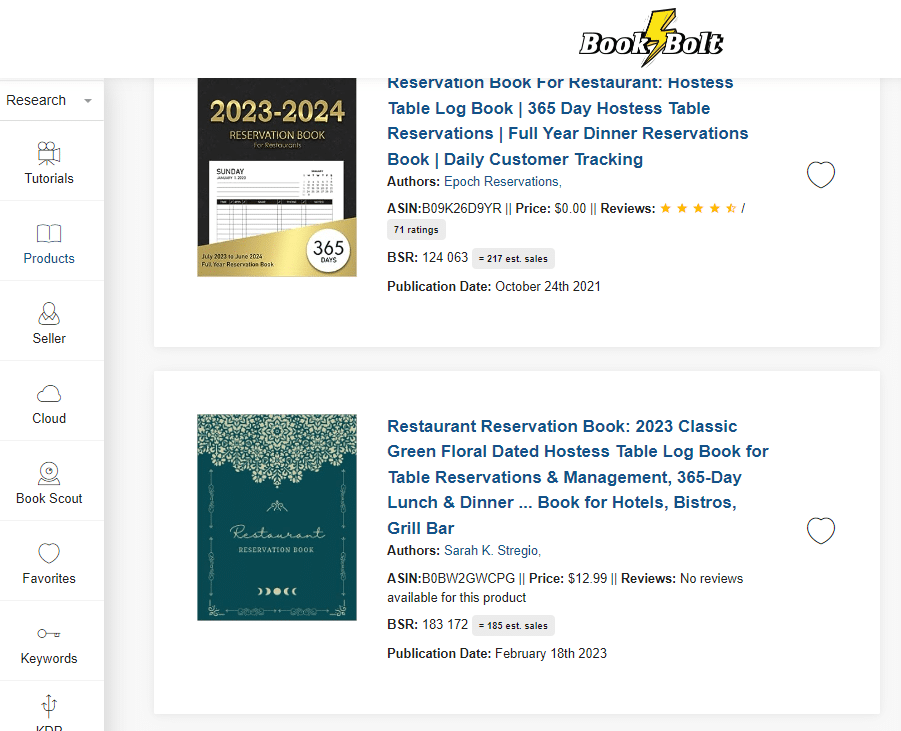 But what are consumers actually searching for in relation to this space?
To find out, we examined the search volumes in the domain.
Keywords and search volume
We sifted through roughly 50 short- and long-tail niche keywords with high search volume that the platform pulled for us.
The results include the following:
"Reservation book for restaurant 2023": search volume – 6,516
"Reservation book for restaurant": search volume – 6.405
"Reservation restaurant book": search volume – 18,745
"Reservations book for restaurant": search volume – 6,516
"Reservations book for restaurant 2022": search volume – 6,508
"Daily reservation book for restaurant": search volume – 2,595
"Reservation logbook for restaurant": search volume – 1,628
"Restaurant reservation book 2024": search volume – 1,618
The numerous variations of the phrase "restaurant reservation book" are a good indication that there is a significant demand for these products. Combined, monthly search volumes exceed 100,000.
It's also important to point out that different buyers demonstrate different browsing behaviors.
For example, there is a small difference between the search volumes of "restaurant" and "restaurants" or "reservation" and "reservations". However, it must be taken into consideration when optimizing listings for higher rankings.
This will allow you to make your listing visible to a broader group of shoppers looking for these products.
Interestingly, we also uncovered that those in the restaurant business are mostly looking for year-specific books.
According to the numbers, 2023 seems to dominate the search scene at the moment.
Finally, restaurant reservation books are predominantly "logs", "logbooks", and "planners". This is a key detail for sellers looking to cast out a wider net with their listing title. It's also a vital piece of information for category selection.
Keyword saturation
But what other keyword tactics are existing sellers utilizing to target this niche?
We created the following breakdown of top-used words based on our research findings:
Type of book: book (147), log (93), journal (31), record (30), diary (20), planner (14), notebook (14), tracker (11), logbook (7), calendar (7), organizer (6)
Niche: restaurant (76), reservation (54), restaurants (38), reservations (23), cafes (9)
Daily, monthly, or yearly: daily (37)
Adjacent keywords: food (42), table (33), hostess (25), business (23), booking (22), businesses (10), dinner (6)
Audience: guest (22), customer (9), management (8), manager (7)
Purpose: appointment (8)
This data confirms our earlier discoveries – reservation books are referred to as "logs", "planners", "trackers", and "organizers", among others.
Put otherwise, to reach the right audience, titling these items "restaurant reservation books" won't be enough. You'll need to optimize your listings for these trending categories.
The above insights also present three key conclusions.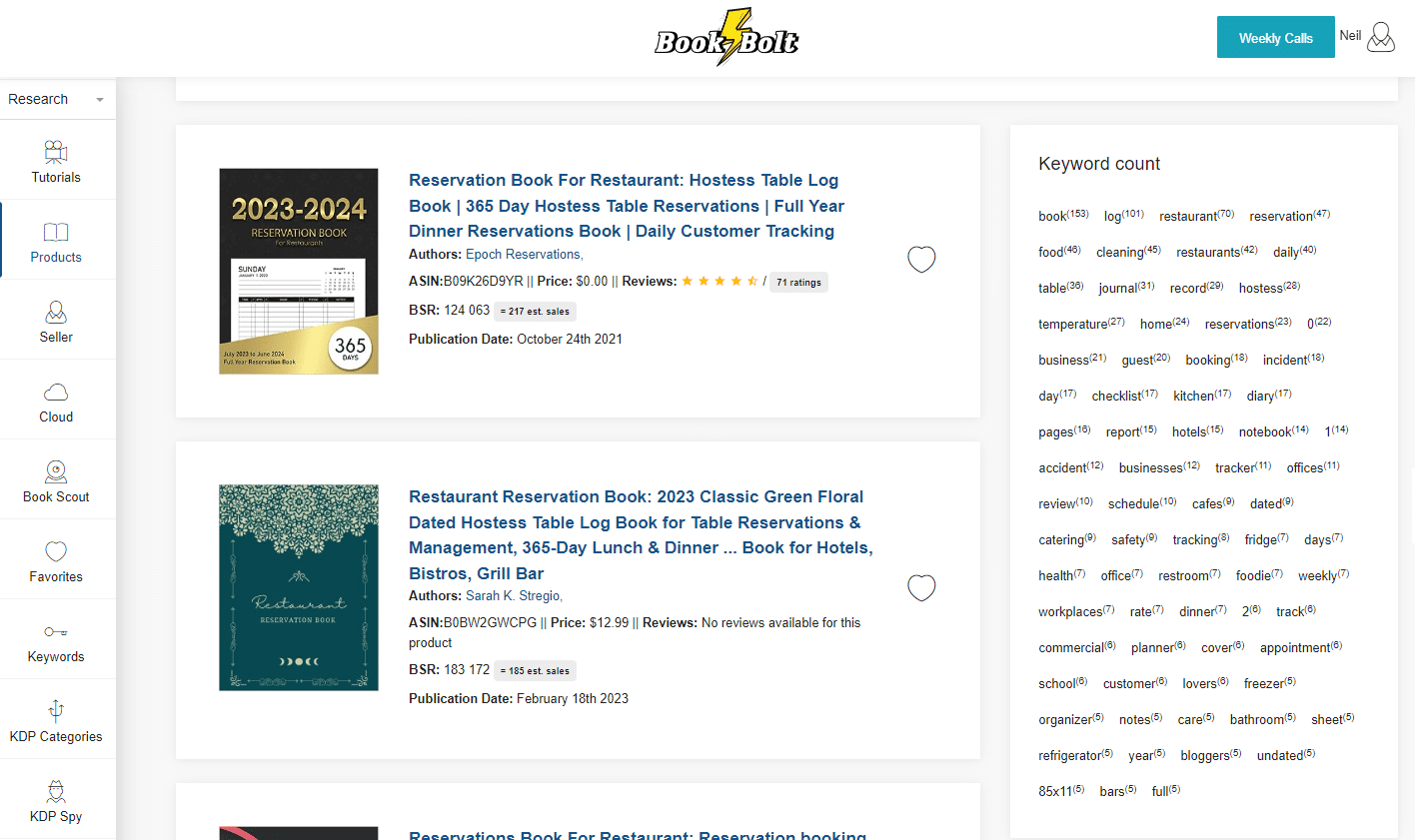 First, the keyword use in the market reveals that mostly restaurants and cafes are taking advantage of this product type for booking tables.
Second, it becomes apparent that while yearly reservation books dominate, daily alternatives are also frequently sought.
Third, the dominating audiences in this market are managers or management. This reinforces the theory that reservation books' main purpose is appointment-making.
Pricing
Book Bolt's Products Search module also helped us determine the lowest, highest, and average prices in this niche, giving us the following data:
Lowest price: $4.73
Highest price: $15.99
Average price: $9.41
Why are these insights valuable? Because they can be used to estimate the potential profitability in the market.
Although there are no written rules in this regard, it's recommended for new entrants to price their listings near the average in the niche. This will provide a competitive edge and will quickly make your products appealing to a wider audience.
What are some of the best-selling merchants doing right?
A look into the tactics and strategies of the bestsellers in the market is also a must when it comes to niche research.
Using Book Bolt, we identified the top-selling book creators and their most successful listings. and e
Below is a summary of key findings about their game plan.
Seller 1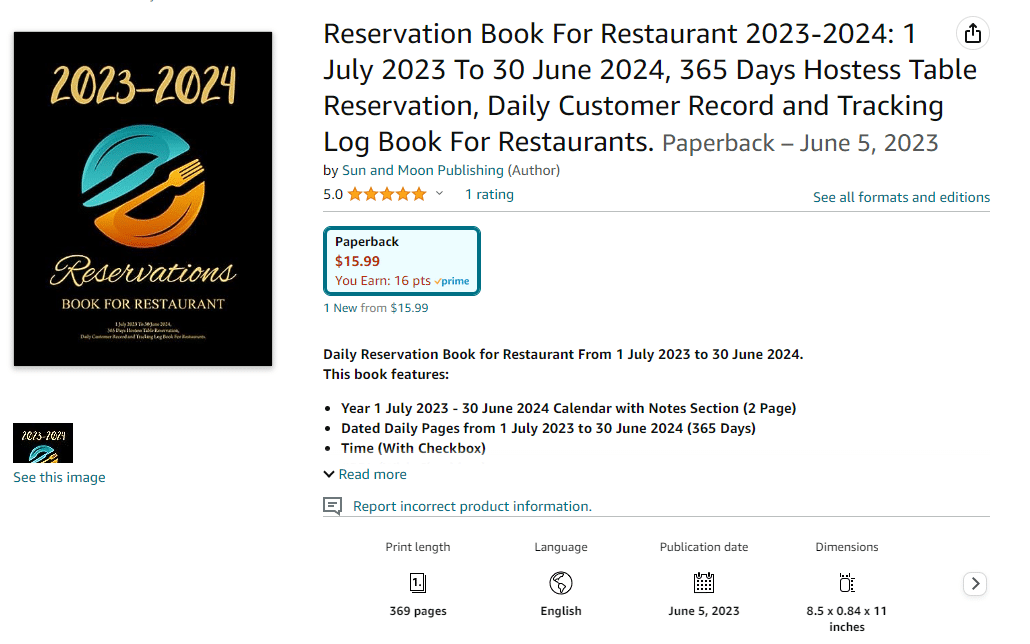 Title: Reservation Book For Restaurant 2023-2024: 1 July 2023 To 30 June 2024, 365 Days Hostess Table Reservation, Daily Customer Record and Tracking Log Book For Restaurants.
Authors: Sun and Moon Publishing
Price: $15.99
BSR: 300,903
Sales: 110
Seller 2
Title: Reservation Book For Restaurant: Hostess Table Log Book | 365 Day Hostess Table Reservations | Full Year Dinner Reservations Book | Daily Customer Tracking
Authors: Epoch Reservations
Price: $14.99
BSR: 61,159
Sales: 255
Let's dissect this data and transform it into practical insights.
Keyword usage
Interestingly, both top performers have positioned their restaurant reservations books similarly, by specifically using the words "Reservation book for restaurant".
Indeed, there are minor differences in terms of how they refer to their product. However, they both indicate that these are customer tracking books as well as customer record-keeping and tracking logs.
These are examples of ideal descriptions as they cater to the audience's search queries that we mentioned above.
Other descriptive words in these titles include "365 day hostess table reservations" and "full year dinner reservations book".
It's also worth noting that seller one has specified which years the book is designed for. This is another way of satisfying consumer demand from a search query perspective.
Pricing
What is also insightful about these two authors is that they have priced their books at exactly the same price – $15.99. Keep in mind that this is also the highest price for this niche.
Although this is not always the best strategy to follow (we always recommend pricing around the average), below we uncover what kind of profitability this strategy is yielding.
Cover design
The covers of the two bestsellers here are quite different.
Seller one has opted for a black background, featuring a centralized plate with cutlery. This cover also includes text that represents what the book is and what year it is for.
The second seller, on the other hand, provides a sort of "preview" of the book's interior. The cover shows snapshots of the tables that need to be filled by the user when taking a customer's reservation.
Despite these differences in design, both sellers have performed exceptionally well in terms of sales.
What is the profitability of this niche?
Let's now dive into the realm of profitability within this niche.
We'll start by studying the two bestsellers we mentioned earlier. Then, we'll take a trip to the Amazon KDP royalty calculator.
This will help us figure out if setting the highest price is truly a worthwhile strategy.
Seller 1
Price: $15.99
Sales: 110
Profitability: $255.20
Seller 2
Price: $15.99
Sales: 255
Profitability: $583.95
Given that both sellers have charged the highest price for these books, they are earning from their efforts.
In this case, the competition comes head to head with the cover design because that's where the greatest difference lies.
In addition, because of Amazon's rules for books with high page counts (which both of these sellers have), pricing around the average is not recommended.
Our recommendations
Based on our extensive research, we've extracted a few valuable tips and tricks for making it in the restaurant reservation book niche.
Here's what you should consider if you're planning on competing in this market.
Keywords: Using either the singular or plural versions of the words "restaurant" and "reservation" is irrelevant as in either case, you'll be able to get your point across. However, mentioning different types of books such as "planners", "organizers", "trackers", and "logbooks" is essential for your listing optimization strategy when you are crafting your title. Also important to add is which year the restaurant reservation book is meant for as this is a deciding factor for many restaurateurs who purchase these products. They must be relevant.
Pricing: Although our typical advice for pricing is to price around the average, in this case, pricing at the highest rate is a worthwhile endeavour. That's because most of these restaurant books have over 360 pages, accumulating higher printing costs and lower royalties. In fact, both sellers' books identified here have in excess of 360 pages, and their royalties are just over $2 per book sold. This means that you need to be strategic when it comes to pricing.
Cover design: Your cover design can be as creative as you like with unique designs and text. It can also be cleaner, simply offering a "preview" of the interior. Whichever option you choose, note that your cover design will go hand in hand with your pricing and keyword usage in your listing title.
Final remarks
As we wrap up this article, we hope you've gained some important insights into the restaurant reservation book niche on Amazon KDP.
While this space has the potential to earn you more than $500 per month, it's important to carefully craft your strategy and optimize your listing. This will guarantee that you can rank high and gain more visibility for your product.
You can easily achieve this with the help of Book Bolt, which you can unlock for a ridiculously low monthly subscription of only $9.99.