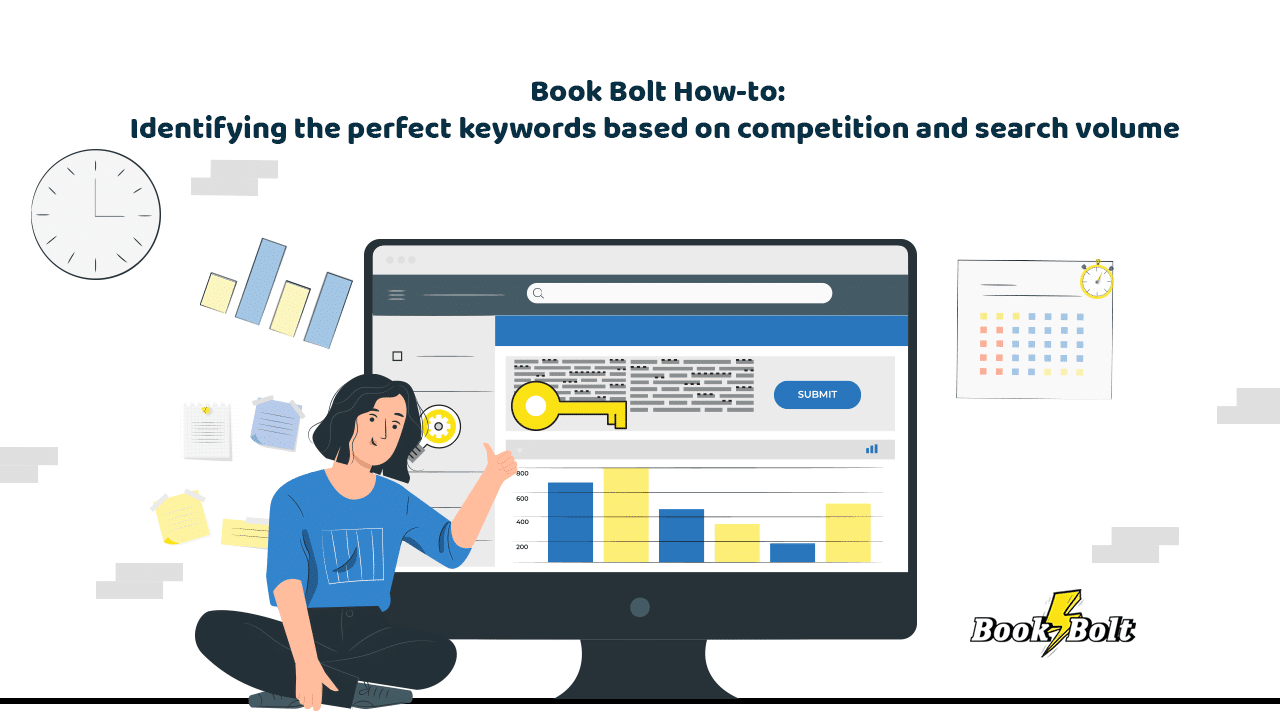 Keywords are an immovable pillar of digital marketing. Although they became an essential component for online success long before the rise of Amazon, they're now one of the strongest ranking factors on the shopping platform.
Becoming a smart keyword researcher can bring a lot to the table. It can help make your Amazon KDP listings more visible and put you ahead of your competition. It can enable you to target the right audience and build a base for long term sales. Not to mention that optimizing your listings with the right keywords will multiply your sales and turn your Amazon side gig into a reliable source of money.
So how do you achieve all of this?
We wager it's a simple case of using Book Bolt's tools and features intelligently.
The tool that makes keyword discovery easy as pie
Book Bolt offers a variety of functionalities that can aid your keyword research. And the truth is that you can approach the keyword discovery process via several paths. Although there's no right or wrong way to do it, some options will take much less time than others. At the same time, they'll lead you straight to the gold medal keywords that guarantee results.
To save you headaches, we're here to share the easiest and shortest path to identifying the perfect keyword for your listing. For this purpose, use Book Bolt's Keywords Search tool.
Here's how.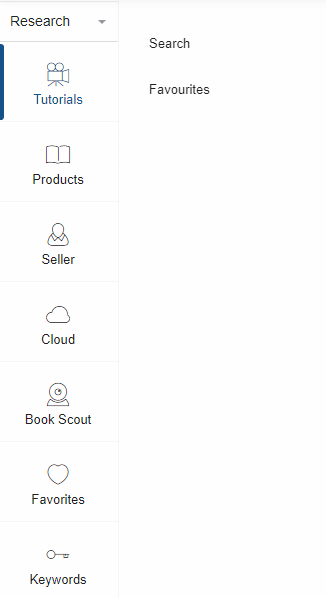 Once you log into your Book Bolt account, you'll see the Keywords tab in the main menu. When you click on it, you'll see two options – "Search" and "Favorites". Click on the "Search" button, which will lead you to a Keywords text box.
Use this text box to input the keywords you want to research. There are two ways to approach this.
One of your options is to use a broad keyword related to a general topic or niche. For example, "Valentine's Day". The tool will display all of the keywords related to this main keyword, giving you ideas on how to further niche down or target specific audiences.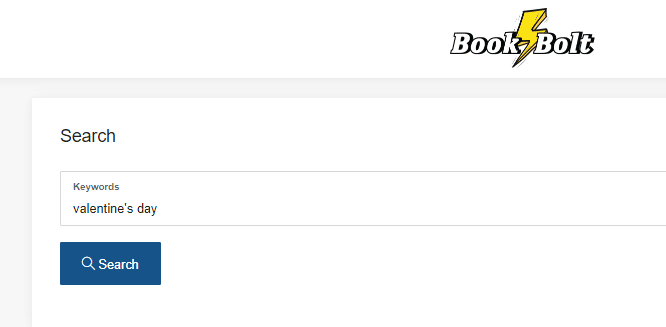 Let's look at a real-life example.
By typing in "Valentine's Day" into the Keyword Search box, we see some of the following results:
Valentine's Day
Valentine's day gift for
Gift for valentine's day
Valentine's day for kids
Valentine's day present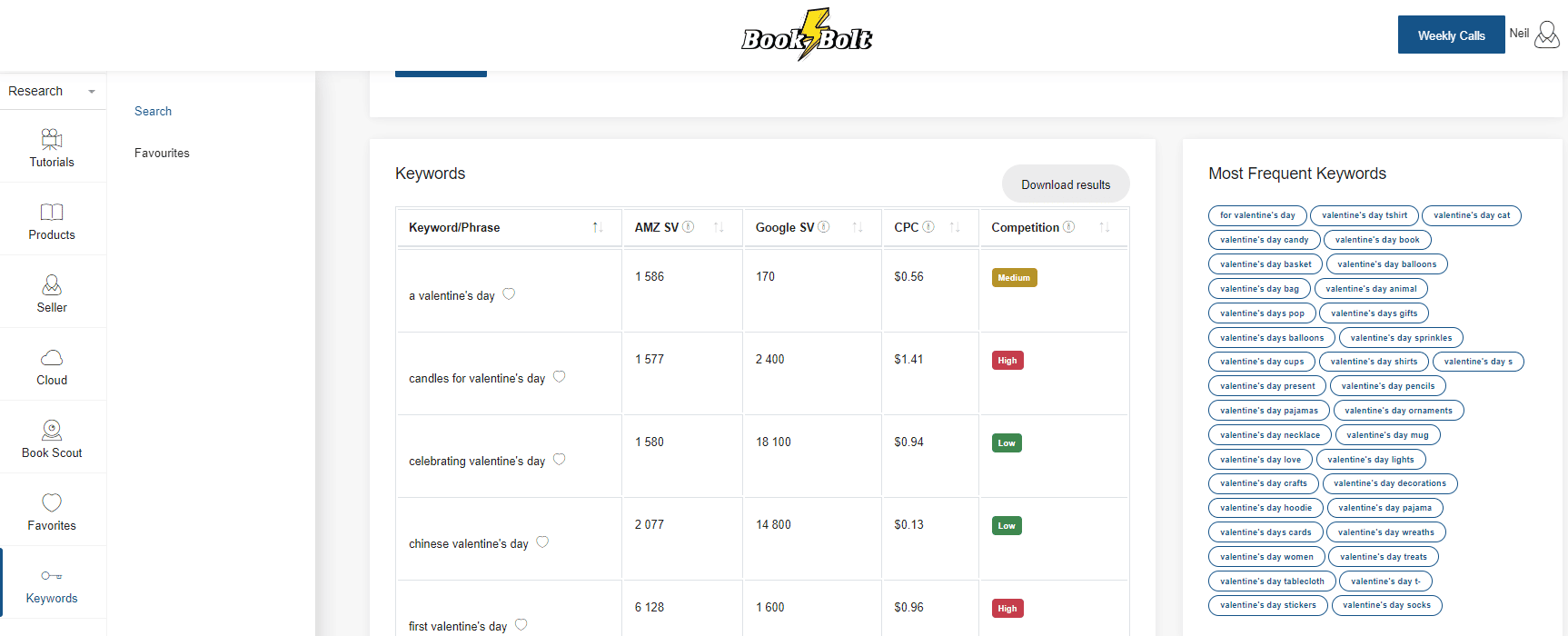 The second case applies to creators who are already selling in a familiar niche or those who want to explore competitor listings in a particular market. If that's the situation you find yourself in, you can type in keywords that are narrower or long-tail. But what are those?
Long-tail keywords are longer and more detailed keyword phrases. They usually have a lower search volume but stand out with higher conversion rates. This is mostly because users browsing for products through long-tail keywords often know exactly what they're looking for. And nine out of ten times, this also means that they're ready to make a purchase.
Continuing with February's most awaited holiday as an example, a long-tail phrase that you can type into the search box could be "St. Valentine's Day notebook gift for him" or "funny Valentine's Day gifts for him".
But is discovering long-tail keywords in the Keyword Search tool useful?
Let's put it to the test.
We used the Cloud tool to explore some of the bestsellers in the St. Valentine's Day niche. Unsurprisingly, the number one listing uses the long-tail phrase from above – "funny Valentine's Day gifts for him". The full listing title is "  Funny Valentines Day Gifts For Him: Naughty Personalized Valentine's Day Gag Gift For Boyfriend Husband From Girlfriend Wife Alternative Of A Card Cute Lined Notebook", which reveals more powerful words that help this listing enjoy visibility.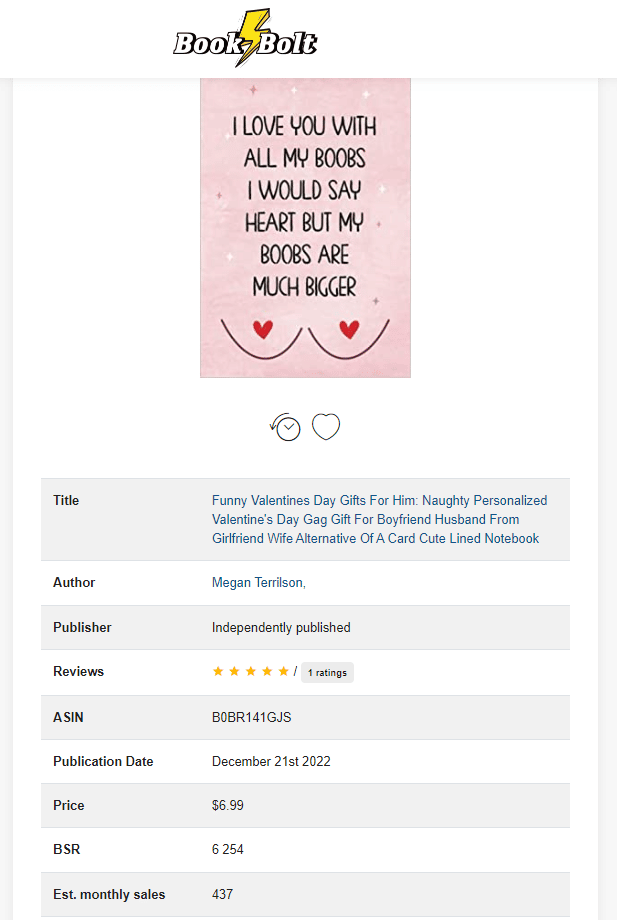 However, a key question still stands. How can you identify what the perfect keywords are in the first place?
Defining the ideal keyword
When you start using Book Bolt's Keyword Search tool, you'll notice that there are hundreds of keyword ideas you can use. Randomly choosing a word or phrase that grabs your attention won't do the trick.
The idea is to detect the keywords that are popular among Amazon shoppers. They are the ones that are used the most when browsing for products. Consequently, they will reward you with the most traffic and highest sales potential as a seller.
The keywords that you're looking for must possess the following characteristics:
High Amazon search volume
Low competition
Decent Google search volume
High Amazon search volume
When using the Keywords Search tool we introduced you to earlier, you'll see several columns for each result. The first column is the "AMZ SV" or the Amazon Search Volume. The number under this column represents the number of searches that have been performed by buyers using this exact word or phrase.
The higher the Amazon search volume, the more interest the keyword receives. Put otherwise, ranking for such keywords will make your listings more visible to consumers. And at the end of the day, discoverability is what drives sales.
Low competition

But the search volume is not the only metric to look at. Ideally, the keywords you use across your listing should also be "low competition". If you're not sure how competitive a word is, just look at the "Competition" column in the Keyword Search tool. It categorizes words into "Low competition", "High Competition", and "No Data".
"No Data" words are usually not very competitive. There's not enough data to determine their level of competition, making them low-hanging fruit.
We recommend focusing on "Low Competition" and "No Data" keywords. This will help you quickly rank for these phrases and win over more traffic to your listings.
Decent Google search volume
To form the perfect keyword selection strategy, it's also beneficial to examine the "Google SV" column in the tool's results. It demonstrates how many searches are performed by users on Google for the word or phrase.
Although not directly linked to Amazon traffic, it's better to opt for words with a high Google search volume. Why? Because a portion of your traffic may originate from Google instead of the Amazon search box.
Keep in mind that specific long-tail keywords are extremely useful for directing Google traffic to Amazon. For example, let's say a shopper opens up Google to search for a "St. Valentines Day gift for him print-on-demand notebook". If your listing is well-optimized for this long-tail keyword and ranks high, you can appear among the first results on the search engine.
On the contrary, if you've only ranked for St. Valentine's gift" this is an unlikely scenario.
Why?
Because chances are that this broader keyword will be much more competitive on Google. With hundreds of different products and services aiming to rank for it, winning the top spots won't be easy.
Overall, your best bet is to strive for keywords with a high Amazon search volume, low competition, and a decent Google search volume. As a bonus tip, try to prioritize long-tail keywords, especially if your listings are niche.
How to discover money-making keywords on Book Bolt
Now that we've covered the basics, let's look at the bigger picture. Here's a full step-by-step overview of identifying easy-to-rank-for and profitable keywords using Book Bolt.
Using the Cloud and Keyword Search tools in tandem
If you're entering a new niche or would like to improve your performance in a segment you're already selling in, start with the Cloud too. It will allow you to view all of the top-selling listings in a specific low- or no-content book category. The tool also empowers you to see the chart-toppers that rank for particular keywords. For example, type in "St. Valentine's" in the search box of the Cloud tool.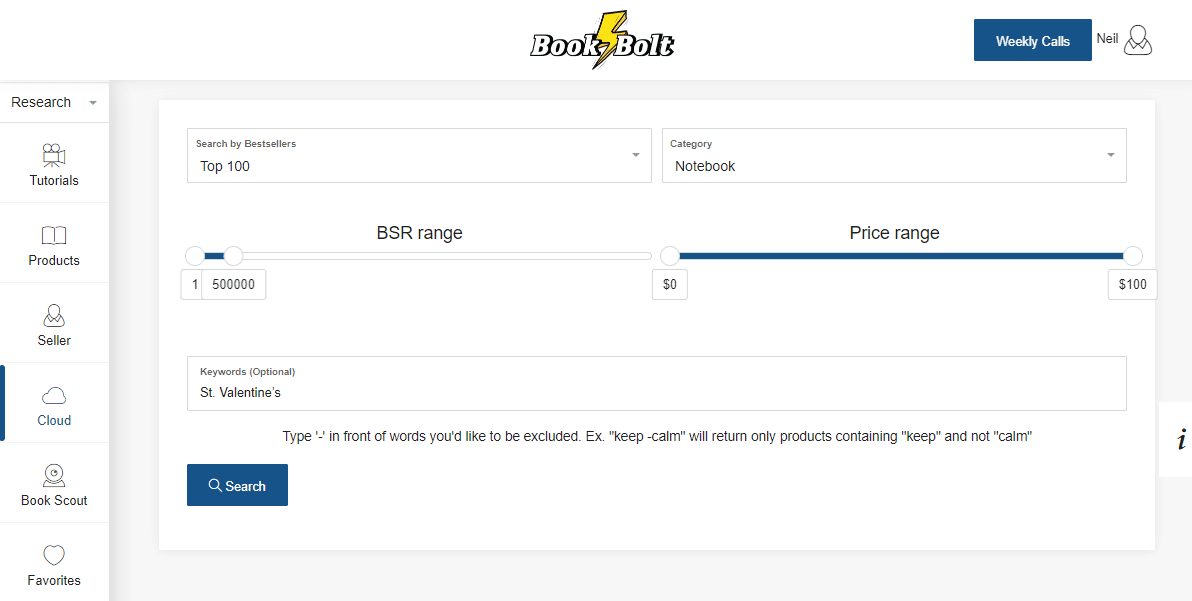 You can get a quick snapshot of the best performers among the results on your screen. This information is available under the "Keyword Count" section. Here, you'll see some of the following words:
Valentines
Gift
Funny
Husband
Boyfriend
Him
Her
Wife
Girlfriend
Women
Cute
Personalized
This means that the majority of the most successful listings in the space utilize these keywords to attract attention and sales. Use them for idea generation and continue your search with Book Bolt's Keyword Search tool.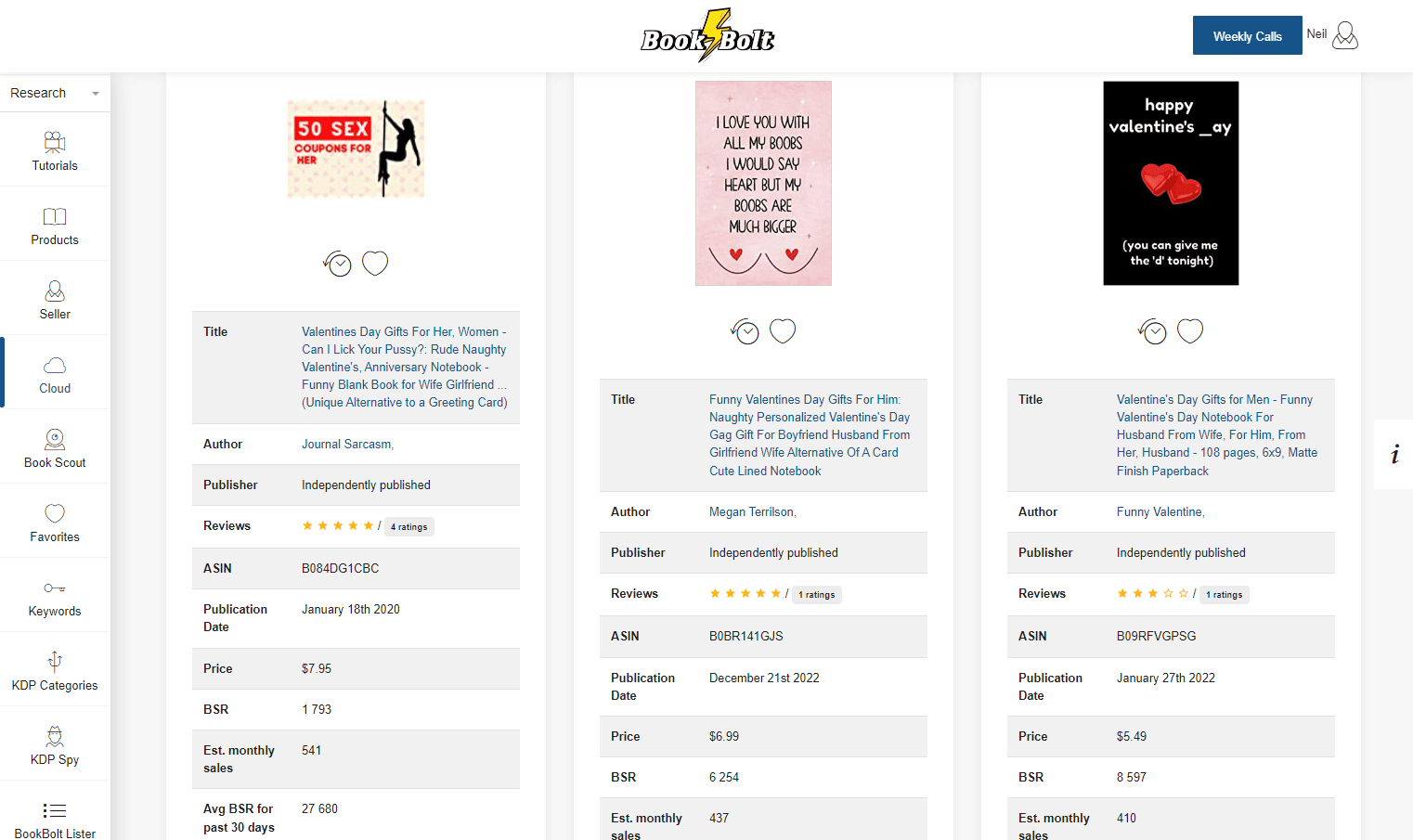 From there, continue breaking down and niching down by discovering similar keywords, but also ones that are less competitive and easier to rank for.
For instance, when typing in "Valentine's Day gift" in the module, we discovered that "valentines day gift for" has an Amazon search volume of 2,626,530 and not enough data to determine its competition. This is a clear sign that you can easily rank for this word.
You also get the added benefit of knowing that combining it with other popular words, like "girlfriend" or "boyfriend", will net you better results. Why? Because earlier you've used the Cloud tool to uncover that these two words are among the top 10 used by bestsellers in the niche.
Finally, don't forget to tie all of this with the category that you're selling in. For example, the word "notebook valentines day" receives a monthly search volume of 2,529 on Amazon and also has no data in terms of competition. Titling your listing something along the lines of "notebook Valentine's day gift for boyfriend" is a great way to popularize your listing.
Wrapping up
Keyword research is a beautiful and most importantly – data-based process that can turn your Amazon KDP performance around. Equipped with the right tools and features, you can always position yourself one step ahead of your competitors.
Use the guidelines from this article to locate the perfect keywords, optimize your listings, and make informed decisions based on facts rather than assumptions.