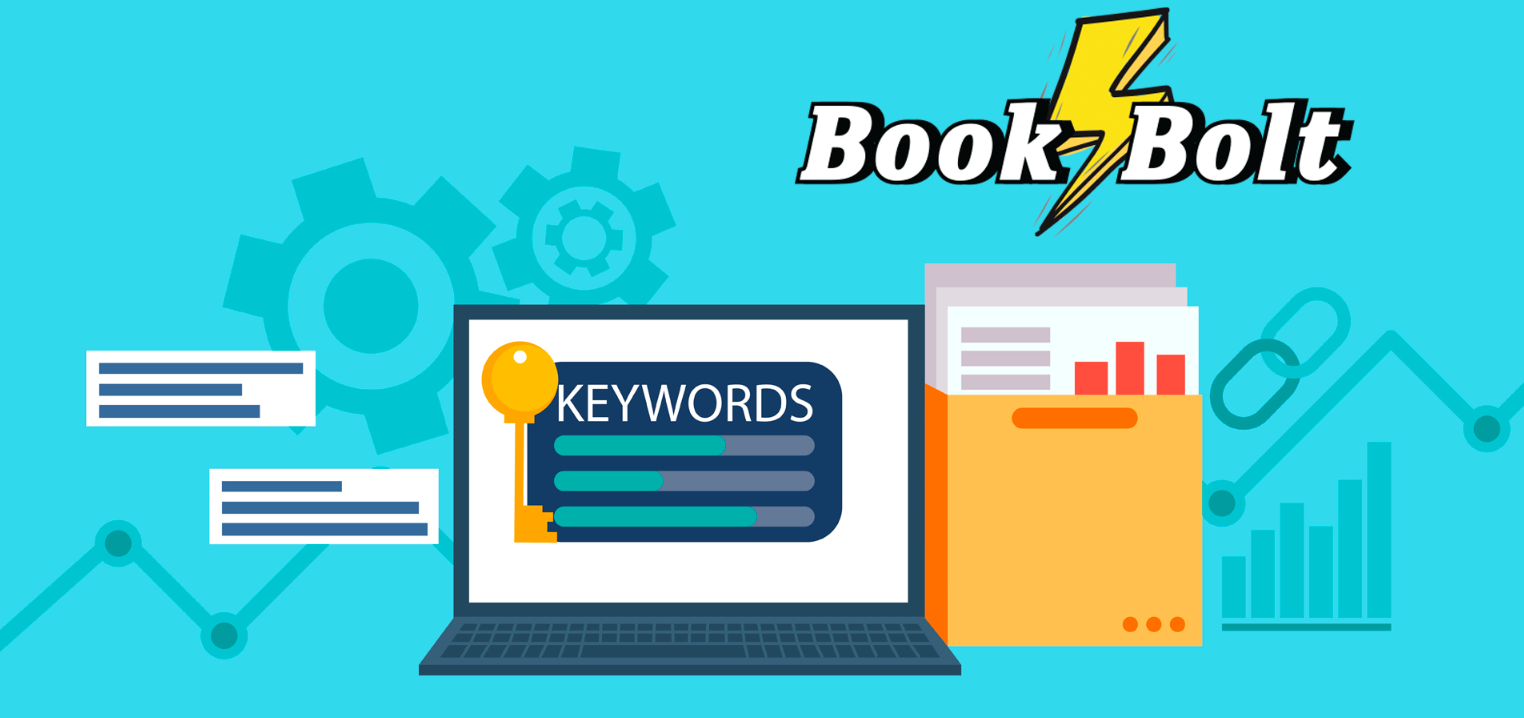 The ONE thing that sets you apart from other book sellers besides your designs is going to be the keywords that you use. Without the proper keywords, you can have the best design ever but never sell anything!
Keywords are your KDP lifeblood!
I KNOW you have heard this from just about everyone that has any content on KDP. Even though everyone SAYS they are important, you might still be wondering what to do, how to use them, and how to find the relevant keywords to your niche.
Let's go over all of that in today's article about keywords!
Book Bolt just released the Keywords Module inside of the Book Bolt software. This module is perfect for finding the keywords that customers are actually using when purchasing low content books.
Book Bolt KDP Keywords Module Release
Before you can jump in and start using the keywords module, you need to have a Book Bolt account to get into the software. You can grab a 3 day free trial of that here: https://bookbolt.io/pricing/.
Once you have your free account, log in, and then go down to the keywords section in the left hand menu: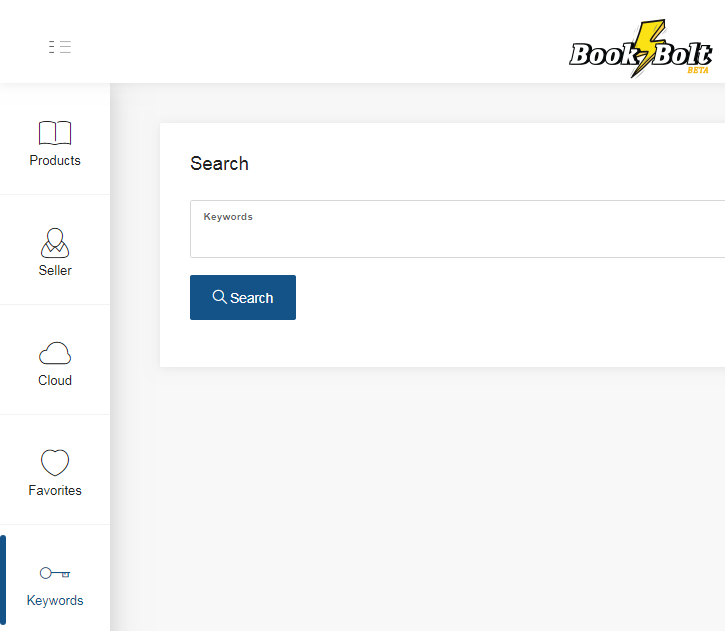 The keywords module is broken down into three sections:
Keywords
Most Frequent Keywords
Relevant Products
To start using the module, enter in a keyword into the search box. For this example, we will use: unicorn. Click on search!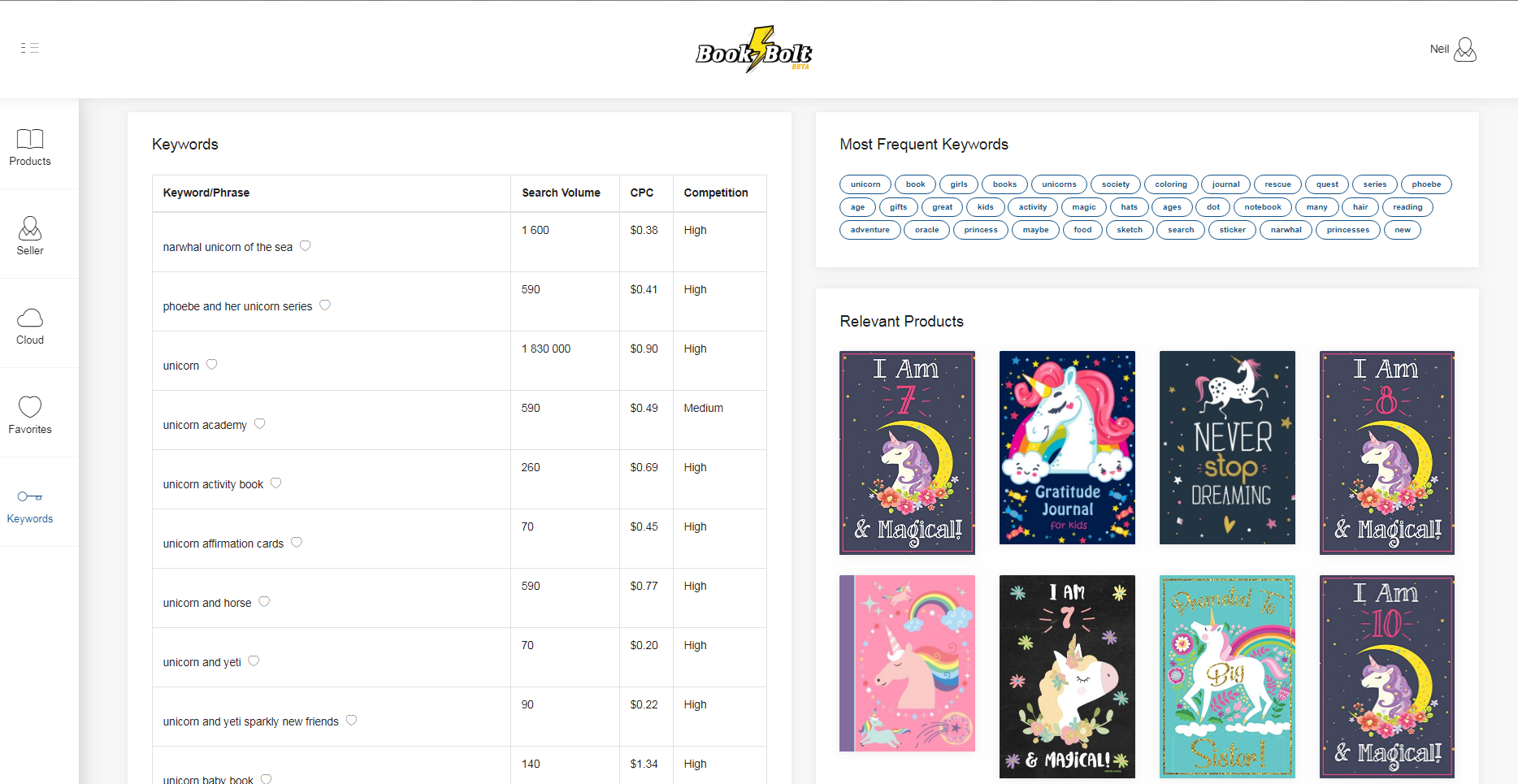 The keywords section will bring back keywords in the book category on Amazon that are relevant to the niche you are listing in. It will also give you a search volume, CPC and a note on competition. This will be a LONG list of keywords that you can scroll through. Not every keyword here will work with the specific book that you are listing. These keywords here are a great way to discover niches, but also cherry pick the ones that work with YOUR book. Go through this list and pick out every keyword that is actually RELEVANT to your book and write them down (you will use these in your backend keywords on KDP when listing your books).
The most frequent keywords section on the right hand of the screen will show the MOST frequently used keywords in products that are ALREADY selling Amazon. This tells you exactly how people are getting the right customers onto their listings. These keywords will be different than the main niche you are searching for. The reason for this is that these are keywords that have been used in successful listings the most. These are not always going to be super targeted and are often times a bit more broad.
Since you know that these keywords are used in successful listings, make sure to take a look at this section and again, pick out the relevant keywords. You will want to include these in your listing but ONLY if they relate to the book you are going to be listing.
However, if you are simply doing research (and not listing a book right away), you can use the keyword module as a starting point to uncover a lot of new ideas based on these keywords.
Finally, you will see relevant products on the right side of the page. These are products on Amazon that are ranked and selling for the most commonly used keywords in that niche in order of best sellers. This should give you a good idea of what is already available so that you can spot the holes in the market that you can enter!
This section is a lot more visual than data oriented. While these are successful books up on KDP, the way that we use this is to find out what type of styles are doing well and find things that might be MISSING from the market. Remember, the key to success here is to find the right keywords and come to the market with something unique that customers want. If you already know what customers are spending money on, you can enter that same market with your own stuff and know you will make sales if you find the right entry!
Once you have all the keywords written down if you are listing a book, it is time to start using them!
The best way to use these keywords is to take relevant keywords from the Keyword module, and put them in the backend keyword section for your books when listing. This will ensure that if your design is good, that your designs start to rank so the RIGHT customers see your products!
Remember, the keywords in the backend of KDP do not need to be typed in sentence form. You can simply rattle them off without commas or punctuation at all. Use all the relevant keywords and get your books online and selling in front of the right audience!
Wrapping It Up
Using this KDP keyword tool is pretty easy. It makes finding new niches while doing research really simple if you are using it as a starting point. If you are using it to list your books, then all you have to do is pick out the relevant keywords and list.
As an example of how easy this is to uncover new niches, remember that we used the seed keyword: unicorn. Scrolling through the results we see this:

Unicorn guest book. If you head over to Amazon there is still less than 261 results for that keyword.
Remember, niches do not need to JUST be your covers, they can be broken down further by interior!
Make sure to jump on and start using the Keyword module to ramp up your KDP business! Good luck.