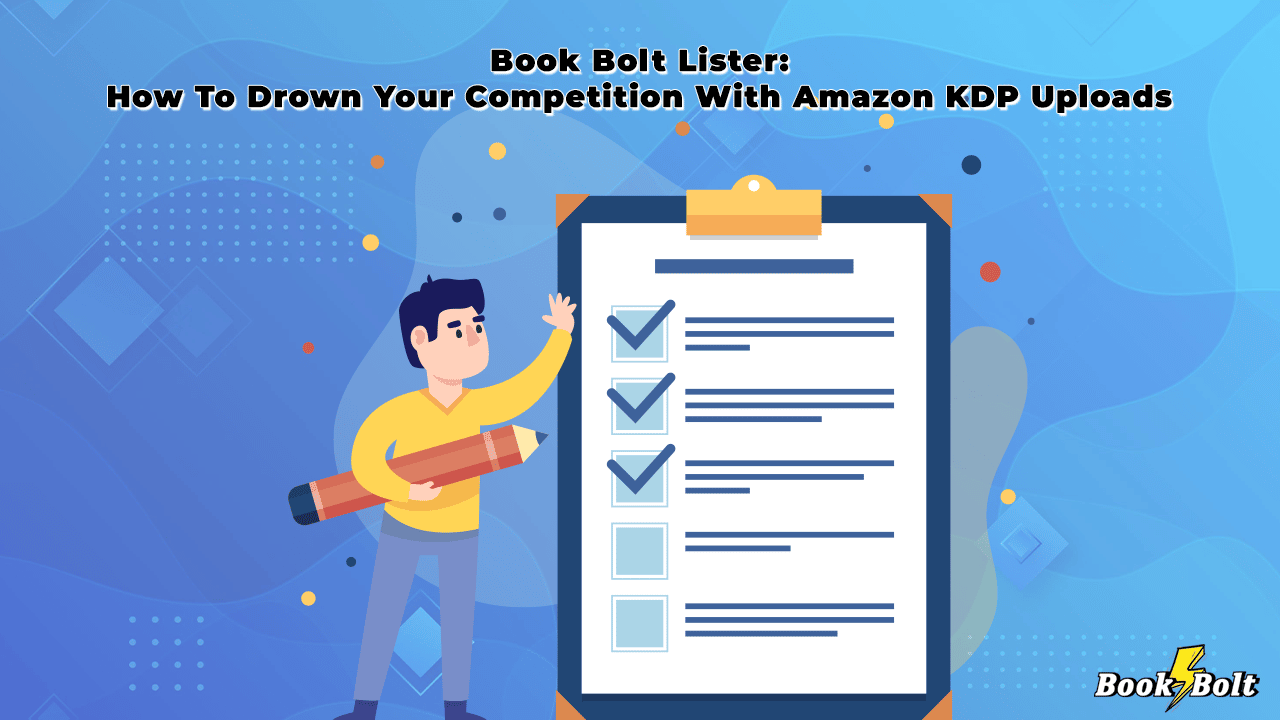 For an effective Amazon KDP strategy for no- and low-content books, most Sellers by now would have realized that selling just one book won't cut it. A variety of categories, niches, and types of products is essential when building a portfolio that buyers can choose from. What's more is that by having a wider portfolio, you can also build and solidify your brand.
There are numerous benefits to providing your customers with multiple book options. But that's not to say that the process isn't time consuming. The research and design portion is bound to take some time, as is the actual uploading of your books. However, there is a way to get around this and upload your books 10 times faster than the manual way.
Wondering how? With the help of Book Bolt Lister.
What Is The Book Bolt Lister?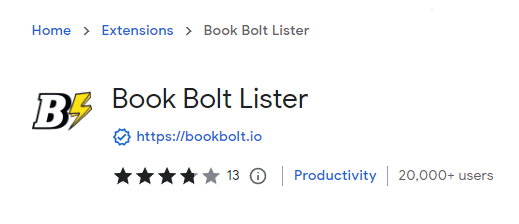 The Book Bolt Lister is a Chrome extension that acts as a macro. In short, a macro is a functionality that enables a user to quickly get several things done by merely pressing a button. This is in contrast to having to enter multiple bits of information over and over again to get the same result.
The Book Bolt Chrome extension is highly simple to use. Simply go to the Book Bolt menu on the left-hand side and click on the Book Bolt Lister. You'll immediately be taken to the Chrome store where you can click on "Add extension" to get started. This extension will now appear in your Chrome tray (it looks like a puzzle piece). Next, click on it and the Book Bolt Lister menu will appear.
What Are The Main Features Of The Tool And Its Key Advantages?
What will you see when you're in? There are three main menus on the left-hand side. These are "Profiles", "Settings", and "Import/Export". Profiles and Import/Export will be the most crucial elements to bulk uploading on Amazon KDP. This is because they'll help you speed up the process and ensure your books get onto Amazon that much faster than your competition.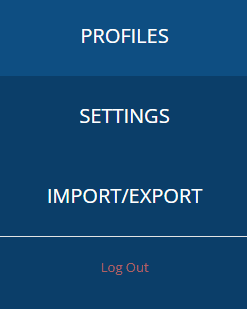 The key function of the Book Bolt Lister is to allow you to enter certain information on Amazon KDP's listing creation menu with the touch of a button. This information includes things such as the author/publisher name, title and description, keywords, and trim size of the book.
You can do that by programming the input of the information to happen upon the use of a hotkey combo (such as "shift1"). Once you've selected your hotkey and entered the crucial information, you are ready to upload on Amazon.

But does this mean you'll have to enter all the information above again? Absolutely not. Only by pressing your chosen hotkey will this information be pre-filled, enabling you to cut back on time-consuming processes of entering repeated data on Amazon. The beauty of the "Profiles" menu is that you can add as many book profiles as you wish and even remove some. You'll be able to use hotkeys for each one of these profiles in your Amazon KDP account.
As for the Import/Export menu, this will enable you to replace, append, or save profiles and upload variations of your books. It's quick and easy and it's highly time-saving.
How Can These Features Help You?
As mentioned above, putting a book onto Amazon KDP can be time consuming. Especially if you don't have the help of a software such as Book Bolt. You'd have to do extensive keyword research, write your titles and descriptions in an optimized way, browse competitors' prices to determine your pricing strategy, and so much more.
With Book Bolt Lister, this is no longer the case. In fact, instead of working on a book-by-book basis, you can list multiple books very quickly. All it takes is clicking on a button and that's it.
How Is The Tool Commonly Used?
The Book Bolt Lister is ideal for you whether you want to devise a new strategy or reinforce an existing one. Here's how.
Listing multiple books of similar designs
Perhaps the most common case when it comes to the Book Bolt Lister is when you want to upload a multitude of no- or low-content books, which share similar characteristics.
Say you want to upload a notebook whose cover is available in 5 different colors. Instead of manually inputting identical information 5 times, you can simply click your Book Bolt Lister hotkey, and the data will load onto Amazon KDP's listing menu instantly. Then, it is only a matter of tweaking a few words manually (the corresponding colors in the title and description of the listing) to match the different palettes.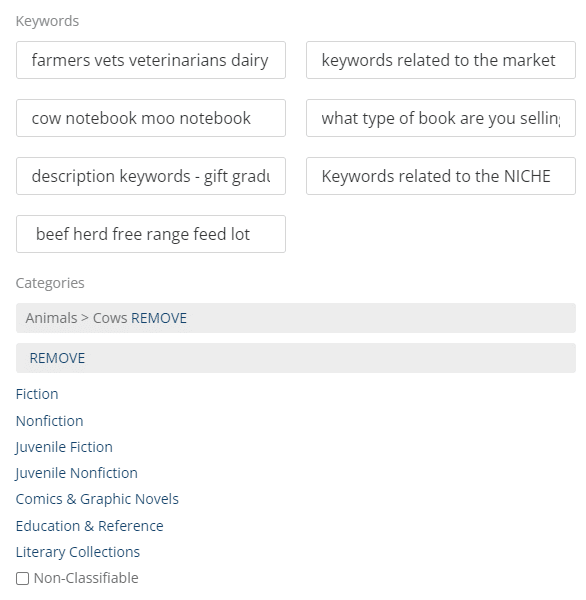 Listing books quickly
If you're already selling books on Amazon KDP, and multiple ones at once, you'll want to ensure your entire process from start to finish is optimized, too. With the Book Bolt Lister, you can easily do this because you'll already have your title, description, and seven keywords pre-loaded.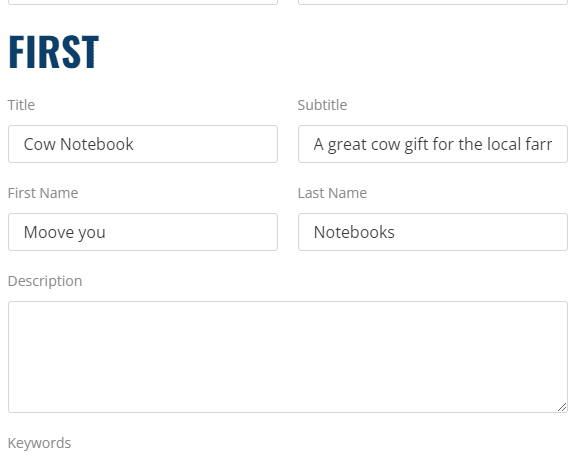 All you need to do is enter them in once in the Profile menu and hotkey these details. Once done, you'll go straight over to Amazon, input your hotkey, and you're on your way to publishing your books. This means that if you've already jumped on a trend or a niche, you can get it to market that much faster than going the manual uploading route. It also means that you'll always be one step ahead of the competition at all times.
How Can This Tool Be Used In Conjunction With Other Book Bolt Tools?
Since you'll need to enter your title, description, and seven keywords when filling out your profile or profiles, you'll need to have this information ready and on-hand before you proceed. But how can you do keyword research and how can you ensure your titles and descriptions are optimized? The answer lies in Book Bolt's other handy modules.
For example, with the Products module, you can simply type in a keyword, select your category, and you'll get the top results within seconds of clicking "Search". These results will enable you to see how that keyword ranks in terms of other competing products on the Amazon marketplace, what other related keywords Sellers are using, and which prices are being charged for each item. You'll see the lowest, highest, and average price and this will enable you to make smarter decisions.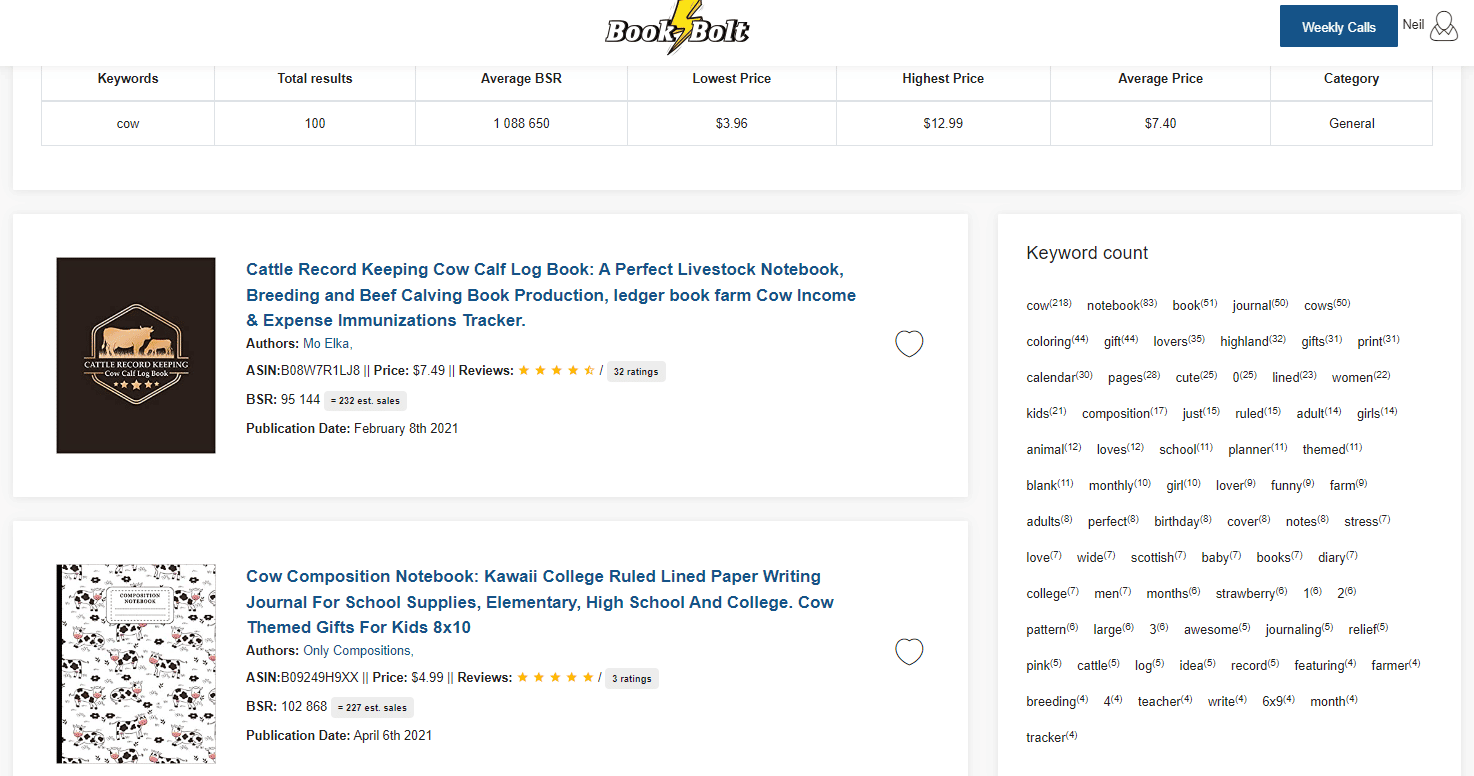 On the other hand, if you're competing with a Seller, you can opt for the Seller search module. Here, you'll simply need to enter their name in the search box and hit the "Search" button. The results will display their entire portfolio of books and how they are positioning themselves in terms of categories and types of books offered as well as niches and their prices.
The Cloud module is another excellent way of gauging the best-sellers rank (BSR) and prices in addition to ensuring that you get a broader overview of the top Sellers in a given category such as "notebooks".
Book Scout enables you to do a reverse ASIN search on a given book and see all the keywords that are associated with that product. This is in addition to the search volume that you'll be able to see for given keywords.
Finally, you can also search for keywords in the Keywords module. Simply enter in the keyword in the search box. You'll immediately get the Amazon and Google search volumes, the cost per click, and related or most frequently used keywords by other Sellers.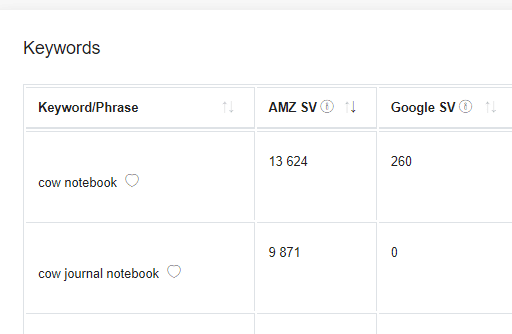 Each of these modules work in conjunction with each other to help you create the perfect listing. Once you've done that and you're ready to upload, simply take your research to the Book Bolt Lister. From there, you can proceed with a quick and easy listing of multiple no- and low-content books.
Wrapping Up
Because the Book Bolt Lister enables you to list multiple books on Amazon KDP quickly and seamlessly, your products will get to market faster while your competitors will still be designing their covers.
Adding the extension takes a second and you're ready to begin. Used in conjunction with other Book Bolt modules, you can not only significantly optimize your listings, but place your products in front of an audience faster.
For more information about the Book Bolt Lister, visit the dedicated entry in our Book Bolt Knowledge Base.