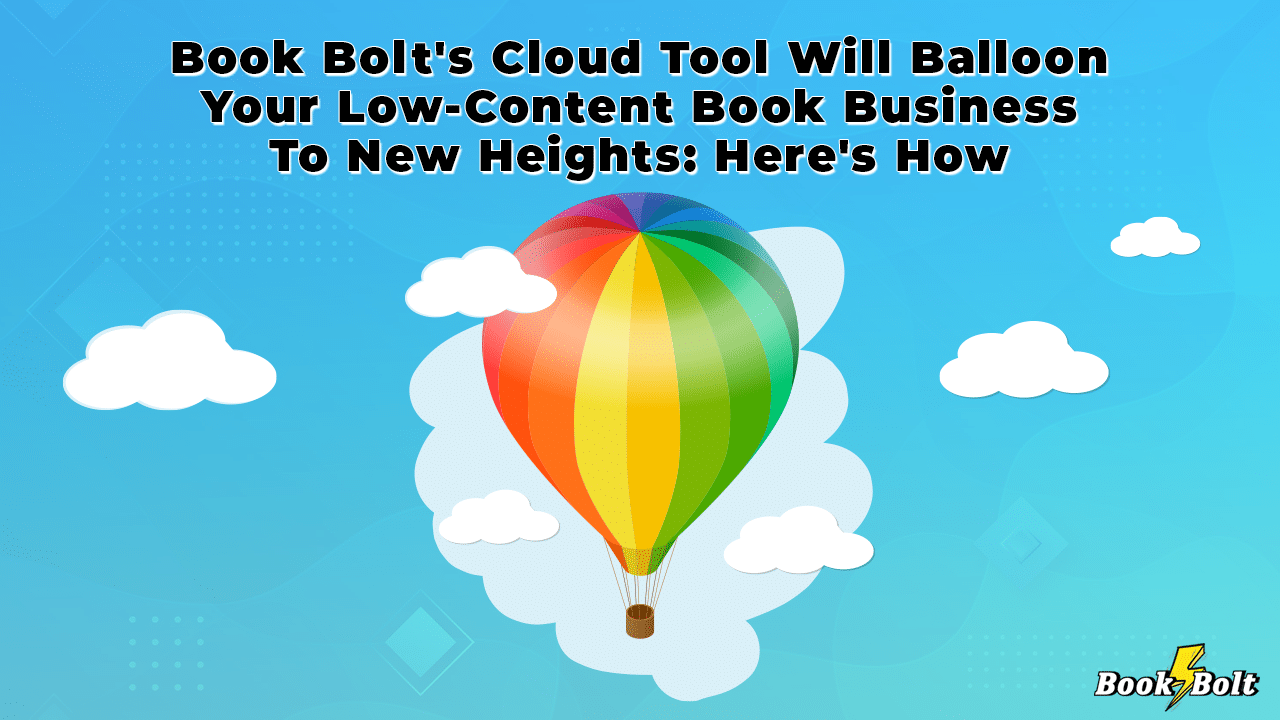 As a beginner in the world of no- or low-content book publishing on Amazon, it's natural to assume that your first step should be to do some solid research. In fact, you might be tempted to go straight to Amazon itself and start browsing the millions of books the platform has on offer. You might also be tempted to start taking notes, keeping your ideas organized in some way, or even keeping a log of your research.
While this is good and well, we're here to tell you that you're wasting a lot of time sifting through books manually (otherwise known as the hard way). You can stop doing that right away, because in order to get access to the best metrics and insights on Amazon, all you really need is Book Bolt and its proprietary Cloud tool.
Ready to learn more?
Let's begin.
What Is Book Bolt's Cloud Tool And How To Access It?
In short, the Cloud module found inside Book Bolt is a recreation of the Amazon database.  It's updated every day and it offers invaluable information that you can use to make sound decisions about your book business over a period of time.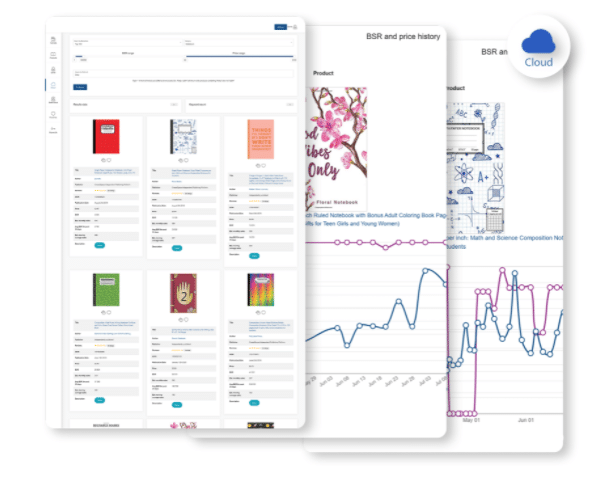 You will be provided with a broad view of what books are actually being sold on Amazon.com, and what customers want. With a few clicks, you will learn exactly what you should be creating in order to start growing, fast.
To begin exploring, all you need to do is log in to Book Bolt and click on Cloud in the left-hand menu.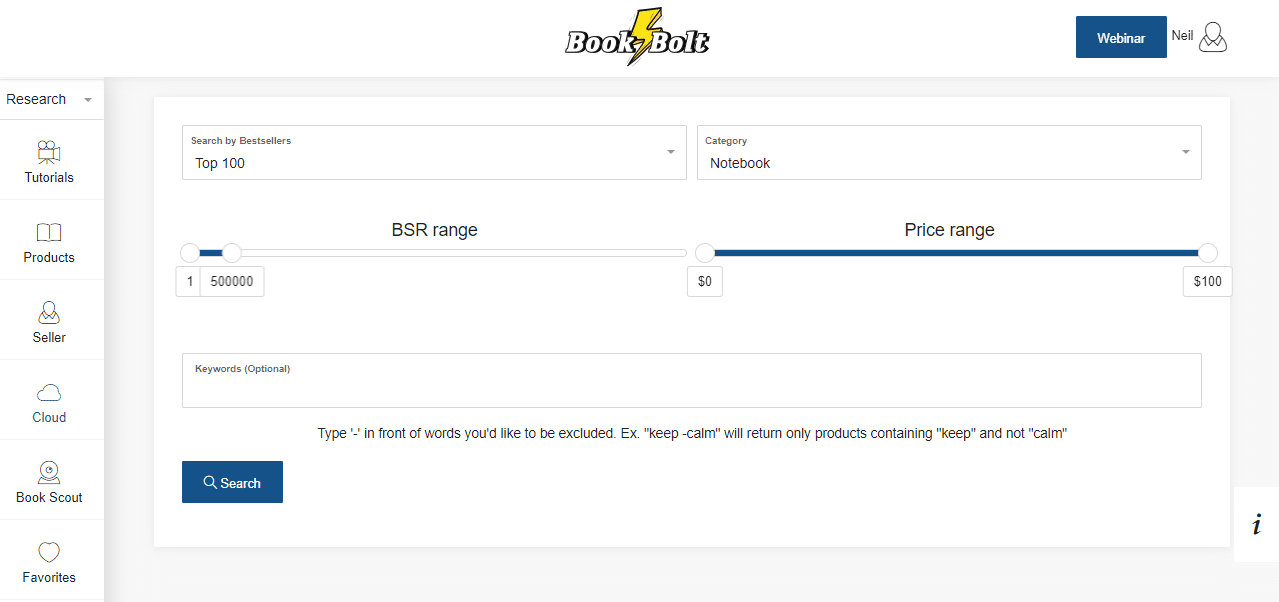 What Are The Main Features Of The Cloud Tool And What Do They Do?
When you open up the Cloud module, you'll see a couple of different options that you can use to refine and narrow down your search. These options include:
The number of best-sellers you want to examine at this point in time: This is a drop-down menu that goes from the top 100 to the top 500 (if available). (Side note: the beauty of it all is that you don't need to click on anything and leave all the menus by default followed by clicking on "Search"). But for the sake of clarity and explanation, we'll show you how to do a thorough search by selecting some real cases.

Book category: The options here are vast. You've got a drop-down menu that lets you choose the specific category of books you want to take a look at. These include: notebooks, music sheets, journals, calendars, planners, coloring books, log books, trackers, sketch books, comic books, guest books, puzzle books, and activity books.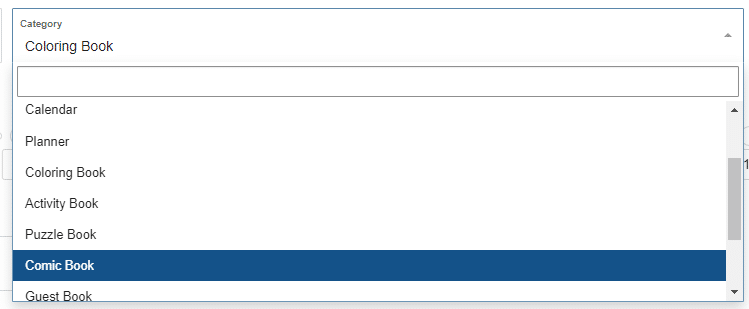 BSR range: This helps you narrow down and refine the best-sellers rank (BSR) on Amazon. It is a fluid scale that can change depending on how many books you're looking at, as well as what categories you're considering. Generally, your selection can range from a BSR of 1 all the way up to 500,000.

Price range: The option for the price range goes from $0 to $100. By leaving this menu as is, Sellers will get all the books available within this dollar value range. You can always select a different price range; say from $7 to $20 and narrow down your search even further. You can therefore opt for going from the largest spread to narrowing it down to a certain price range. By keeping the price at $0, you'll be able to see much more, however. In fact, you'll see everything that appears in the price range for the specific book type you've selected.

Keywords: This is an empty field in which you can choose to type specific keywords if you're looking for a specific book. For your first searches, it's recommended that you keep this field blank to get an overview of as many results as possible, and to get a hang of the search engine.

All these are the different options that you want to play around with to suit your particular book business needs.
What Do You Do Once The Filtering Is Done?
Okay, what happens now that you've selected the number of best-sellers, the book category, the BSR range, the price range, and keywords (if any), and clicked "Search"?
You'll be taken to the search results. But before this, there are two drop-down menus that you can click on to get even more information. The first drop-down menu will show you the search categories you previously entered – all the way from the number of best-sellers to the keywords used (or not). Here, what's crucial to pay attention to is the lowest price, highest price, and the average price.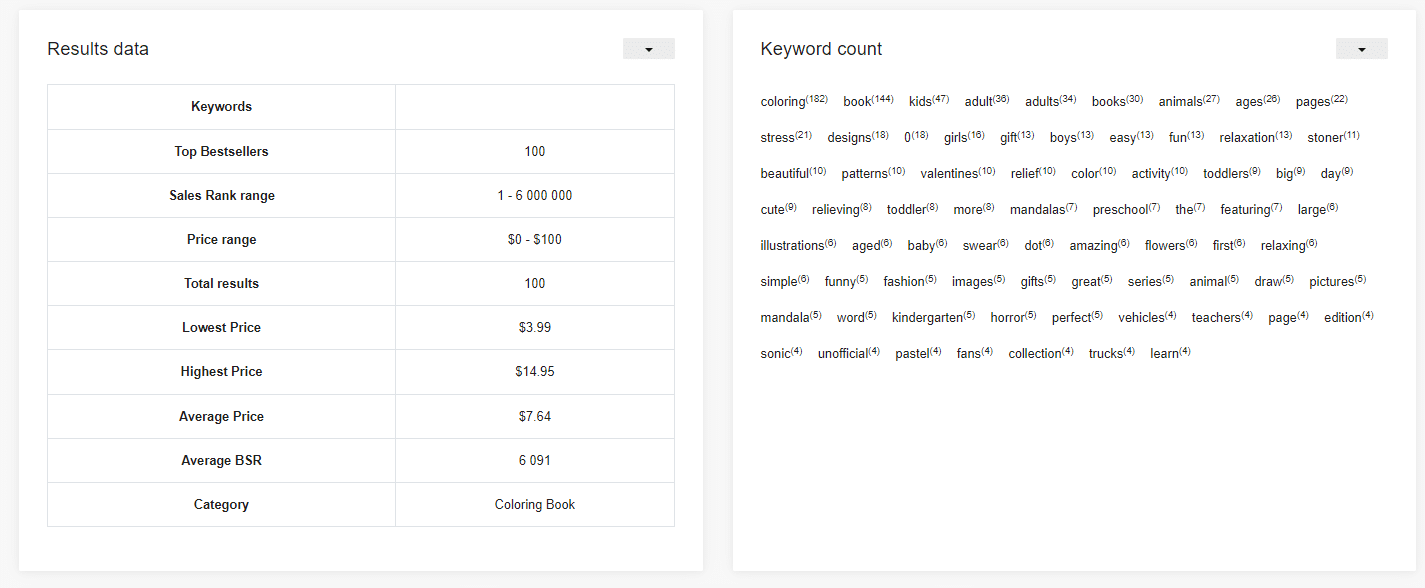 This will give you a great idea of where and how to price your books. It makes for some truly indispensable sales info.
Then on the right-hand side you'll see various keyword counts, which are the most used keywords in the books that are actually selling. You can use these for generating ideas and see which keywords you'd like to include for your next book – especially in the title, description, etc.
Finally, scroll down to all the book results that have come up in your search. Each book that appears will come together with a lot of information about it. (Remember: all the titles are clickable so if you click on one, it will bring you over to the product on Amazon).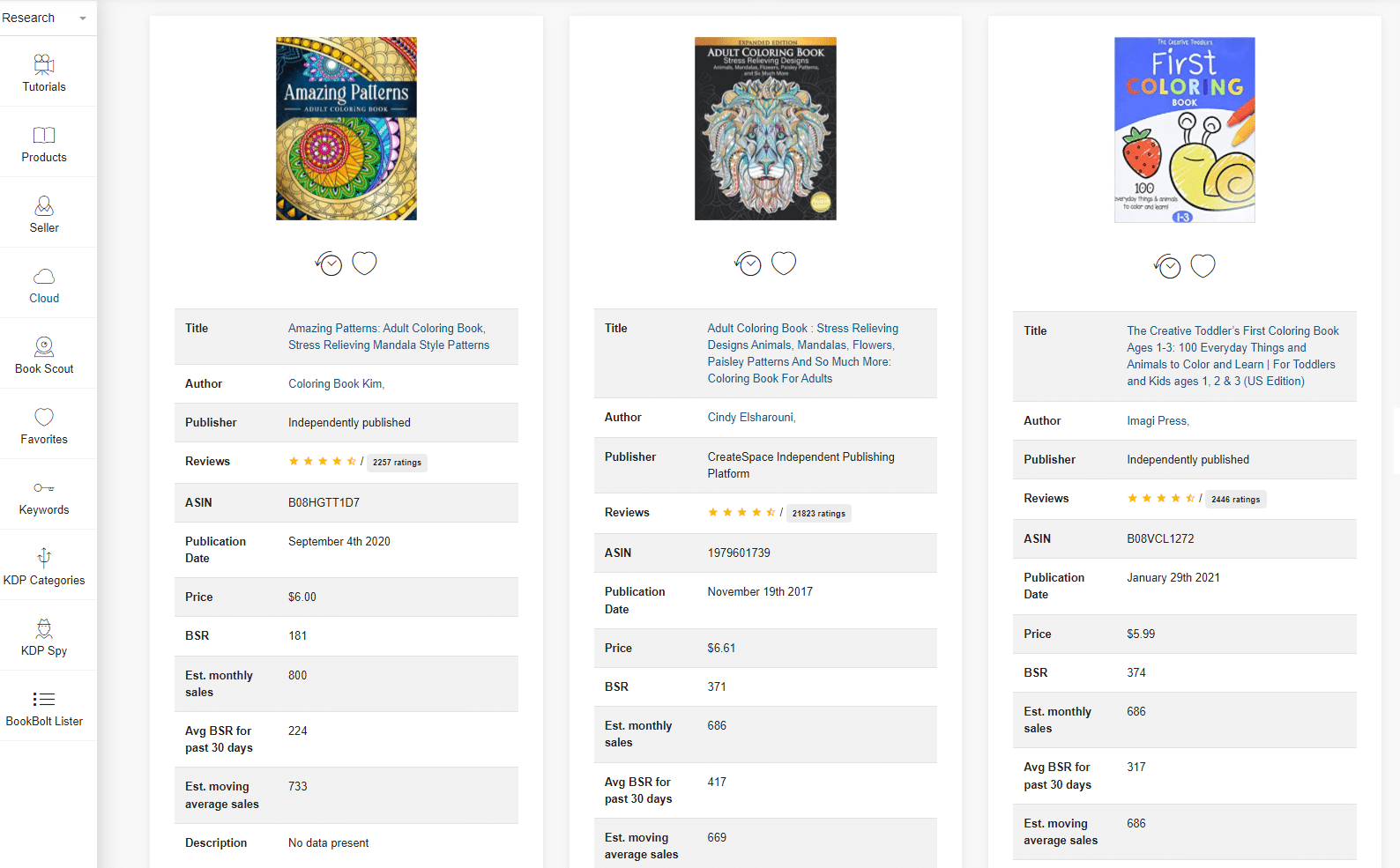 Let's stick to the results page though and what it yields. You'll be able to see all types of different valuable information about the book you've selected. In fact, the Cloud module offers you practically everything you need to make a decision about your book that makes perfect business sense.
This information includes the author, the publisher (most of the time, you'll see "independently published" but you may see the previously used Create Space, too), the number of reviews, what the reviews are, the ASIN's, the publication date, the price, the BSR, and the estimated monthly sales. Also included is an average sales rank over 30 days – this is a great way of determining whether a book sold just once and then never again, or whether it saw more success through consistent sales. The sales rank and the estimated monthly sales can help guide you to see how the book is doing over time. You can also look at the descriptions for each of the books to get an idea of what words to use when creating your own book.
So, what else does the Cloud module offer? Yes, you can add books to your "favorites", but you can also check out the BSR and price history button. You get information in graph form of how a specific book was doing. You'll see the price and the sales rank that correlates with it. Why is this important? It will show whether the Seller has done anything to manipulate the results such as changing the price of the book to try to get more sales. A drop in the graph means the book is selling and the BSR is improving and getting lower.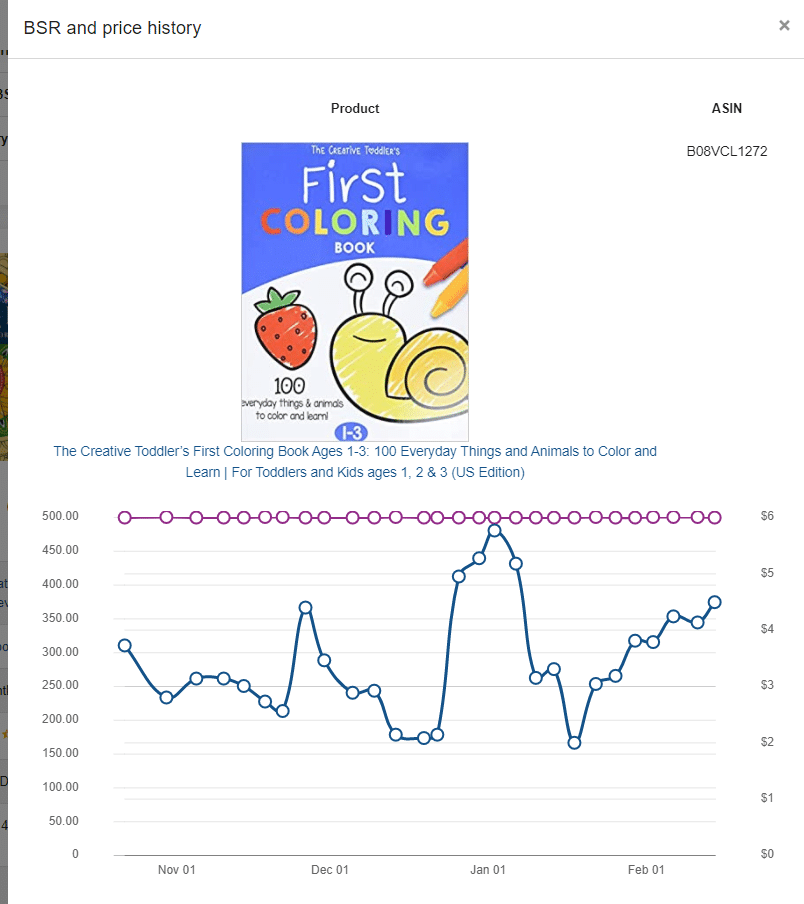 Worth noting is that if you narrow down your search to the top 500, you'll get more pages with more search results. It's definitely important to look at the second and third pages to see lower competition niches.
How Does Book Bolt's Cloud Tool Help You Build & Execute An Effective KDP Strategy?
Now that you've been acquainted with the potential of Book Bolt's Cloud tool, we need to talk about practice.
Let us illustrate this with an example. In this imagined scenario, you might specifically be looking at best-selling calendars (category: calendar) in the price range of $5 to $20. We've left the best-sellers menu in its default state – the top 100, didn't enter in any keywords, and also left the BSR to range from 1 to 500,000.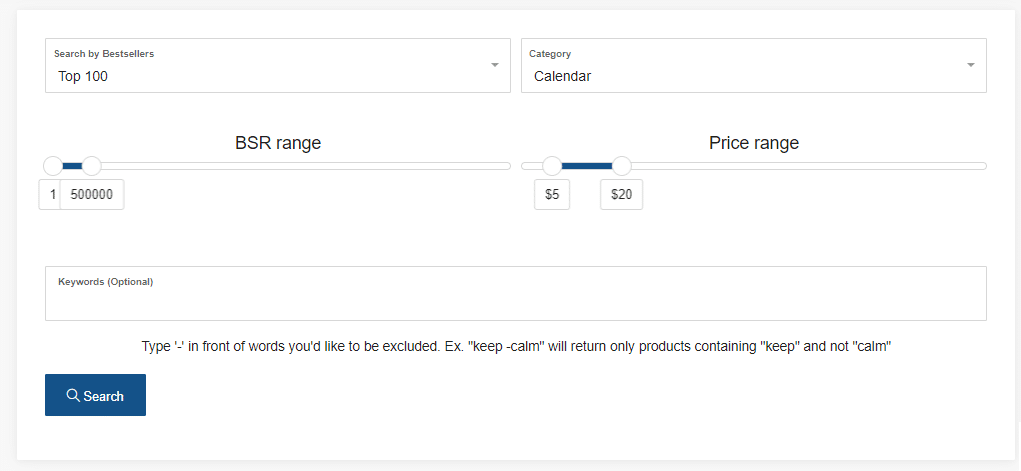 Now let's look at the results. Based on what comes up, it's easy to see that a 2022-2023 calendar by Dora S. Mitchell is doing pretty well. Published in February 2021, this calendar goes for $8 and has a BSR of 10,945 (average BSR for the past 30 days is 12,556), which given the millions of books you're competing with, is not bad at all. What's even better is that the estimated monthly sales are at 389 (389 x $8 = $3,112. Take the commission out of the calculation, and you can see that these are not bad earnings by a long shot), while the estimated moving average sales are 374.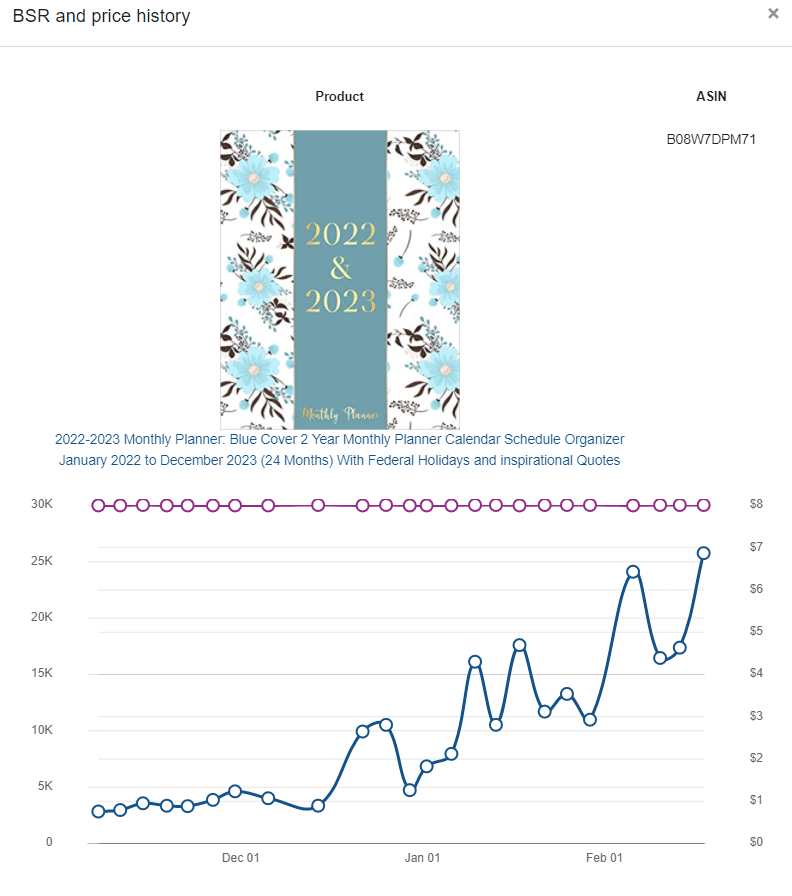 Based on these aspects and strategies used by this Seller, you can make some informed decisions. For example, looking at the title, we can see that this calendar was created for a two-year period. Interesting niche, isn't it? Most calendars are created for a one-year period. Then, we can see that the price is quite reasonable for the product offered, and you might want to explore it as a pricing strategy. This particular Seller didn't change prices since the book was uploaded on Amazon, and has resulted in a relatively steady BSR with strong monthly sales.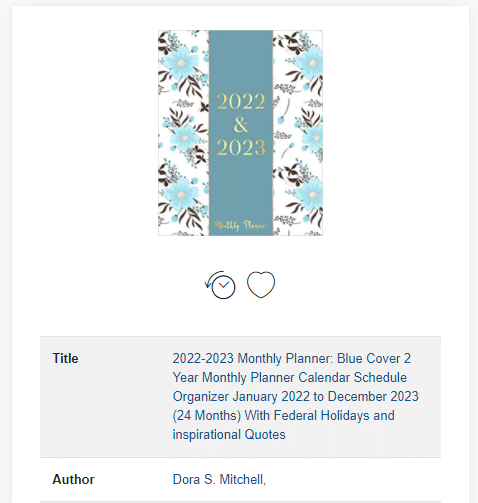 The interpretation is, of course, up to you. Will you copy that Seller's product and strategy by the book (no pun intended), or will you take certain bits of this high-performing product's success and apply them to your own calendar-in-the-making?
See, that's not the point. The point is, by having the data, you can start considering the strategy. Without the data, there is no strategy.
Final Thoughts
So, if you'd like to find out how other competitors are doing, use the Cloud tool's filtering feature to help you narrow down results and see what strategies are working for others. This information will help you not only discover some strategic niches that you can start taking advantage of, but also help you improve your overall financial success on Amazon.