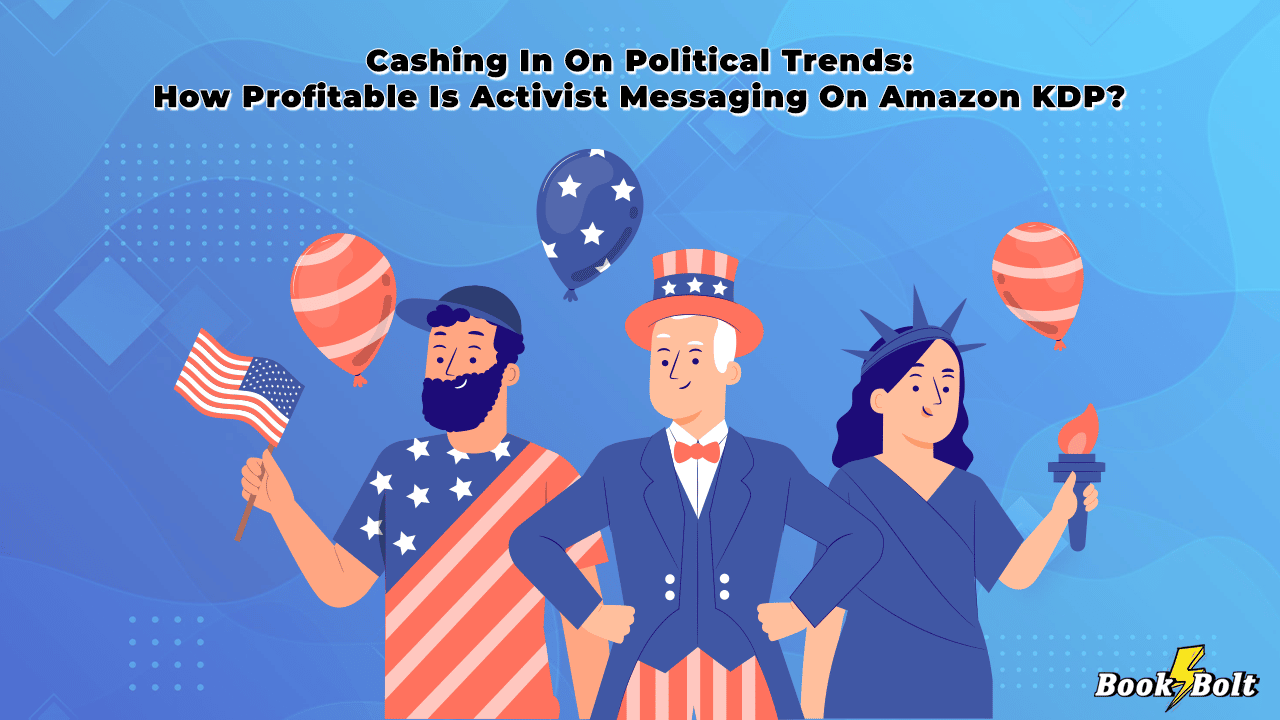 Politics infiltrates every part of our lives. From the economy to immigration, human rights to the environment, it's a fact of life that can't be ignored. While politics and activism are so deeply ingrained in our consciousness, it doesn't mean that we can't find humor in them.
This is where no- and low-content books on Amazon KDP come in. Perfect as gag gifts or birthday and Christmas gifts for the politically minded or even neutrals and independents, the politics niche on the platform is slowly but surely gaining traction.
Here's what you need to know about it.
How big is the market for no- and low-content books featuring political messages on Amazon KDP?
Using Book Bolt's Product Search to study political messaging on Amazon KDP, we discovered that the market for no- and low-content books featuring political figures is not as developed as some of the other key niches. At the outset, this should be a strong signal to Sellers that there's an untapped market for such books and that it's certainly worth exploring.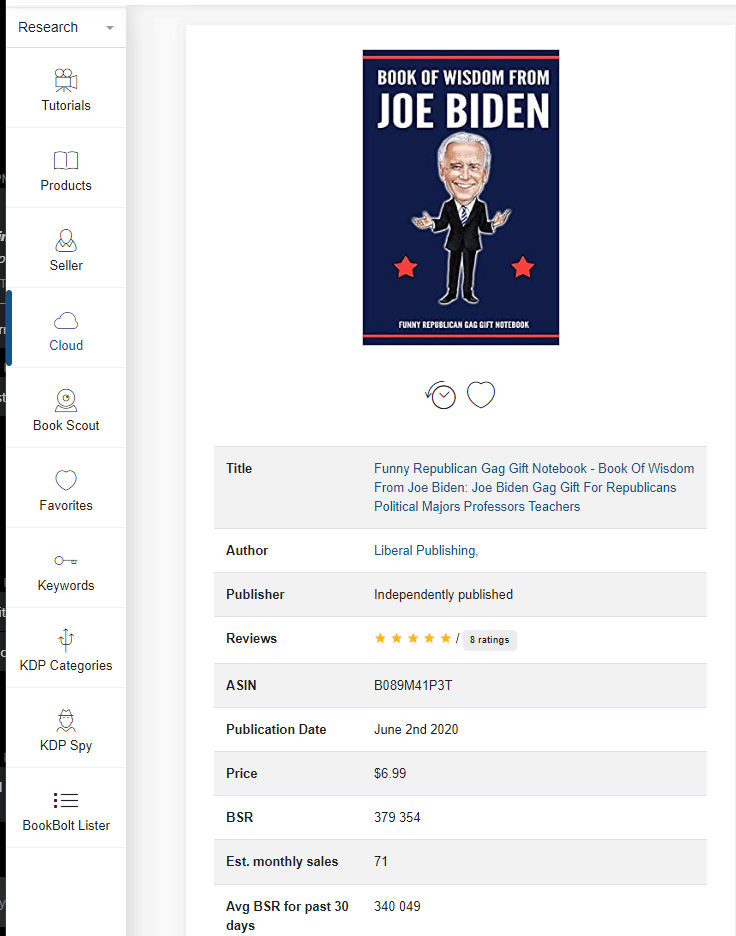 For example, whereas a general notebook search through Book Bolt's Cloud module yields a variety of different niches with low bestsellers ranks (BSRs) of 33,008, the political niche produces fewer, more targeted results.
Here's a table, which we compiled specifically for this article. It is sorted by average price, with the highest scoring entry at the top, and the lowest average price per politically themed KDP book at the bottom.
| | | | | | |
| --- | --- | --- | --- | --- | --- |
| Political trend | Total results | Avg. BSR | Lowest price | Highest price | Average price |
| Politics | 100 | 626,559 | $3.73 | $40.00 | $9.13 |
| Trump | 100 | 2,252,571 | $3.85 | $33.89 | $8.46 |
| Republican | 62 | 6,326,224 | $3.77 | $11.99 | $7.04 |
| Democrat | 29 | 6,094,443 | $3.77 | $9.99 | $6.61 |
| Biden | 79 | 6,079,798 | $3.76 | $20.00 | $7.11 |
| Ukraine | 100 | 4,316,300 | $4.17 | $14.99 | $7.26 |
| Russia | 58 | 6,684,280 | $3.55 | $24.95 | $7.71 |
| LGBTQ | 100 | 1,551,680 | $3.92 | $10.99 | $7.30 |
| Liberal | 38 | 4,831,663 | $3.77 | $25.00 | $7.95 |
| Conservative | 72 | 3,602,503 | $3.77 | $15.99 | $7.22 |
| Trudeau | 6 | 4,028,450 | $5.95 | $8.49 | $7.07 |
What becomes apparent from all this is that the higher the number of political book products on Amazon KDP, the lower the BSR is. In addition to this, the average prices hover in the region of $7.00.
The latter should send a clear signal that this is the amount that you want to price your books at. However pricing and profitability go hand in hand.
Hence, we move onto profitability.
How profitable is the political niche on Amazon KDP?
With an average price of $7.00 per item in the political niche, and a median BSR well in the millions, we must now examine the royalties that are actually hitting merchants' accounts.
Using the Amazon KDP calculator, we select the criteria for several books. For example, we selected paperbacks with a black and white interior with black paper for the US marketplace (Amazon.com).
We found that if we were to take the 2022 Planners for Gardeners: A Hilarious Trump 2022 Planner for Conservatives (Gardening Gifts) book, priced at $8.99, the royalties would come at $3.09. Of course, these royalties will also depend on the page number (in this case, it's a 121-page book). Multiply the royalties by 18 (which is the estimated number of sales that this Seller has made so far) and we get pure profit of $55.62.
Here are some other examples. The LGBTQ Affirmation Coloring Book: Coloring Book for Gay, Bisexual, Trans, Lesbian, Queer Adults or Teens – LGBTQ Coloring Book Gift listing by LGBTQ Books has a pretty amazing BSR of 171,765. It scores an estimated volume of 190 sales per month, and with just a couple of dollars per item in royalties, it actually brings home some 388 USD.

Another great example is the 2022 Joe Biden Calendar: Swimsuit Edition listing, which although higher in BSR, brings a total of $1,359 in profit to its creator Darren N Martin. Why is that? Because it is the most expensive item in the list, at $20, which brings the royalties to almost $10 per sale.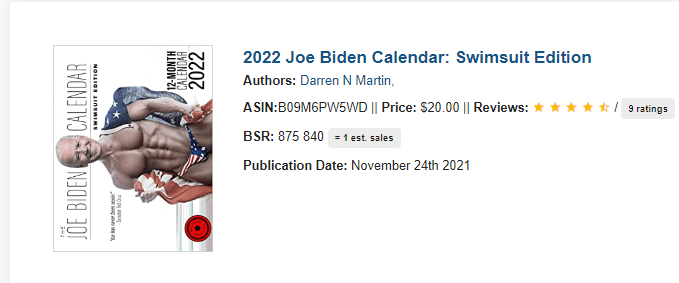 On average, some of the bestsellers in the political niche are making $452.77 on their no- and low-content book products. This means that this amount could easily be in your account if you were to take the plunge and join the political activism and messaging sub-category with unique designs.
What are some of the best practices according to the most profitable listings?
Whether a notebook (blank or lined), a gardening journal, a coloring book or more, a couple of best practices emerge from the most successful Sellers mentioned above.
Don't shy away from humor and satire
For starters, it's totally okay to use humor to target your audience. In fact, it's encouraged. Some of the best-selling no- and low-content books focus on Trump and Biden, mocking them for their words and speeches or even physical appearance. In fact, it's clear that apart from a few Justin Trudeau notebooks (which aren't selling as well), Trump and Biden are the most popular personalities in the political niche at present.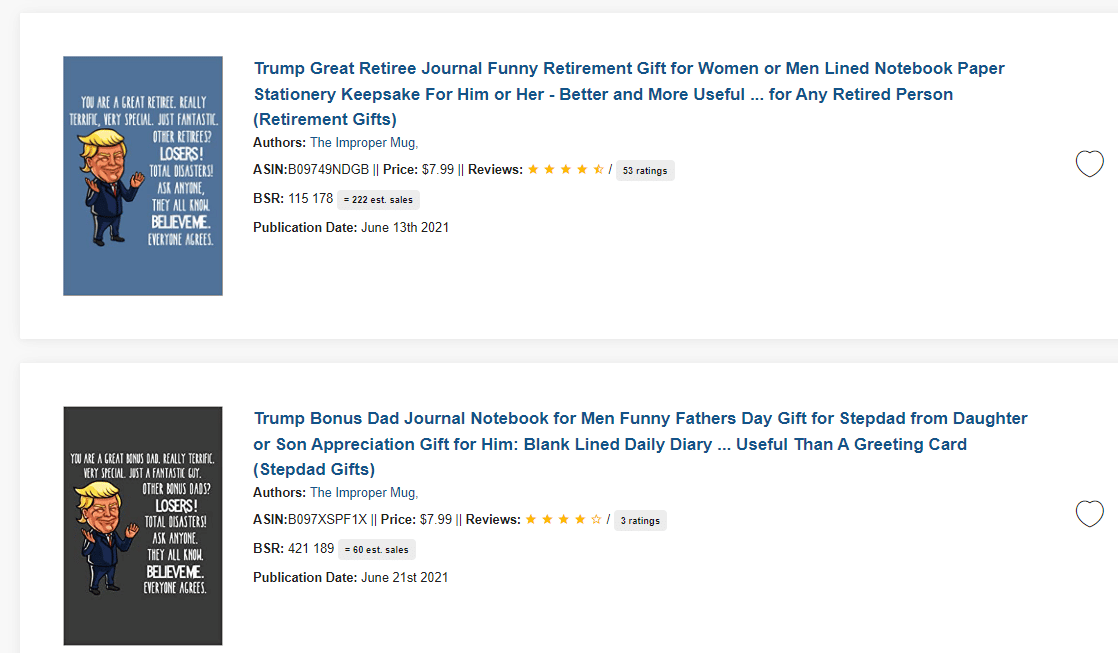 Look for trendy messaging
Whether you love them or hate them, they top the charts when it comes to politically-minded book products. Coming in at second place are books for the LGBTQ+ community. At present, there are limited offerings which only contain coloring books for teens and adults. This poses an opportunity for further exploration.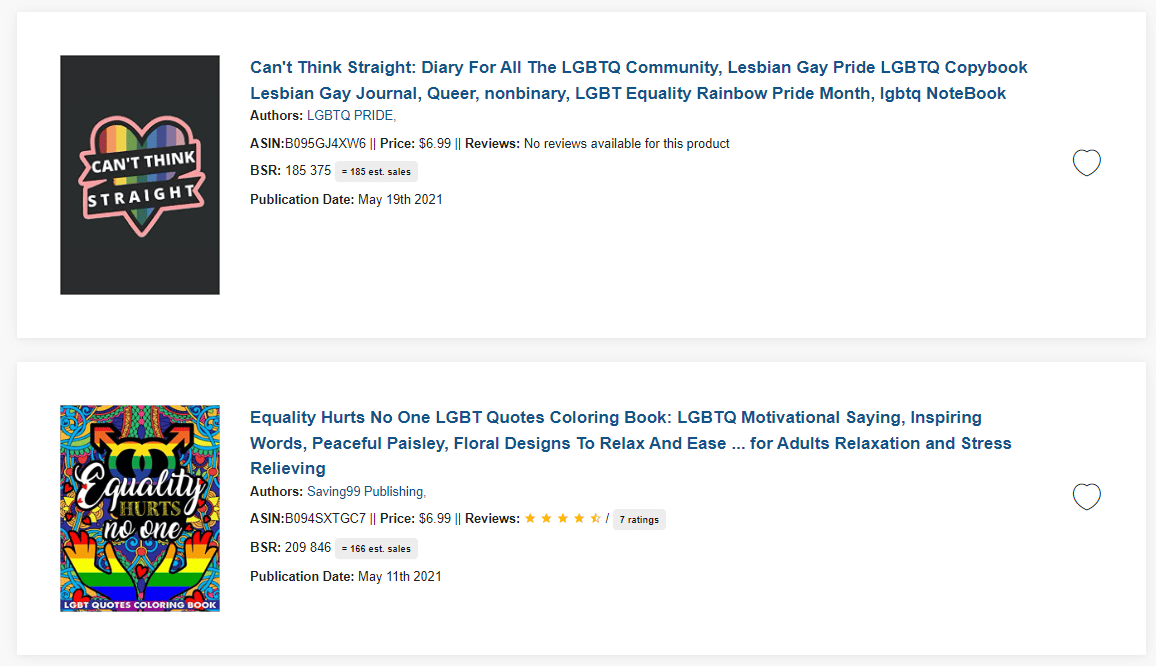 Be mindful of page volume
Also important to note is that these books, on average, have about 80 pages. This means two things. One, if you're offering a lined notebook or a coloring book or even a calendar, your book doesn't have to be that hefty in terms of page numbers. Secondly, by sticking to the under 108 page number, your printing costs will be reduced and you'll be able to take advantage of higher royalties.
Price around the average for the niche
Speaking of royalties, you'll also notice that the bestsellers have ensured that their average price is around $7.00, with one exception being $20.00. This means that even though your products may be low cost to consumers, they're also perfectly priced to target a niche for those on a budget.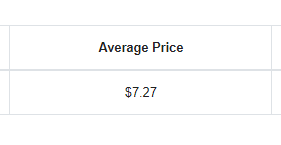 Market as gifts
Since most of these books are intended as gifts, the Sellers have also made sure to make this part clear. They've indicated that their political no- and low-content books are suitable for gardeners, pilots, accountants, seniors, those who hate Trump, those who oppose Biden, fans and opponents of Justin Trudeau, and more.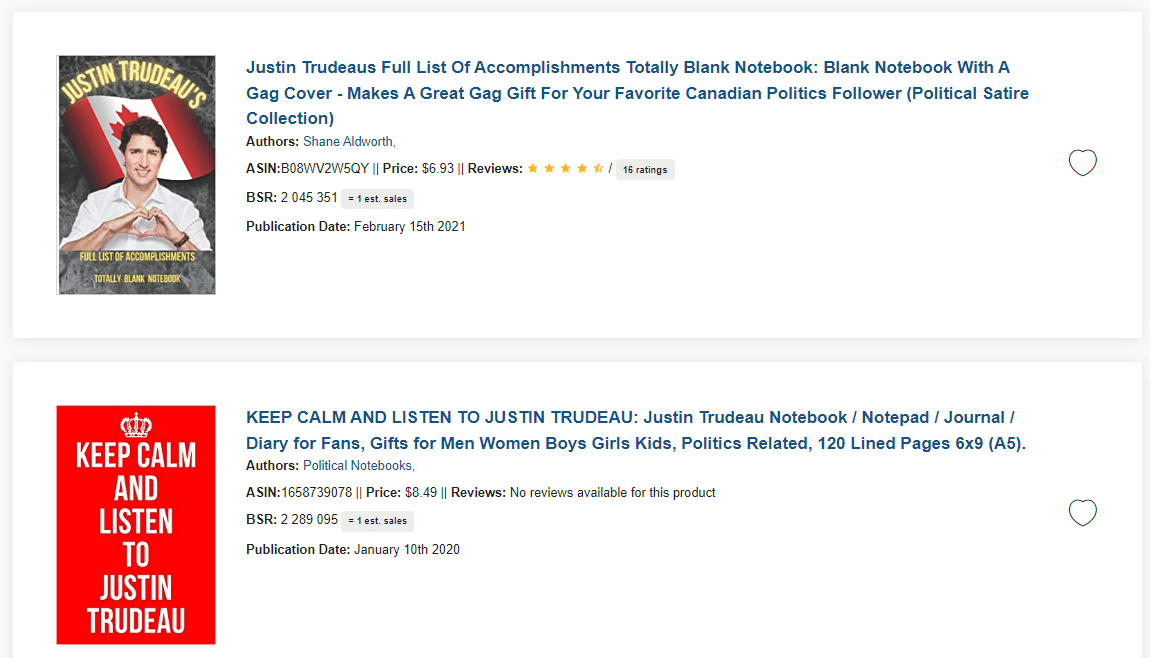 Regarding the latter point, focusing on Trudeau also means that the audience of these book products is extended to America's northern neighbor Canada. As a result, this means higher opportunities for making even more profits and not remaining limited to the US marketplace.
Our advice to Sellers looking to sell politics-related no– and low -content books on Amazon KDP
With the abovementioned best-practices in mind, what can we glean from all this? Here are our top tips for those wishing to enter the politics-related no- and low-content book niche on Amazon KDP.
Targeting precise keywords: we used Book Bolt's Book Scout module to do a reverse ASIN search and figure out what keywords the Seller used to ensure that they stand out from the crowd.
These are the back-end keywords that they may have used on Amazon KDP. One longtail keyword that stands out is "biden 2022 calendar" with a total search volume on Amazon of 2,346 and a total items count of 83.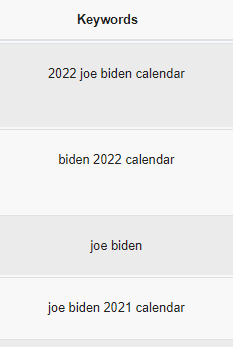 This immediately tells us that there's a huge search for these types of products and keywords but the total number of offerings or listings is comparatively low. With the success of this Seller, it's apparent that they've capitalized on a niche that gets searches. Other back-end keywords we found to be quite successful include: "2024 mean tweets" with a search volume of 16,702; "anti trump books" (3,732); "anti-trump books" (3,798); "justin trudeau" (2,526); and others.
Selecting the most reasonable prices: your pricing strategy is key when you present your product to your audience. While a high price is likely to turn off most customers, an extremely low price will signal that the quality of your book is quite low (even though all Amazon KDP books are printed the same way).

This needs to be considered and is the reason why we always advise to price around the average used by your competitors. In this case, it's in the region of $7.00. Your royalties will subsequently be around $2.00 minus printing costs (and also depending on the page number of your book as well as its interior ink usage and page colors). However, a royalty of $2.00 can quickly add up, especially if you're presenting a high-quality product.
Writing detailed titles and descriptions: while not all the successful Sellers in the politics niche on Amazon KDP have optimized their titles, this has not been to their detriment.
Whereas some have included high search volume words, others have simply been descriptive enough to signal exactly what the buyer will get. One case in point is the "2022 Joe Biden Calendar: Swimsuit Edition", which merely contains the words "2022 calendar" and "Joe Biden" and adds onto this "Swimsuit Edition".

Being parsimonious could actually be helpful to your cause, especially if you use targeted keywords in your titles. As for the descriptions, these are typically optimized among the bestsellers with them specifying exactly who their audience is.
Being clear about your target audience: many of the bestsellers in the political niche on Amazon KDP perform well because they have indicated who their book is targeted at.
This ranges from pilots to accountants to gardeners, stocking filler gifts, gifts for a birthday, gifts for conservatives, gifts for liberals, gifts for fans or opponents to a certain political figure, etc. This immediately tells us that specifying exactly who your target audience is, will be very helpful in aiding you to carve out a successful sales strategy. This, when used in conjunction with the above mentioned tips, will be able to help you rank better and increase sales.
Closing remarks
All in all, the political niche on Amazon KDP has a lot of potential. The categories of books currently available are quite diverse.
They range from notebooks to coloring books and the target audiences are clearly specified by the bestsellers.
In addition to this, successful Sellers have ensured that they price around the average to hit the pricing sweet spot. What's more is that such books are generally targeted and intended to be gifts. Therefore, using such words in your titles and descriptions is also expected to get you far.
Although it may seem that this type of research could take you a long time to complete on your own, it was quick and easy with a combination of Book Bolt's various modules. Book Bolt is an excellent tool to help all no- and low-content book Sellers make the most of their research and get in front of audiences faster and in a more effective way.