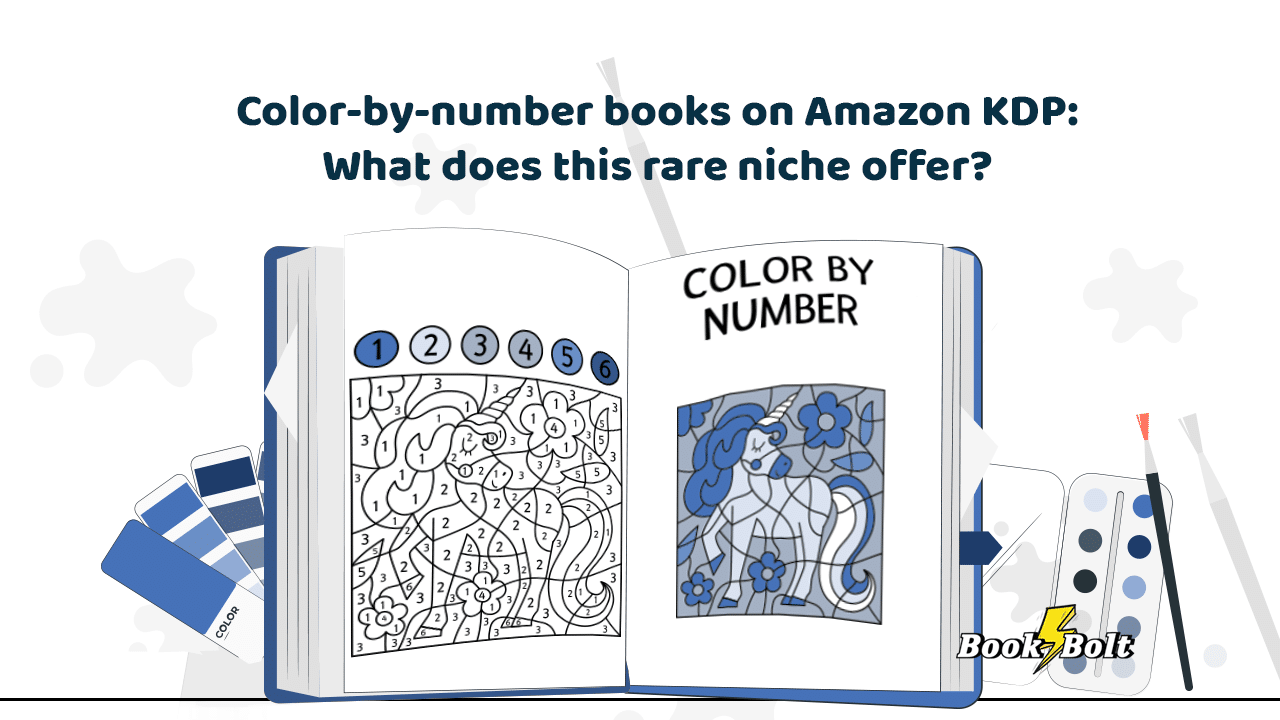 Similar to paint-by-numbers paintings, color-by-numbers books on Amazon KDP offer users the ability to color in intricate shapes. These shapes are based on a particular number allocated to that shape, which is subsequently associated with a color.
Although a rare niche, a quick search on Book Bolt shows that it has potential for profitability and that its rankings are high with an average best-sellers rank (BSR) of only 204,440.
We explore this niche in detail to help you make the most of it.
How big is the market for color-by-numbers books?
The comparatively low BSR of 204,440 is an average for the entire niche. However, what we discovered is that some bestsellers have a BSR as low as 12,521. This is an immediate signal that these books are making it big time on the Amazon KDP platform.
This warrants further exploration to determine the true value of the niche.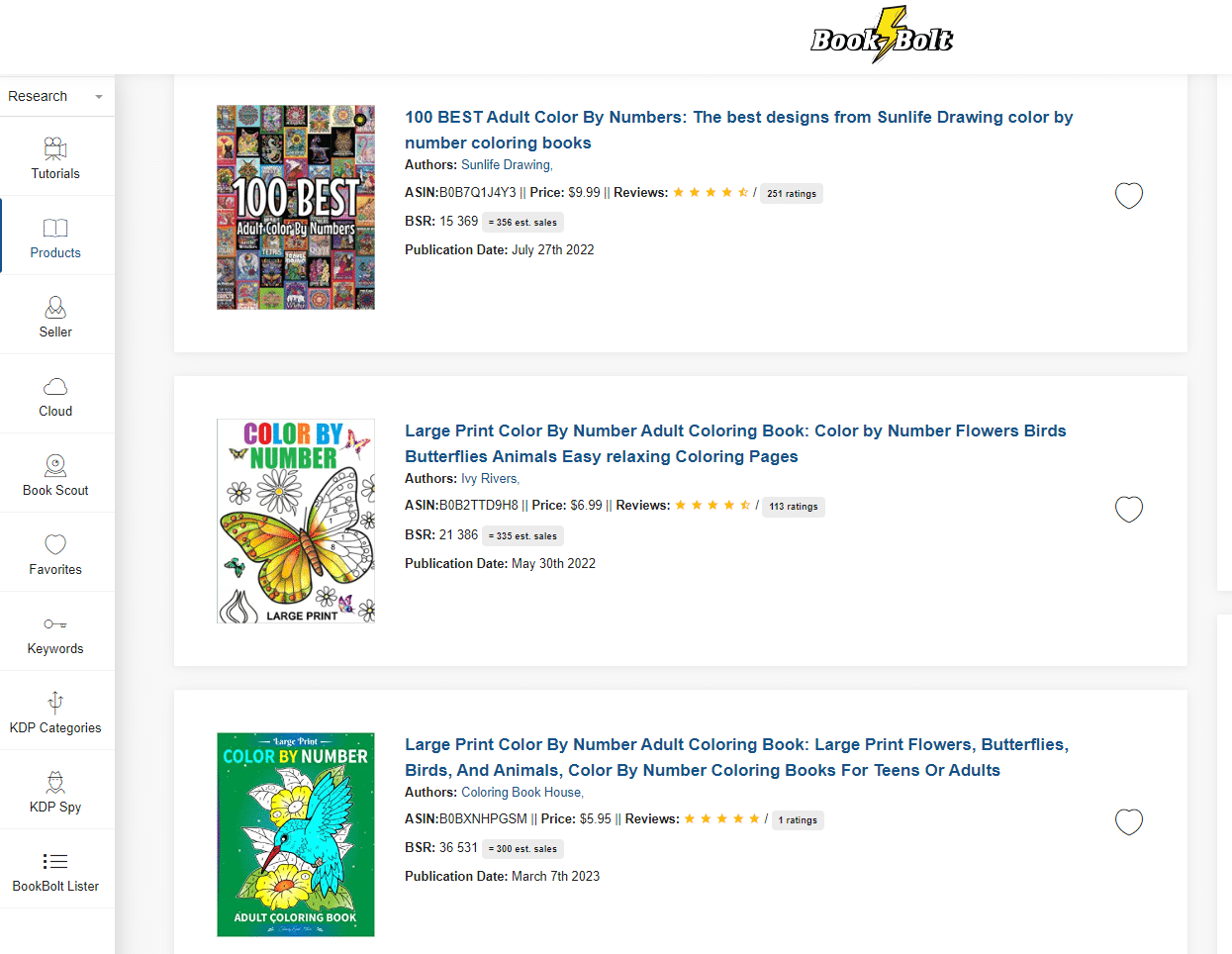 With that in mind, below we look at the most sought-after keywords and their search volume, the keyword saturation, and the pricing for these books.
Keywords and search volume
Book Bolt's Products search module gives us a quick bird's eye view of the keywords that buyers are using to discover products in this niche. Since there were a total of 48 keywords and long-tail keywords with a combined search volume of over 126,000, we narrowed them down to the most relevant and their associated search volume:
"Color by numbers for": search volume – 9,888
"Color by number": search volume – 8,818
"Color by numbers coloring book": search volume – 6,405
"Color by numbers coloring books": search volume – 4,382
"Coloring by numbers for kids": search volume – 2,128
"Adult color by number coloring": search volume – 384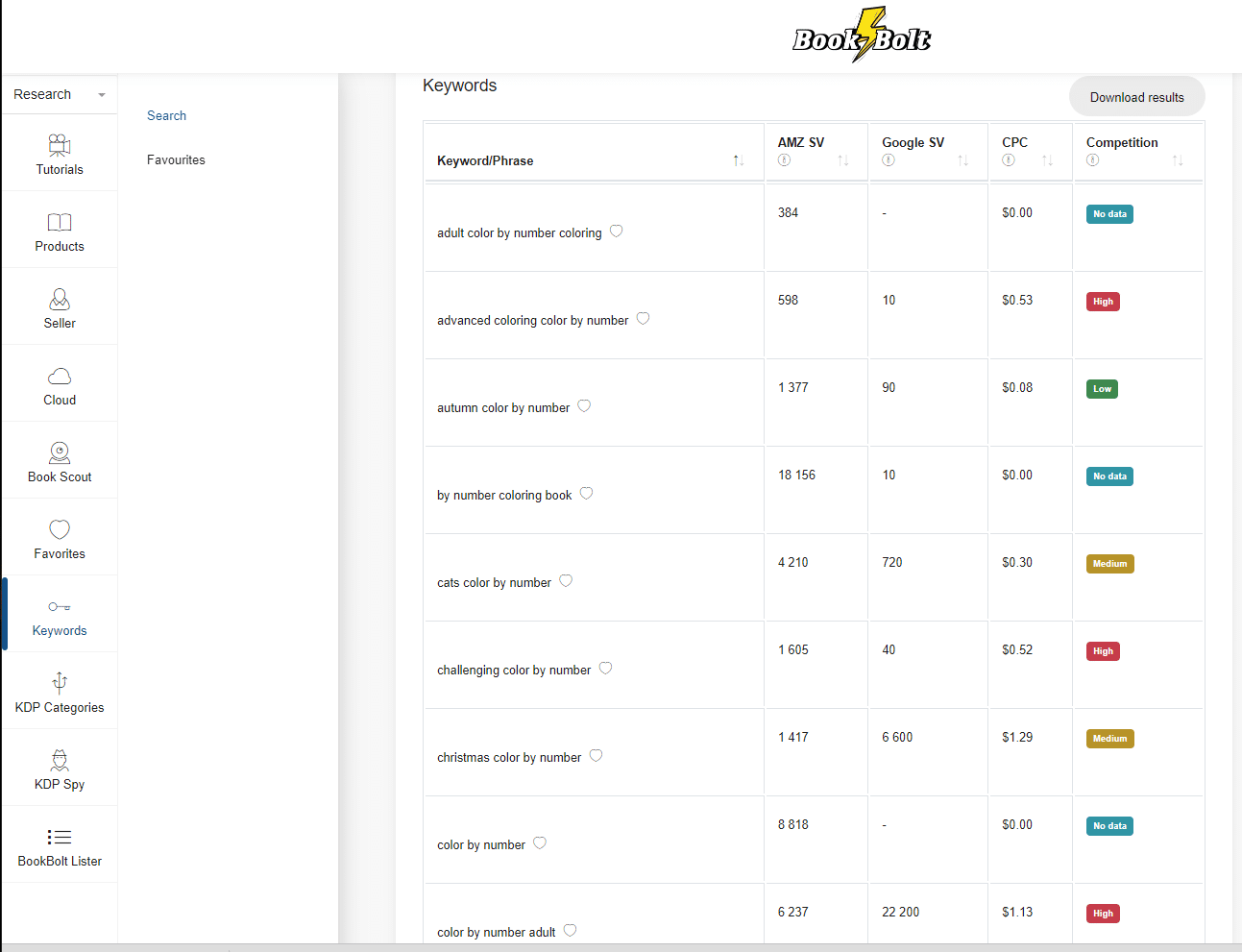 Because of the intricacies involved in color-by-number books, namely that it presupposes you know math and colors, it's clear that the search volume for these books is primarily aimed at kids (think: teens) and adults (including seniors).
However, in terms of bestsellers, we notice that some combine their books and make them relevant to a target audience that includes adults, seniors, and teens in one.
From the above, it's also clear that the term "color by numbers" is widely used, as seen by the immense total search volume mentioned above. This would indicate that buyers know exactly what they are looking for. The assumption is further reinforced by the fact that there is little to no variation in the seed keyword.
Keyword saturation
Having looked at how buyers approach the search for color-by-numbers books, we now turn to the sellers to see what keywords they are using to get greater exposure.
From our search on Book Bolt, we gathered the following insights about the main keywords used in seller titles in a matter of seconds:
Details about the type of book: color (234), number (170), coloring (162), book (134), numbers (61), books (29), activity (8), numbered (7), mosaics (7), puzzle (6)
Details about the audience: adults (88) adult (66), stress (24), relief (23), relaxing (12), kids (5), anxiety (5), meditation (5), seniors (4)
Details about the book's interior: large (33), print (32), easy (24),
Adjectives and nouns used to describe these books: flowers (18), mosaic (18), animals (17), birds (15), designs (14), fun (13), quest (12), black (12), mystery (10), Christmas (9), Spring (9), butterflies (9), animal (6), parks (6), winter (5), cars (5), mandala (5), gardens (4), cats (4), patterns (4), kittens (3)
The first takeaway here is that sellers are clearly aiming at audiences who search for color-by-number books in the coloring book and activity/puzzle category.
In addition, adults appear to be the largest target market with a combined usage of over 140 times of the "adult/s" keywords. Kids and seniors follow far behind at five and four times of using these keywords in titles, respectively.
With regard to describing the books' interiors, we see that often, large print and easy color-by-number patterns are most sought after.
Finally, the adjectives and nouns used by sellers to get visibility contain an array of all-sorts. This means that they're niching down within a niche to offer patterns for coloring that are not mandalas in the form of flowers (18), animals (17), and birds (15), as just an example.
Pricing
We also notice that these books, possibly because of their more complex interiors, are priced a bit higher than usual.
Using Book Bolt, we were able to explore the prices for this niche and discovered the following:
Lowest price: $4.50
Highest price: $14.95
Average price: $7.55
What are some of the best-selling merchants doing right?
We identified two bestsellers whose listings have generated over 230 sales.
First up we have BOB SMITH Coloring Book with their product titled "large print color by number coloring book for adults: Color by Number Flowers Birds Butterflies Animals Easy relaxing Coloring Pages (color by numbers for adults)".

Secondly, we have Sunlife Drawing with their product titled "100 BEST Adult Color By Numbers: The best designs from Sunlife Drawing color by number coloring books".

Keyword usage
Keywords-wise, both sellers have decided to target adults. In addition to this, BOB SMITH Coloring Book's product includes some of the keywords that we identified above by specifically mentioning "large print".
Furthermore, they have included specific names of nouns to describe what the buyer would see inside. And they have also used the words "easy" and "relaxing" (also symbolic of what we discovered in the previous section above) to indicate the level and usage of these particular books.
Sunlife Drawing, on the other hand, has simply opted to use the words "color by numbers" twice in their title, which is generally frowned upon as it signals keyword stuffing. They have also chosen to use their brand name in the title, and this could either indicate that the brand already has a large following or that it is trying to promote other products in their repertoire.
Finally, Sunlife Drawing has also catered to adults by specifically mentioning the audience type in their listing title.
Pricing
Since we already discovered that the average price for color-by-numbers books is $7.55, it's worth comparing how the two bestsellers identified here fare in comparison. BOB SMITH Coloring Book has opted to price just under the average at $6.99 (with a BSR of 99,549). Meanwhile, Sunlife Drawing has priced above the average amount at $9.99 (with a BSR of 12,521).
Cover design
The cover design of these two bestsellers differs significantly. BOB SMITH's cover contains a partially colored-in boot on a white background with some splashes of color along the cover.
Sunlife Designs has used color extensively by featuring a parrot in its full rainbow colors across the entire cover. They have also used hierarchical design elements to ensure that the title is centered and that it tells the audience what they're getting. Namely, a color by numbers book that is specifically aimed at adults.

What is the profitability within this niche?
Earlier on, we indicated that this niche can be considered a profitable one. And to prove this, we explored the sales of the two chosen bestsellers to prove this point.
By using Amazon KDP's royalties calculator, we were able to determine that the profitability for both bestsellers is as follows:
BOB SMITH Coloring Book: $473.28
Sunlife Designs: $1,436.16
The conclusion? You could make a tidy sum for yourself by selling color-by-number books. Upwards of $1,400, to be precise. This is quite a significant amount when compared to other Amazon KDP niches.
Our recommendations
And now to put everything together in a bite-sized, easy to use list of recommendations based on our research. Here's what you should keep in mind, as you enter this niche:
Keywords: although this niche seems quite straightforward in terms of keywords you have to use ("color by numbers"), you can also use audience-specific keywords such as adults, teens, and seniors to niche down even further. However, be sure to use nouns to better preview your designs. For instance, animals, flowers, etc.
Pricing: the difference of a single dollar in your pricing can mean the difference between earning in the hundreds of dollars or in the thousands. Of course, this is also dependent on your no- or low-content book's page count. However, our advice for this niche is to price around the average, which is $7.55.
Cover design: because this is a book that entails coloring in, make sure to design your cover in a colorful way, much like Sunlife Drawing has done to reach over 350 sales. Design elements such as hierarchy are crucial. Your title should reflect that you're selling a color-by-numbers book (for adults or kids) in a logical and visually stimulating way.
Advertising: consider boosting your visibility on Amazon by using paid ads. You can set a low and affordable daily budget to ensure more customers see your books and therefore earn more sales.
Final remarks
Following in the footsteps of paint-by-numbers, color-by-numbers books are a great way to relax and unwind, particularly for adults.
If you are thinking of entering what has proven to be a lucrative niche, you need a helping hand to help you rank and get more eyeballs on your product.
In this regard, Book Bolt is the ultimate answer.
For only $9.99 per month, it will speed up your research and design process, as well as help you upload to Amazon KDP at a faster rate than anything else on the market.
In turn, this will enable you to list your book and start selling ASAP.