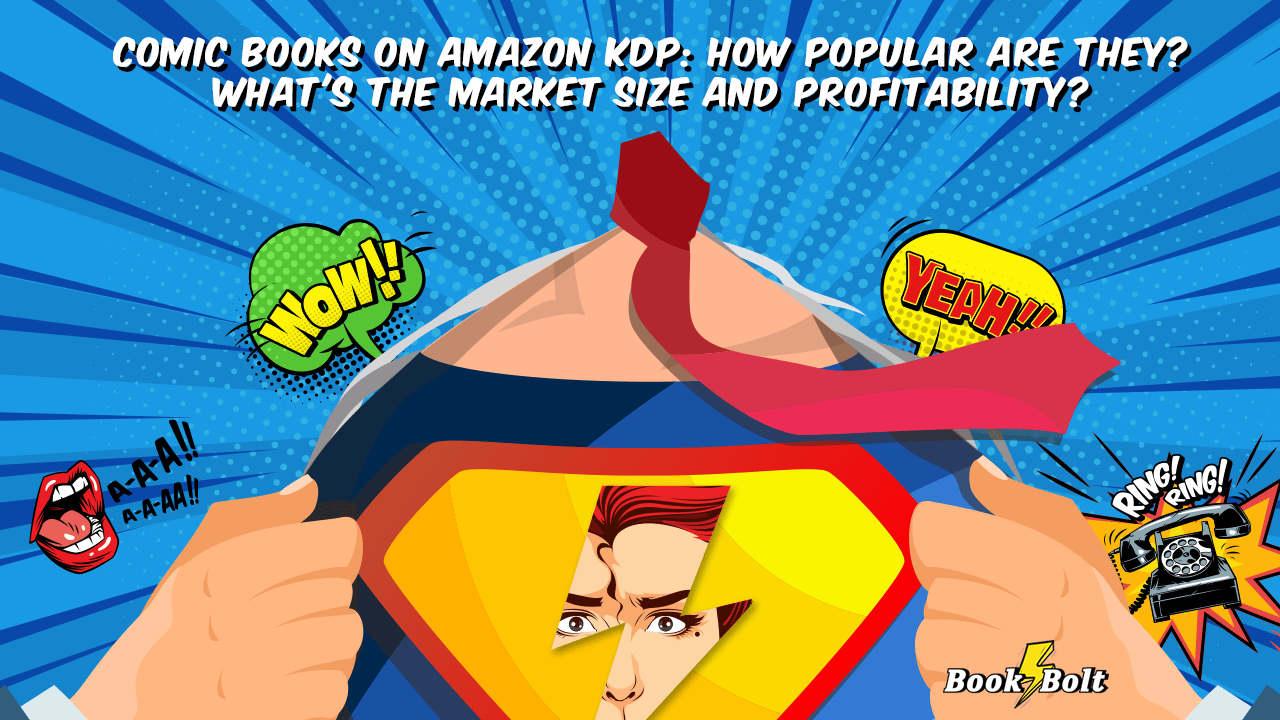 If you've already gained experience as a low-content bookseller on Amazon KDP, the best way to climb higher is by competing in narrower niches. The platform offers sellers various categories, each comprised of hundreds of different sub-markets. One of these categories is comic books – a field often associated with a need for graphic design skills, creativity, and a natural flair for quality.
So, do you have what it takes to make it to the bestsellers list? Let's find out by dissecting the comic book category in detail.
How big is the comic book market?

To gain an overview of the market, it's best to start with an analysis of its size. When it comes to measuring an Amazon KDP category's dimensions, we can explore the following metrics:
Number of existing listings
BSR
Keyword search volume
Using Book Bolt, we discovered more than 100 active listings in the comic book category. At first glance, this indicates that the space is well-developed and attracts sellers. However, a look into the top performers unveils only 41 best-selling listings. This indicates that there aren't many products that enjoy high sales volumes, which is something we'll inspect in the following sections.
Regarding BSR, the average score among the top-performing listings is 215,740, while the average BSR of all listings in the comic book space is 1,443,881. In other words, unless you can climb up to the list of bestsellers, you can expect to achieve a best sellers rank that is close to the average in the category, or 1,443,881.
Finally, a look into the search volume of category-related keywords can tell us how many users we can expect to reach. The search volume reveals a lot about the size of the target audience and shows us how popular the category is. Here are some of the keywords that are most searched for in the comic book low-content book category, along with their search volume.
Comic books – 29,766
Comics book – 28,392
Hooky comic book – 16,416
Haha comic book – 8,792
Archie comic books – 5,931
Comic art book – 5,145
DIY comic book – 5,049
Big comic books – 3,643
All of these keywords are classified as high-competition. Put otherwise, there are a lot of sellers competing to rank for them. At the same time, thousands of Amazon shoppers are searching for comic books on Amazon every month. Therefore, the audience is large enough for different people to compete.
How profitable are comic books on Amazon KDP?
The higher the price of your listing, the higher the Amazon royalty. Ultimately, selling low-content books at a higher price will inevitably lead to higher profits for you as a seller.
The best way to quickly gain insights into the category prices is to use Book Bolt's features. The tool uncovered that the average price of comic book listings is $10.01. The lowest price in the niche is $3.99, while the highest is $44.99.

If you're just entering the market, the most appropriate asking price would be the average. This will position you at a competitive spot, where you can enjoy sales without appearing too cheap or too expensive to buyers.
A sneak peek into the best sellers in the comic book category
So, what makes some of the chart-toppers in the comic book category so successful? What are they doing to attract more buyers and generate more sales?
Let's look at two fundamentally different examples.
The first product we'll analyze is the "Blank Comic Book: Blank Comic Book: Draw Your own Comics And Create The Best Stories. Comic Panels for Drawing. Templates for Comics". The listing is near the lowest market price and sells for $3.99. It generates around 400 monthly sales and has a BSR of 8,565. It has received more than 400 ratings and is one of the most cherished listings in this category.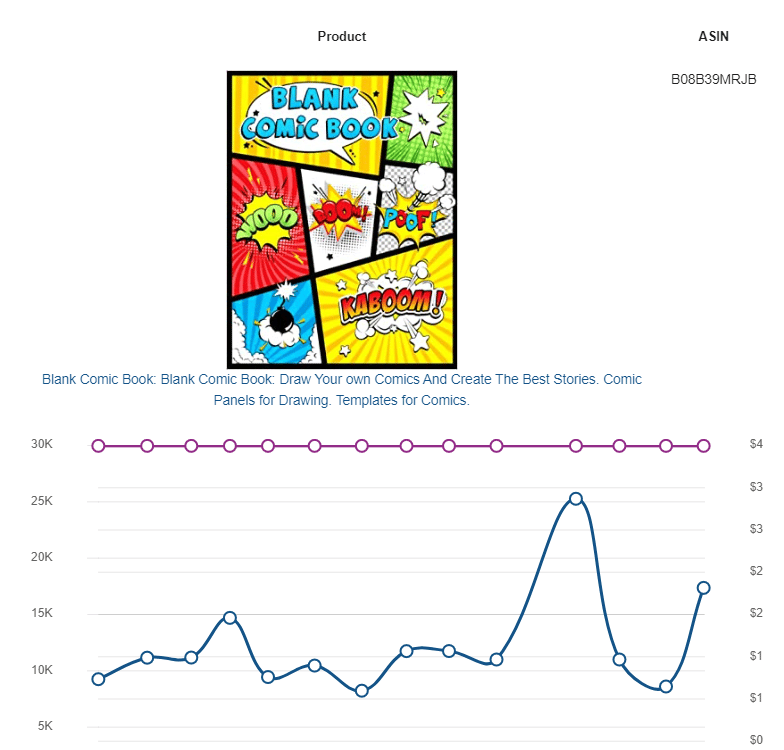 As you can see from the title, this is a blank comic book that enables the user to customize and create their own story. Why is this important? Our category research discovered that the phrase "blank comic book" attracts nearly 6,000 searches per month. At the same time, there is no data regarding the competition for this keyword. This usually means that there aren't enough listings competing for it.
A browse through the bestsellers in the category showed us that most of the top-selling products are indeed blank comic books. This suggests that successful sellers have taken advantage of this gap and have managed to satisfy a significant demand.
The second listing we'd like to draw your attention to is "THE FRANKENSTEIN LEGEND: A Tribute to Mary Shelley and Boris Karloff: In The Books, Plays, Movies, Television, Radio, Comic Books, Graphic Novels & Animation (The Legendary Movie Monsters)". Unlike the first example, this is a fully designed comic book, where the seller has created a story. The product is priced higher at $15.99, landing them around 220 sales per month. The listing has a BSR of 104 119, which is much higher than the first example.
This listing targets a specific sub-niche and is more expensive. In other words, the royalties generated from sales are higher than those of a listing that sells for $3.99. Although this is a different approach, the seller does enjoy some serious profits.
Best practices and tips for sellers
What can you extract from these findings to successfully penetrate the comic book category on Amazon KDP?
Here are our suggestions.
Find a gap to fill
Every low-content book category has a particular type of demand from users. In the comic book space, we explored that shoppers are actively searching for blank comic books, indicating a considerable interest in this sub-niche.
Use Bok Bolt to discover the target audience's interests based on keyword research and create listings that satisfy a specific demand. This will allow you to stand out from the rest and gain a competitive advantage quickly.
Choose your pricing strategy based on research
We explored pricing as a fundamental aspect of scoring sales in the comic book space. Based on our research, the bestsellers use two pricing strategies. The first one is pricing your products lower than competitors to generate more sales. This is possible primarily for blank comic books that can be customized.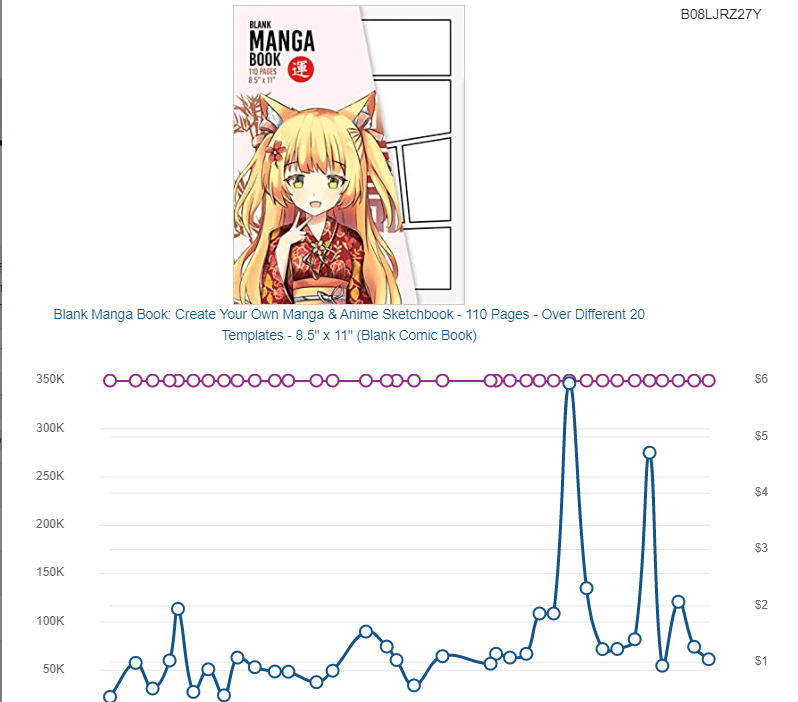 The second pricing strategy is to price your listings near the average prices in the niche or higher. This is appropriate for niche products, like the Frankenstein legend listing we looked at earlier. This approach will likely result in fewer sales but higher royalties, which balances out the equation.
Leave buyers a space for personalization
We noticed that the majority of bestsellers in the comic book market are blank or offer the user some extent of customization. This indicates that shoppers are more inclined to purchase items they can tailor and adapt to their interests.
Focus on creative covers
Creative covers are essential for any low-content book category. They're what attracts the shopper at first glance and can encourage more buyers to click on your listing. As a result, your click-through rate will increase and the chance of more shoppers purchasing your product will double.
Select a sub-niche
Finally, narrow down the niche you're selling in as much as possible. Our research into the best-performing listings demonstrated that all of them are positioned in a specific niche. Even the blank comic book products are part of a sub-niche.
Use Book Bolt's Keywords tool to find out what sub-niches users are interested in, or the Cloud tool to examine which niches successful listings are positioned in. This cross-reference method will significantly enhance your niche research.
Wrapping up
Overall, the comic book low-content book category on Amazon KDP is a well-developed niche that sellers can explore for additional profits. However, just like any other market, the niche has its peculiarities. Gaining awareness of these specifics from the very beginning of your listing creation process will help you enter the space prepared and confident.
With a powerful business intelligence tool like Book Bolt, you'll have access to all the necessary information to create successful print-on-demand comics.