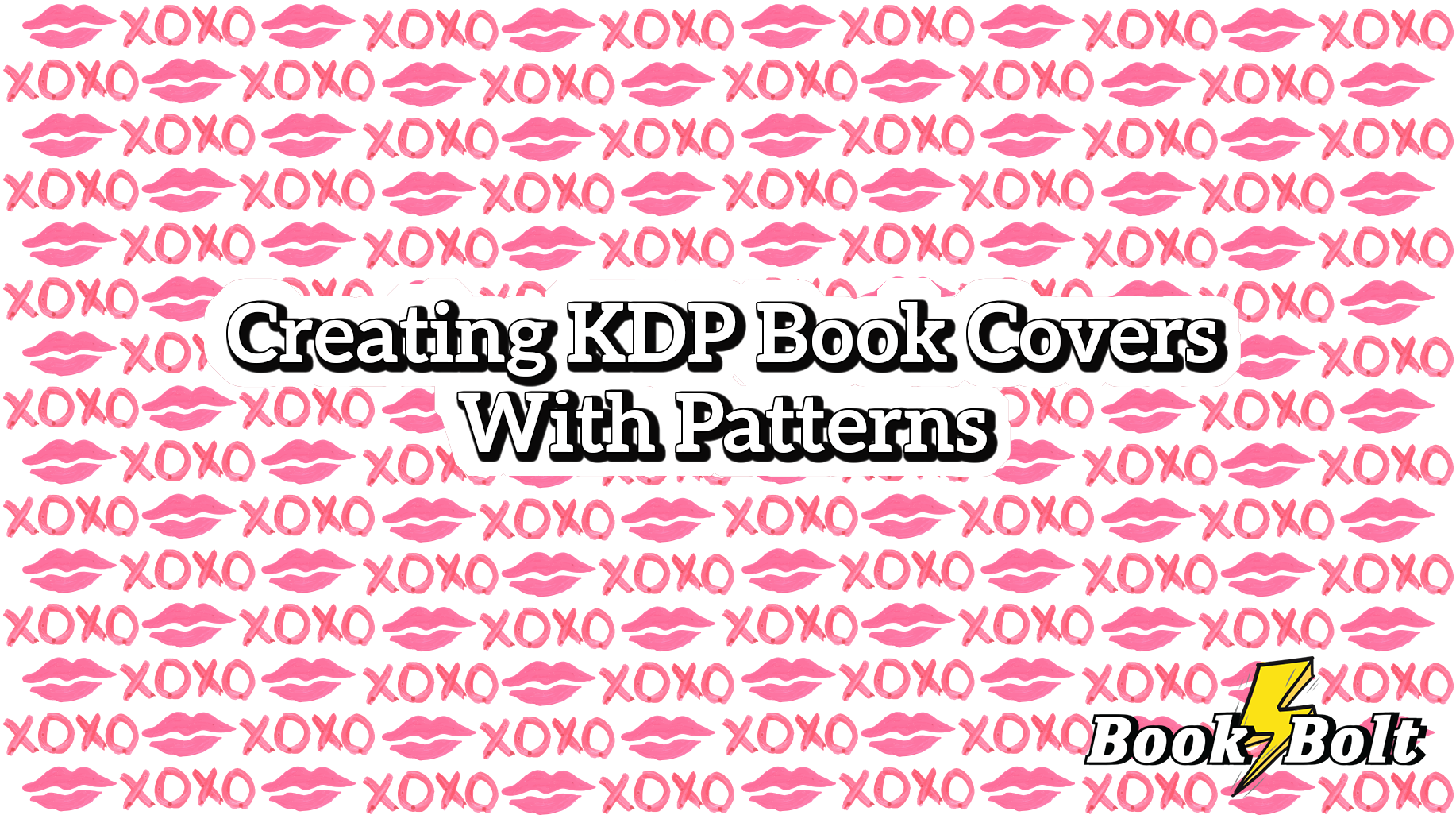 Creating book COVERS for your low or no content books is THE most important aspect of running a KDP business. Just think about it, you could have the best keywords in your listing to make sure your book gets in front of the right audience, but if the cover is not visually appealing, the chances of you making a sale are slim.
You need to get a good interior, optimize your product title/description, and have a GREAT cover.
One of the things I have noticed over the past several months that do very well are simple book covers with the title of your book and a background full of patterns!
Today, we have added an easy solution to the Book Bolt Designer to allow you to create these patterns in just a single click!
If you prefer to watch video content instead of reading, here is the video on how this works:
For everyone else, grab a 3 day trial of Book Bolt here: https://bookbolt.io/pricing/ so you can follow along with the tutorial and let's go over how to do it!
Step 1: Log Into Book Bolt
The first step is to have a Book Bolt account. We are going to be using the web based design software that we have developed. Sign up at the link above or if you already have an account, log in. You will then want to go to your name in the upper right hand corner, and select the Book Bolt Designer from the drop down menu: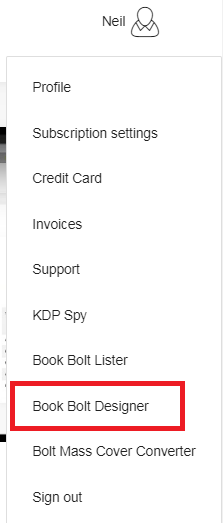 From here, it will take you to a login page where you will want to log in with your Book Bolt credentials.
Step 2: Select Your Cover Details
Once you are logged in, the designer will load in and it will ask you to select your details for your cover.
You can select any size you want and the page count must be at least 25 pages. What you are really doing on this screen however, is making sure that the first drop down menu is set to "cover" and not interior. We are going to create a cover for a book!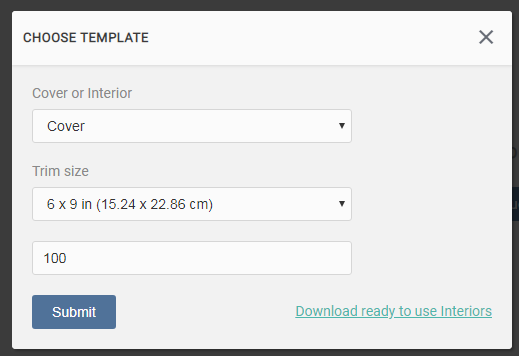 You can create patterns on interiors as well, but for this example, we are going to focus on covers as this is what the customer first sees when they land on your product page.
Step 3: Give Your Book Cover A Background Color
After uploading many low content books to KDP over the last year or so, I have found that black is NOT the best background color. I typically like to go for a dark grey or any "off" black that we can find.
To do this, go to the product tab in the left hand menu, and select a product color. You can use your own hex code if you know the color, or you can simply click on the hex code box which will bring up the color selector: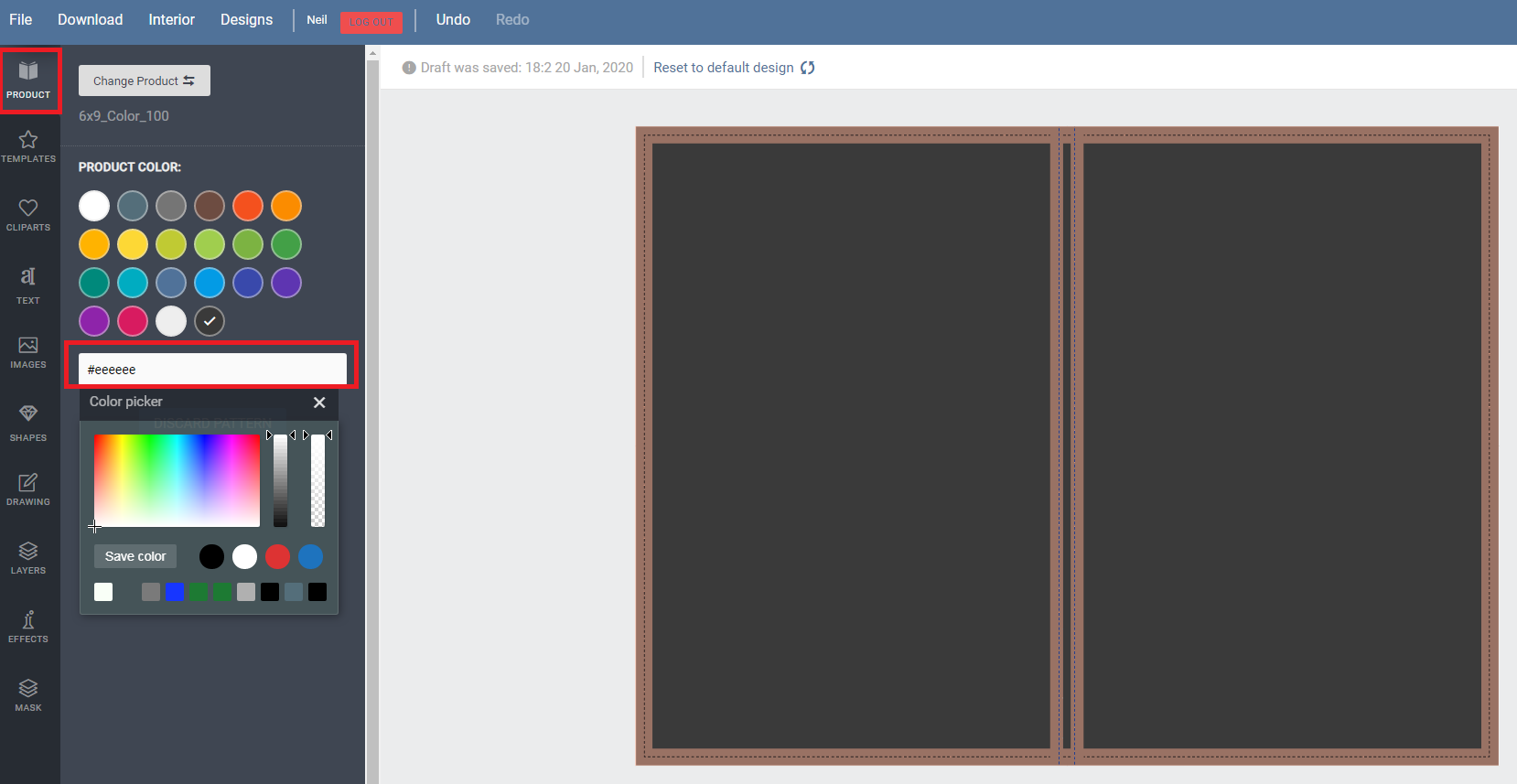 Once you have a nice background color for your book, we can move on to the next step.
Step 4: Add A Design Element To Turn Into A Pattern
One of the things that have seemed to sell extremely well on book covers is flowers of all types. We can use this knowledge to our advantage in order to create a flower pattern!
First, we need to upload a design element.
To do this, head over to the images tab in the left hand menu, and drag and drop your design element that you want to turn into a pattern into this box. It will upload the element to the designer which you can then add to the design by clicking on it.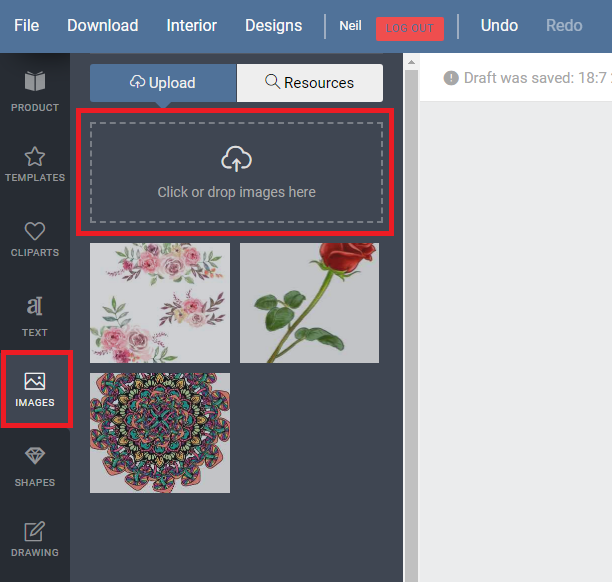 As you can see, I have uploaded a few different elements here. For this example, we are going to be using the rose. Once it is uploaded, click on it and it will be added to the book cover.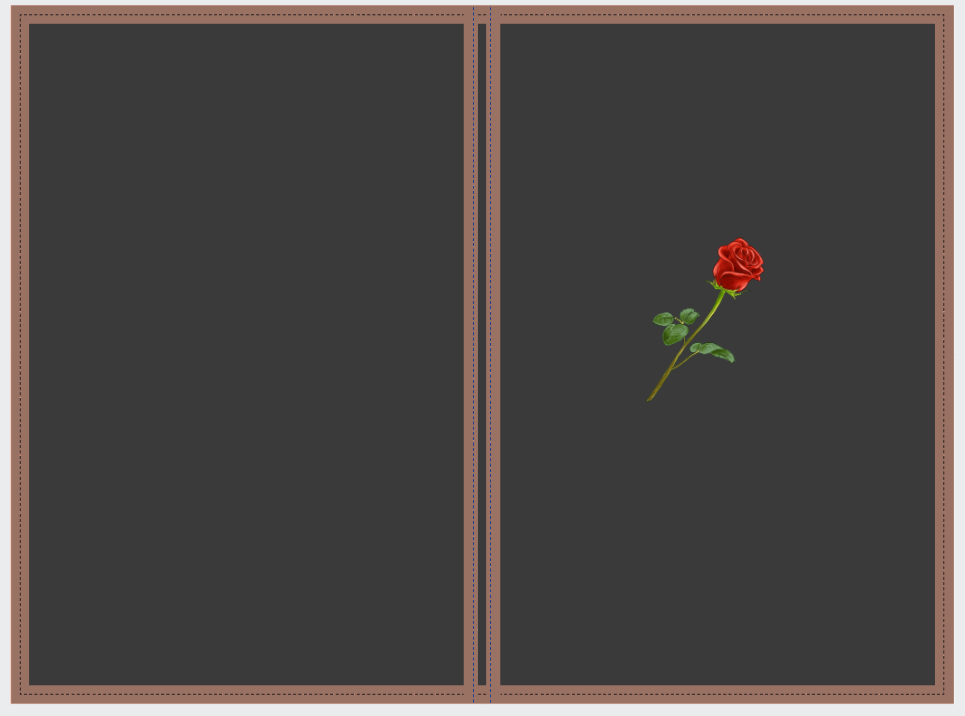 Step 5: Create Your Pattern
Once the element is on your cover, creating a pattern is very easy.
First, SELECT THE LAYER. You can do this from the left hand menu by clicking on layers and then selecting the element, or you can simply click it on your cover.
Once the layer is selected like this: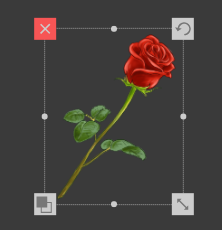 Go up to the right hand corner menu, and select the pattern box:

This will then bring you to a drop down where you can pick different patterns that we have added to the Book Bolt Designer.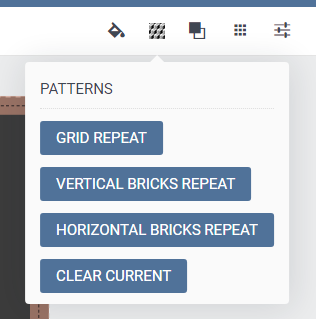 Select one of these options, and let the software do the rest! I personally prefer the vertical bricks repeat pattern so that is what I will use.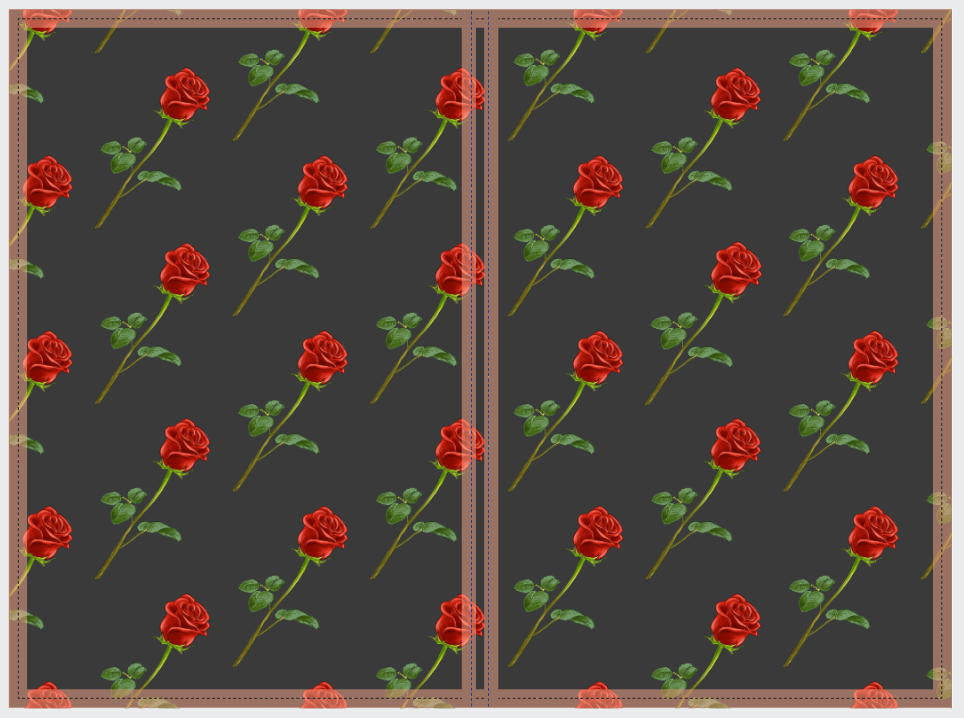 That's it! Your pattern is now created!
Step 6: Make Your Cover Stand Out
While creating patterns is great, before you upload your book to KDP, ensure that you make some changes to your new cover so that it actually stands out.
The easiest way to do this after creating your pattern is to put the text or title of your book on the cover.
To do that, first, go to shapes in the left hand corner menu and add one to your front cover where you will place your title: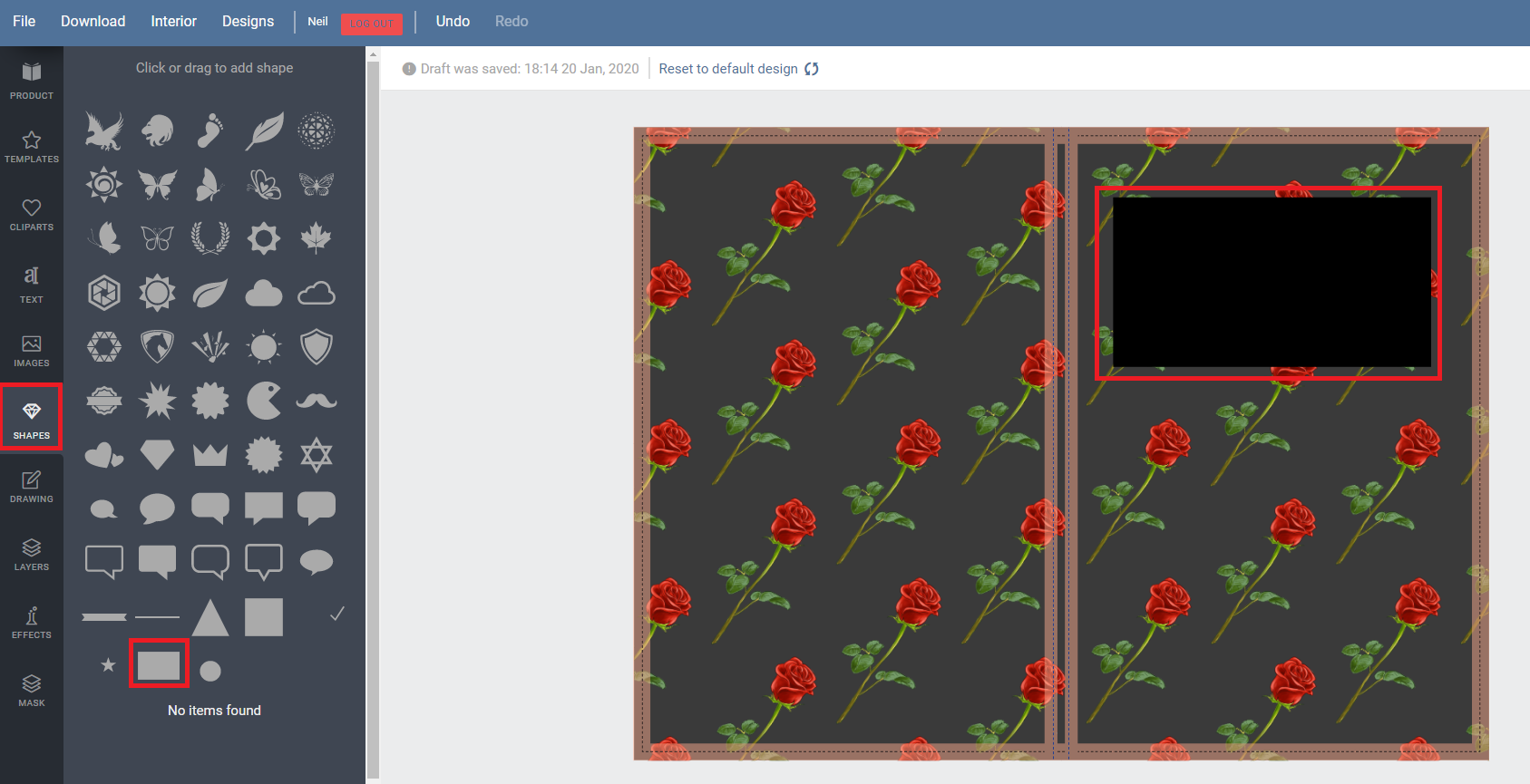 Once your shape is on your cover, select the layer and change the color so it looks nicer!

I even changed it up a little bit by using the SVG editor (right next to the color option in the screenshot above) to add a little edge to the box: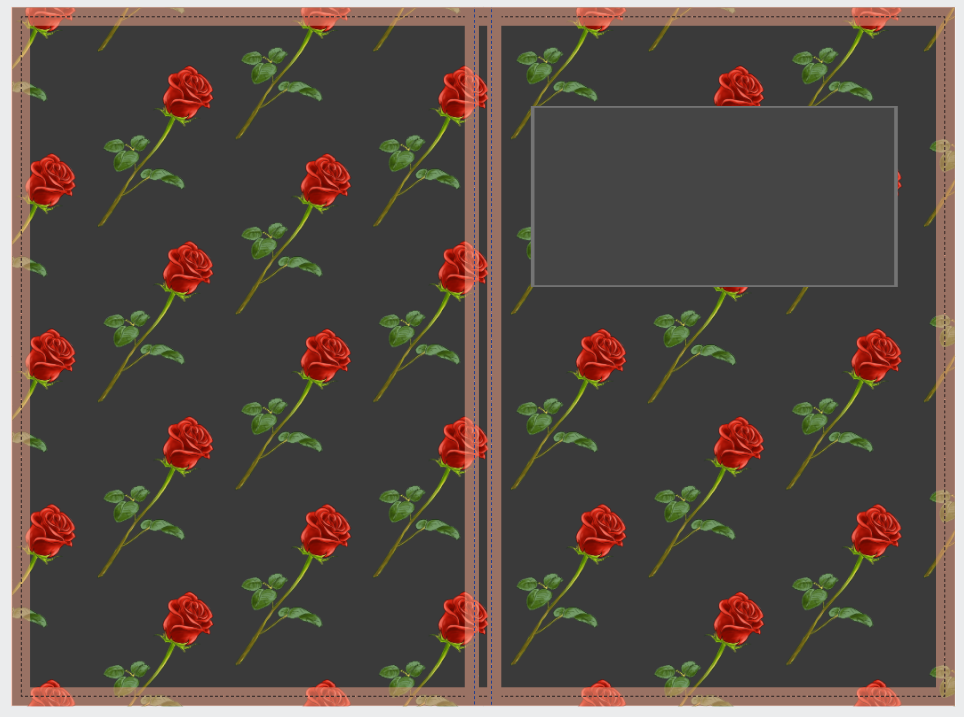 Now, all we have to do is add our design title by using the text menu!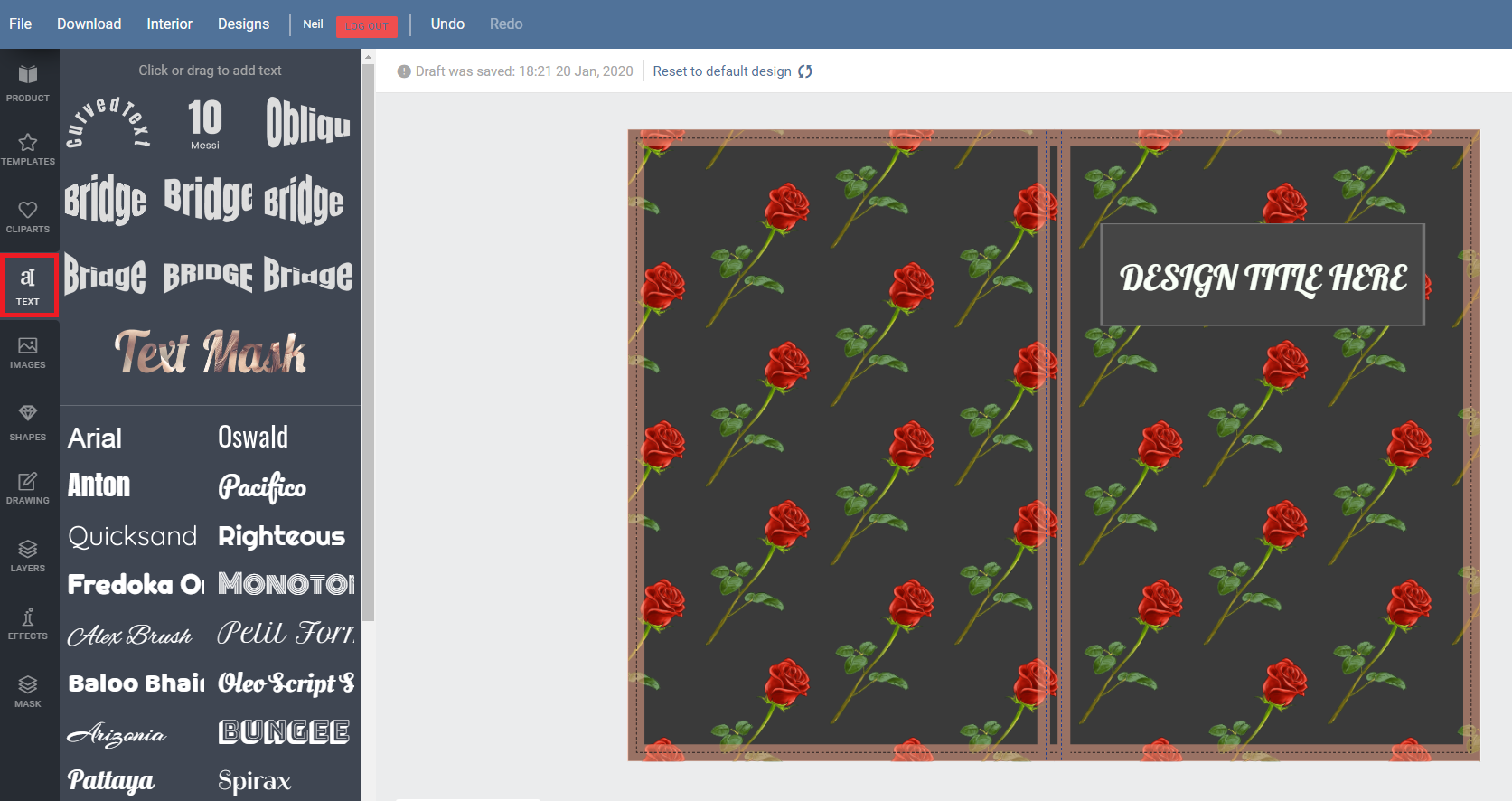 Just like that, we have a great looking cover. All you have to do now is download it from the top menu that says "Download".
Step 7: Upload Your New Cover To KDP
Now that we have our nice new cover, upload it to KDP!
If you are creating patterns and decide that you do NOT like the pattern and want to start over, simply go to the product tab in the left hand menu inside of the Book Bolt Designer, and click on the Discard Pattern button.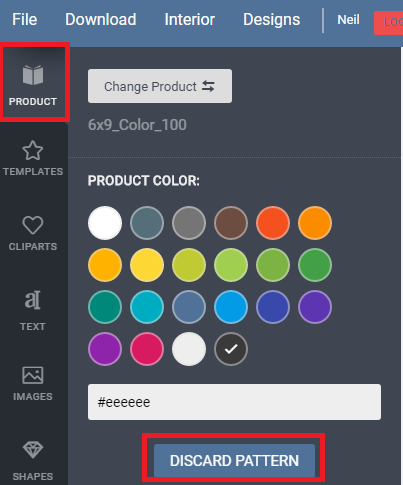 Wrapping It Up
Patterns are great to create stunning covers in a fraction of the time. The example above took me about 3 minutes total (from downloading and uploading my design element, to clicking a button to make the pattern, and then adding the title text box). Take advantage of this new feature to crank out some amazing covers, get them up on KDP and start increasing your royalties each month!
If you have any questions, drop them in the comments below!