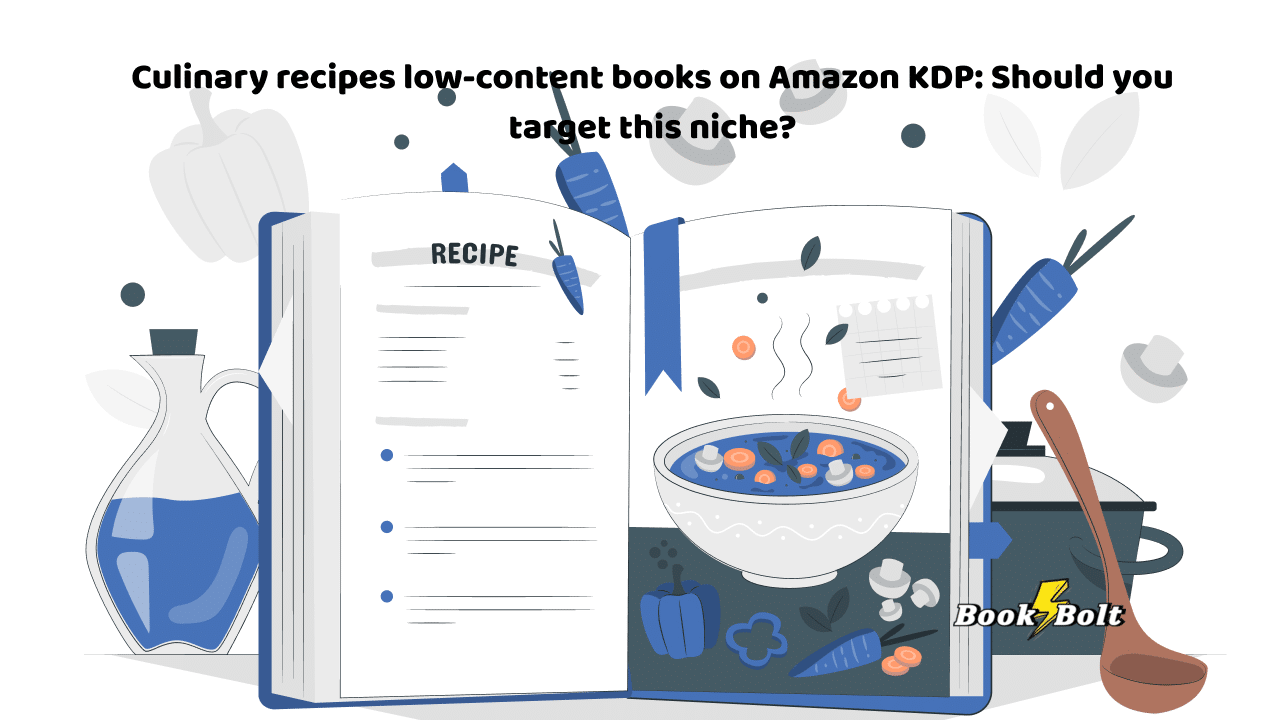 Imagine a world where your culinary passion meets the page.
We're talking about a scenario where every dash of spice and culinary secret can be recorded into a sleek, stylish low-content book.
In the following sections, we take a deep dive into the gourmet world of low-content culinary recipe books on Amazon KDP.
Is this the golden ticket for authors in the vast KDP universe or just another flash in the pan?
Let's find out.
The size of the recipe low-content book niche
Creating a recipe low-content book as an Amazon KDP seller can seem like a mouth-watering opportunity.
But to find out if it's as lucrative as it sounds, it's essential to consider the size of the market.
To do this, we embraced all that Book Bolt has to offer.
We analyzed three core metrics that dictate the size of a niche:
Number of listings
Search volumes
Average BSR
Let's take a look at our findings.
Number of listings
The number of listings or listing saturation is a vital piece of data when performing market research. It demonstrates how well-developed a niche is from the perspective of competition.
Naturally, the more listings in a space, the bigger the segment.
Usually, high listing saturation indicates aggressive competition. However, it also suggests a bigger audience and opportunities for attractive sales volumes.
In the case of recipe low-content books, we specifically looked at recipe journals as the most popular category in the culinary arena.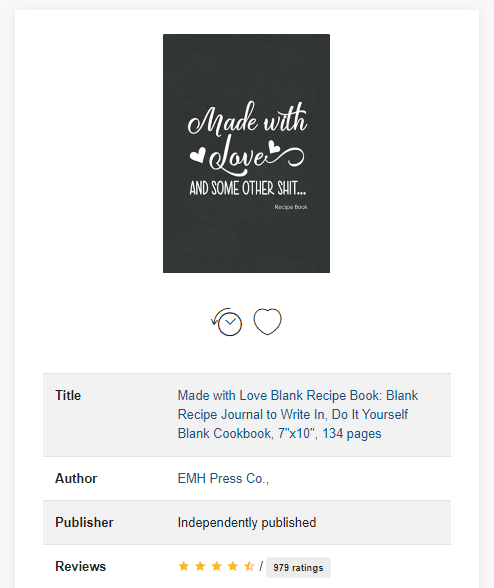 According to Book Bolt's Cloud tool, there are 76 bestselling recipe journals. At the same time, there are more than 100 listings in this domain overall.
As a comparison, there are only 18 cook journals and as it turns out – zero culinary journals.
This positions recipe journals at the top of our list. For this reason, we've based our entire research on this product category.
While 76 top performers don't scream a massive market, the number is big enough to deserve your attention as a seller.
Search volumes
Utilizing Book Bolt's Keyword tools, we discovered some interesting insights related to buyer behavior.
We were able to determine the number of monthly searches performed by Amazon shoppers browsing for recipe journals.

Here are the results:
recipe book to write your own recipe – 38,473
recipe book – 28,355
100-recipe journal – 17,433
bbq recipe book – 15,950
my baking journal custom recipe notebook – 10,474
my family recipe journal – 10,069
my vegan recipe journal – 9,980
The phrases above are the ones that stand out with the highest search volumes.
Right off the bat, it becomes clear that most consumers are interested in custom-made recipe books.
For example, nearly 40,000 people search for "recipe book to write your own recipe" per month.
This is a substantial demand that you can satisfy as a low-content book creator.
However, keep in mind that the majority of keywords related to "recipe journal" or "recipe book" have extremely high competition levels. This is where sub-niches come to the rescue.
For instance, words like "my family recipe journal" and "my vegan recipe journal" represent specific niches (family and vegan). They generate nearly 10,000 searches per month, yet have a low competition level.
Optimizing your listings with such phrases can help you increase your traffic and improve your rankings.
In addition, we identified that other related words, like "culinary gifts", have a monthly search volume of 32,865. You can optimize your titles and descriptions with these keywords to attract an even wider audience.
Average BSR
The last metric that determines the size of the market is the average BSR.
A lower BSR reveals that items in a specific category are often purchased. On the other hand, a high BSR would suggest that the space is not that big in terms of sales.
The average BSR of bestselling recipe journals is 297,580.
Compared to other niches, this is a low number, proving the potential of the space.
How profitable are culinary low-content books on Amazon KDP?
So far, we've uncovered that recipe journals are trending on Amazon KDP.
But how profitable are they? Can you expect to make decent earnings in this segment?
The best way to find out is to look at the minimum, maximum, and average prices in the market.
Here they are:
Lowest Price – $3.99
Highest Price – $16.95
Average Price – $8.54
As you can see, the highest you can price your recipe journal and still be competitive is around $17.
However, keep in mind that pricing near the market average is the most efficient strategy. This technique will position your product appropriately, neither underselling nor overselling.
Based on these prices and additional factors (like sales volumes, page length, and others) you can calculate the royalties you can score.
Top keywords in the recipe low-content book market
Another key element to observe when assessing a market is the most popular keywords used in listing titles and descriptions.
Identifying these phrases will help you get an idea of popular sub-niches.
Let's take a look at the trending keywords among recipe journals:
Journal
Blank
Cookbook
Canning
Cocktail
Baking
Gift
Coffee
Cooking
Men
Women
Family
Easy
Custom
Season
Funny
It's no surprise that "journal" is the most frequently used keyword. We already noted that this category is the most popular in the recipe low-content book arena.
What's more interesting is that there are plenty of theme ideas that this list reveals. Some of them include cocktails, baking, coffee, easy, seasonal, and funny recipe journals.
In addition, it becomes evident that most sellers are specifying their target audience in listing titles and descriptions (for instance, men and women).
We can also confirm our earlier theory that blank and custom recipe journals are creating waves on Amazon KDP.
A sneak peek into the bestsellers
Now that we've laid out the fundamentals of the recipe journal market, it's time to see what's happening in real life.
What are some of the bestsellers doing to land sales?
The "Made with Love Blank Recipe Book: Blank Recipe Journal to Write In, Do It Yourself Blank Cookbook, 7″x10″, 134 pages" listing is the number one product in the recipe journal niche.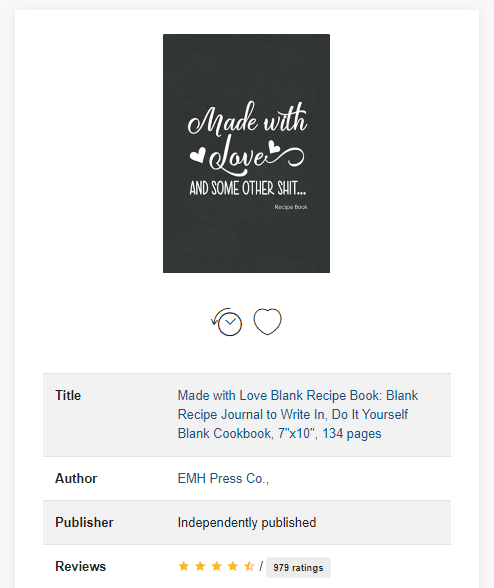 It sells for $9.00 (very close to the market average) and has a BSR of 14,334. This product generates around 360 sales per month.
Analyzing the title, we can see that the seller strategically uses keywords like "blank", "recipe", "journal", "to write in", "do it yourself", and "cookbook". All of these words are top-used phrases that came up throughout our research.
Furthermore, the title describes the size and length of the journal. This instantly creates a powerful filter, guaranteeing that only shoppers interested in these dimensions will click on the listing.
The next chart-topper is "Gastric Sleeve Bariatric Cookbook: 2500 Days of Healthy and Tasty Recipes for Quick Weight Loss in any Post Surgery Diet Phases | 4 Weeks Meal Plan Stomach Recovery & 1-Year Journal Included".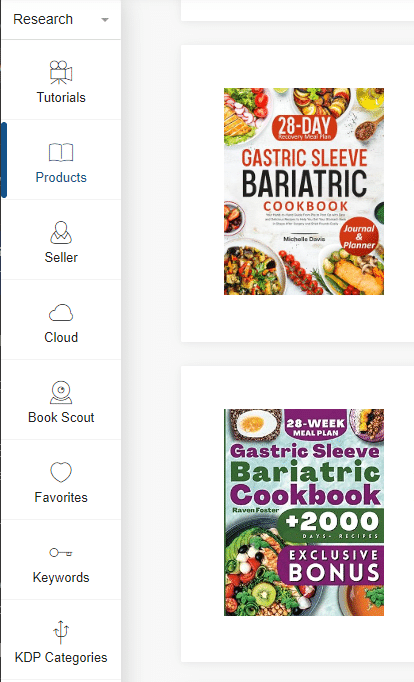 This journal costs $14.97 (close to the maximum in the market), has a BSR of 35,316, and achieves 302 monthly sales.
In this case, the seller has created a very specific product, targeted at a narrow audience. The keywords that give this away include "weight loss", "post surgery", "diet", and "stomach recovery".
At the same time, the title covers the essential phrases, such as "cookbook", "recipes", and "journal".
Part of the reason why this listing performs so well near the highest market price is the niche targeting. There is much lower competition for "stomach recovery recipe journals" than "recipe journals" in general.
As a result, the seller can afford to ask for a higher price.
The best practices to follow
How can you implement the ultimate sales strategy that will ensure your recipe journals fly off the digital shelves?
All you need to do is stick to the best practices and apply proven tactics.
Considering the data extracted from Book Bolt, we recommend the following:
Ask for a price near the average in the niche – the best-performing recipe journal listing is priced very close to the average in the market. This proves that this strategy works wonders. One exception is when selling a very specific product, where the competition levels are lower (like stomach recovery recipe journals).
Be strategic and creative with the use of keywords – to help your listings rank high and attract more traffic, include essential keywords across titles and descriptions. These are the phrases that generally describe the niche (like "recipe", "journal", "cooking", and others). But don't stop there. Get creative and optimize your listings with words related to your audience, theme, and book specifics (like length and size). Doing this will enable you to reach the right customer audience.
Niche down – while selling general recipe books can be a fruitful endeavor, your results will be even more rewarding when niching down. Select a particular theme or topic, like vegan recipe books, family recipe journals, or coffee recipe journals. Choose the right niche based on search volume.
Describe your audience in your listing title – another conclusion we made from our research is that successful listings mention the product's audience directly in the title. This instantly shows who the listing is suitable for and attracts the perfect buyers to the product.
Applying these best practices to your recipe journals will equip you for the sales volumes you're after.
In a nutshell
Overall, the recipe journal space on Amazon KDP is tempting and rewarding. With enough space to compete and diverse themes to choose from, you can craft a profitable product portfolio.
To outperform other sellers and stand out from the crowd, make sure to use Book Bolt's insights.
The tool will gear you with all the data you need to make informed decisions throughout your journey.