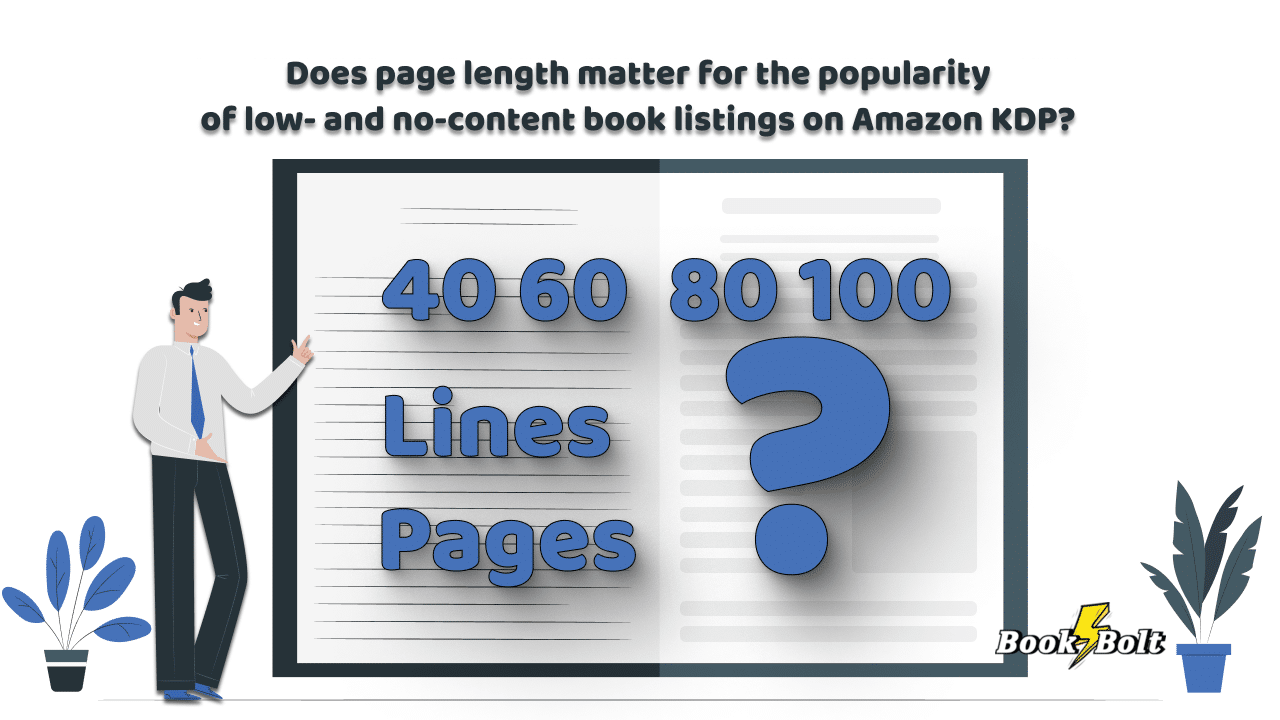 Is page length the secret ingredient to Amazon KDP success?
The digital shelves of Amazon brim with low- and no-content books, so we're tearing down the virtual aisles to determine whether page length plays a role in the popularity contest.
Is it a David and Goliath story, or does size not matter after all? Get ready for a page-turning adventure into the heart of Amazon KDP.
The approach that led us to the right answers
At first glance, determining the impact of page length on a book's popularity may seem like an impossible task. However, with powerful business intelligence tools like Book Bolt, valuable data can be accessed to find the answers.
We began by examining each low-content and no-content book category individually. Utilizing Book Bolt's Cloud tool, we identified the bestsellers in each category and analyzed their specific page lengths.
Page Length and Profitability
Page length was found to vary significantly depending on the book category. From this perspective, our conclusions suggest that the length of a low- or no-content book does not significantly affect its popularity. However, in terms of profitability, page length does matter.
For example, consider a 100-page paperback priced at $10. This product would generate royalties of $3.70 per sale. In contrast, a similar product with a page length of 200 pages would accumulate royalties of $2.60 per sale.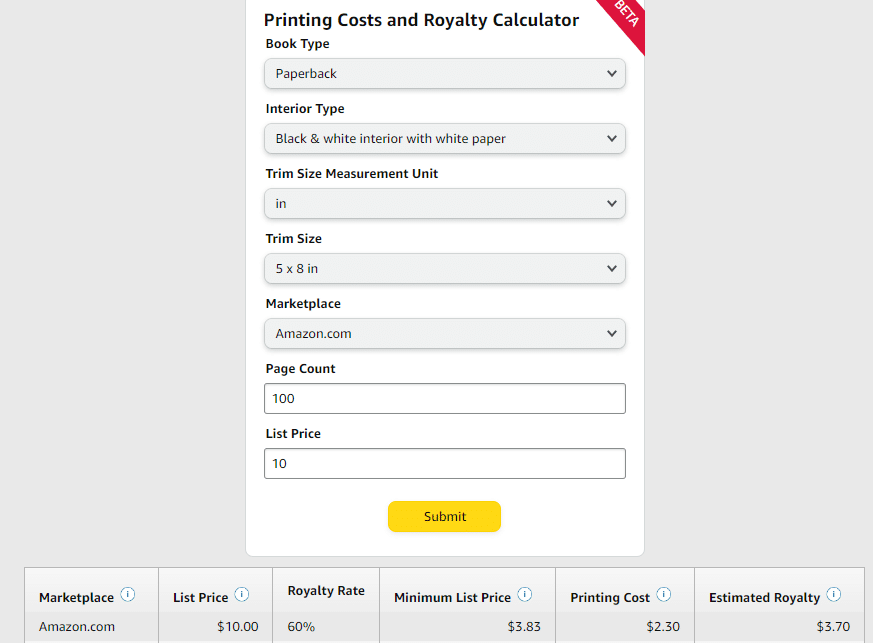 Why?
Because the higher printing costs associated with a 200-page book lead to reduced royalties.
Note that while these calculations can be done manually, Amazon provides an official KDP royalty calculator for convenience.
No-content books
To gain further insight, let's dive into the top-performing products from various low- and no-content book categories. By examining their page lengths and corresponding royalties, we can uncover interesting trends.
Notebooks
In the notebook space, the leader offers users 110 lined pages. The "Fathers Day Gifts from Wife: Happy DILF's _ay You Can Give Me the "D" Tonight; Personalized and Naughty Father's Day Gift from Wife to Husband/ Unique Greeting Card Alternative/ Funny Notebook for Dad" sells for $6.99 and has a BSR of 1 025, generating around 573 sales per month.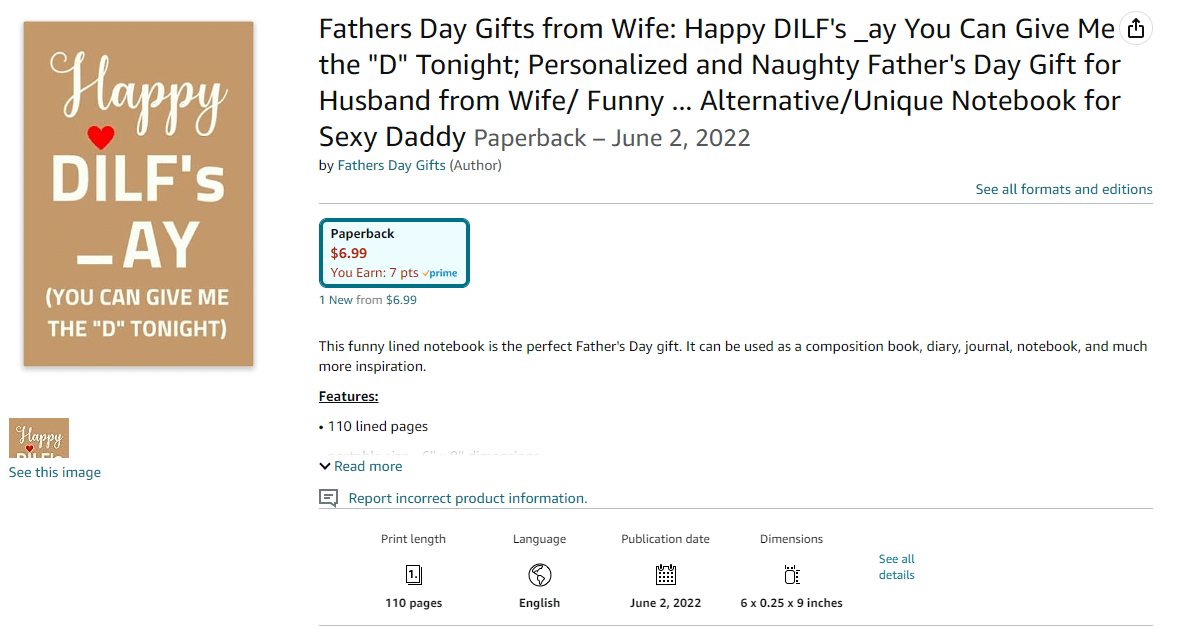 Using the Amazon KDP royalty calculator, we unveiled that the seller enjoys royalties of $2.02 per listing. Considering the estimated monthly sales volume, the book creator secures roughly $1,157 from this listing alone.
Journals
Entering the journal segment, we identified a different trend.
Here, the top-performer is "You Fucking Got This : Motivational Swear Words Coloring Book: Swear Word Colouring Books for Adults: Swearing Colouring Book Pages for Stress Relief … Funny Journals and Adult Coloring Books)".
This item features 60 pages, sells for $4.49 and has a BSR of 553. The lower BSR translates into roughly 652 sales on a monthly basis.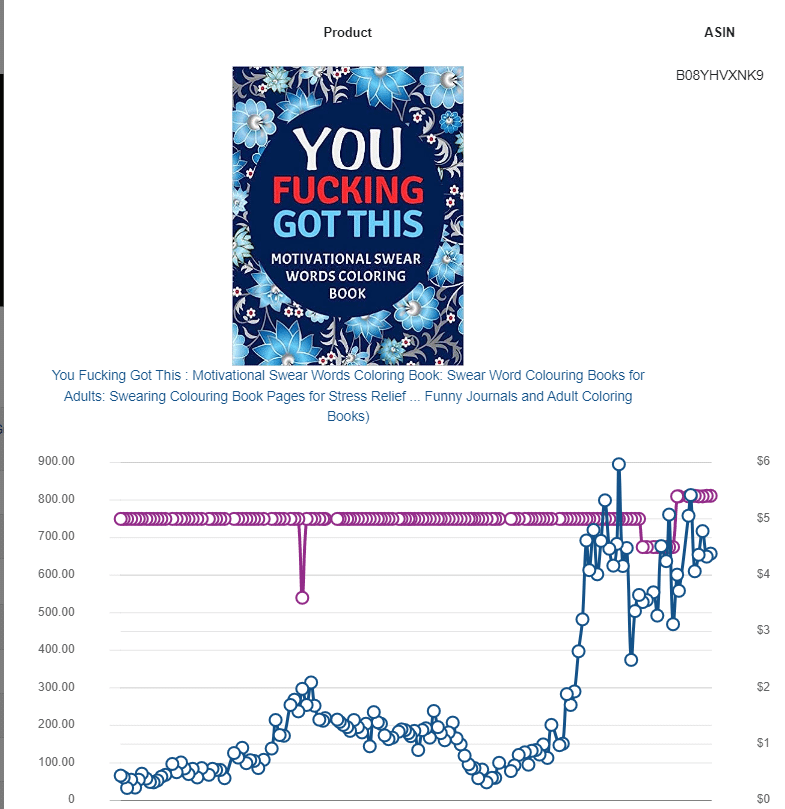 However, the seller makes a much lower profit per sale than the previous example. With earnings of only $0.54 per sale, this author receives only around $352 from this item.
While this may be the most popular listing among journals, it is certainly not the most profitable one. After all, the earnings potential of a product is an important factor to be considered when shaping your strategy.
Music sheets
Naturally, music sheet low-content books tend to be much shorter than other alternatives, like notebooks or coloring books.
The "Easy Piano Sheet Music for Kids: A Beginners First Book of Easy to Play Classics | 40 Songs (Beginner Piano Books for Children)" listing serves to prove this. It contains only 44 pages and has a BSR of 2 092, equating to 513 monthly sales.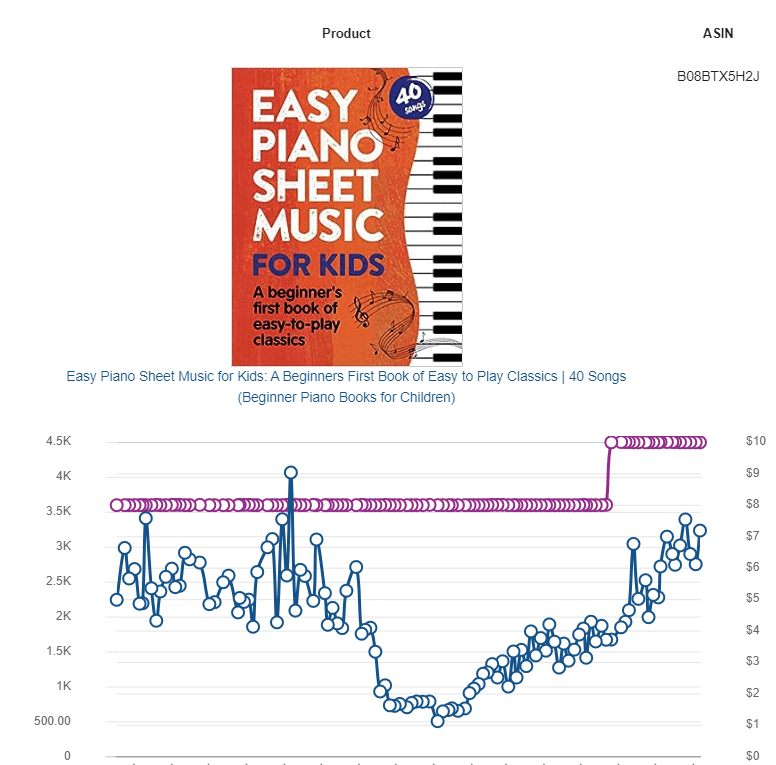 Sold at a price of $10, it generates royalties of $3.85 per sale. This is one of the most lucrative scenarios from a seller perspective.
The short length means less time for design creation. At the same time, printing costs are low, meaning that earnings per sale are much higher.
Calendars
Contrary to popular belief, calendars are not necessarily limited to 12 pages (the number of months in a year).
For instance, the "2023-2024 Pocket Planner: Small 2 Year Monthly Calendar for Purse with Holidays, Watercolor Flower" listing offers shoppers 89 pages. It sells for $4.99 and has a BSR of 23 128. Although this number is higher than the previous examples, the item still makes roughly 330 sales per month.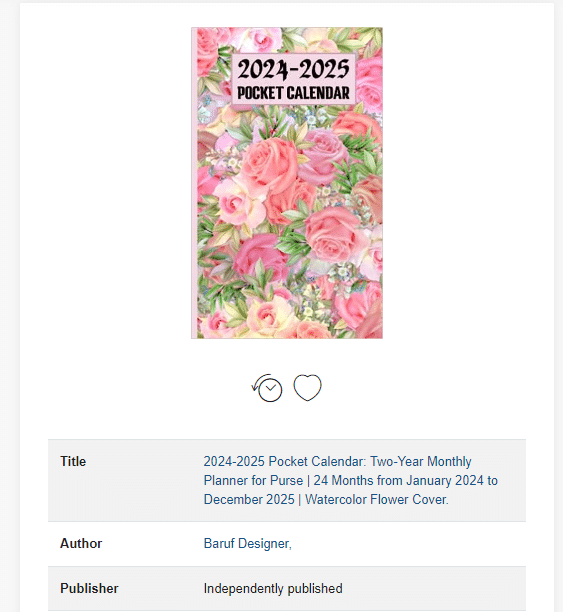 From a financial perspective, this results in $0.84 in royalties for every sale. Working out the math, we uncovered that this listing produces earnings of around $277 per month.
This is a strikingly low number compared to others. However, keep in mind that a lot of sellers strategically position such items in their portfolio for awareness and popularity. This number one product in the calendar category dominates the market. It also encourages shoppers to discover more about the other low-content books sold by the author, generating more traffic for the seller.
Planners
Moving on to a longer page length example, the "Keto Diet Cookbook for Beginners 2023: 1500 Days Delicious Recipes, Stress-free 30-Day Keto Diet Planner with Low Carb to Lose Weight" is the most successful offer in the planners section. With 105 pages, it has a BSR of 4 594 and scores around 456 monthly sales.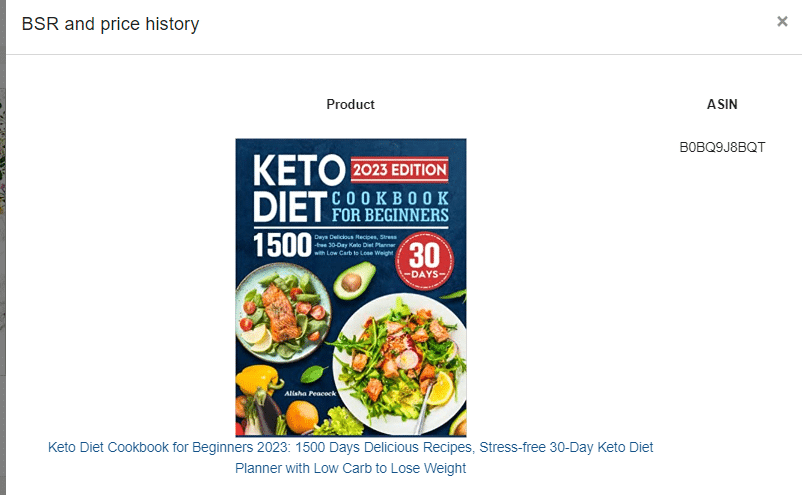 Due to the high price, this listing achieves royalties of $6.24 per sale. As you can see, the page length is longer (indicating higher printing costs), but this hasn't influenced the performance of the listing as the seller has strategically asked for a higher price.
Coloring books
Coloring books tend to be larger in volume. And unsurprisingly, the lengthier they are, the more attractive to users.
Exploring the highest sold items, the number one listing in this category is "The Creative Toddler's First Coloring Book Ages 1-3: 100 Everyday Things and Animals to Color and Learn | For Toddlers and Kids ages 1, 2 & 3 (US Edition)".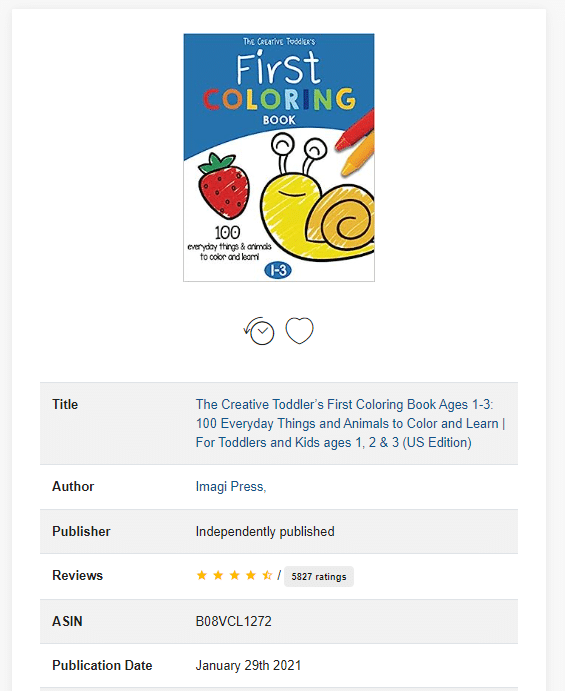 It is made up of 103 coloring pages, with the exceptionally low BSR of 259 and estimated monthly sales 733, selling for $5.99. These numbers lead to royalties of no more than $1.44 per sale. But calculated on a monthly base, this product rewards the author with $1,055.
The conclusion? You can make a listing a success story even if its royalties per sale are not the highest, as long as you secure a large number of sales.
Activity books
Similarly to coloring books, activity books are also rather long.
The top-performing item in the category is "Airplane Activity Book For Kids Ages 4-8: A Fun Airplane Travel Activity Book | Perfect For Road Trips And Family Fun: Perfect Travel Gift With 60+ Activities For Boys And Girls Ages 4,5,6,7,8,9,10". With 98 pages and a price of $5.99, the product has reached a BSR of 1 148 and accomplished around 573 monthly sales.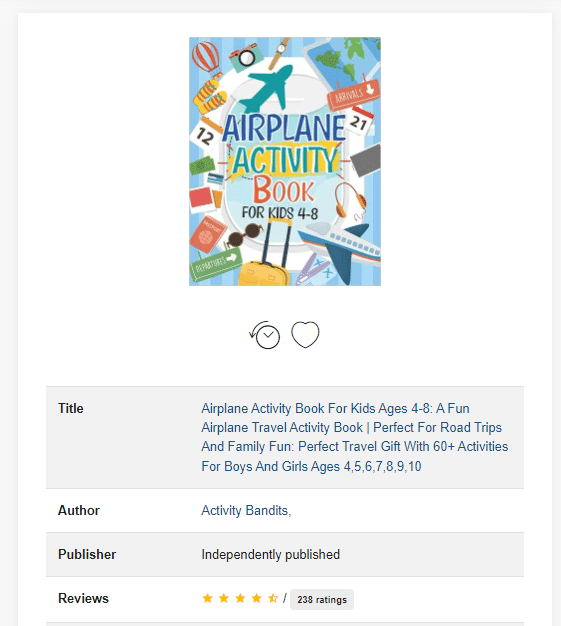 As the page length and price are identical to the previous example, the per sale royalties here are once again $1.44. However, the monthly sales volume is slightly lower, making this listing not as fruitful as the most successful example from the coloring book space.
Puzzle books
Puzzle books are similar to coloring books and activity books in terms of profitable page lengths.
The "4000 Word Search for Adults Large Print (200 Themed Puzzles): Big Puzzle Books for Adults – Anti eye strain, keep brain working for Adults,Seniors & Teens (wordsearch book for adults)" bestseller features 105 pages. Its price is $6.98, while its BSR is 692 (equating to 640 sales per month).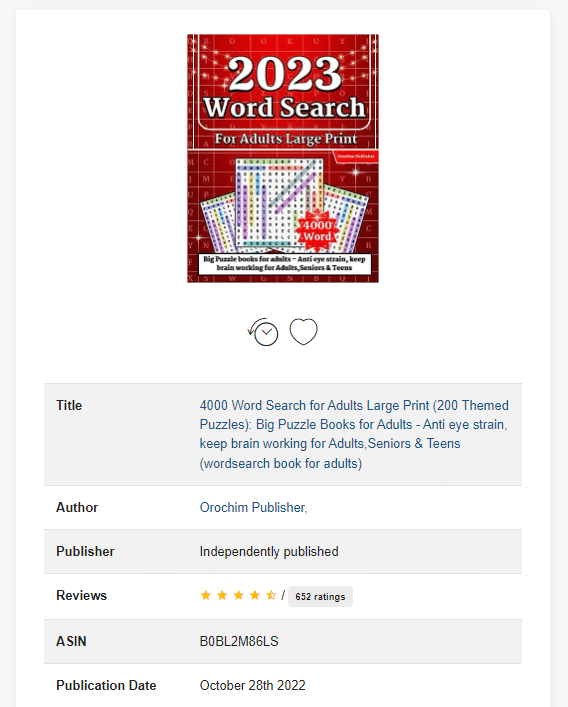 Using Amazon KDP's royalty calculator, we worked out that this listing scores royalties of $2.04 per sale. Logically, these examples stand out with lower per sale royalties due to their high page count.
Sketch books
Just like the previous three examples, the sketch book category stands out with larger volumes.
The "Kid's Drawing Pad A4: Drawing Paper for Children | Thick Paper – Large Format Sketch Book for Kids 210 x 297mm" listing is 109 pages long, selles for $3.98, and generates around 389 monthly sales with a BSR of 10 178.
In financial terms, this translates into $0.24 royalties per sale. This is the lowest earnings potential from this list, due to the length of the book and the relatively low price.
Low-content books
Researching the low-content book world, we discovered that all bestsellers are at least 100 pages in length. Right off the bat, we can assume that royalties here will be much lower.
Let's find out if our theory is right.
Comic books
The most successful listing in the comic book space is the "Blank Comic Book: Variety of Templates, 2-9 panel layouts, draw your own Comics" product.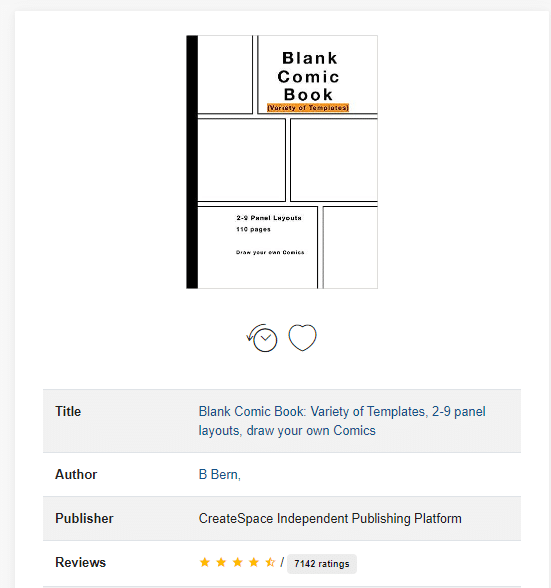 It features 112 pages, sells for $6.00 and stands out with a BSR of 8 526. With an estimated sales volume of 410, this item provides a monthly revenue of $578 ($1.41 per sale).
Guest books
A similar situation, the most popular "Class Of 2023 Graduation Autograph Book: Sign with Signatures, Capture Messages & Record Meaningful Wishes | Graduate Guest Book for Autographs | Light Pink & Black" listing in the guest book category consists of 110 pages.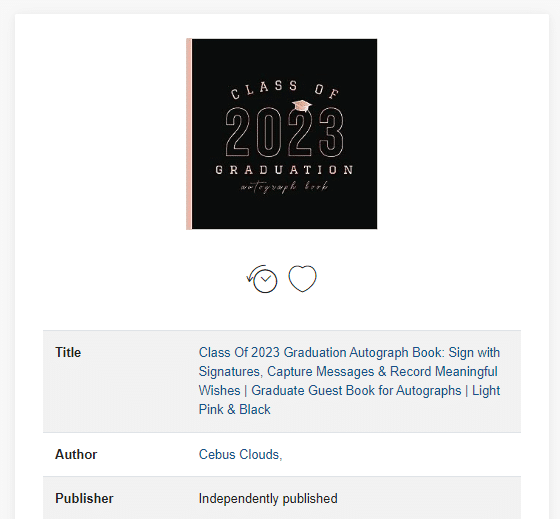 The product has a BSR of 15 332 and a monthly sales forecast of 356, where shoppers can purchase it for $6.99.
Turning numbers into royalties, we conclude that the listing generates per sale royalties of $2.02. In other words, the seller makes around $719 per month.
Log books
Another category that is characterized by lengthy products, the log book niche mostly consists of top-performers of more than 100 pages.
For example, the "What the fuck is my password: Password logbook, for forgetful humain, easy, keeper, funny for women, reminder book large print, protect username, … keeping organizer, privite information/gift" listing has exactly 100 pages and a BSR of 5 588 (consequating in around 443 monthly sales).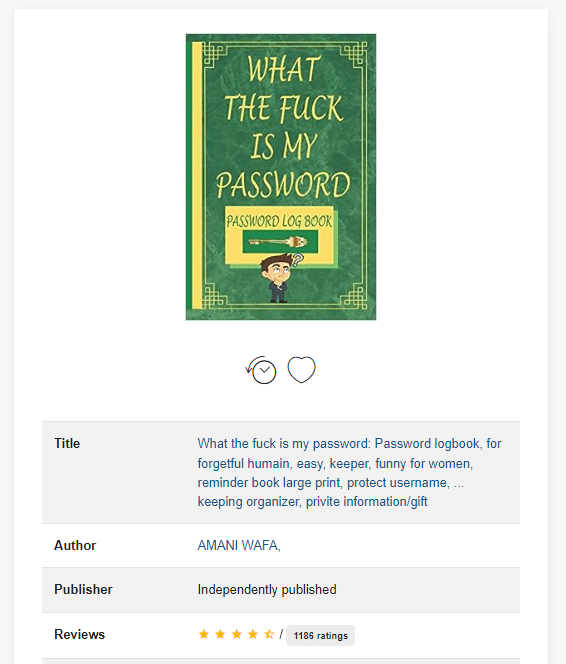 Amazon's calculator helped us uncover that this price and this length result in royalties of $1.42 per sale. Just like with other less profitable listings (from a per sale perspective), the seller must increase monthly sales volumes to receive a satisfying revenue from this product.
Trackers
The final category we examined was trackers.
The trendiest listing in this segment is "Ultimate Savings Challenges Book: Unique and Interactive Money Saving Challenge Book with Variety of Saving Challenges from $50 to $20000 | Daily, Weekly Cash Savings Tracker", with 114 pages and a price of $6.99.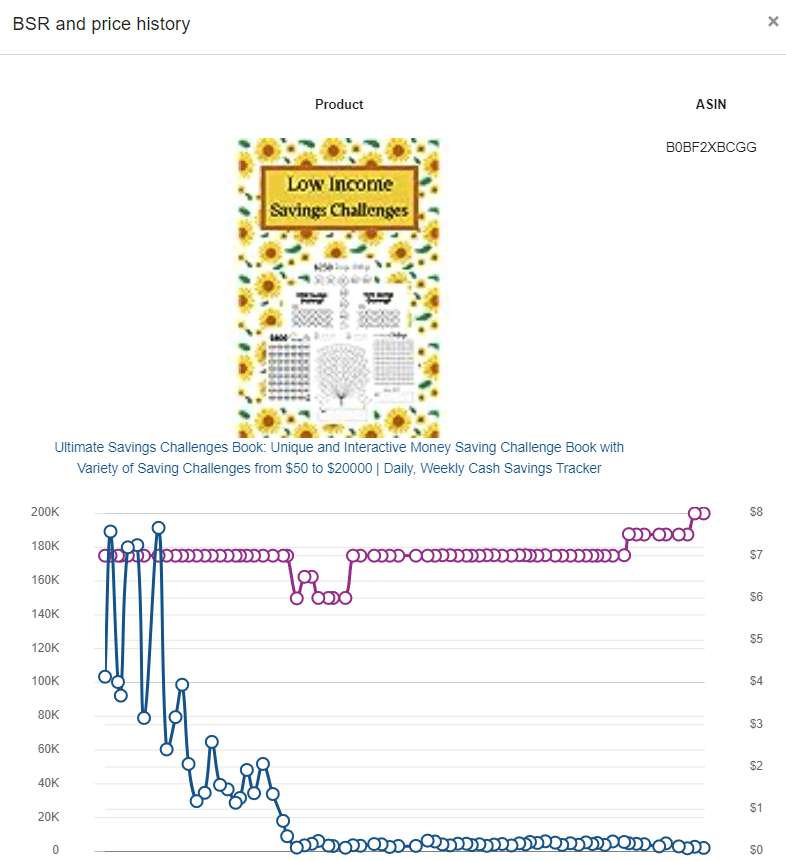 This item has reached a BSR of 4 764 and strikes around 456 sales per month. From a royalties point of view, this means $1.98 per sale.
In a nutshell
Our in-depth research led us to three very important findings. First, page length may matter for sales volumes, but it's not the sole factor that influences purchase decisions. Second, every low- and no-content book category stands out with different trends when it comes to book length. While low-content books are predominantly longer, the majority of no-content books have shorter page numbers.
Finally, book popularity and profitability are not the same. We discovered that although some products sell extremely well, their royalties per sale are not as high as others, less-known listings.
Using these insights to your advantage will help you step up your Amazon KDP game. It will help you find the perfect balance between page length and price, resulting in thriving results.