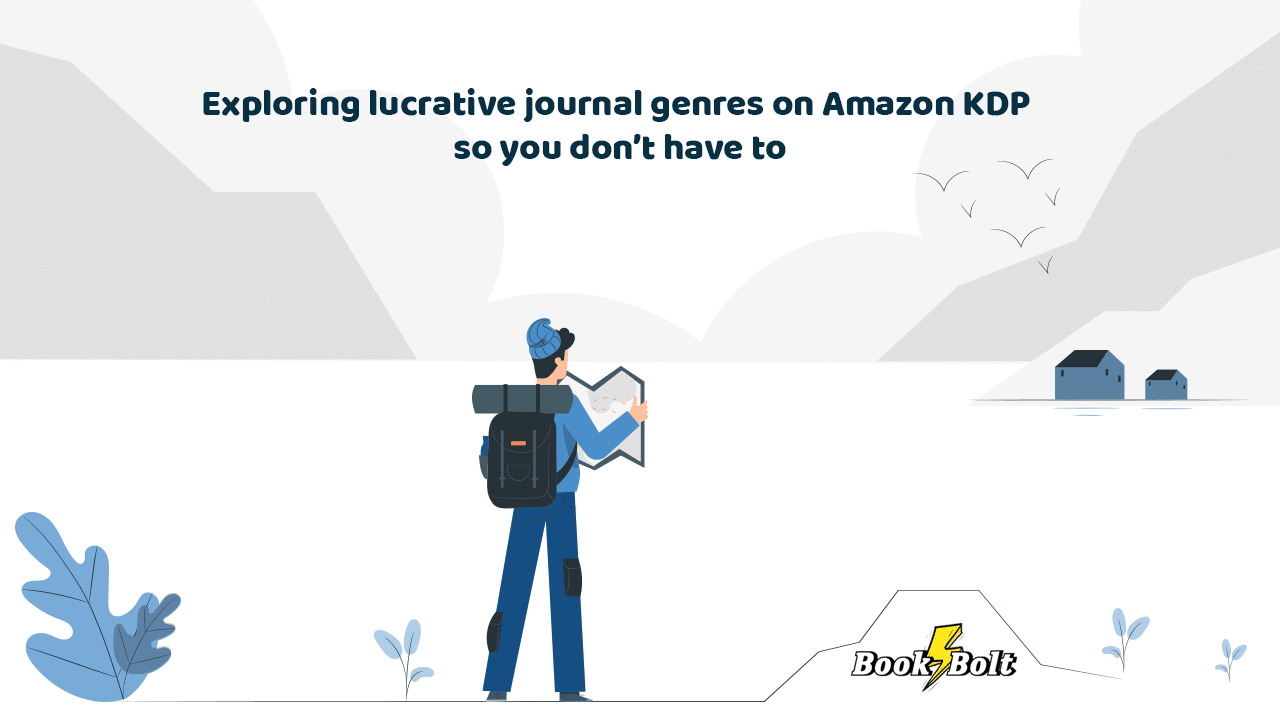 Journals are among the most lucrative print-on-demand markets to enter as a seller. But with such a vast range of diverse genres, it could be challenging to decide where to start and how to expand your portfolio.
To save you hours of research, we offer valuable discoveries from our dive into the print-on-demand journal space on Amazon KDP.
We'll walk you through five attractive journal genres, offering key insights for strategic decision-making.
By the end of this article, you'll know exactly what to bet on.
Password journals
Using Book Bolt, we identified password journals as one of the popular markets on Amazon KDP. But is this genre truly worth your time?
The only way to find out is to analyze some metrics.
Market size
Password journals attract a decent amount of attention and are a well-developed market on Amazon. How do we know? By looking at the average BSR of top performers, the search volumes for niche-specific keywords, and the number of listings available in Book Bolt's cloud tool.
For this genre, we noticed that the average BSR is 269,211. There are only 62 bestselling listings that appear in the Cloud tool, but hundreds are available on Amazon KDP overall.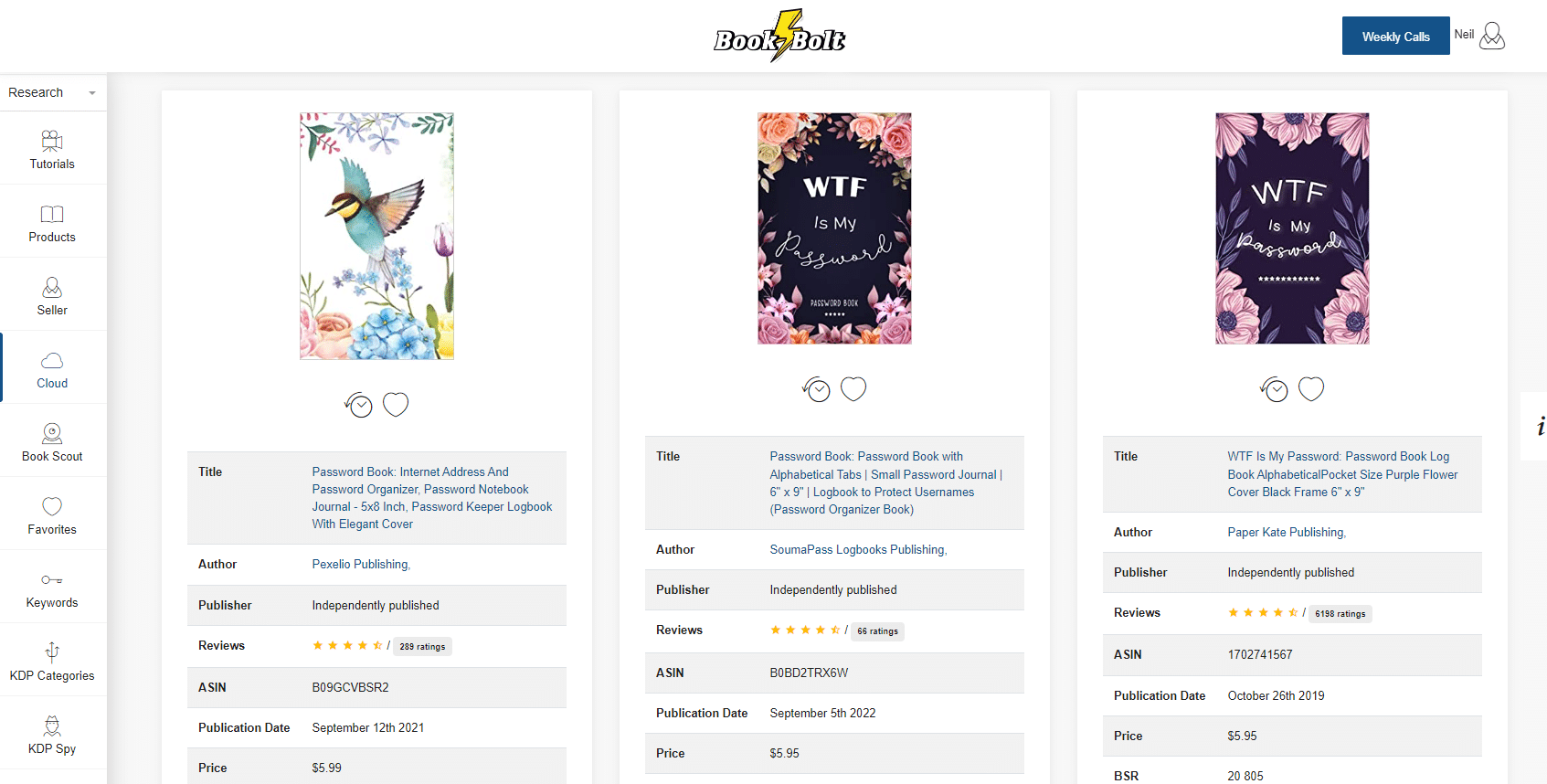 Here are the top three searched-for words and phrases in the category:
a5 creative password journal with lock – 38,554 searches; no data on competition
password journal – 16,391 searches; no data on competition
my password journal for girls – 6,350 searches; no data on competition
You can see that there's plenty of interest from shoppers but also no insight on the level of competition. This usually indicates that the phrases are easy to rank for, as not enough data means not enough listings to compete against.
Profitability
But are password journals profitable? Here are the lowest, highest, and average prices among top-selling listings:
Lowest Price: $3.58
Highest Price: $19.95
Average Price: $6.58
Remember, the higher the price of your book design, the higher the royalties you'll earn. Therefore, it's in your best interest to choose a niche where the average prices are more comparatively higher.
At the end of this article, we'll compare our findings from all five journal genres.
Bestseller overview
Let's take a look at the number one listing in the space.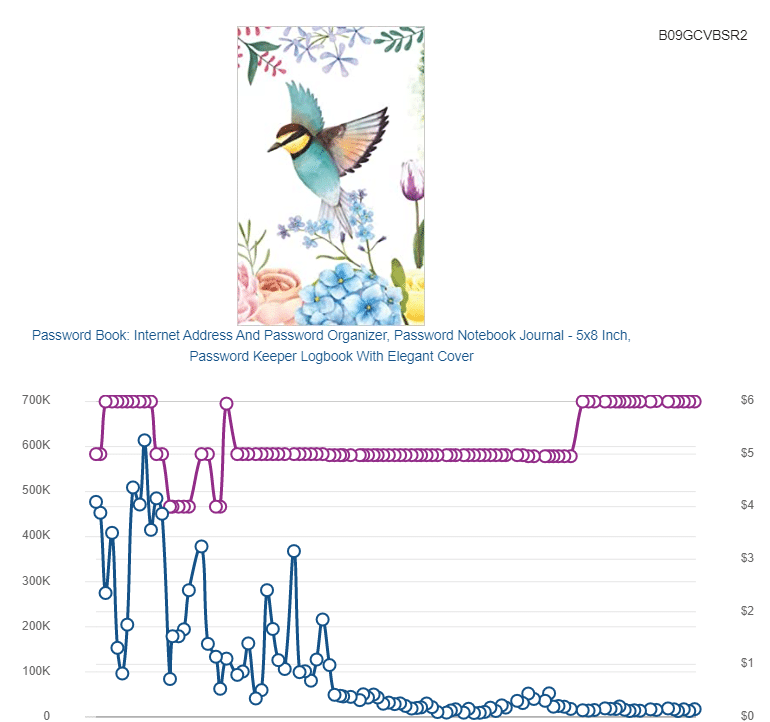 The "Password Book: Internet Address And Password Organizer, Password Notebook Journal – 5×8 Inch, Password Keeper Logbook With Elegant Cover" listing has a BSR of 17,741 and generates around 349 sales per month at a price of $5.99. The cover design includes flowers, birds, and an overall spring vibe, which we saw recurring throughout all journal genres.
Popular keywords & best practices
When it comes to best practices, there are plenty of factors to consider. For instance, design patterns, listing optimization, pricing, and more. But perhaps one of the most important ones is the use of traffic-generating keywords associated with the space.
By analyzing the most commonly used keywords in listing titles and descriptions, we identified the following:
Internet
Logbook
Protect
Discreet
Remember
Alphabetical
Small
Funny
Website
All of these can give you ideas on how to niche down your password journal designs and expand your sales potential.
Gratitude journals
Next up, we have gratitude journals as another lucrative product for consumers.
Market size
This genre is very similar to password journals in terms of market size. Top performing merchants in this space have an average BSR of 276,665, suggesting that there are plenty of sales landed in this market. There are also quite a bit more listings among the chart-toppers. 279 to be exact.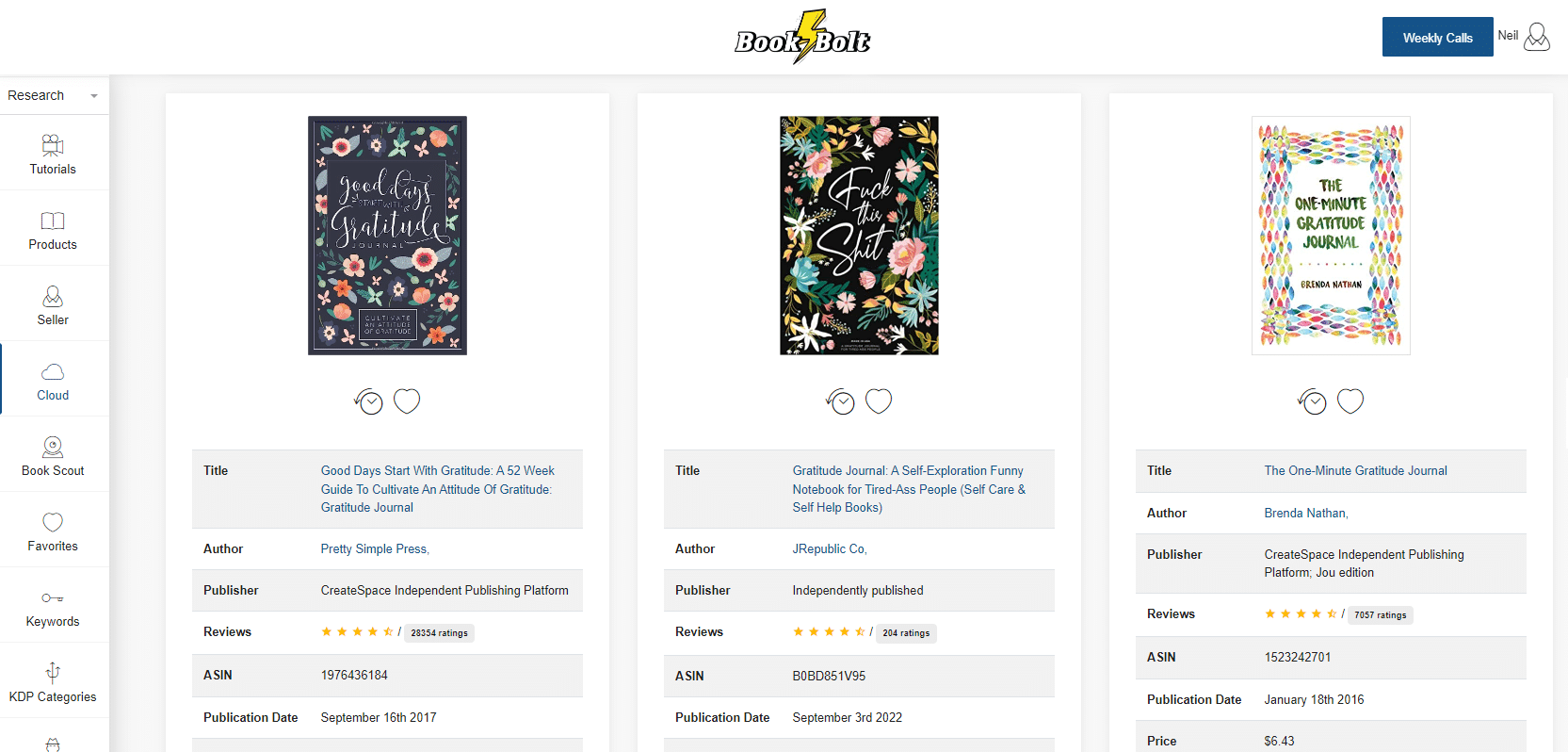 This suggests that there is more competition in the niche, which is a presumption we confirmed via our keyword research.
Here are the top three searched-for keywords along with their search volumes and competition levels:
journal gratitude – 92,782 searches; no data on competition
gratitude journal gratitude journal – 38,536 searches; no data on competition
gratitude journal for men – 38,263 searches; high competition
With more than 90,000 searches for related words, gratitude journals are certainly hot and trending. At the same time, we see that words like "gratitude journal for men" are highly competitive. This might make it harder for you to maximize your visibility in specific niches.
Profitability
The average price of gratitude journals is slightly higher than that of password journals. Here are the three essential price points you should know about:
Lowest Price: $1.82
Highest Price: $22.00
Average Price: $8.56
Although it looks tempting to sell journals for $22, remember that the golden rule is to stay somewhere around the average in the market. This will reward you with a competitive edge over other sellers.
Bestseller overview
The "Good Days Start With Gratitude: A 52 Week Guide To Cultivate An Attitude Of Gratitude: Gratitude Journal" listing stands out as the most successful in the genre. It has achieved an incredibly low BSR of 2,630 and secures nearly 500 sales per month at the price of $7.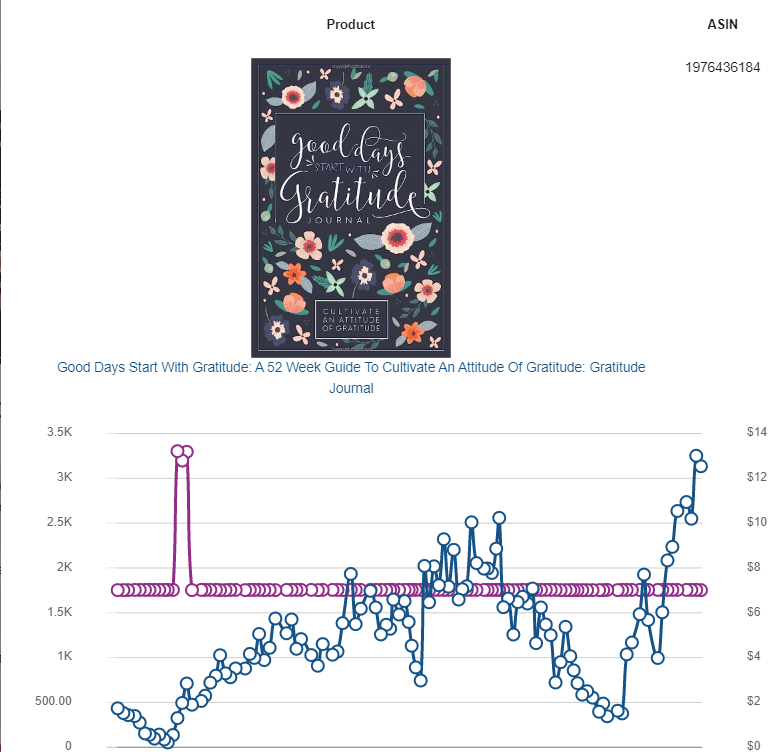 Just like the example from above, the design here is very similar, with floral elements, vibrant colors, and a spring feel.
Popular keywords & best practices
But what about the top keywords? How are other sellers able to achieve such high sales volumes?
Here are some interesting niche-related keywords that are bound to help you attract the right target audience in the genre:
Women
Kids
Mindfulness
Guided
Girls
Self
Ramadan
Reflection
Positivity
Grateful
Affirmations
Thankfulness
Mindset
As you can see, gratitude journals are most popular for women (given that both "women" and "girls" have made it to this list).
Motivational journals
Another intelligent way to make money on Amazon KDP is by selling motivational journals. They're truly miraculous in helping us shape new habits and get rid of old ones. As a result, motivation ranks among the most popular genres of journals.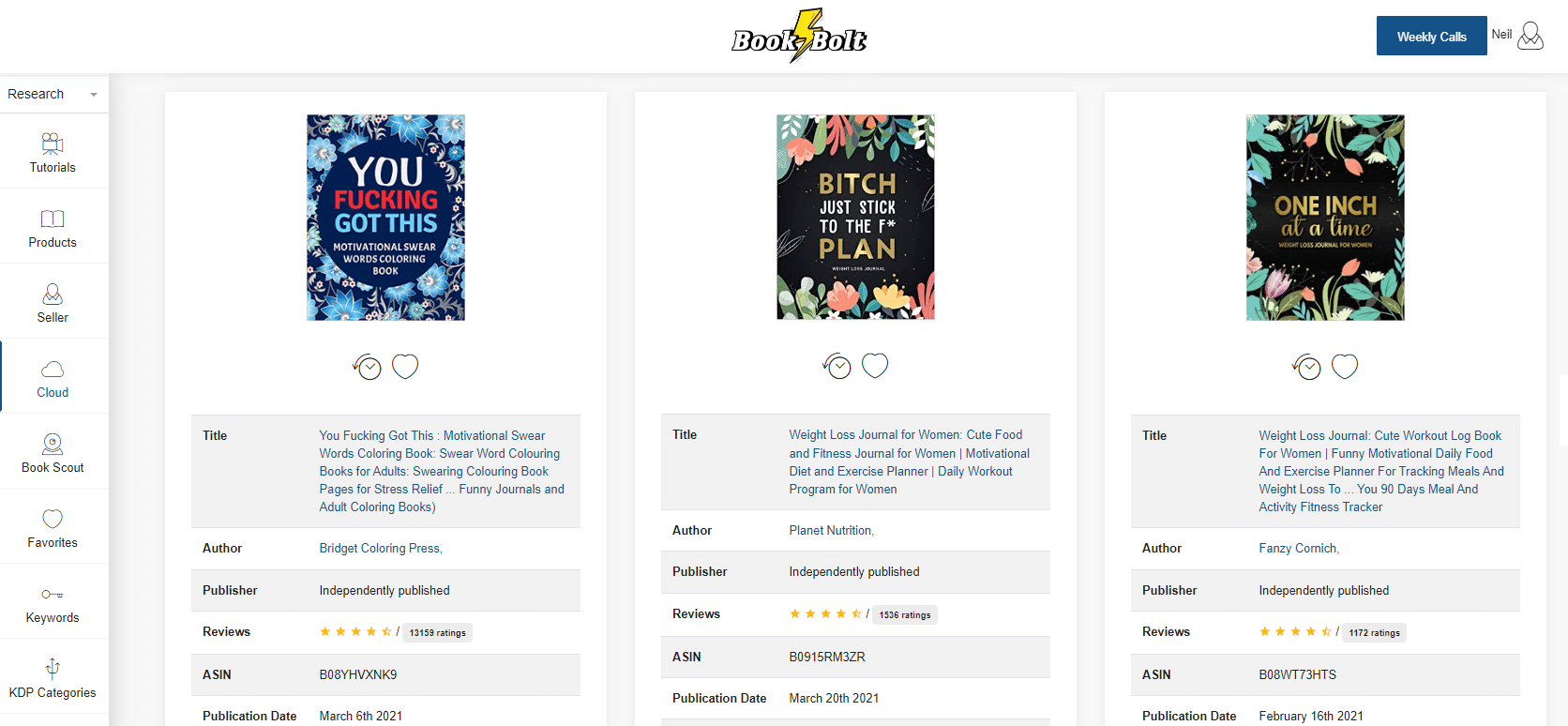 Market size
With an average top-performing BSR of 268,143, the category promises some incredible returns. Nearly 100 bestselling listings appeared in our search on the Cloud tool, yet hundreds more are available for sale on the platform.
However, it must be noted that keywords and phrases from this journal area attract slightly lower search volumes compared to the gratitude niche. There's also quite a bit of competition to be had when it comes to the most popular keywords.
Here's a quick breakdown:
52-week motivational journal – 39 204 searches; no data on competition
do it for yourself journal a motivational journal – 6 558 searches; high competition
teen motivational journals – 4 427 searches; no data on competition
Profitability
So, can you enjoy fruitful royalties in this niche? It depends on your pricing strategy.
However, if you stick to the best practices or ask for something similar to the average price, you are likely to make similar earnings per sale to the previous two genres.
The lowest, highest, and average prices in the market are as follows:
Lowest Price: $4.75
Highest Price: $16.99
Average Price: $7.44
In other words, these journals are slightly more expensive than password journals on average but cheaper than gratitude journals.
Bestseller overview
The "You Fucking Got This : Motivational Swear Words Coloring Book: Swear Word Colouring Books for Adults: Swearing Colouring Book Pages for Stress Relief … Funny Journals and Adult Coloring Books)" listing is the dominating product in this journal variety. With a BSR of 200, it attracts around 800 sales per month at a price of $4.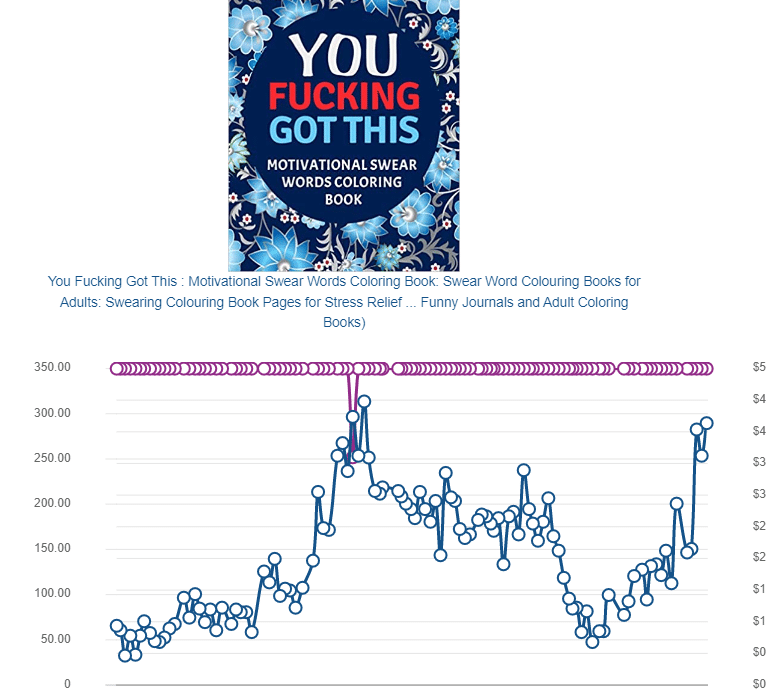 Sure, it's vividly cheaper than all other bestsellers in this article, but the sales volume is outstanding. You probably won't be surprised that flowers are also present in this design, in combination with a dark background color for the cover with blue nuances.
Popular keywords & best practices
Looking at the highest-sold listings, we detected the following keywords as recurring:
Motivational
Women
Quotes
Lined
Gift
Inspirational
Vision
Weight
Fitness
Food
Exercise
Challenge
Why is this important? Because you can tap into individual sub-niches, such as lined exercise challenge motivational journals, to outperform your competitors. These words are trending in the space and are attracting significant traffic from customers.
Fitness journals
Fitness is a broad journal category. To make our research more precise, we focused on "exercise" as the main keyword for our discoveries.
Here are the conclusions we were able to make thanks to Book Bolt.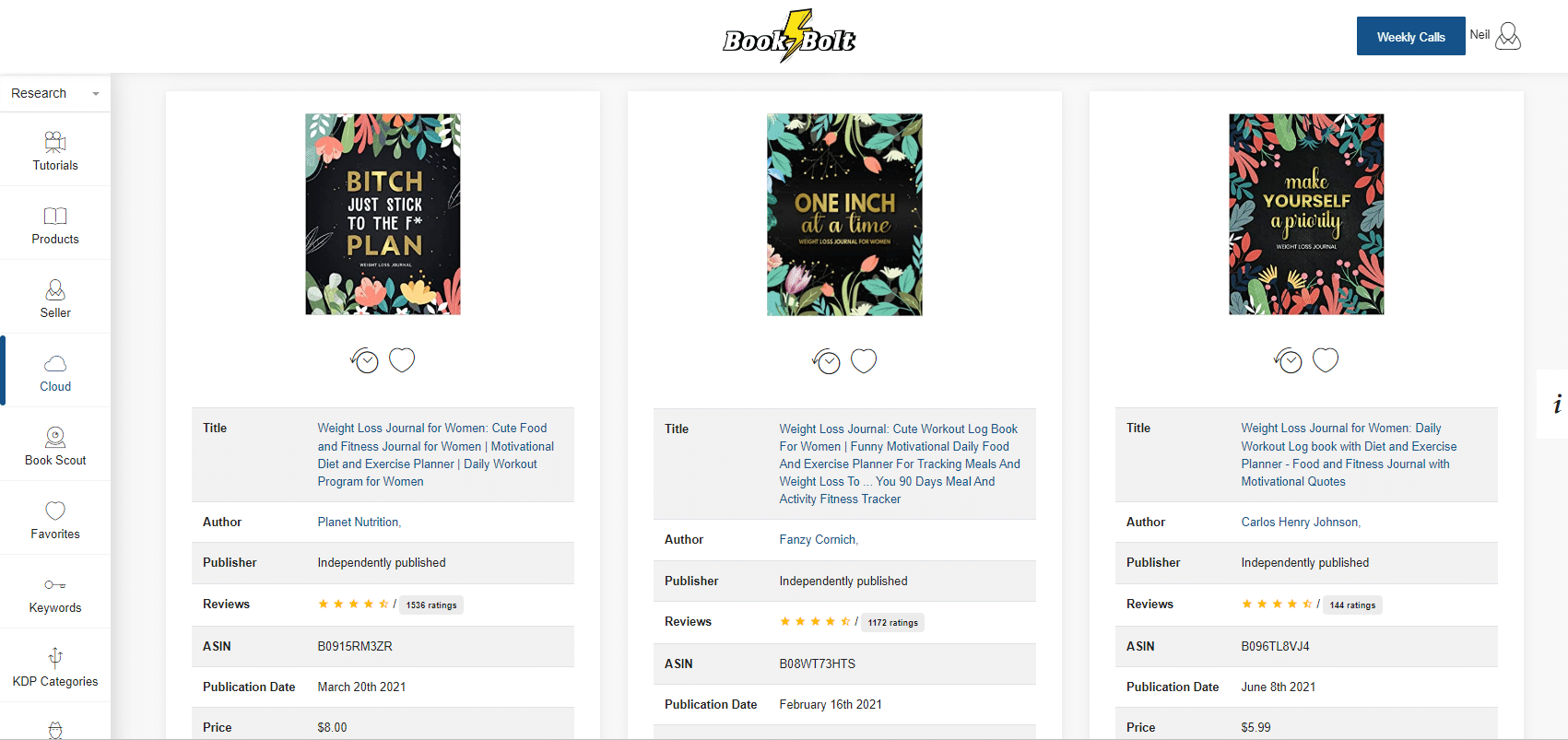 Market size
With a median BSR of 231,682 shared among the top sellers, exercise journals are another dominating journal type on Amazon KDP. There are a total of 114 top performing listings, while the search volumes in the space are not to be neglected:
bodyminder workout and exercise journal: 10,447 searches; high competition
diet & exercises journal – 10,222 searches; no data on competition
food journals for tracking meals and exercise – 6 572 searches; no data on competition
Pitted against other genres in this product category, exercise journals are the least searched for. However, keep in mind that the fitness niche is broad and you can expand your research by analyzing words like "workout", "training", "weight loss", "gym" and others.
Profitability
Exercise journals are also among the highest-priced ones on our list. Our research into the bestsellers ranking for "exercise" revealed the following price points:
Lowest Price: $3.95
Highest Price: $23.99
Average Price: $8.35
Bestseller overview
In terms of top sellers, the "Weight Loss Journal for Women: Cute Food and Fitness Journal for Women | Motivational Diet and Exercise Planner | Daily Workout Program for Women" listing is the number one performer here. It has a BSR of 735 and lands more than 630 monthly sales priced at $8.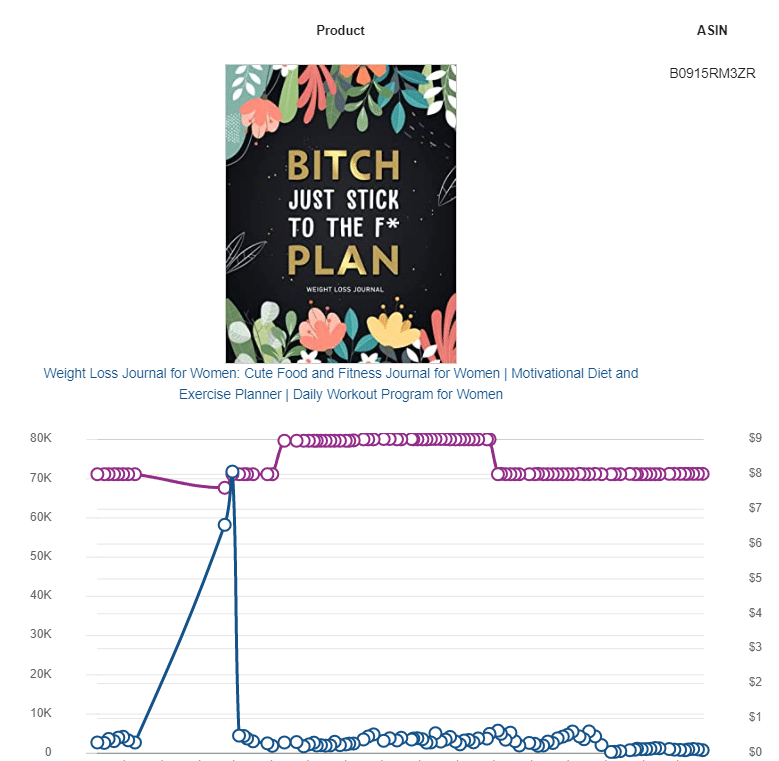 The seller has strategically positioned the listing around the average price in the market.
Just like all other journals inspected so far, this overachiever attracts attention with a floral cover and a dark background color. At the same time, the seller has created a grabbing funny text that is also eye-catching for users.
Popular keywords & best practices
If you were to enter this genre, what would be some additional keywords to rank for? The following are among the most popular selections that help sellers reach their target audience and maximize visibility:
Women
Daily
Food
Weight
Fitness
Exercises
Challenge
Loss
Workout
Training
Progress
Health
As we noted above, the fitness niche is diverse. The words in this list only prove the many directions you can take or the listing optimization opportunities you can explore.
Prayer journals
Last but not least, let's see what prayer journals have to offer.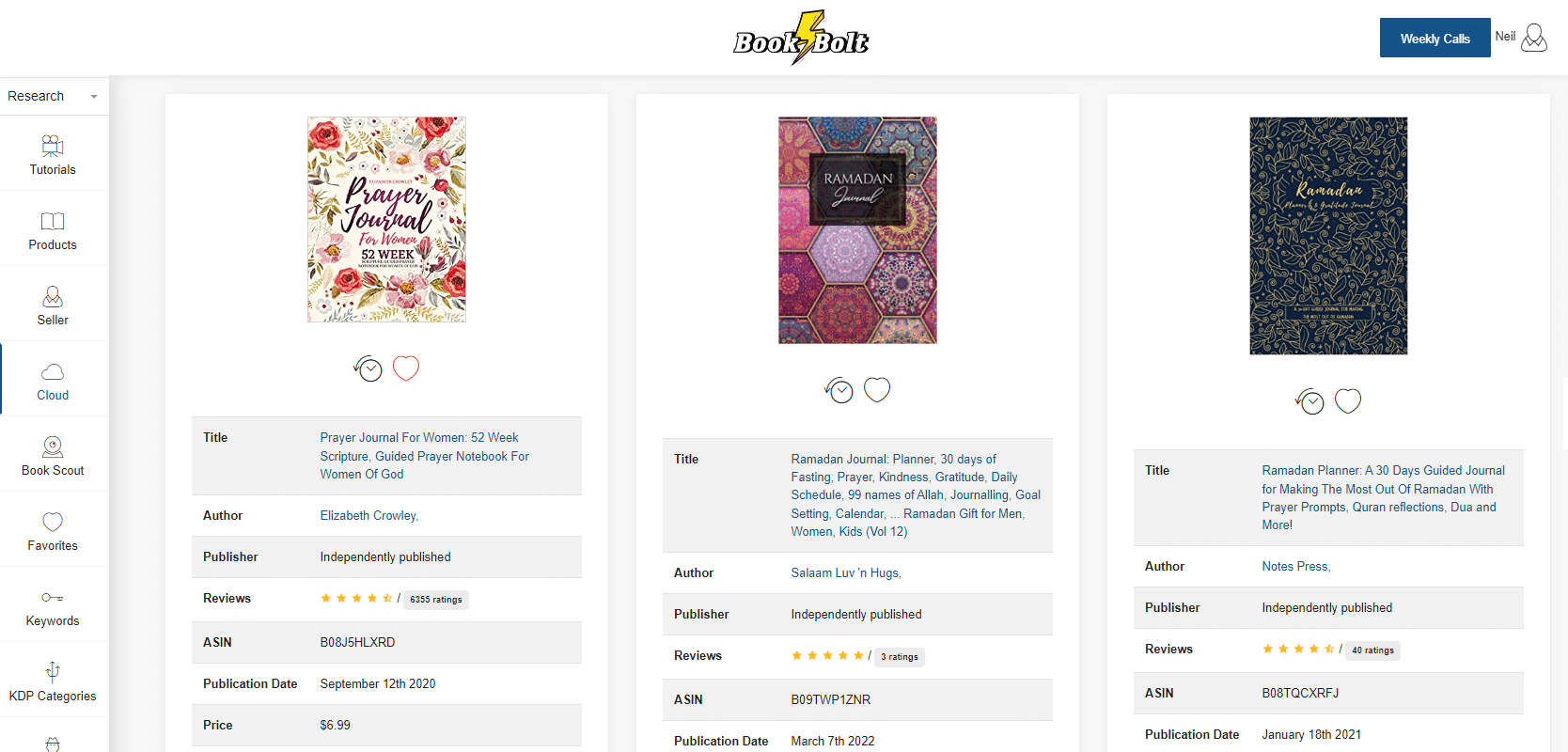 Market size
The bestsellers in the space share an average BSR of 290,931, where there are a total of 252 top performers. This number is the highest among all analyzed genres.
Interestingly, search volumes for niche-related keywords far exceed those of other genres:
prayer journals for men – 96,712 searches; no data on competition
prayer journal womens – 96 248 searches; no data on competition
prayer journal journal – 95,173 searches; no data on competition
What's more, the "no data" description of the competition level suggests that prayer journals are low-hanging fruit that you can rank for quickly and easily with the right strategy.
Profitability
The niche is also attractive from a money-making perspective. Despite the fact that the lowest price in the genre is much lower than others, the average price is also the highest:
Lowest Price: $1.13
Highest Price: $21.99
Average Price: $8.40
Bestseller overview
When analyzing the bestsellers, the "Prayer Journal For Women: 52 Week Scripture, Guided Prayer Notebook For Women Of God" listing appeared as the leader in the space. It has a BSR of 1,206, rewards the seller with more than 550 monthly purchases, and goes for $7.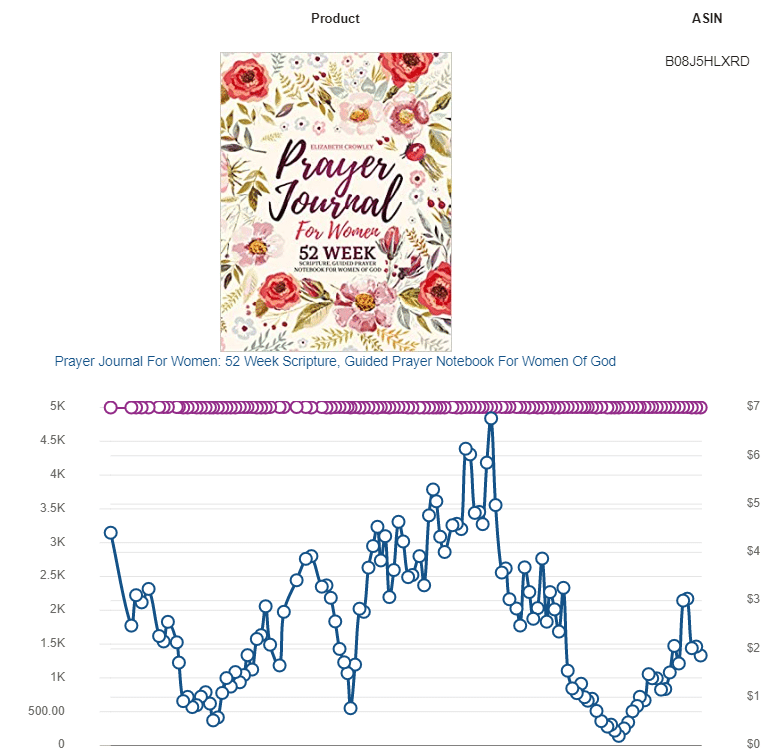 You can see that the author has priced the book design under the average price. This strategy rewards them with a competitive position, where shoppers are stimulated to purchase a product that costs less than most others.
Unsurprisingly, the design of the book cover consists of floral components and vibrant colors.
Popular keywords & best practices
So, what are the keywords you should use in your listing optimization to stimulate more sales? Here are some popular suggestions:
Prayer
Bible
Women
Devotional
Christian
Ramadan
God
Scripture
Gratitude
Faith
Verses
Fasting
Praise
Catholic
A lot of these words can also be utilized to tap into sub-niches and create more specific prayer journals.
Making sense of these findings
What can we conclude from our extensive research?
Based on the insights above, we can recommend prayer journals as the most attractive for sellers looking to enter a new genre or expand their portfolio. They attract the highest search volume and have the highest average price, yet stand out with the least competition.
Using the same metrics, we can rank gratitude journals second, and password journals – third.
In conclusion, we can safely say that all of these five genres are an excellent opportunity to boost your passive income on Amazon KDP.
Finally, it must be noted that none of this research would have been possible without Book Bolt. So, don't forget to use it in your own journey to success.