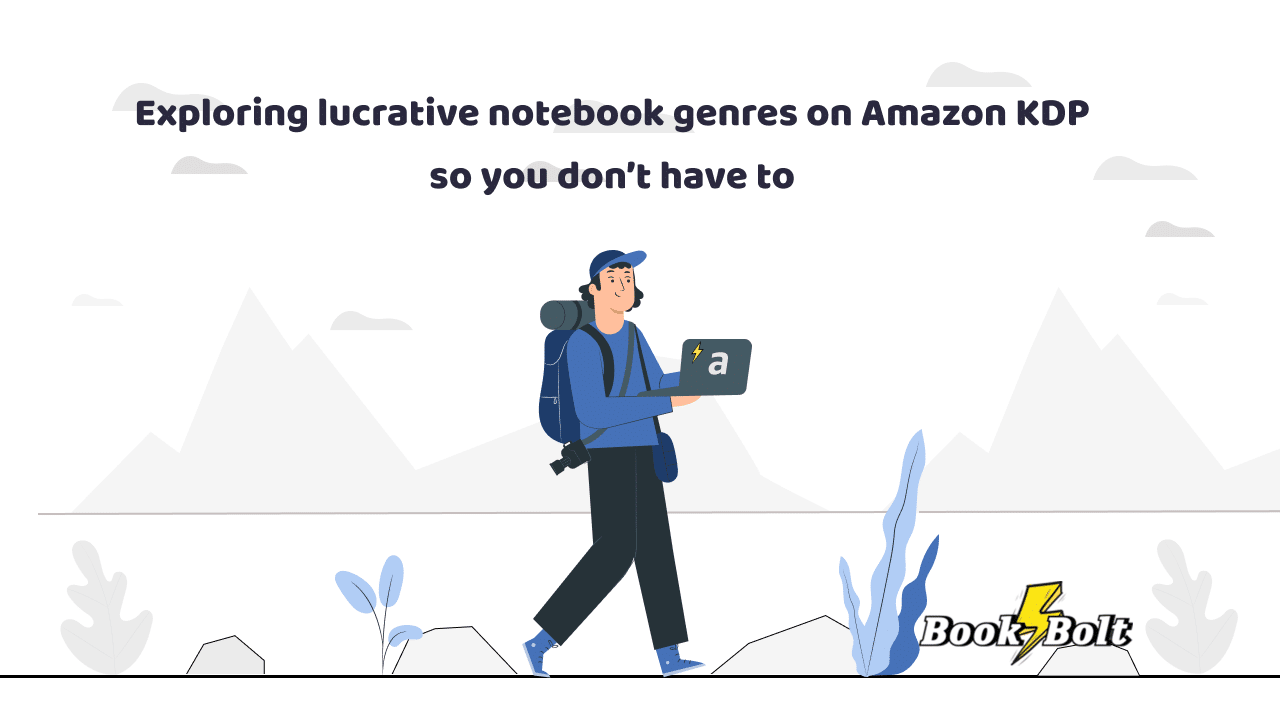 The world of print-on-demand (POD) notebooks is one where a savvy seller can reap rich rewards. Yet, with an abundance of genres and styles to choose from, it can be an overwhelming task to know where to begin and how to expand your portfolio.
In the following sections, we reveal four of the most attractive notebook genres to invest in, complete with strategic decision-making tips to give you the edge you need.
Let's dive right in.
Grid paper notebooks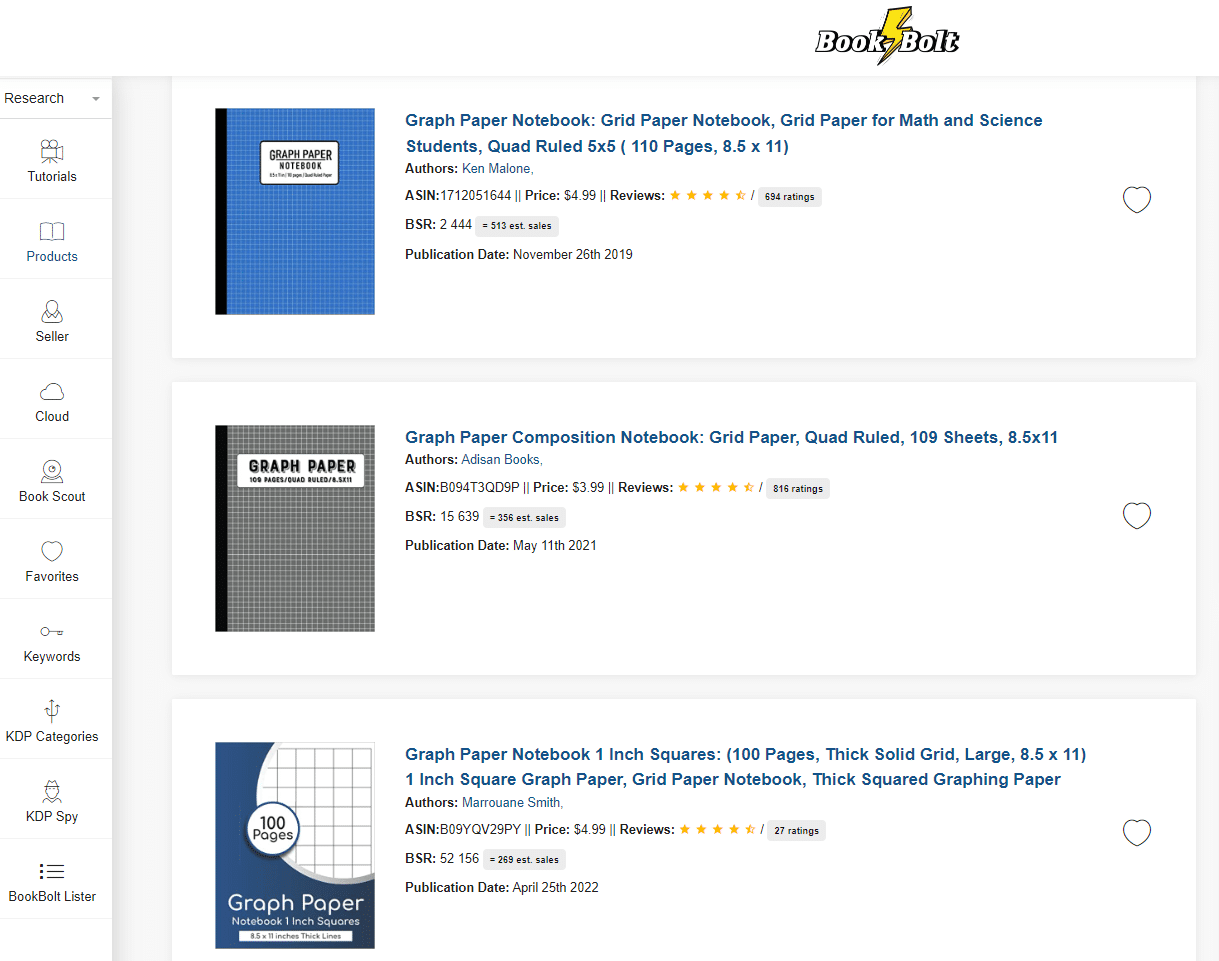 One of the first notebook genres that we identified as most gainful is grid paper notebooks.
This niche captured our attention when observing the most popular keywords used among bestselling listings. Paired with additional metrics that we outline below, the niche is definitely one worth looking into.
Market size
One thing that you'll notice about the notebook niches in this article is that there is plenty of competition when it comes to overall listing volume. At the same time, few products make it to the chart-topper list of bestsellers. Despite this, they are still characterized by hefty potential due to their search volumes, average monthly sales, prices, or other factors.
Grid paper notebooks are an exception. There are 120 bestselling listings in this specific market. To be successful in such a space, you won't need to make any bold moves but rather follow the established best practices.
The average BSR of the top performers in the niche is 279,044 – a number higher than others on this list. Nonetheless, it is still low enough to indicate that grid paper notebooks generate rich monthly sales.
Profitability
Another key factor to weigh in is profitability. The best way to make a judgement is by looking at the minimum, maximum, and average prices in the space.
In the case of grip paper notebooks, these numbers are as follows:
Lowest Price $3.99
Highest Price $11.98
Average Price $5.95
Ideally, it's advisable to set your prices somewhere around the average in the market as a new entrant. And assuming that you sell your grid notebooks for $5.95, you can earn a royalty of $3.57 for each sale you make.
Popular keywords
Next, we analyzed both the words and phrases that were most frequently used among top-selling listings. We also exposed those that generate the highest search volumes.
This stage of our research helps us uncover opportunity-rich sub-niches, potential audiences to target, and listing optimization ideas.
The common keywords that are used in listing titles and descriptions for successful listings include:
Ruled
Quad
Math
Squares
Science
Engineering
Isometric
Students
College
School
Although these are useful to have, you should also consider the phrases that generate the highest search volumes among users:
dot-grid notebook – 35 593 – no data
a5 grid notebook – 35 392 – no data
grid notebooks – 33 513 – no data
grids and guides notebook – 18 552 – high
dot grid notebook – 16 764 – no data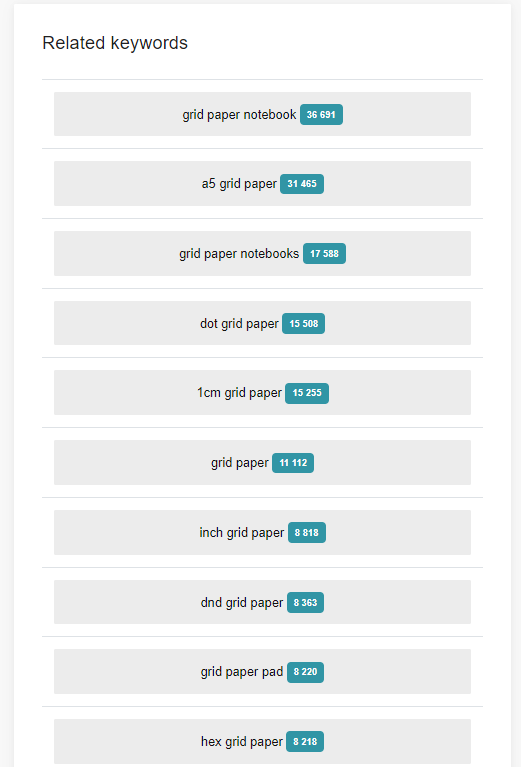 Out of all four notebook niches, this one stands out with the highest search volumes. In other words, there is a significant market demand to satisfy.
Next to each search volume, you can also see the competition level of the phrase. Naturally, it's recommended to opt for the choices with low competition, such as "dot-grid notebook".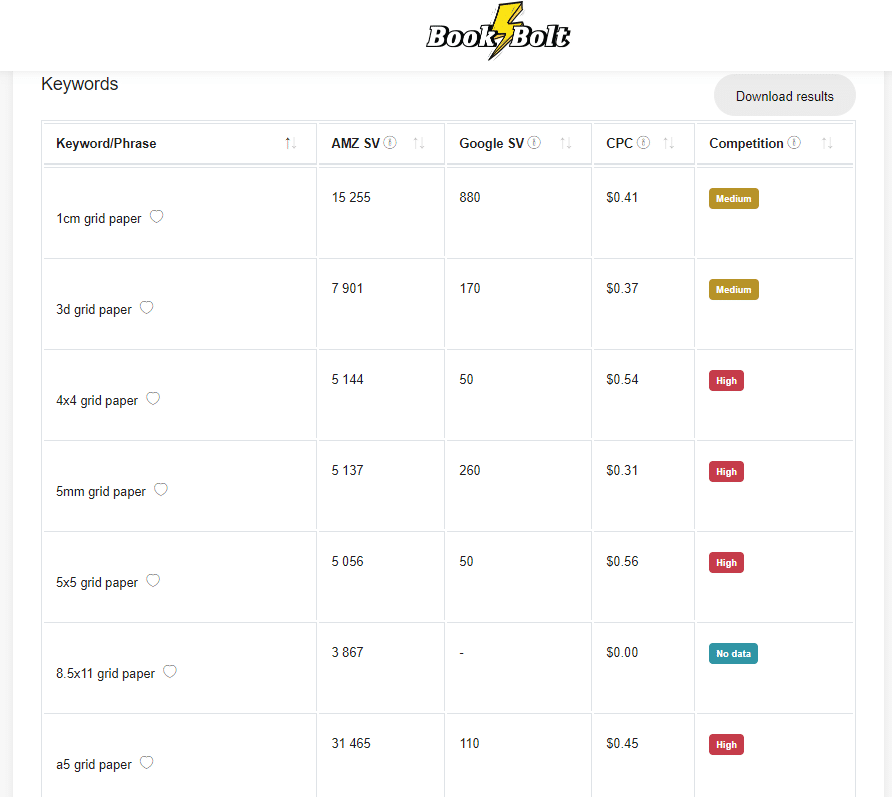 Bestseller overview
Now, let's look at the number one listing in this genre and examine how all of this information fits in with the seller's strategy.
The "Graph Paper Notebook: Grid Paper Notebook, Grid Paper for Math and Science Students, Quad Ruled 5×5 ( 110 Pages, 8.5 x 11)" listing sells for $4.99 and has achieved a BSR of 2,444. It generates around 513 monthly sales, rewarding the seller with substantial earnings.

As you can see, the notebook creator has positioned their product slightly under the average price in the market, creating a competitive edge. They've also strategically used popular keywords from the niche, such as "math", "science", "students", "quad", and of course the main phrase – "grid notebook".
All of this, tied in with a simple and easy-to-understand cover design, secures the number one spot among bestsellers.
Handwriting practice notebook for kids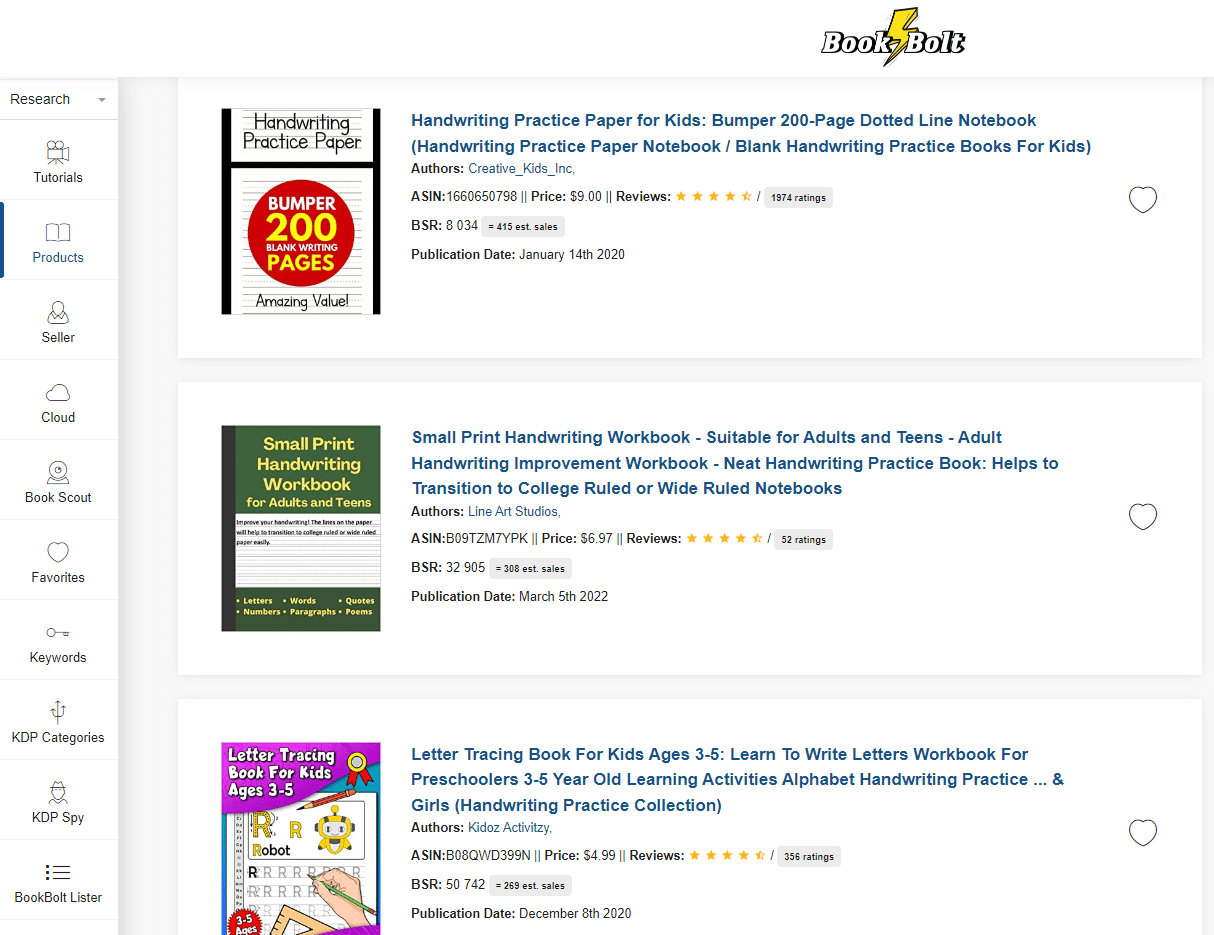 Sure, notebooks for kids are an attractive option, But here, we've identified a specific segment, where handwriting practice notebooks are most lucrative and profitable.
Market size
From all genres on this list, handwriting practice notebooks for kids are the most competitive in terms of the number of top-selling listings. More than 500 products appear in Book Bolt's Cloud tool when searching for "handwriting notebook for kids".
Although this may sound troubling to some sellers (as it's linked to competition), it can also be perceived as a possibility. A niche with plenty of chart-busters is a well-developed segment, where new entrants can take advantage of an already-established buyer demand.
The average BSR of top performers in this space (294,176) is slightly higher than grid notebooks and other niches, but still low enough to demonstrate sales potential.
Profitability
When it comes to pricing, the genealogy niche (which we'll talk about later) is the only one with greater potential than that of handwriting practice notebooks for kids.
This product type has some of the highest prices, which translate into enticing royalties:
Lowest Price $3.60
Highest Price $21.99
Average Price $6.72
Once you first enter the market, you'll be better off pricing your notebooks around the $6.72 mark. However, the highest price in the space is $21.99. This means that after you receive some experience and build trust, you can ask for as much as $21 per notebook, creating a grabbing money-making opening.
Popular keywords
The frequently used keywords among top performers can help us unveil the phrases that have provided the listing's vast visibility. For handwriting practice notebooks for kids, these keywords feature:
Practice
Writing
Kids
Lines
Work book
Kindergarten
Cursive
Exercise
Abc
Preschoolers
When we analyzed what shoppers search for, we made some interesting discoveries:
handwriting books kids – 17 973 – no data
4 line notebook for handwriting – 10 469 – no data
blank cursive handwriting practice notebook – 3 320 – no data
primary handwriting composition notebook – 3 256 – no data
kids composition notebook handwriting pre-k – 2 122 – no data
The phrase with the highest search volume is "handwriting books kids", which doesn't feature the word "notebook". However, it's undoubtedly related to the niche. In addition, phrases like "primary handwriting composition notebook'" also attract decent attention, but don't include "kids".
Considering the BSRs of bestsellers and the popularity of the genre, they certainly suggest a serious demand from customers. But the search behavior of customers shows that it's essential that you are creative with your choice of keywords. For example, a strategic approach would be to merge together phrases like "handwriting books kids" with keywords like "notebook", or "primary handwriting composition notebook" with "kids".
Bestseller overview
The most successful listing from this market follows similar best practices to the example provided for grid paper notebooks. The "Handwriting Practice Paper for Kids: Bumper 200-Page Dotted Line Notebook (Handwriting Practice Paper Notebook / Blank Handwriting Practice Books For Kids)" listing makes use of essential keywords for rankings, like "handwriting Practice Paper for Kids" and "Dotted Line Notebook".

Interestingly, it's priced at $9, which is above the market average. Still, the product has a BSR of 8,034 with 415 estimated monthly sales. This is an example of how you don't always have to play by the books to be rewarded with results. Even when this product is slightly more expensive than most others, buyers prefer it for the value it provides.
Password notebooks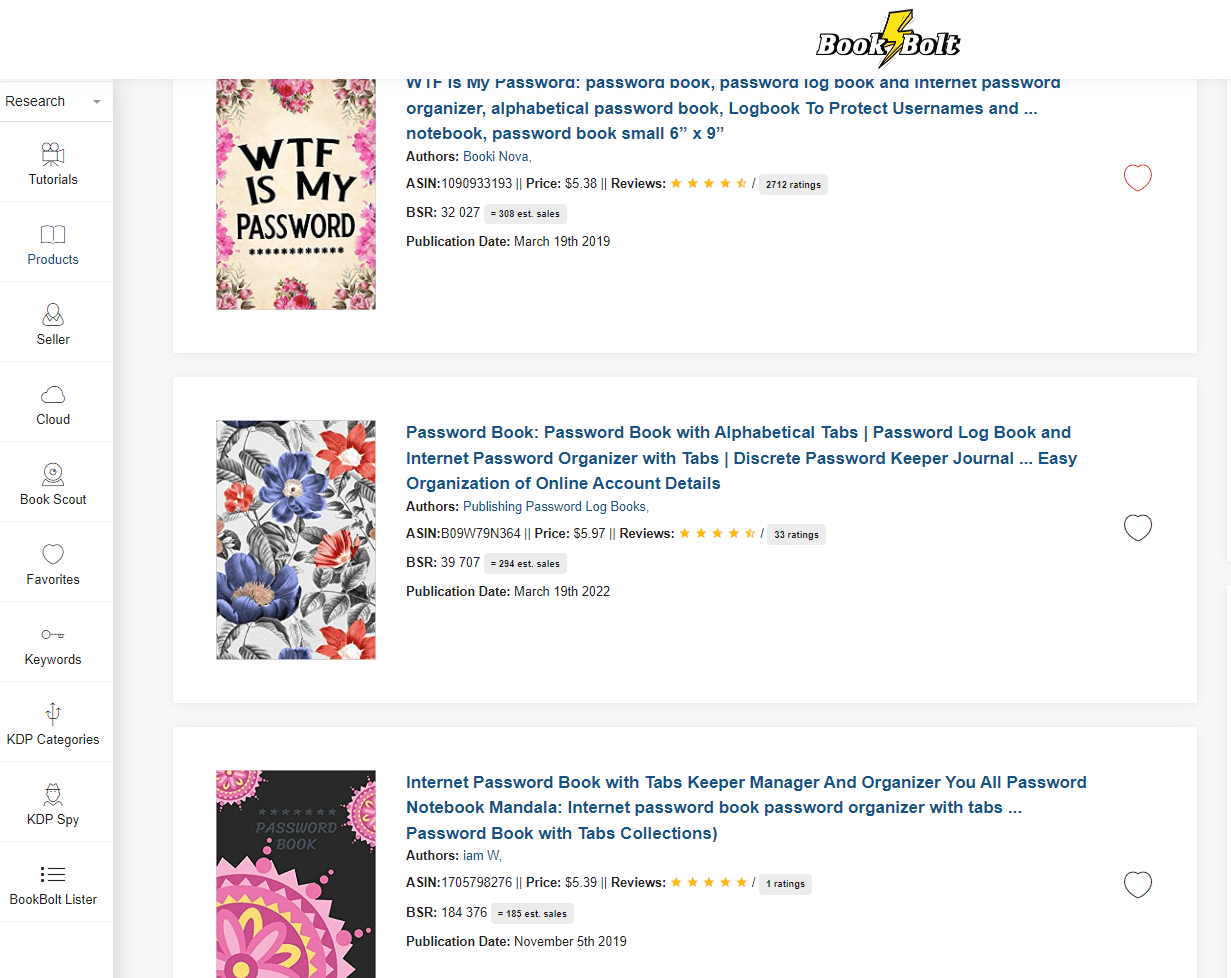 One of the first things to mention about password notebooks is that the best performing notebook on Amazon KDP falls under this niche.
Market size
There aren't as many competitors to rise against in the bestselling list here, as there are only 24 products that have made it to the overachievers' group. Despite the low volume, they have achieved an average BSR of 230,032, which is the second-lowest result from all inspected niches.
Profitability
The price points of the market are nothing too exciting, especially when compared to other genres, like genealogy or handwriting practice notebooks for kids.
Lowest Price $3.99
Highest Price $8.00
Average Price $5.93
But we'll later shed light on the fact that a large number of Amazon users are interested in this market segment.
Despite the lower prices, you can still earn satisfactory financial rewards by landing high sales volumes.
Popular keywords
The listings that fall under the category of bestsellers for password notebooks commonly utilize the following keywords:
Alphabetical
Remember
Keeper
Internet
Websites
Username
Email
Protect
These words are directly tied to the market and help attract more consumers. They also boost the relevancy of your password notebook and help you unlock higher-ranking positions.
We also mentioned that password notebooks are often searched for on Amazon. Here are the facts to prove this:
username and password notebook – 18 387 – high
wtf notebook password – 17 850 – no data
password notebook – 17 075 – high
secure notebook for passwords – 4 378 – no data
crypto password notebook – 4 283 – high
Nearly 20,000 people search for "username and password notebook" on the platform per month. And while this specific phrase has a high competition level, other similar alternatives, like "wtf notebook password" generate just as attractive search numbers, yet come with a low competition.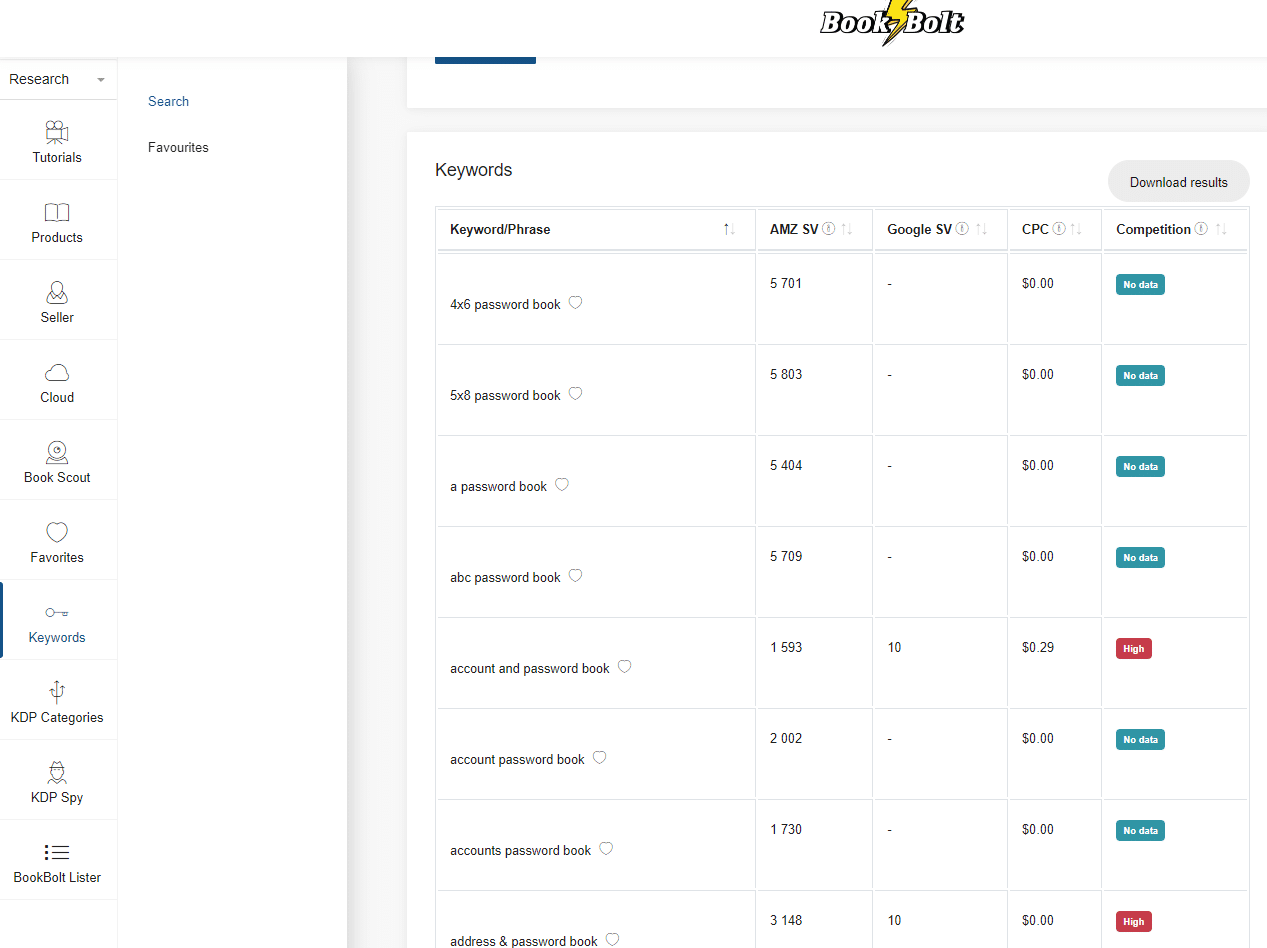 Ideally, these are the options you should use to optimize your listings. They'll enable you to popularize your product quicker, without facing harsh competition.
Bestseller overview
During the bestseller analysis, we pinpointed the "Shit I Can't Remember: Organizer, Log Book & Notebook for Passwords and Shit" listing as number one. Remember, this product generates the highest sales numbers out of all notebooks on Amazon.

It's available to shoppers for $5.90 (slightly above the market average), has achieved a BSR of 1,074 and scores around 573 sales per month. It is well-optimized for must-have keywords, like "remember", "passwords", and "notebook for passwords".
Genealogy notebooks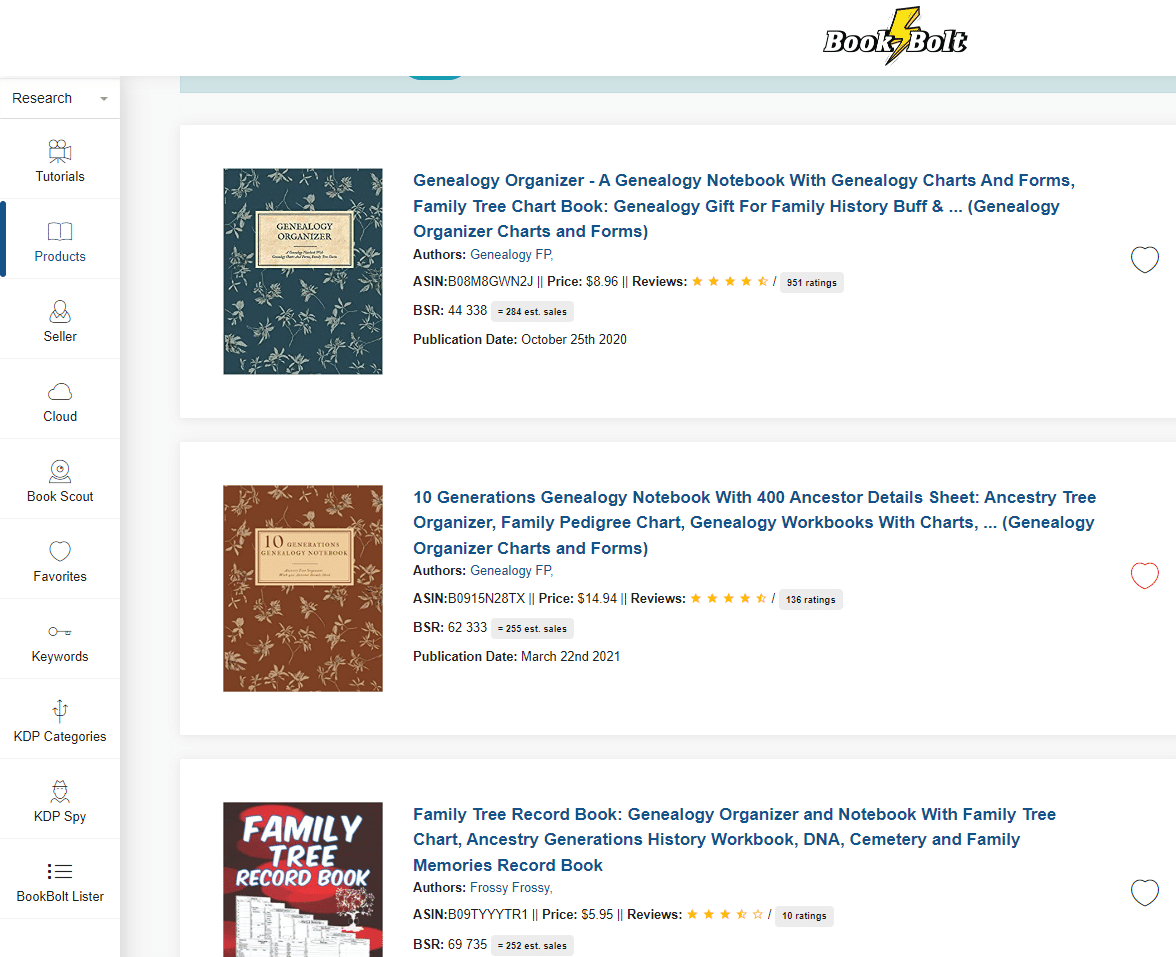 The previously mentioned genealogy notebooks are another alternative you can tap into if you're looking to diversify your notebook portfolio.
Market size
With only five bestselling listings in the space, there is a hidden world of opportunities for those willing to make the most of the enormous demand for this type of product.
And while there aren't a lot of top performers to analyze, the listings that appear in the Cloud tool have the lowest average BSR so far (212,223).
Profitability
Earlier we noted that genealogy notebooks are priced higher than handwriting practice notebooks for kids:
Lowest Price $5.95
Highest Price $14.94
Average Price $9.26
As you can see, the lowest and average prices in the market are indeed greater. However, the highest price for genealogy notebooks is lower than that of handwriting notebooks for kids.
As someone who is just entering the market, your main focus should be on the average price of $9.26. When translated into profits, you can make the highest earnings per sale from this niche.
Popular keywords & best practices
Those that make it to the bestselling list use the following words to make their titles and descriptions more attractive:
Family
Tree
Charts
Organizer
Ancestor
Generations
History
Record
At the same time, the phrases that users predominantly type in Amazon's search box when browsing for this product type feature:
genealogy notebooks – 17 342  – no data
genealogy notebook – 2 294 – high
genealogy organizer notebook family tree records – 2 157 – no data
genealogy notebook & organizer charts – 2 154 – no data
genealogy research notebook – 2 123 – high
What struck us the most is that "genealogy notebooks" generates a monthly search volume of more than 17,000, yet its competition level is "no data". This usually translates into a low competition, meaning that you can easily rank for this phrase and grab the juicy ranking positions.
The results? More traffic, popularity, and ultimately – sales.
Bestseller overview
The top listing here is the "Genealogy Organizer – A Genealogy Notebook With Genealogy Charts And Forms, Family Tree Chart Book: Genealogy Gift For Family History Buff & … (Genealogy Organizer Charts and Forms)", which has a BSR of 44,338 and rewards the author with around 284 sales per month. Again, it's below the market average ($9.26) in terms of price and sells for $8.96.
We can see that the seller has enriched the title with a wide array of powerful words, like "family", "tree", "history", and "organizer". All of these were identified as popular keywords in the space.
The bottom line
Summing up, we can conclude that grid paper notebooks are the most searched-for niche from this list, while genealogy notebooks dominate in terms of the average market price.
When choosing the genre to enter, it's essential to base your decision on all of the factors explored above. Use Book Bolt to your advantage and enjoy access to all of the data you need for informed decision-making.