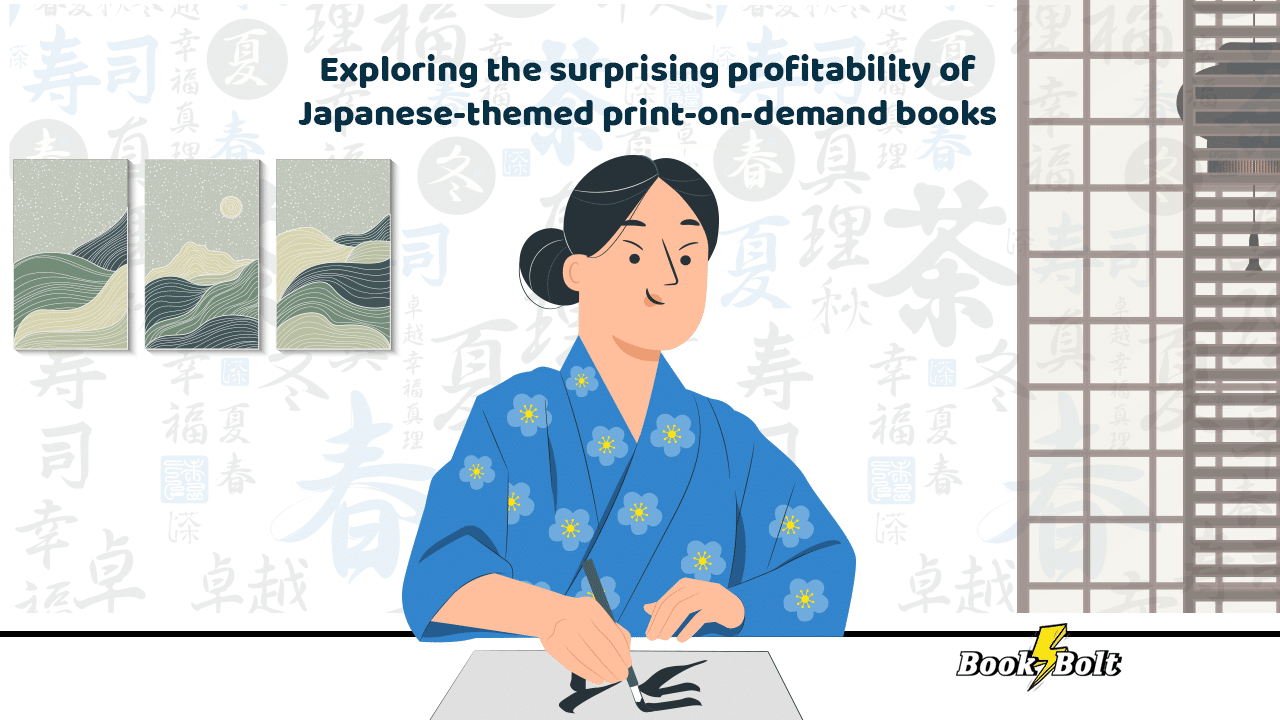 Japanese culture is incredibly unique. If thoughts such as beautiful zen gardens cross your mind, you'd be right. If it's anime, sushi, Japanese kanji characters, Japanese barbeque, and the general tranquility, calmness, and respect that Japanese people convey – you'd be right again. It's a truly rich culture that dates back thousands of years with an impressive history.
Today, major cities like Tokyo may have made their impression on you with their bright neon lights and 24/7 buzz.
But what about translating this culture and its multiple nuances in the print-on-demand book niche? Which no- and low-content books are bringing home the bacon? And which niches are underexplored?
Read on to find out more.
How big is the market for Japanese-themed POD books?
As always, we turned to Book Bolt for our research. We start off by looking at the Products module and searching for the keyword "Japanese". Results indicate that the average best-sellers rank (BSR) for no- and low-content books in the General category (encompassing all types of books), is 1,609,581. Not bad at all.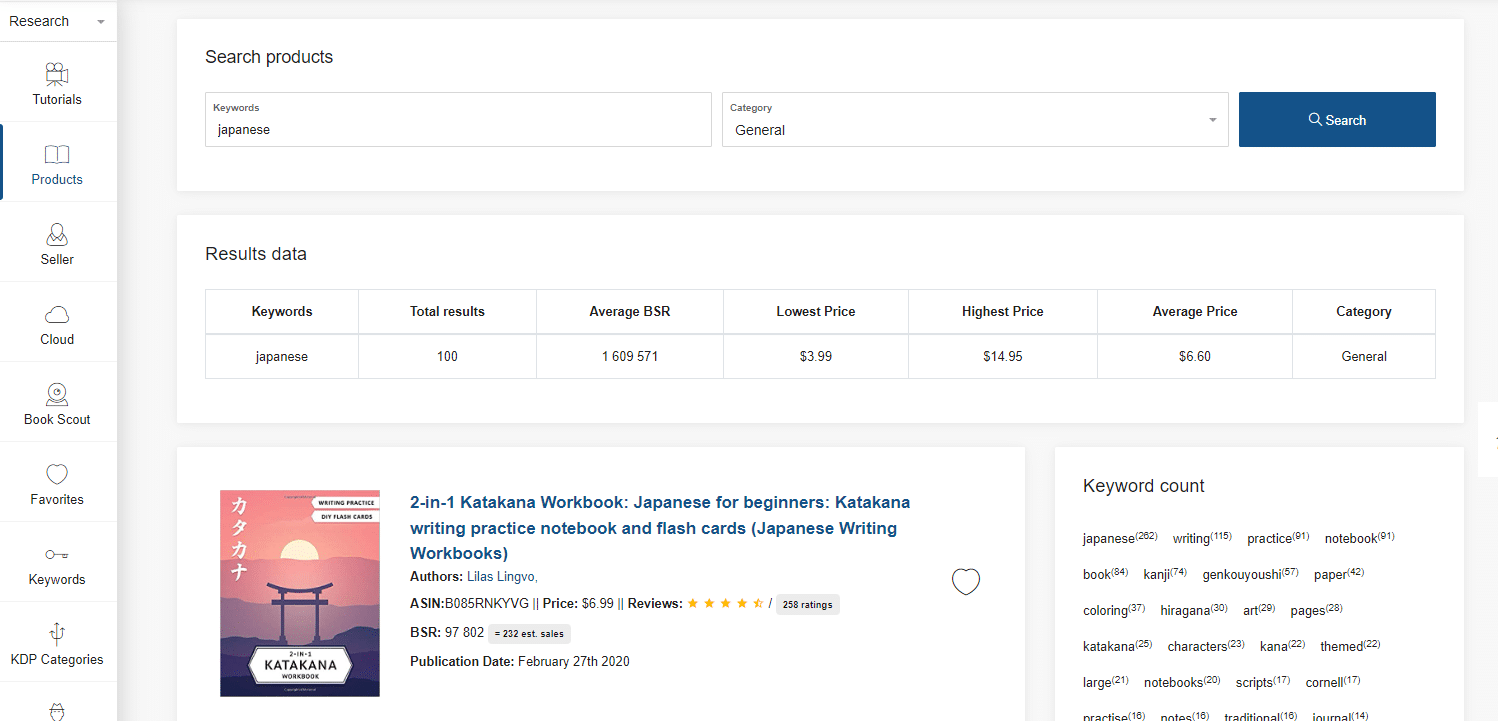 But can it get better and which categories are performing well? There's space for exploration using Book Bolt's Cloud module.
Let's take a closer look.
An overview of each book category
The aim here is to find out which categories of Japanese-themed no- and content-books have decent to high competition and which ones remain untouched by fellow competitors.
We started off our search in the Cloud module by typing in the keyword "Japanese". The parameters were left as is, namely with a BSR of one to 500,000 and a price range of $0 to $100.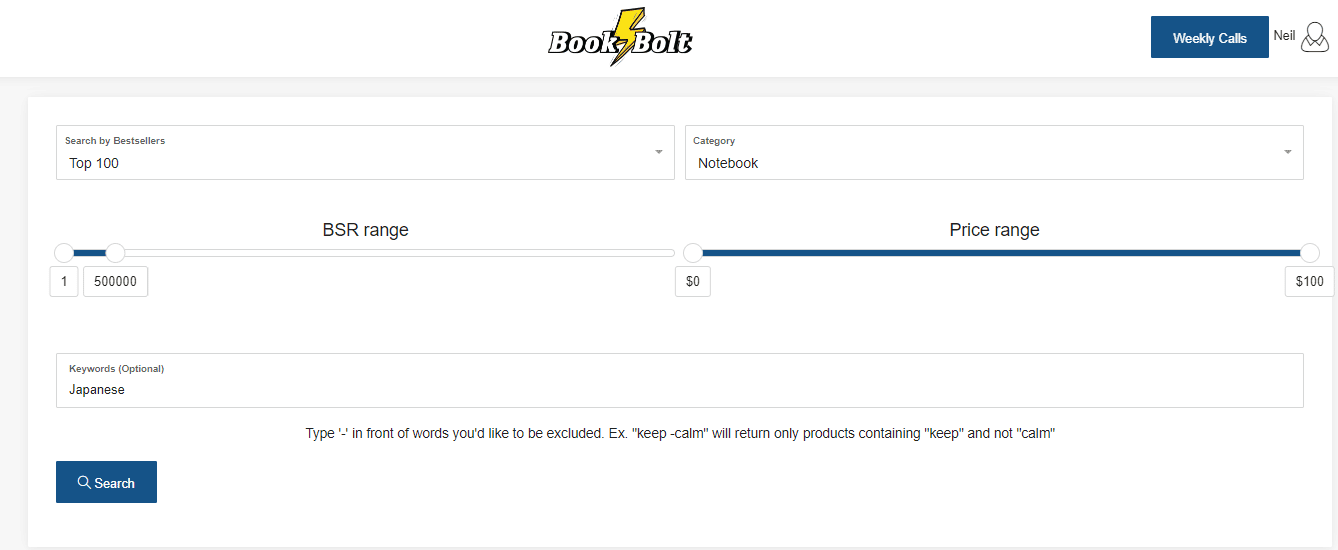 What quickly became apparent was that the following no- and low content books had decent competition:
Notebooks: there were a total of 38 results with an average BSR of 285,472, and a median price of $6.30.
Journals: these yielded 24 results with an average BSR of 339,336, and a median price of $6.93.
Coloring book: a search query for coloring books yielded 33 results with an average BSR of 260,558, and a median price of $7.15.
Meanwhile, the books listed below had little competition:
Calendar: a search query for calendars yielded only two results with an average BSR of 370,882, and a median price of $7.96.
Activity book: this search query yielded one result with a BSR of 283,660, and a median price of $6.99.
Sketch books: here, we saw three results with a BSR of 384,075, and an average price of $6.99.
Puzzle book: there were four results with a BSR of 277,870, and an average price of $11.49.
Finally, music sheets, planners, comic books, guest books, log books and trackers yielded zero results for the search query. This means there's virtually no competition in these categories.
All of this means that you have a choice, and choices are good. You can either compete with journals, notebooks, and coloring books. Or, you can enter a practically virgin market with a minimal amount of competition, if you decide to target any of the remaining book types.
Since the market for these Japanese-themed no- and low-content books yields so few results in so many categories, you are looking at a highly unsaturated market with a huge potential for growth.
Keywords and search volume
Having covered the BSR in most of the categories above (which is quite low, indeed), we will also explore some of the keywords that are most sought after by audiences.
In particular, we'll look at the top-performing no- and low-content books. This should give you better insights of what is performing well in terms of the current, high-volume searches. To get an even better view of the market, we'll also look at their associated search volume.
Here is what we found:
"Japanese": search volume – 232,556
"Nipocutie Japanese": search volume – 17,097
"Artbook Japanese": search volume – 8,973
"Kansai Japanese": search volume – 8,657
"Basic Japanese": search volume – 5,060
"Japanese aesthetic": search volume – 2,292
"Dragon Japanese": search volume – 2,081
"Japanese anime": search volume – 1,966
"Japanese notebook for learning Japanese": search volume – 1,841
"Japanese blossom": search volume – 1,756
"Japanese animation": search volume – 1,303
"Japanese animal": search volume – 1,156
The search volume for the primary term "Japanese" is impressive. What is also impressive is that the combined search volume for other Japanese-related search queries is in the region of over 52,000 making it quite significant.

At the same time, there are many categories of no- and low-content books that don't cater to this search volume, as unveiled earlier.  This is why it is perhaps the perfect time to get involved.
Keyword saturation
Our search isn't over though. We also looked at keyword saturation. This metric involves the type of keywords appearing in titles and how many times they were used. It's no surprise that "Japanese" came out on top with 258 appearances. But what's also interesting is that the better-performing categories mentioned above are reflected in the keywords used by sellers.
As such, we see the following keyword terms used by sellers in the Japanese-themed POD book market:
Writing (118)
Notebook (95)
Practice (86)
Book (83)
Kanji (71)
Genkouyoushi (59)
Paper (44)
Art (33)
Coloring (33)
Characters (27)
Hiragana (25)
Kana (23)
Notebooks (19)
Katakana (19)
Traditional (18)
Practise (17)
Kawaii (11)
Even though these keywords are used in the tens and low hundreds by sellers, it simply reflects what sellers are putting out in terms of no- and low-content books. Just because there aren't any results in a category doesn't mean you shouldn't enter it.
Listings saturation
Of course, we had to look at what's currently available on Amazon.com in terms of Japanese-themed POD books. We entered "Japanese" in the search bar, refined our search to books and saw that there were over 60,000 results.
Bear in mind that because this is in the broad "books" category and because there is no separate category for no- or low-content books, these 60,000 results will include high-content entries as well.
Pricing
As for pricing, we established that the lowest price for Japanese-themed books is $3.92, the highest price is $9.99, and the average price is $6.53.
What are some of the best-selling merchants doing right?
Since notebooks and coloring books brought back the highest results, we explored best-selling merchants in these two categories specifically.
In the notebooks category, we found the "2-in-1 Katakana Workbook: Japanese for beginners: Katakana writing practice notebook and flash cards (Japanese Writing Workbooks)". The seller Lilas Lingvo has priced this product at $6.99 and it has an exceptionally low BSR of only 60,649. Since February 2020, this product has sold 255 times.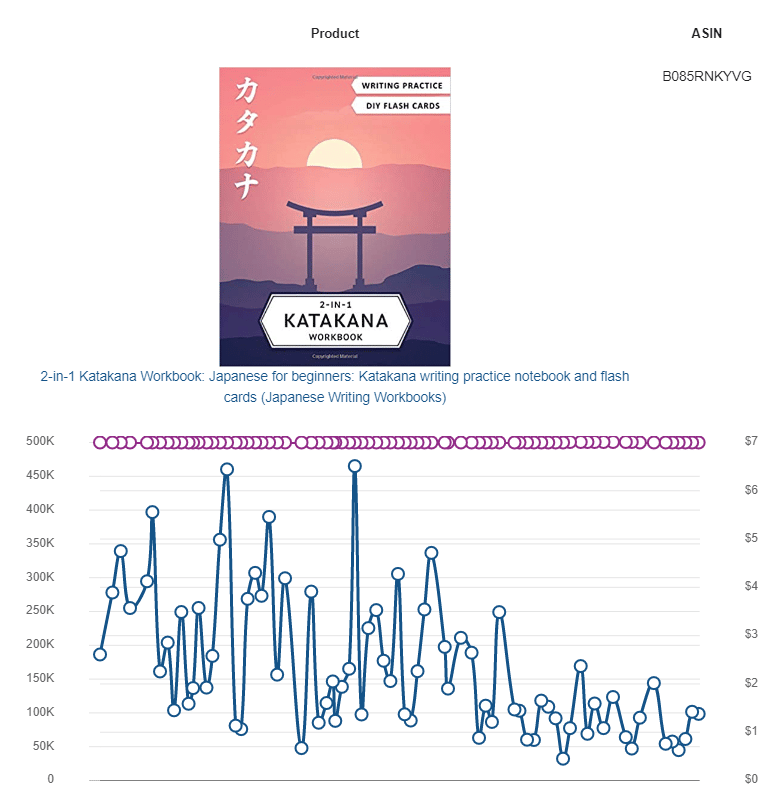 In the coloring book category, we have the "Anime Coloring Book for Teens: Beautiful Japanese Anime Fashion Coloring Pages for Teens and Kids" by Koko Heart. Selling at $7.00 on the dot, and with a BSR as low as 24,106, it has amassed 327 sales since April 2022.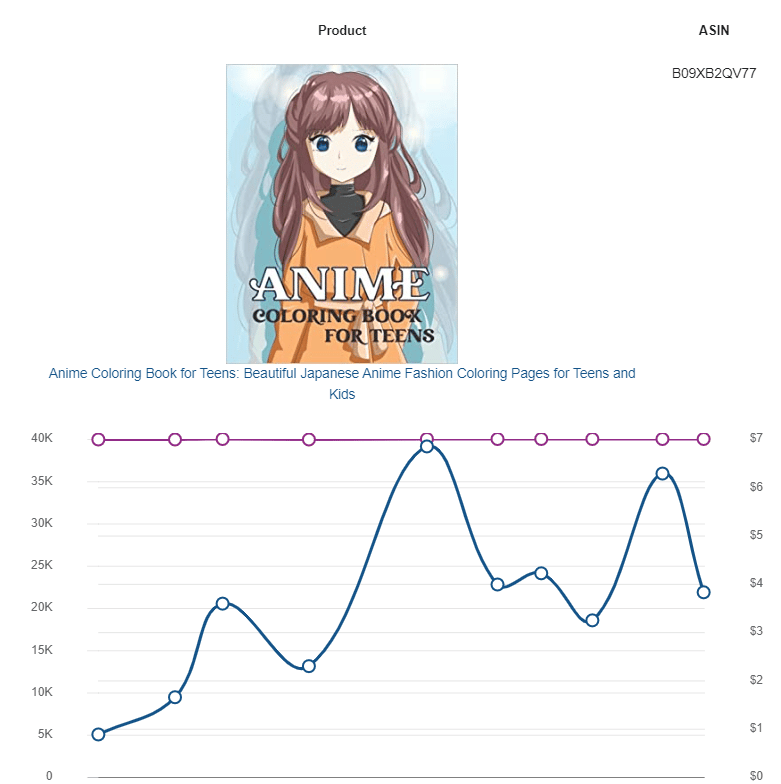 So, what are these merchants doing right? Let's explore.
Keyword usage
Firstly, it's key to note that both sellers have clearly indicated who the books are for. In the first case, it's for "beginners". In the second case, it's for "teens and kids" specifically. Having a niche market in mind and appealing to high-search volume keywords is an exceptional strategy to follow in both your title and description.
Pricing
Both sellers have also opted to price around the average. This means in the region of $6.50. This has been and continues to be a best practice by many sellers, including those outside of the Japanese-themed POD book niche.
Cover design
Finally, the cover design speaks directly to the audiences in each case. The Katakana practice notebook has a lovely blue and green traditional motif of a temple against the backdrop of mountains and sky.
Meanwhile, the anime coloring book for kids and teens is beautifully created with a female anime character that's been designed and hierarchically presented to meet both the female audience's needs and desires.
What is the profitability within this niche?
In order to establish the profitability in this niche, we headed over to the Amazon royalties calculator.
Here's what we found.
The first seller will earn royalties around $2.04 per item, which translates into $520.20 in profits. As for the second seller, we again have royalties of around $2.04. When multiplying this amount by 327 sales, we get profitability in the region of $667.08.
Therefore, if you're looking to make upward of $500 for your efforts, you'll be rewarded well.
Our recommendations
When entering the Japanese-themed POD book market on Amazon KDP, it's worth considering which category you will choose. Of course, you can opt for several of those that currently don't have high competition or which have no competition at all.
Once you've selected your category, choose smart and high-search-volume keywords. This means including the word "Japanese" in your titles and descriptions no matter what.
After this, decide on a price. But remember to remain competitive. This ultimately means pricing around the average, which should give you about $2.00 per book sold in royalties.
Finally, there is the cover design. Make sure it has Japanese motifs and that it directly speaks to your target audience. Whether kids, teens, or adults seeking to learn or practice Japanese characters or those interested in anime, you have got to cater to your audience's visual needs.
The bottom line
Our research for Japanese-themed no- and low-content books yielded interesting results. In particular, we saw which categories of these POD books are currently competing and which ones don't have a presence at all. As such, it might be worth considering creating a Japanese-themed planner or music sheets with a Japanese motif.
Finally, don't forget that we couldn't have done any of this without the help of Book Bolt. It's only a $9.99 monthly investment that will enable you to find niches that remain underexplored and underdeveloped.