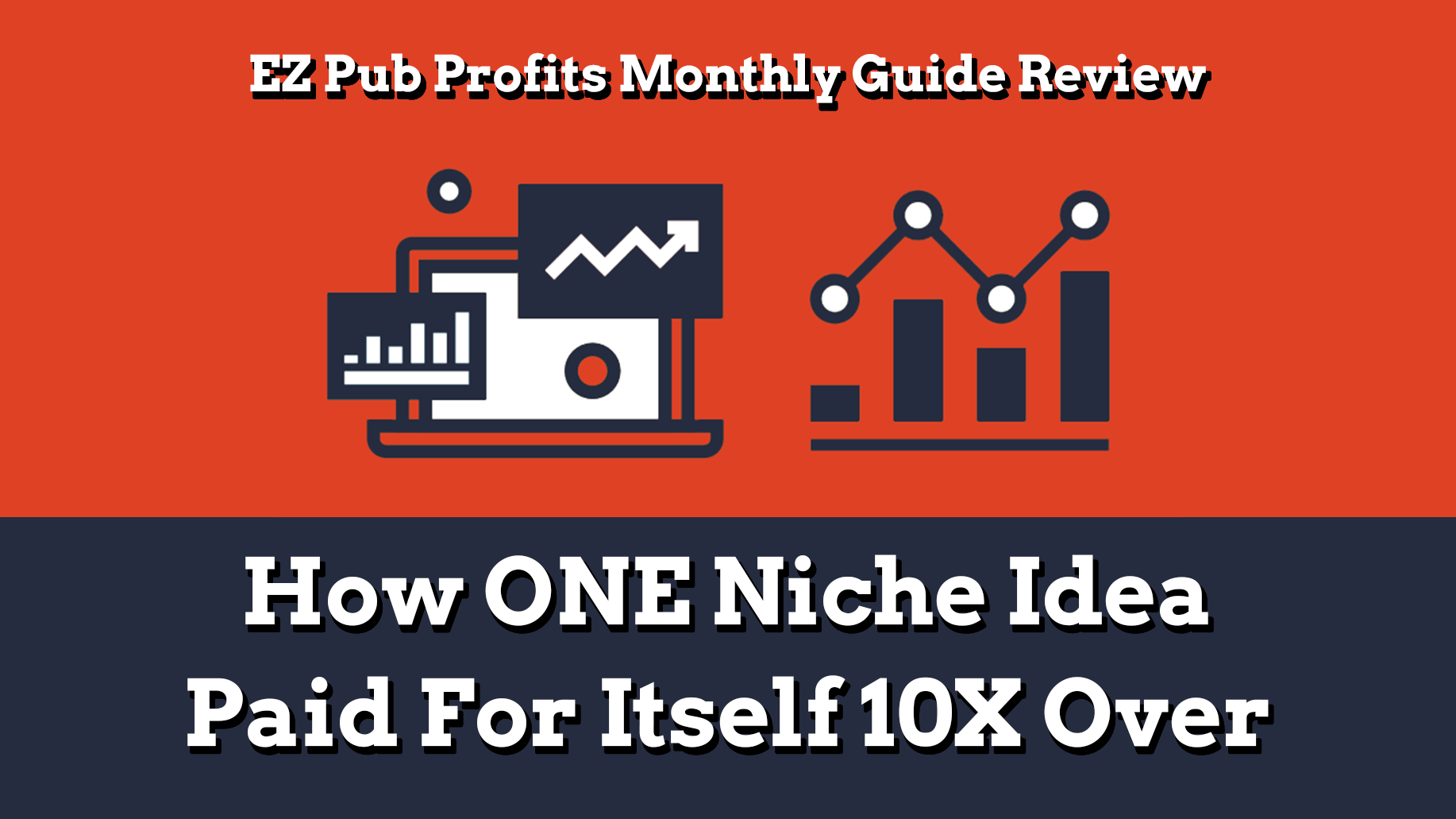 Have you ever had those days where you sit down at the computer, pumped to work on your business and get some new KDP books online and selling…
Then you open up Amazon, go to the search bar and…
Blank
Out of ideas and stuck, you are just not sure what to research.
I have this problem at LEAST once per week. In fact, my default is usually typing things into Amazon that are sitting at my desk to discover if there are niches around those items that could make a good low content book.
Finding the "low hanging fruit" has always been my favorite method of being profitable with ANY Amazon business, and that requires time, research, and effort. Coming up with those ideas and discovering the niches that will put money directly into your pocket each month is no small task.
One of the tools in the toolbox that has been insanely helpful over the past few months has been a monthly guide called EZ Pub Profits. So helpful in fact, that just last month, I was able to turn ONE idea from the guide into 53 sales and $105.86 in my pocket.
Grab the EZ Pub Profits Guide Here
Scroll to the bottom where I go over exactly how I did this.
So, as I promised in a previous post, let's go over the guide, what it is, how it works, and why I think it can help you as well!
EZ Pub Profits Monthly Guide – What Is It
I typically use three things when it comes to my KDP business. The first is the software behind the site you are reading this on, Book Bolt. The second is the Amazon search bar, and the third is the EZ Pub Profits guide.
Book Bolt and the Amazon search bar are great for discovering new ideas, finding niches that are bringing in money, and giving you access to lots of different keywords and profitable niches.
However, with KDP (unlike Merch by Amazon), there are still tens of thousands of niches out there where there are NO books in those niches yet.
Why would that be you may ask? Because low content book publishing is still relatively new, there are far fewer people running these sorts of businesses and many times, no one has taken the time to look to see if there are potential buyers out there.
This is what the EZ Pub Profits Monthly Guide is all about, finding those niches that are NOT served or undeserved and giving them to you on a silver platter.
This guide is distributed through the Gumroad platform and sent to your email every single month. The guide includes:
EZ Pub Profits PDF guide
Multiple low content interiors (ready to upload and PowerPoint files)
Private Facebook Group
Creative Concepts
Actionable Advice
Starting Research Keywords
The monthly guide is broken down into multiple sections and niches for each month for the FOLLOWING month. This will give you enough time to conceptualize the ideas, and put your action plan in place.
The last guide was 66 pages long and included so many niches that I have never even looked at (which turned out to be low competition with buyers in the niche)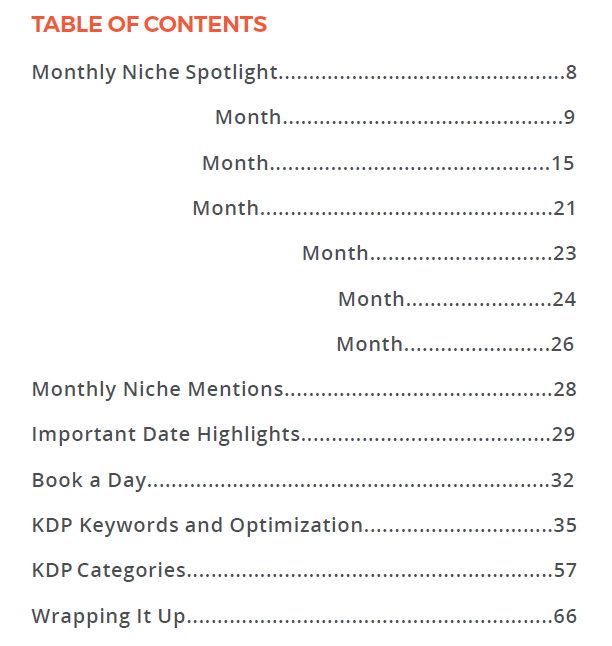 Here is what the table of contents looked like (I have blanked out some of the lines, but you will get the idea).
Each section of the guide is then broken down into a new niche, history of the niche, and what people IN that niche are actually looking for.
One of the biggest things that I see every day is that people are trying to create books for niches that they know NOTHING about. This is a mistake.
Think for a second. If you have a hobby that you love, and you know almost everything there is about that hobby, would you buy something for your hobby where the seller didn't even understand it?
Of course not!
Having that initial introduction to the niche will allow you to craft your listings where you will come off as knowledgeable and not someone who doesn't have a clue. This is VERY important for the end buyer and getting your title/keywords right.
Each section then follows up with starting research keywords (which you can use inside of Book Bolt or the Amazon search bar) of what people are searching for and using before they make a purchase.
The best part about all of this is that so many of those keywords have VERY few, or almost zero results. You then take a look at the overarching niche (which I like to harp on), and notice that there are a ton of buyers. That right there, is the easiest way to find hungry buyers that do not have a product to purchase (which you can then give them!).
How It Works
First, you want to make sure you go and sign up for the guide here: https://gumroad.com/l/kdpsuccessguide
The guide will be delivered on the first of every month to your email.
My favorite part about this monthly guide is that it actually focuses on QUALITY over quantity and with that approach really helps you getting started. They do this by essentially pushing a "book a day" method.
So you start by getting the guide and reading through it.
The guide is focused on the following month of niches that you can create books around.
So for example, for the February guide, it was all about niches and ideas centered around the following month, which is March.
With the book a day method, you aim to create a single low content book each and every day. If you follow this method, not only will you have a well researched and put together book with lots of keyword ideas…
but at the end of the year you will have 365 products up on Amazon bringing in royalties.
I have seen this time and time again where people will focus more on quantity and this is just the wrong approach. Any quality book will outsell low effort junk 100 to 1 any day of the week. This is pretty evident from the results I have been seeing across the board.
If you ever get stuck or have questions, the private Facebook group is a great place to interact with other people that are working on the SAME business as you. The owner of the guide is also incredibly fast to respond or fix any issues you may have.
Each month, as I mentioned above, you will also receive attached interior files.
Here is what came in February: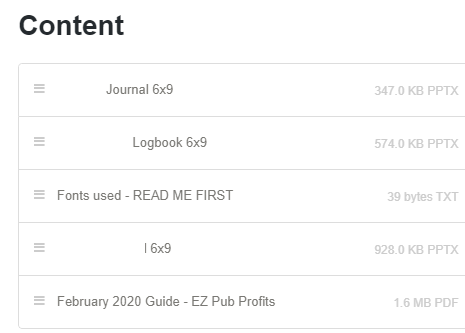 and here is what came in January: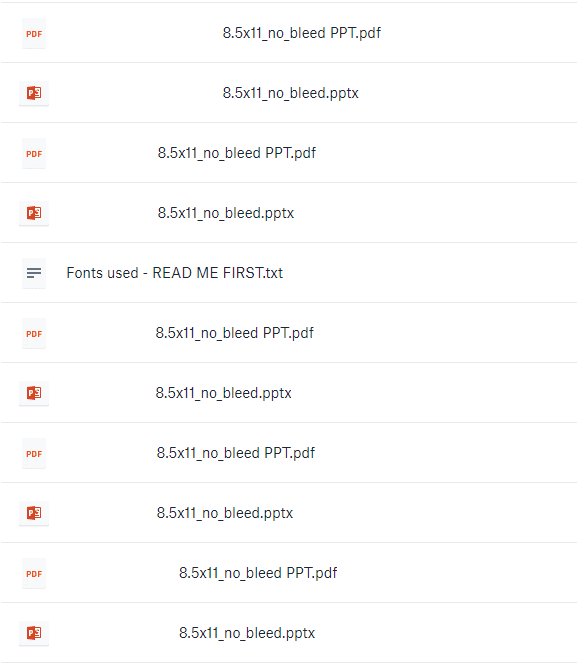 I got these screenshots from the owner of the guide since these typically show up in your email (and I would rather not share my personal email).
As you can see, they show up in power point files and PDFs, allowing you to upload them directly to KDP, or make changes as you see fit which is always nice!
Remember, if you spend just a little bit of time doing some editing, you will have a unique product that will stick out from everyone else!
If you were to buy these type of interiors from someone, they would normally cost you $5-$10 EACH and each month they are included with the guide for no extra fee.
How ONE Niche Idea paid For Itself 10X Over
So, when the January guide got delivered, I started digging into it to see what I wanted to focus on over the coming month.
The first thing that stuck out to me was this in the table of contents:

Now, I know Black History Month is a great seller because of Merch by Amazon, but after going down to that section and going through the content, a lot of sub niches and niche combinations stuck out to me that I had never thought of before.
I took one of the ideas from the guide under that section that was a spun off niche, and created a brand new cover for it.
Remember, there are two ways you can stick out with your books: Covers and Interiors.
In this case, I decided to use a lined journal for my interior, and for the cover I created something simple around this niche idea with a keyword that was presented in the guide.
Then, uploaded to Amazon with a little keyword research and BAM, since then, it has paid for the guide 10X over.
You will notice that I blanked out most of the title but the title is LONG. This long title is filled with keywords that are relevant to the niche. The title is one of the most important aspects of optimizing to make sure that your books get in front of the right audience:
The thing is, while this was related to Black History and appreciation, the niche it went into was for a profession that simply wanted to jot down some notes with a lined interior.
That is just ONE book that was uploaded during that time. In total, I ended up uploading multiple books into many of the niches that were presented in the guide because they proved to have very little competition and there was almost no products selling in those spaces. The results I have been seeing are great and the book above was the best seller from the books uploaded directly related to the guide. That was just the FIRST month of results.
If you can take those ideas, put a slight spin on them to make them more evergreen, then you should have sellers year round which is the approach I am taking with these.
Wrapping It Up
Overall, the EZ Pub Profits guide is pretty impressive. It gives me exactly what I need out of a guide each month (niches to dig deep into and find unique selling points). It really gives you some direction when you are just stuck at your computer completely out of ideas, and has some good tips and tricks in order to make the most use out of your time.
After all, time is money!
If you want to check out the guide, you can grab it here: https://gumroad.com/l/kdpsuccessguide
We are not even using an affiliate link, I just think it is well worth the money and can help everyone with their KDP business.
If you already have the guide, let us know what you think in the comments below!