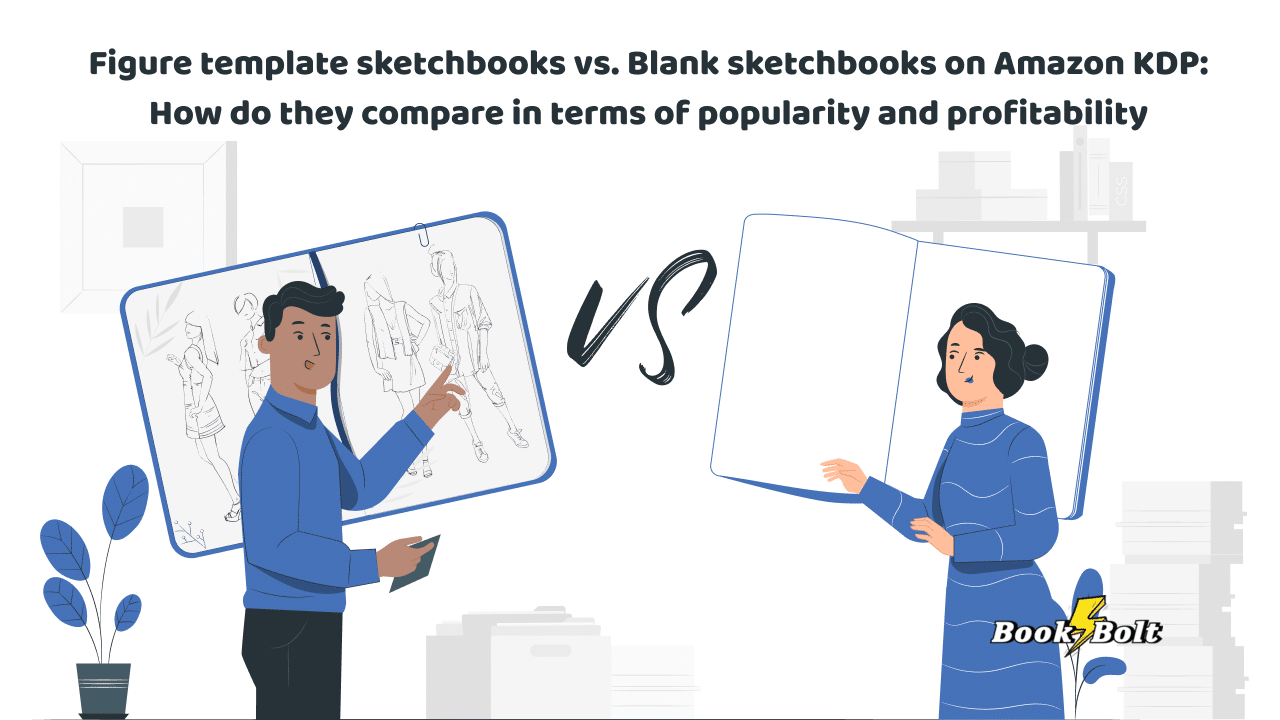 In the red corner, we have the crowd-pleaser, Amazon KDP's figure template sketchbooks, ready to help artists structure their characters with aplomb! And in the blue corner, the classic warrior, blank sketchbooks, offering a boundless realm for unbridled creativity.
As an artist or publisher, you may be caught between these two niches, wondering which book would capture the hearts of the audience and rake in more profits. In the following sections, we dive into a head-to-head comparison of these two Amazon KDP titans to find out.
Introducing the sketchbook landscape on Amazon KDP
Before we jump into the details, let's take a second to get to know the sketchbook category on Amazon KDP as a whole.
Although not as popular as other markets, like notebooks or journals, the sketchbook space is a tempting land for both newbies and experienced sellers. Using Book Bolt, we extracted a few key metrics proving its lucrative nature.

A quick browse through the bestsellers revealed that the average BSR of top-performing listings is 298 636. A number so low indicates that the segment has tremendous sales potential (which is a green light for sellers). In addition, keywords like "sketchbooks sketchbook" attract a monthly search volume of 96 858.
Tying these two findings together, it's safe to say that sketchbooks should not be neglected in terms of seller strategy. And from this vast market, two niches stand out from the rest – blank sketchbooks and figure template sketchbooks.
How do we know? The keywords "blank" and "figure" are among the most utilized in listing titles and descriptions.
Let's now tackle these two themes and answer the central question of which is more profitable than the other.
The blank sketchbook niche
Thanks to Book Bolt's powerful features, we were able to identify a total of 64 bestsellers that rank for "blank" in the sketchbook category.

Now, if you've read any of our other niche-centric articles, you're probably thinking that this number isn't all that great. However, it's double that of "figure template sketchbooks, as we'll see later.
In addition, their average BSR is 297 136, which is relatively low, signaling high sales volumes.
But are these listings rewarding enough financially? One way to find out is to analyze the lowest, highest, and average prices in the market.
For blank sketchbooks, these are as follows:
Lowest Price $4.95
Highest Price $12.99
Average Price $7.07
What this data tells us is that the majority of sellers price their blank sketchbooks at around $7. Depending on the printing costs, the page length, and other factors, such products could be making royalties of between $1.70 and $2.00 per sale.
Let's find out how this compares to a real-life example of the number one listing in the market.
The "Drawing Pad For Kids: Blank Paper Sketch Book for Drawing Practice, 110 Pages, 8.5″ x 11″ Large Sketchbook for Kids Age 4,5,6,7,8,9,10,11 and 12 Year Old Boys and Girls" item sells best in the blank sketchbook niche. Its price is $4.99 and it has achieved a BSR of 11 645, securing roughly 380 sales per month.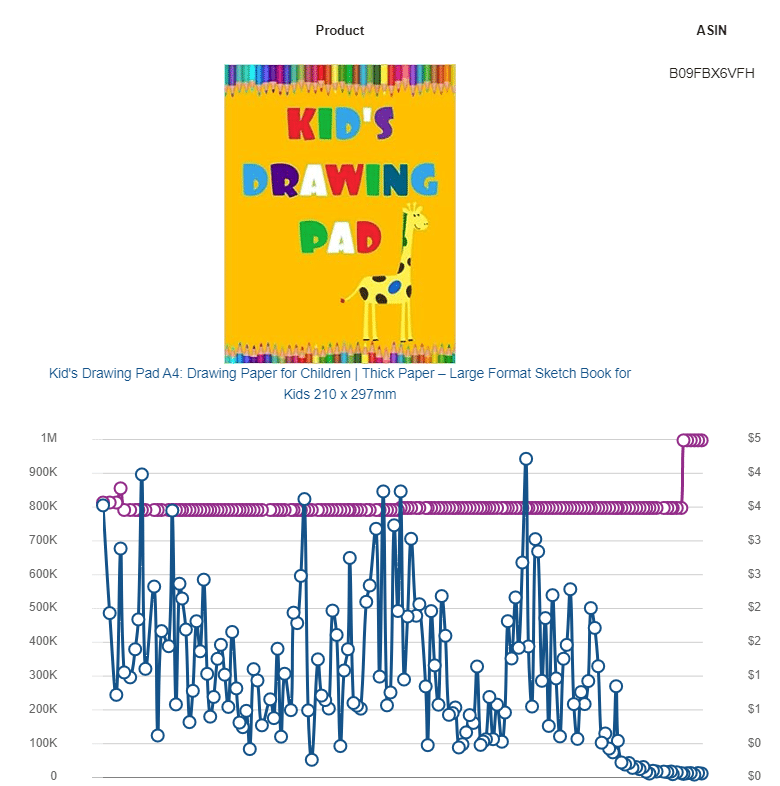 Working out the math, this seller receives monthly royalties of $260 from this listing.
Now that we've covered the current state of the segment, it's time to see how consumers feel about this product type. Are shoppers actively searching for blank sketchbooks on Amazon?
According to Book Bolt's Keywords tool, these are the top-searched phrases related to the niche:
sketch book for girls blank pages – 7 442 – no data
blank sketch book for kids – 4 423 – no data
blank sketch books – 4 056 – high
What instantly strikes us here is the golden opportunity of targeted keyword optimization. For instance, specific phrases like "sketch book for girls blank pages" attract more than 7,000 users every month. But most importantly, their competition level is "no data", which usually means extremely low.
On the other hand, general niche words like "blank sketch books" are less popular (with only 4,056 monthly search volume), but highly competitive.
Sellers looking to tap into the blank sketchbook market can take advantage and grab these low-hanging fruits.
The figure template sketchbook space
Our research helped us conclude that the figure template sketchbook segment is far less popular among users, but may turn out to be more profitable than blank sketchbooks.
Here's why.
Inspecting the bestsellers, we only came across 30 listings ranking for "figure". The book designs here are mainly targeted at the fashion industry and their average BSR is 286 487 (a slight degree lower than that of blank sketchbooks).
So far, we can see that there is less competition and a higher sales potential (due to the lower BSR). But what do the prices in the market look like?
Here are the price points you should know about in the figure template sketchbook space:
Lowest Price $6.00
Highest Price $11.95
Average Price $9.28
Both the lowest and average prices are higher when compared to blank sketchbooks. Meanwhile, the highest price is a few cents lower, but practically the same. This indicates that the royalty potential here is much higher, given that the prices are more attractive throughout the whole market.
Let's see if this corresponds with the top-performing listing in the niche.
"Fashion Sketchbook Figure Template: This professional Fashion Illustration Sketchbook contains 230 female fashion figure templates. All fashion … in Paris and are now available in this Book" sells for $9.90 and has a BSR of 32 109 (which translates into roughly 300 sales per month).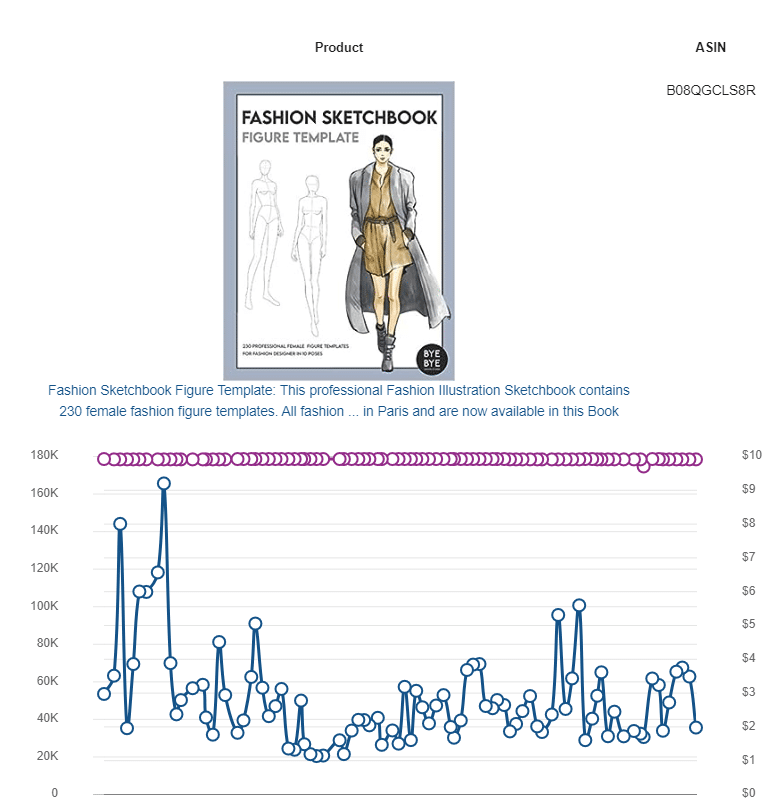 Using Amazon KDP's royalty calculator, we found out that the monthly royalties that this listing generates are around $1,000. Comparing this to the earnings of the number one listing in the blank sketchbook market ($260), we can see a huge contrast.
However, as we mentioned above, the niche is not as popular when it comes to keywords and search volumes:
fashion sketch book figure template – 2 552 – no data
fashion sketch book with figures – 1 256 – no data
fashion sketch book with female figure templates – 1 061 – no data
Only around 2,500 buyers search for figure template sketchbook-related phrases on Amazon on a monthly basis. This demand is not to be overlooked, but can't be compared to the search volume of more than 7,000 for blank sketchbook-inspired keywords.
Wrapping up
In summary, our swim through the blank and figure template sketchbook seas leaves us with the following conclusion:
While blank sketchbooks are hot and trendy in terms of consumer search behavior, figure template sketchbooks are a hidden financial gem to explore. Tapping into these categories will reward you with popularity or substantial financial rewards. And with a bullet-proof strategy, why not enjoy both these treats?
After all, Book Bolt is at your fingertips to help you make it happen.