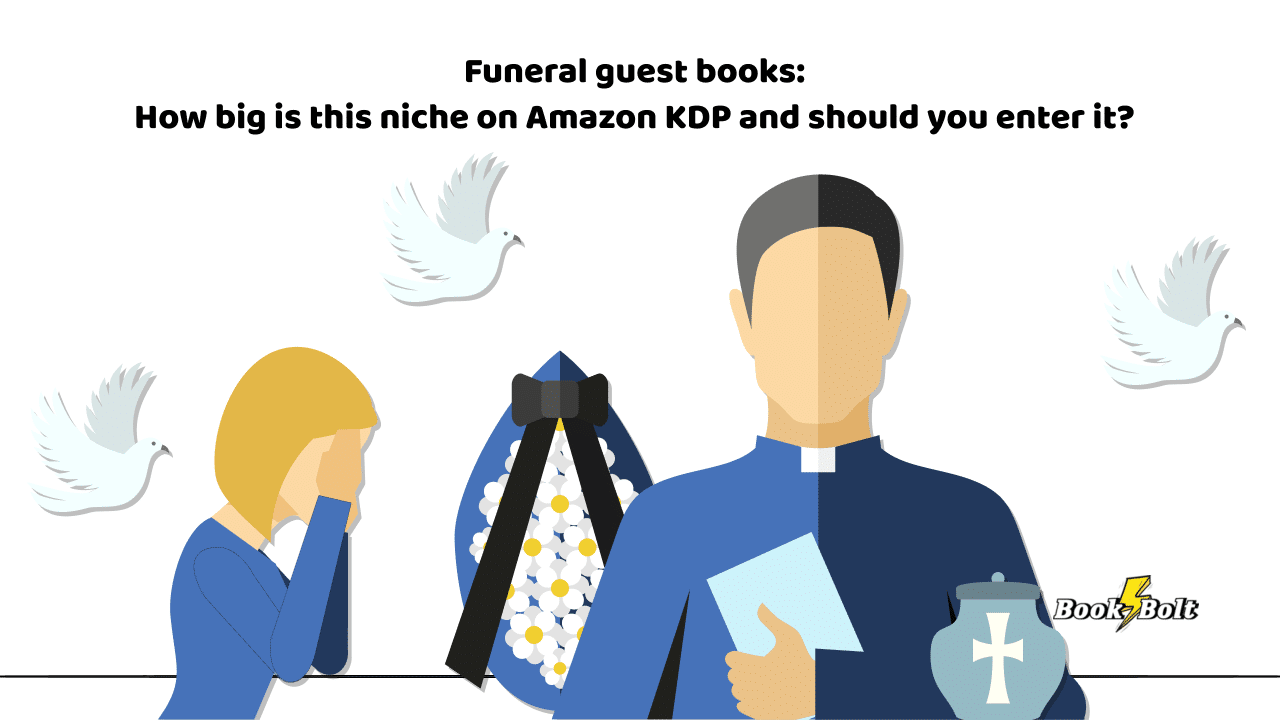 The loss of a loved one is a truly difficult process to go through. And when friends and family gather together to say their farewells, it's a really nice touch for them to be able to leave a lasting message of the impact that the person had on their lives.
This brings a sense of closure and warmth.
Although not often explored, no- and low-content books in the context of memorial services is a niche worth exploring for sellers.
In this article, we will outline how you can do so.
How big is the market for funeral guest books?
Determining the market size for no- or low-content books is quick and convenient using the Book Bolt Products Search module. By simply inputting the keyword "funeral" and selecting the guest book category, we obtained instantaneous results.
The average best-seller rank (BSR) for this niche was determined to be 1,274,132, with the highest-ranked book having a BSR of only 75,243. Furthermore, the top five sellers collectively achieved sales exceeding 1,000 units.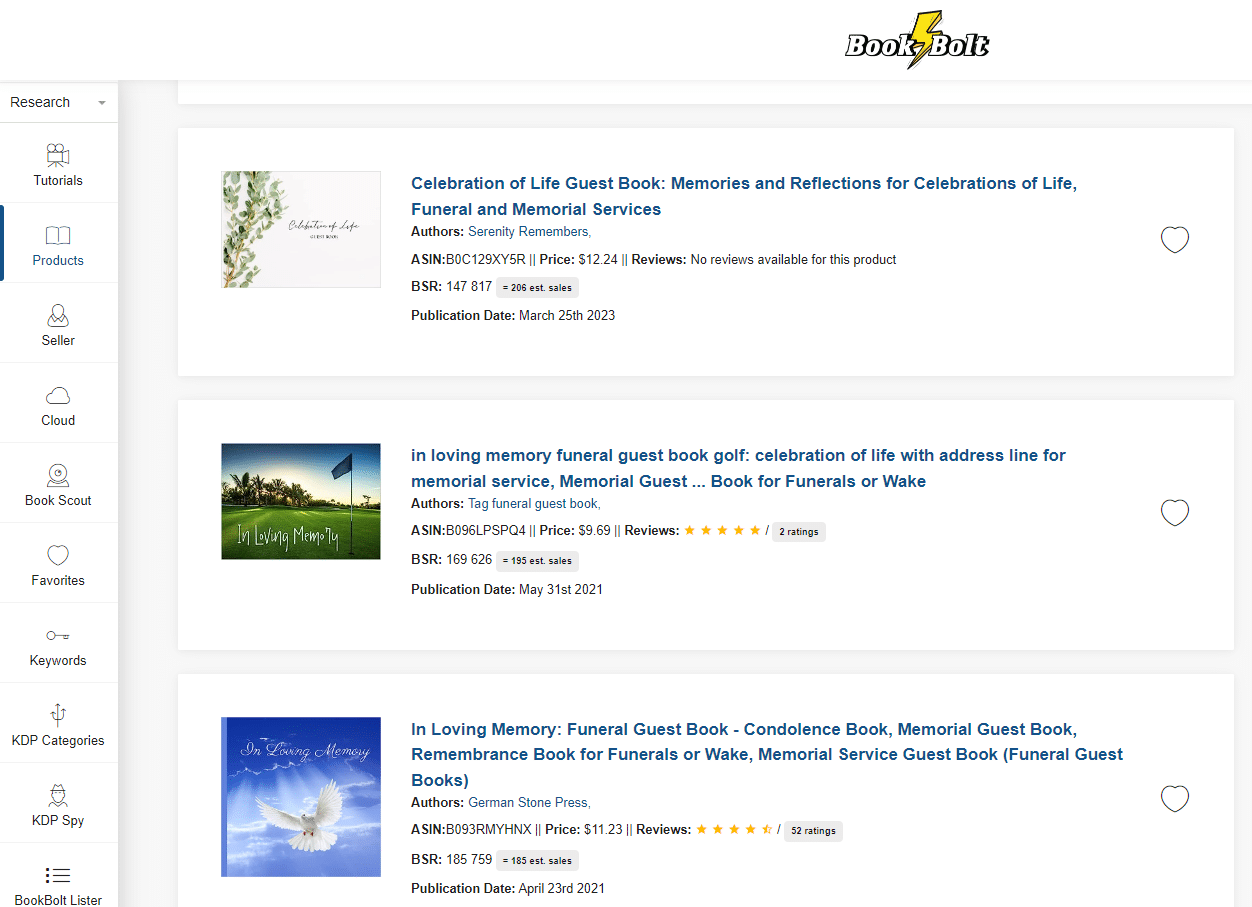 Now, let's delve into the keywords that potential buyers are using to explore their options.
Keywords and search volume
Bolt's Products Search module reveals the top 48 keywords associated with this niche. While not all of them are relevant, we can easily extract the most pertinent ones, along with their respective search volumes:
"Funeral books": search volume – 31,545
"Funeral book": search volume – 29,794
"Funeral arrangements": search volume – 3,058
"Funeral notebook": search volume – 2,790
"Planning funeral": search volume – 1,791
"Guestbook funeral": search volume – 480
This data suggests that funeral planners are actively seeking specialized books where guests can leave final messages to honor the deceased. The cumulative search volume for these keywords exceeds 60,000.
Keyword saturation
Now, let's examine how Amazon KDP sellers approach this sensitive topic in terms of keyword saturation. Below is a breakdown of the keywords they employ in their book titles to enhance their rankings on the platform:
Type of book: book (239), guest (188), books (34), guestbook (12), guests (7)
Primary keyword: funeral (155), memorial, (91), service (47), funerals (28), services (16)
Secondary keywords: life (73), celebration (71), memory (46), loving (38), remembrance (30), condolence (27), wake (19), condolences (4)
Tertiary keywords: floral (8), butterfly (7), heaven (7), flowers (6), sunset (4), rose (3), lifefuneral (3) hearts (3), gone (3), eagle (3), hummingbird (2)
It's evident that while the primary keyword is "funeral," some sellers also utilize terms like "memorial service" to target their audience. Additionally, the secondary and tertiary keywords align with what buyers are searching for, offering a range of expressions they may use. Finally, the tertiary keywords primarily describe the cover design of the book to improve rankings.
Pricing

Let's also explore the pricing strategies employed by sellers to capture their audience's attention. Here are the lowest, highest, and average prices we found:
Lowest price: $4.58
Highest price: $16.99
Average price: $10.09
What are some of the best-selling merchants doing right?
Now, let's analyze the approaches taken by two successful sellers in this niche.
Author 1: Piper Maria
Title: "Celebration of Life Guest Book: Sign-in and Memory Book for Funeral Service, Memorial Service, and Wake"
BSR: 79,244
Price: $10.00
Sales: 245

Author 2: Amber Paterson
Title: "Funeral Guest Book: Celebration of Life Guest Book | Memorial Service Guest Book"
BSR: 75,243
Price: $7.99
Sales: 245
Keyword usage
Both Piper Maria and Amber Paterson have opted for concise titles. They have effectively incorporated high-search-volume keywords such as "funeral," "memorial service," "wake," and, of course, the specific book type being a guest book.
Pricing
Regarding pricing, both sellers have set their prices close to the average, with a mere $0.19 difference from the $10 mark. This prudent approach prevents alienating potential customers with excessively high prices or devaluing the product with excessively low prices.
Avoiding low prices is just as important as asking for a reasonable price, as it can otherwise result in a perception of poor quality and diminished royalties.
Cover design
Examining the cover design, both sellers have intriguing similarities. Their books measure 8.25 by 6 inches, come in paperback format, and feature flowers on one side with the title "A Celebration of Life." This design conveys respect, elegance, and thoughtfulness — essential qualities when approaching such a sensitive topic.
What is the profitability within this niche?
Now, let's consider the profitability within this niche. By utilizing the Amazon KDP royalties calculator, we were able to produce the following results:
Author 1: Piper Maria
Price: $10.00
Sales: 245
Total profit: $908.95
Author 2: Amber Paterson
Price: $7.99
Sales: 245
Total profit: $646.80
As evidenced, the profitability of no-content funeral guest books on Amazon KDP exceeds $500 and approaches the $1,000 mark. Thus, this niche proves to be financially rewarding.
Our recommendations
Approaching the funeral guest book niche on Amazon KDP requires a respectful approach. Buyers who are looking for this product have recently lost someone and are also looking at the organizational aspect of setting up a funeral or a memorial service. Therefore, to cater to their needs, the following is required:
Keywords: It is crucial to clearly state the nature of your product in your title. If it's a funeral guest book, make that explicit. While some repetition of keywords is acceptable, strive to keep it minimal and make smart use of the limited space available. Opting for high-search-volume keywords like "funeral books" and "funeral book" proves to be an effective strategy.
Pricing: Another element that is important to consider is your pricing strategy. Remember that working around or as close as possible to the average is critical for your sales efforts. Consequently, your price should be in the region of $10.
Cover design: Analyze the strategies employed by top sellers and emulate them. Create covers that cater to your buyers' needs. Given the delicacy of the topic, images such as flowers, butterflies, or sunsets are often used. However, the most successful covers are those that arrange flowers in a respectful and somber manner, conveying reverence.
Final remarks
In conclusion, when offering funeral guest books, it is essential to approach the topic with respect, considering the sensitivity of the audience, including grieving families and event organizers.
By emulating the strategies of top sellers and utilizing tools like Book Bolt, you can increase your chances of success. The investment of $9.99 per month for Book Bolt is a small price to pay and certainly worthwhile.