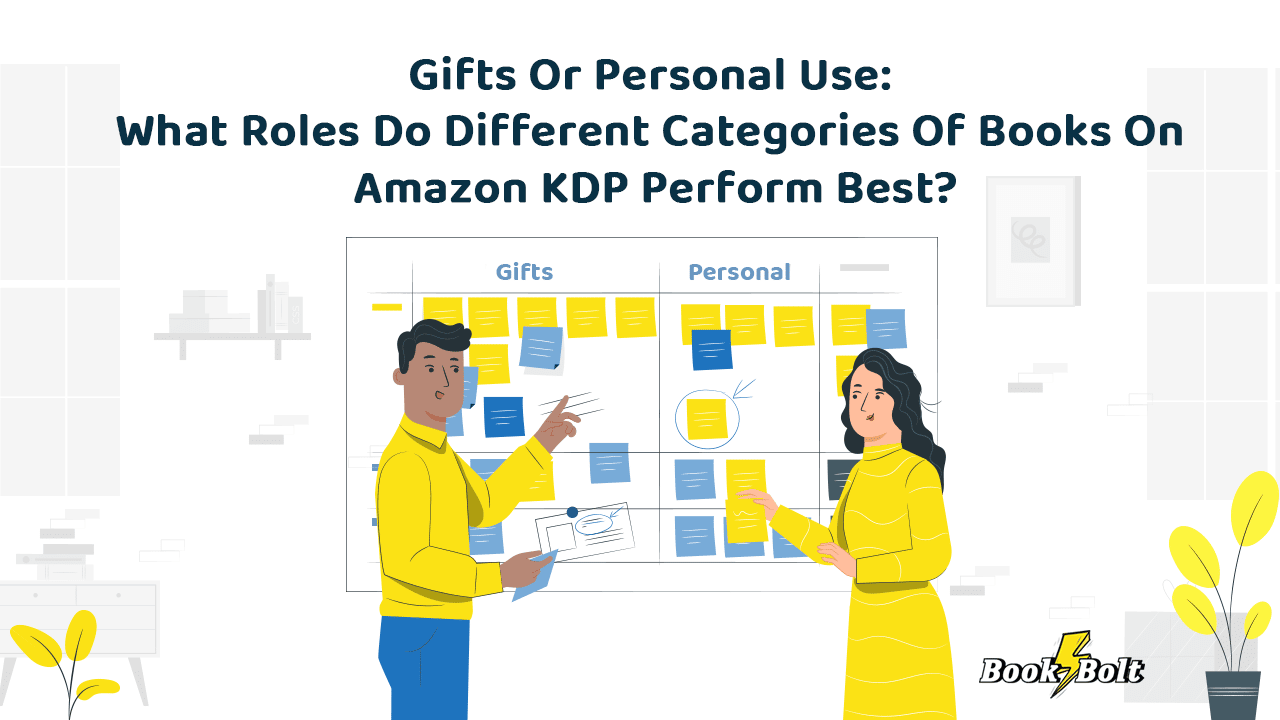 When selling low- and no-content books on Amazon KDP, it's essential to choose the perfect positioning for your listings. Before you can generate sales, you must be able to tailor your marketing efforts to the right audience. And to do this, you must be aware of whether your listings will be attractive for gifts or for personal use.
In this article, we'll dissect the no- and low-content book space to uncover which categories are most attractive for gifts and which ones are popular for personal use.
In addition, we'll give you insights into the profitability of different niches.
Intended use for low- and no-content book categories on Amazon KDP
Notebook: gifts

Although you may think that notebooks are something shoppers buy for themselves, Book Bolt suggests otherwise. By looking at the bestsellers in the category, we noticed that one of the most popular keywords used was "gift". A deeper look showed us that there were plenty of listings targeting related keywords, including:
Gift for plants, fungi foraging and nature lovers
Medical illustrations gift
School gift
Cats notebook gift
We also ran a quick keyword search to discover that words related to notebook gifts received plenty of search volume:
mom notebook gift: 9,224
gift notebooks: 8,218
gift notebook: 7,915
dad notebook gift: 5,708
boss notebook gift: 3,990
Overall, more than 500 bestsellers appear in Book Bolt's Cloud tool, meaning that the space is very popular and competitive. The average price in the niche is $6.43, while the highest price is $19.98.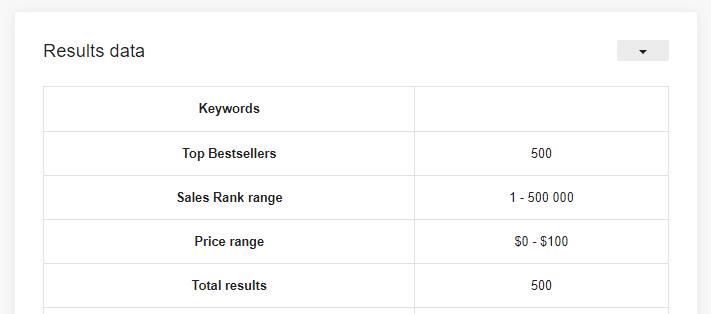 We can conclude that notebooks are often purchased as a gift on Amazon. The niche is profitable and popular. In other words, it deserves your attention as a seller.
Journal: gifts

Our notebook findings are very similar to what we unveiled in the journal category. The bestsellers for journal gifts exceed 500, indicating that this niche is well-developed and attractive for buyers. Some of the most commonly used keywords among the bestsellers in journal gifts include "funny", "women", "birthday", "girls", "teacher", "school", "panda", and "coworkers". All of these can be used for inspiration when choosing a sub-niche to sell in.
Another proof that journals are frequently bought as gifts is the keyword research data presented by Book Bolt. Here are some of the related keywords along with their search volume:
Gift journal for women: 9,919
gift journal for men: 9,707
outlander gifts journal: 9,097
gift journals: 7,904
gift journals for writing: 6,315
gift journal for teacher: 6,257
All of these keywords receive thousands of searches per month. In other words, users are actively looking for related products. Just like notebooks, gift journals are also profitable, with an average price of $6.89 and highest price of $14.99.
Music sheets: personal use
The next category to observe is music sheets. The majority of listings on Amazon KDP are intended for personal use, considering titles and descriptions. However, there are also a number of listings designed for gifts.
For example, there are listings like the "Beethoven Popular Songs for Beginners: Easy Piano Keyboard Sheet Music Book for Kids I Fur Elise, Moonlight and Pathetique Sonata, Symphony No. 5, 6, … I The Perfect Gift Book for Music Teachers". The choice of keywords in the title clearly suggests that the niche is based on gifts for music teachers.

Music sheets as a gift are often designed for staff, teachers, young musicians, DJs, specific music band fans, music lovers, and more.
Interestingly, the average price for listings using the keyword "gift" in the music sheet category is $8.14. However, the average price for music sheet listings, in general, is $10.67. In other words, music sheets for personal use are more profitable. Considering that they're also more popular on the platform, it makes more sense to focus on designs intended for personal use.
Calendar: personal use

Calendars are another no-content book category with an intended use that can be for personal use and gifts. Research into the category suggests that the majority of listings are created for personal use. At the same time, calendar gifts make up a portion of this category. And this makes sense, as calendars are a popular gift for Christmas, especially in working environments.
A look into the top 500 bestsellers revealed that a total of 88 calendar listings included the word "gift". The average price  for gift calendars is $9.37, while the highest is $14.99.
But what exactly are Amazon users interested in?
We research the main keyword "gift calendar" to get some ideas for related keywords and their search volume:
2022 gift calendars: 4,074
December gifts calendar: 2,524
gag gift animal calendar: 2,058
With thousands of monthly searches, this niche is attractive to Amazon shoppers.
Planner: personal use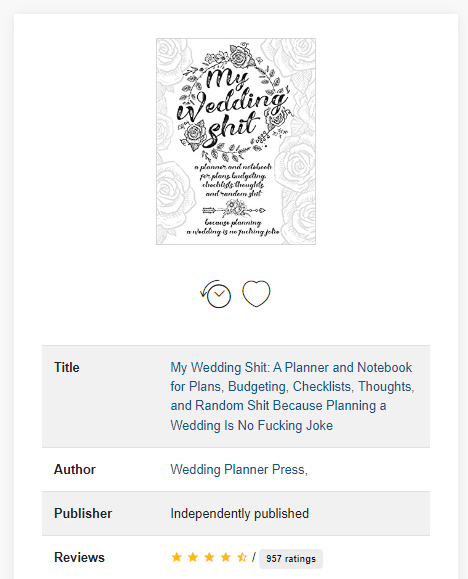 Considering that planners help us organize our daily routine and stay up to date with tasks, it's natural to assume that they're designed for personal use. And in the majority of cases, this is true. But there are plenty of gift planners on Amazon, opening up the space for a new money-making niche.
From a total of 500 best-selling listings, 55 include the word "gift". At the same time, keywords like "gift planner 2022", and "planner gift for women" receive more than 2,000 searches on Amazon per month. Some of the most popular niches for gift planners include weddings, students, books, engagement, school, and others.
With an average listing price of $8.09 and the highest price of $35.00 in the space, gift planners are certainly an opportunity. Best of all, you can enjoy less competition as most sellers in the category are focused on planners for personal use.
Coloring book: gifts

The coloring book category is one in which most buyers are looking for a gift. With attractive and creative designs that are specific to a certain audience, they make a great birthday gift or Christmas gift. There are more than 500 top-selling listings in the coloring book gift space. The average price in the niche is $7.11, while the highest is $16.90. Although the prices are slightly lower than those in other categories, you can expect to make more sales in this niche due to its higher popularity.
Among the bestsellers, some of the recurring keywords that merchants compete for include:
Adults
Kids
Funny
Stress
Women
Relaxation
Birthday
Fans
Fun
Christmas
Dog
Retirement
At the same time, some of the most frequently searched for keywords include "gift coloring books", "gag gift coloring book", "dinosaur coloring book gift for boys", "circus coloring book gift for kids", and "spooky coloring book gift". These are all niche ideas to tap into if you're looking to enter the gift coloring book market.
Activity book: personal use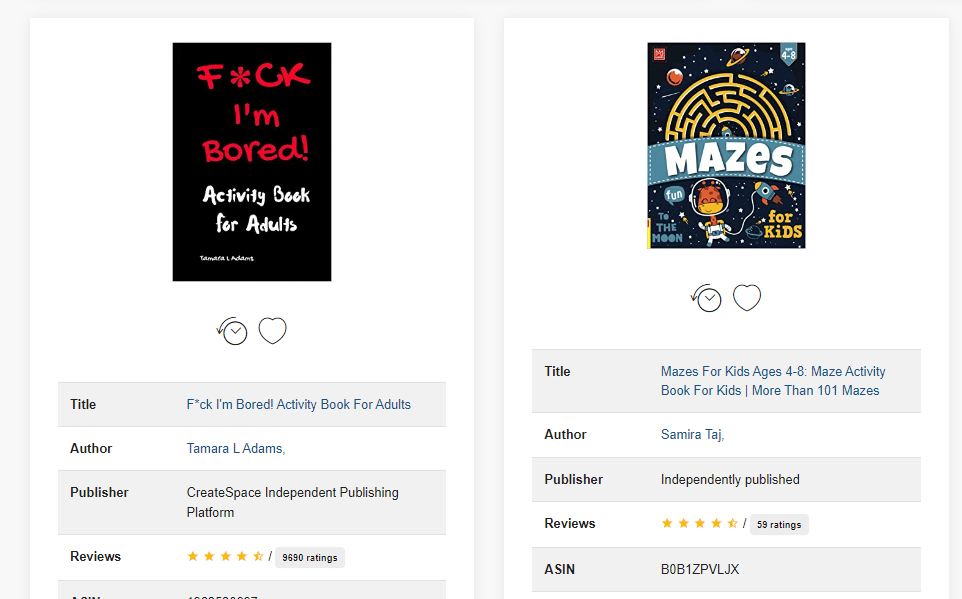 Activity books are another category where most shoppers are interested in a product for personal use. From a total of 500 top-performing listings, 47 listings use the word "gift" for listing optimization. The most common niches include activity book gifts for retirement, patients, and Alzheimer's. In terms of profitability, Book Bolt revealed that the average price of the activity book gift niche is $7.86, while the highest price is $11.99.
Our research indicates that the space isn't very attractive for shoppers. Only 1,111 searches are performed per month for the keyword "activity book gift" and there aren't many related keywords to optimize your listings for.
Overall, we can conclude that activity books are rewarding when created for personal use.
Puzzle book: personal use

The same conclusion from the previous section applies to puzzle books. Puzzle books are best sold when designed for personal use, as opposed to as gifts. When looking into the top 500 puzzle book listings, only 23 of them were optimized to include the word "gift". From the ones that contain this word, a few common themes appeared, including Halloween, adults, seniors, fishing, brain, and anime. These are specific niches that you can narrow down to if you do decide to explore this opportunity.
And is the puzzle book gift category profitable? The average price in the space is $7.48, while the highest is $9.99. There isn't much search volume, with 1,608 monthly searches for "puzzle book gifts for adults" and 1,320 searches for "puzzle book gift". Due to the relatively low price and low search, we suggest designing puzzle books for personal use rather than for gifts.
Comic book: personal use

Comic books are also predominantly bought to be enjoyed by the buyers themselves. Less than 100 listings that contain the keyword "gift" in the comic book category appear on Amazon. This shows that the niche isn't crowded with competition and few sellers exploit it.
No bestsellers appear in Book Bolt results, additionally indicating that comic books are not a popular gift option.
However, it's worth noting that there are several gift-related keywords that users actively search for on Amazon:
comic book gifts for men: 1,788
comic book gifts for boys: 1,596
comic book fan gifts: 1,505
comic book gift: 1,454
comic book collector gifts: 1,340
If the competition is low and you can attract buyers looking for such products, you can enjoy high sales volumes and popularity in this target audience.
Guest book: personal use

A look into the guest book category revealed that the space is dominated by listings for personal use. This is only natural, considering the purpose of guest books. They're often a valuable addition to a party, special event, or gathering. The main role of this product is to collect comments, stories, and feedback from guests. In most cases, they're part of the planning and organization executed by the event hosts.
Book Bolt confirmed that there is no potential to sell guest books as gifts. Rather, you can explore the opportunities they present in the form of personal use products.
Log book: personal use
Log books are a very interesting case. They're mostly designed to be used by the individual who purchases them. However, there's a hidden opportunity.
Not a lot of sellers offer log books as gifts. In fact, from 500 chart-toppers in the log book category, only 24 use the word "gift" in their title or description. Some of the most popular themes can be seen from additional keywords used along with "gift", such as "scuba", "dive", "pilot", "counsellor", and "keeper".
But let's not forget something. The limited number of existing listings doesn't mean that Amazon shoppers aren't looking for such products. Here are a few keywords that generate a lot of monthly search volume:
gift log book: 4,814
gift log book for bridal shower: 4,445
gift log book wedding organizer: 4,383
gift log book for baby shower: 4,376
gift log book graduation: 4,351
Considering the minimum competition, it will be easy to rank for these keywords and land sales. This is why we recommend exploring this avenue if you're interested in tapping into the log book category.
Tracker: personal use
Trackers are also predominantly sold as products intended for personal use. With this category, you should also be aware of some keyword research mistakes related to buyer intent. If we look at words related to trackers and gifts, we'll see the following suggestions along with their search volume:
gift tracker notebook: 6,129
gift tracker book: 5,707
gift tracker: 4,416
However, it's important to think about what these products are designed to do. A deeper look reveals that these are products designed to track gifts. They're not trackers bought as a gift for someone. This is an important distinction to make in order to avoid confusion and understand the buyer audience better.
Very few tracker listings on Amazon are sold as gifts, meaning it's best to approach this category as one where personal use is the dominant intent.
Sketch book: personal use

Lastly, sketch books are another product with a dual purpose. They could be sold for personal use or as a gift. However, according to Book Bolt, the first scenario dominates. Still, there are several bestsellers that offer sketch books as gifts for kids, for birthdays, back to school and for new artists. The average selling price in the niche is $6.59, while the highest price is $12.95.
In terms of user interest, the following keywords reveal a certain level of demand for sketch books as gifts:
sketch book gifts for kids: 1,450
sketch book gifts for daughter: 1,437
sketch book gift for: 1,360
Again, because the competition in this segment is low, you can enjoy some low-hanging fruit by creating designs for sketch books intended for gifts.
In a nutshell
Overall, a look into all of the low- and no-content book categories on Amazon KDP revealed that the majority of listings are intended for personal use. Our findings show that the categories like activity books, puzzle books, comic books, guest books and trackers are mostly bought by shoppers with the intention of satisfying a need.
On the other hand, categories like notebooks, journals, music sheets, calendars, planners, coloring books, log books and sketch books are often sold as gifts and usually come with certain themes and a niche target audience.
Having access to this information will enable you to create better positioned low- and no-content book designs that attract the right buyer groups.