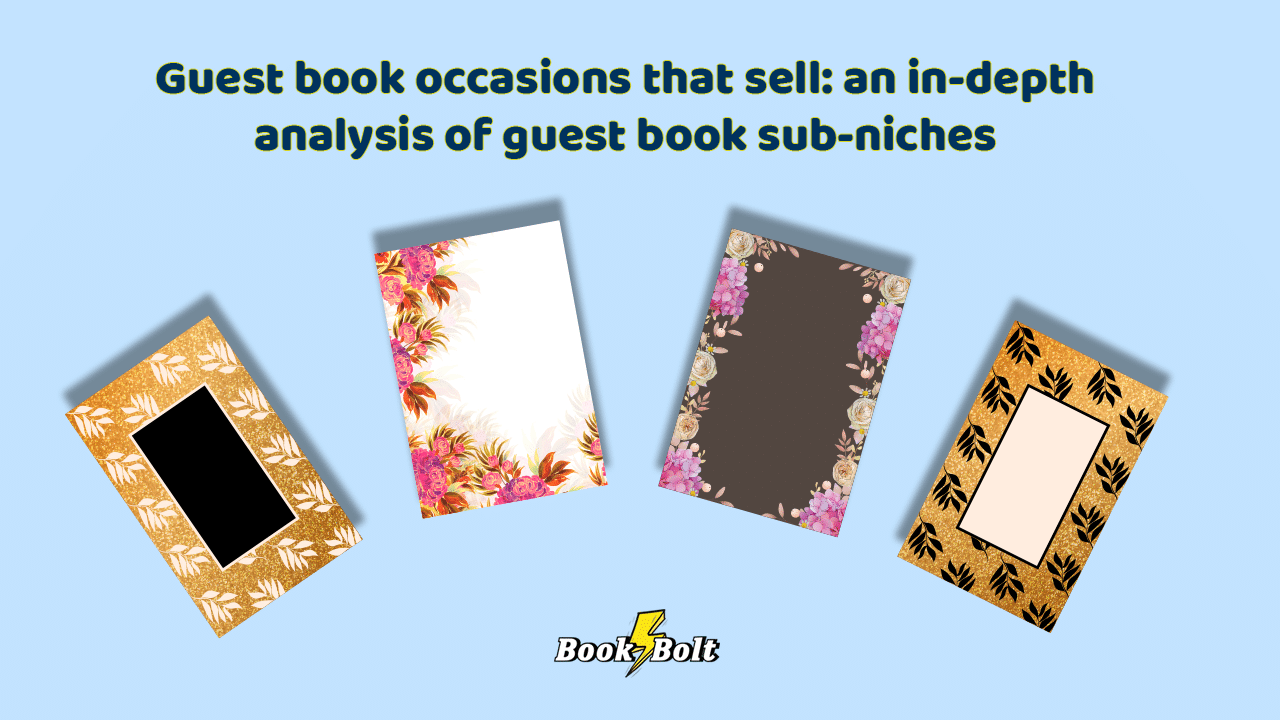 The guest book niche is an alluring no-content category for both newbies and experienced Amazon KDP sellers. It doesn't require much time, writing skills, or creative thinking. In fact, with the help of Book Bolt's Designer tool (The Studio), you can bring your covers and interiors to life in a matter of minutes.
But this won't culminate in soaring sales unless you position your designs in trending and profitable sub-niches. In the following sections, we'll save you hours of manual work by presenting the guest book occasions that generate the most sales on the platform.
The guest book landscape on Amazon KDP
If you're new to the guest book space, there are a few important things to know.
First, the category is immensely diverse. This stems from the fact that guest books make for a great addition to a wide array of events, from joyous baby showers to funerals. To stand out in the sea of competitors and entice your ideal audience, it's crucial to master the art of niching down. In this case, this means choosing a winning genre to bet on.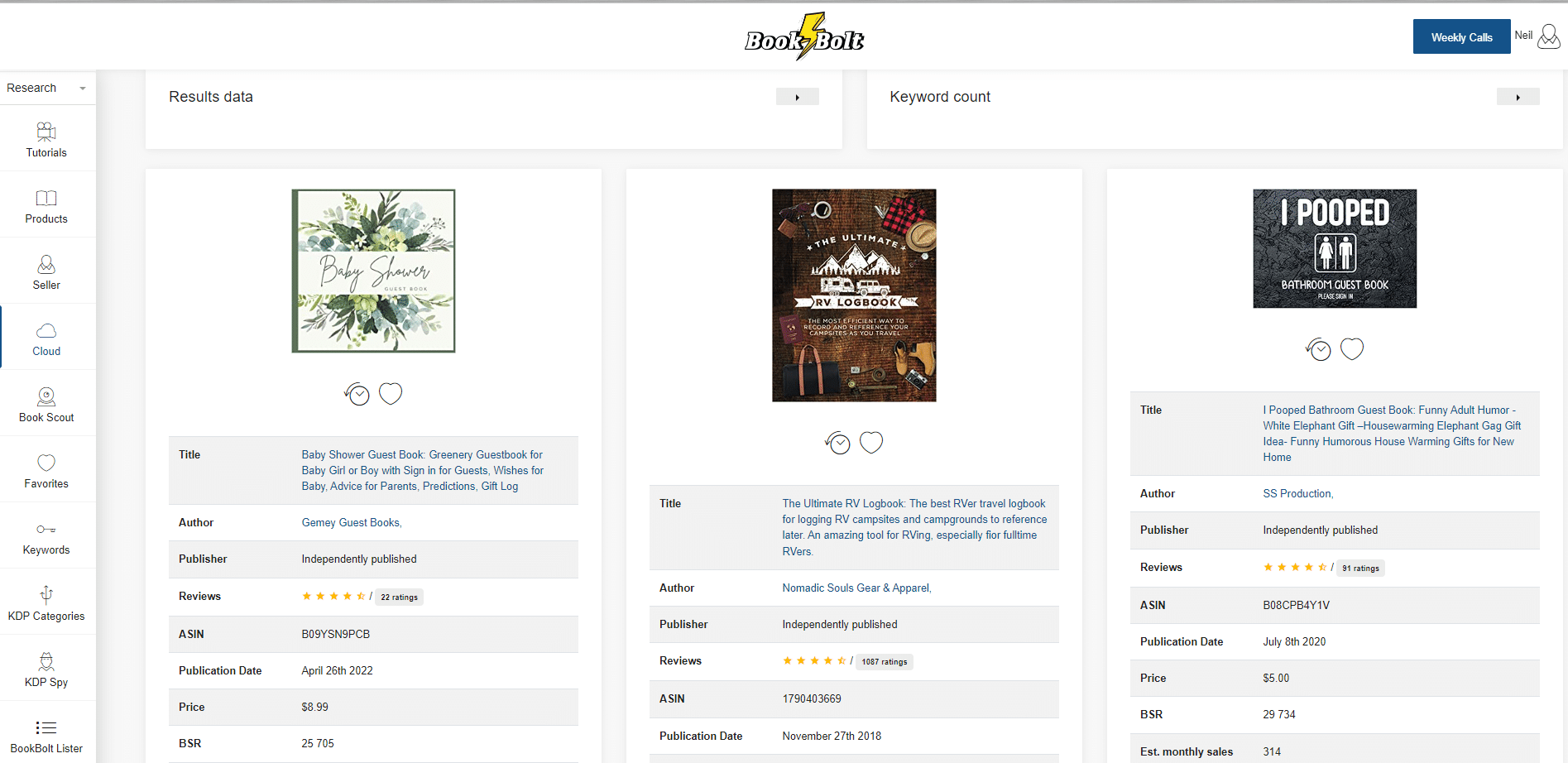 Second, guest books are much less sold than notebooks, journals and coloring books. The average BSR of the top-performing listings is 138,043. Yet, guest books are more profitable than other no- and low-content books, like trackers and sketchbooks.
Third, and most important, nearly 90,000 users on Amazon search for terms like "guest book book". This search volume reveals the vast interest that consumers show towards the niche. And while this specific word may be highly competitive, others such as "guest books" receive 77,414 monthly search volume, yet have a low competition level.
Summing it all up, there's only one verdict – guest books will reward you bountifully.
The guest book sub-niches that sell best on Amazon KDP
Using Book Bolt, we discovered various occasions that trigger consumer interest in the guest book space. Some of them include baby showers, graduations, funerals, retirements, birthdays, anniversaries and weddings.
However, we focused our research solely on the top four genres according to average BSR:
Baby showers
Birthdays
Anniversaries
Retirements
Here are the interesting insights we uncovered by analyzing the bestsellers in each of these guest book genres.
Baby shower
According to Book Bolt, baby showers are what inspires the most purchases in the guest book domain. The top performers in this segment have the lowest average BSR (288,695) from this list, but that's not all. We also noticed that the baby shower guest book market is the most saturated.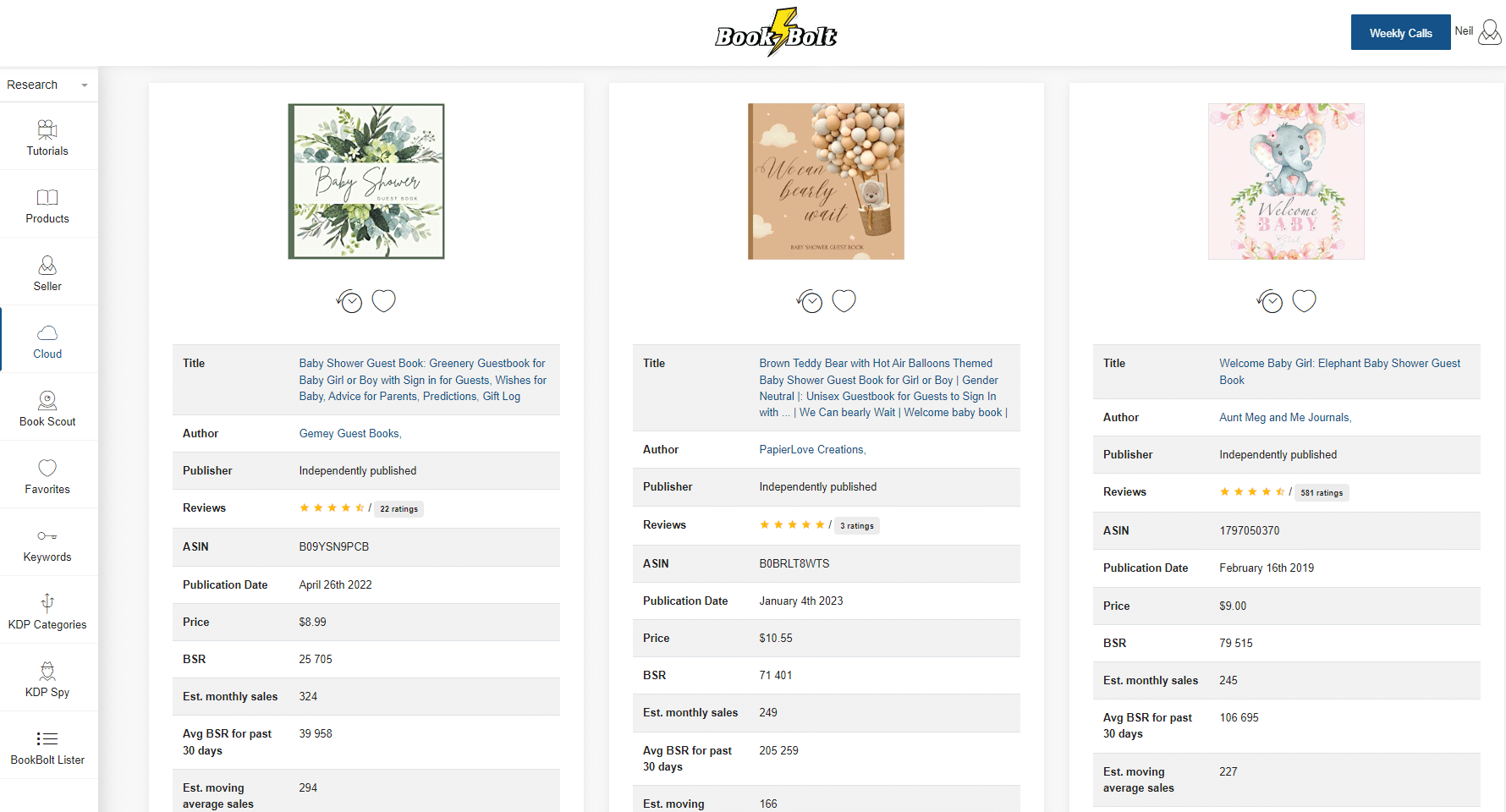 Only around 25 listings appear in Book Bolt's Cloud tool for other guest book types. On the contrary, nearly 100 book designs have made it to the chart toppers for baby shower guest books.
The theme becomes even more attractive when we tie this information to the listings' average price of $9.55 (which is higher than all other sub-niches, apart from funeral guest books).
Best of all, some of the most frequently searched-for keywords and phrases are not very competitive:
baby guest book for baby shower – 6 404 – no data
baby guest book for baby shower boy – 4 476 – no data
baby guest book for baby shower girl – 2 596 – no data
elephant guest book baby shower – 2 100 – no data
For example, nearly 6,500 users search for "baby guest book for baby shower" on Amazon per month. At the same time, the competition level is "no data", indicating that there isn't enough information for the tool to detect how competitive the phrase is. This usually translates into a low competition or low-hanging fruit for you as a seller.
Additionally, some of the most frequently used keywords among bestsellers include:
Girl
Boy
Parents
Pink
Blue
Bear
Elephant
Teddy
Predictions
Gift
These words are not primary keywords for the baby shower guest book niche. However, they're equally important. You can use them to optimize your listings or create attractive designs.
We can see this clearly by analyzing the number one top seller in the genre.
The "Baby Shower Guest Book: Greenery Guestbook for Baby Girl or Boy with Sign in for Guests, Wishes for Baby, Advice for Parents, Predictions, Gift Log" listing has a BSR of 25,860 and generates around 324 sales per month. It's priced at $8.99 (very close to the market average of $9.55).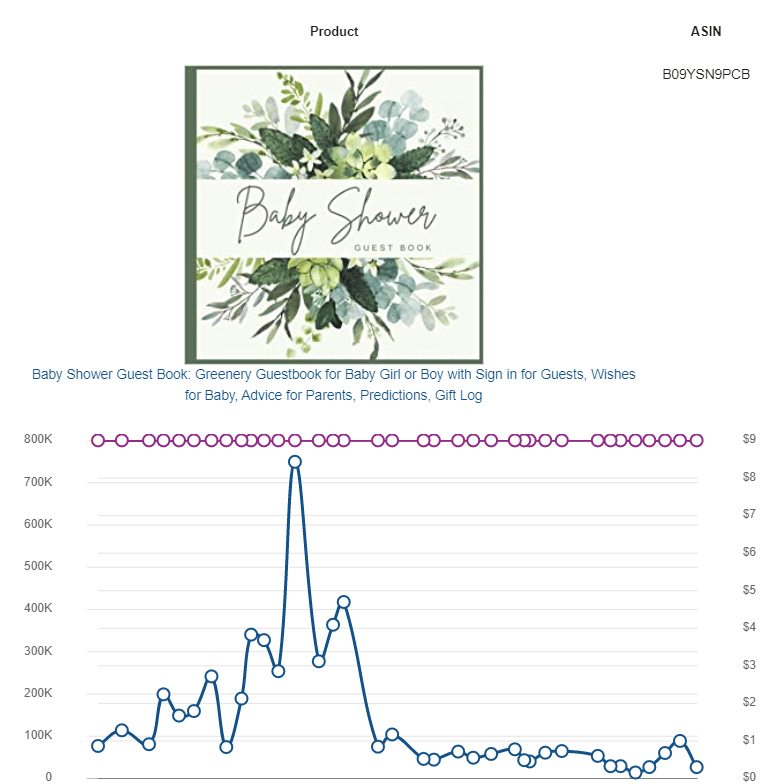 The seller has intelligently crafted the title to include essential words, like "baby shower", "guestbook", "baby girl", "boy", "parents", "predictions" and "gift". They boost the listing's visibility and make it easily discoverable for consumers. The results? The gold medal for the number one position and the most sales.
Birthday
Birthdays are the second most captivating occasion for guest book creators. With an average BSR of 293,529 and a total of 89 bestsellers, this special event can help you diversify your portfolio and turn your profits around.

The average price of listings is $8.77. This is slightly lower than that of baby shower guest books, yet still worthwhile in terms of royalties. But things get really interesting when we tap into our keyword research findings.
As it turns out, there are nearly 19,000 monthly searches on Amazon for "90 guests birthday party guest book for adults". Surprisingly, the phrase doesn't have any competition, meaning that it's a valuable, low-hanging fruit that you can take advantage of. Creating a birthday guest book for a 90th celebration can reward you with astounding sales.
Although this is the most popular phrase users search for on the platform, the majority of listings are also optimized for the following:
Party
Keepsake
Gold
Happy
80th
70th
90th
Rose
Sign
Guests
Words like "70th", "80th" and "90th" suggest that anniversaries are a big deal when it comes to guest books. We confirmed this theory by dissecting another specific field – anniversaries (more on that in the sections below).
Observing the top performer, we can instantly see some of these words in the title. The "Sign My Happy 1st Birthday! Guest Book: Birthday Activity and Keepsake Guest Book for 1 year olds (Birthday Activities and Games)" listing makes adept use of "birthday", "guest", "keepsake" and other crucial keywords to attract traffic. It has a BSR of 47,356 and lands an average of 279 sales per month.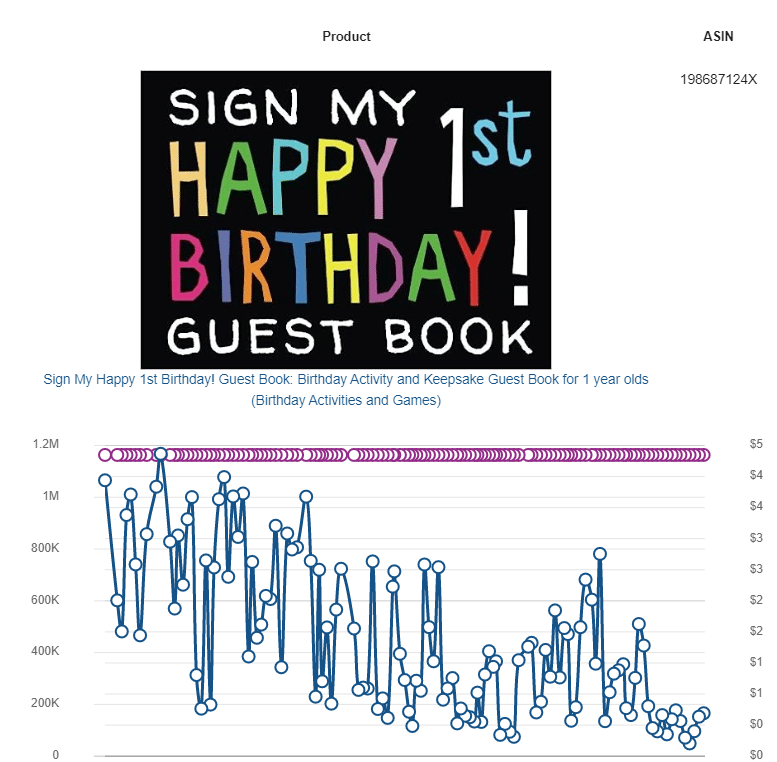 This listing is exceptionally competitive, at $4.84, which is much lower than the market average of $8.77. This is another trigger attracting shoppers' interest. The pricing strategy here also shows that underpricing a listing can, on rare occasions, turn out to be a beneficial strategy.
Anniversary
Next up, we dive into anniversary guest books, which have an average BSR of 301,892 and an average price of $8.67. Contrary to baby shower and birthday guest books, there are only 21 listings displayed by Book Bolt's Cloud tool for this sub-niche. While some may perceive this as a drawback, we see it as an opportunity.

Less listings means less competition.
Moreover, our keyword research uncovered that nearly 6,500 searches are generated every month for phrases like "50 th anniversary guest book". Satisfying this high demand brings a lot of potential sales to the table.
Defying assumptions, we also uncovered that anniversary guest books are not limited to couples' celebrations of love. As it turns out, some of the most popular words among bestselling listings include:
Party
Gift
Family
Baby
Message
Write
1st
Celebrating
Wishes
Couples
Put otherwise, anniversaries are predominantly related to baby or adult birthdays. Still, the word "couples" is on the list, indicating that this is another remunerative theme that you could explore.
This specific market is dominated by the "Happy 1st Birthday Baby Guest book: Safari Jungle Animals Theme Decorations | Girl or Boy First Anniversary Party Sign in Memory Keepsake with Gift Log Tracker & Photos Space" listing. It enjoys a BSR of 87,468 and scores more than 230 monthly sales. Unlike most other leaders we've analyzed, this listing is priced at $11.93 or much higher than the market average ($8.67).
This only proves that while important, price is not the sole factor considered for purchase decision-making. Other elements like listing optimization, design and target audience are essential when crafting your guest book.
Retirement
Retirement guest books have the highest average BSR out of all top-performing sub-niches in the guest book space, standing at 305,345. At the same time, they're one of the best-loved themes in the category when compared to others like funerals or weddings.
However, our research findings bring us to the conclusion that retirement guest books are not as advantageous as other celebrations. They stand out from the rest with the lowest average price of $7.15. In addition, the most searched-for phrase "early retirement books" only receives a monthly search volume of 3,178. To top this up, the keyword is highly competitive, meaning that it will be a challenge to outrank other sellers.
If you do decide to test your sales abilities with this sub-niche, it's vital to optimize your listing for juicy words that will bring in traffic. Some of the most common choices include:
Party
Message
Memory
Friend
Goodbye
Leaving
Funny
Colleague
Never
Difference
These keywords will give you a ton of ideas for titles. Right off the bat, you can see that "funny" is featured in the list, meaning that humoristic retirement guest books are a trend.
Naturally, creating a title along the lines of "Say goodbye with a funny retirement guest book for a friend or colleague" will help you boost your listing's visibility. Why? Because the title is rich in attractive and popular words.
The highest-grossing listing in the field is another example of how this works. The "Never Forget The Difference You've Made: Black Gold Elegant Happy Retirement Guest Book Sign In, Keepsake Memory, Message Book for Retirement Party Family & Friends to Write In Gifts for Men, Women," product costs $8.00, has a BSR of 55,341 and an estimated monthly sales volume of 262. Words like "difference", "happy retirement", "memory", "friends" and others make a difference in terms of rankings, user experience and overall discoverability.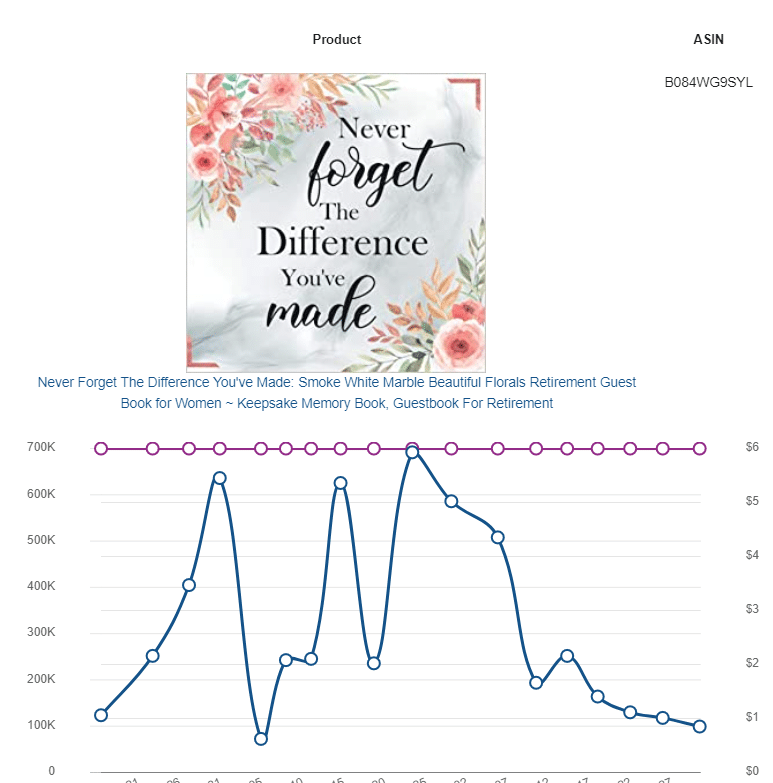 In conclusion
Wrapping up, we advise Amazon KDP sellers that are new to the guest book niche to start by creating baby shower designs. According to Book Bolt, this sub-niche is the most attractive in terms of profitability, competitiveness and average BSR.
Other options from our list can prove to be as rewarding with the right strategy.
Finally, don't forget to utilize our business intelligence tool to the fullest and make informed decisions throughout your seller journey.