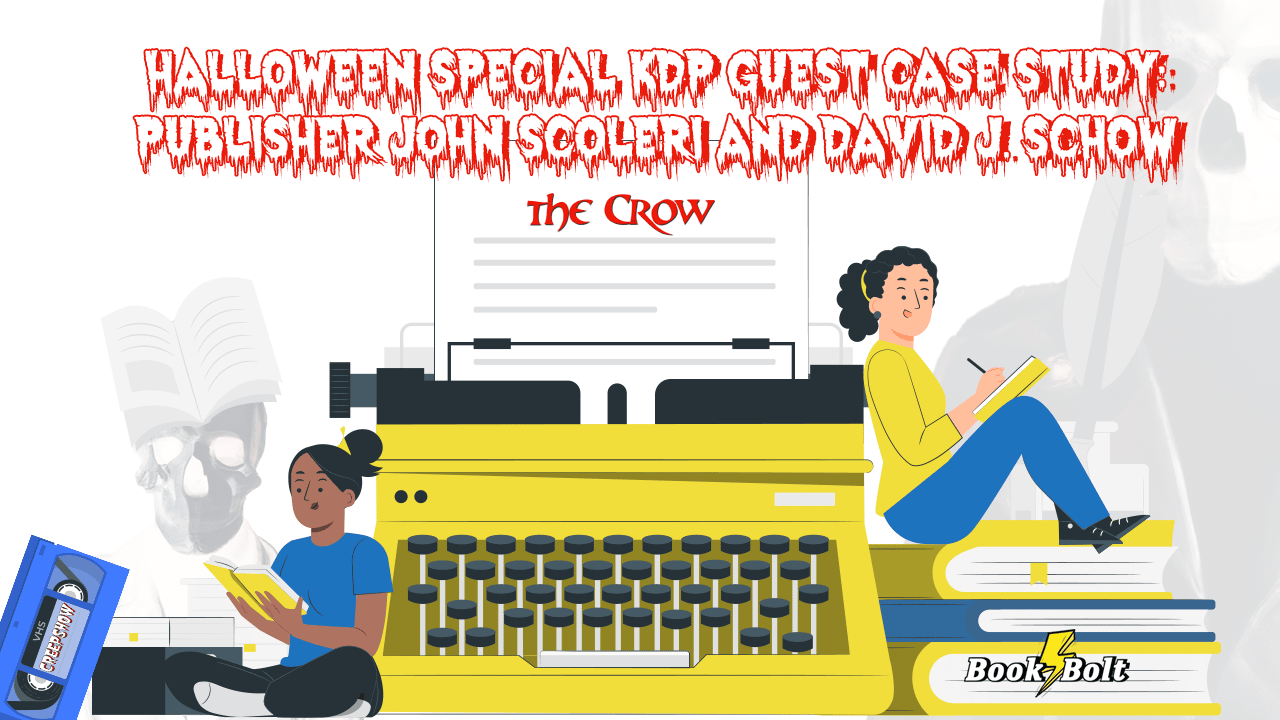 Halloween Special Guest Case Study: Publisher John Scoleri And David J Schow, Screenwriter, "The Crow", Producer, "Creepshow" TV Series
It's almost the end of Spooky Season! While we've been focusing on how to create seasonal KDP projects for low- or no- content books, we figured it was a good time of year to look at an appropriate example of people who thrive not only on scary stuff but rely on KDP.
When looking for the best platform to get your new writing out into the world, it would be tough to find a better one than Amazon KDP. Everyone can benefit from using this platform and many prominent publishers and authors are doing just that. Today, we speak to digital publisher JOHN SCOLERI, both about his own work in publishing and of publishing the work of author DAVID J. SCHOW. David is known among hardcore horror fans as a novelist, but his work has crossed over into the mainstream: screenwriter of the cult classic The Crow (1994) and producer of the current series continuation of the classic Creepshow anthology series, now streaming on the Shudder app.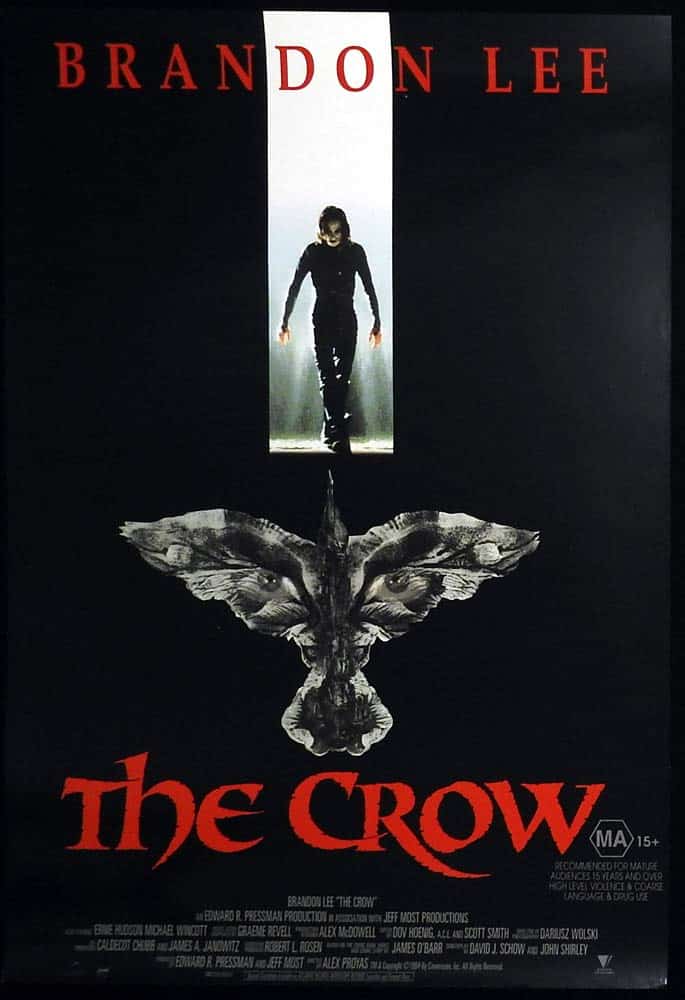 John Scoleri's favorite client DAVID J. SCHOW's well-known work
Even the Big Guys Have To Be "Hands On"
One of the things we like to know is how "hands on" the users of KDP get. When asked if he operates KDP himself or if an agent/tech person does it, Scoleri explained, "I'm pretty much a one-man shop. I build all of my books in Adobe InDesign, doing the layout and design work, and generate final PDFs, upload those to KDP, and manage any issues that arise throughout the submission process.
In the case of David's books in particular, he and I work very closely on design elements. Fortunately we have similar design sensibilities and share an appreciation for even the most minute details." And in terms of how he handles cover and interior design, he told us, "We have licensed and commissioned artwork in some cases, but the ultimate design is done internally."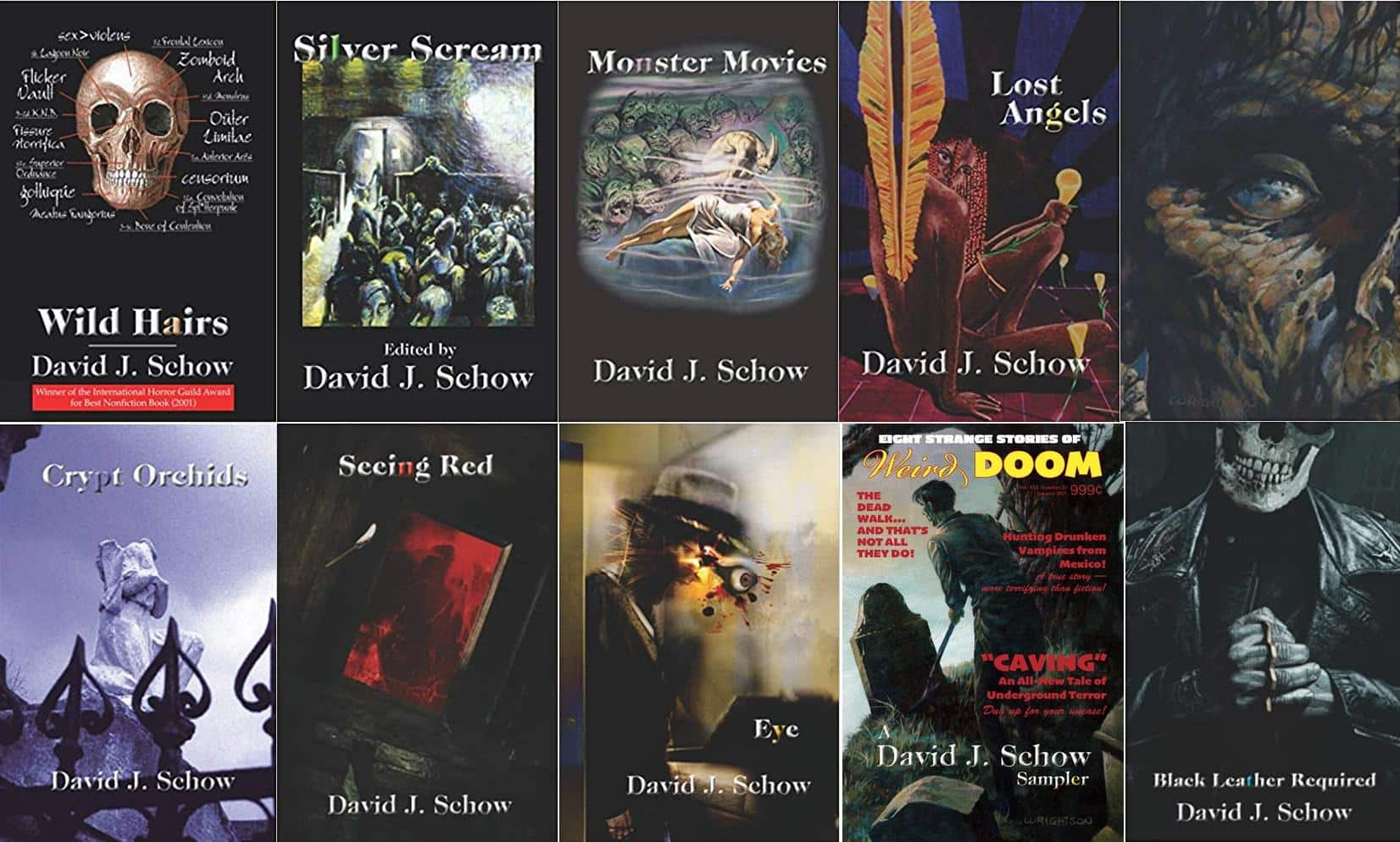 A popular topic today is exactly how to sell books, and where. "I wholesale to several accounts, most of which are online retailers or dealers that set up at shows, but also to a few brick and mortar stores, " he offered. "Prior to KDP, I had published magazines, fiction and non-fiction books, and high-end art books."
On Relationships with Writers
In working with many authors, John has extensive relationships with those he handles. "Since June of 2020, I have reprinted nine of David's books, published two originals (Monster Movies and Weird Doom), and have additional titles in the pipeline. I just published a collection of JOHN FARRIS's short stories, and earlier this year released a book of ROBERT COLBY's short stories. I am also currently working with R.C. MATHESON and DUANE SWIERCZYNSKI on short story collections. And I work with dozens of writers who contribute to our quarterly magazine, bare•bones."
"(The) base of readers who still prefer to hold a physical copy of a book in their hands, and hopefully who appreciate a nicely designed book," is what he told us when we asked who his target audience is. And on the topic of the most successful titles he's had to date from Schow, "Silver Scream, followed by Weird Doom, Zombie Jam, and Monster Movies. Of course those are also some of our earliest books, so they've been available the longest."
What Led A Publishing Veteran to KDP?
But the big question we wanted to ask was, for someone with such an extensive understanding of the print publishing industry, what exactly led him to KDP? "Having done traditional publishing, I was attracted to the opportunity to do be involved in the creative side of publishing again, without the overhead costs, physical space requirements, managing 100% of the order fulfillment, and the need to maintain an ongoing sales effort. The quality of POD had increased significantly in the last ten or so years and I saw an opportunity for authors, particularly those with backlist titles whose rights had reverted, to make books available in print again, at nominal costs. And the speed at which I can take a book from concept to on sale (7 days being a record) is mind-boggling."
And when asked what his overall opinion of KDP as it pertains to his work, and what are his future publishing plans for the next year, Scoleri explained his views in detail.
"Bottom line, the benefits far outweigh the costs. Are there limitations to the KDP process? Certainly. I am regularly butting up against the edge of their capabilities, and in some cases I'm constrained by their requirements (I have from time to time had to make design adjustments to fit within their guidelines — such as dealing with text placement or art bleeds in predetermined 'safe areas' — and recognize that there aren't people with whom you can negotiate design elements that don't fit within their requirements). And Amazon is a huge machine. I have no control over manufacturing quality or shipping methods. Now, they have been great about resolving issues when I point them out (be it print quality or copies damaged in shipping), but I would love to see them continue to improve upon quality control across the board. Because when they do them correctly, the books can look just as good as anything from a major publisher. And I also have enough experience to know that using an offset press is no guarantee of consistent quality either.
"I have about a dozen projects in mind for the next year, but can see doing more as opportunities arise. I imagine there will be a point in time where the number of projects on my plate may restrict my throughput, but this is not my day job, and the biggest thing throttling my output is having all of the necessary assets in hand to assemble a title."

How to Become a Horror Publisher
"I got a job working in a chain bookstore when I was in high school. I was a big horror fan, and I somehow convinced my manager to let me try out a horror section in our store," he told us when asked about the start of his journey in this career. "I sent out a xeroxed monthly newsletter, and was special ordering stock that the chain stores didn't normally carry. The monthly sales in the store regularly had horror titles in the top ten of sales. I contacted publishers and organized special promotions and in-store signings. I reached out to authors and was able to offer my customers signed bookplates from all of the major US and UK horror writers in the 80s (including one David J. Schow).
"Among my customers, many of whom I befriended and still know to this day — 35 years later — was PETER ENFANTINO, who had just published the first issue of a small press horror magazine, The Scream Factory. I was invited to contribute, and in short order was made one of the co-editors of the magazine. In addition to the magazine, we published several limited-edition hardcovers, including RICHARD LAYMON's first collection, A Good Secret Place, and his highly sought-after writer's guide/memoir, A Writer's Tale. The fun ultimately was overcome by the burdens (learning that successful nationwide newsstand distribution could kill a small press, having to constantly badger stores and wholesale accounts for payment, dealing with boxes of unsold product), so we called it quits.
But we quickly rebounded with what we thought would be a more manageable endeavor — a saddle-stitched, Xeroxed fanzine. We put out several issues over several years before finally running out of steam (only because our efforts were only resulting in sales of a small number of copies, and we weren't interested in knocking on doors to try and get people to order a few copies here and there, and again have to chase them down to pay us).
"I was out of publishing for a number of years, until an opportunity arose to pursue a project with another friend of mine. We had gotten to know artist RALPH McQUARRIE, and were somehow able to convince Lucasfilm to license his Star Wars art for a 400-page coffee-table book that would focus on his entire career. I naively thought I could rely on my prior publishing experience, which I'm thankful for, because had I known the challenges doing an oversize book (in trim size, page count AND weight), I might have run screaming before we started. But the book was a success, and launching that publishing company (Dreams and Visions Press) allowed us to do several more similar books over the next few years. I'm currently working on a book under the D&V imprint that will be an offset printed book. It's another passion project for me — a fully licensed photographic retrospective of the film Night of the Living Dead.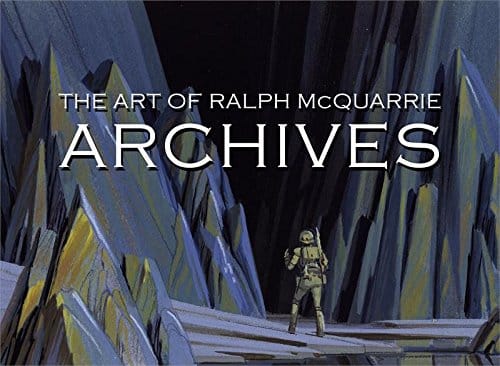 Learning Publishing Through KDP
"Getting back into the publishing game had gotten my creative juices flowing, and I began looking for another book project to do. I came close to doing a book with David that ended up selling to a New York publisher, and shortly after that my nephew, who wasn't quite 18 at the time, published a well-researched family history book through Amazon (at the time CreateSpace). When I saw the capabilities, I thought there was a great opportunity for authors like David, who were sitting on their backlist which was out of print in paperback. I made a similar pitch to R.C. Matheson, and it was at this point that I realized that if I were going to continue to evangelize this Amazon (now KDP) platform, I needed to be familiar with the end-to-end process. I decided, as a test, to publish a best-of collection of our magazine, bare•bones. I paid my authors (who had originally contributed merely for contributor copies), and designed the book. And the darn thing sold. And continues to sell. As soon as we saw the first physical proofs, my co-editor Peter and I decided we were going to re-launch the magazine.
I was able to pull David in as a regular contributor, and I think he realized the opportunity that lie before us. We decided to reprint his non-fiction collection, Wild Hairs, as we had a workable PDF from a prior POD release that we were able to manipulate. We then set our sights on Silver Scream, which was a bit more challenging as it had been prepped, but never reprinted, and it involved contacting all of the authors and getting their permissions to reprint their stories.
By the time we were hip-deep on that book, we decided to follow that up with an original collection, which was Monster Movies. By this point, we got into a rhythm, and were almost getting a new book out a month until we hit a bit of a slowdown to allow David to recover from open heart surgery! There are a lot of interesting things that have happened along the way, but that pretty much brings us up to date."
Advice on Becoming a Digital Publishing Mogul
As no interview would be complete without asking what advice he would give beginning writer/publishers who may still believe that they need to go through the old gatekeeping system in order to get published, he gifted us with these insights, "First thing I'd recommend is learning to use tools like InDesign. Second, develop an understanding of book design — at the very least by looking at books you like, and getting a sense of how they're laid out, the font and size used, the layout of headers and footers (and where they are used/not used), any other ornamentation that appears throughout he books.
"I think we have also been successful because we are continually releasing new product. Those Amazon algorithms that say things like, "Customers who bought X also bought Y" can serve you well. If you release a single item into the Amazon ecosystem, one can easily see how it might get lost in the shuffle."
He then went on to add that, "Much of my satisfaction comes from picking projects to work on that I am passionate about. That keeps it from becoming 'a job.' I'm publishing books that I would buy if someone else were publishing them. And I have the freedom to pursue any project I find interesting, whether or not it aligns with the other titles I've done. "
David's Experience With KDP
We also got to speak directly with David J. Schow for part of this article, and he gave us further explanation into their process, and what benefits he sees as unique to the KDP method. "I could never have done this without a middleman per se, and that's where John Scoleri and Cimarron Street come in.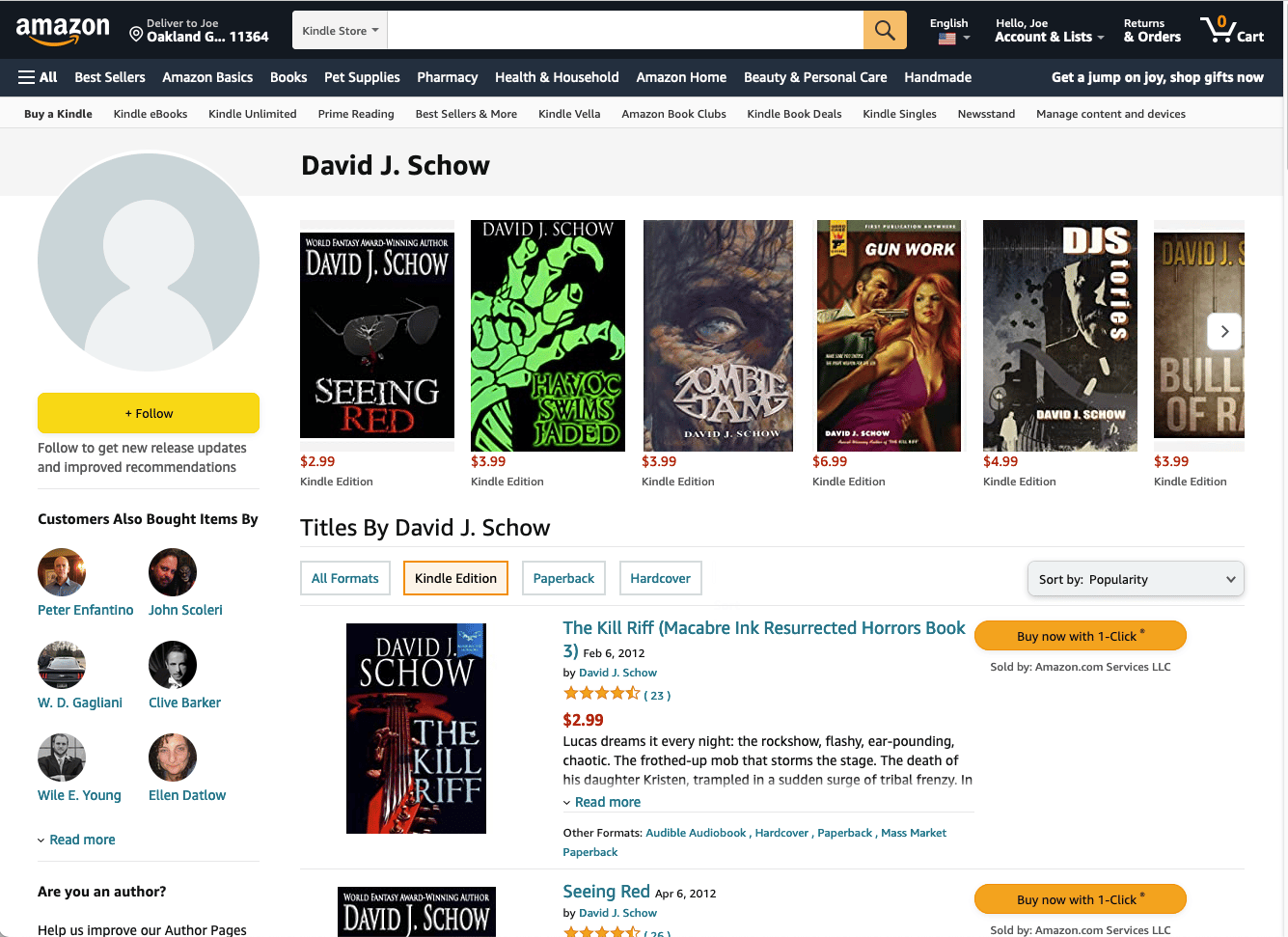 "We design the hell out of our books (and) we did ten titles in about a year and change. Goal: to get a foothold on Amazon's algorithm. And since we started in May 2020, the books have earned out and started generating a modest profit (it takes three months or more just to warm THAT engine up, and a lot of people don't have the stamina), and they're all beginning to link to each other whenever someone clicks on one of our titles at Amazon. We have (also) developed a smoothly-operating system that can deal with the production speedbumps frequently generated by Amazon themselves, and are such frequent users that we are familiar faces to them when it comes to difficulties or indeed, changes. Two examples:
"(1) I spelled a friend's name wrong in one book. Within three days we had a corrected version of the book in her hands, and that book is the version all future buyers will see, too.
"(2) Another friend with terminal cancer. I was able to alter the dedication line of a book to include him, and thanks to the speed with which we were able to do this, he got to see a signed copy before he died."
That ease of use and immediate changes from concept to physical copy is something that only this form of publishing can provide. We thank both of these people for their wonderful insights into the high-levels of using Amazon KDP and their unique workflow process.