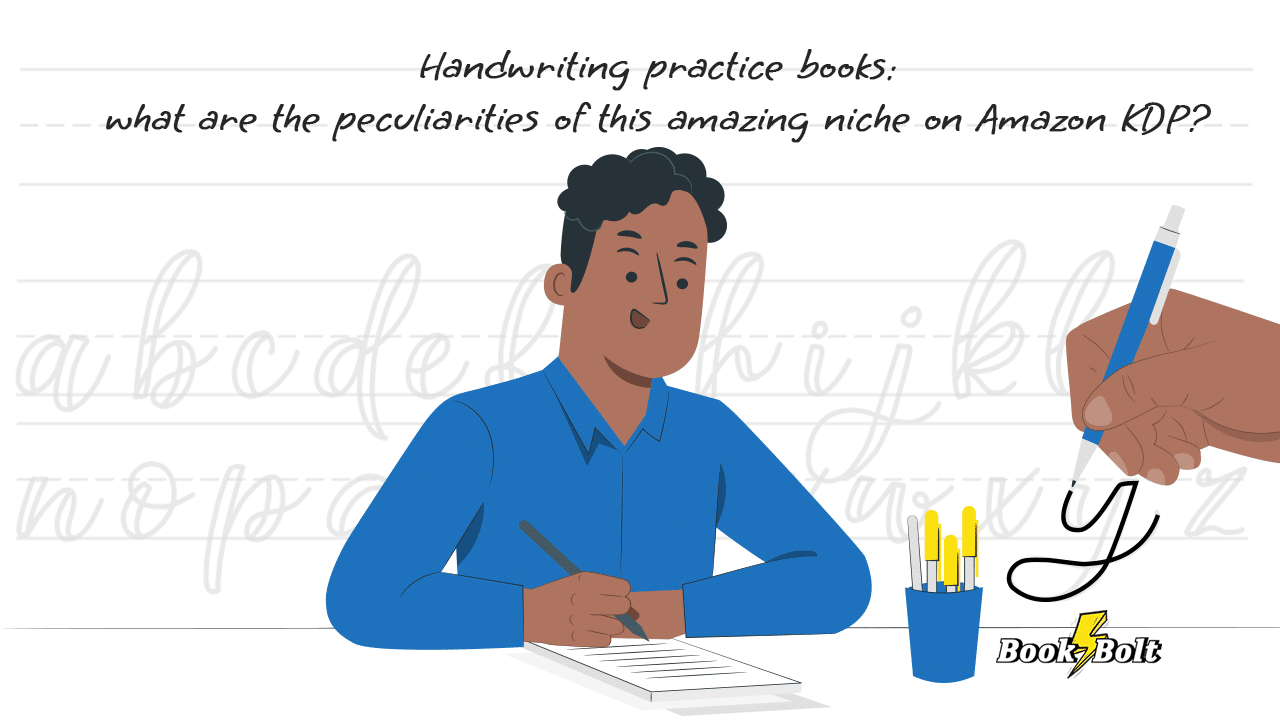 Amazon KDP sellers will not be wrong to assume that handwriting practice books are for toddlers, young children, and preschoolers. But the world of handwriting is actually much bigger than that.
And with Book Bolt's help, we were able to determine that this particular niche is not only quite broad, but profitable, too. So, how did we do this and what are the key takeaways you need to know about?
This article explores the answers to these questions and more.
How big is the market for handwriting practice POD books?
A refined search for books on Amazon.com for the keywords "handwriting practice" yields over 60,000 results. Although this may seem like a lot, it's important to look at the whole picture before you decide that there's just too much competition for you to surmount.

With the help of Book Bolt, we conducted the exact same search and found that the average best-sellers rank (BSR) for this search query is a low 974,221. There's also quite a bit of variety within this niche that you can explore to offer your audience something unique.
With this in mind, we performed a general overview of the top performers in this niche to see what micro-niches you can enter and what their potential levels of profitability are.
An overview of the handwriting practice niche
The broad category of handwriting practice books can be divided into several micro-niches, which include, but are not limited to:
Handwriting practice books for young children, toddlers, and preschoolers
Handwriting practice books for adults
Cursive and calligraphy handwriting practice books
Handwriting practice books for braille
Handwriting practice books for foreign languages
Bible and scripture handwriting practice books
There are some interesting observations to be made here. Right off the bat, we can conclude that the niche is incredibly diverse. Second, we can see that children and teens are not the primary focus of the niche, or at least not the only one.
Foreign languages are prolific, as are practices such as calligraphy and cursive handwriting, both of which are more of an adult rather than a child's skill.

This means that the niche has at least several avenues of approach that can be exploited by intrepid sellers.
Keywords and search volume
So now that we know that you can create hundreds or even thousands of no- and low-content books in this niche, we have to ask "how".
The best way to determine that is to dissect the most commonly used keywords in the space. This will give us an idea of what potential buyers are looking for, and therefore, what sellers should be offering.
And since earlier we've uncovered so many sub-niches, we will categorize our findings according to them.
Handwriting practice books for children
"Pre handwriting practice": search volume – 18,443
"Handwriting practice for kids": search volume – 18,423
"Handwriting kids practice": search volume – 18,250
"ABC handwriting practice": search volume – 18,123
"Alphabet handwriting practice": search volume – 2,537
"Child handwriting practice": search volume – 2,110
"Preschool handwriting practice": search volume – 1,825
Adult handwriting practice books
"Adult handwriting practice": search volume – 2,111
"Small handwriting practice": search volume – 2,073
"Practice handwriting": search volume – 1,958
"Cursive handwriting practice": search volume – 1,049
Handwritings books for specific languages
"Arabic handwriting practice": search volume – 3,275
"English handwriting practice": search volume – 2,538
Bible and scripture handwriting practice books
"Scripture handwriting practice": search volume – 1,796
"Handwriting practice Bible": search volume – 1,029
Handwriting practice books according to exercise
"Blank handwriting practice": search volume – 3,268
"Sentence handwriting practice": search volume – 2,578
"Number handwriting practice": search volume – 2,577
Handwriting practice books according to type of book
"Handwriting practice notebooks": search volume – 1,053
"Handwriting practice with grooves": search volume – 1,045
"Handwriting practice sheets": search volume – 1,045
"Handwriting practice journal": search volume – 1,034
"Handwriting practice notebook": search volume – 1,032
From the above, we can deduce a few important observations. Firstly, the search volume for this niche is astonishingly high. The quantitative interest in these types of books exceeds 100,000 searches per month.
Secondly, the greatest search volume is centered around kids' handwriting practice followed by adults. All remaining categories should be considered micro niches.
Finally, the diversity of this niche warrants further individual research. We do not say this often, but this niche appears so large that we would not recommend entering it without doing a bit of research on your own.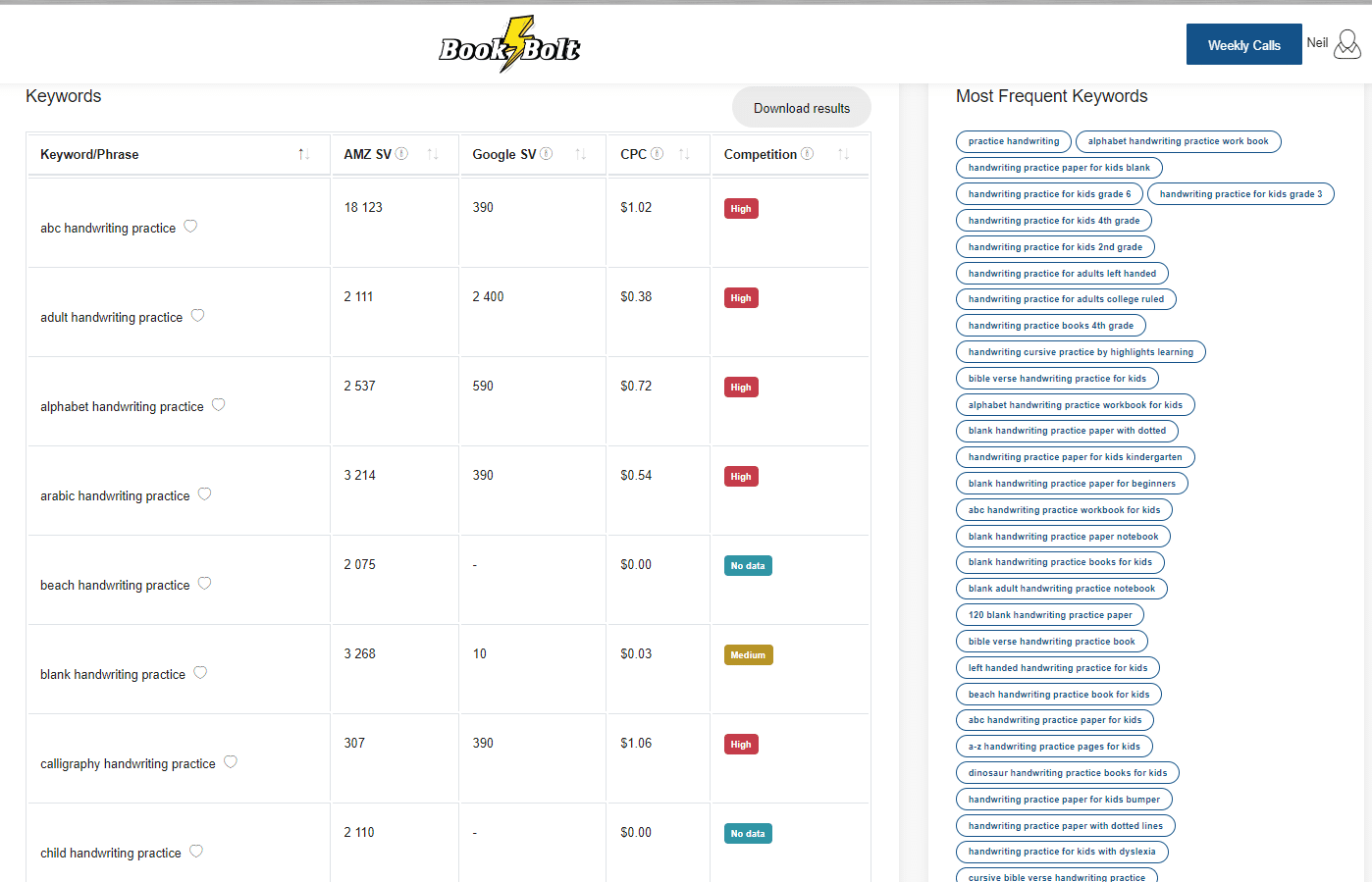 Keyword saturation
Next, it's crucial to see what the competition is doing to get in front of an audience. This is why we also explored the keyword saturation metric, which looks at how many times a given keyword appears in a listing's title and description.
The results, thanks to Book Bolt, indicate the following:
Handwriting (198)
Practice (180)
Notebook (106)
Paper (97)
Kids (61)
Pages (44)
Blank (41)
Writing (38)
Dotted (38)
Lined (33)
Workbook (26)
Adults (24)
Book (23)
Kindergarten (22)
Cursive (18)
This short list confirms our initial findings. However, what we see here is that sellers put great emphasis on describing the contents of their product. This is evidenced by the relatively big saturation of keywords such as "blank", "dotted", lined", etc.
It would therefore be beneficial to include both the purpose of the book (for adults, for kids, for foreign languages, etc.), as well as its contents (lined, dotted, etc.) in the title and description of the listing.
Pricing
Last, but not least, we were able to uncover the pricing strategies used by sellers in the handwriting practice niche.
According to Book Bolt, the lowest price in the space is $3.90, the highest price is $14.99, and the average price hovers around the $6.78-mark.
What are some of the best-selling merchants doing right?
Next, we turn our attention to the bestsellers.
The first on our list is Kidoz Activitzy with their book titled "Letter Tracing Book For Kids Ages 3-5: Learn To Write Letters Workbook For Preschoolers 3-5 Year Old Learning Activities Alphabet Handwriting Practice … & Girls (Handwriting Practice Collection)". This item is priced at $4.99 (a bit under the average) but it also has a low BSR of only 16,581. It has made 353 sales while generating 338 ratings.

The second bestseller is Creative_Kids_Inc with the product title "Handwriting Practice Paper for Kids: Bumper 200-Page Dotted Line Notebook (Handwriting Practice Paper Notebook / Blank Handwriting Practice Books For Kids)". This item sells for $9.00 and has an even lower BSR of 9,198. It has made 404 sales and has amassed a whopping 1,959 ratings.

Keyword usage
What becomes apparent from both bestsellers' keyword usage in their titles is that there is no keyword stuffing. Instead, they smoothly integrate important keywords such as "dotted line", "notebook", "handwriting practice paper", "alphabet handwriting practice", "preschoolers", "for kids", and many others.
As demonstrated by the search volume and keyword saturation above, these are essential keywords that sellers must use to be successful.
Pricing
There is quite a bit of variation around the pricing. The first bestseller has opted to go under the average mark, while the second bestseller has opted to price above it.
Irrespective of this, pricing near or around the average is the sweet spot in most cases and is an important strategy to follow.
Cover design
Finally it's also worthwhile to discuss the targeting strategies employed by these bestsellers. They can be discerned by looking at the product's cover in combination with the title.
Even though both are targeting children, the buyer is also kept in mind. For example, although both books will most certainly be purchased by adults for their children, the first bestseller's cover is aimed at children specifically with a cutesy robot on the cover.
Meanwhile, the second bestseller mentioned above is directly appealing to value for money on the part of the parent buying the book. This is done by signaling that the book is a "bumper 200 pager".
This presents you with two bestselling options. One is to target the kid who will use the book. The other is to target the parent who will buy it. Both strategies can work, although they do require different incentives. Value for money when it comes to parents and appealing cover when it comes to kids.
What is the profitability within this niche?
To determine the profitability within this niche, we headed over to Amazon KDP's royalties calculator. There, we were able to work out the royalties earned per book given the type of and its total number of pages.
For the first seller mentioned above, we have 353 sales at royalties of $0.84 per book. This gives us profitability of around $296.52.
We used the same approach for the next bestseller and calculated 404 sales multiplied by $2.15 in royalties. The associated levels of profitability here are a nice and tidy figure of $868.60.
Overall, if you are thinking of entering this niche by successfully executing your listing optimization strategy, you can expect to achieve profitability of a few hundred dollars reaching or even exceeding the $1,000-mark.
Our recommendations
If you are a seller who would like to enter the handwriting practice niche, we recommend the following steps:
Decide which sub- or micro niche to enter. Our advice is to go for children's books with a focus on lined notebooks aimed at alphabet writing practice.
Create a cover design with whimsical elements clearly focused on children
Optimize the listing with value for money in mind. This means offering something for the parent, while describing exactly what the product aims to do (type of practice) and how (contents)
Price just below the average – somewhere between $6.50 and $6.75.
Consider utilizing Amazon Advertising to carve a stake in the market, since it's quite competitive.
Final remarks
There's a lot to be said about handwriting practice books – irrespective of the audience you are targeting.
But how could we even begin to unravel a niche as large and as intricate as this? It's all thanks to Book Bolt. It not only gave us the necessary keyword insights, it also allowed us to check the competition, pricing and even design strategies of the top performers in the niche.
All of this information can be at your fingertips, too. And for only $9.99 per month, it's a no-brainer, indeed.