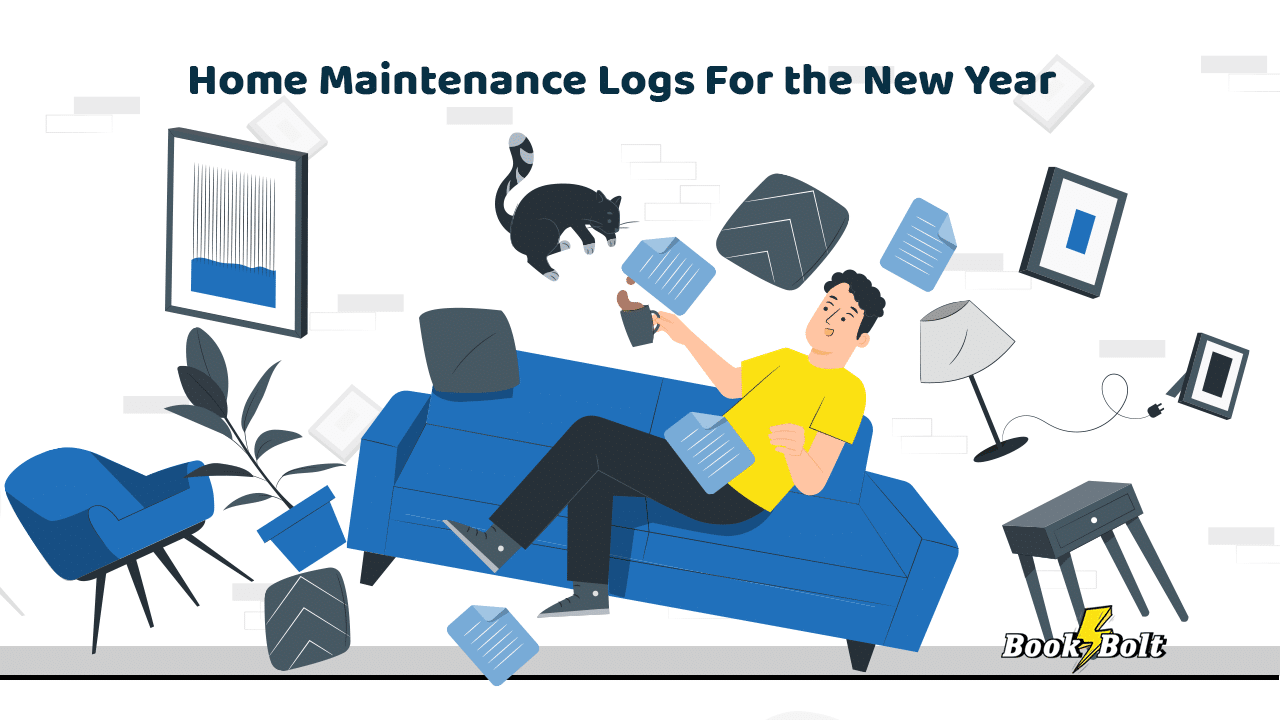 While it may not be the most glamorous of topics, getting organized to handle household maintenance tasks is something every homeowner needs to do. There's just no way around it.
As someone who sells through KDP (or is looking to), how can we profit off this common need? Do you want to discover why homeowners absolutely need a home maintenance planner? To keep their house in peak condition, do they need assistance with a home maintenance schedule?
In the world of zero-low-content books, this is an underserved niche.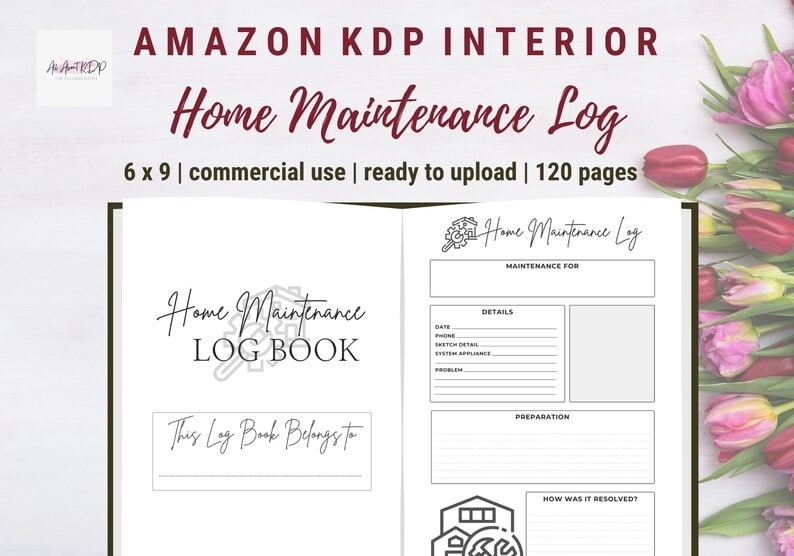 It's Good for Saving Money
Yes, owning a home is fantastic, but it can also be very expensive.
For most people, it's the most costly thing they are ever likely to purchase in their entire lives. To maintain the condition of that investment, it is crucial to do routine maintenance. To keep track of a home maintenance checklist, calendar, contacts for home repairs, and more, try using a home maintenance planner. Or in our case, produce one for people to buy from us through KDP and use. And what better tool than a home maintenance planner to keep track of all of your home maintenance schedules, receipts, and warranties.
Ultimately, the power in something like this is that everyone can save money by using a home maintenance planner. If you neglect to winterize the faucets outside you run the risk of burst pipes. Gutter cleaning forgotten? That would be an easy cause of mold to start spreading in your basement right now. Have they forgotten to replace the air filters on the air conditioners? Now that they aren't operating as efficiently, the electric bill will go higher to compensate for that. To avoid having major, expensive problems, keeping a home maintenance planner with an appropriate maintenance schedule can serve as a reminder to carry out small house care tasks.
It's Good for Uncle Sam and Future Buyers
Other financial benefits can come from tax breaks, and you need records to prove such things.
To provide the IRS with this proof, you must have your maintenance service receipts. However, if you have a well-organized home maintenance planner, you may refer to all of your receipts there. It's also a great way to keep track of all the material goods they have (or will put) into their homes. Thus, the resale value of the house will benefit from a home maintenance planner.
All of the information on appliance warranties, servicing bills, appliance instruction manuals, etc., can be kept in such a planner. Potential buyers seek assurances that they won't soon need to deal with termites or repair a key appliance, so extermination and repair records are a huge plus. Therefore, having a home maintenance planner filled with evidence that you completed the required maintenance can be a huge asset when it comes time to sell your house.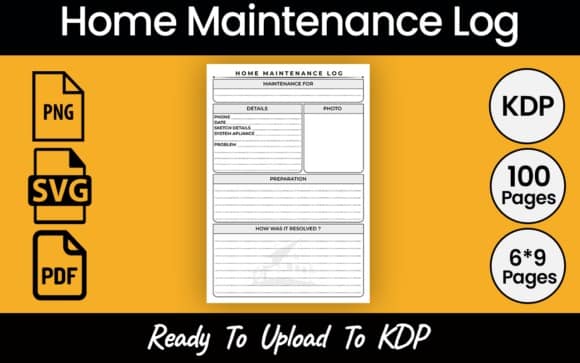 What To Include in a Typical Home Maintenance Planner
But what should a home maintenance planner contain now that you understand some of the benefits? The following are some ideas to get you started on developing a great planner for this purpose.
You can include areas to mark down the dates they check the detectors for smoke and carbon monoxide, and when the batteries are changed out.
Simple to-do things like running water and flushing toilets in rarely used bathrooms.
Check the basement and crawlspace for water leaks or other moisture issues, and then examine and fix the caulk in the bathrooms and kitchen.
Another good thing to check is how many electrical devices are on each outlet or power strip; these things tend to take over our lives and we forget about them as we keep adding more chargers, more devices, more adapters, and the list goes on and on.
Also include things that are maybe done annually: clearing the lint from the dryer vent, checking the attic to make sure wildlife hasn't gotten in to nest for the winter, having a pro check your chimney for flammable buildup (do not do this yourself, hire a professional), examining siding, windows, and decking, and looking for leaks or broken shingles on the roof.
There can also be other things, not exact maintenance-related but still important to keep track of. When planning what to include in your product, you can think of the things you'd like to keep track of personally as those needs can be universal.
Many of us have gone to a retail store to buy paint, but how often do we keep the color swatches after we are done? To avoid trying in vain to re-produce the exact color you chose three years ago, a planner can keep all that sort of info so if you need more, you can get the exact thing.
The same goes for style and brand of electrical outlet and switches you've installed (if you are someone with that knowledge). What color and style of tiles were used for your bathroom? What type and design of crown or rail moldings did you pick or have installed? What print run of wallpaper was used in the new bedroom (that seriously does matter, as ink runs are sometimes different from batch to batch). Styles and types change, and keeping track of these kinds of things can be beyond useful.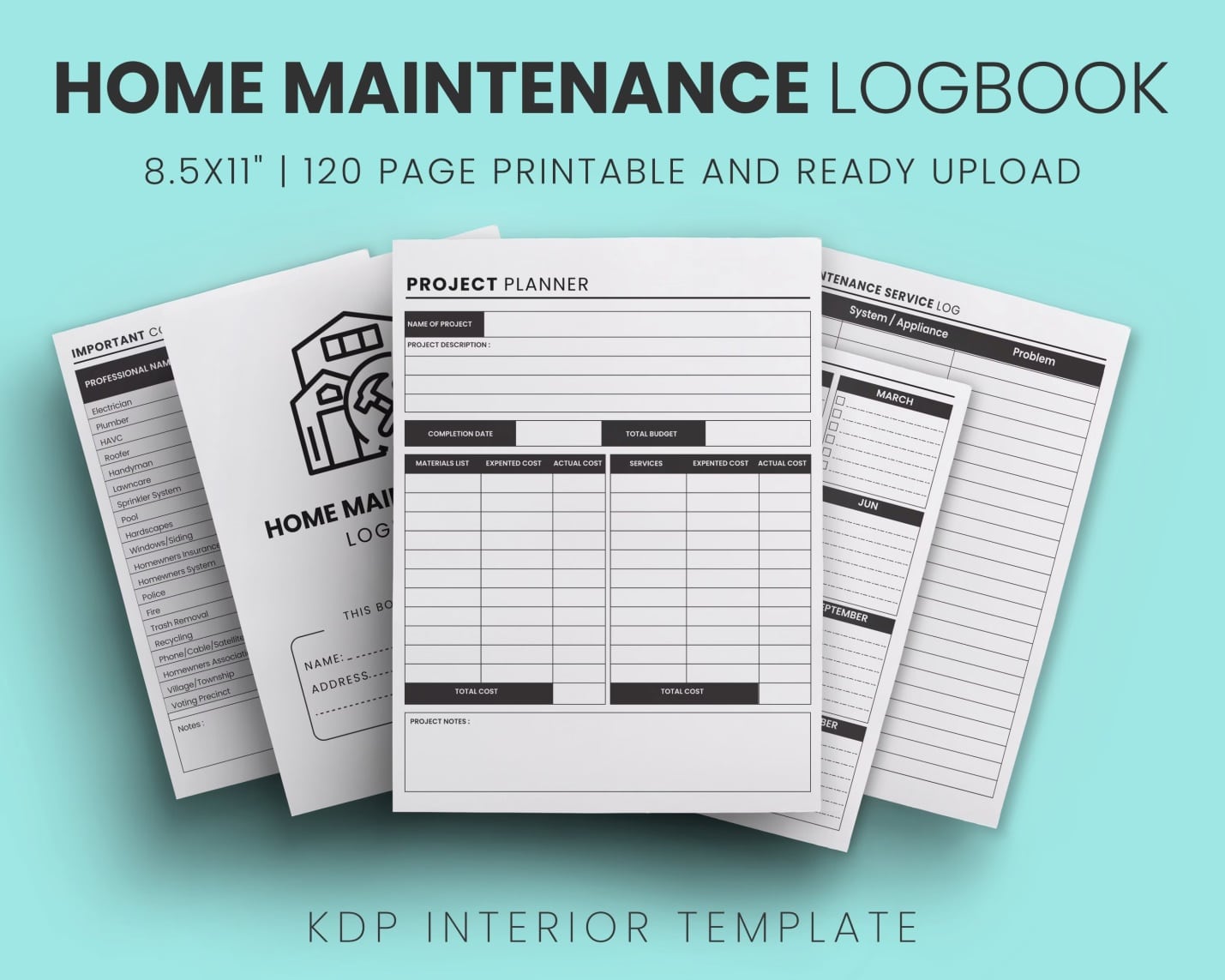 A well-thought-out home maintenance planner should also include a place to keep a list of all of the chosen maintenance providers so that the user can always know who to call when an issue arises. If the owner likes the work a particular provider does, they need to look no further and just enter the info into the planner.
Conversely, this is also useful if they need to challenge an invoice, and remind them to log all work orders and receipts. Anyone who has dealt with home repairs and construction professionals knows that these issues can and do pop up sometimes. It's always best to be prepared to the fullest when they do.
As you can see, maintaining a home can be time-consuming and frustrating. However, neglecting appropriate house maintenance might result in even more trouble. A well-designed planner can be the very thing a homeowner needs to take care of everything from the start, in the best way possible.