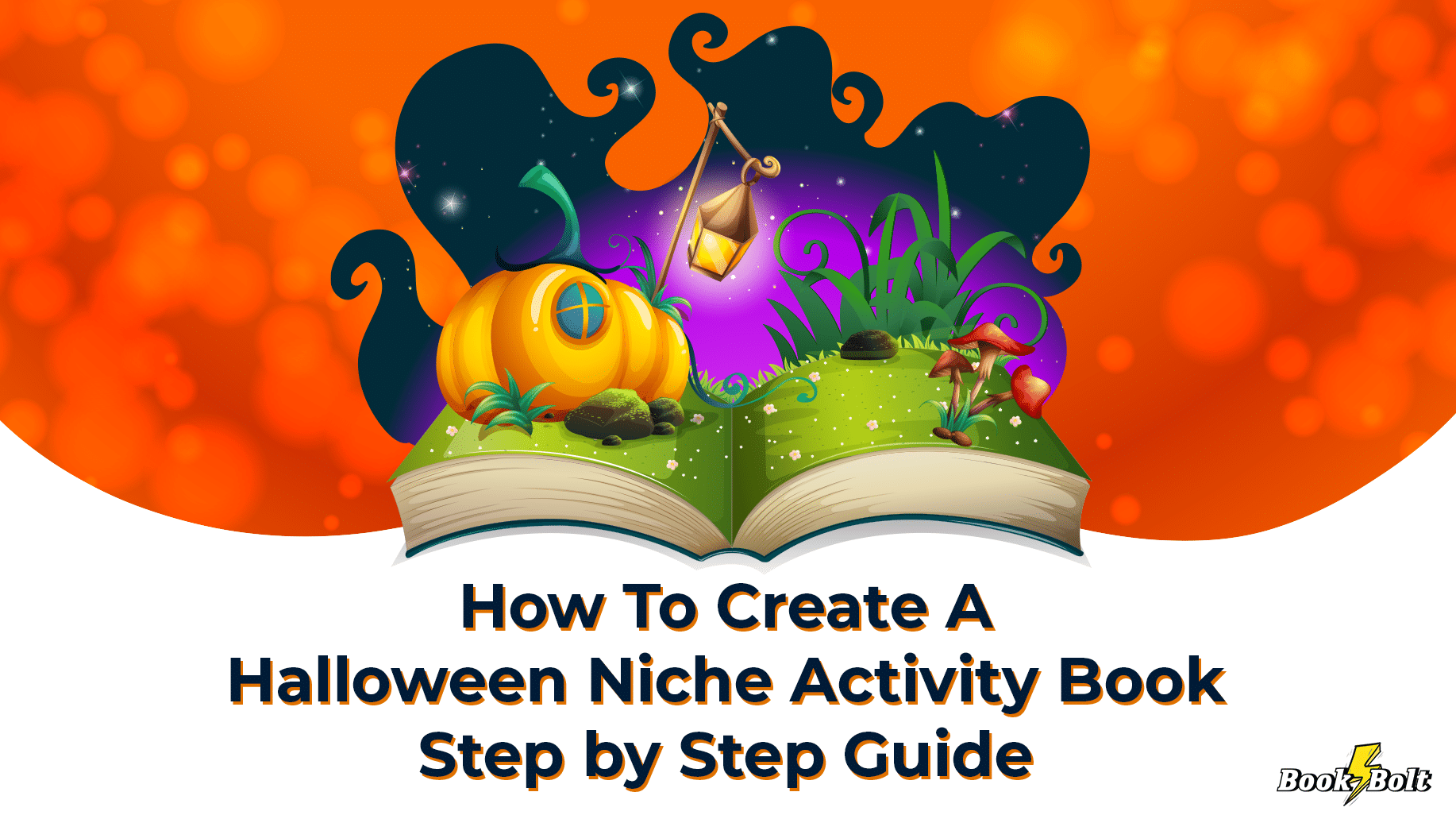 Halloween is just around the corner, and now is a great time to start creating and publishing some spooky books. There's a variety of book types that do well on Halloween with coloring books being the most popular, and Halloween themed activity books being right after them.
Book Bolt subscribers that have a Pro subscription have access to Puzzle Interiors through the Book Bolt Studio.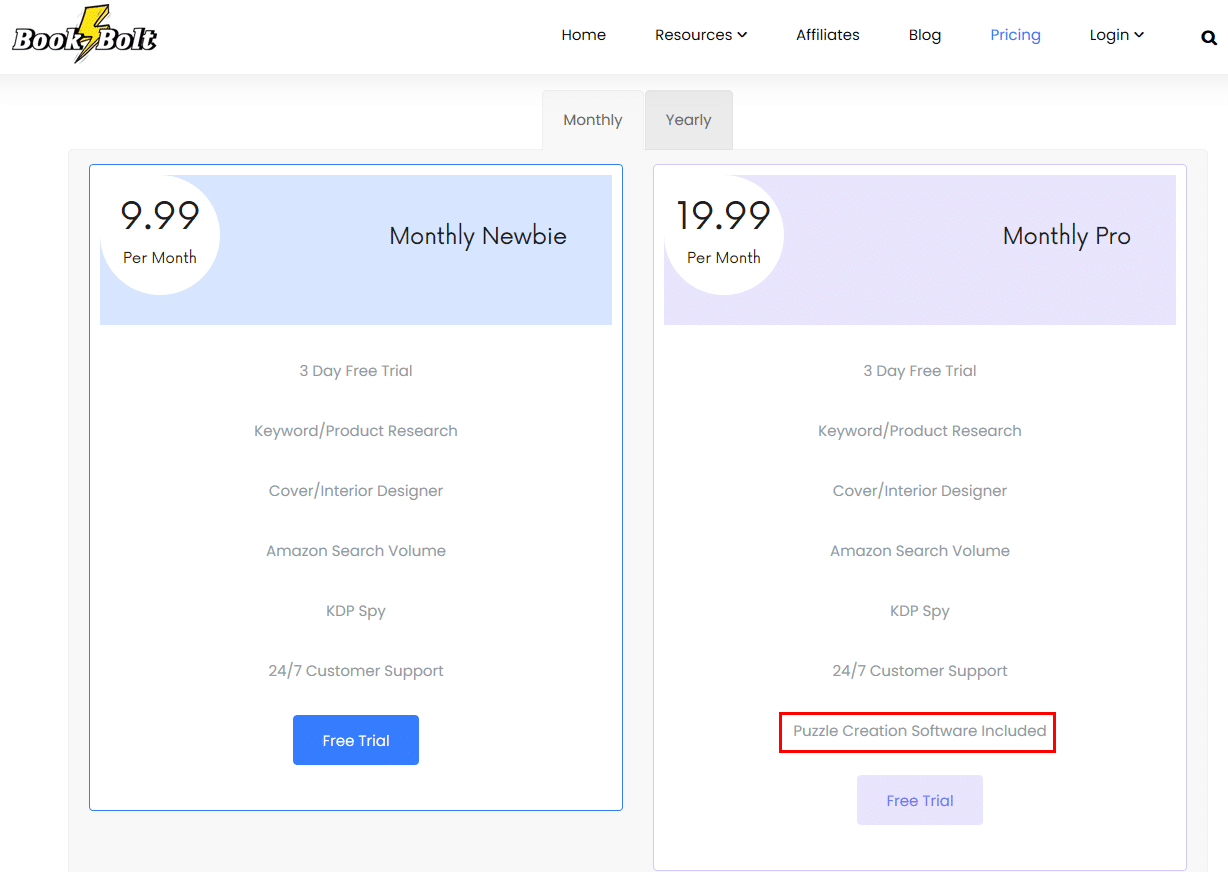 If you don't have a Book Bolt Pro subscription yet, you can sign up by following this link.
Once you got access to Book Bolt and Puzzles inside of the Studio, we can continue with researching and creating our Halloween themed activity book.
Validating The Niche
Head to Amazon.com search for Halloween activity books and run KDP Spy on the results page: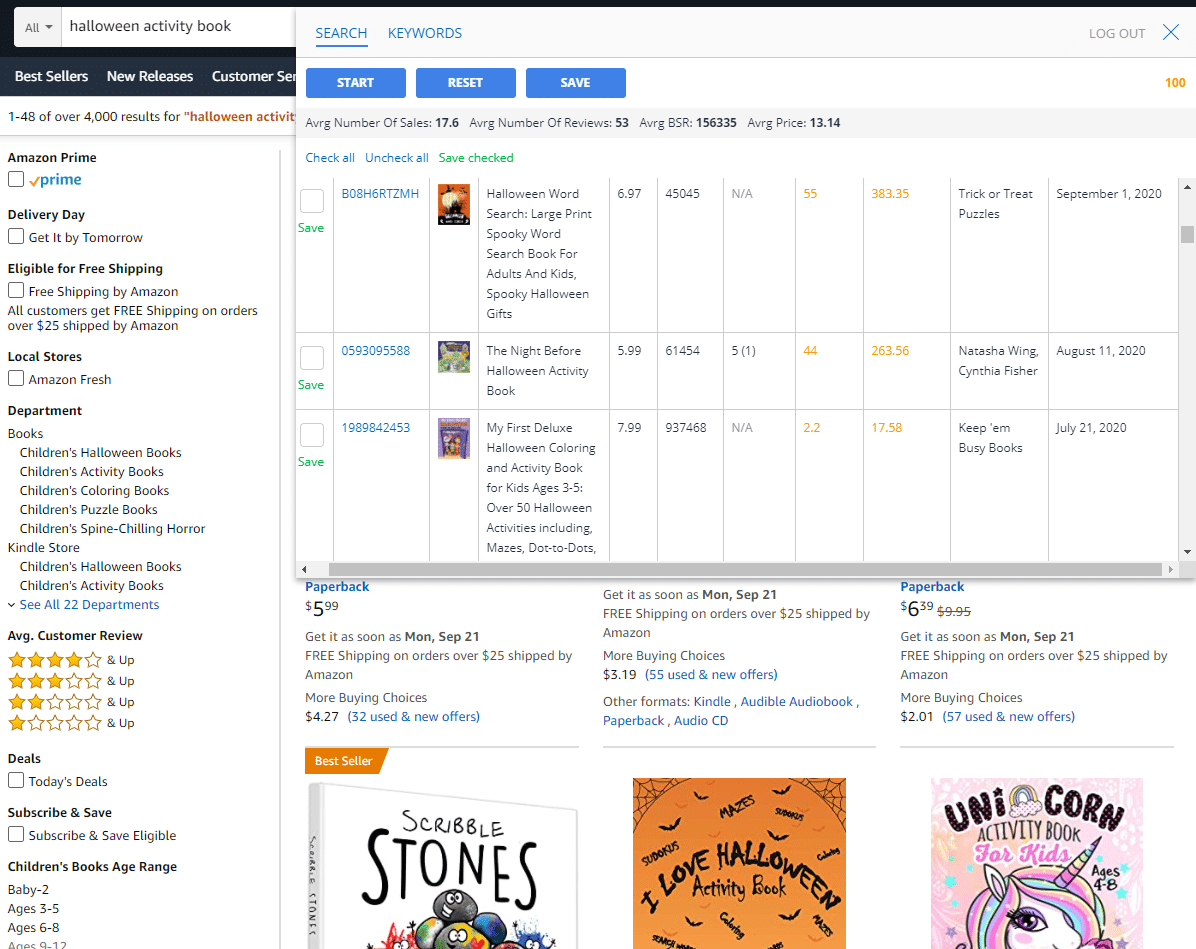 At first glance, we can see that the average BSR of the search results page is about 156k which means Halloween activity books have already started selling a lot. We can also see that the latest publication date of a book on this page is September 1st, 2020, which again validates that it's a niche on which you should hop on right away.
Planning Your Activity Book
Searching on Amazon and looking at the suggestions show that both kids activity books and adult activity books are searched for. So before you start creating your book, you have to decide if you are going to create a Halloween activity book for kids or adults.

Once you've decided on your target group, you need to decide about the content of your activity book. A Halloween activity book can contain mazes, sudoku, connect the dots, word search, crosswords, etc.
The easiest way to plan the content of your activity book would be to include all the puzzle types Book Bolt Studio offers. That way you have at hand all the tools you need and can start creating your Halloween activity book right away. Let's take a look at all the puzzle types the Studio has to offer: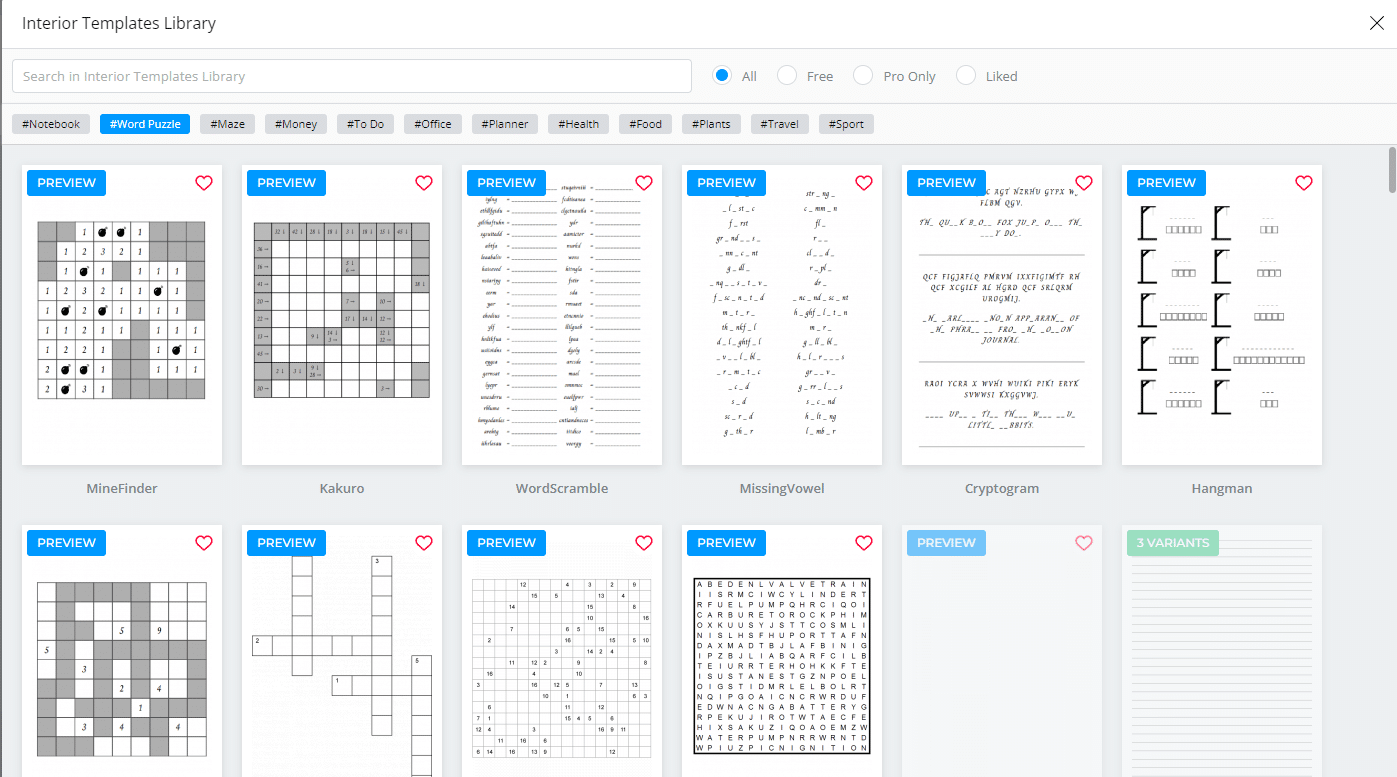 Right of the bat, we can see about 10 different puzzle types that would fit well in a Halloween activity book. So, without further ado, let's start creating your Halloween activity book.
1. Sudoku
Sudoku is a very popular puzzle among kids and adults since it comes in different difficulty levels and is also a great exercise for the brain. For this example, we are going to use three difficulty levels: very easy, easy and normal. Our activity book will contain 30 pages of sudoku puzzles, by having 10 pages of sudokus from each difficulty level.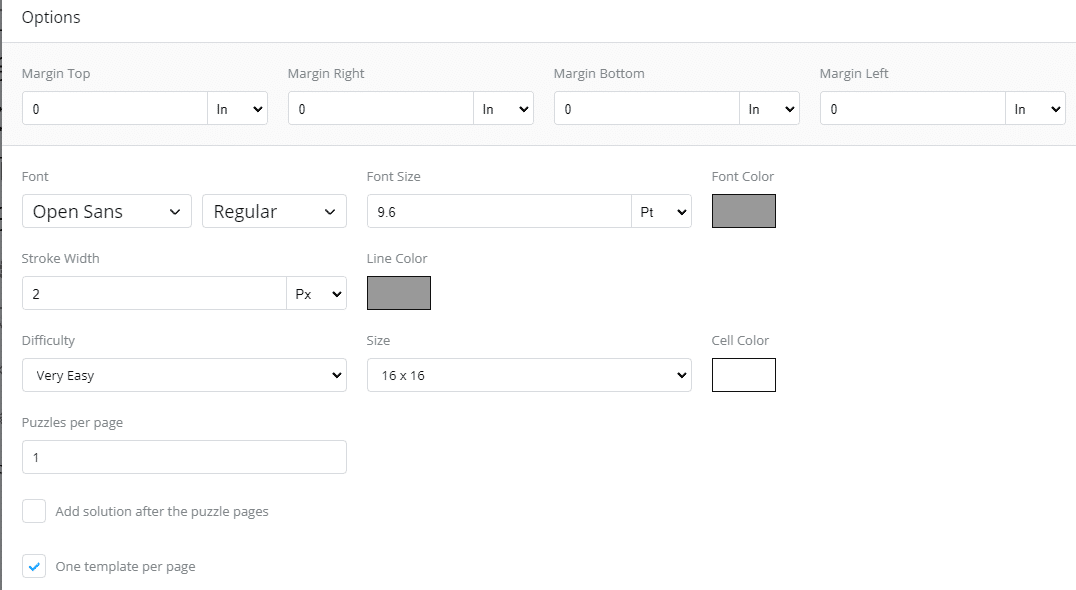 Open the generated PDF inside Photoshop and add Halloween elements to make it fit the niche better. Make sure to select Crop-To: Bleed Box so you can keep the correct page dimensions and margins: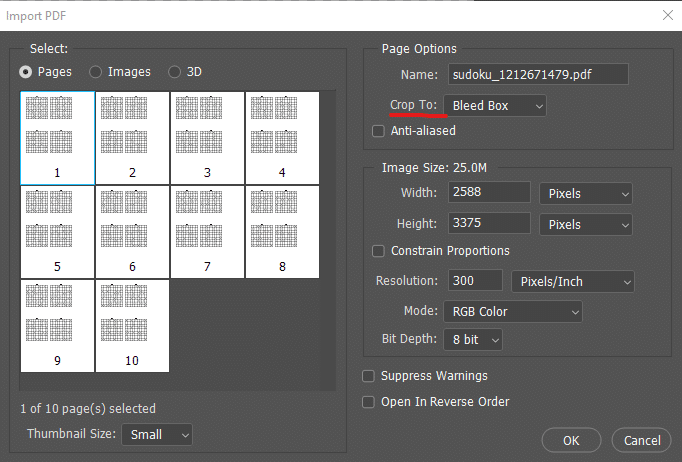 Get creative by decorating the pages in Halloween style, but don't add too many elements on one page to make it crowded. In the example below, we added a lot of elements just to give you an idea on what you can do to stylize the page with a Halloween look: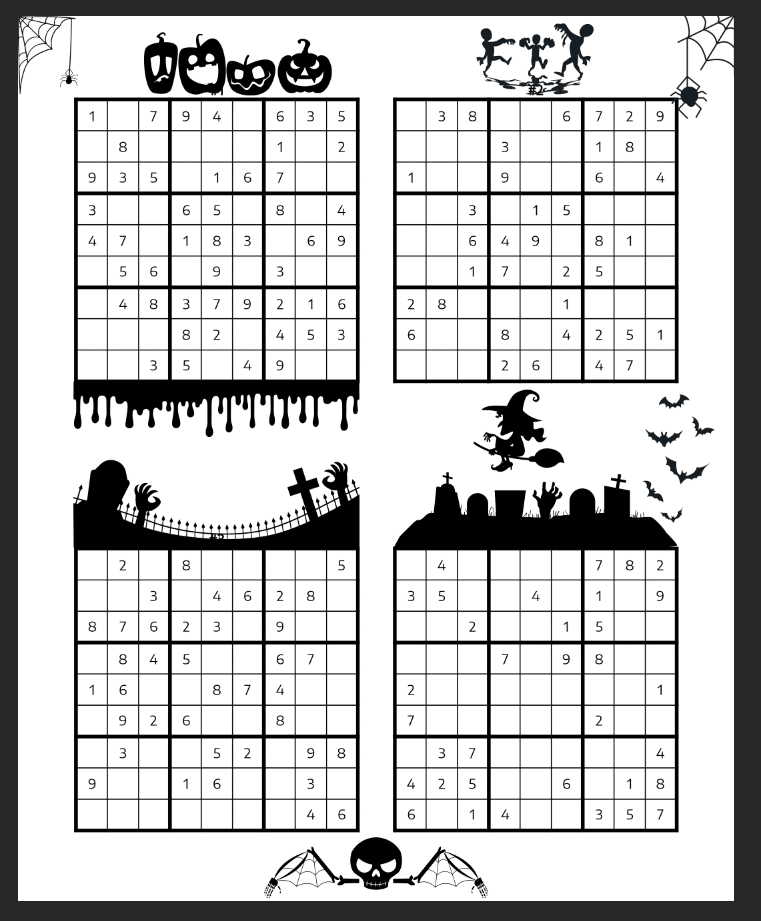 2. Crossword
Crossword is the next puzzle type in your activity book. We follow the same process by decorating the interior with Halloween elements, but since crosswords are about words, we can do two more things to make this puzzle type more Halloween themed:
Use a Halloween words vocabulary list
Use a font that matches the Halloween theme
You can find a Halloween word list just by doing a simple Google search, and for the font you can use one of the fonts the Book Bolt Studio offers. All the fonts available inside of the Studio are Google fonts and free for commercial use, so simply choose one from this list: https://fonts.googleblog.com/2011/10/scary-fonts-for-halloween.html
Here's the final result after following the instructions above: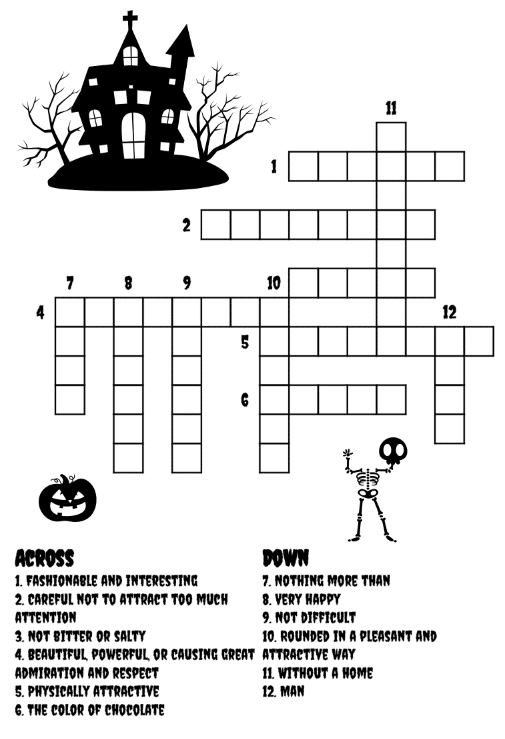 Keep in mind that the algorithm for generating crosswords has to actually have words that have a combination possibility with each-other. To ensure the puzzle uses only words that you feed it, make sure to have 10-15 extra words for each word you want to be included. That way you increase the probability of possible combinations.
3. Word Search
Word search is another puzzle type that is made of – you guessed it – words! This means we can use the two tips from the previous puzzle type and apply them to our word search puzzle by using words from the Halloween vocabulary and a scary Halloween font. After adding some Halloween elements, this is how your page would look like: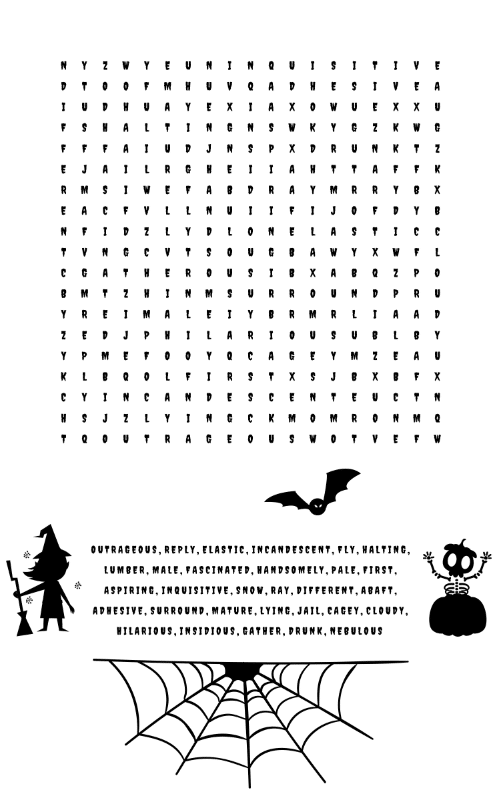 The same thing applies to the word search algorithm, so make sure to have 10-15 extra words for each word you want to be included. That way you increase the probability of possible combinations.
4. Cryptogram
Cryptograms are great to use in a Halloween book since you can take popular Halloween phrases and sayings and turn them into cryptogram puzzles. Scary decorations and a Halloween font are also a must on these pages: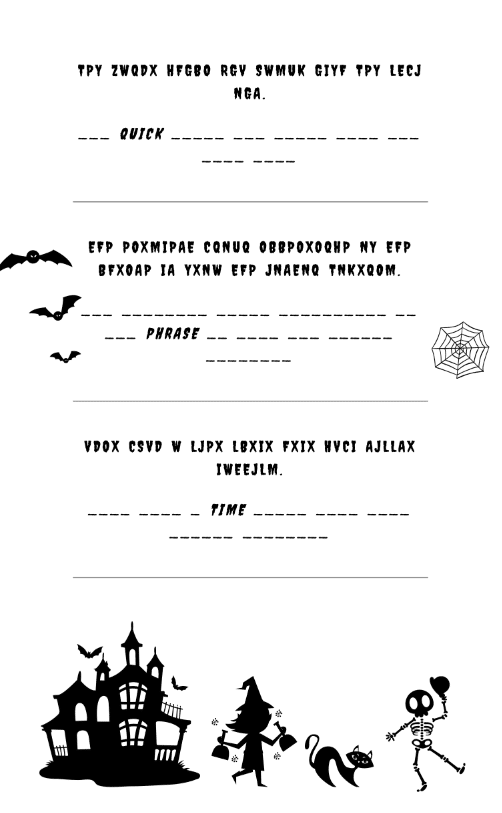 5. Word Scramble
Next in line is word scramble, and we follow the same procedure by using Halloween vocabulary words, scary decorations, and a Halloween font: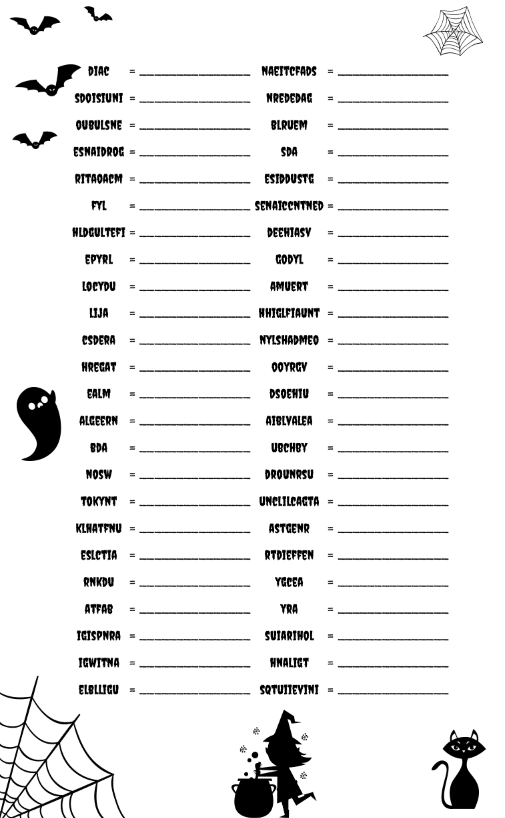 6. Missing Vowel
As the word suggests, this puzzle type is about figuring out the missing vowel in words. Once again you will need words from the Halloween vocabulary, a scary font, and some decorations. The final page would look something like in the image below: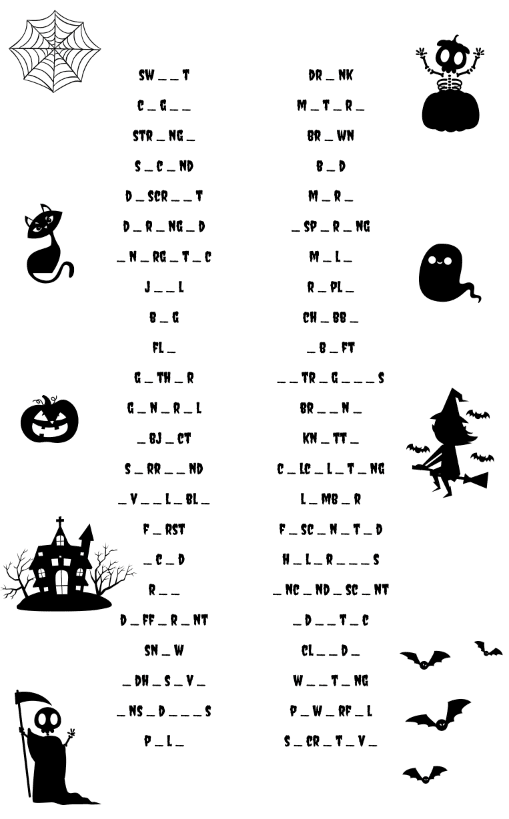 7. Maze
With mazes, we are taking a different approach by combining two things that complete each-other (like a witch and a broom for example) and placing them on each end of the maze, so that you would have to find the path from one to another.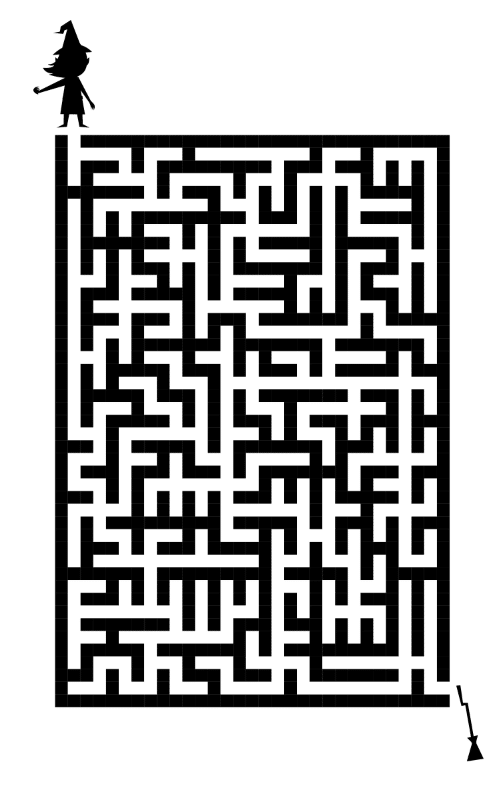 8. Karuko
Karuko is a puzzle type similar to the crossword, but with numbers. Give it a Halloween touch by adding graphic elements around the puzzle.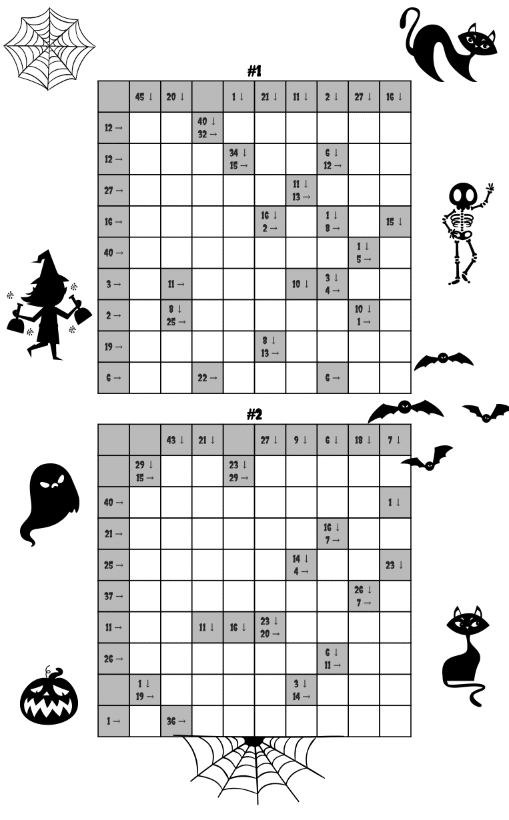 9. Outline
The outline module inside the Studio converts your colorful images to outlines which you can use as coloring pages inside your activity book. If you have been doing Print On Demand before, you can reuse your Halloween themed graphics and convert them to coloring pages: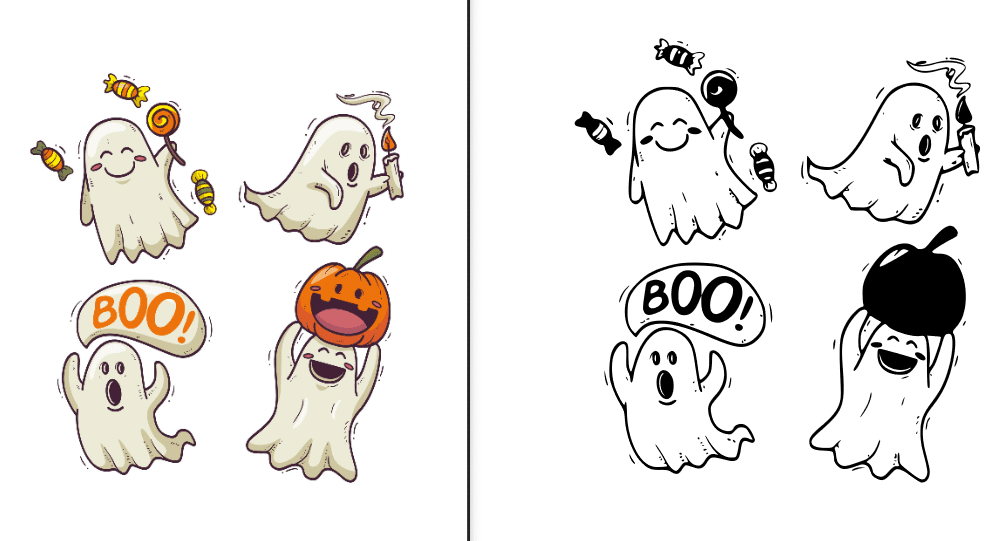 10. Connect the Dots
Last but not least, we have the dot-to-dot puzzle type under the Connect the Dots module inside Book Bolt Studio. You upload an image and click around it by adding dots to create the dot-to-dot puzzle. When you download the generated file, all you'll see is the dots and numbers next to them (without the image you uploaded for reference).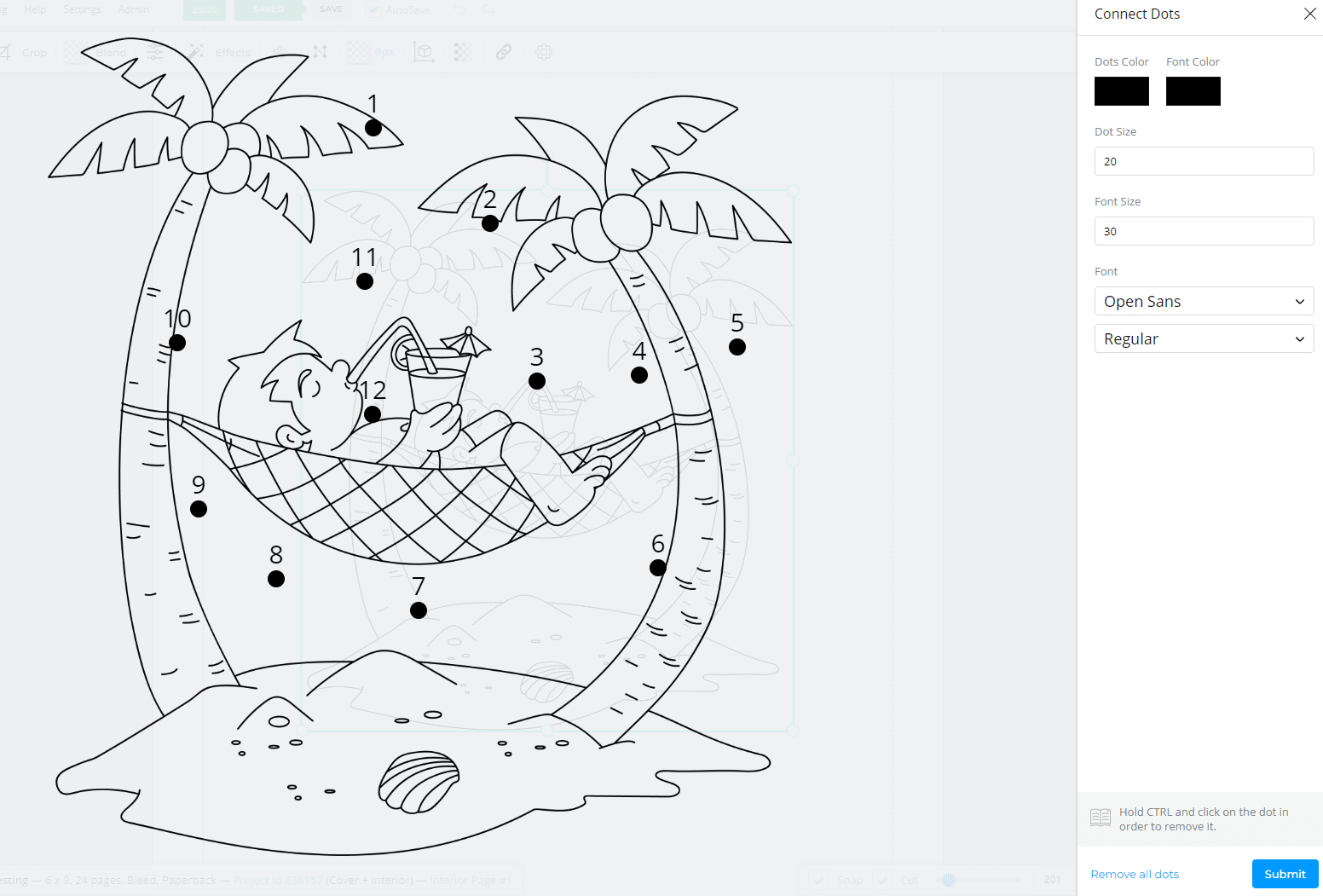 Creating the Cover
Now that we have gone through planning and creating the interior step-by-step, it's time to make a nice cover for the book.  We are going to create the cover inside Book Bolt Designer, using the same technique we used for the interior to give it a scary Halloween look.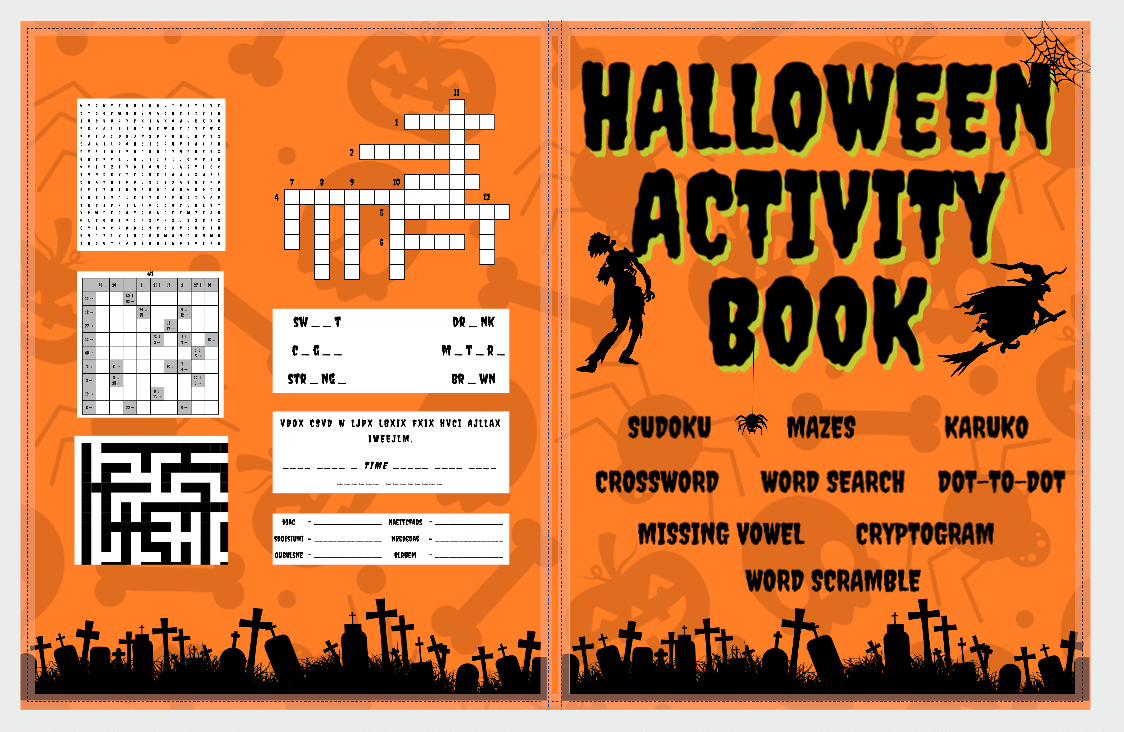 Keywords
When it comes to keywords, there are different approaches you can take using Book Bolt tools to find the best keywords for your book.
The first option is to use KDP Spy and fetch keywords from Amazon's search results page for the keyword of your choice. The keywords tab will show you all the keywords used in that page, together with additional data like search volume. You have the option to check all the keywords you need and save them. When you click on "Save checked", the keywords get saved in your favorites module inside of your Book Bolt account.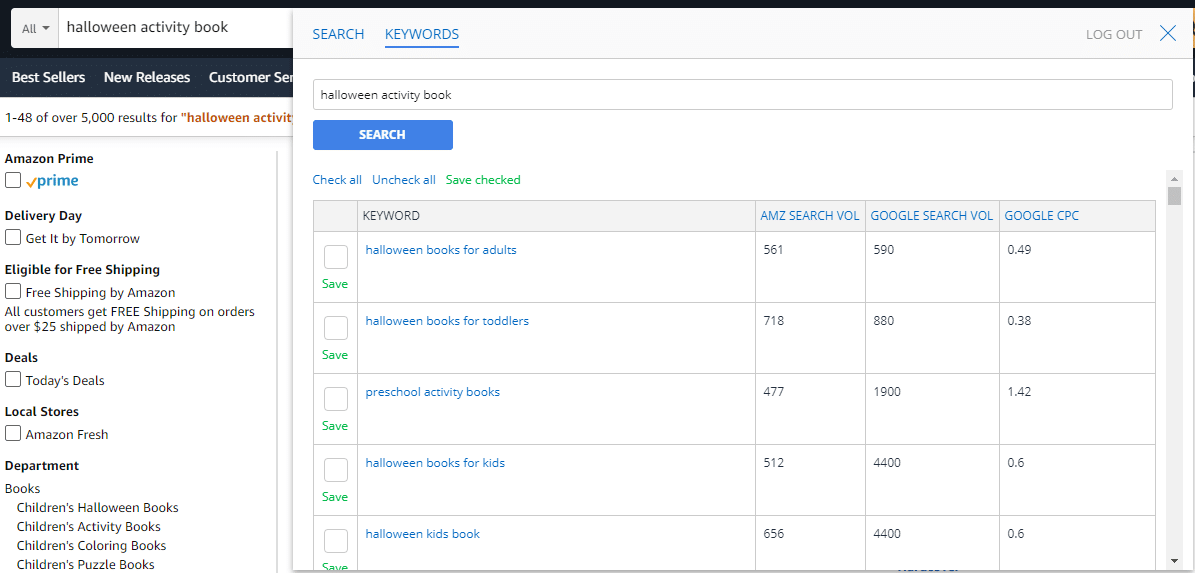 The second option is to use the Keywords module inside Book Bolt, where among the keyword list you'll also see most frequent keywords and relevant listings that use those keywords: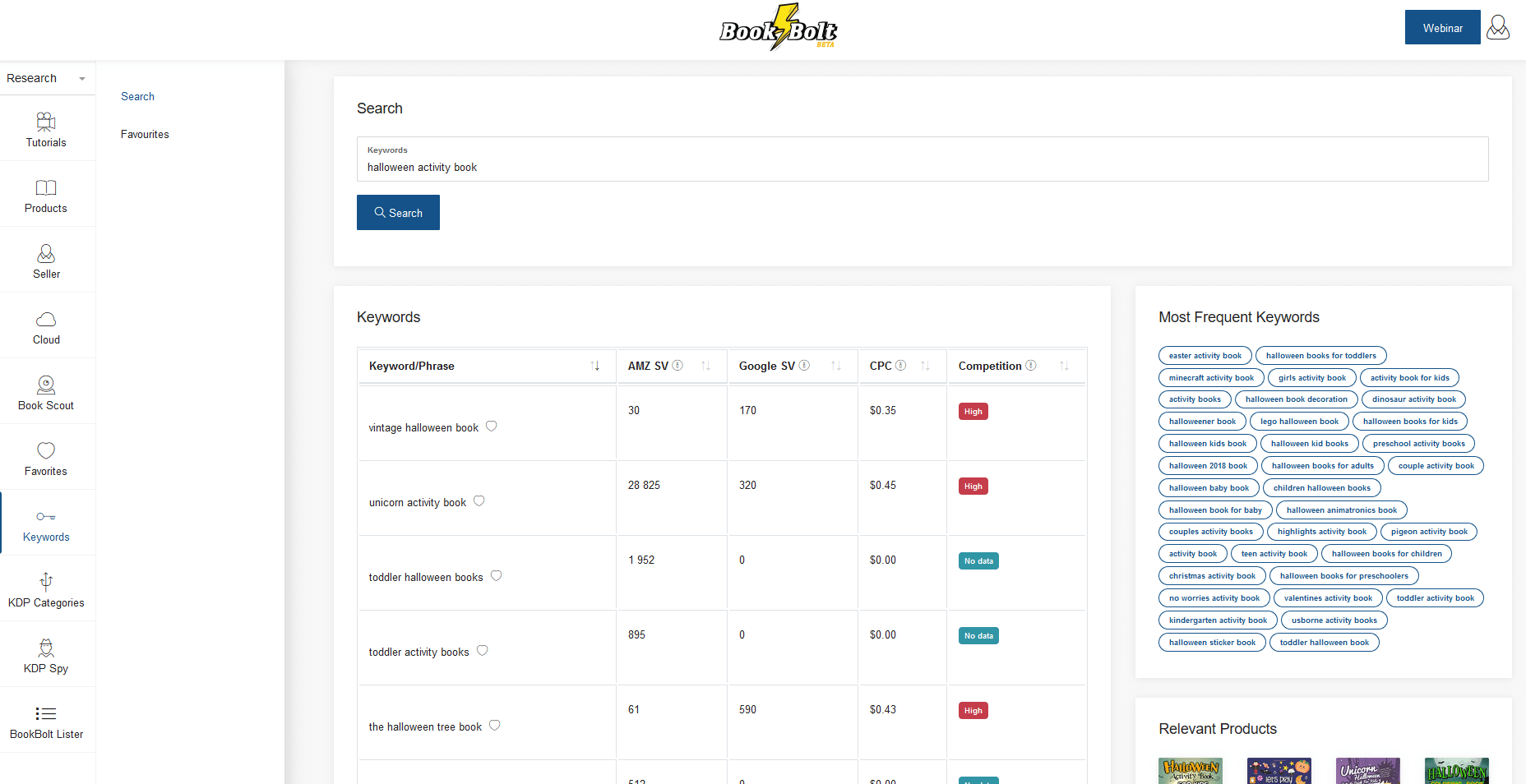 The third way to find good keywords is to use the Book Scout feature and pull keywords from a book that's already selling well: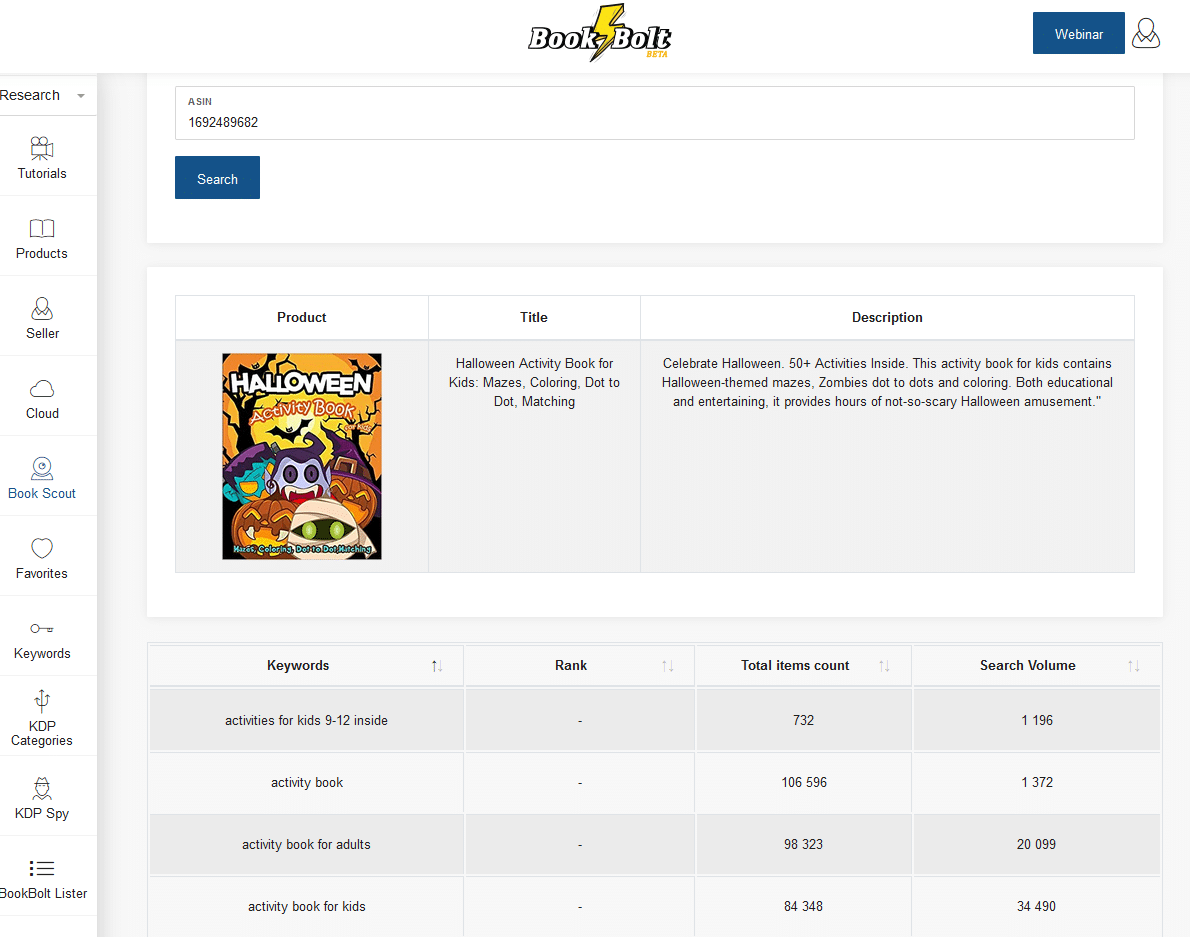 If you combine the three keyword finding methods, you will have a nice list of keywords which you can implement in your book's title and description.
Note: Make SURE that the keywords you are picking out for your book are RELEVANT. Once you have the keywords selected that best fit your book, go ahead and list your book and place it into the right category using this method:
Wrapping It Up
That about wraps it up from start to finish for a brand new activity book.
As you can see from the steps above, we have a cover, we have the interiors that have been modified to fit the niche, and we have selected the right keywords and categories for our new book. All that is left is to get the book up and get some sales!
If you were to do this process manually, especially creating all the types of activities (puzzles) inside of the book, this process may have taken 10-12 hours or for most people (like us), DAYS to create. Using the Studio and Book Bolt cuts that down to under an hour (about what we spent creating the book in question for this guide).
You can replicate this process over and over again with different niches. Remember, it does not have to be just Halloween, you can do this for ANYTHING.
Go create some books that other sellers are NOT creating and watch the sales role in!
Good luck out there! If you have any questions, drop them in the comment section below.