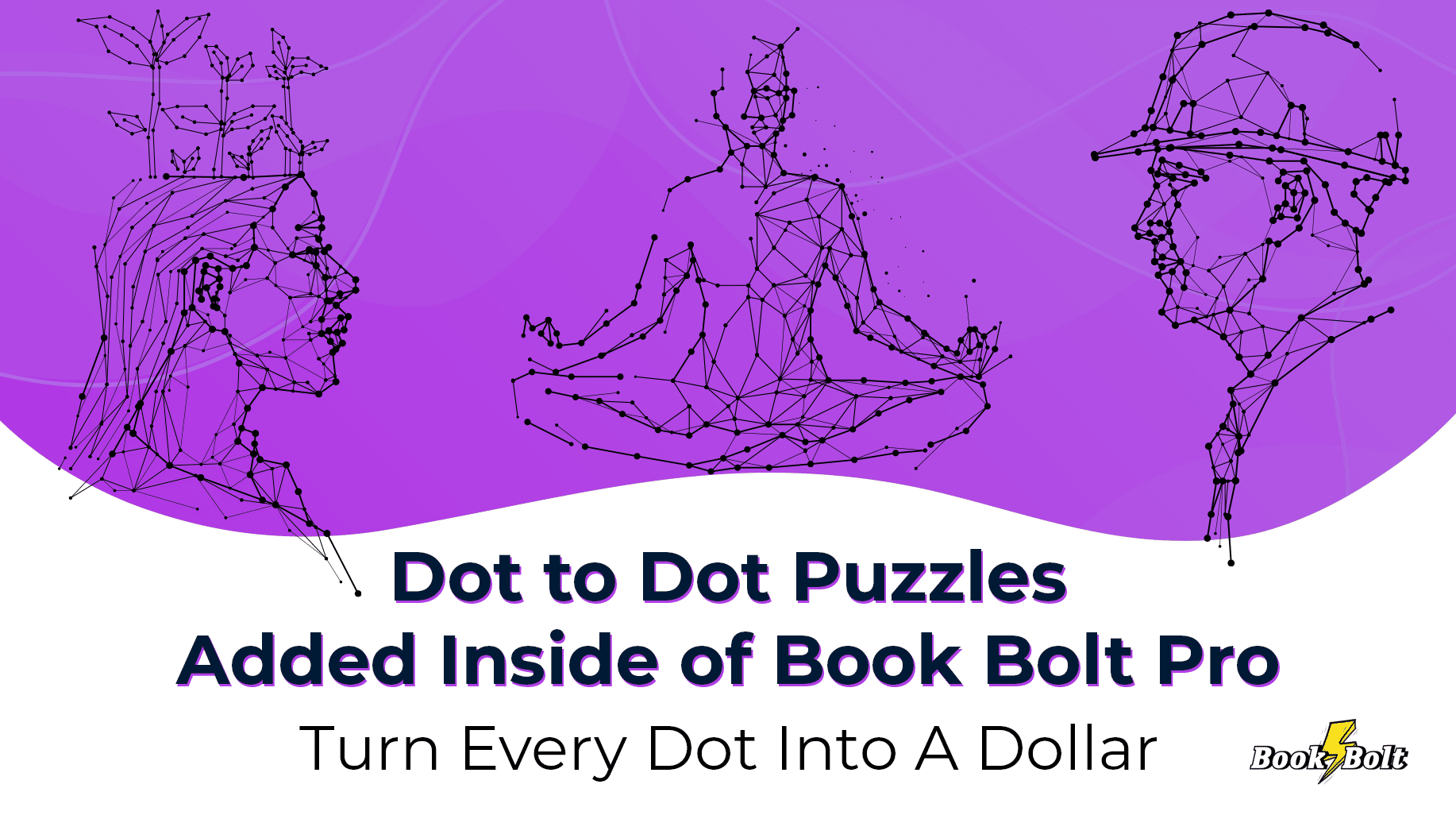 When it comes to low content books that we are able to create for Kindle Direct Publishing, there is one type that shines above the rest: Puzzle Books.
But all low content books are not created equal!
Sure, there are lots of journals and planners that sell well but you typically need hundreds if not thousands of them to make a solid income.
In today's guide, we are going to go over the best type of Puzzle Book to create to make the most money with the fewest number of pages: Dot to Dot Puzzle Books.
Dot to Dot Puzzle Books
We are not sure what it is, but these books are HOT and have been hot for years. Go to Amazon and type in any keyword related to them and chances are 90% of the results have reviews and are selling like hot cakes.
…and the thing is
The entire book is just made up of dots!
All a dot to dot book is, is a book of puzzles where the reader/user connects the dots with a pencil to create an image.
Some of these books have 10-50 dots (targeted towards children), and some of them have 1,000+ dots per puzzle (targeted towards adults).
In order to create one of these books, you will need about 20-40 different images, and create them by adding numbered dots in the outline of an image.
This sounds easy in theory, but in reality, creating them was MUCH harder….until today! We have just added the ability to create these dot to dot puzzles inside of PuzzleWiz which now comes with Book Bolt Pro accounts. You can grab one of those here: https://bookbolt.io/pricing/
Let's walk step by step through doing some research to see how these sell, and then creating our very first dot to dot puzzle.
Dot to Dot Puzzle Research For KDP
Dot to dot books are typically made up of 20-40 images which are then turned into puzzles.
Something to keep in mind while doing your research is that you want to make sure that you have 20-40 images that are in the same NICHE. You can break these up into sections, but make sure they are all relevant to each other. 20-40 animals, 20-40 cities, 20-40 landmarks… things like that.
To begin the research process, let's head over to Amazon and type in the BROAD niche. In this case, we would search for "dot to dot book".


This has over 6,000 different books for dot to dots but as you start going through the results, you will notice a few things:
Almost all of these results have MULTIPLE reviews
Their sales ranks are incredibly low and are selling VERY VERY well!
If you are using the Book Bolt software, we can use the plugin KDP Spy to grab some information on just how well these books are doing. If you do not have that plugin yet, log in to your account and install it on Chrome via the upper right hand corner menu.
Once you have it installed, click on the little book icon, and click on run while on the Amazon page. I let it go through about 50-70 results and then stop it. From there, you can get detailed information on units per month sold, revenue, and how long the book has been selling!
Take this book for example: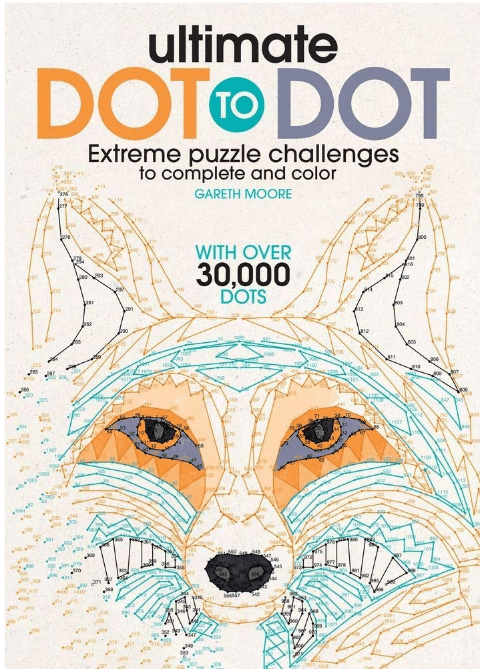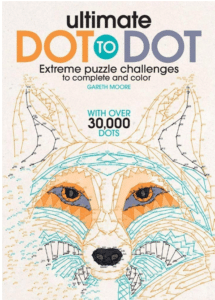 This single book is selling over 200 copies every single month!

Compare that to something like a lined journal (which you are probably not going to be selling 200+ copies of every single month) and you begin to see how powerful these dot to dot books could be.
So, we are at a point where we know these books are selling incredibly well, they have tons of reviews… but you may have also noticed that they are priced REALLY high. That means a great margin every time you sell one!
The price of these books is certainly something to pay attention to because it means that you have ability to run ads and still turn a profit but that you also can spend more time creating one book because that book can have sales that make up the same number of sales of hundreds of low content books such as journals.
Niching Down Dot to Dots
We know they are selling, but we need to have a niche and then find a keyword that actually gets searched for by potential customers that does NOT have a ton of demand.
This is actually pretty easy if you have the Book Bolt software and ill show you exactly how.
Log in to Book Bolt. You can either use the same plugin we were just using (KDP Spy) or the Keyword tool.
Start with your broad niche and click on search. In this case, it would be "dot to dot book".
For this example, let's use the plugin: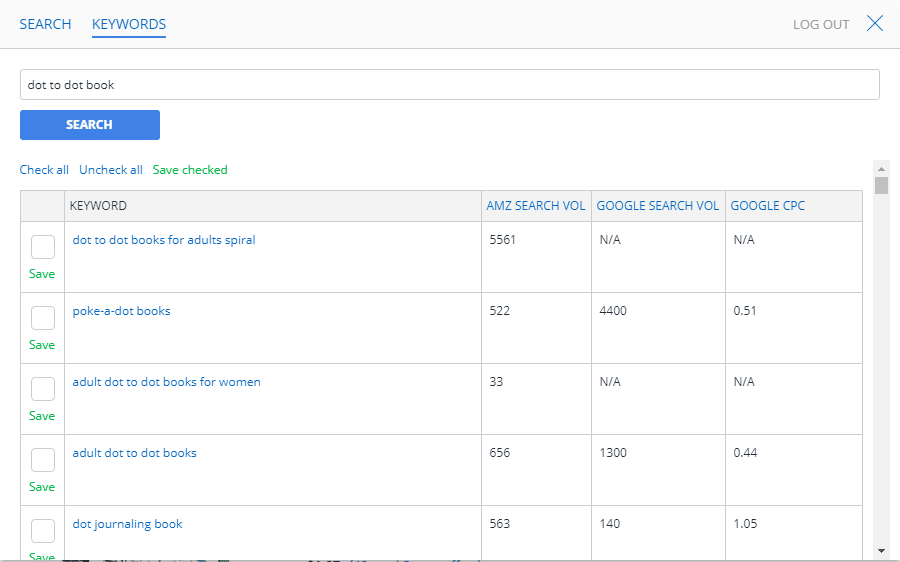 Now, sort the list by Amazon search volume so that we know these keywords are actually being typed into Amazon by customers.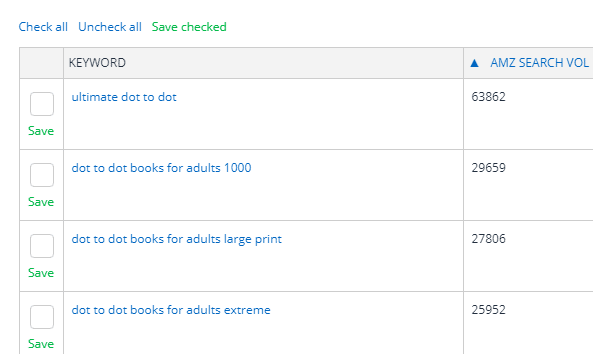 From here, scroll down the list until you find a niched down keyword that still has a good chunk of searches per month.
This is one that I found that still is searched over 6,000 times every single month:

Dot to dot books for kids! Click on the keyword and it will do the search for you on Amazon.

Right away you notice there is a TON of competition here. So, all you have to do to make this keyword accessible is simply niche it down even further by making it more "long tail". To do this, simply add a modifier at the beginning or the end of the keyword.
In this example, I decided to pick an animal and put that at the beginning of the keyword:

Just by adding "llama" to the beginning of the phrase, we are now under 500 results on Amazon. If we can make some sales for this keyword, we will eventually start to climb the keyword rankings for the MAIN keyword "dot to dot books for kids" and make even more sales!
Creating Your First Dot To Dot Puzzle
NOTE: This feature has been moved inside of the Book Bolt Studio.
With the redesign of the Book Bolt home page, we also introduced a new tier in subscriptions. The new Pro Tier subscription gives you the ability to log in to PuzzleWiz with the same credentials you use to log into Book Bolt.
PuzzleWiz is a software that allows you to create multiple different types of puzzles for your low/no content books and we just added dot to dots!
So, that is what we will be using for this tutorial and it is INCREDIBLY easy to use.
First, log in to Book Bolt and go to the upper right hand corner menu. From there, click on the PuzzleWiz login and log in. Now that you are logged in, go to the left hand menu and select "Connect the dots"

From the page you land on, you will need to select bleed or no bleed (I always select bleed) and the size you want your puzzle to be.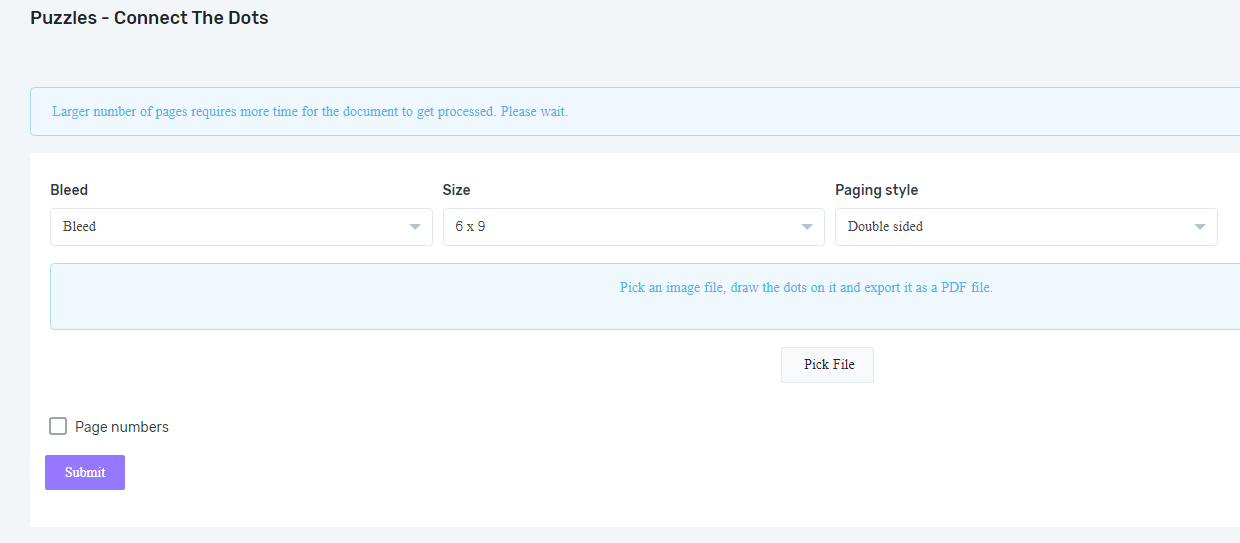 Go ahead and select these options.
Once done, you need to select an image file that you will use to create your puzzle. I typically will use PNG files that I have laying around. Since we are doing a book about llamas and turning that into a dot dot puzzle, that is what I will pick and upload.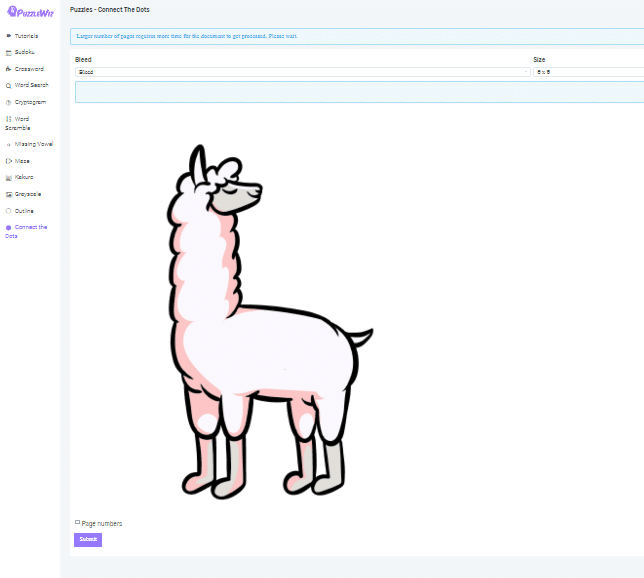 I have zoomed way out on this screen but you can see that I have my image uploaded and ready to create my dot to dot puzzle.
Now, to create your first dot to dot, simply start clicking on the screen. Each time you click, this will place a numbered dot on the screen.
If you place a dot in the wrong place, you can drag and drop the dot to the correct location.
Place dots all along the outline of your image. When you are done, it will look like the image below. KEEP IN MIND that since we are doing this targeting kids, you do not want to include too many dots.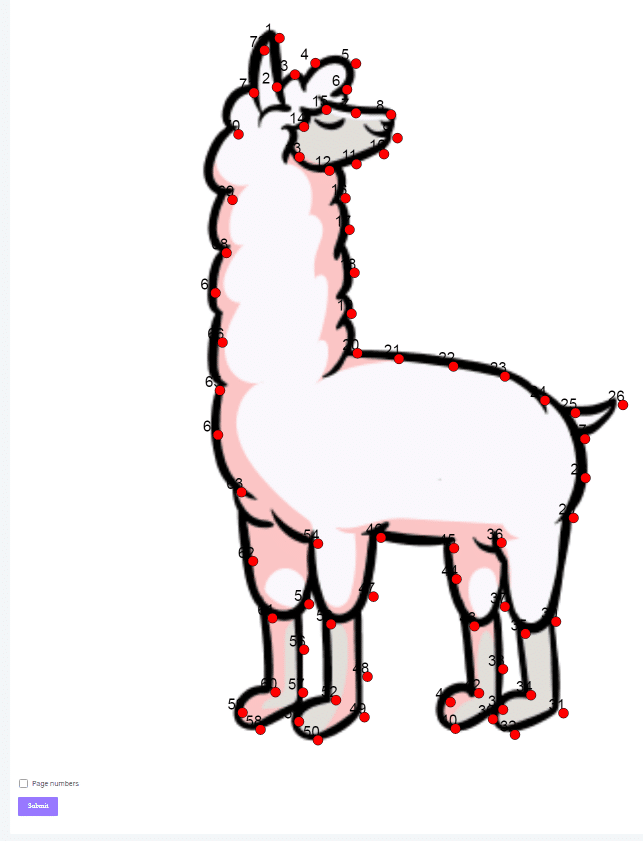 You can add as many or as few dots as you would like!
Now, all that is left is for you to click on "submit" and wait for your first puzzle page to be complete.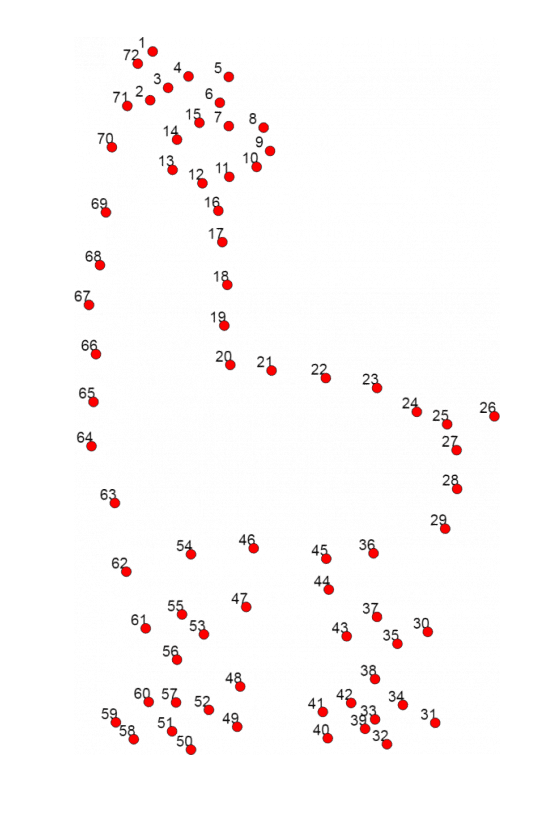 This is what your PDF will look like. In order to complete your book, you will want to grab and create 20-40 different dot to dot puzzles all within the same niche. All you are doing is tracing out images to create these puzzles.
Here are a few others to show as examples: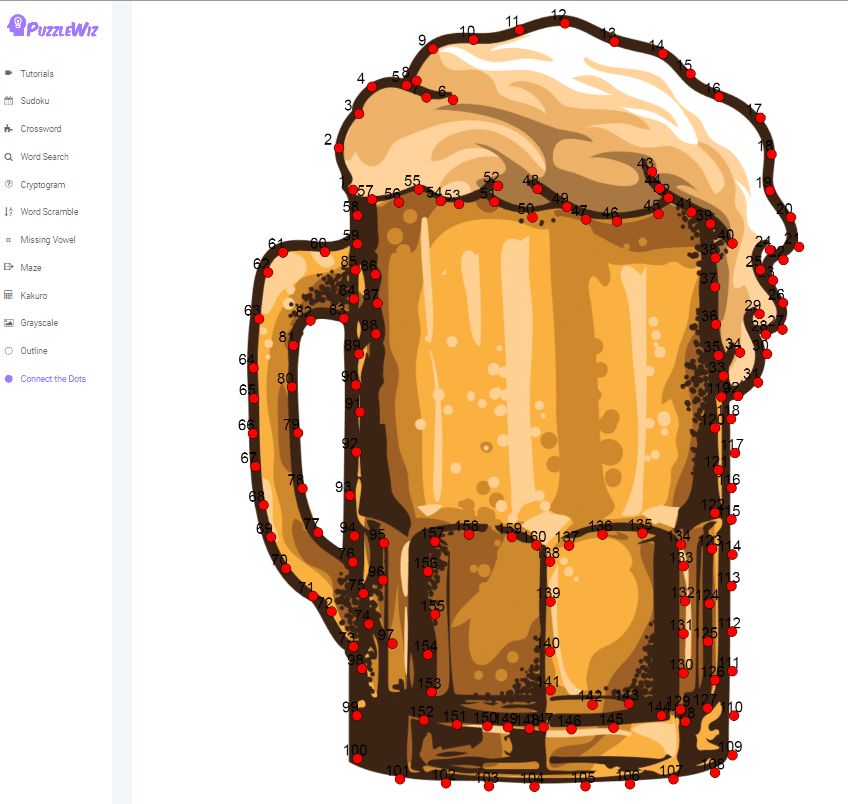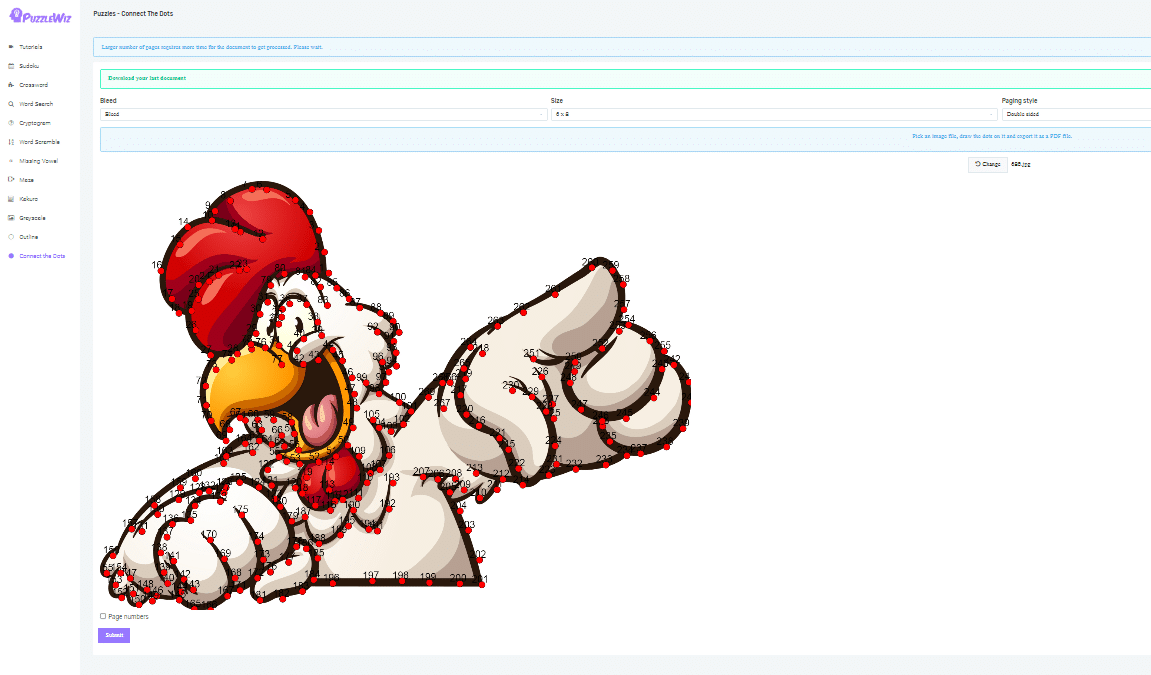 Once you have downloaded all of your PDFs, you can use this simple free tool to combine them all together into a single PDF book:
https://designer.bookbolt.io/interior-generator-pro.php
Wrapping It Up
Dot to Dot puzzles used to be incredibly difficult to create by hand (which is why I only attempted a few times). Now they are very easy to create and put together and the margins and sales on these books are great!
If you have any designs laying around or at least design elements all within the same niche, you owe it to yourself to check out what is selling on Amazon and put up a few of your own dot to dot puzzles. Just a single book that you create and put some love into can earn THOUSANDS per month in royalties (as many of the sellers on Amazon will show).
Remember, ONE book that you spend extra time on can outsell hundreds or thousands of simple lined notebooks because the MAJORITY of people will take the easiest path. The choice is yours!
Good luck out there.