Today, I am going to share with you how you can quickly and easily edit your Book Bolt templates.
If you have your own templates, or you purchased them somewhere else, if they come with Book Bolt files inside, you will be able to edit them to your liking. So in this article, we will show you how to navigate around the Book Bolt Studio, how to edit colors, text, images, and different elements, plus learn how to spice up the background with images.
If you purchased a cover file, or an interior, you can create your own templates and publishing assets from the Book Bolt Studio. This will allow you to customize each template with your brand, your brand colors, your text, and your images. Chances are, most of the design work has already been done if you are bringing these in from somewhere else, all you need to do is edit them to put your personal touch on before you go to publish your work.
It will take you almost no time at all to learn to edit your files. Let's jump into it!
Step 1: Log In To Book Bolt Studio
In order to edit your templates, you will need to sign up for a trial Book Bolt account, or login. You can do that right here. You will want to sign up for a pro level account as this will let you edit puzzle pages, but each account comes with a free trial so you can edit and customize your templates.
Step 2: Open The Book Bolt Studio
Once you are logged into Book Bolt, you will need to navigate to the studio. You can do that from this link here, or by going to the side menu inside of the software, selecting create, and then clicking on the Studio to log in.
Step 3: Create Your Project
Before you start creating your project and editing your template, you will first need to create a project. This project should match the template that you purchased or are bringing over to edit.
In this case, if you have a template that is a 6X9 size, and 100 pages, we would set this up inside of the Studio with these settings: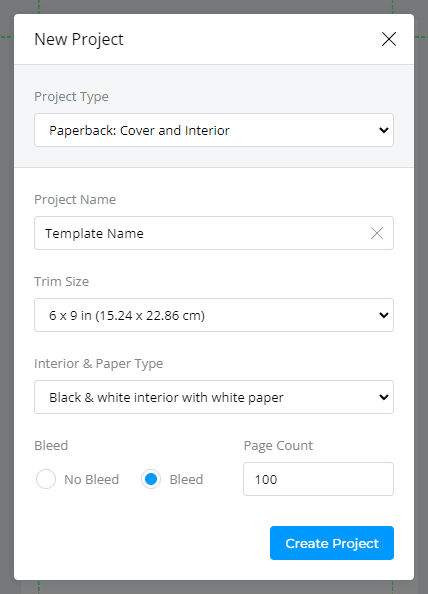 Step 4: Your Dashboard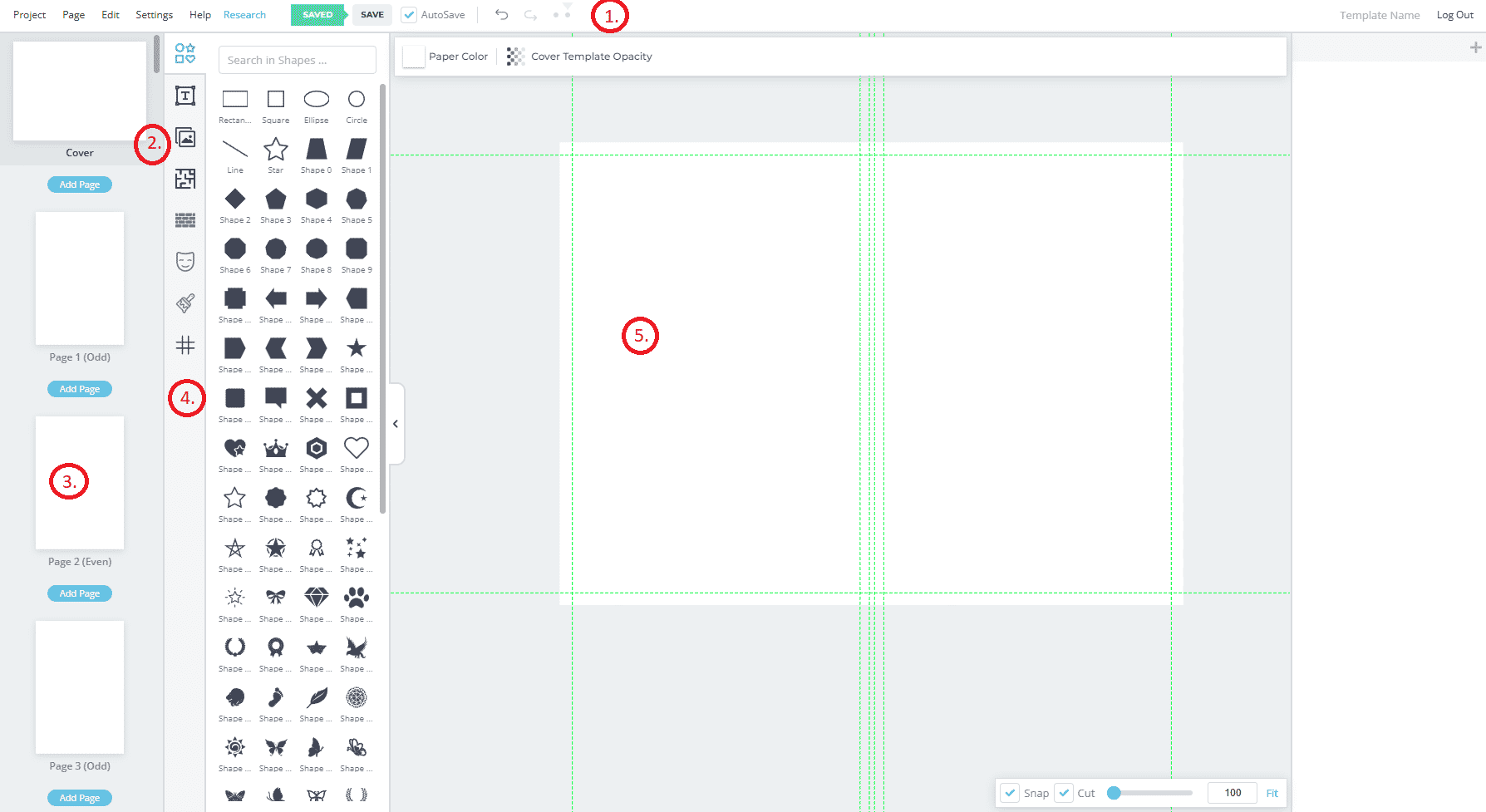 You will now see the full dashboard page. The dashboard is where you will edit your template files, and there is a lot of features for you to access here. We have labeled each part that you will want to pay attention to:
Menu Bar: This is the menu bar where you can save, load, and edit settings for your project. This is where you can also see the current status of your project, and move forward and backward if you make a mistake and want to redo something.
Files Menu: This is your files menu where you can upload individual images, pdfs, or search through the Book Bolt catalog of millions of royalty free images
Page Selection: The left hand menu is all about the project page selection. To select a new page, simply click on the left hand menu and select the page you want to edit
Editing Menu: The editing menu will contain all of your options to adding new interiors, text, puzzles, masks, gridlines and more. This also contains the files menu as mentioned above.
Page Preview: This is the page preview where your changes will show up and the canvas on which you want to work on.
Step 5: Upload Your Template To Edit
If you purchased a template and are looking to edit it through the Book Bolt Studio, you need to make sure that the files you were presented with have a sources file, that have .JSON files.
These type of files are specifically used to edit templates directly inside of the Book Bolt Studio.
To upload your first template to start editing, simply go to the top menu, click on page, and click on load from file.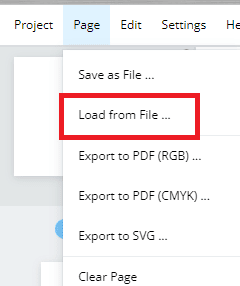 Select the template file that you want to load from your computer, and click okay.
This will then import the template directly into Book Bolt Studio so that you can start editing everything you need.
Step 6: Edit The Colors Of The Paper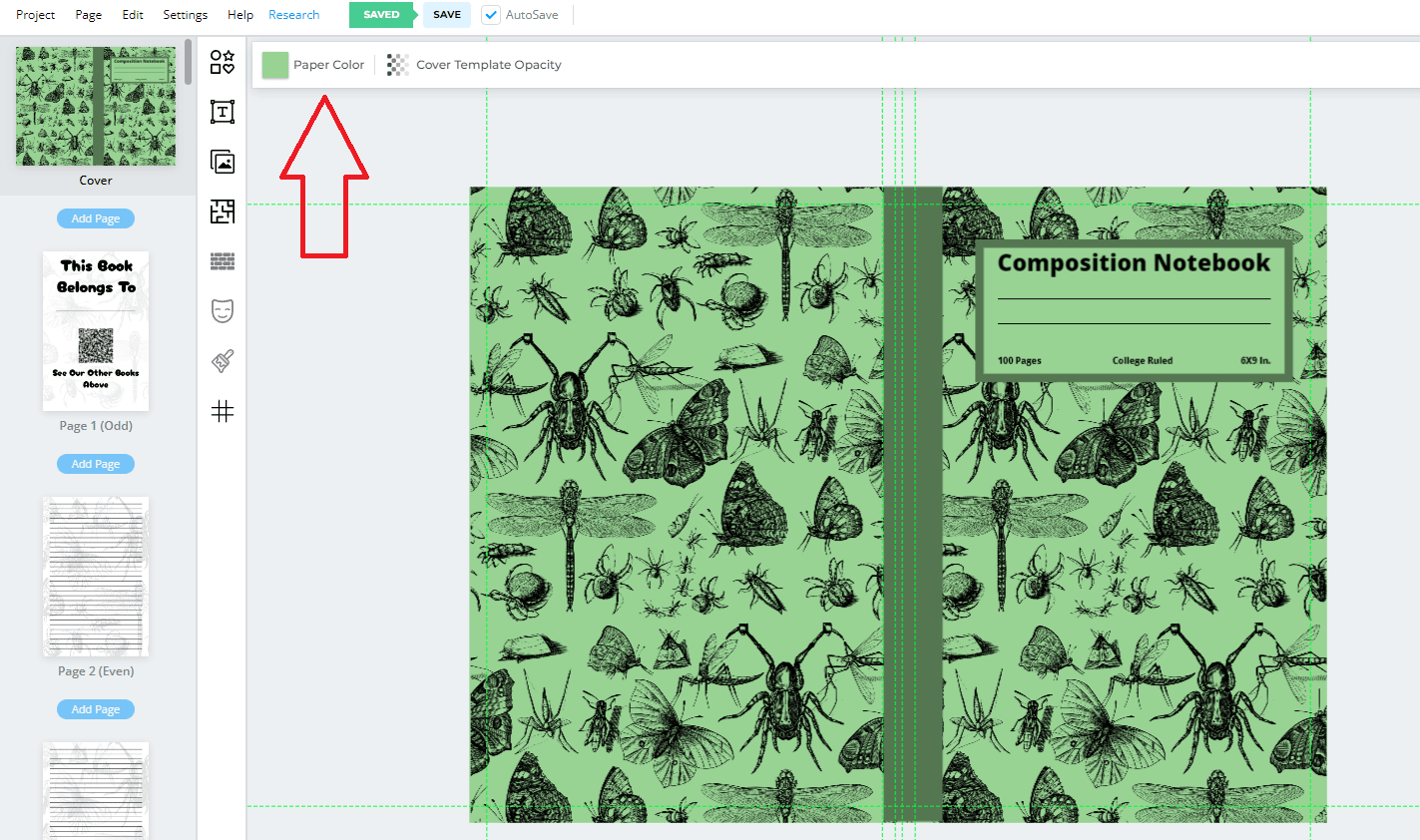 In order to edit the paper color on your project, simply click the top menu that says paper color, and change it here.
Note: To edit all the page colors, make sure you have a page (and not the cover selected), and then click on the "apply to all interior pages" button:

Step 7: Editing The Text & Fonts
To change the text on any of the pages or the cover, you first want to make sure you have selected the "object". This can be done in the far right hand menu, or by clicking on the text in the canvas on your screen.
Once you have a piece of text selected, you can change the size, the color, the alignment, the positioning, the opacity and more:

Each time you click on an object, you will have a new menu bar at the top. The drop down menu will allow you to select from over 1,000 commercially free fonts as well as upload any that you want that are saved on your computer: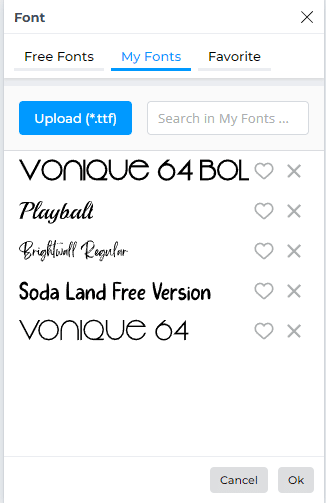 Step 8: Editing The Images
In order to edit the images or change the photos, you will want to first select the photo on the page. Once you have it selected, go to the right hand menu, and make sure to LOCK this object (so that if you make a mistake, you can go back and get to it), as well as hide it. You can set this option by right clicking in the object menu: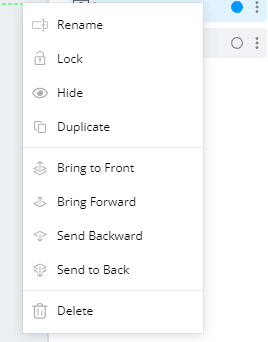 Once you have done that, Use the side bar option to open up the image library. This menu will allow you to upload your own images, or select from image providers inside of the Book Bolt Studio. Once something is selected, simply click on it to add it to the canvas: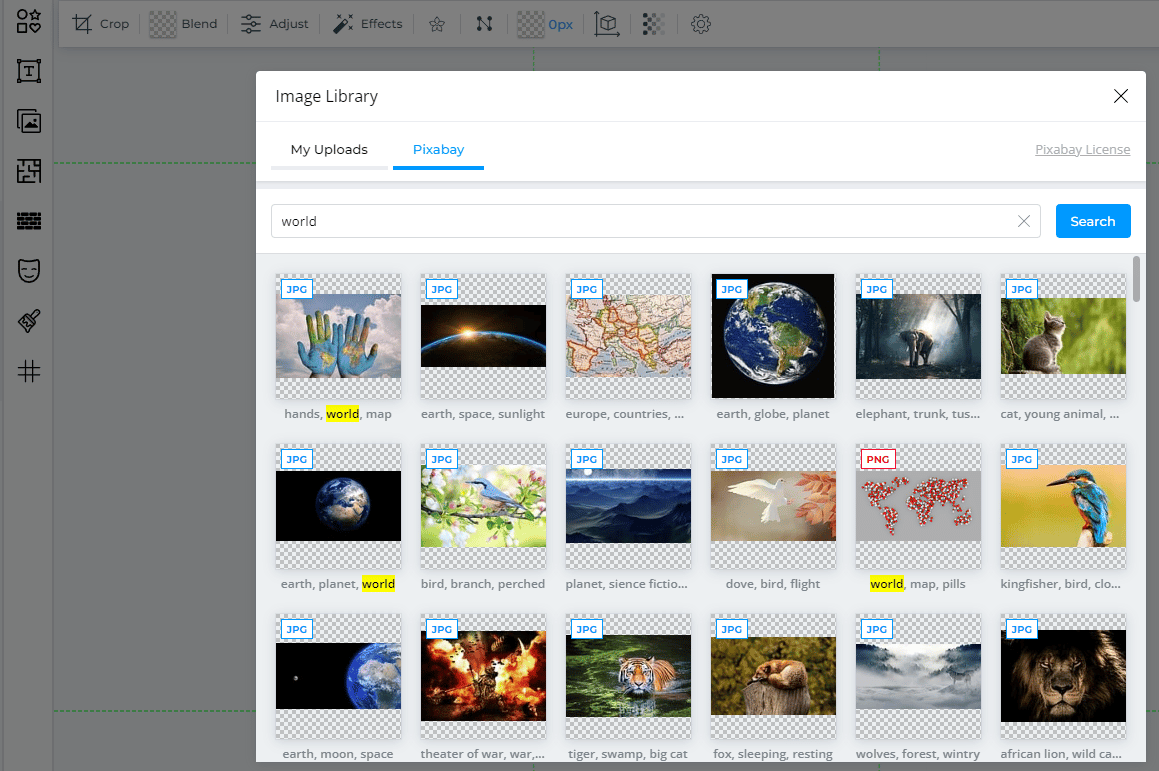 Step 9: Spicing Up Your Interiors
No matter if you bought a template from somewhere else, or you are creating one from scratch, we always recommend adding a little flair to the back of your interiors.
To do this, you will first want to have an interior file. You can see on this page, we have lined pages: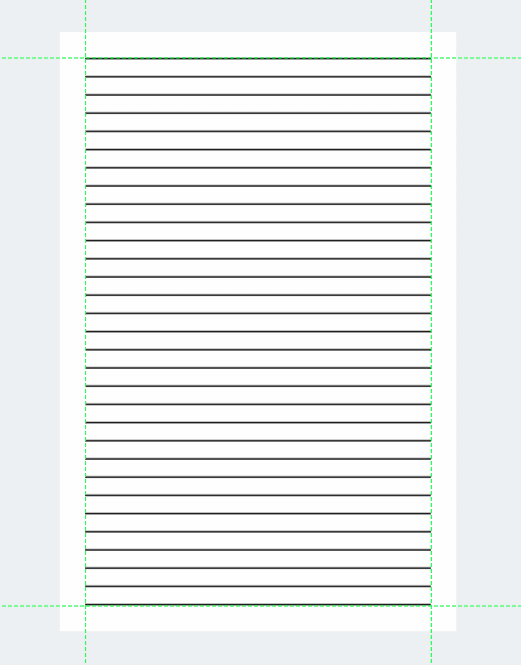 Next, find an image and overlay it over top of the lines: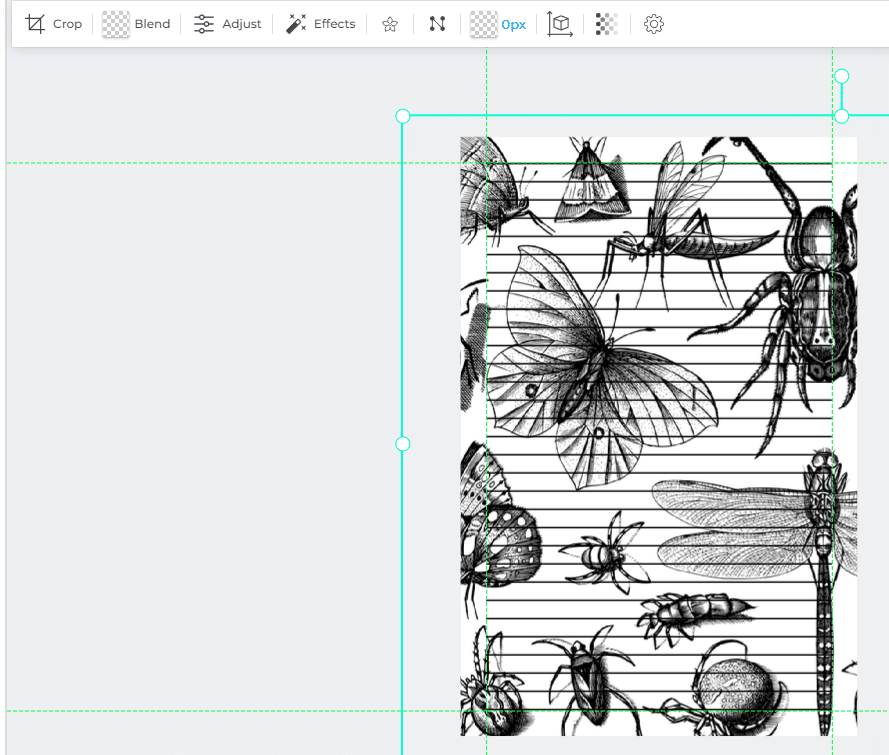 If the image is not black and white, you can go to the top menu once the object is selected, click on effects, and then change the image to black and white.
Finally, click on the opacity changer in the top menu, and slide the opacity down until it blends into the background: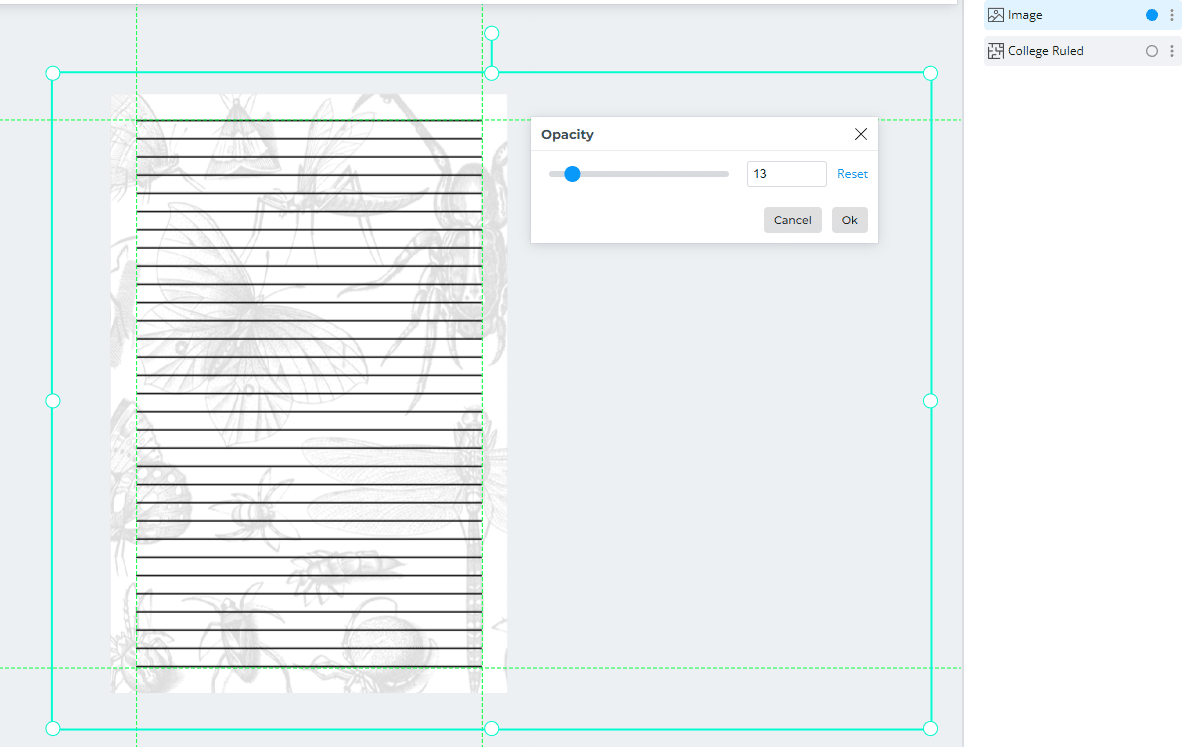 Step 10: Saving Your Files
Once you have uploaded your template, made the customizations and edits that you wanted, it is time to save your project and download it so that you can upload your book!
To do this, first, hit the "save" button in the top menu. This will ensure the project is saved and you can come back to edit again in the future if you would like:

Now, head up to the top menu again, click on "Project", and select download.
This will download your project as a ZIP file.
Simply unzip the file to your computer, and you will have your sources file along with both PDFs that are ready to publish!