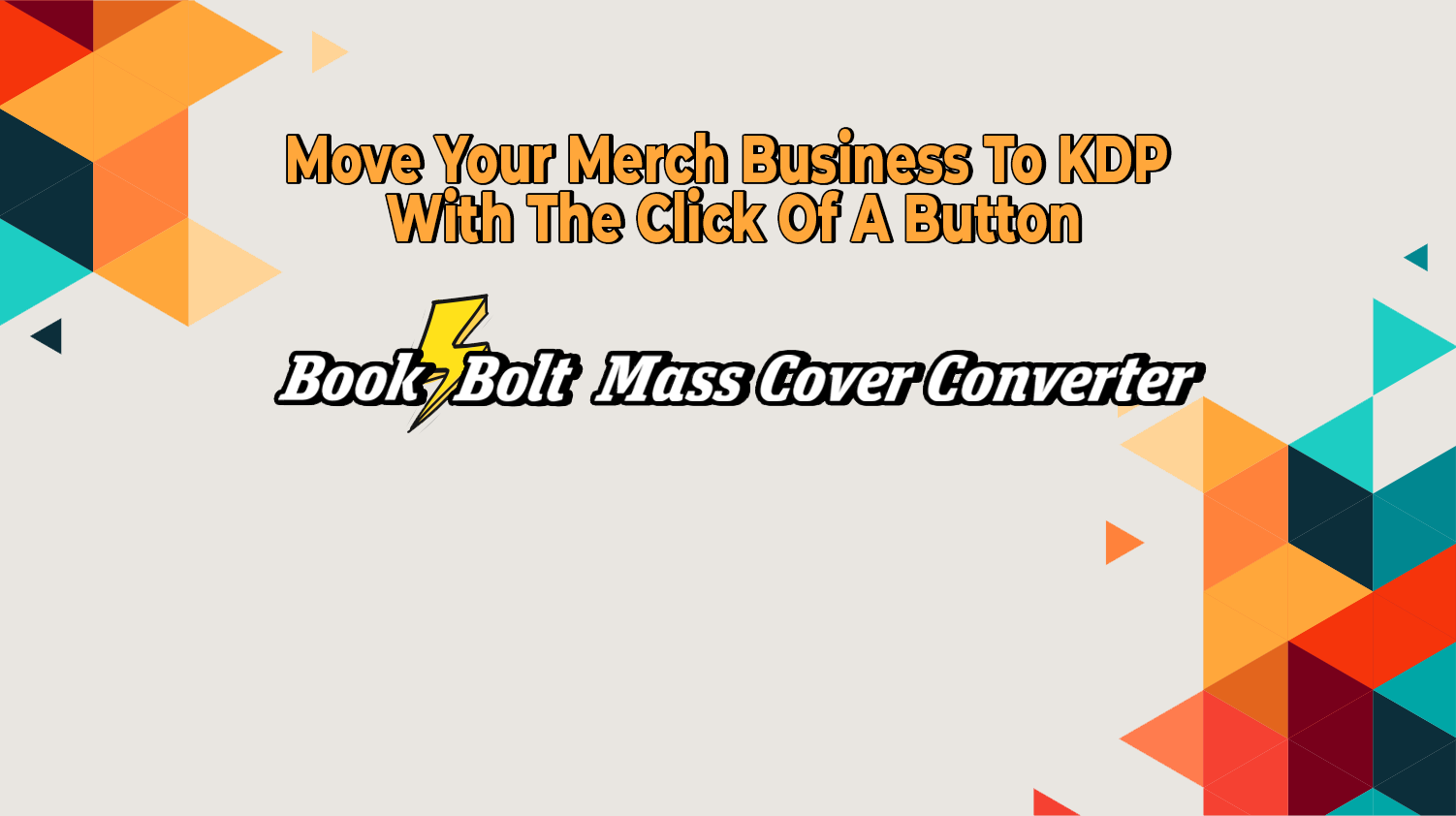 Chances are, if you are reading this, you have build up your Merch business over time. You put in hundreds if not thousands of hours into honing your craft, creating designs, and making sure they are properly optimized for the platform!
In today's article, we are going to go over how to leverage this work and add another stream of income from selling on Amazon. The best part, is that you can do ALL of this in just a few clicks of a button with the help of Book Bolt.
This entire process would typically take the average Merch probably 1000 hours to do all of this manually. With the help of these tools and method, we are going to cut that down to a few hours.
Let's get into how to do everything step by step!
Mass Creating Book Covers
Creating covers for KDP can be a time consuming task and we all know that time is money!
First you have to create the art to put on your cover. Then you must figure out what size book you want to put on KDP because each book size is going to have different dimensions. Not only that, but you have to know how many pages you want to put in your book because this is also going to affect your cover (and spine) of your book!
Here at Book Bolt we made this a lot easier with the Book Bolt designer that lets you put together some pretty awesome covers by simply dragging and dropping your art.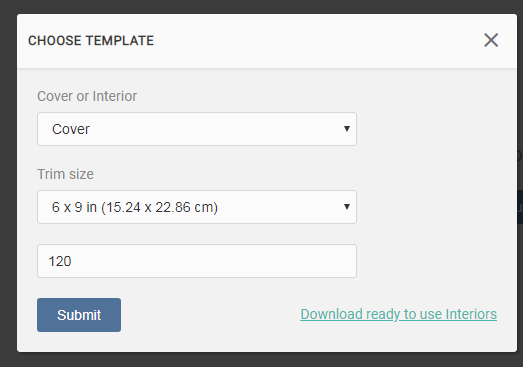 But what about those who have hundreds if not thousands of art files that want to put them on Book Covers?
Anyone who is already involved in the print on demand world certainly has a few business assets saved up and doing these one at a time can be…frustrating!
This is the same pain we felt, and decided to fix the issue by creating the Book Bolt Mass Cover Creator.

This tool will allow you to easily import your artwork and create covers with the click of a button.
There is now no excuse for why print on demand sellers are not adding KDP as another stream of income for their business. With this new tool, you can get all the files sorted exactly how you want them with a few clicks and get your entire library uploaded to low content books on KDP in as little time as possible. Let's go over how it works.
Book Bolt Mass Cover Creator
The mass cover creator is part of the Book Bolt software. The first step in using this tool is to make sure you have an account. You can sign up for the 3 day trial here and take advantage of our lifetime deal that is still running: https://bookbolt.io/pricing/.
After you are logged in, head to the upper right hand corner menu under your name: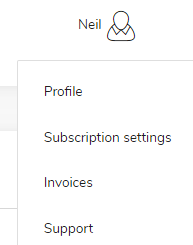 Select the Mass Cover Creator and login.
You will then be presented with a screen that looks like this:

Using this tool is extremely simple. First, select the cover size that you want to make and add a page count. We recommend 120 page count and any cover size you like, although we like to use 6X9 to start out with: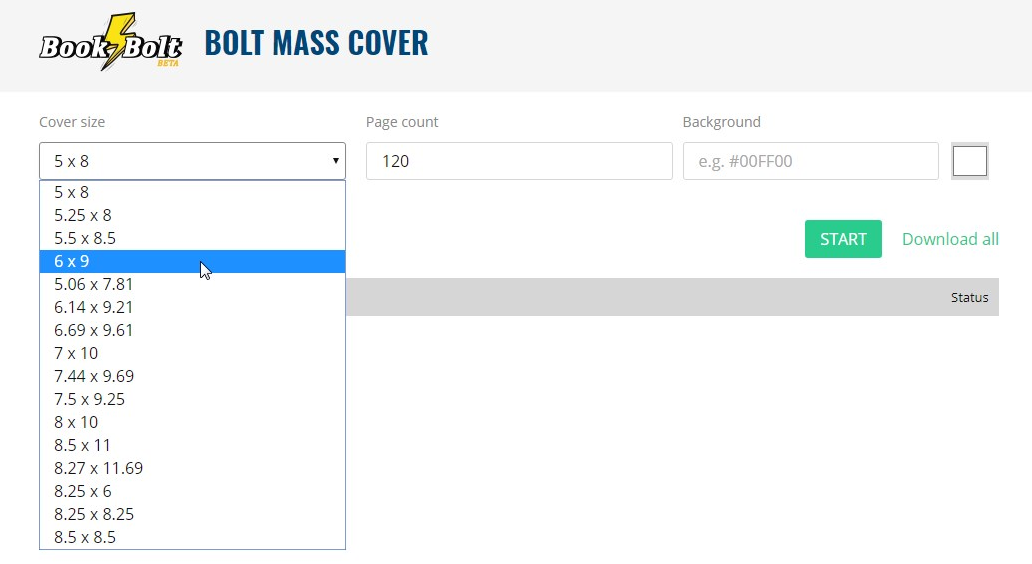 Once you have picked a cover size, it is time to pick what color background that you want all your covers to have. If you know the hex code, you can enter it into the background box. Otherwise, simply click the white "square" which will bring up the color selector tool: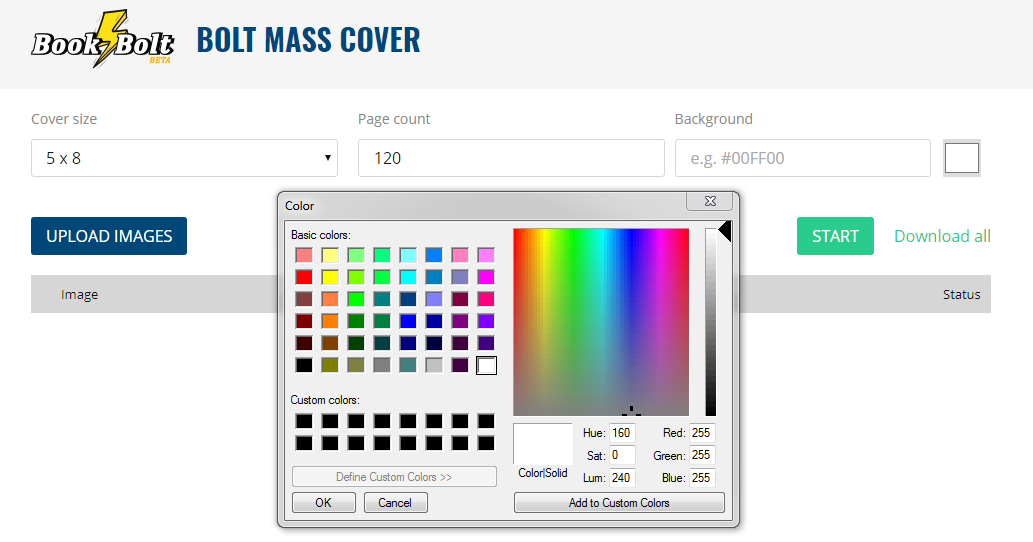 As you can see, you can pick about just any color under the sun for your background which will apply to ALL of the covers that you upload.
The next step is clicking on the upload images button and upload your artwork. Open the folder of your designs, select the ones that you want to turn into covers, and then wait for it to upload them. This process can take a few minutes if you are resizing a lot of art into KDP covers at once so give it time to load up.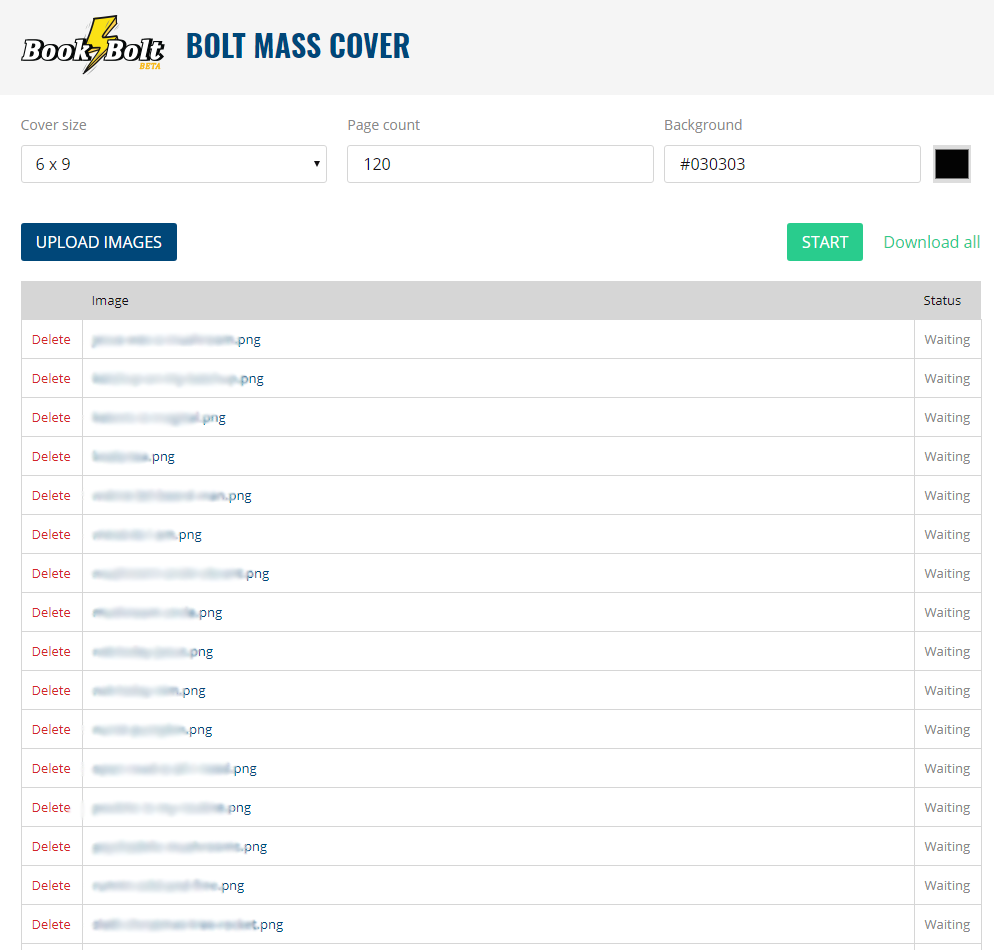 When all of your images have been uploaded and your settings at the top are the way you like them, click on start! This will then go through one by one and turn your art into book covers that you can then upload directly to KDP!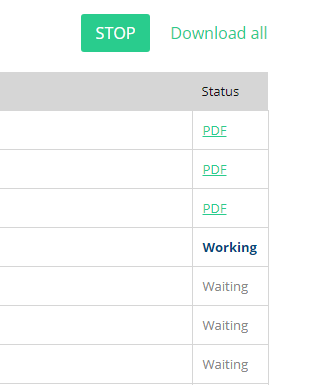 They will work through the list and once they are all done, you will see something like this:

From here, you can either click on each PDF to view/download it one by one, or you can simply click the download all button at the top.
The download all button will download a zipped file to your computer with all of your designs as upload ready covers for KDP.

Mass Uploading Books To KDP
Now that you have all your covers ready to go, you now have to upload them to the KDP platform.
Again, this is a MASSIVE time sink and something I know you want to put off (we have all been there).
However, with the click of a button, we can get all of these uploaded to KDP with the the Book Bolt Lister. This is a Chrome plugin that is included with every Book Bolt Subscription: https://bookbolt.io/pricing/.
Once you have the software, go ahead and log in. You can download the Book Bolt Lister from the top right hand corner menu: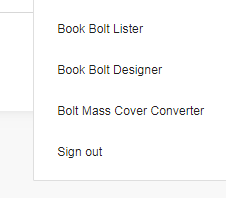 This will add an icon for the extension in the upper right hand corner of chrome. Click on that and login to the extension with your Book Bolt details: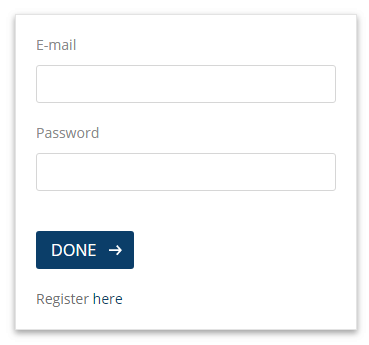 After you are logged into the plugin, you can start to create your profiles. What this will do is allow you to hotkey all of your important information that you want to upload to KDP by hotkeying it to a button on your keyword.
Go ahead and click on "Add" on the profile tab:

When you are adding a profile, first, fill out the hotkey that you want to use when uploading to KDP. I typically start with SHIFT+R. This means that every time I hit Shift and R at the same time on my keyboard, it will prefill the information on KDP. I always like to include a button combination so that I do not accidentally hit the button when uploading.
Next, give your profile the usual information that you would use when uploading a book. This is going to include your title, subtitle, first and last name (this is going to be your brand name and can be anything, and then your description.
Finally, you have your keyword boxes to fill out.
NOTE: You have 7 total slots for keywords inside of KDP. They do NOT need to be full sentences and are limited to 50 characters each. I would recommend taking the keywords from your Merch designs and putting them into these boxes. There is also no need to separate anything by commas!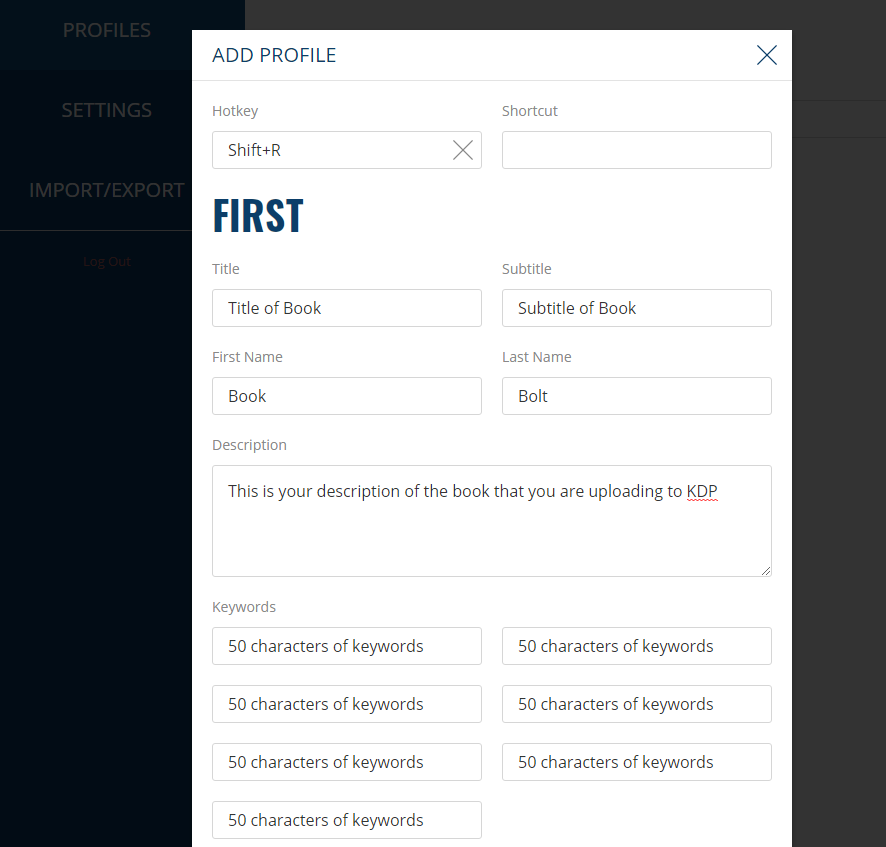 Now you need to select a category. I always select "Non- Classifiable" because these are no/low content books, and then a category that fits closely to what you are uploading. Pick two categories from the list and make sure they are checked!
The second big step in setting up Book Bolt Lister is to pick your trim size, bleed, cover finish, and interior and paper type.
The trim size needs to match with the cover size that you created in the first step in this article. Since we are sticking with the same size, select 6X9.
Next, you need to select bleed or no bleed. This needs to match up with the interiors that you upload. You can grab free interiors here at our interior wizard: https://bookbolt.io/interior-wizard/. Make sure to select "Bleed" if you are using the interior wizard.
You will then select a cover finish between Matte and Glossy. This comes down to personal preference.
Finally, select that your profile is "Active" which will enable you to use the hotkey on KDP.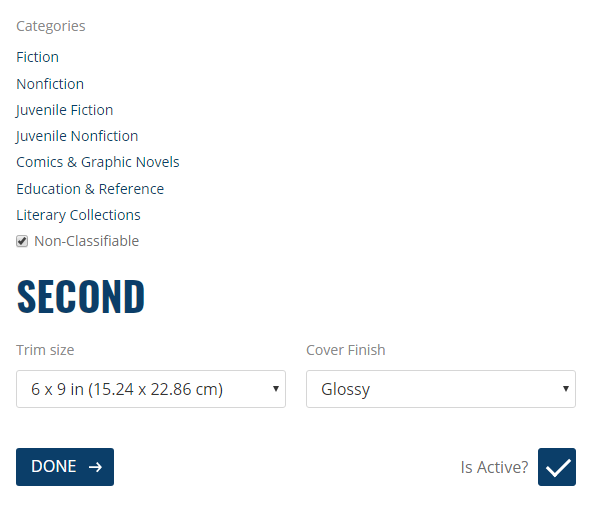 Now you get to upload your covers and interiors.
Start Uploading
You now have the covers created, an interior from the free interior wizard, and the Book Bolt Lister set up. You are ready to click a button and go on with your day!
Once you are in the KDP dashboard, click on the new paperback button in the left hand menu.

Clicking this will bring up the pages to fill out to get your paperback book live on Amazon. The first page is where the majority of the information you need to upload is. All you need to do is click your hotkey on your keyboard and it will fill out all of this information for you!
Wrapping It Up
Just like that you can hop onto selling journals, notebooks and other low content books on Amazon KDP without ANY additional work. If you have a large library of design files and are thinking about getting onto KDP, these tools and process will save you literally hundreds of hours with a few clicks of the mouse.
There is no excuse to why you have not started adding another stream of revenue to your business so make sure to hop on it!
Good luck!