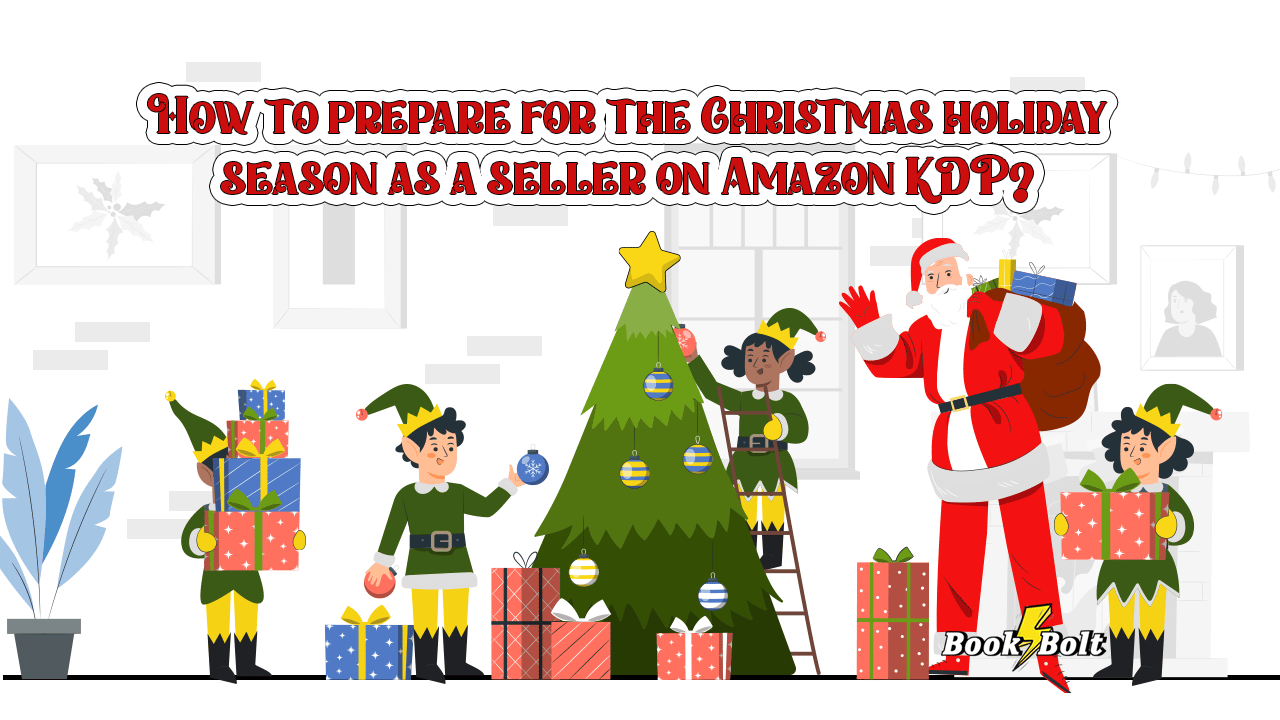 As the year is coming to an end, one of the most awaited events is taking place in the eCommerce world – Christmas shopping. If you're a low or no-content book creator on Amazon KDP, we strongly advise taking advantage of the big "C" word.
Yet, we know that this may be more challenging than it sounds – especially for those of you who are about to experience their first holiday season as sellers. This is why we'll try to turn this ordeal into a smoother money-making opportunity for you.
Here's how.
A sneak peek into the holiday activities of savvy sellers on Amazon KDP
Finding the right path to positioning your low- and no-content book listings for Christmas success is a matter of in-depth research. Luckily, with a business intelligence tool like Book Bolt, everything you need is at your fingertips. All you have to do is use its features appropriately, be consistent, and have patience.
To identify the profit-making activities that help listings stand out during the festive season, it's best to analyze the competition. This will help you spot what works well for other sellers.
By trusting Book Bolt to uncover this information for us, we detected the following top-exploited activities by bestsellers.
Adapted book designs
The cover design of your book is the first thing that grabs the eye of Amazon shoppers. Our browsing through different best-performing listings showed us that the majority of competitors rely on Christmas-inspired designs to attract attention. Some of the book covers of top-sold listings include holiday elements like Christmas hats, Santa, deer, snowmen, snowflakes, Christmas lights, Christmas trees, present boxes, and more.

We also realized that while Christmas-based cover designs dominated in some low- and no-content book categories, others relied on different listing components. For instance, top-selling coloring books around Christmas are usually specifically designed for the holiday. You can instantly see this by taking a glance at the covers. In the notebook category, on the other hand, we noticed that sellers were prioritizing the use of keywords over cover designs.
To explain this further, we'll look at the number one listing from the notebook space, which ranks for the word "Christmas". It's the "6000 Pictures of Sexy Feet: Funny Blank Notebook Disguised as a real Foot Fetish Book, Funny Foot Fetishism White Elephant Gag Gift For Men & Women, … Adult Gift for Christmas and Birthdays", which doesn't really have much to do with the holiday. At the same time, the use of the keyword "Gift for Christmas" in its title suggests that it's an appropriate purchase during the festive season.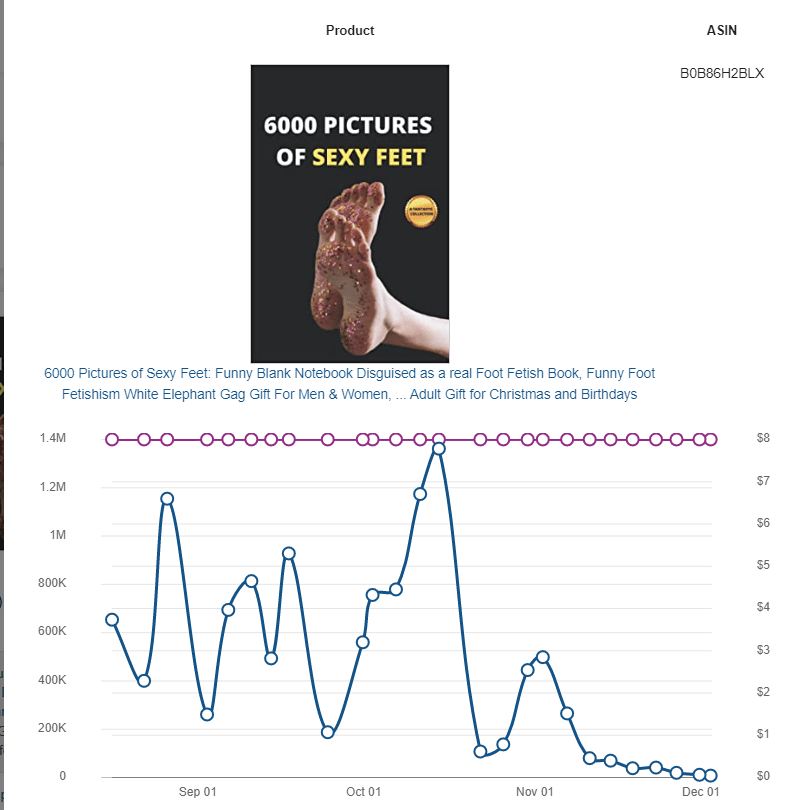 We can see that shoppers agree by looking at its BSR. It dropped from 1,360,041 on October 14 to 5,792 on December 3.
Optimized listing titles
Listing titles are another key area that most sellers focus on. The keywords found within product titles are essential for making the listing discoverable to the right target audience. When it comes to the Christmas holiday, bestsellers actively use some of the main words and phrases associated with the event. At the same time, they diversify their use of keywords to include other words that have a similar intention.
For example, these could be "Santa", "gift", "Christmas gift", "festive winter", and others. Below, we offer practical tips on boosting your discoverability throughout the holiday season with some of the most searched-for words and phrases.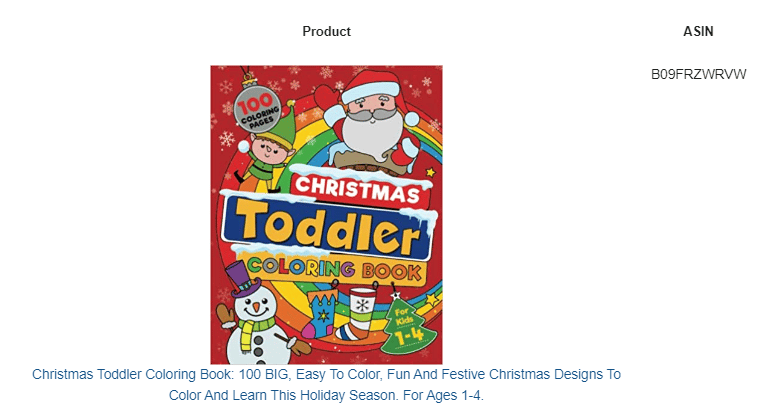 Updated product descriptions
Keywords are critical for listing titles but they also make a difference when used in product descriptions. The product description part of your listing is vital for informing users what your book can offer. However, it's also fundamental for Amazon SEO. In other words, it can increase the visibility of your listing and help more buyers land on your low- and no-content books.
Considering this, it's no surprise that all of the chart-toppers in the Christmas niche have optimized and keyword-rich product descriptions.
Holiday deals and discounts
Promotional deals and discounts are also popular around Christmas. In fact, a lot of buyers expect to see lower prices. We've noticed that this works great for books that are part of a series. For instance, some sellers offer several volumes of a coloring book or puzzle book at the price of one around the holiday. Alternatively, there could be an attractive discount for purchasing all of the volumes at once.
The lucky coincidence is that Christmas comes right before the end of the year. It's popular for sellers to use the event as an opportunity to sell some of the books that haven't had much success throughout the year.
However, our research also unveiled a different practice. A lot of sellers actually raise their prices just before Christmas. Let's look at a real-life example. The "Jumbo Christmas Coloring Book: The Big Christmas Coloring Book For Kids Ages 3-12 Featuring 110 Pages Relaxing And Fun Christmas Scenes With Cute … And So Much More stocking stuffers for kids" listing ranks second among bestsellers in the coloring book category for the Christmas niche. It sells for $5.89 and generates an estimated monthly sales volume of 613, with a BSR of 999.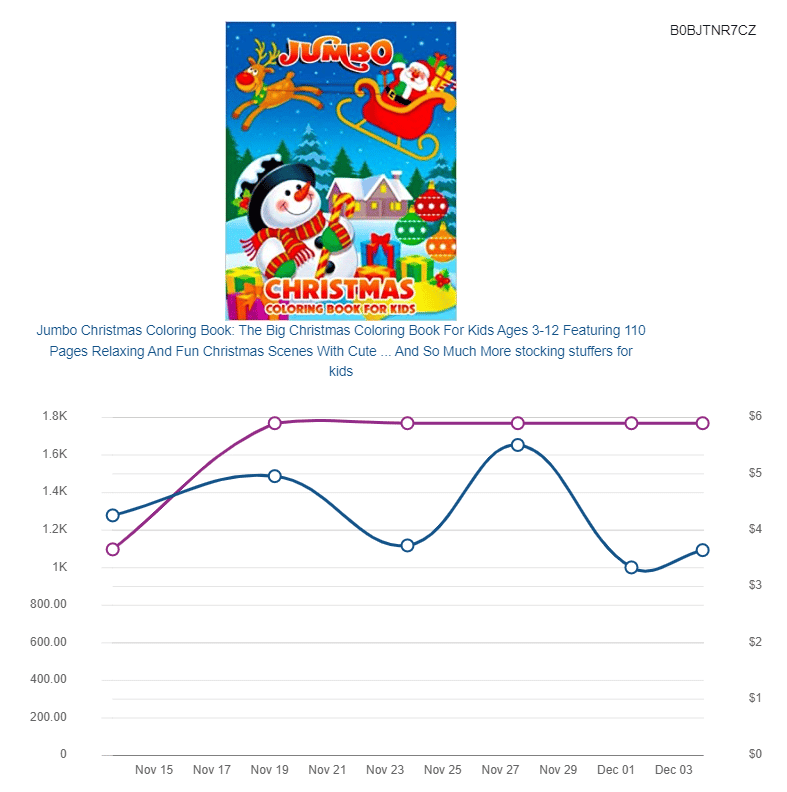 By looking into the historical data of the listing, we saw that the seller increased the price from $3.65 to $5.89 on November 19 (about a month before the holiday). One explanation is that Christmas shoppers need to purchase products. This allows sellers to slightly increase prices, yet still enjoy high sales volumes, due to the high demand.
However, it's important to note that this strategy depends on the overall market. If your competitors are keeping prices low, making your books more expensive will probably not result in the fruitful results you're after.
External marketing
Lastly, promoting your low- and no-content books on channels outside Amazon is key for scoring high sales numbers around Christmas. This time of year is especially competitive, meaning that you'll have to put in extra effort to make your products stand out.
Most successful sellers are exploring different marketing channels, including social media advertising, blogs, influencer marketing, Google Ads, and others.
Exploring the Christmas season bestsellers in the no- and low-content book space
We have now established the basics for a profitable Christmas holiday. However, to get into the nuts and bolts of these tactics, we must examine a few real-life examples.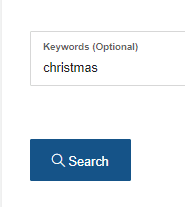 We typed in "Christmas" into Book Bolt's Cloud tool and selected the coloring book category for our research. The number one listing that showed up in the results is the "Relaxing Christmas Coloring Book: An Adult Coloring Book with Beautiful Christmas Decorations, Cute Animals, and Festive Winter Designs for Stress Relief, Relaxation, and Creativity". This is the top-performing listing in the niche.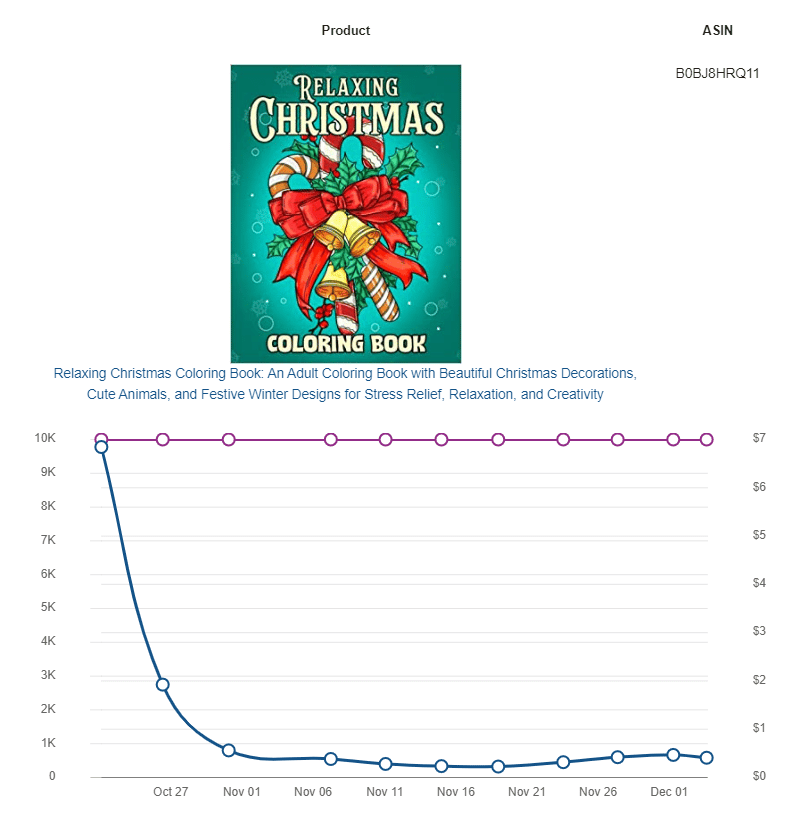 It generates around 653 monthly sales and is priced at $6.99. Exploring some of the strategies we mentioned above, we can see that:
The book's cover is designed with a Christmas theme. It contains red, green, and white colors, and displays Christmas bells, ribbons, and canes;
The listing title is optimized for the holiday, including words like "Christmas coloring book", "Christmas decorations", and "Festive winter design";
The product description is detailed, including Christmas-related keywords like "snowman", "stocking", "candy cane", "mistletoe", "Christmas", "festive spirit", and others.
But let's jump outside the coloring book category and look at the top performers in another niche – activity books.
One of the leaders in the space is the "Stocking Stuffers: Would You Rather: Game Book for Kids Teens and Adults: 300+ Christmas & General Questions: Fun Activity Book for Girls and Boys … Gift for Teens: Fun for the Whole Family!" listing. The product has a BSR of 757 and sells for $7.47, generating around 631 sales for the seller per month. Here's what stands out about this listing: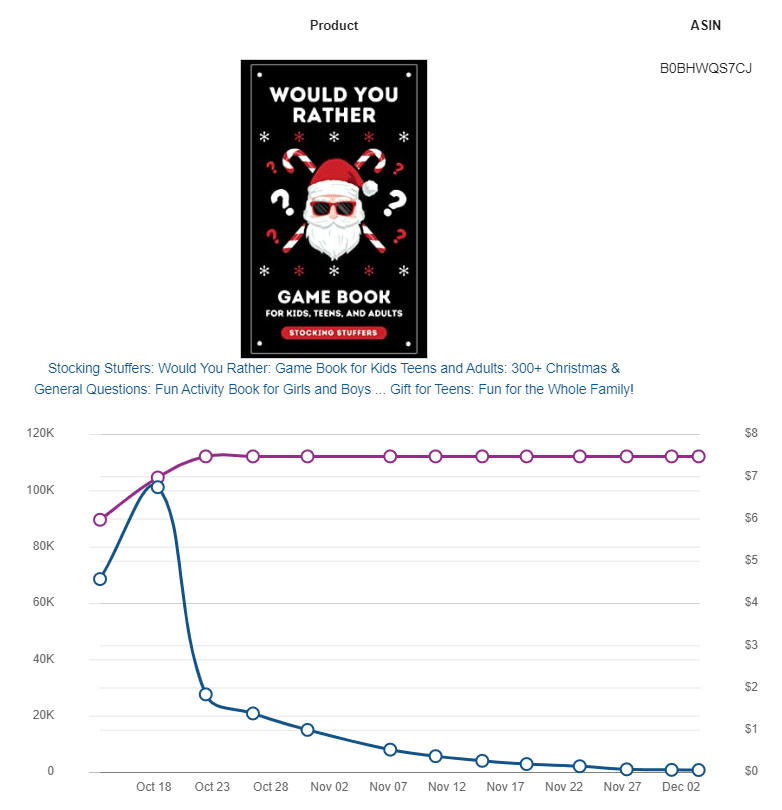 The cover design is perfectly matched to the holiday and includes a bad Santa with catchy shades, candy canes, and snowflakes. It also includes the typical Christmas colors – red and white;
The listing title is optimized for words like "stocking", "Christmas", "family";
The product description increases the listing's discoverability via keywords like "Christmas stocking", "Christmas questions", "holiday season", "gift" and more.
A look into the historical data in Book Bolt showed us that the price was increased from $5.97 to $7.47 on October 22.
Now, let's summarize all of our findings into a useful, easy-to-use list of tips.
A recommended tip list for maximum success: The most efficient tactics
The truth is that every seller has a different approach to maximizing sales during the festive season. As you gain more experience on the platform, get to know your customers and become more confident, you can trial and error with different approaches. But to make this Christmas holiday reward-rich for you, we recommend the following tips:
Update your designs to represent the Christmas spirit – you can use old designs and upgrade them by adding Christmas-related elements. Alternatively, you can start from scratch and create new holiday book covers and interiors that make the perfect gift for your clients. Don't forget about the details and use festive fonts and Christmas colors (red, white, and green will never do you wrong).
Optimize for keywords – make sure your listing titles and product descriptions are rich in juicy keywords that will bring traffic to your product page. This means words and phrases that have high search volume and ideally – low competition levels. Some of the top keywords in terms of search volume according to Book Bolt include "Christmas", "Merry Christmas", "climbing Santa", "festive decorations", "holiday", "
"Stocking", and others.
Adjust your price – if the market allows it, increase your prices around Christmas to enjoy higher royalties per sale. However, if you notice that competitors are reducing prices, adapt by doing the same.
*Bonus tips
We truly want to see you do your best on Amazon KDP. Here's why we're sharing these extra tips:
Make it clear who the product is for – use keywords that reveal the target audience for the book. For instance, words like "Christmas gift for kids", "adult Christmas gift", and others work great.
Add personalization, where possible – the best gifts out there are the ones that are personalized. For your low- and no-content books, personalization may be something as little as leaving an empty space that customers can fill out with the name of the recipient or a custom greeting text box.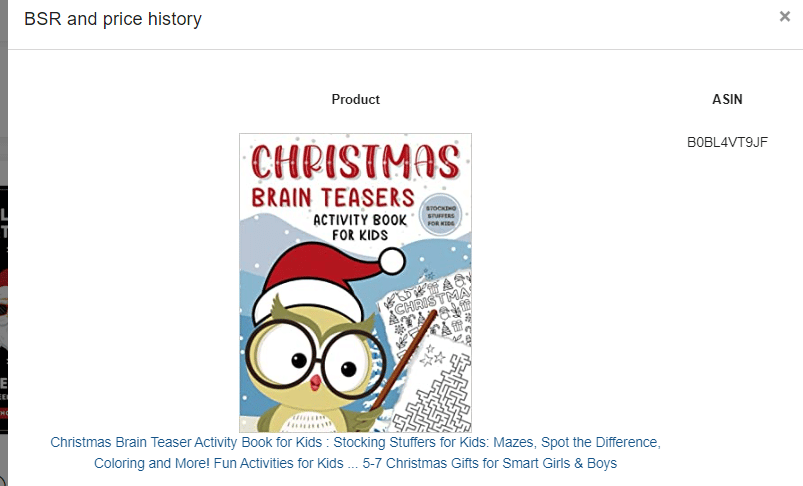 Wrapping up
No matter which approaches you take, it all comes down to your ability to make informed decisions. With reliable software like Book Bolt, you can completely transform your performance and enjoy unimaginable returns during the Christmas holidays.
Ho-Ho-Ho, it's time to make your Amazon account glow!