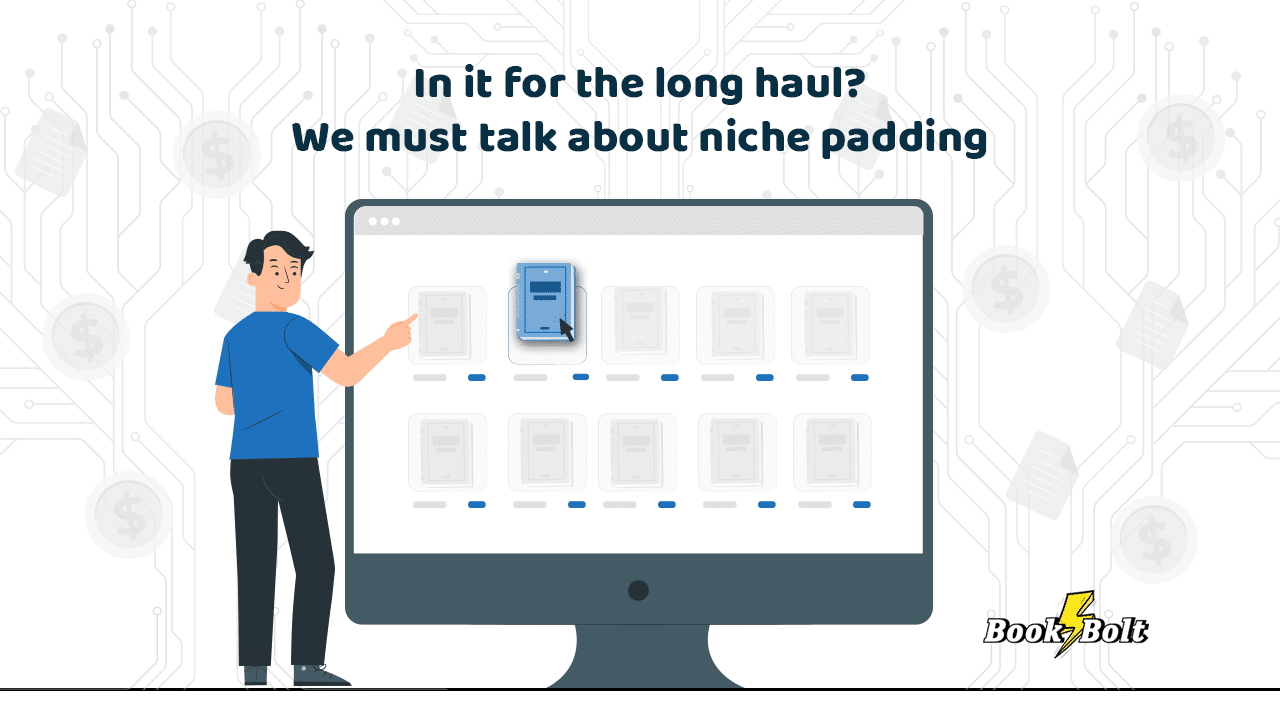 If you've already seen some success in your Amazon KDP gig, you may feel ready to grow further. But with this comes a word of caution. You need to diversify your portfolio in order to reap the rewards all-year-round.
So, how can you achieve diversification? The answer lies in niche padding.
This article will explore what niche padding is and how it looks from a conceptual and practical perspective. We'll also discuss the advantages and potential disadvantages of this technique, so that you're left with a clearer idea of how to execute it properly.
What is niche padding?
Niche padding is the professional term for what can be best described as niche diversification. In the context of Amazon KDP, this refers to the consistent practice of branching out into more than one genre, category, or niche of no- and low-content books.
The effects of niche padding on your Amazon KDP gig are manifold, with the primary one being more persistent sales.
Niche padding is more beneficial to sellers with some experience under their belt. It is recommended for creators who would like to enjoy greater levels of profitability throughout the year. This is in contrast to those who have just started out. As a rule of thumb, that stage of the Amazon KDP journey is best dedicated to learning the ropes and getting a feel for the gig.
As a more advanced seller, you will already be well aware of how the Amazon KDP platform works and what strategies are successful. As such, to expand your business, you'll want a more diverse portfolio of products.
What are the advantages of niche padding, are there any disadvantages?
Niche padding comes with multiple advantages for advanced sellers or those seeking to up their game on Amazon KDP. Some of these include the following:
Year-round profitability: by targeting multiple niches at the same time, you can enjoy greater sales and thereby greater levels of profitability throughout the year. The alternative is cashing in on seasonal and holiday opportunities only.
Risk minimization: if you depend on only one or two titles to sustain your gig throughout the year, you're essentially playing a high-risk game. In contrast, with niche diversification, you can limit the risks by balancing out the peaks and troughs.
Niche identification: sellers who only focus on a single niche or category of no- or low-content books generally stick to these and don't branch out. However, this inhibits their view for untapped or undersaturated niches. Niche padding is a natural way to seek out and enter those.
Author profile popularity: the greater and more diverse the sales are, the more trustworthy your brand becomes. This means that you can enjoy more faith in your products from buyers, leading to greater levels of customer loyalty.
These are a few of the advantages of diversifying your niches. Of course, the disadvantage is that you can approach niche padding incorrectly by producing a high volume of low-quality no- and low-content books. This can result in oversaturating the market and bringing your listings' rankings down as well.
Consequently, your products may not sell as well as you wish.
To counteract that, always conduct your due diligence by researching the niches you enter. We've compiled dozens of articles on various niches, giving you deep insights into the best practices employed by top performers. Check those out in our blog to see how to approach niche and keyword research.
How not to do niche padding?
To demonstrate niche padding in practice, we must first look at what it doesn't do. For example, we have a best-selling organizer that helps people remember their passwords. Based on our research on Book Bolt, we see that the seller – Phil D. Organizers – has around 19 organizers which are only related to this theme, with one exception.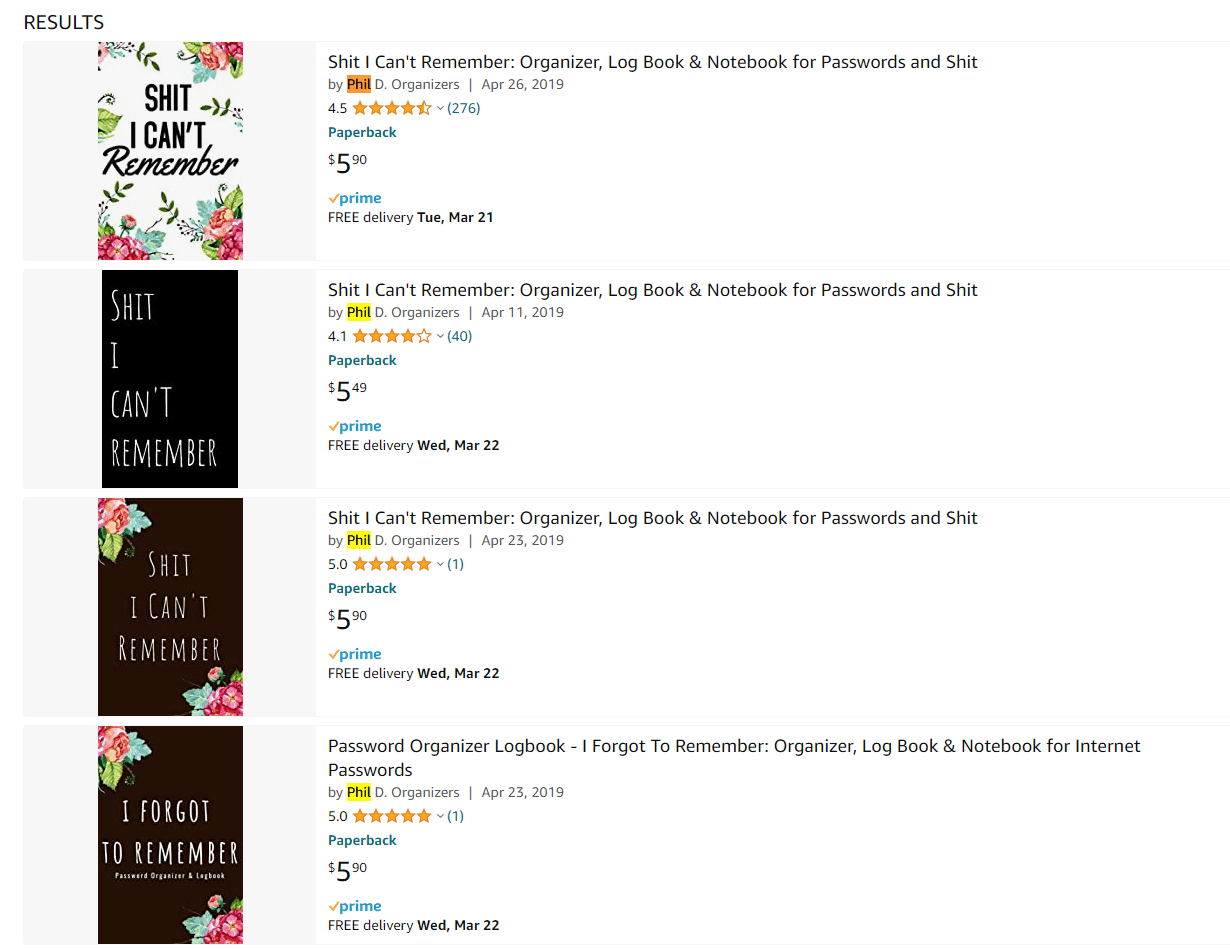 They have a no-content organizer that is aimed at family and friends of someone who has passed away. The book product is intended to be humorous but serves an important function nevertheless.
Based on the research done on this seller, we see that they have not diversified their niche at all. While offering the same product with 19 different variations can be a way to capture searches for these types of forgotten password organizers, the chances of consistent sales and greater profitability are low.
How does niche padding look in practice?
On the other hand, there's Ken Malone. This seller has a total of 38 products with an average BSR of 5,036,253. The lowest price for his products is $3.99, the highest price is $4.99, and the average price is $4.10.
In terms of seasonal listings, the author has created several no- and low-content book products to cater to the back-to-school niche, which is seasonal. This is because the greatest number of purchases takes place in September when the school year starts.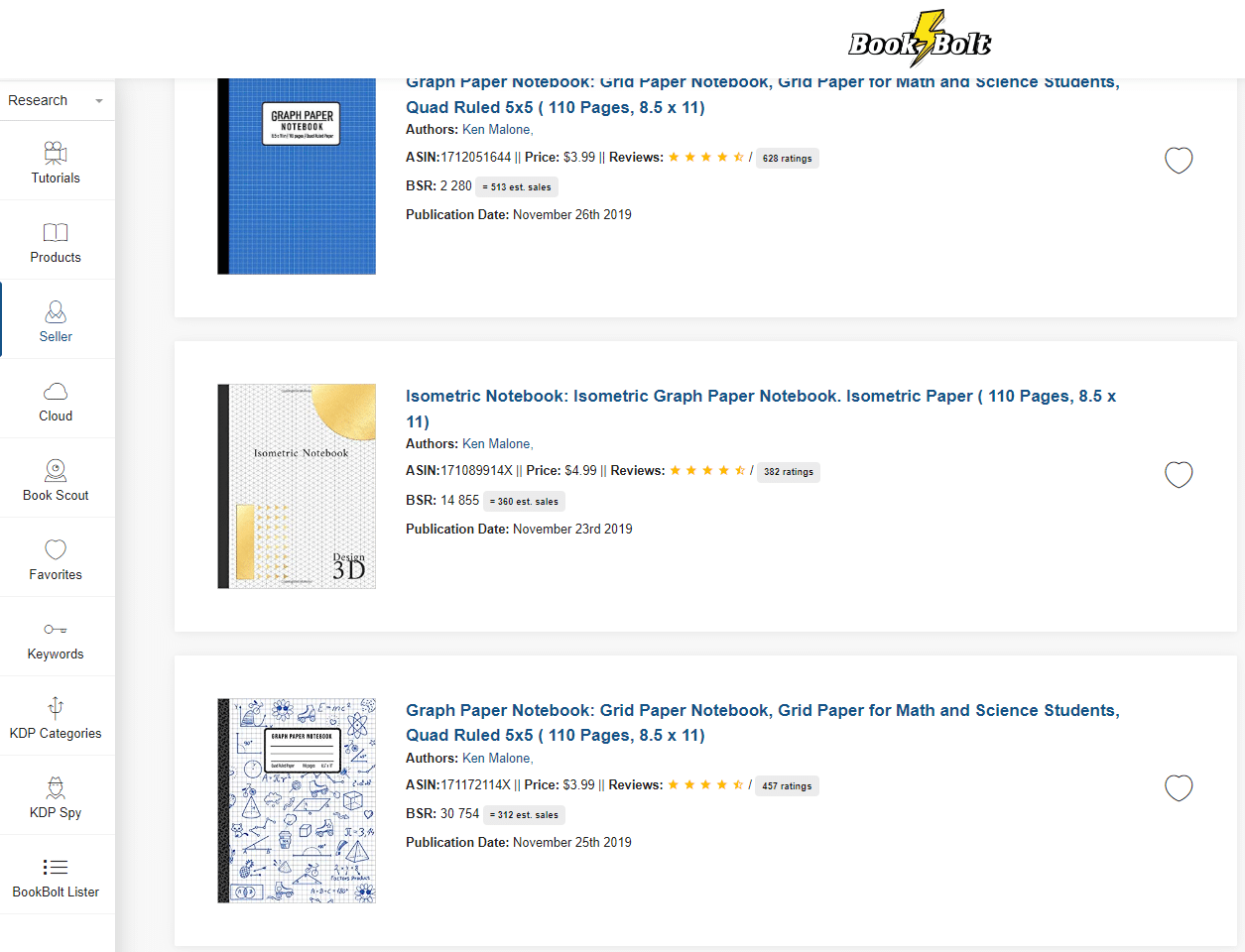 To illustrate this seller's success, we headed over to the Amazon KDP royalties calculator and estimated his profitability as follows:
For the seasonal products, we took one of his bestsellers – "Graph Paper Notebook: Grid Paper Notebook, Grid Paper for Math and Science Students, Quad Ruled 5×5 ( 110 Pages, 8.5 x 11)" – which earns him royalties of $0.22. We multiplied this by the 541 number of sales to get profitability of $119.02.
This is just one of many back-to-school products. All in all, the seller has scored hundreds of sales in his primary niche, generating hundreds of dollars in profit.
However, Ken Malone has also "padded" his offering by providing non-seasonal notebooks and sketchbooks that are purchased throughout the year.
In terms of evergreen notebooks, the seller has sold 245 copies of the "Blank Notebook: Unlined Blank notebook with numbered pages (110 Pages, 8.5 x 11)" with profitability of $53.90. Another bestselling notebook is the "Primary Composition Notebook Dinosaurs: Half Page Ruled Primary Writing Journal for Kids, Boys, Girls, Grades K-2." with 195 sales. This leads to profitability of $42.50 for this product.
As for their sketchbook titled "Sketch Book: Notebook for Drawing, Writing, Painting, Sketching or Doodling. (110 Pages, 8.5 x 11)", the seller has generated 28 sales with profitability of $24.20.
Overall, despite the fact that some of this seller's profitability is highest in the back-to-school time period, they have "padded" their offering with profitable notebooks and sketchbooks, too. This means that they can enjoy a constant stream of income to reward their efforts throughout the year as opposed to making multiple sales during a limited timeframe.
How and when to use niche padding in your sales strategy
Opting for niche padding should be approached carefully and strategically. It's not something to pursue on a whim. It should be planned thoroughly based on solid research. As for the "how" of using niche padding, the mechanics behind it will be dictated by your research. Which niches have you identified as undersaturated but with a potential for sales?
As for the "when" of using niche diversification, you need to start out with a few profitable books first before you launch your dozen or more no- and low-content book products. This will ensure that you don't flood the market with low-quality goods that no one wants to buy.
In essence, your research process will be fundamental for your success. It is worth turning to tools like Book Bolt to help you strategize and carve out a strong and profitable sales strategy for yourself.
Final thoughts
If you're on Amazon KDP to make a few bucks, that's perfectly okay. But if you'd like to grow your side gig and turn it into a profitable venture, then you need to think about the long game. Doing so requires strategizing and planning carefully. And the best tool to help you with this is Book Bolt.
The software enables you to study your competition and underexplored niches, get average prices and BSRs, figure out who the bestsellers are, and a whole lot more. In short, when you think about the future of your business, you need to do so with foresight and insights.