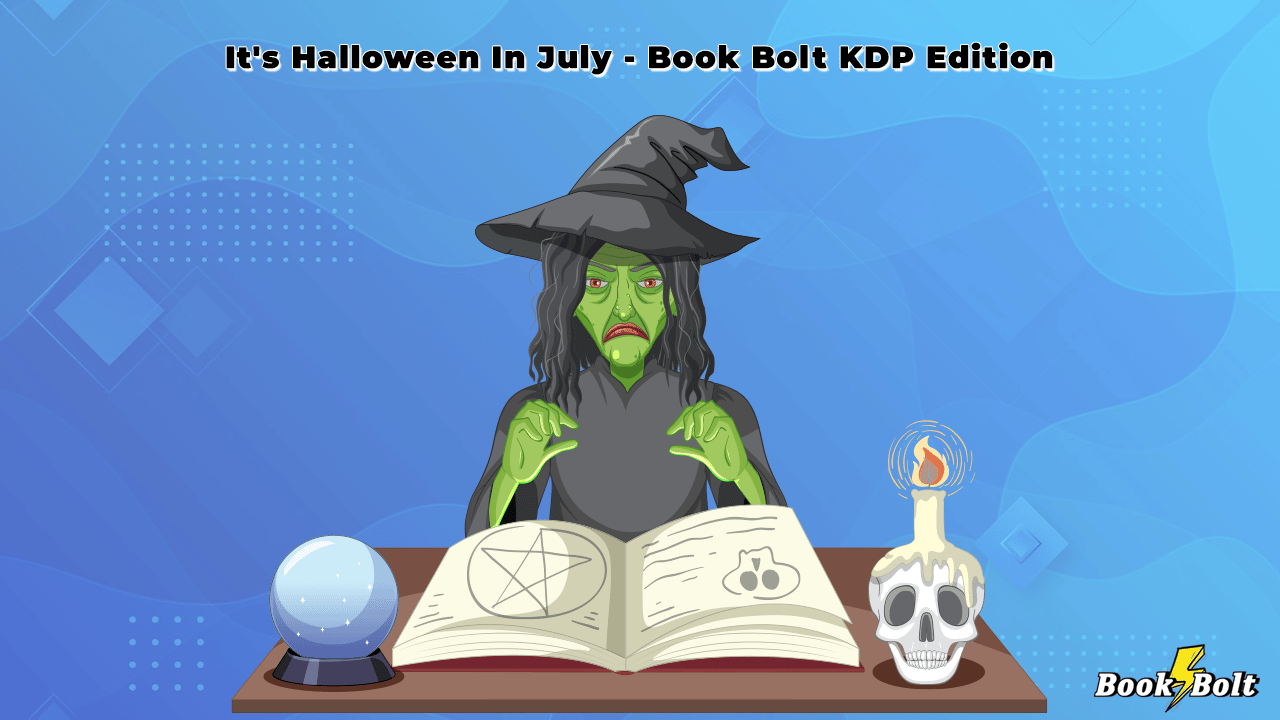 While gift-giving and Christmas jingles still rule our winter months, stealing the number one spot for biggest commercial holiday in America, second only to that is our love of Halloween. Americans spent a record breaking $10 billion on Halloween in 2021 with 65% of Americans participating in the holiday, according to the National Retail Federation (NRF).
Unlike Christmas, which really stays in its lane during the last winter months (you typically aren't going to see anyone sporting anything with a Santa or a Christmas tree outside of November/December), Halloween enthusiasts celebrate and spend on the spooky all year long. In fact, the NRF cited that "65% of Halloween participants reported shopping for Halloween related items well before September."
Not to mention, the popular horror, goth, and kawaii subcultures intertwine aesthetically with the Halloween holiday as well, so items with traditional Halloween graphics (jack-o-lanterns, tombstones, ghosts) are being searched for online daily, not just in the Fall.
Huge fashion and décor brands like Hot Topic, Kreepsville, Fright Rags and Killstar are making millions from this loyal market who are always hungry for more.
What this means for Book Bolt sellers is that you could be making Halloween related book sales right now and all year long!
But what type of low-content Halloween book would sell the best? Instead of guessing, we are going to use Book Bolt's Research section to do a product search for the current best-selling Halloween themed low-content books.

Once in the Research menu, click on the Products tab on the left hand side, then search under "Keywords" for your subject. To the right of that is a drop-down menu where you can choose from a more narrowed down specific type of low-content book – or choose "General" if you want to see the best sellers under all categories.
We chose General. The results showed us that within the Halloween category some of the top sellers are a "Halloween Horrors Coloring Book for Everyone" with a little over 210 sales, a "Vintage Gothic Style Halloween Bat Composition Notebook" with a little over 200 sales, and a "Halloween Word Search Puzzle Book for Adults."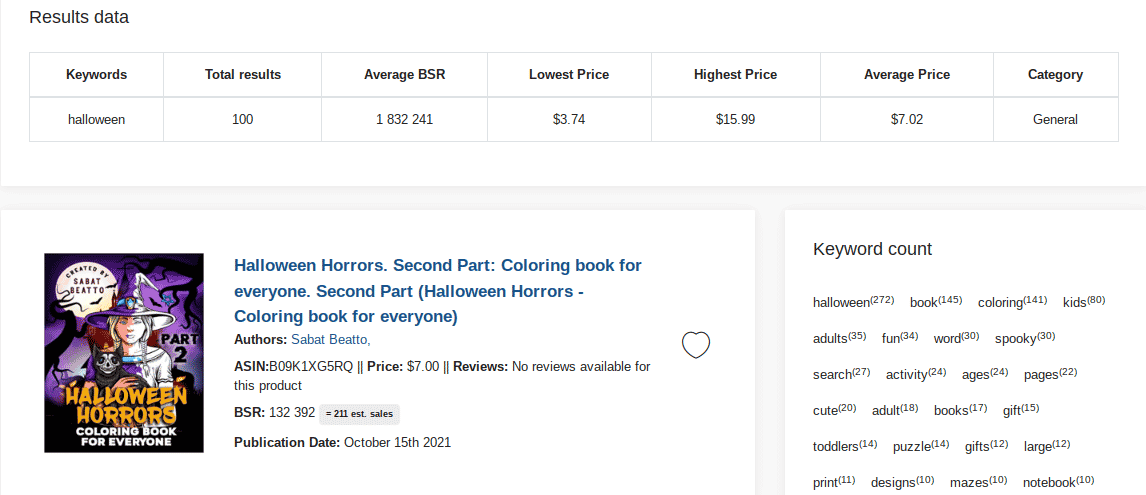 Further scrolling through the list tells us a lot about the type of content people are buying, the styles that are popular, the age group/s they are aimed at, and price points. The research also provides us with the most searchable words within the main category. For Halloween, buyers are searching the most for books, coloring, kids more than adults, fun, spooky and word search.
But how competitive are each of the markets you are considering? To find this out, we are going to use the Keywords section.

Search for keywords in a specific title to find out how often it has been searched for on Amazon, as well as the scale of competition in this particular market. Comparing the three titles–Halloween Coloring Book, Halloween Notebook, Halloween Word Search–we see that "Halloween Notebook" is one of the most searched for keywords but competition in this category is high. If we look at "Halloween Word Search", we can see that the search numbers are pretty high across the board and the competition is medium.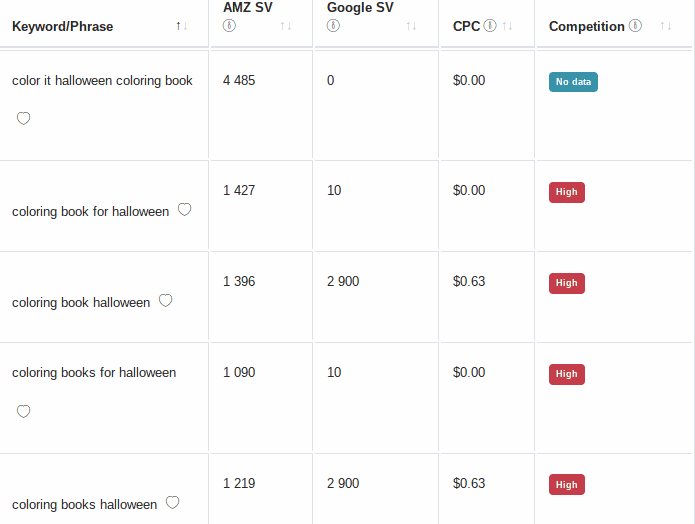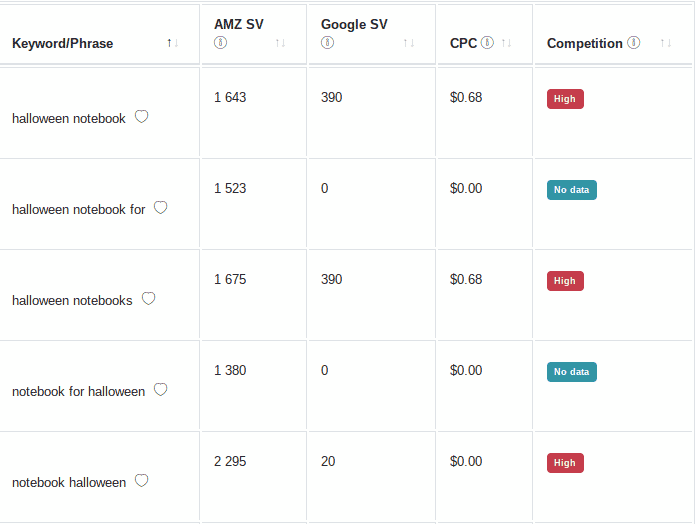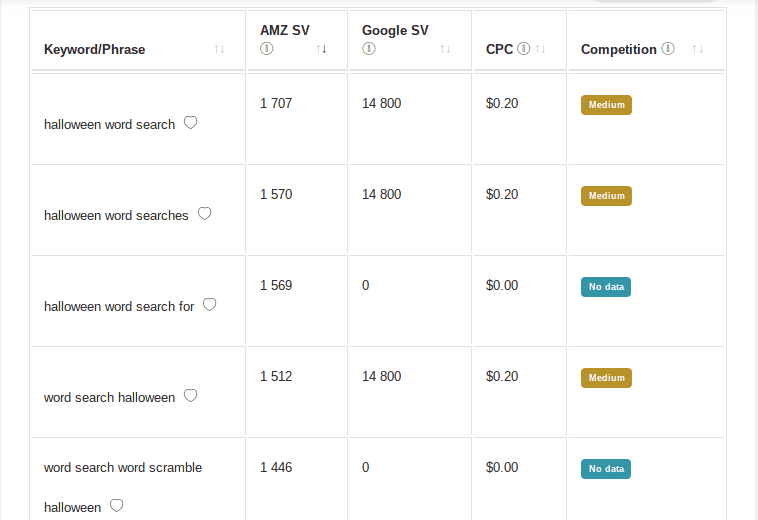 Based on all of the data, current trends, and competition within the markets, a new seller could do very well entering into the Halloween Word Search sector on Amazon KDP. And with theBook Bolt Studio with Puzzle Interiors inside it will be a breeze to make it!
To make our Word Search Book, start a New Project and choose Paperback: Cover and Interior. After naming the project, we kept the 6 x 9 trim size, chose the black & white interior with white paper, and chose Bleed. The page count is up to you, but looking at competitors in this market it looks like on average their books have a minimum of 60 word searches or a combination of activities.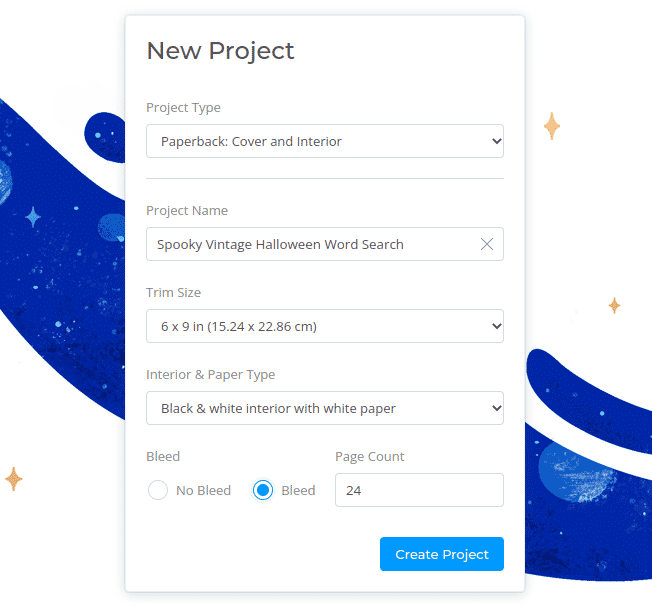 If this is your first project with Book Bolt, you will want to pay attention to the specs that Book Bolt has laid out for this specific design. They have conveniently outlined the location of trim lines, spine fold and live areas. Note that the red area is outside the live area (where text, logos, and essential images go), but if you plan on using background artwork it must fill into the red area.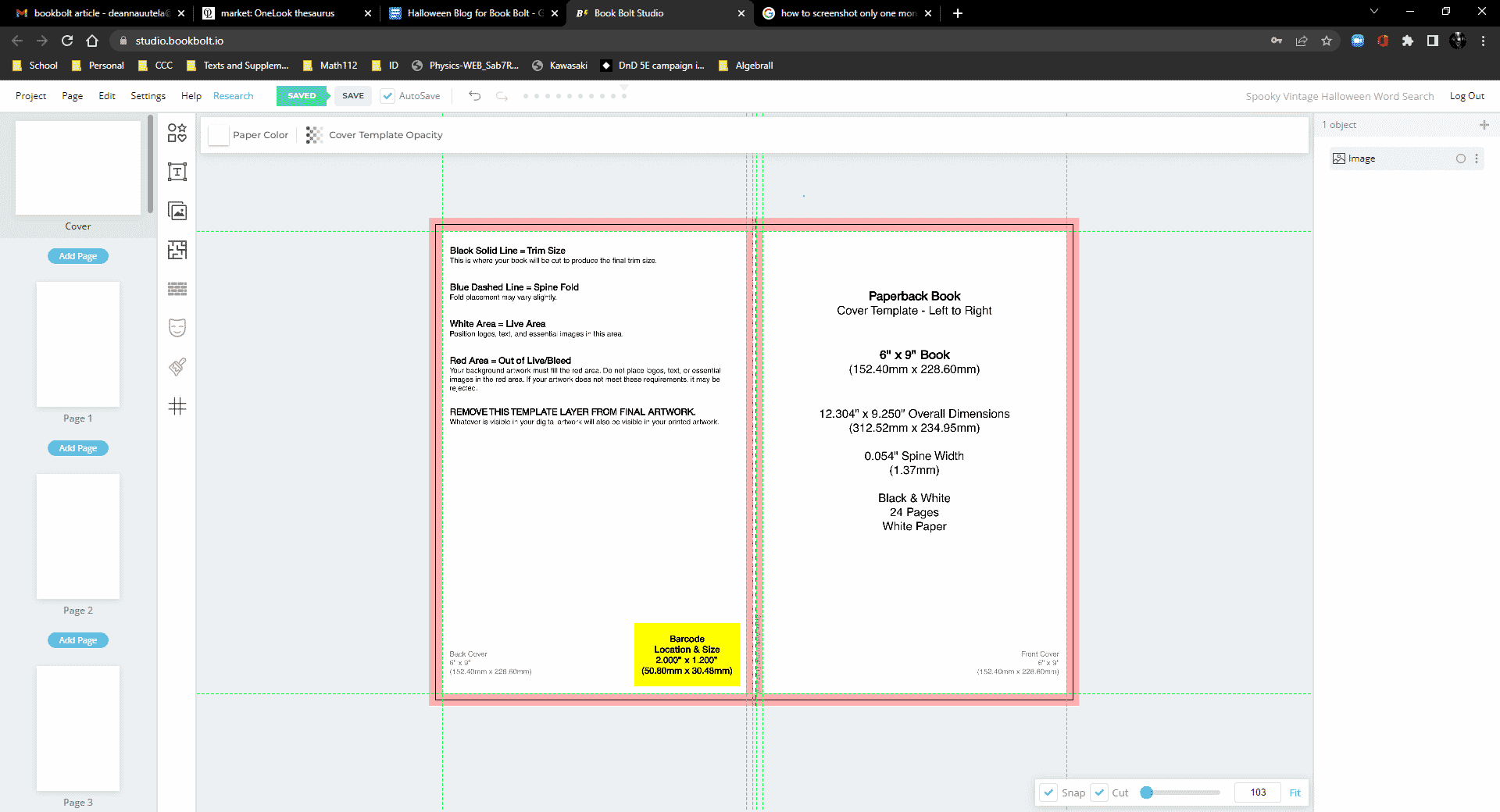 Keeping in mind that vintage Halloween and spooky Halloween images are popular search words and styles, we are going to design a vintage-inspired Haunted House scene for our front and back cover. Book Bolt's design menu is incredibly user-friendly and easy to use, so within hours we had a finished front and back cover that is ready to upload puzzle pages to. For detailed help you can watch any of the design tutorials in the Research tab and reference any of our step-by-step examples in the Book Bolt Blog.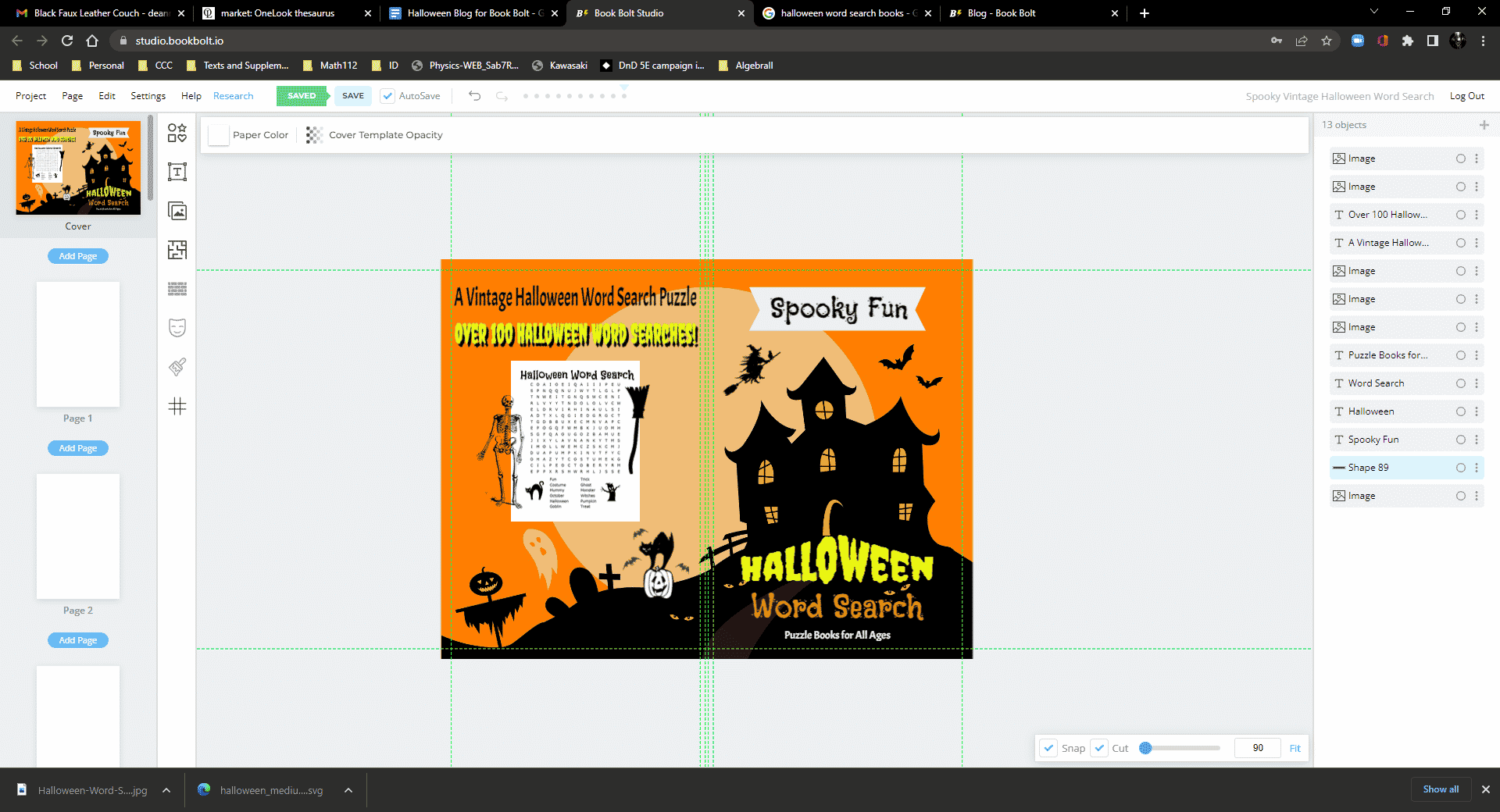 With the more time-consuming part now behind us, we can save the project and move on to the easy part: creating the word searches! And for this we will need to return to the Research mode. Notice next to "Research" there is a triangle dropdown icon – clicking on it pulls down the Create option. Under "Create" we find the options for the Studio and Bolt Mass Cover Converter. We will want to go into Studio to design our Word Search. You will be asked to sign-in and you can use the same credentials as you do to login to Book Bolt.
NOTE: This is now all possible inside of the Book Bolt Studio under your interior templates!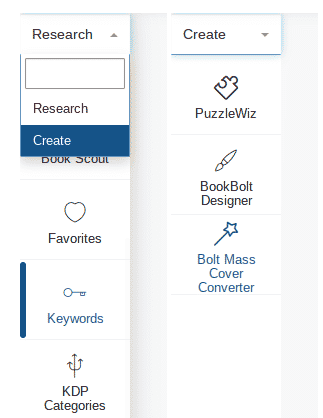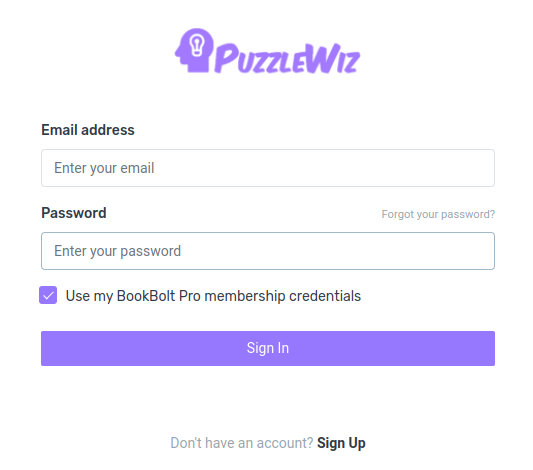 Once in, there are a variety of activity choices and tutorials for each. For our purposes, we will click on the Word Search tab. From here we are asked to choose Bleed or No Bleed, Size, Pages, Font, etc. If you are struggling to figure out what font to use for a word search, Google the most popular (something clean, crisp, easy to read at any age) word search fonts and try to find something similar in the menu options.
Before hitting "submit" we need to upload our chosen words that the program will use to design the word search for you. The instructions ask for us to submit our file as a CSV extension, which can be done in Google Sheets or Microsoft Excel. We are further instructed to write down in a column up to 30 words and if you are doing more than one crossword leave a space between the groupings. We chose 20 recognizable Halloween words.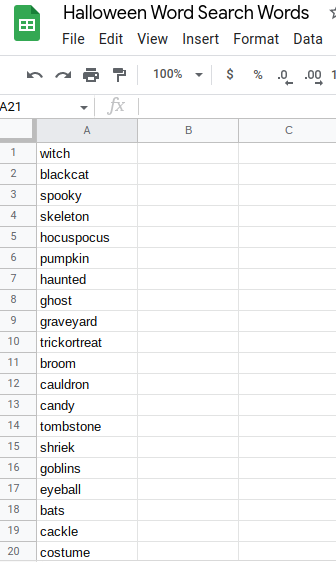 To save the file as a CSV go to File, Download and choose the option Comma Separated Values (CSV). Once saved, we go back to PuzzleWiz and click on the button "Select File" and upload the saved CSV file. It only takes a minute and a message will pop up saying it is complete. Click on "Download Your Last Document" and your ready-to-go finished word search is downloaded and saved as a ready-to-go PDF complete with a "Solutions" page.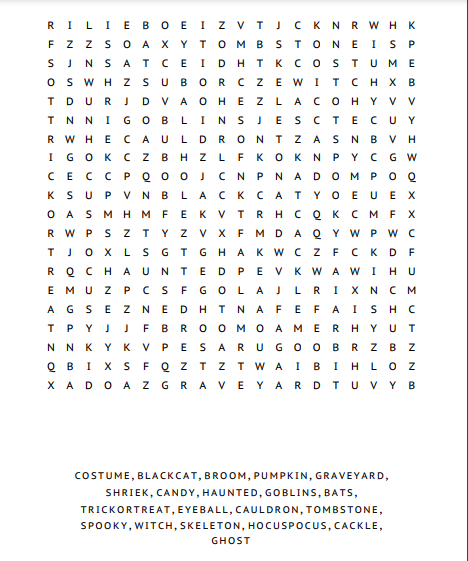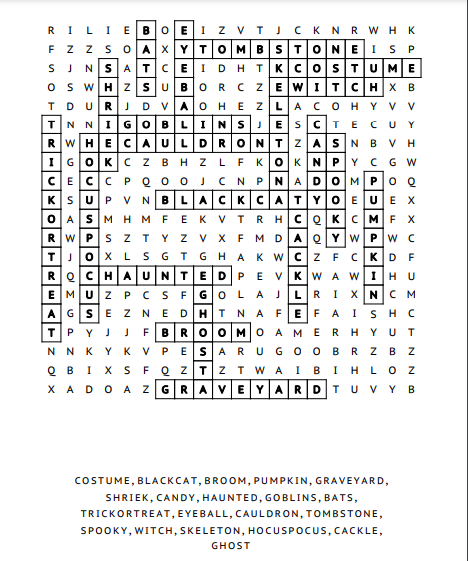 In order to upload this completed Word Search into our project, we will however need to convert it from a PDF to an image file. To do this we need to use a PDF to PNG or JPG converter, and the one we prefer to use is this free version from pdf2png.com. Just convert it and save, and as easy as that we have a ready to use Word Search for our Book Bolt project!
So now we will go back into our saved Book Bolt project and click on the first interior page, select the "Image" icon and upload our saved Word Search.png file. It fits perfectly on the pages, and we can add themed embellishments around the free space to complete the look.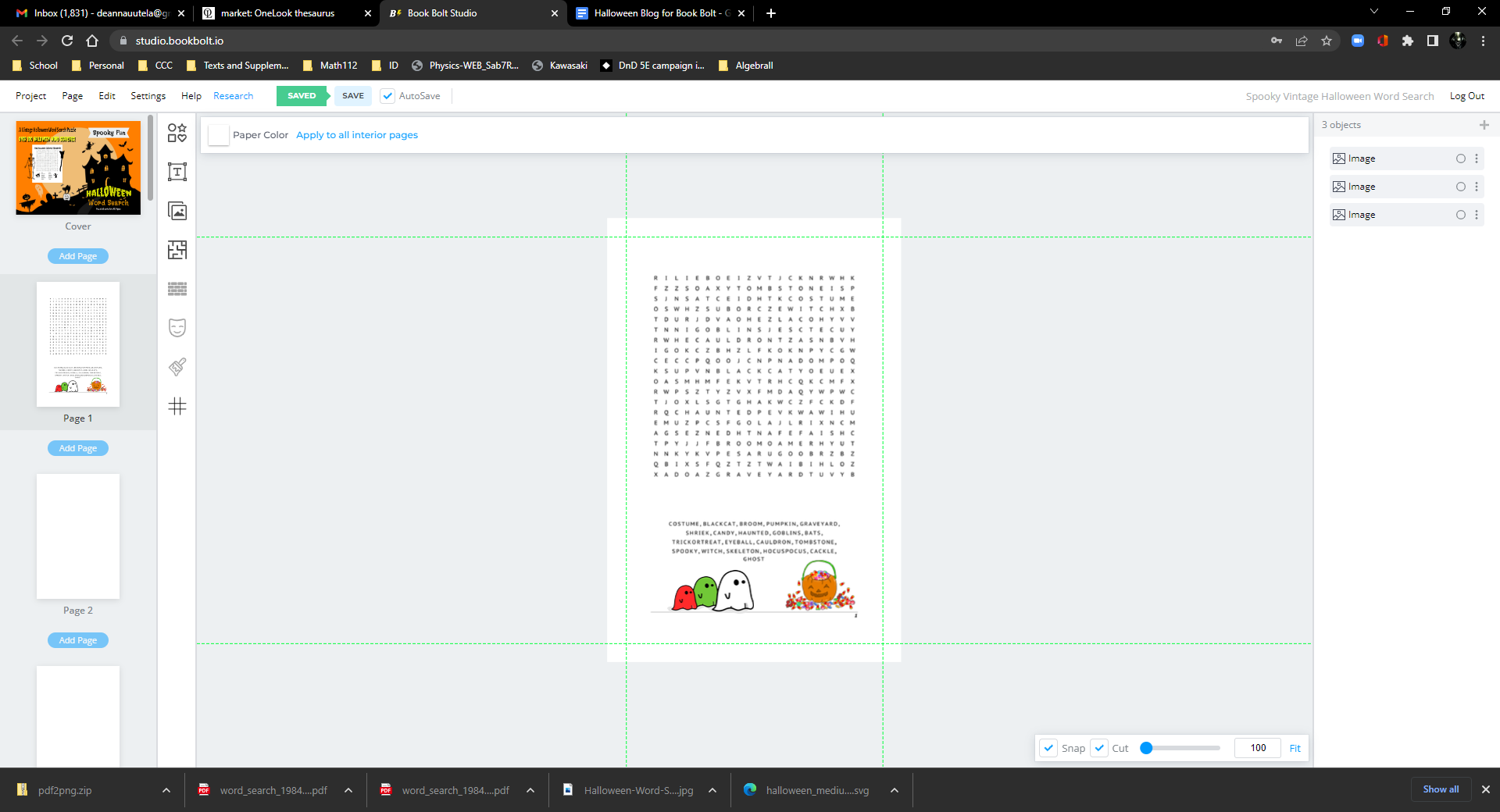 Once we have applied the final touches, it is ready to go and only takes a few minutes to download. We now have a beautiful little monster creation to send out into the Amazon KDP world to grow and multiply and spread some ghoulish glee all year long!