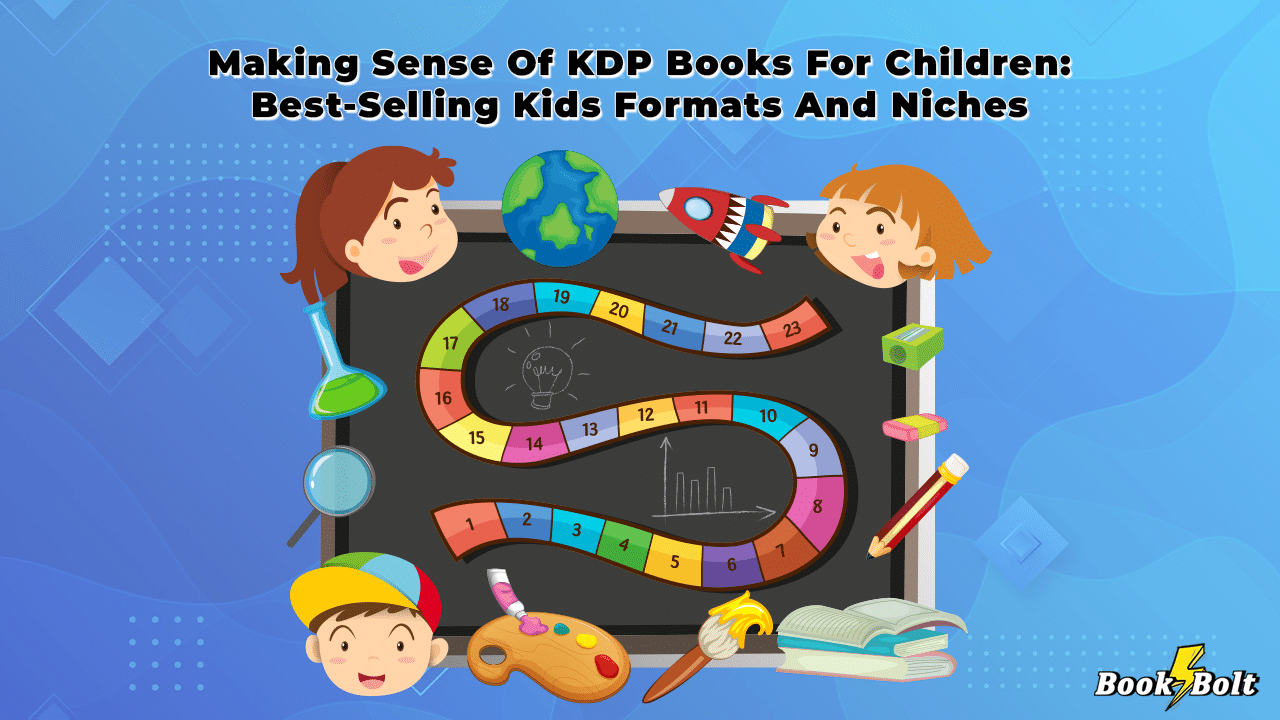 The kids category on Amazon is one of the biggest there is and there's a good reason for this. The pandemic only amplified an already high demand for children's no-content and low-content books. And, while it would appear that the worst of COVID-19 is now behind us, books of this sort will continue to be as popular as ever.
Naturally, this begs the question "how can I, as a Seller, take advantage of this popularity"?
In order to even begin thinking of profits, one must first understand the formats and niches.
And this is exactly what we'll be discussing in this article.
What Are The Most Sought After No- And Low-Content Books For Children?
Education and learning are priorities for many parents who have children as young as toddlers all the way through to the end of their 12th year of school. However, while the target market of kids can be quite broad (after all, it ranges from 2 to about 16 years old), it can actually be refined very deeply. A Seller could then truly target their attention and focus on a niche that works for them.
Some of the most sought-after no- and low-content books for children (from toddlers through to grade four) include kids learning books and kids workbooks, with very interesting sub-niches below these.
As an example, if you were to search for kids learning books, you're likely to get in the region of 50,000 results on Amazon, meaning it's highly saturated. But you don't have to feel despondent and stop there.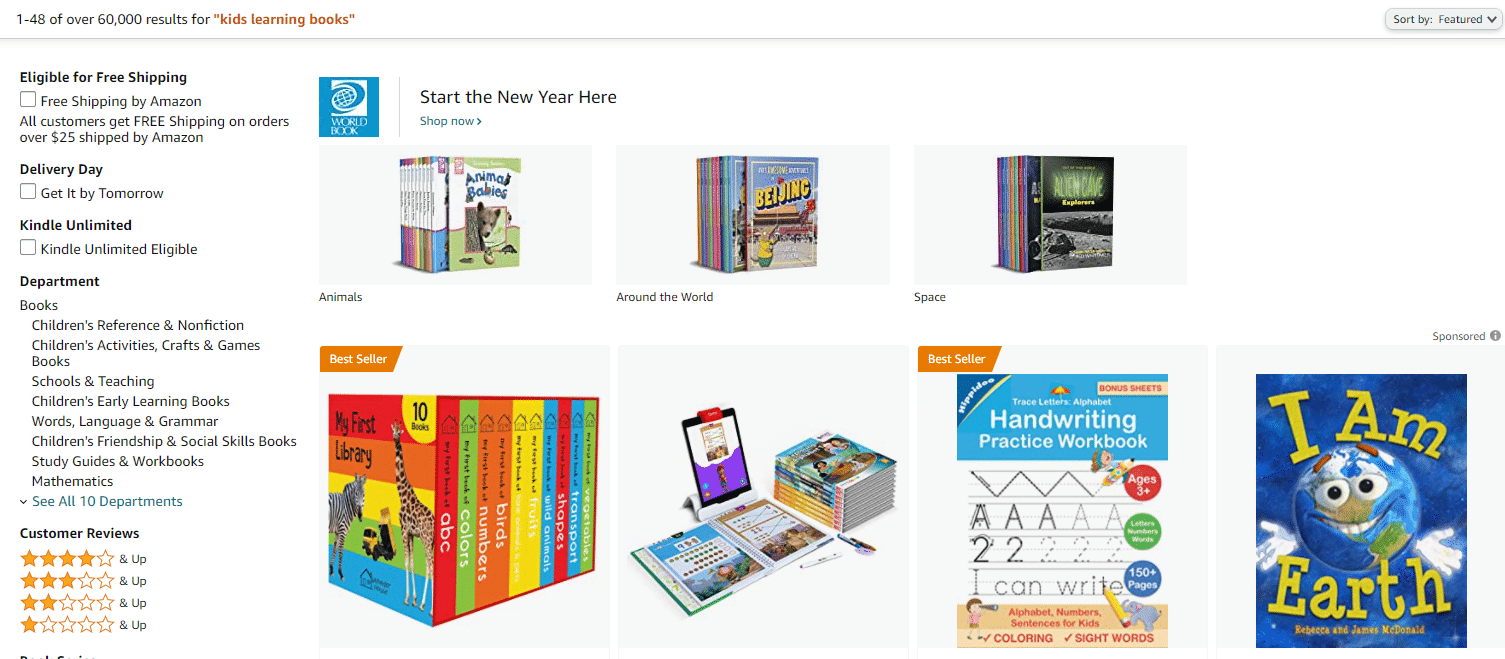 In fact, the space offers a lot of room for creativity. Some of the best niches a Seller could get into include the following:
Tracing books: Tracing books are considered low-content books for kids and there are three overall themes here. These are letters, numbers and shapes or objects. Each of these niches can be further explored to help a Seller really narrow down their target market. For example, if you were to choose shapes and objects as your sub-niche, your offering could go from simple geometric shapes to more complex animals or flowers.
Kids activity books: This is another rather broad sub-niche but because it provides educational value, it can be quite profitable. For instance, you may choose to offer coloring books of "ABCs" or even help children find hidden pictures. It is evident that with the latter, your interior will be more complex than a simple outline of the ABCs which simply need to be colored in.
Preschool workbooks: There's also a huge market for preschool workbooks in the form of simple math activities, spelling, number practice, coloring or even recognizing numbers.
Cursive handwriting books: Now we get down to an even tighter niche, which yields around 800 searches a month and has around 2,000 results on Amazon. These cursive handwriting books generally have low high best-sellers ranks (BSRs) because they are highly sought after. (As a side note, they are not only ideal for young kids who are just learning how to write, but are even suitable for teens and adults).
Kids word search books: Word searches are an excellent way of getting children to identify new words. You could, for example, have the picture of a duck with the word search containing the actual word "duck" which the child in question would have to find. This is an excellent way of consolidating shapes and objects, as well as written words. These books make for a great gift for a young child, all while adding superb educational value.

Handwriting practice books: Finally, these handwriting practice books are perfect for a wide range of ages, and make for a great business opportunity because there's low competition for them. Search results on Google are very high, they have extremely low BSRs, and again, they are not only ideal for kids but for adults, as well.
Some Notable Examples Of Successful Sellers And Their Strategies
Practically every Seller who enters the world of Amazon KDP for no- and low-content book publishing does this to make a passive income, or sometimes even to grow it into a full-time job. And so, making sure that one's efforts are targeted is likely to yield the best results.
One of the first starting points when it comes to children's no- and low-content books is to look at some of Amazon's top Sellers to see what they are doing right. Emulating best practices is nothing to be ashamed of.
Impressively, the two examples that will be highlighted below are of Sellers who have made over $50,000 per month from around 10 books. And this is considering the fact that they haven't even been around on the market for that long (around a year and a half, give or take).
So, diving right into it, the first example of a successful Seller is Modern Kid Press. This husband-and-wife team has over 26,000 sales per month with estimated royalties of around $2.03 per book. Their offering is not too extensive as they have in the region of 10 books in their portfolio. However, they've done really well in terms of having consistent branding throughout their entire book offering in terms of design. And they've also managed to garner extremely high reviews on their books with one of them, Kindergarten Math, getting over 10,000.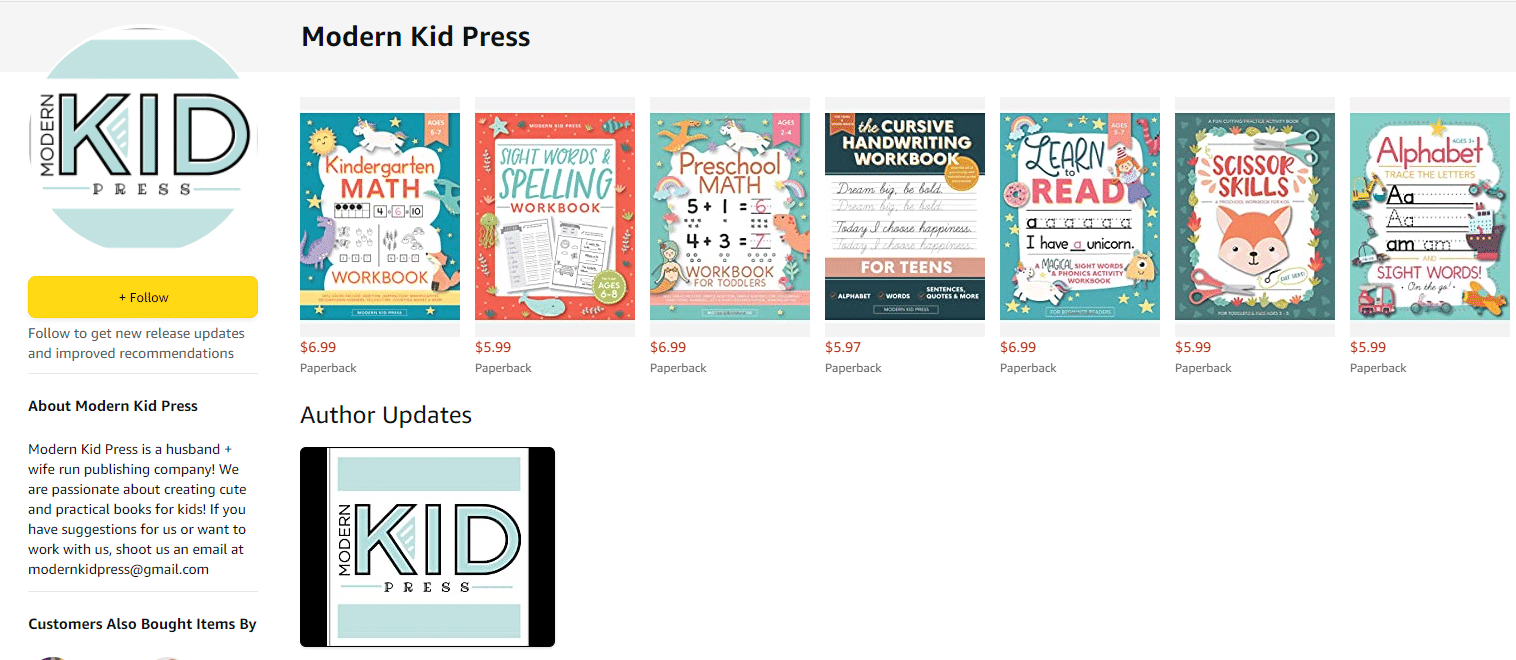 The second example is the Seller Sujatha Lalgudi who has also followed the rules of design principles and branding, demonstrating high consistency across their offering. What's even more notable is that there's a bestseller badge on almost every item this Seller has. Finally, the merchant has managed to generate over 10,000 reviews with most of these being five-star ratings.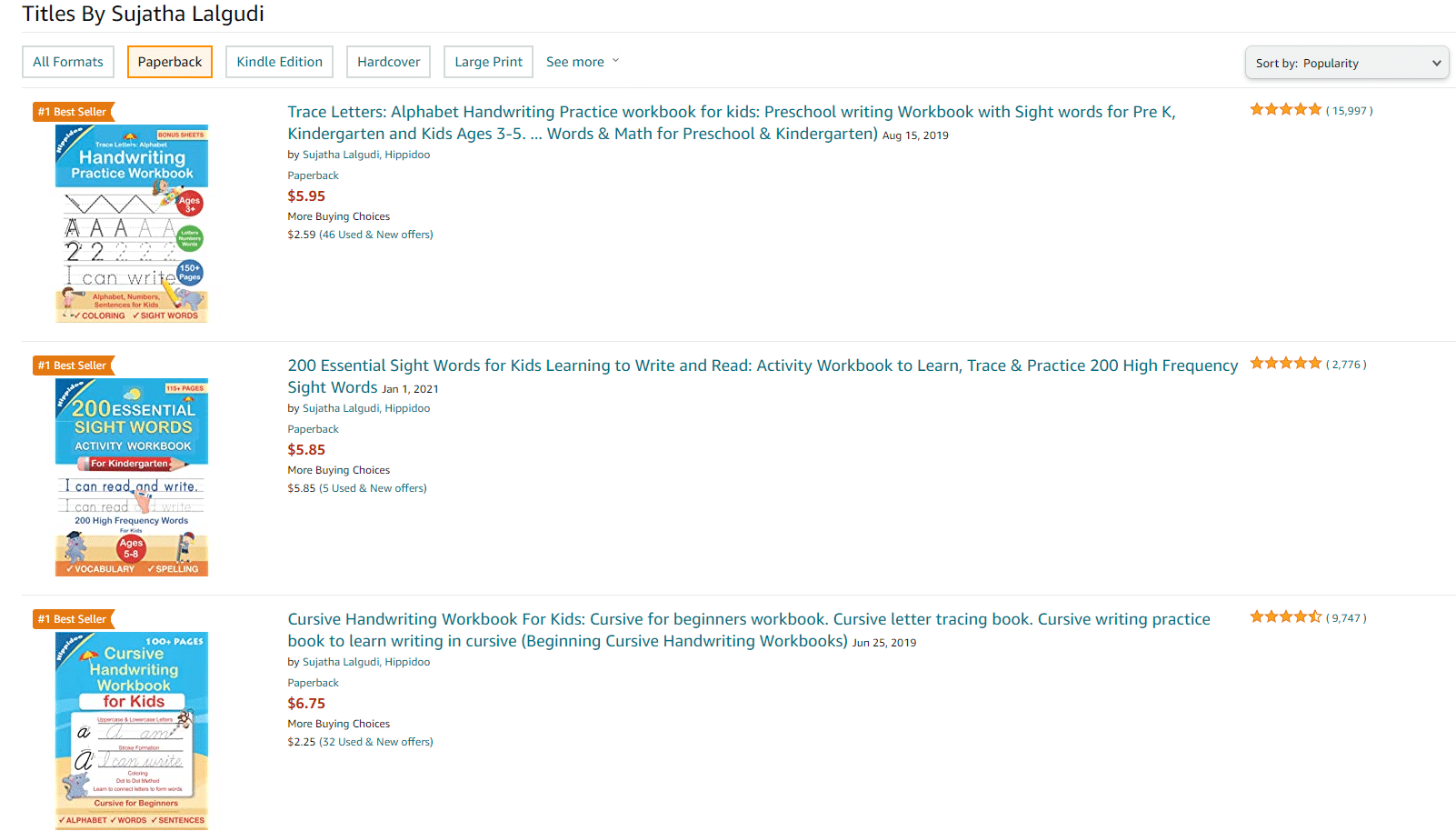 Effective Ways To Add Value To No-Content And Low-Content Books For Kids
Apart from consistent branding, what else have these Sellers got in common?
For starters, they've ensured that their books are between 85-110 pages, which, as obvious as it may seem, is important for two reasons. One: young children don't really require high page numbers because they may get bored with the book quickly. Two: parents are looking for value for their money so that they can make the most out of their purchase.
Another interesting strategy that we were able to observe is that these Sellers have priced their books at an average of $6.99, meaning they'd be affordable for many income-type families.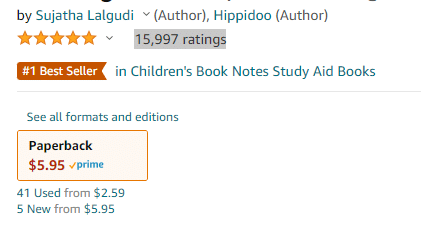 In addition, both Sellers have used ads to boost what they have already built in terms of no- and low-content book portfolios.
And last but not least, Modern Kid Press had made it possible for buyers of their books to email them for free goodies. This not only adds great value for the customer, but value for the Seller, too. How? Well, this way, the merchant is able to build an email list without necessarily needing to resort to promoting their books across the various social media channels.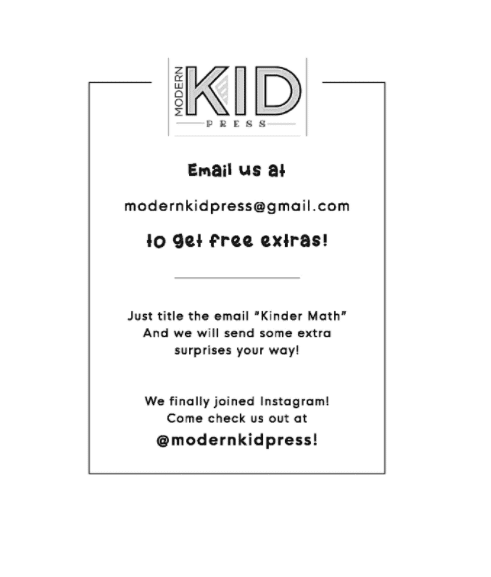 What Are Some Of The Most Profitable Themes Within The Kids' Category?
It would be wrong to ignore the major profitable niches within the kids' category, when devising your own KDP strategy. More often than not, themes include popular TV shows and films to catch the buyer's attention. Examples of highly profitable niches include Star Wars, Harry Potter, Marvel, Disney's various offerings and more.
However, for the regular Joe who's sitting at home aiming to make a decent passive income, it's vital to always double check the intellectual property involved and avoid making trademark or copyright infringements on franchise products. This could save you a lot of trouble over the long run.
How Do KDP Books For Children Differ From KDP No- And Low-Content Books For Adults?
Getting into KDP books for children involves a highly different process to KDP no- and low-content books for adults.
For starters, these KDP children's books fall into a completely different category as they have text, a storyline, interior images, and illustrations, and therefore, entail a lot more design work.
Secondly, if you're aiming to sell KDP children's books you'll need to decide where exactly you'll be selling them (e.g. Amazon's Kindle platform and the rules for selling actual books on Kindle differ to no- and low-content books), and also how you'll have them printed, published, and of course, distributed.
A word of advice from us: focus on your strengths. Building a passive income around no-content and low-content books on Amazon is one thing. Writing and illustrating a full-fledged children's book is a whole different story.
Final Thoughts
So, what are the key takeaways?
First, it's vital to niche down. Avoid making random children's books, rather stick to one age group and continuously cater to it. One way is to cater to children in kindergarten aged two to four, while becoming an expert in your field. Then, be sure to be consistent with your branding and try to follow industry best practices when you embark on this journey.