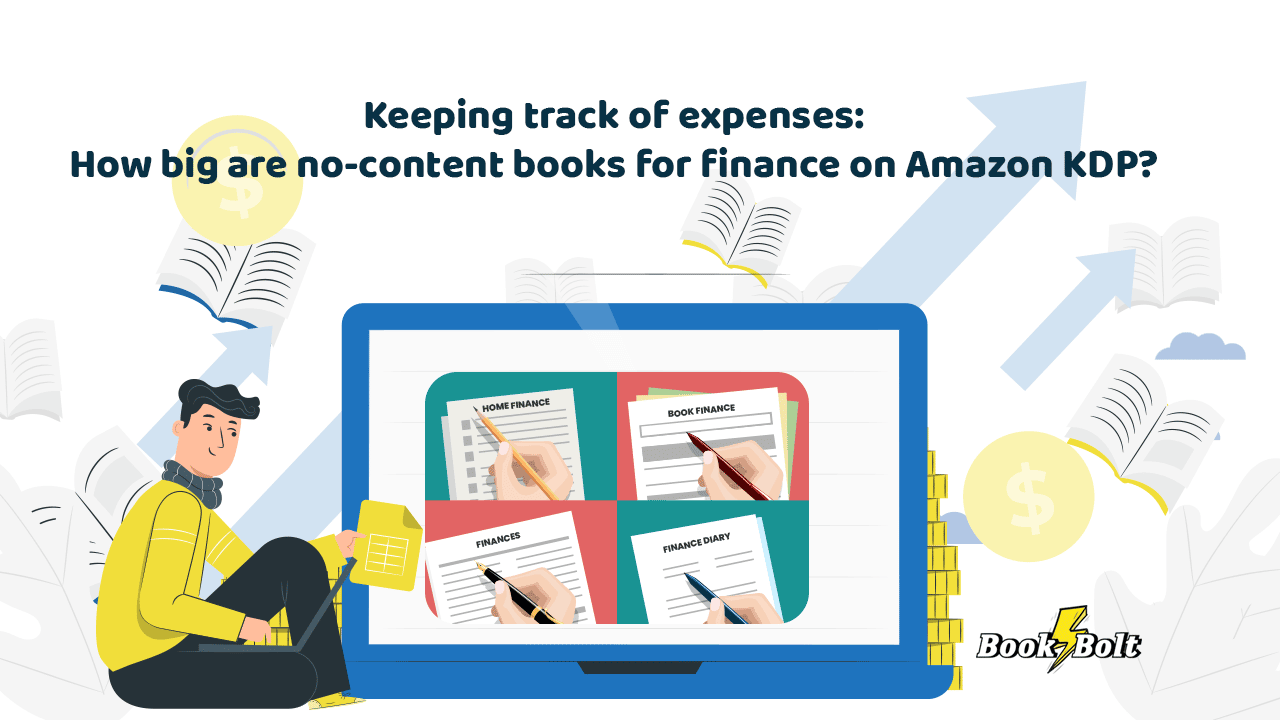 Finance and bill-related no-content books are an incredibly useful way to keep track of expenses and ensure that households manage their budgets well. As a useful aid in assisting individuals, these books add quite a lot of value to Amazon KDP customers.
If you are a seller who is interested in entering this niche, there are some important things to know regarding market size, profitability, and best practices.
Let's take a closer look below.
How big is the finance no-content book niche on Amazon KDP?
The starting point to any research project for Amazon KDP should be taking a look at the seed keywords and their results. Luckily, Book Bolt's "Products" module is a great tool for helping you make the most out of your research.

Using this functionality, we were able to determine that the seed keyword "finance" in the "General" category of no-content books has an average best-sellers rank (BSR) of 1,163,486. This is quite low, comparatively speaking. It means that sellers are turning over sales and enjoying some levels of profitability.
But what about other seed keywords? We explored these as well as their associated BSRs, too. This is what we found: "spending" (977,500), "bill" (733,703), "expenses" (467,221), and "money management" (317,611).
From this, it's clear that these books are making sales and that their BSRs are significantly low. But what about related keywords and search volumes?
We take a closer look.
Keywords, BSR, and search volume

Related keywords are one of the most important ways to help you optimize your listings. By using a combination of seed and related keywords in your title and description, you have better chances of ranking higher on the Amazon algorithm.
We explored the keywords most commonly used in the finance no-content book space, their BSR, and search volume. Here's what we found:
"finances": BSR – 325,228; search volume – 7,890
"Finance": BSR – 1,169,950; search volume – 5,994
"Home finance": BSR – 49,862 ; search volume – 4,414
"Finances organizer": BSR – 18,951; search volume – 4,056
"Finance organizers": BSR – 1,162,426; search volume – 3,982
"Home finances": BSR – 1,106,306; search volume – 3,167
"Finance record": BSR – 46,210; search volume – 2,524
"Book finance": BSR – 712,344; search volume – 2,101
"Family finances": BSR – 1,198,664; search volume – 2,077
"Finance diary": BSR – 1,210,967; search volume – 1,783
"Journal for finances": BSR – 1,180,354; search volume – 1,460
Based on the above, it's apparent that the various related keywords in the niche have a reasonably low BSR of under 1.3 million. They also have a very high combined search volume that exceeds 50,000 searches. This is clear evidence that there's considerable consumer demand in the space.
In addition to the related keywords, we explored some of the tags used by sellers to get in front of their audience. There are: "book" (87), "tracker" (55), "planner" (50), "log" (44), "income" (40), "expense" (38), "ledger" (36), "organizer" (32), "notebook" (29), "bill" (28), "journal" (25), "record" (21), "money" (14), and "budgeting" (14).
What this helps us determine is the types of no-content books sold the most. Trackers, planners and logbooks appear to take the lead here, followed by ledgers, organizers and journals.
Listings saturation
Next, we headed over to Amazon.com to determine the listings saturation, or the number of listings that appear for some of the most popular (low BSR, high search volume) keywords described above.
Here are our findings:
"Finance record": over 50,000 listings
"Book finance": over 60,000 listings
"Finances organizer": over 50,000 listings
"Home finance": over 50,000 listings
Although this is just a small sample size of the listings on Amazon.com, it's a clear indication that this market is saturated. This means you'll need to be ultra competitive and have extremely well-optimized listings in order to succeed.
Pricing

A further important feature that will affect your profitability and competitiveness is the pricing of your finance-related book products. We took a look at the prices as well and determined that the lowest-priced book for the "finance" niche is $3.62. The highest price is $26.86. Meanwhile, the average price is in the region of $7.43. Pricing must be taken into account in order to determine your royalties and ultimate profits. In addition, if you plan on advertising and promoting your finance-related no-content books, then the advertising costs or your daily budget should also be taken into account.
What are some of the best-selling merchants doing right?
We identified two merchants in the "finance" niche on Amazon KDP, who are doing quite well in terms of sales.
The first seller is Bookkeeping Tracker Press. They have created the "Ledger Book: Financial Accounting Log Notebook and Tracker to Record Income and Expenses For Small Business and Personal Finance for Bookkeeping, Tax, Bill, Cash and Money Budgeting". This product is priced just under the average ($5.95) and has a competitive BSR of 48,503. It has made 277 sales since January this year. It has also generated 83 ratings since then.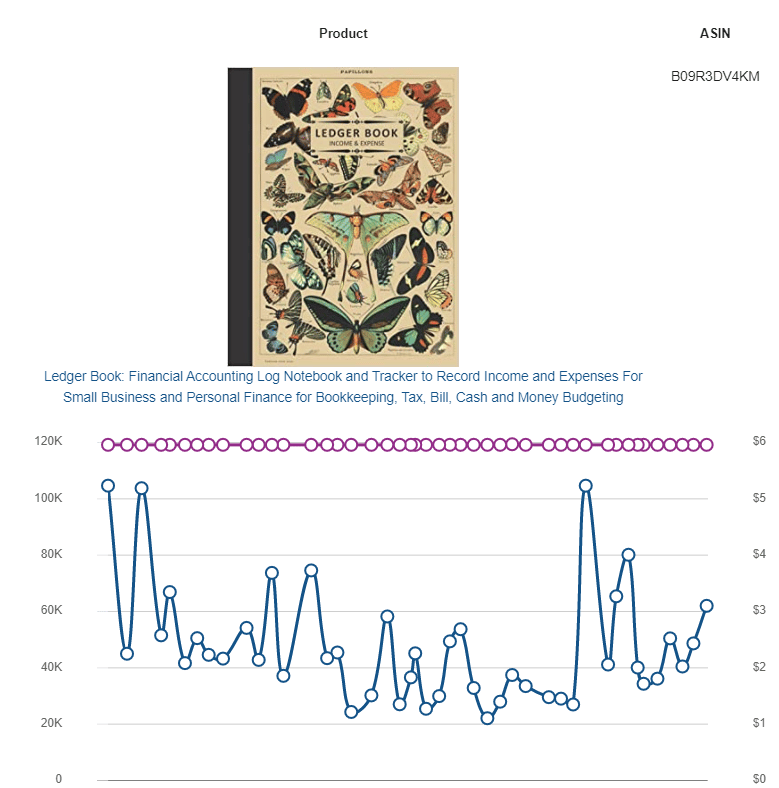 The second bestseller under the spotlight is David Pantaleone. They have created the "Bill Tracker Notebook: Monthly Bill Payment Tracker Book To Track your Personal Expenses | Budget Finance Planner & Payments Checklist Organizer". Although they have only generated 58 ratings, their BSR is also considerably low at 46,244. In addition, they have made over 280 sales since the end of November last year at a price of $7.00.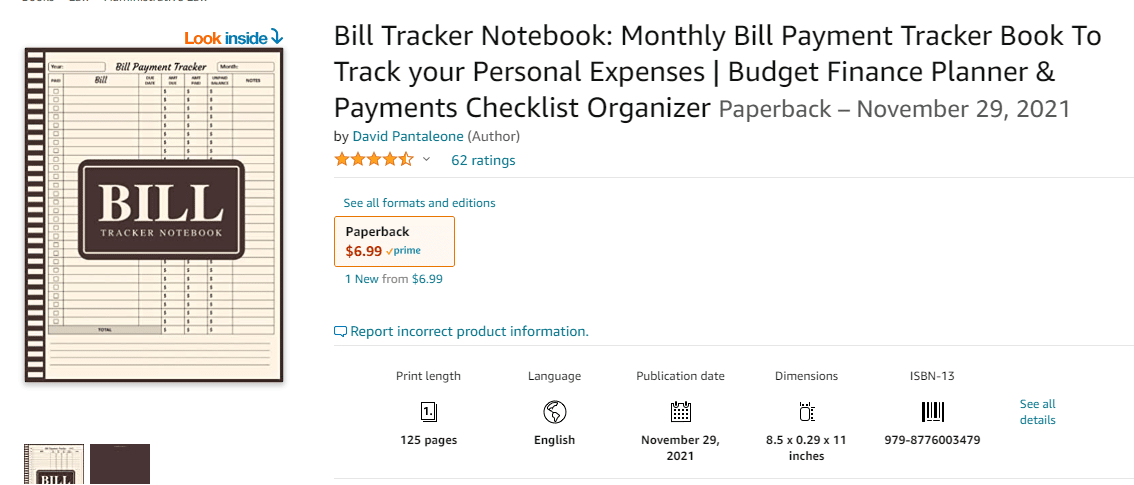 Titles
So, what do these two sellers have in common? The first consideration is the keyword usage in their titles. It's evident that there is no keyword stuffing. The nature of the "finance" subject means that there is scope for creativity and using different synonyms to express the same thing.
This means that these sellers have used words like "income and expenses", "personal finance", "money budgeting", "finance planner", "payments checklist organizer", "personal expenses", "bill tracker notebook", and others to get more visibility.
Finally, it's worth noting that both books on offer are of the tracker type, which we determined to be the most popular format in the niche.
Descriptions
Regarding the descriptions, the second seller has not included one in their listing at all. Despite this, they have made more sales than the first listing. This is unusual, and we do not recommend it.
Meanwhile, the first seller has used bullet points in their description to provide a highly detailed overview of what customers can expect. This is the correct approach.
Pricing
Both sellers have implemented a similar pricing strategy, pricing just under or near the average of $7.56. This is a worthwhile approach because it ensures that sellers are able to compete more effectively on the platform.
Design
The designs of the two bestsellers are quite different from each other, too. Whereas the first seller has used butterflies and dragonflies on the cover (presumably to cater to a female audience), the second seller has simply previewed their no-content book's interior.
Both of these strategies can be effective. However, always ensuring that you keep your audience in mind when creating your covers should be an essential part of your creative process.
What is the profitability within this niche?
We already alluded to the number of sales and the prices of these successful no-content books. We'll now examine their profitability in more detail.
The first seller (Bookkeeping Tracker Press) has made 277 sales at a price of $5.95. At 100 pages, they get $1.42 in royalties per book. Translated into profit, this gives us a total amount of $393.34.
The second bestseller described above (David Pantaleone), has made 280 sales at a price of $7.00 each. At 125 pages and royalties of $1.85 per book, profitability is estimated at $518.00.
Given the aforementioned, it's evident that if you put out a high quality product, you'll be able to earn in excess of $500.00 in the finance no-content book niche.
Our recommendations
Despite the oversaturated market, the scope for profitability in this niche is impressive. As a result, if you're looking to enter the finance-related no-content books category on Amazon KDP, there are some best practices that it's advisable you follow.
Listings optimization
Listing optimization would not be complete without using targeted, high search volume, low-competition keywords. Luckily, this genre offers quite a lot of opportunities for being unique with your titles and descriptions. Use synonyms and related keywords in a natural ordering of words and avoid keyword stuffing. Remember that trackers and planners are the way to go. Focus on these types of books and optimize your listings accordingly.
Remember that your title must be descriptive and meaningful to your audience. This is what will get their attention and immediately describe what they're getting from you. Hence, you should use keywords that involve not only some of the seed ones mentioned above, but look at the related keywords and tags for inspiration as well.
Price
Although some sellers have gone way beyond the average, pricing their books at over $20.00, it's essential to stick to the average prices. Seeing as the finance niche is so developed, this is an especially important tip to follow. As a reminder, the average asking price in the space is $7.56.
Also to be included in your pricing strategy is an estimate of your profits. Look at your book's page numbers to determine what your royalties will be, and don't forget to factor in any advertising costs.
Design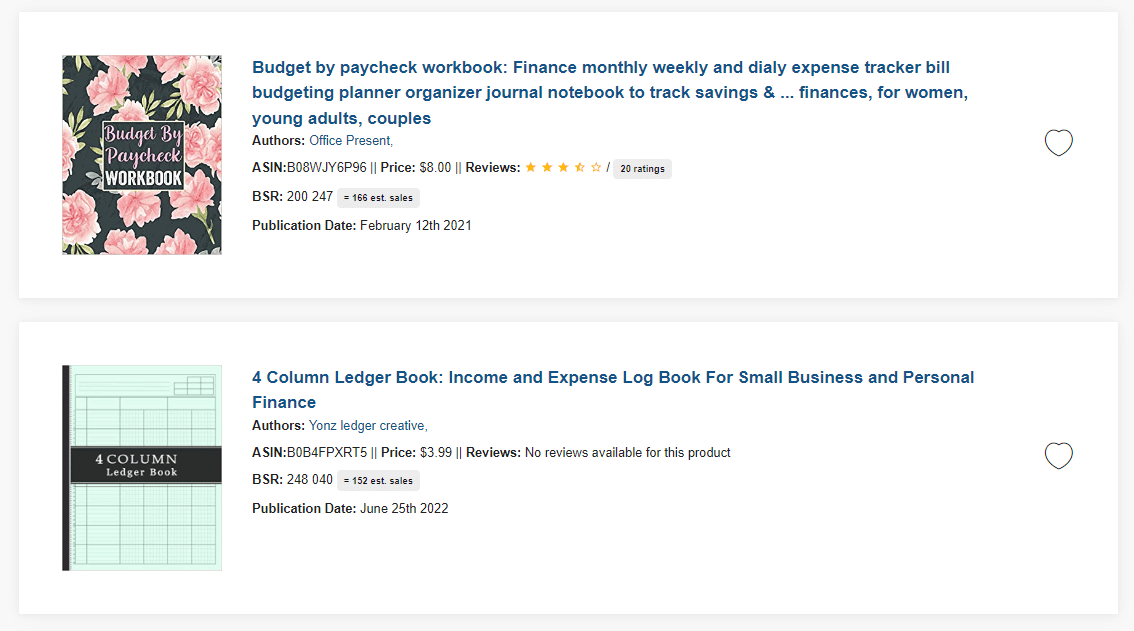 Every cover design on Amazon KDP is unique. And you need to stand out with yours. The reason for this is because the cover and its utility will be one of the deciding factors when it comes to completing a sale. Your cover design should follow guidelines of hierarchy of design, as well as ensure that you cater to a specific audience.
One of the bestsellers mentioned above has evidently targeted women. However, the second bestseller has tailored their product to a much broader group by simply providing a preview of the interior.
Keep these two approaches in mind when designing your cover.
Final thoughts
Finance trackers, logbooks, planners and others are a handy way of keeping tabs on income and expenses. They're ideal for almost every household and enjoy great popularity. However, to enter this saturated market, you need to come up with a great design and an overall quality product.
This is why we highly recommend Book Bolt as your research and listings optimization partner. The software and its multiple modules can take your side gig that much further, and it only goes for $9.99 per month.