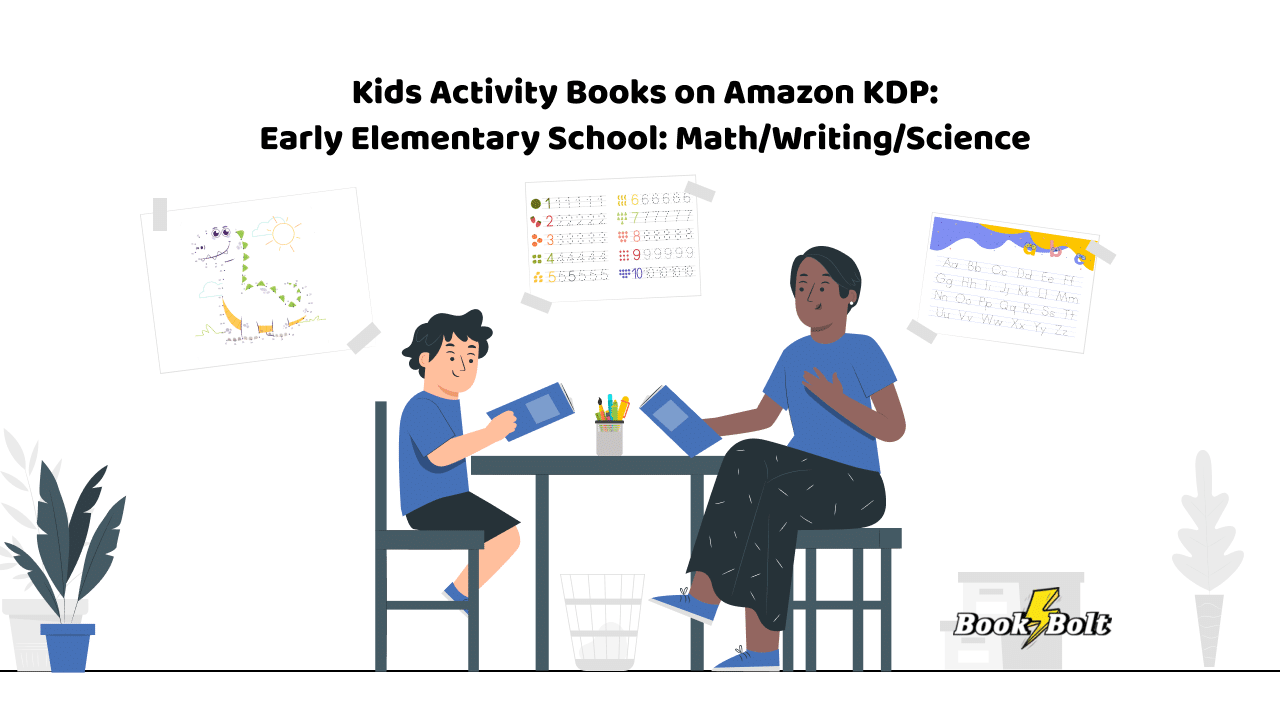 There are so many different products out there to give to young kids to help them grasp concepts and actually enjoy learning.
The age-appropriate activity books you will find all over Amazon are an indication that this type of product is one that sells well, and you really might want to consider this niche for your own online sales. Activity books help kids form habits that will help them learn more effectively.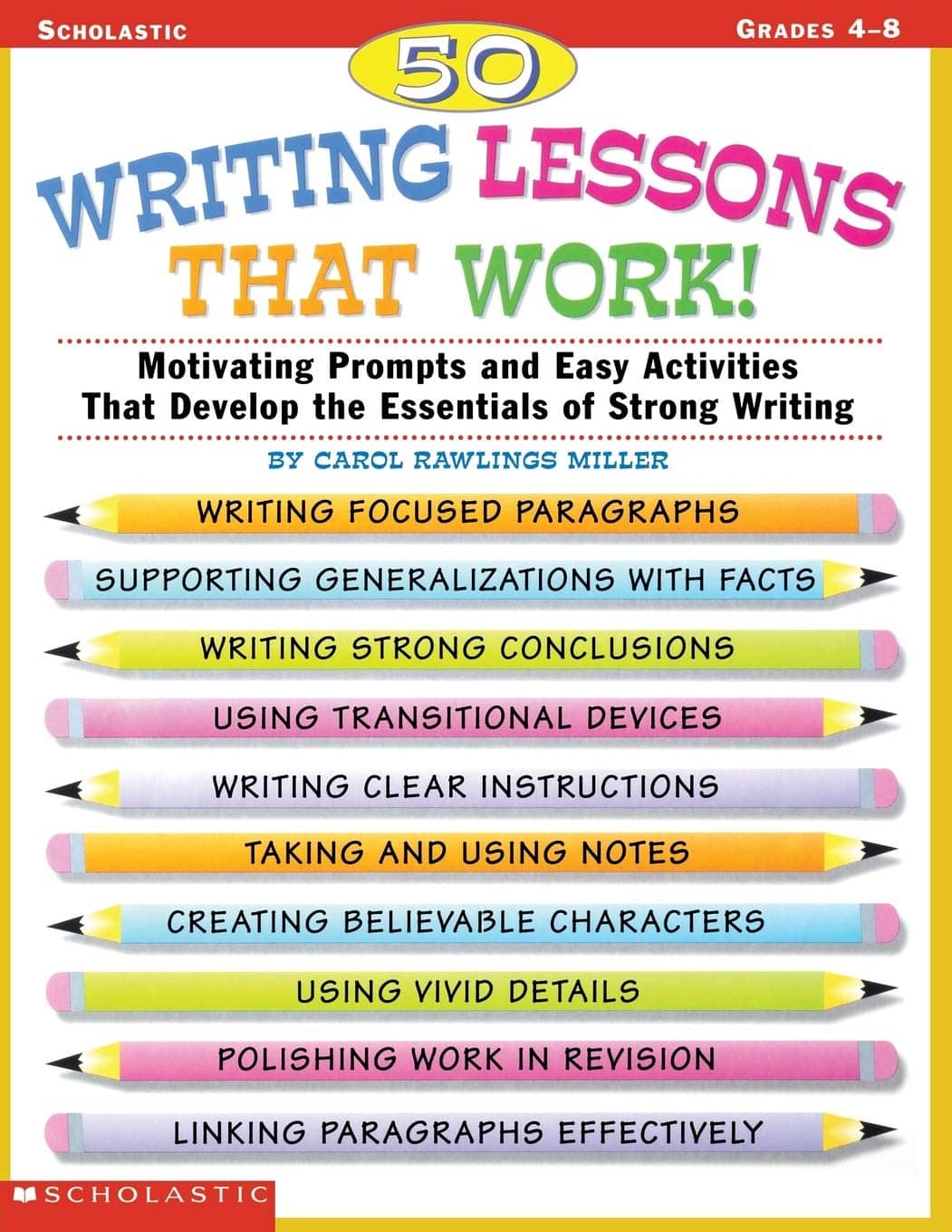 It is clear that across the world every parent wants their child to develop in the most comprehensive way possible. Parents can achieve this by introducing activity books to their children at a young age.
Children's early years are the best time to create a love of learning when it comes to digesting knowledge. This has been shown through studies over and over. Activity books can encourage a variety of tasks, including coloring, noticing differences, dotting, matching symbols, and even simple cut-out models and crafts. The needs of children who are more advanced can also be emphasized using worksheets and graphical learning materials.
KEEP KIDS OCCUPIED, CONSTRUCTIVELY!
Some parents buy activity books for their kids to keep them occupied and interested, which is fine, while others do it to support their cerebral development. In any event, there are several ways that activity books can help kids, such as increasing their mental capacity from the start. Children's activity books aid in the improvement of color, shape recognition, forming and understanding numbers, and letter recognition. Children can learn a range of crucial abilities, like:
word creation
fundamental addition and subtraction
how to mix various hues to create other colors.
They teach techniques for solving issues, an unavoidable part of living in any environment for any living thing. Children must learn to solve difficulties if they are to achieve in life. Using activity books that teach youngsters how to develop these abilities when they are faced with a problem, and must find a way to solve it on their own, is one of the easiest ways to do this.
They can also enhance emotional competence through dealing with stressors constructively. Children experience stress just like adults do, but they may have a harder time expressing their annoyance and other unfavorable feelings. With the use of a puzzle or other tough activity, an anxious child can divert their attention with the aid of an activity book, allowing them to process their emotions through problem-solving.
IMPROVE FINE MOTOR SKILLS
There is also the added benefit of improving fine motor skills. Children's activity kits contain puzzles that call for such skills. Children do not natively possess these skills; instead, they gradually acquire them. They might have a natural aptitude for such things, but they are not instinctual. For a basic task like holding a crayon and concentrating their movements to finish a graphic exercise, the use of dozens of muscles in the fingers, hands, and wrists is necessary. Young children who develop their fine motor skills are better able to manipulate small objects, type, and use their kinesthetic senses.
The list goes on about how great the benefits of these products can be, but we are here to show you how others are benefitting from being the ones who produce them for these kids. Today, we are going to focus on activity books that introduce math, science, and writing to elementary school-level children, and the following are some excellent examples of just that.
Another Logic Workbook for Gritty Kids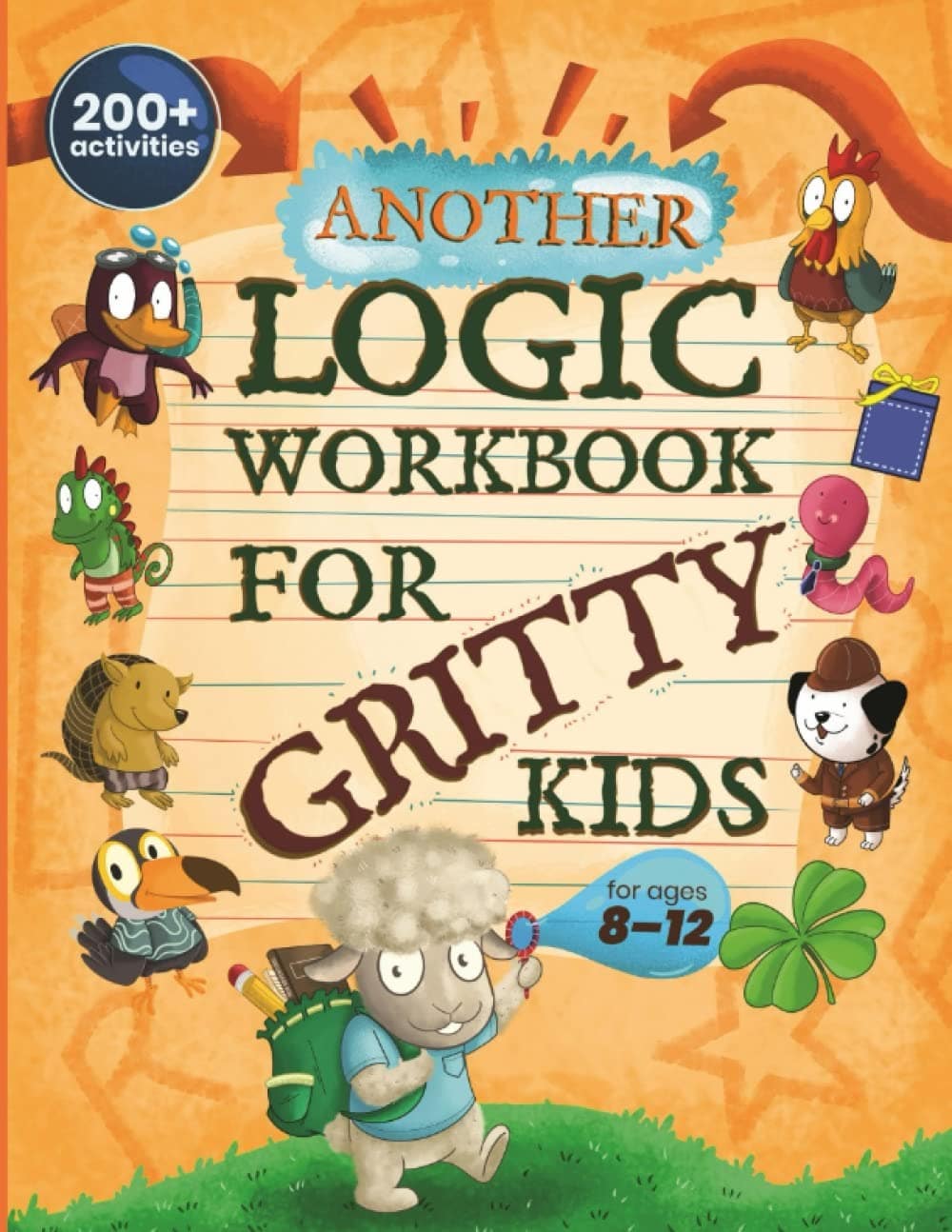 The sequel to the widely popular Logic Workbook for Gritty Kids is titled Another Logic Workbook for Gritty Kids. Although there has been a slight increase in overall difficulty, the book's flow and personality have remained distinctively the same while a vast array of new challenges have been added.
Through appropriate challenges, visually appealing games and puzzles encourage students to solve problems with intention and enhance their STEM skills. A wide range of learners will be enthralled by the incredible selection of creative and up-to-date content with more than 200 developmentally suitable exercises arranged by subject. These include:
spatial awareness
math problems
logic issues
word games.
Each part features a modest entry point but a high ceiling as the difficulty of the puzzles increases, motivating kids to keep playing by giving them early success.
Characters from The Gritty Little Lamb (which won the Reader's Favorite gold medal for best children's picture book in 2021) are exquisitely illustrated. As children take part in engaging activities to develop fundamental problem-solving and critical thinking skills, they are inspired and encouraged by the characters' spirited rhyme. And a certificate of achievement is supplied and answers are available in the book's back for those who need them. 13 two-player games for pencil and paper that promote the immediate application of learned abilities set the groundwork for ongoing enjoyment and development when the book is finished.
My Dog Champ – I Go To First Grade – Math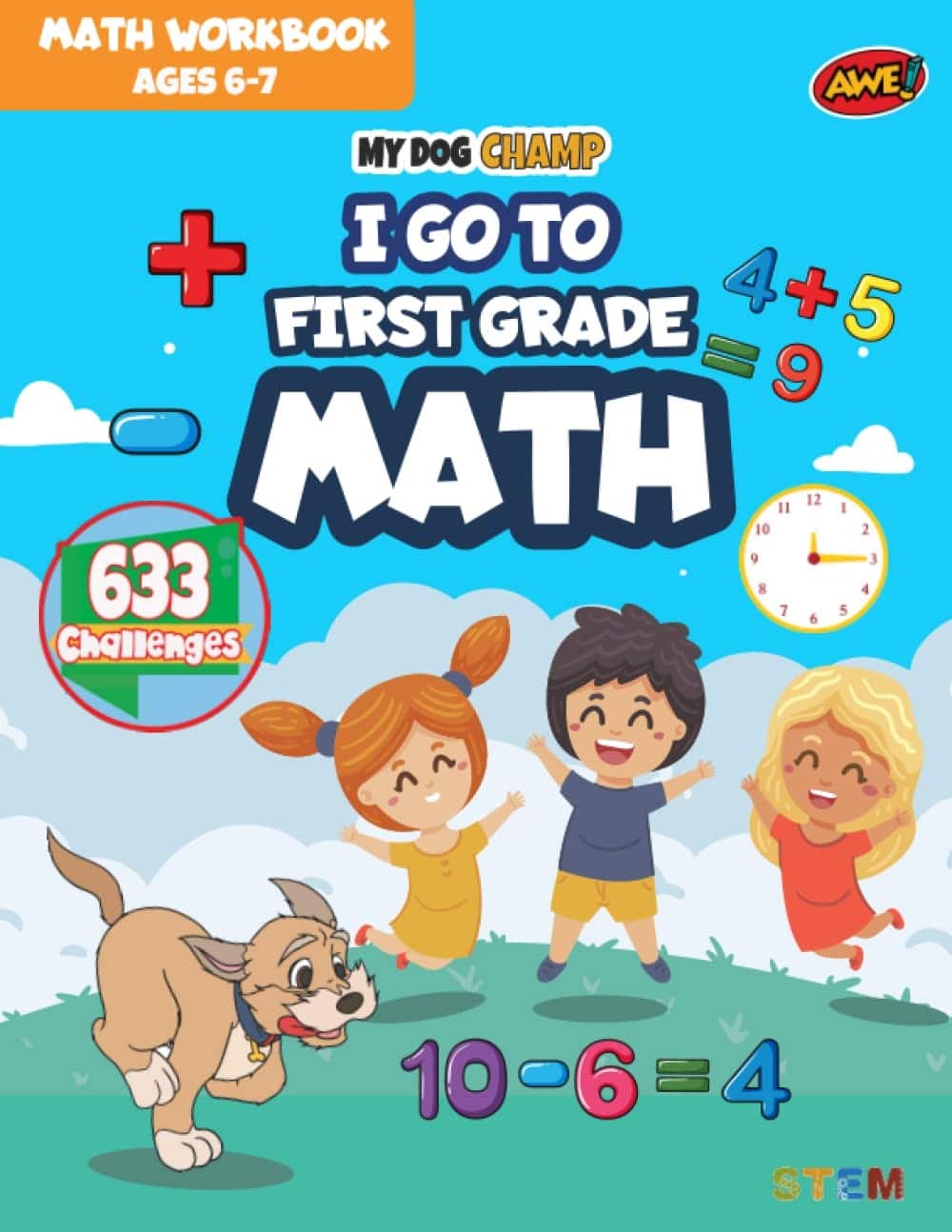 Do you wish to inspire your child while also making learning enjoyable for them? Each My Dog Champ activity workbook has been created by professionals and approved by educators for use as learning and creativity books for children. This particular one warms kids up who are entering into grade one by introducing high-quality kindergarten math practice pages.
The My Dog Champ I Go To First Grade Math class skills activity workbook is the ideal educational and creative tool for kids to help them build their developing mathematical abilities, such as shape recognition, number drawing, counting, as well as bolstering color recognition. It allows them to practice telling the time as well as addition and subtraction.
Awesome Science Experiments for Kids: 100+ Fun STEM/STEAM Projects and Why They Work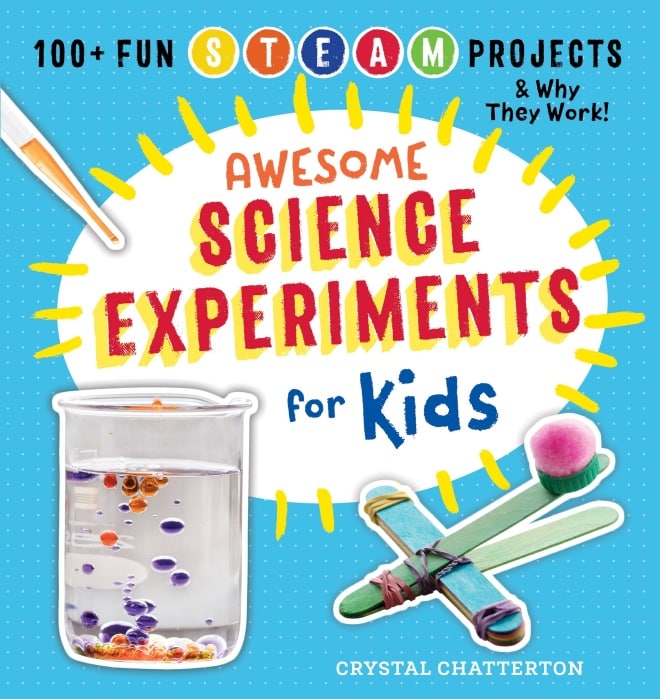 This is a workbook with hands-on activities to spark children's interest in science, ages 5 to 10. As children become older, their curiosity about the world around them grows, and they frequently ask, "How does this work?" The scientific method is explained in detail in Awesome Science Experiments for Kids through engaging activities that demonstrate to children how to formulate hypotheses, conduct experiments, and record their findings.
Kids will have a blast learning to construct, design, and think critically while having fun with projects like a fizzy rocket, a magnet-powered car, and the pencil sundial. They'll also be motivated to connect with the world around them and make their own discoveries. 100+ STEAM experiments are included in this book. They may discover how and why each project functions through engaging STEAM (science, technology, engineering, art, and math) activities. Engineering is made easier for youngsters to understand and complete STEM and art projects with the use of step-by-step experiments.
Also included are images of actual photographs of these experiments, many of the everyday items they utilize, as well as some of the outcomes! These will demonstrate the coolness of curiosity to aspiring STEAM students, teaching them everything from how quicksand works to how to transform a lemon into a battery.
Sight Words: Top 150 Must-Know High-frequency Words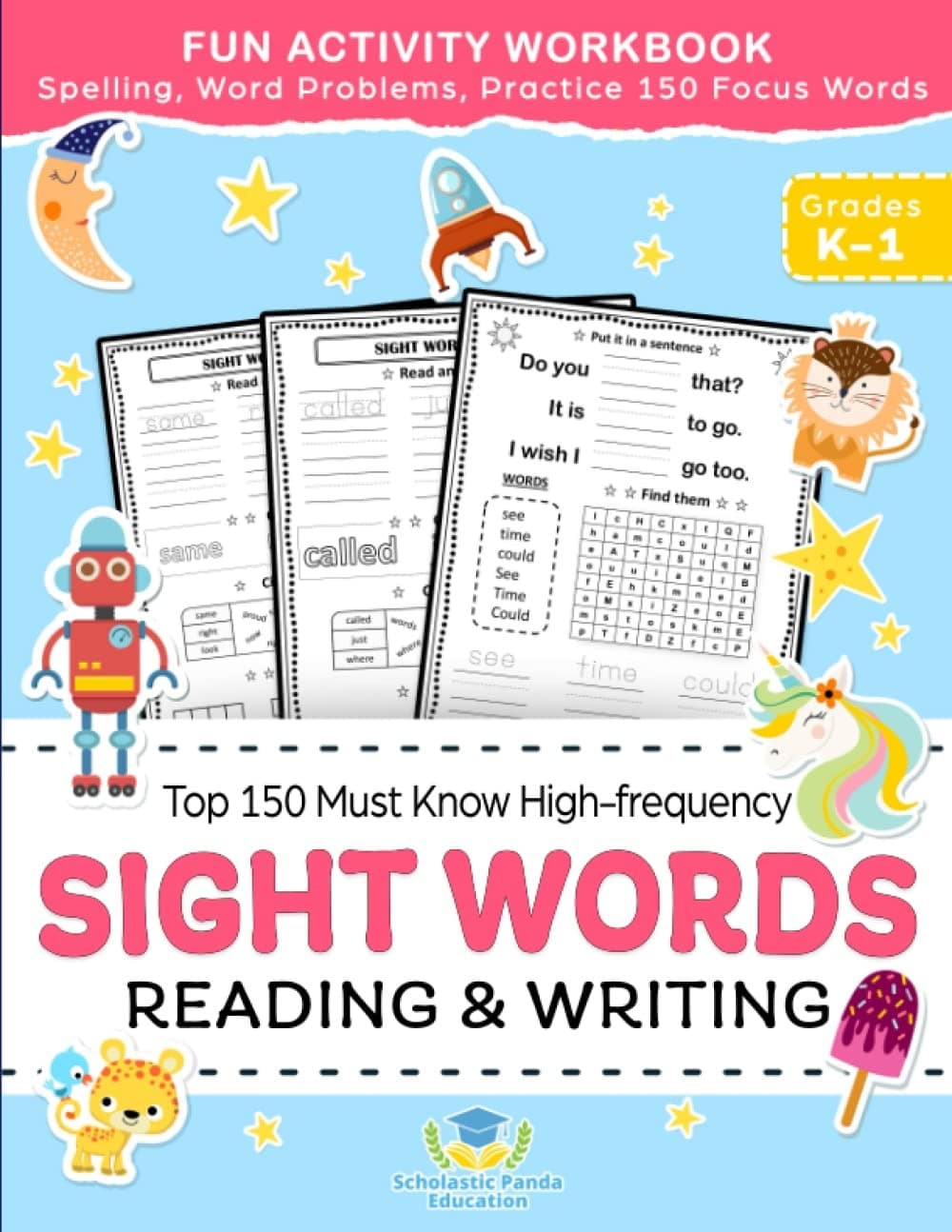 It can be challenging to ensure that a child is receiving the right materials for distance learning in order for them to succeed. Not to mention finding enjoyable and educational tasks to do while working from home. With a ton of tracing, fill-in-the-blank, and handwriting exercises, this Sightwords Top 100+ Words Reading & Writing, 1st 2nd Grade Activity Workbook with essential sight words can increase your child's reading success. A must-have for any collection of kindergarten workbooks for kids aged 5 to 6.