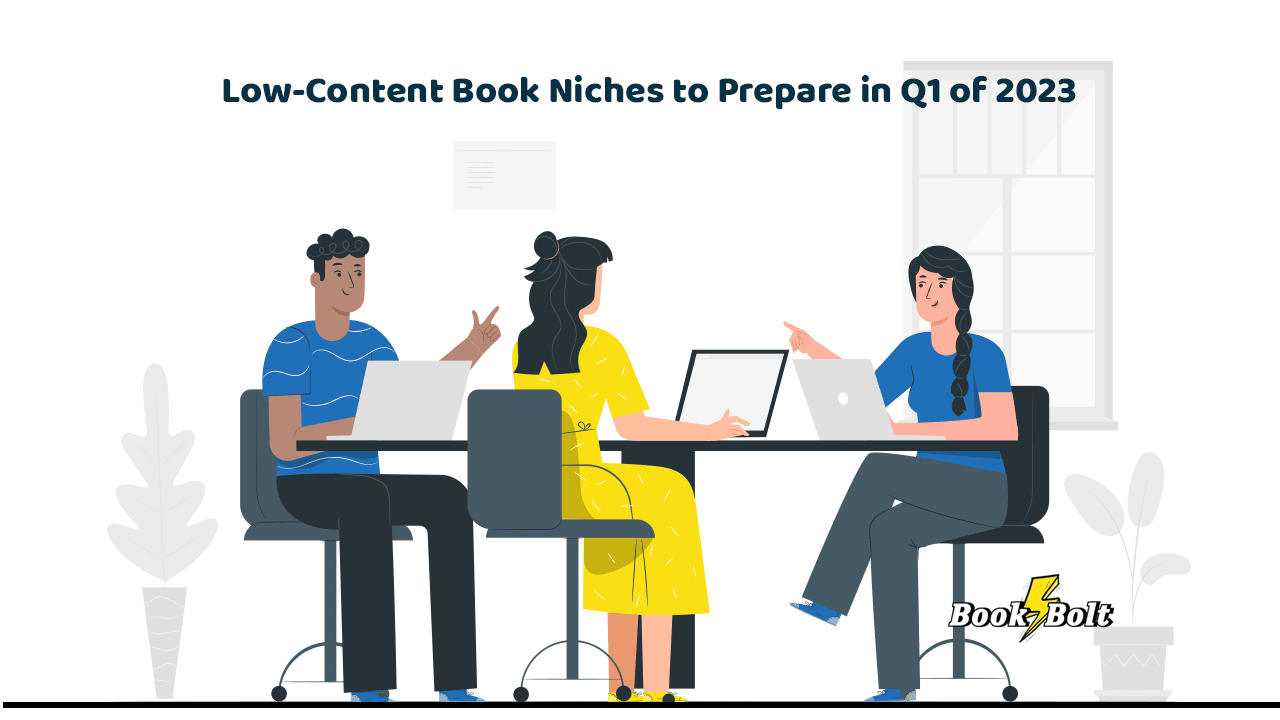 As the new year begins to unfold, low-content booksellers on Amazon KDP can take advantage of a plethora of exciting, money-making niches. But to do so, you'll need a plan of action, timely preparation, and of course – edge-giving market insights.
In the following sections, you'll find all of the above and more.
We've gone on a mission to make your first quarter as successful as possible with ideas for top niches to prepare for. We'll take a trip back in time to explore the most popular markets in Q1 of 2022. From there, we'll dive into extensive research on Book Bolt to find out what niches are about to break the trend meter in January, February, and March of this year.
The most popular niches in Q1 of 2022
Let's start by analyzing what we already know from last year.
At the start of the year, there were a number of niches that stood out from the rest. Due to the high amount of sales they generated, these niches quickly turned into Q1 trends. Some of the more research-oriented sellers, who enjoyed access to tools like Book Bolt, managed to make the most of them and start the year with a sound profit.
Some of the popular niches in Q1 of 2022 were related to the holidays that took place during the first three months of the year. Others were oriented towards a specific user mentality. For example, at the start of any year, shoppers are actively interested in low-content books that will help them achieve goals and resolutions. 2022 was no exception in that regard, and saw a rise in sales for motivational and goal-seeking low-content books in Q1.
Let's now look at the attention-grabbers in more detail:
Self-development and achievements – skyrocketing sales for print-on-demand low-content books in niches like bucket lists, challenges, and motivation;
Spending – as another key priority typical for the start of the year, the spending niche was also among the popular ones. 30-day budget planning low-content books performed exceptionally well during the first quarter of 2022;
Romantic – couples coloring books were another Q1 favorite among shoppers, mostly due to St. Valentine's day during the second month of the year.
Apart from these three niches, holiday-inspired low-content books were a major trend during January, February, and March of 2022. This is no surprise as there are plenty of important celebrations during this period.

Here are the ones that attracted the most attention:
Martin Luther King Day – January 16
Black History Month – February
National Pizza Day – February 9
Super Bowl Sunday – February 12
Valentine's Day – February 14
President's Day – February 20
Women's History Month – March
International Women's Day – March 8
Patrick's Day – March 17
In most cases, holiday-related themes work well with the coloring book category. For instance, we saw a number of couples, leprechaun, and mom-oriented coloring books associated with the three most famous holidays in this period – St. Valentine's Day, St. Patrick's Day, and International Women's Day.
So which of these niches will continue triggering attention and scoring sales during this year's Q1?
The most popular niches at the start of 2023
Although Q1 is just one-third through, we can already notice certain trends emerging. A quick browse through Book Bolt helped us identify the following niches.
Self-care
Similarly to Q1 in 2022, self-development or self-care low-content books are on the rise. Niches like mindfulness and gratitude low-content books are helping sellers attract buyers and secure earnings at the very start of the year.
For example, at the moment, the very best-selling coloring book is the "Mindfulness Coloring Book For Adults: Zen Coloring Book For Mindful People | Adult Coloring Book With Stress Relieving Designs Animals, Mandalas, … ADHD, Loss Of Anxiety, Relaxation, Meditation" one. With a BSR of 209, the book achieves around 733 sales per month at the price of $7. This is certainly a warmly welcomed opportunity for most sellers.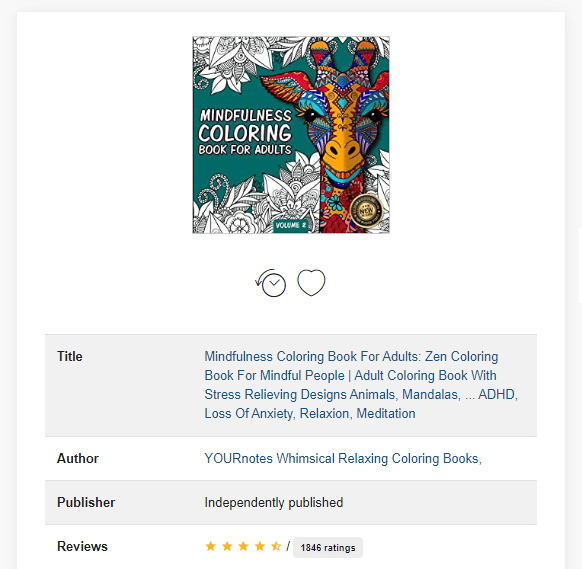 The self-care niche offers enough variety for low-content book creators to tap into. Apart from gratitude and mindfulness, other trendy ideas to explore are low-content books for relaxation, stress relief, and concentration.
Motivational
As mentioned in the previous section of this article, motivational low-content books are another big topic to consider at the start of the year. In 2023, we've already witnessed niches like motivational quotes dominate both low- and no-content book categories with titles related to fitness, working out, staying fit, and weight loss.
At the same time, the motivational niche doesn't have to be strictly related to being physically active.
For example, listings like coloring books with motivational quotes or motivational swear word coloring books are also prevalent. Take the "I Run on Coffee, Curse Words & Inappropriate Thoughts: A Sweary Coloring Book for Adults with Motivational Quotes, For Stress Relief and Relaxation" listing. It currently has a BSR of 3 202 and makes around 485 sales per month at the price of $6.99.

Money-oriented
Another niche that we see as a recurring trend is the one related to money. Low-content books that have to do with spending, saving, bills, and budgets are actively searched for and bought throughout the month of January.
For example, the top-performer in the tracker category is the "Ultimate Savings Challenges Book: Unique and Interactive Money Saving Challenge Book with Variety of Saving Challenges from $50 to $20000 | Daily, Weekly Cash Savings Tracker" product, with a BSR of 3 105 and estimated monthly sales of 485.

Although trackers are usually considered a no-content book category, this listing stands out as it centres around interactivity. With content for daily challenges, we consider this tracker an exception that fits well into the low-content book space.
Humor
Let's face it. The humor niche is an all-year-round cash cow in the low-content book space. This doesn't come as a surprise, as funny titles make a great present, help take the stress away, and are simply a joy to have.
Best of all, you can pretty much turn any broader niche into a humoristic low-content book title. One of the examples that we identified on Book Bolt was the "  Things To Do While You Poo On The Loo: Activity Book With Funny Facts, Bathroom Jokes, Poop Puzzles, Sudoku & Much More. Perfect Gag Gift." listing. It turns an ordinary activity book into a comedy piece that gets the seller more than 540 sales per month.
Holidays
Earlier, we also noted that holidays were a pretty big deal during Q1 of 2022. In fact, they're a fruitful niche to explore throughout the whole year as there's a special celebration every month.
In the first weeks of January, we can already see a number of St. Valentine's Day low-content books popping up among the bestsellers. Black History Month, St. Patrick's Day, and International Women's Day are also trending in certain categories.
Our advice? Be bold when it comes to holidays and take advantage of upcoming events. When combined with the appropriate low-content book category, holidays can truly make you a fortune.
Stay-at-home activities

Last but not least, the first quarter of 2023 sees stay-at-home activity books like puzzles, connect the dots, mazes, and sudokus rise to the top. Such low-content books are a great way to spend some time off your smartphone, release stress and clear the mind.
These products can be targeted at adults, teenagers, and kids. They can be a combo of different activities or a specialized product that only offers one type of puzzle – be it word search, sudoku, or connect the dots, for example.
The most attractive combinations of niches and product categories in Q1 of 2023
We've now shared various niche ideas that can help boost your profitability at the start of the year. But there's still one essential component left to factor in – categories.
As you know, low-content books are not all the same. There are coloring books, activity books, puzzle books, comic books, and more. So how can you successfully merge niches and categories to accomplish your profit goals?
We used Book Bolt as our main source of information to research the most trending combos as of the end of January.
Here's what we found:
Stay-at-home activity books
Holiday-inspired coloring books
Holiday-based activity books
Inspirational coloring books
Motivational activity books
Wrapping up
When employed strategically, these insights can help you make a strong entrance in 2023. Use them to get off to a good start and turn your year into a better success story than the last.
Don't forget to check in with Book Bolt as your reliable business intelligence tool along the way.