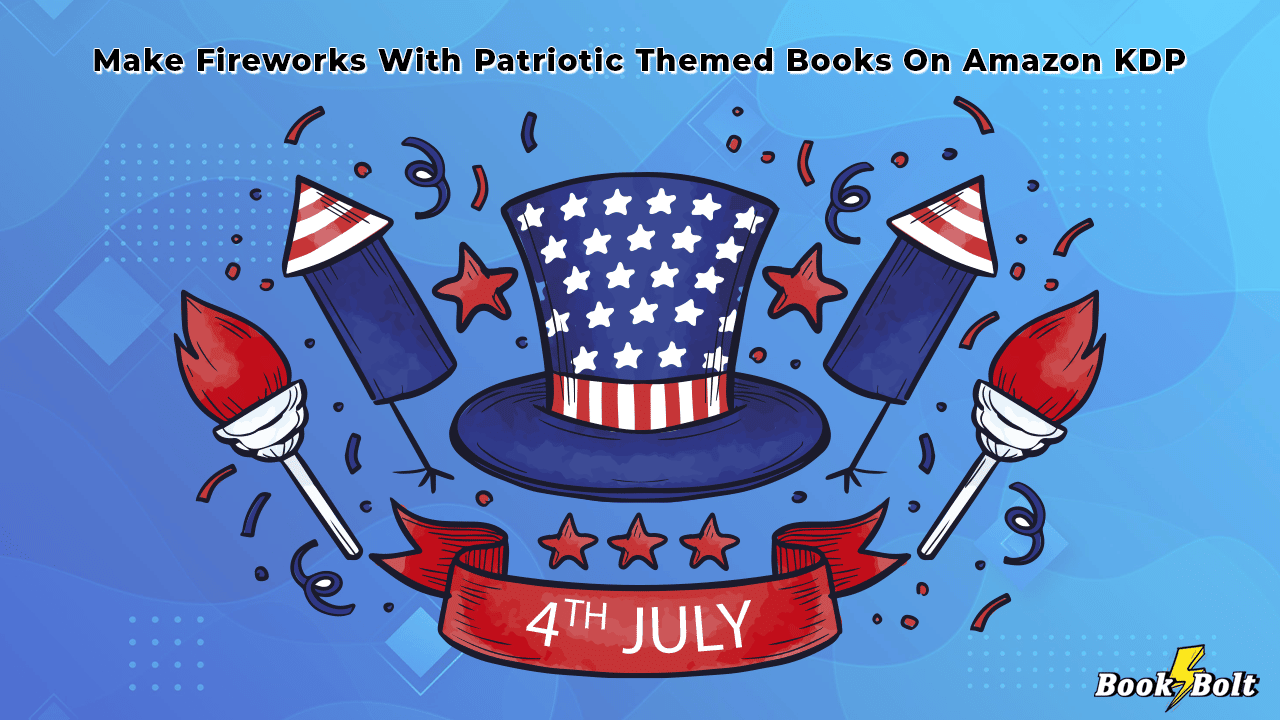 What seems like a hundred years ago, Mad magazine did a parody ad for a book called "The Wit and Wisdom of Richard Nixon".
It was a blank book.
What was a joke back before the invention of the touch-tone phone is now a dependable way to earn either a side income or perhaps even a full-time gig.
If this isn't your first visit, you already know that BookBolt is an amazing tool to help you construct "zero or low-content books" that you can sell via Amazon's KDP (Kindle Direct Publishing).
Zero and low-content books run the gamut from a simple lined-page journal to custom-designed planners to puzzle and activity books. BookBolt has all the functions you need to develop one of these books without any design or layout skills. You don't even need to print anything – Amazon's KDP prints it on demand when a customer orders it.
So, we opened with a gag about a past President, but this weekend we all gather to celebrate the founding of our nation. What better way to do that than to look at how to design a low-content books that reflect America?
Journals
Journaling has been a practice for the mindful since the invention of writing. One of the only reasons we have some historical records is because someone decided to put their thoughts about current events on paper (or clay tablet, or cave wall).
Despite our dependence on the keyboard, more and more people are turning to hand-written journaling. It's tactile, it's permanent, it's meditative (and isn't stored by Big Brother). Even in the recent era B.P. ("Before Pandemic"), this practice experienced such a resurgence that a 2018 N.Y Times article looked into both the reasoning and the science behind it.
So, let's make a simple Americana-themed journal for the holiday.
After logging in, you'll be taken to your dashboard, which defaults to "research" mode, with "tutorials" selected. We won't be using this page now, but between projects, I recommend immersing yourself in these lessons. Not only will you learn how to make books, you'll learn how to know what customers are looking for.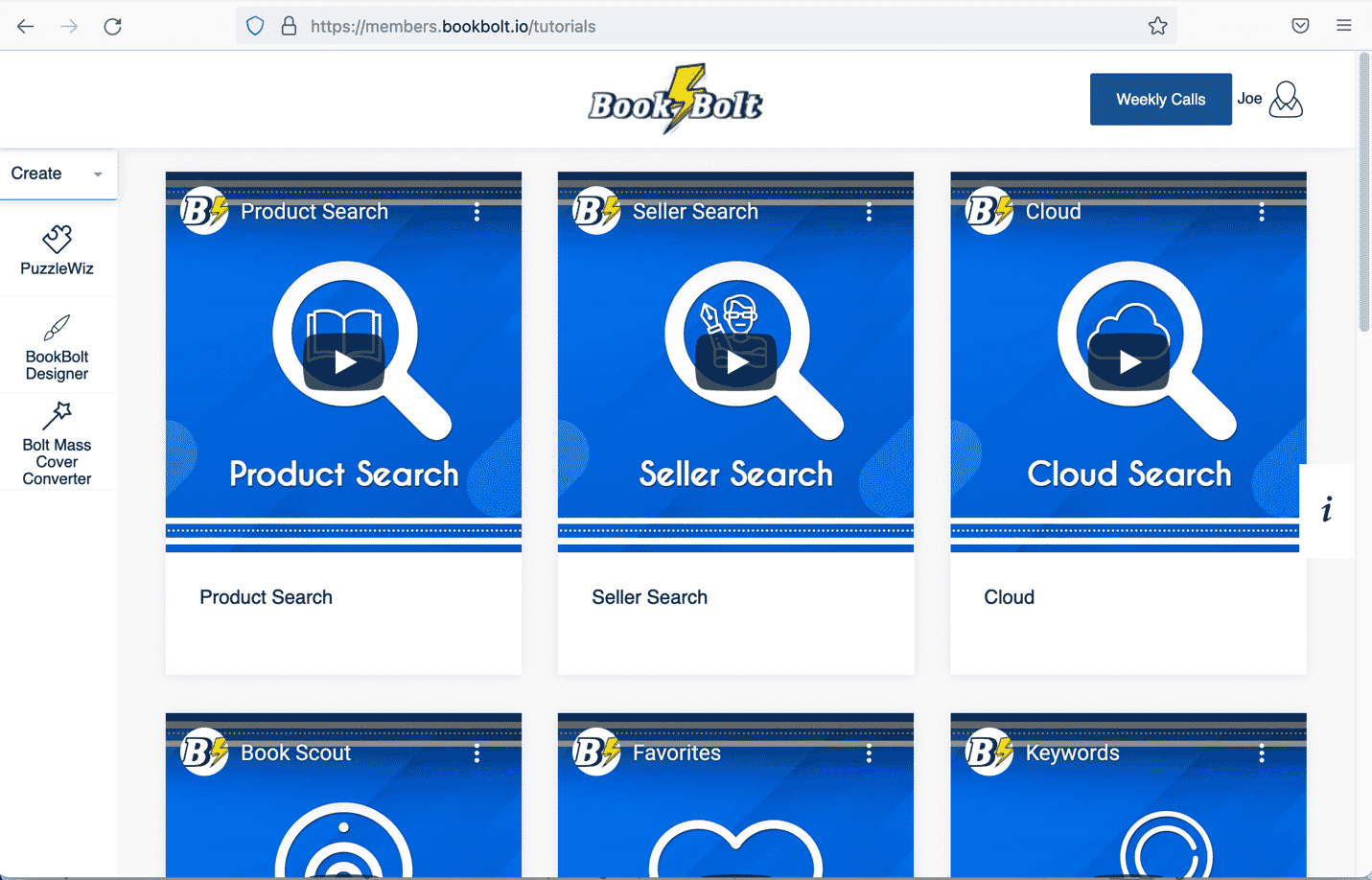 In the upper left, drag the pulldown from "Research" to "Create". From the side panel, select "BookBolt Designer". Immediately you'll see a window that asks for the parameters of your book. For the sake of this demonstration, we'll use the default settings.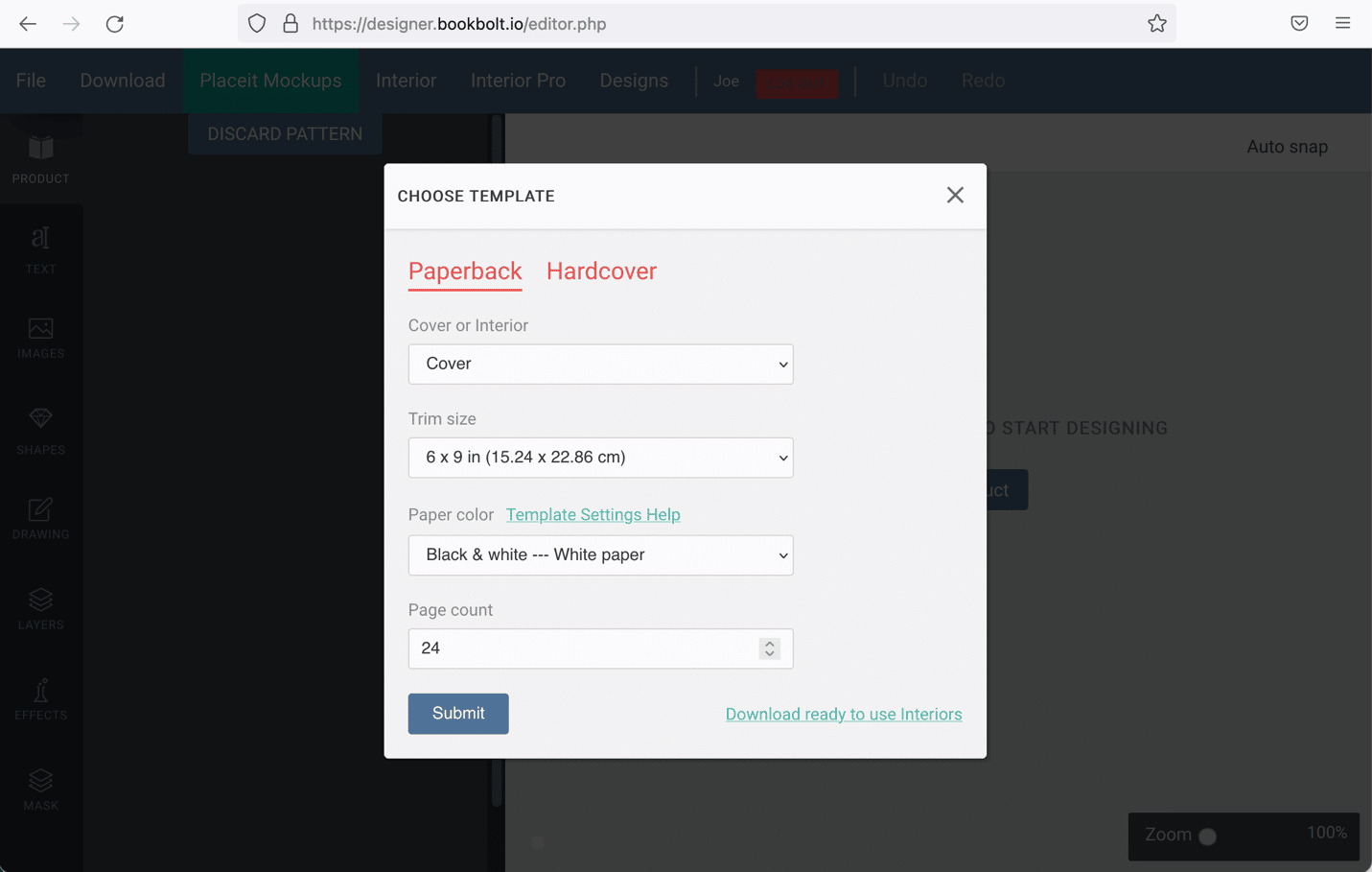 Note the "Download ready to-use Interiors" link: you could use this to download hundreds of ready-made interiors if you want, but we want to design our own. Just hit "Submit", and in a few minutes, it will generate a template.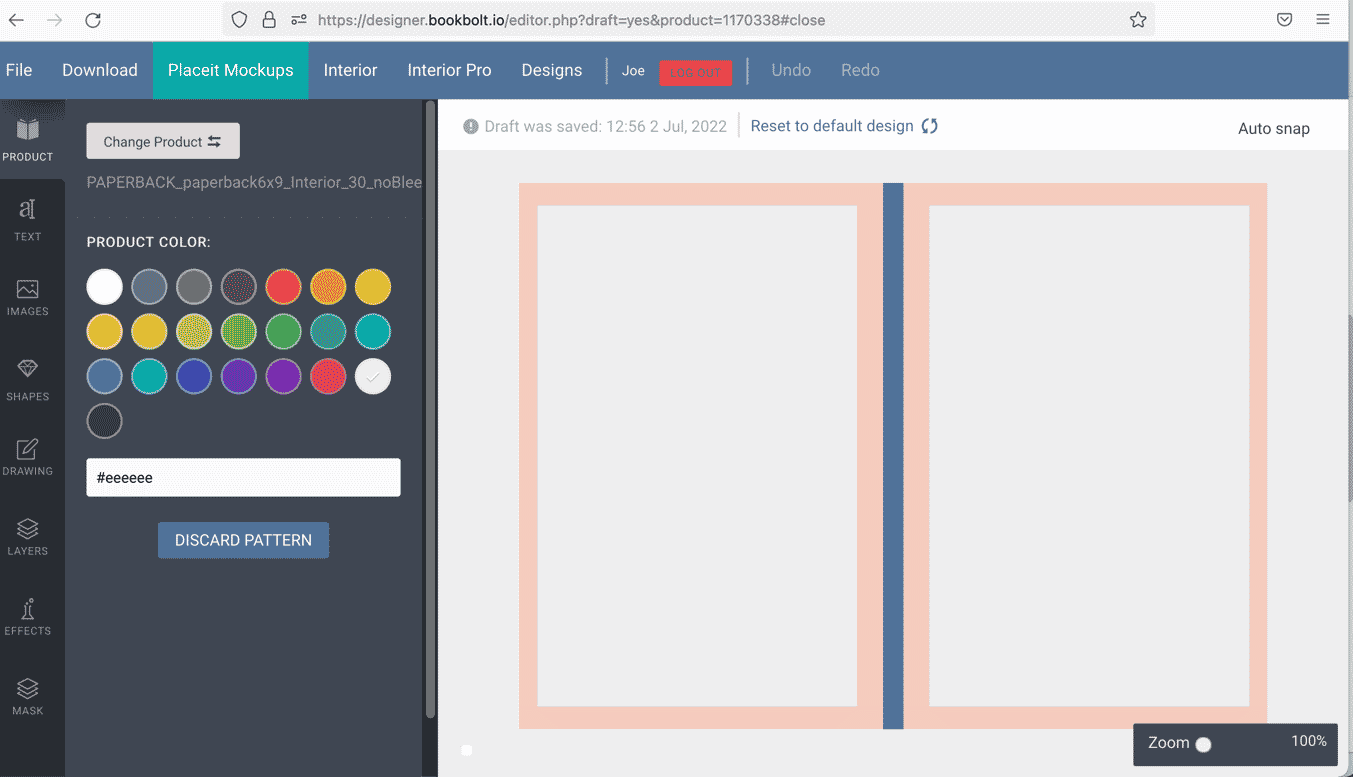 Once your template is set, you're ready to employ the powerful, built-in and customizable tools in the BookBolt Designer.
Let's make a header for our page. I selected "Bridge" (which for Adobe users is similar to the "Arch" function), creating a nice, gate-like header. Either click or drag it directly to the page. Double-clicking brings up an edit window. We changed "Bridge" to "America", then changed the font from the selections on the left and resized it to fit.
TIP: If you don't find a font you like, you can import your own for further customization.
A quick note about the bounding box: Unlike most drawing programs, BookBolt's bounding box has several functions built in that save several clicks. The lower left corner duplicates the image when clicked, the lower right is the scaling function and the upper right is the rotating function. The red X's purpose should be pretty clear.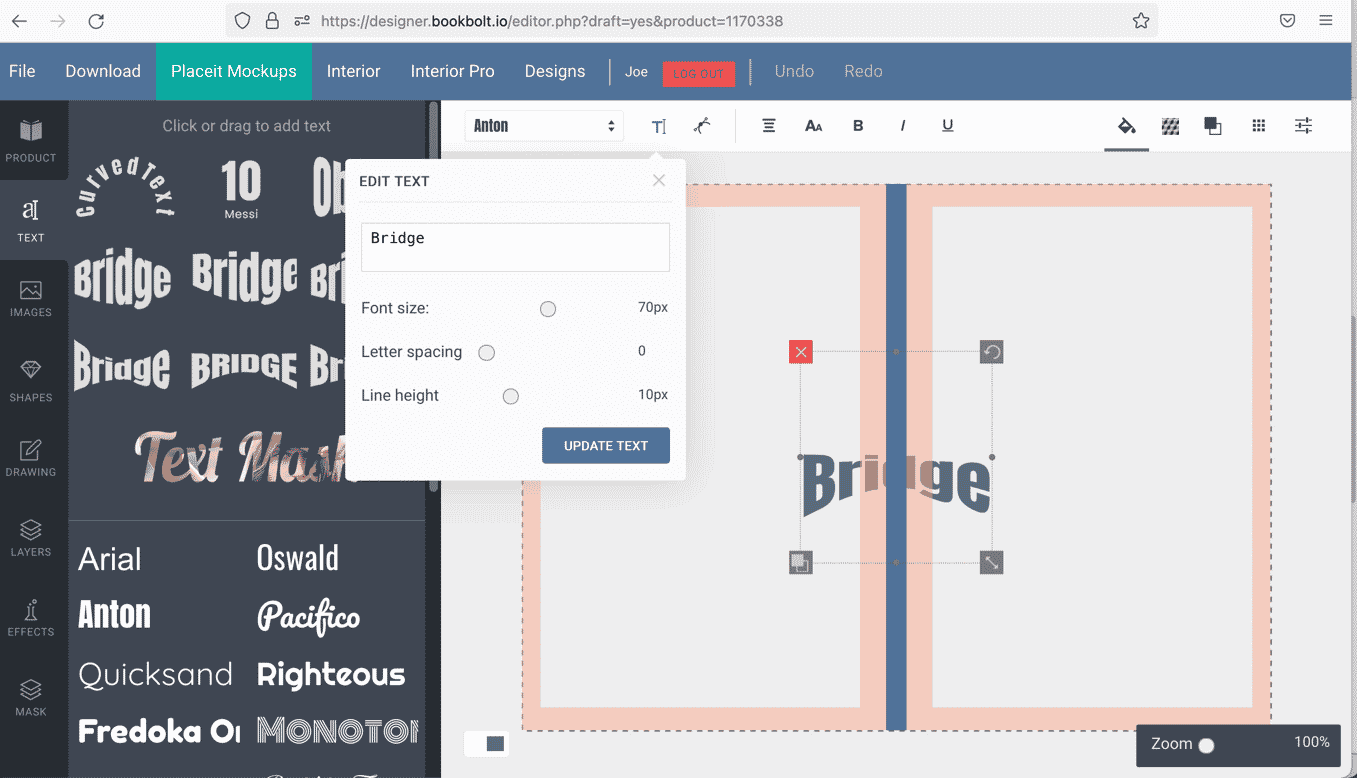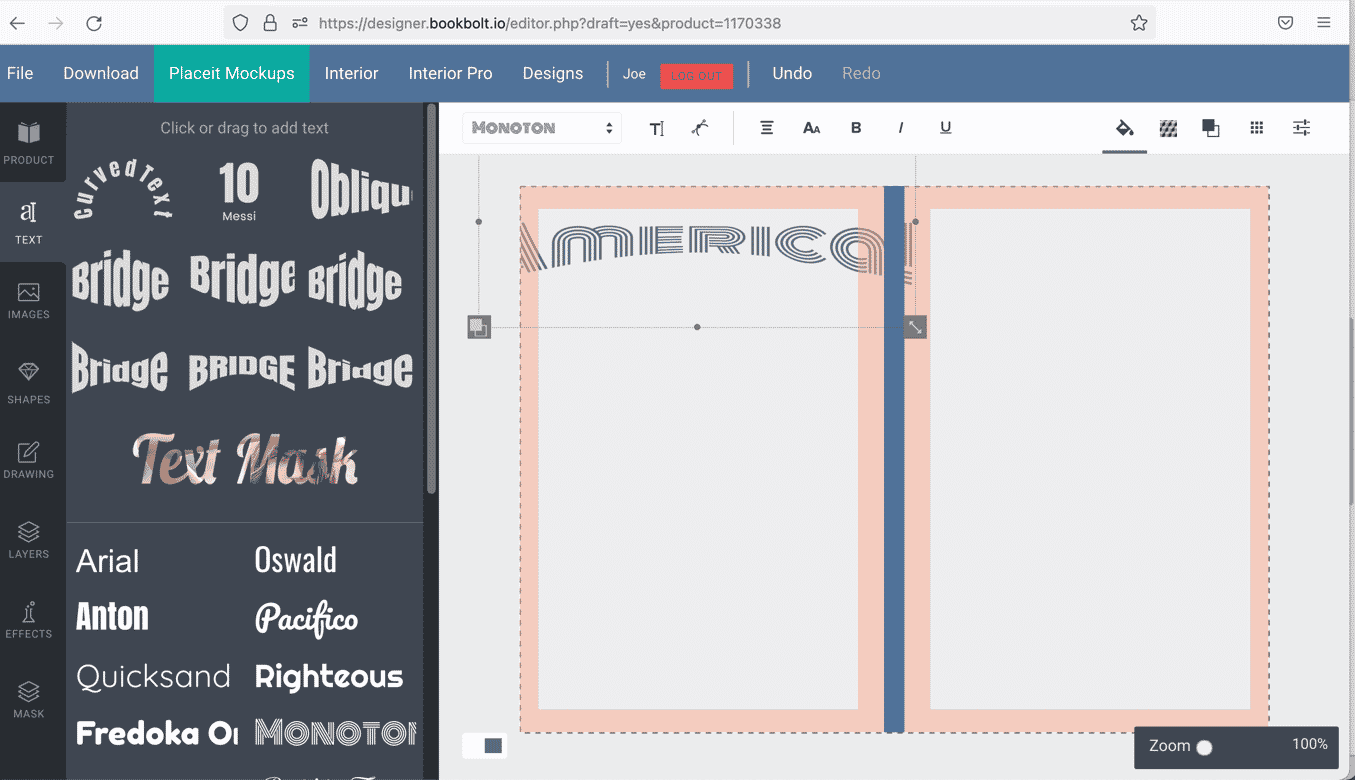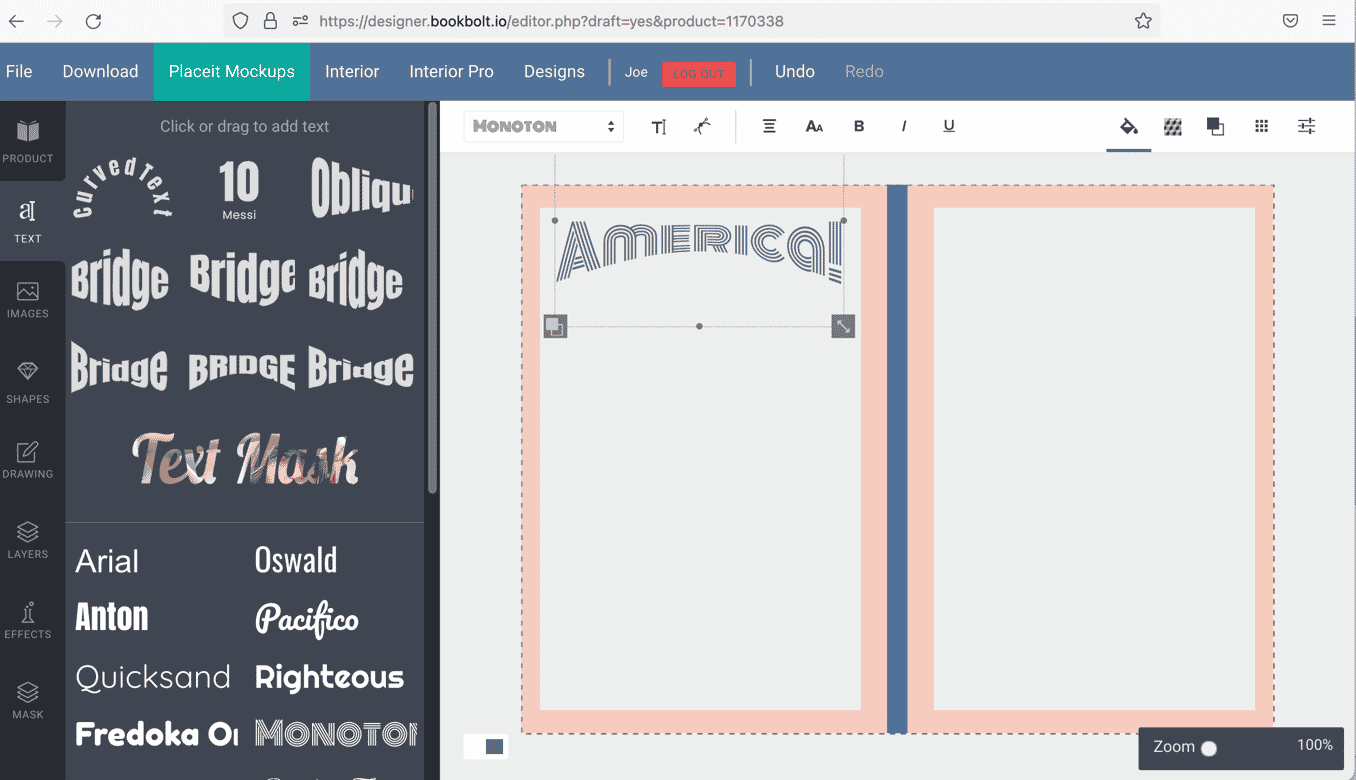 Now that we have our header, we want to theme the background and add some more symbolic elements to the pages.
Clicking on "Images" gives you a searchable database of thousands of free images to use. Searching "July 4" gave us several choices, and we selected the Declaration of Independence itself. Using the same functions of the bounding box, we scaled it to fill both sides of the page.
The icons above the pages provide a myriad of effects and filters. We desaturated the image and then adjusted the transparency so it would "ghost" in the background.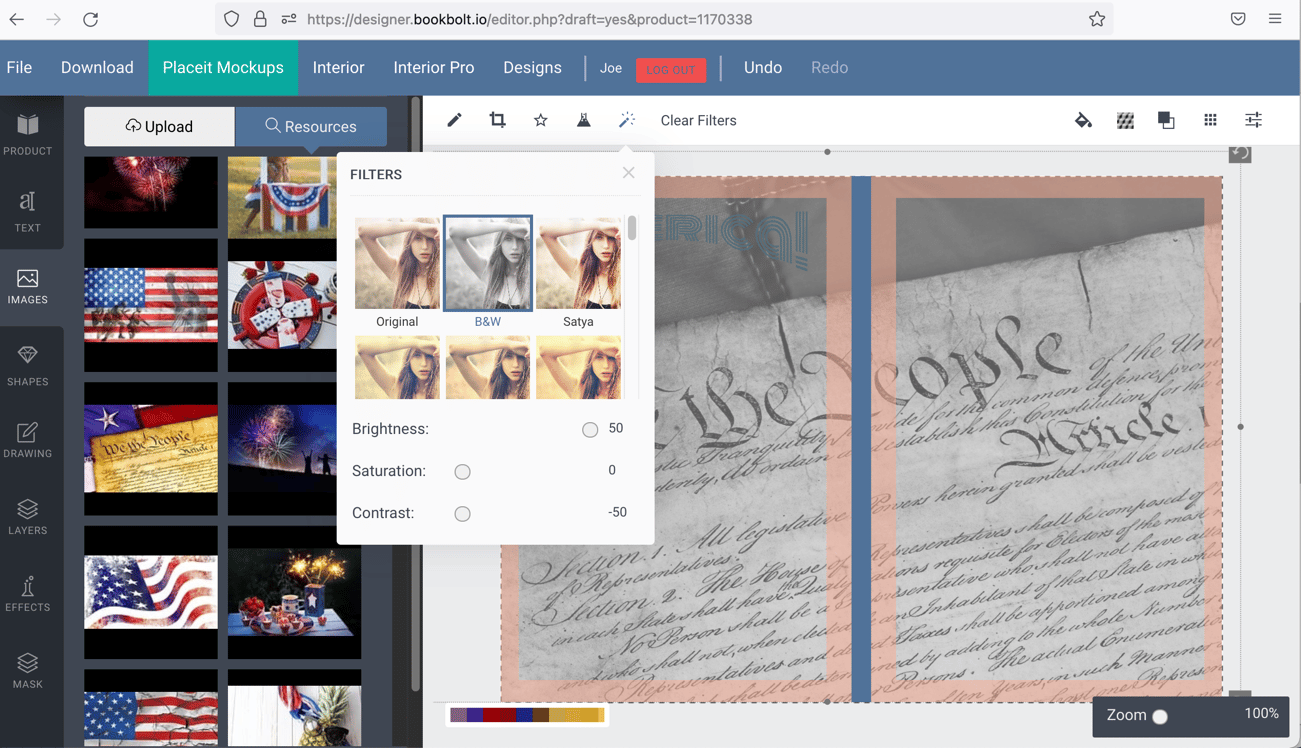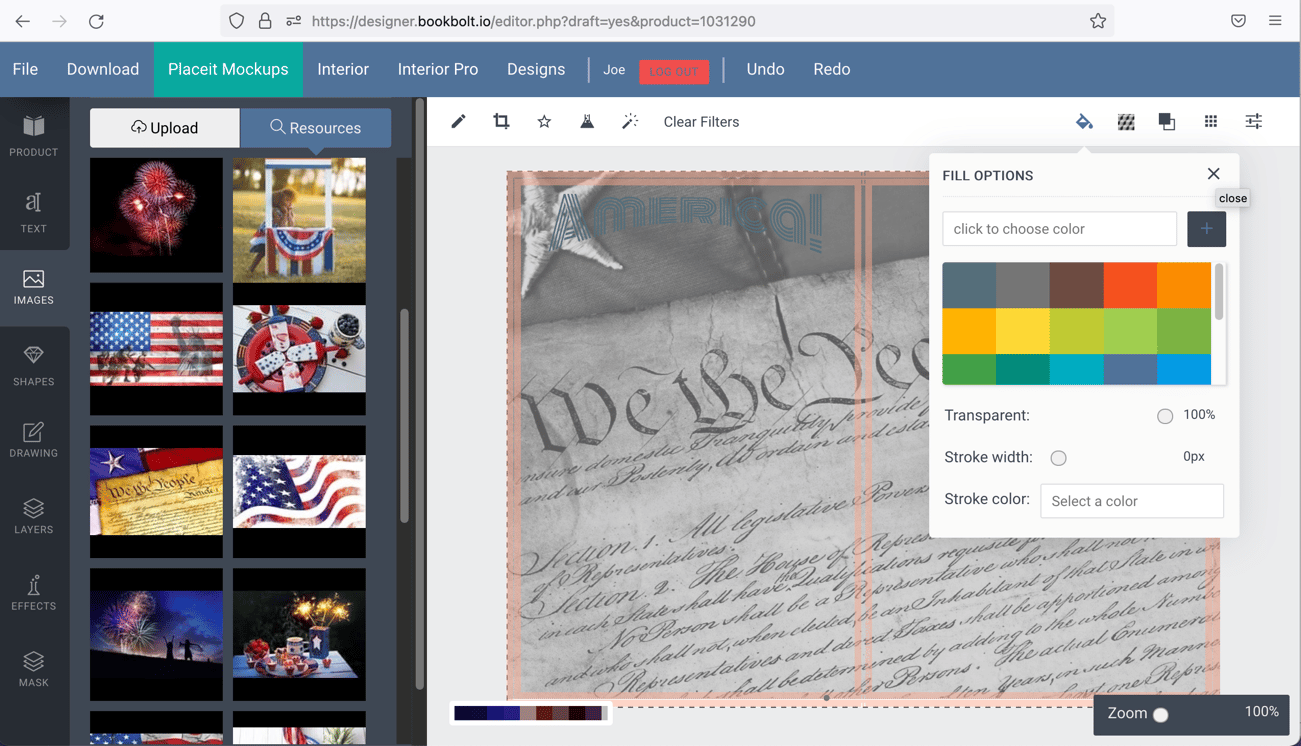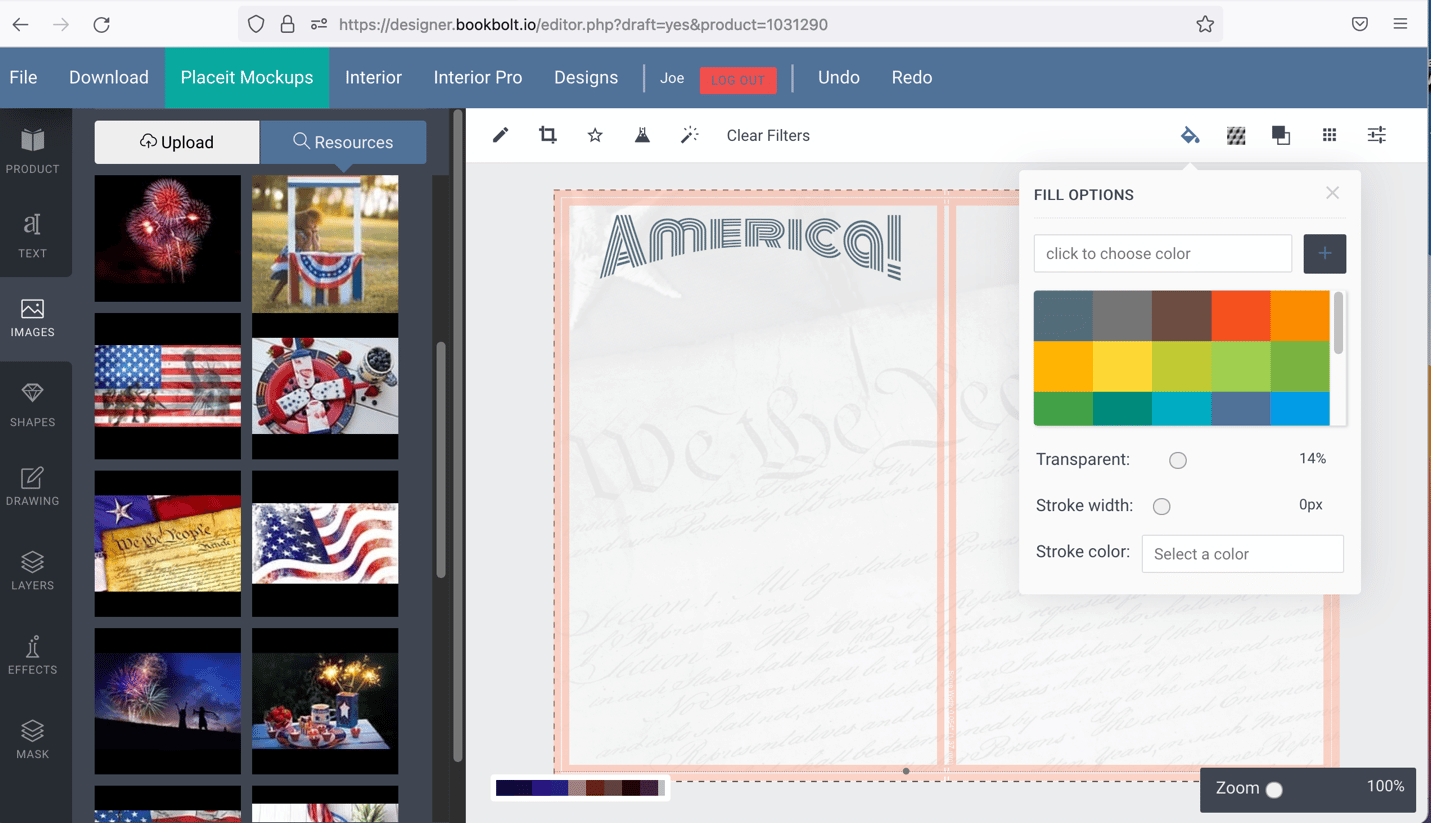 Then we changed the color of the font using the fill options tool at the top.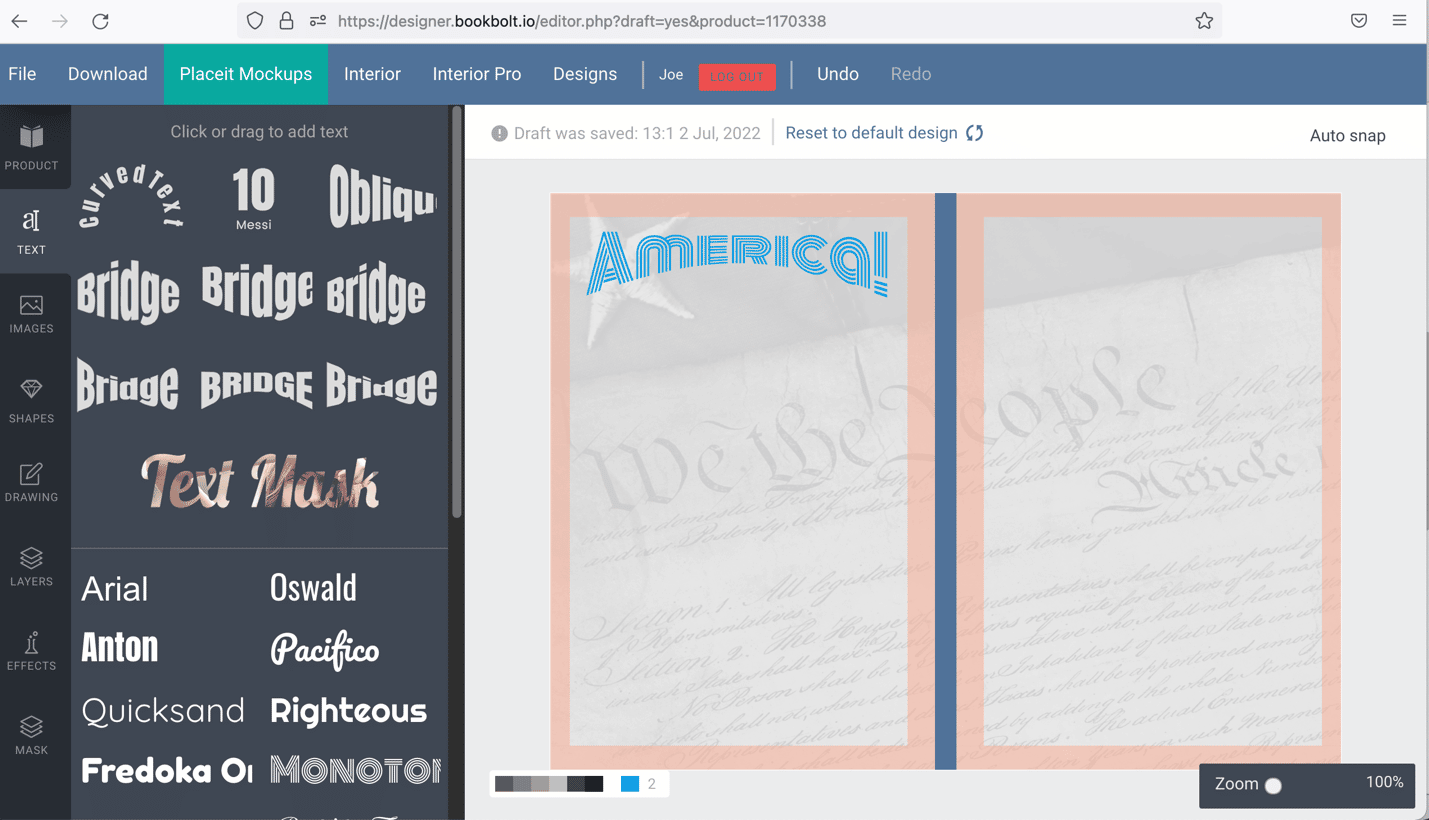 To add the finishing touches to the design, we went to the "shapes" tool. Default images alone allowed us to locate, resize and recolor some patriotic images for the footer.
Then we selected all the graphic elements, copied and pasted them onto the facing page.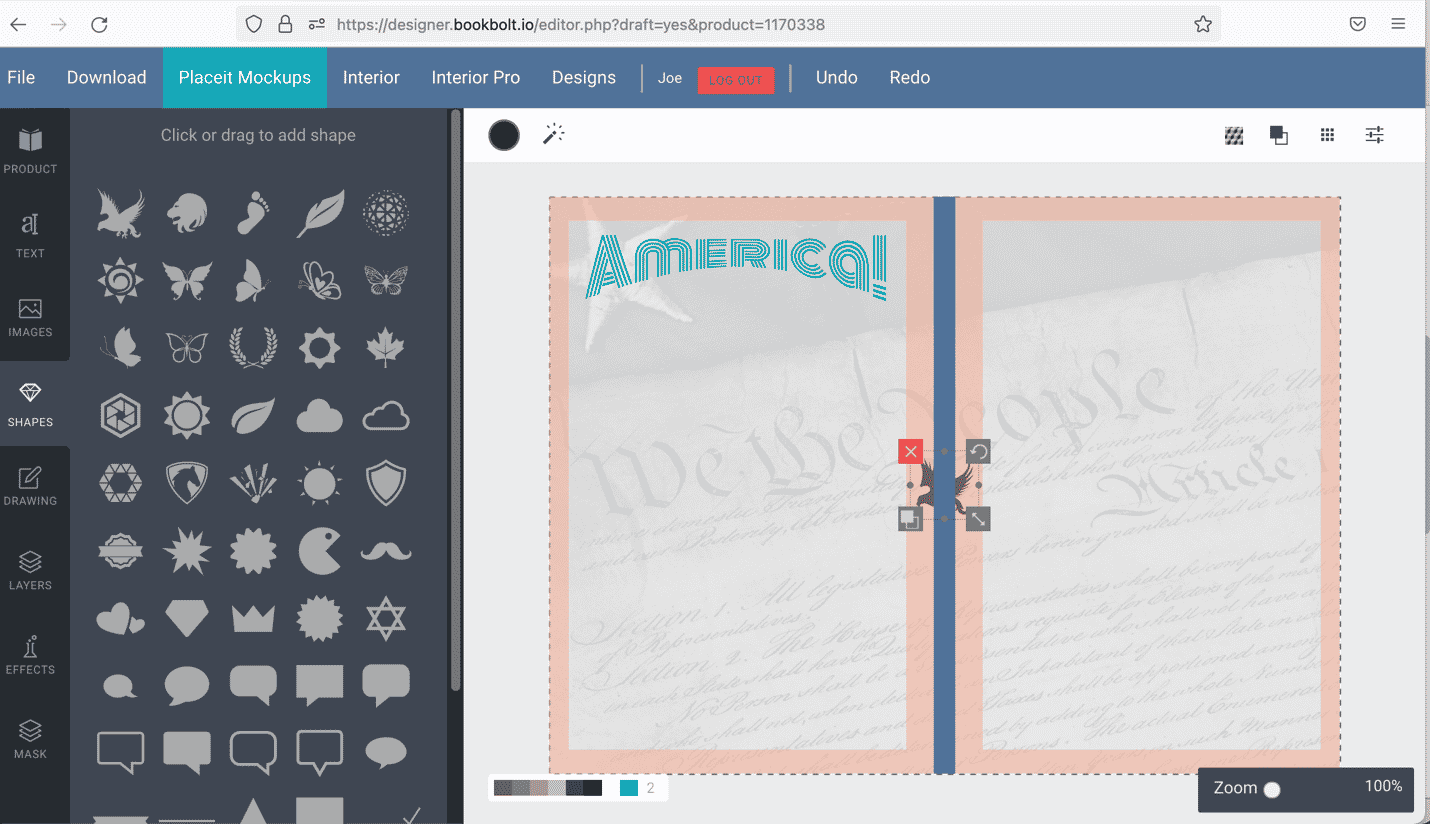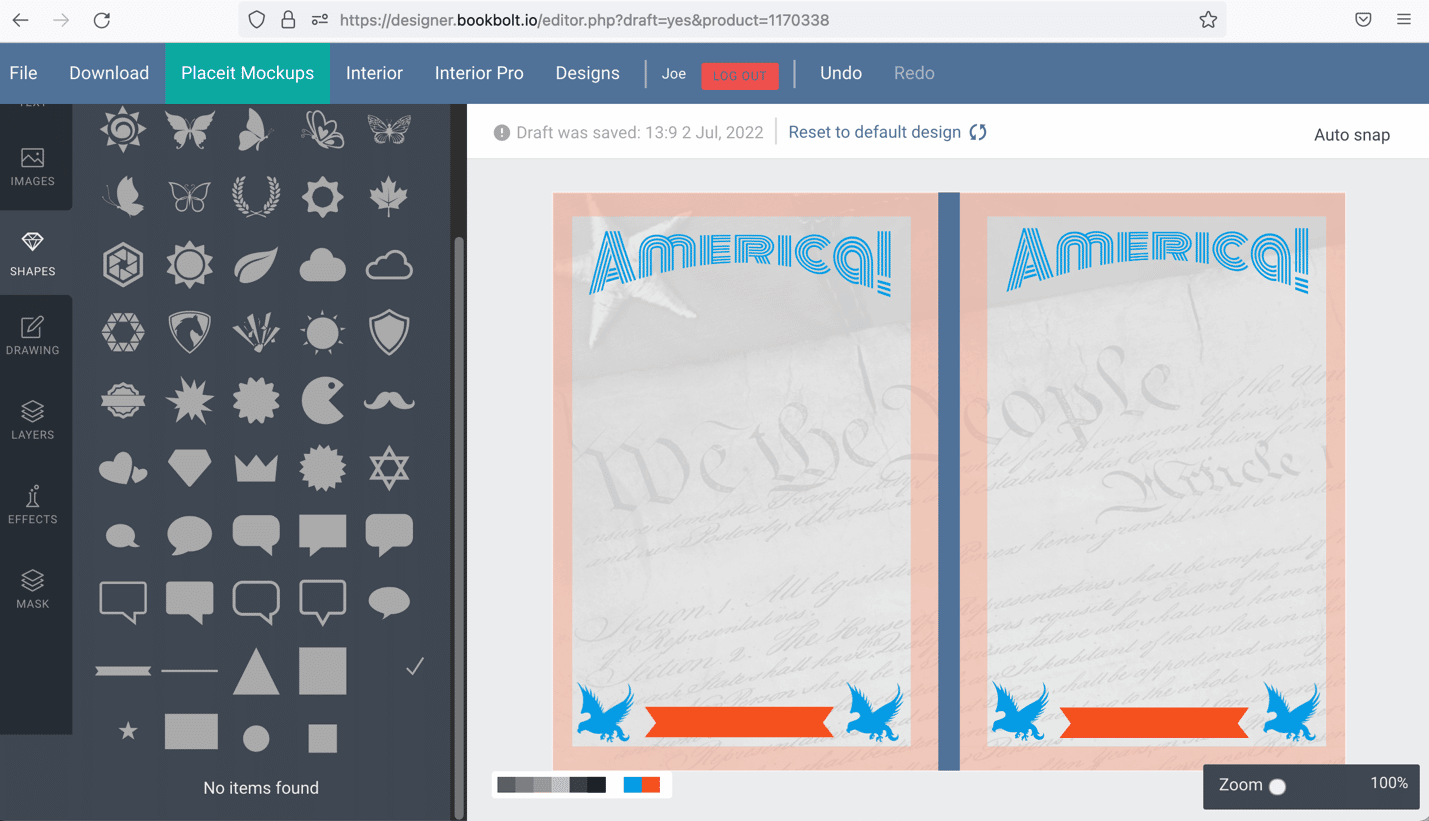 Once satisfied, we hit the "Download" tab in the upper left. It takes a few minutes, but once done, you have a completed book in PDF form that you can upload to Amazon KDP, offer as a digital download on Etsy, or even send to a local printer to print. It's that easy!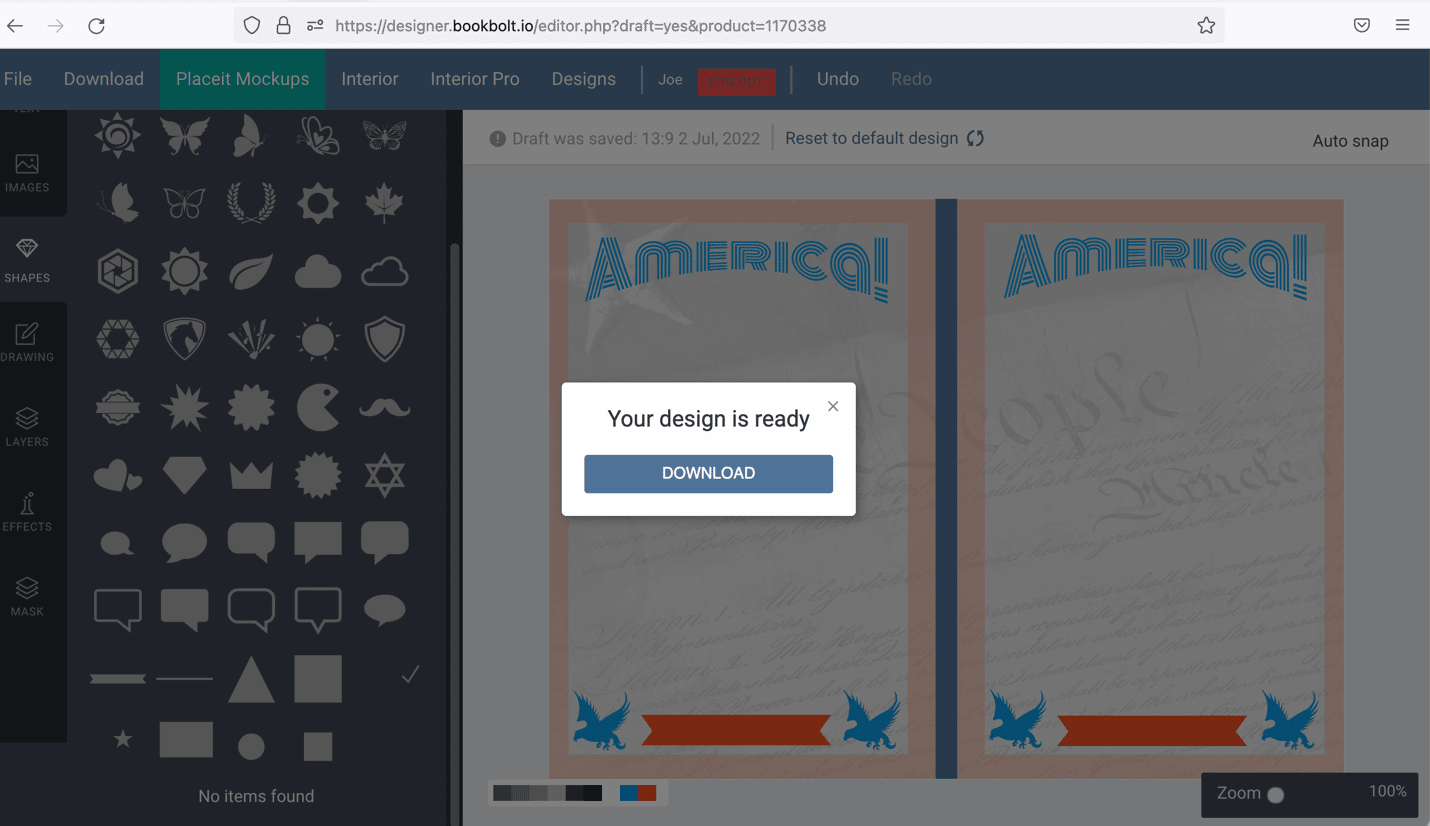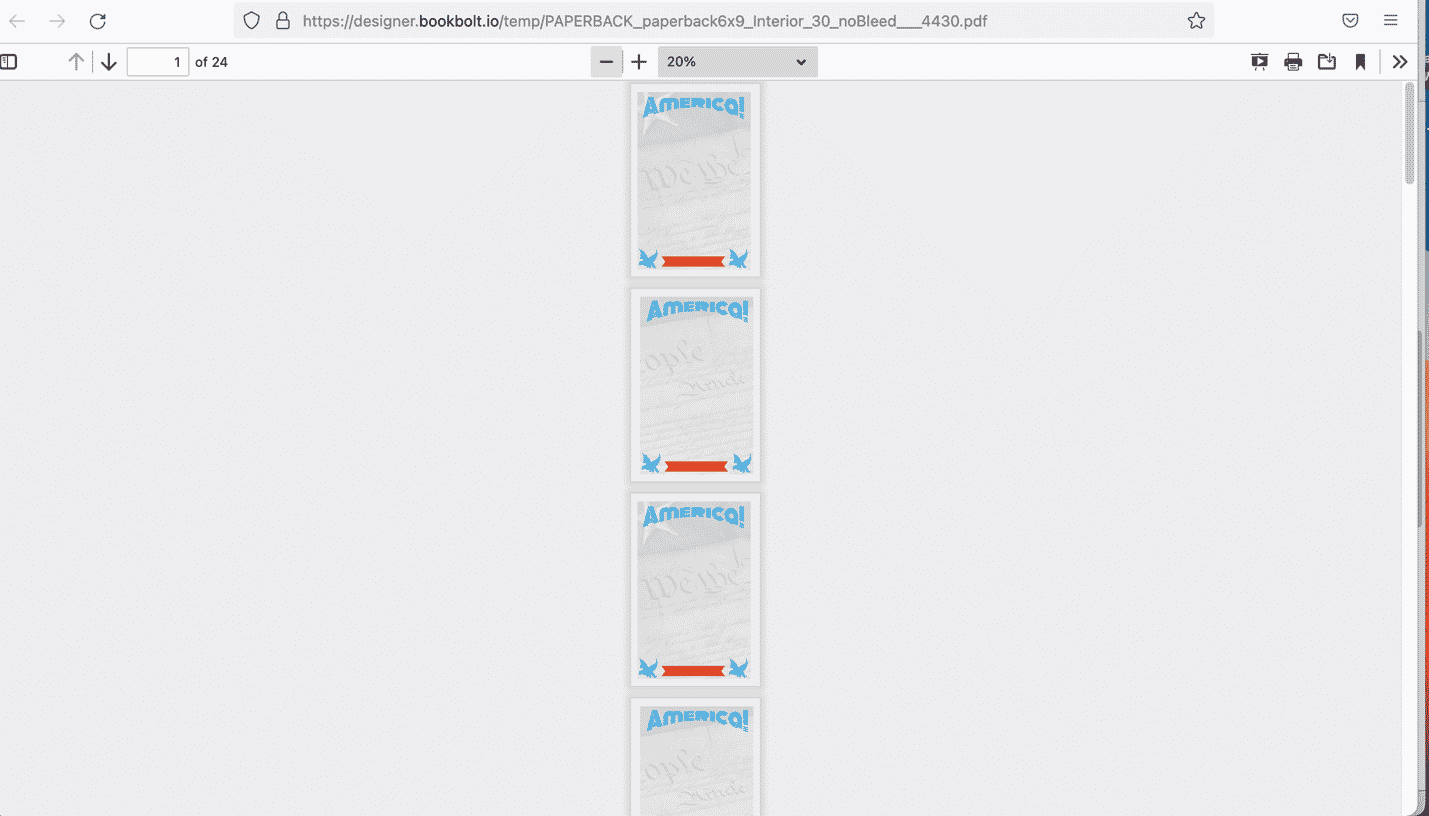 Word Search
BookBolt also provides powerful tools to create "low-content" books with games, activities and puzzles. We decided to try a short book with a classic "Word Search" puzzle.
Returning back to the main page, we selected "Puzzle Wiz", which takes you to the Puzzle Wiz app. You'll have to re-enter your credentials, but once that's done, you're in. Note: Your Book Bolt credentials will work with Puzzle Wiz if you have a PRO level subscription.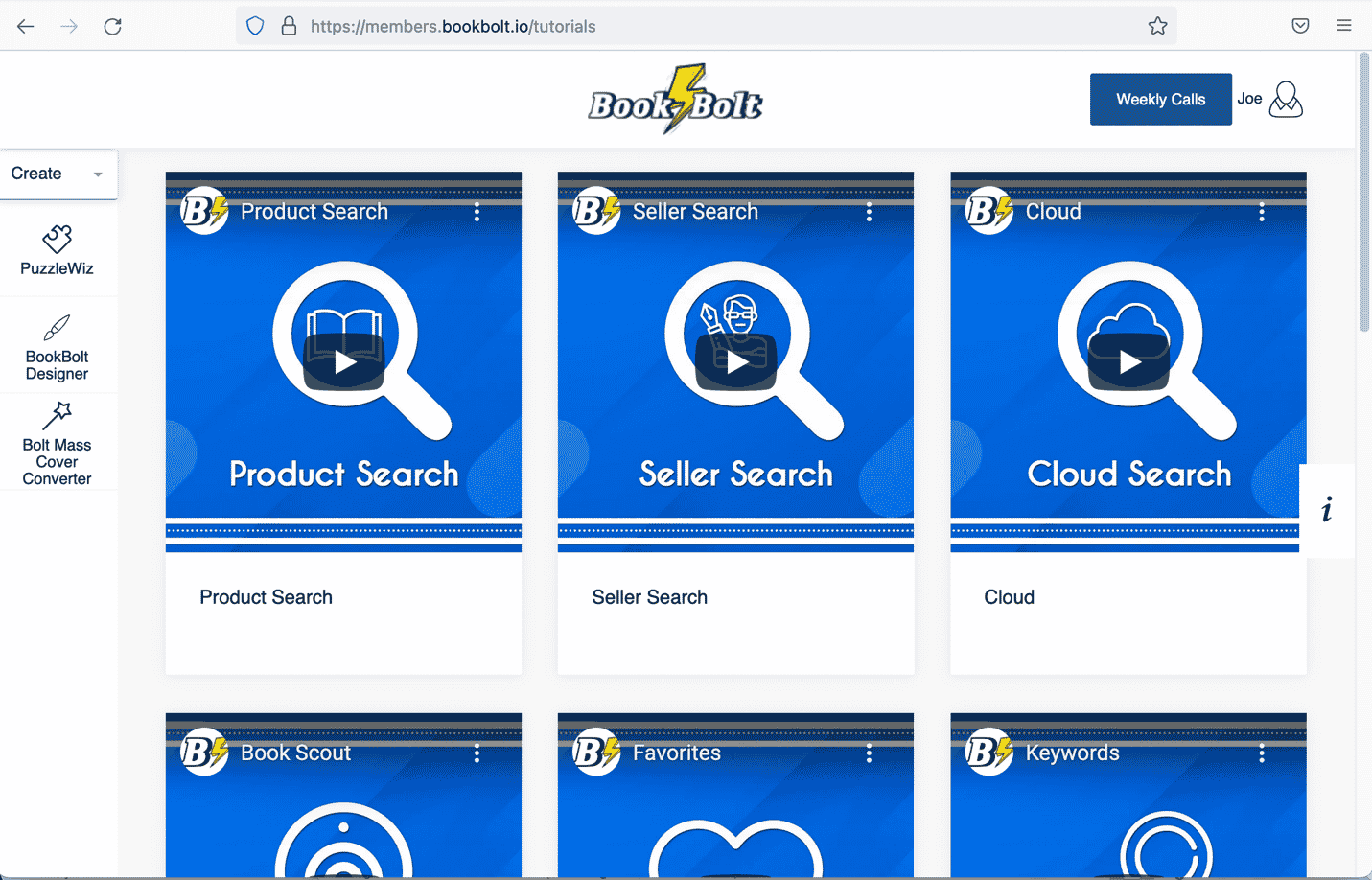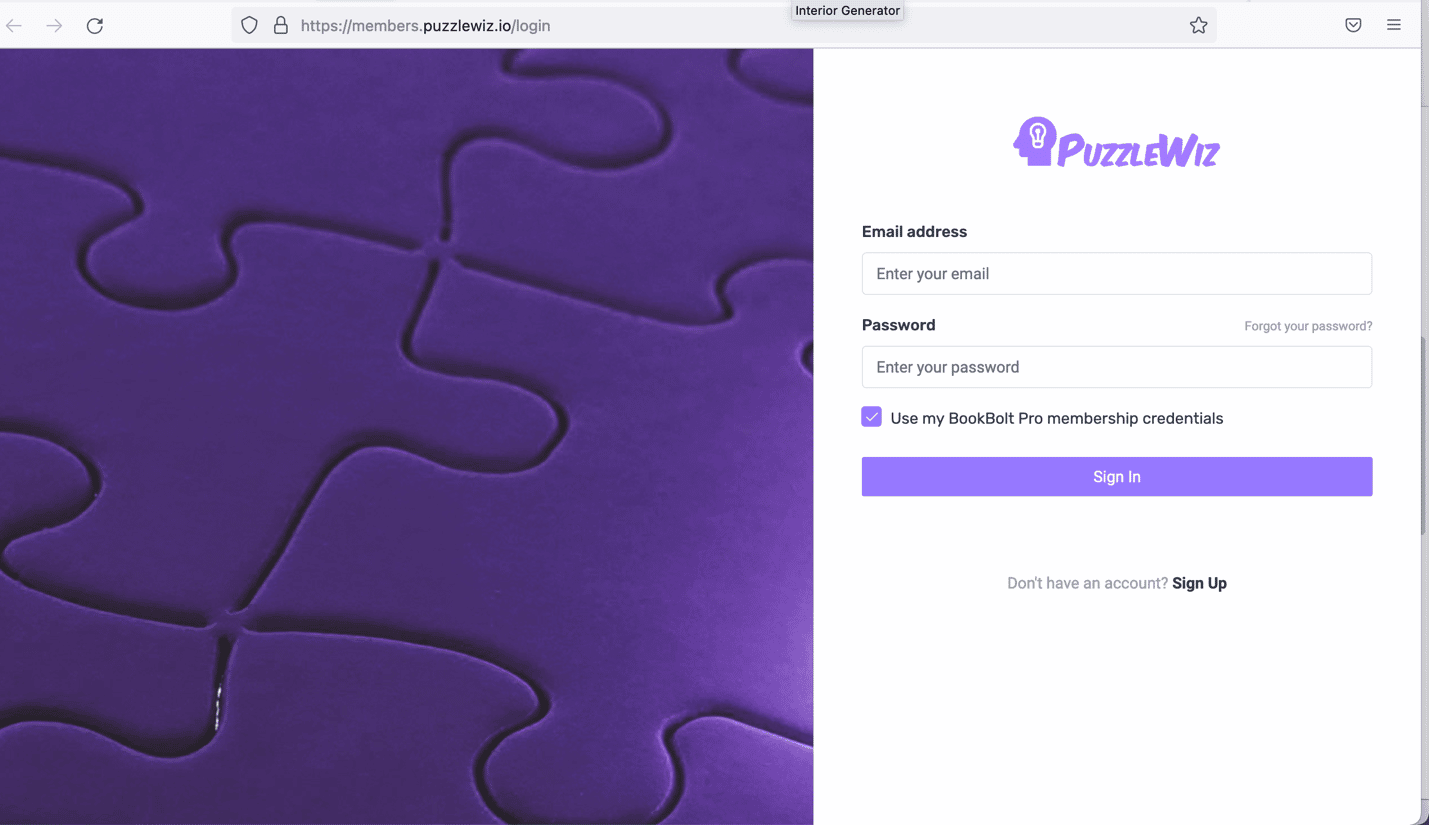 Similar to the journal function, your dashboard will default to a series of helpful and detailed tutorials. In our experience, just playing around with the software was enough for us to pick up on the easy-to-use functions. That said, you should take the time to watch all the tutorials just to get a sense of how versatile this application is.
The Dashboard is simple and intuitive. On the left, you have the options to create all kinds of different mind-stretching puzzles and games and customize them to your theme. For the sake of this demonstration, we decided on a simple, two-page booklet.
This part can get tricky because it will require you to do a little Excel work. That said, it is the simplest of all Excel functions: simply creating a list in a bunch of cells.
BookBolt's Puzzle Wiz function has a downloadable template, pre-filled to show how to structure your word input. An important tip: you are limited to 20 words per puzzle, and if you have multiple pages in your book, you must separate the lists with a single row. Once you upload it, the software does all the sorting for you.
Note: there is a tickbox that asks you whether you want the software to automatically fill in other words if your selections don't fit. For the sake of this demonstration, we checked it.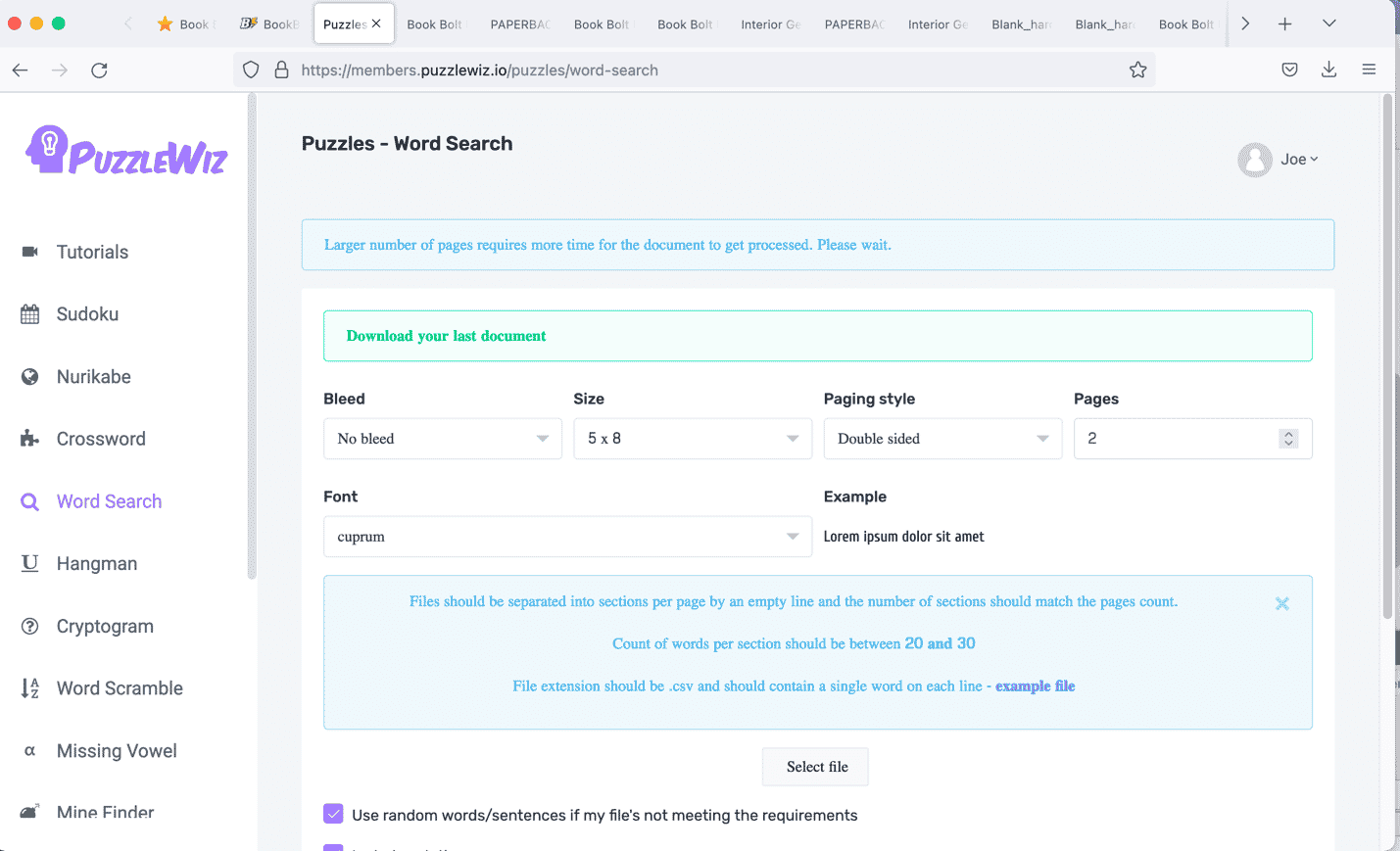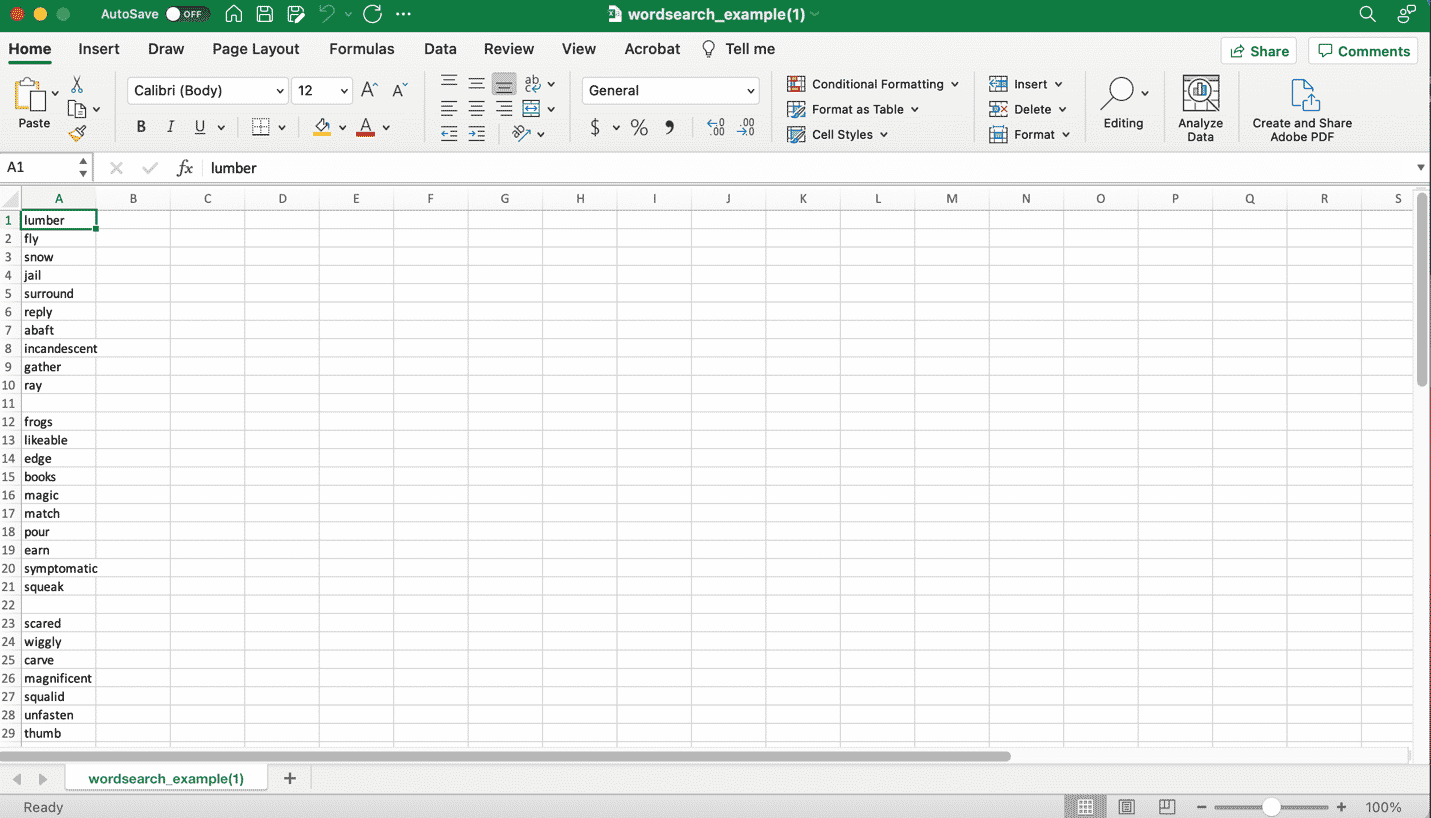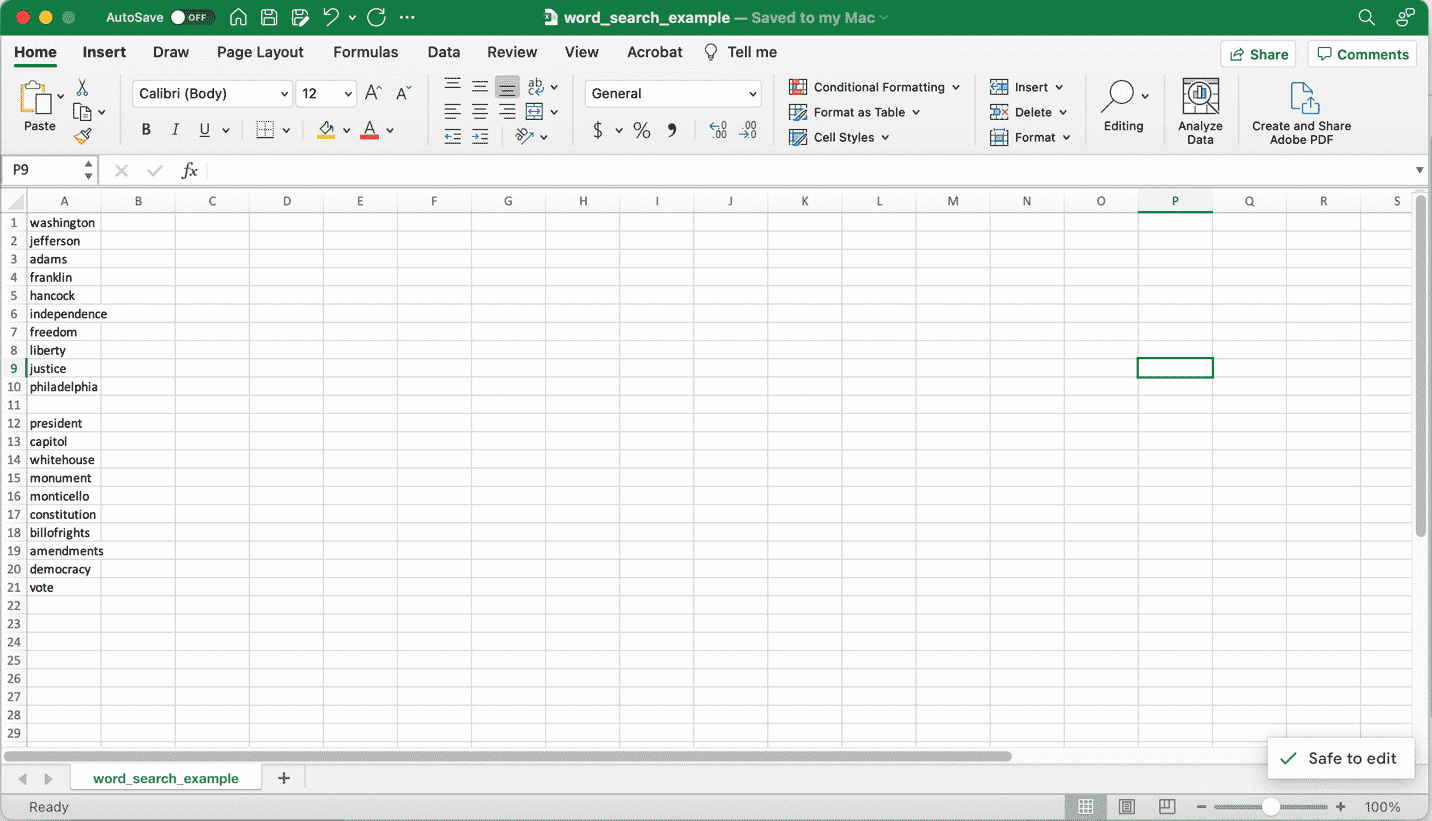 Once you've uploaded your file, the software will automatically generate the pages in a PDF download as shown below.
As with the journal, you have a ready-made booklet that can be uploaded to Amazon KDP, as a digital download on Etsy, or even directly printed if you so choose.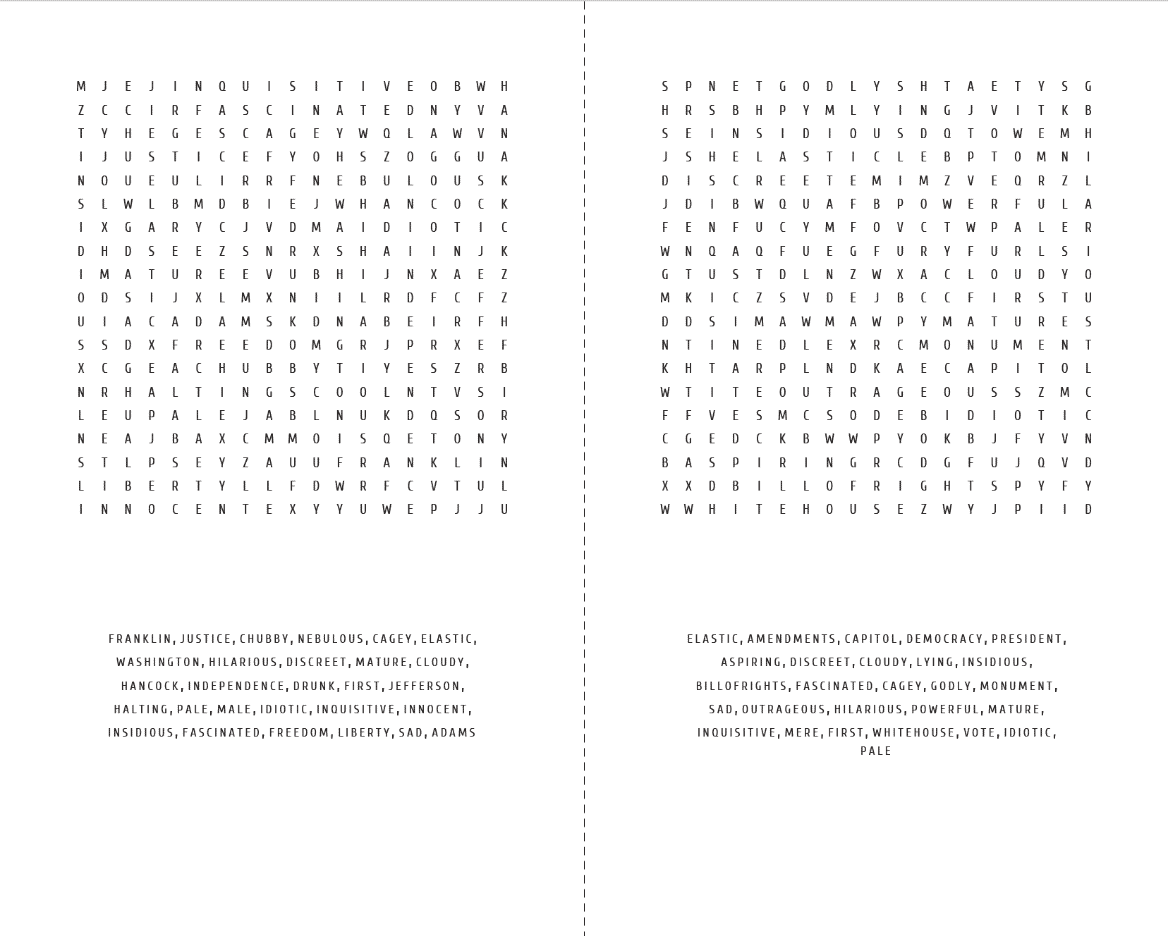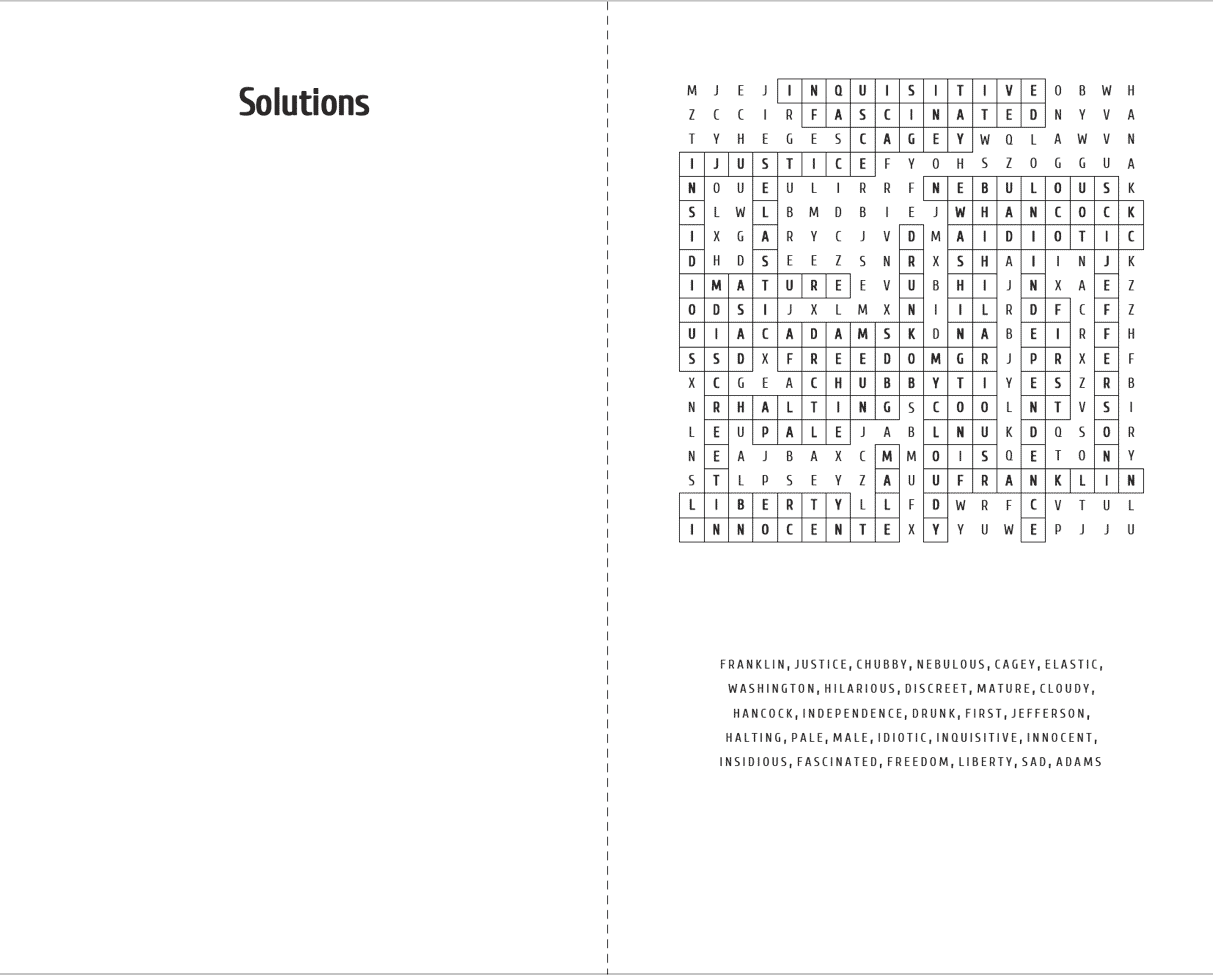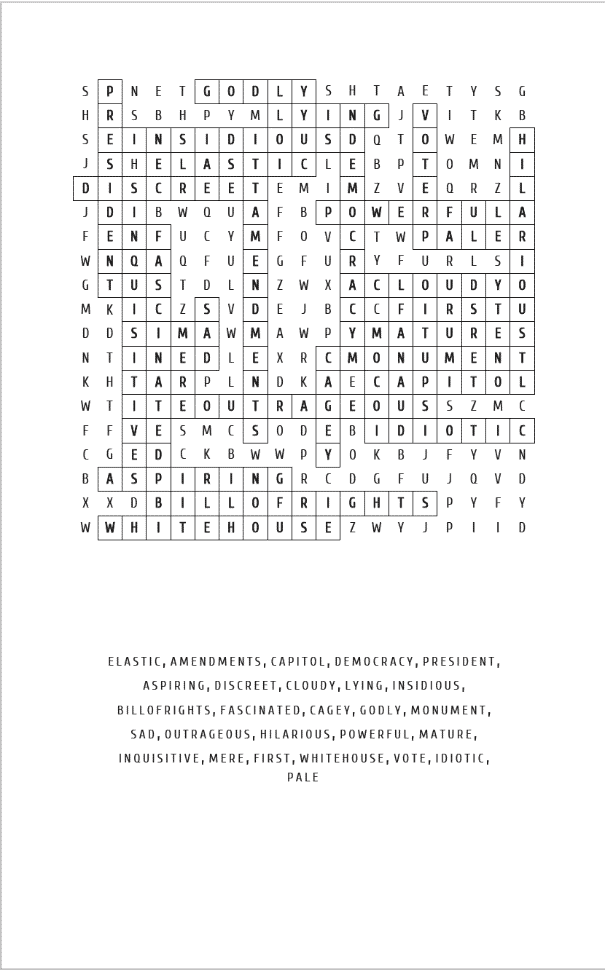 The process is really fast – we did this demo as we wrote this article, and the total time spent to create these samples was two hours. That included trial-and-error, phone interruptions and a snack. And these are just a few of the tens of thousands of possible combinations that can be created using these tools.
On this July 4th, as we reflect on the opportunities given us as Americans, think about all the things you can do with BookBolt to expand your own opportunities, and the only cost is your time.
In fact, you can probably create, upload and sell your product between the barbecue and the fireworks.
Happy Independence Day!