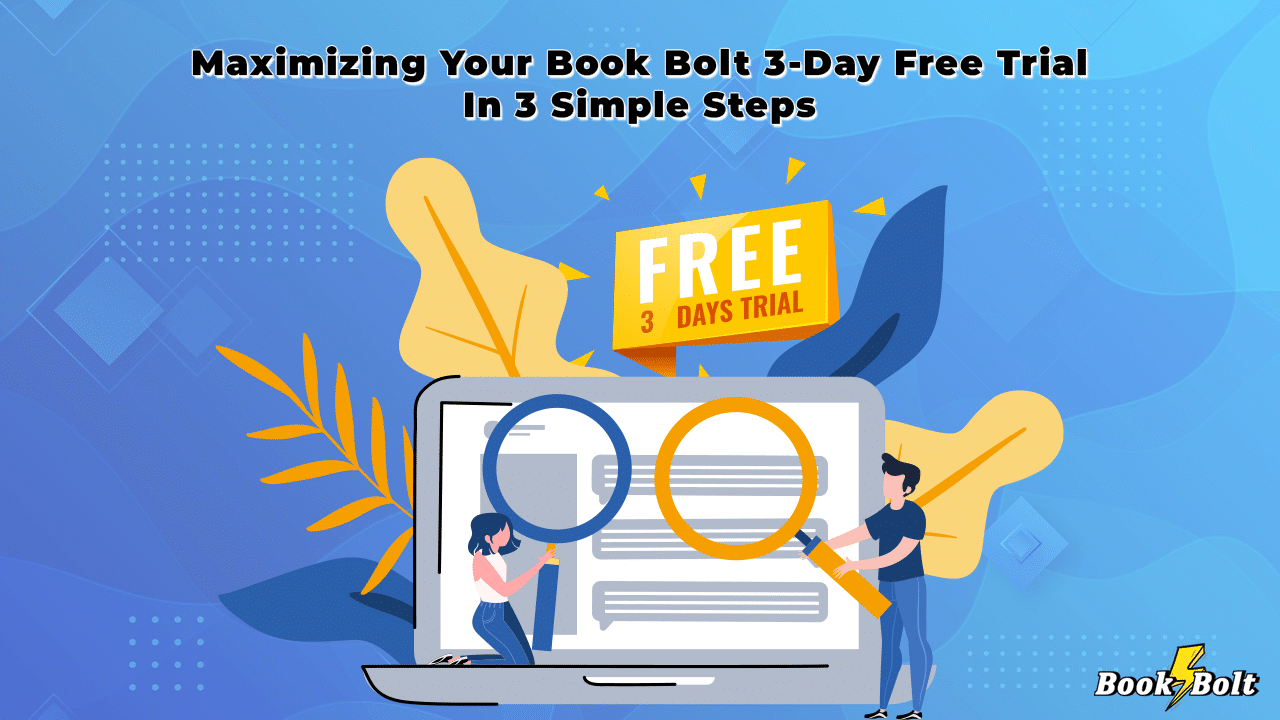 So, you've decided that it's time to take your KDP Seller experience to the next level. Considering the highly saturated Amazon space, you'll need a secret weapon to stay one step ahead of the pack.
But how much would that cost? Not a lot, if you consider the return on investment.
Book Bolt is an affordable go-to tool for business intelligence that can turn you into a savvy print-on-demand bookseller. It can offer the business insights that will help you create print-on-demand books that buyers are interested in, optimize your listings, set the right price, and more.
But what's even cooler is that you can tap into this vast potential with a free 3-day trial. And, believe us when we say that three days are more than enough to gauge the value you'll get.
Book Bolt offers a lot, so we've decided to walk you through the most important steps to take in order to maximize your 3-day free trial of the platform.
Step 1: Discover Products That Sell
The first thing you want to do once you've started your free trial in Book Bolt is to run a cloud search. Here's what it is and why it's an important first step.
Amazon KDP works with a range of different print-on-demand books like journals, notebooks, comic books, and more. But before you choose the right category for you as a Seller, it's worth peeking into:
What type of products are popular in different categories
How often people buy them
What their prices look like
How they've performed over time
Cloud search gives you instant answers to all of the above.
Using The Cloud Search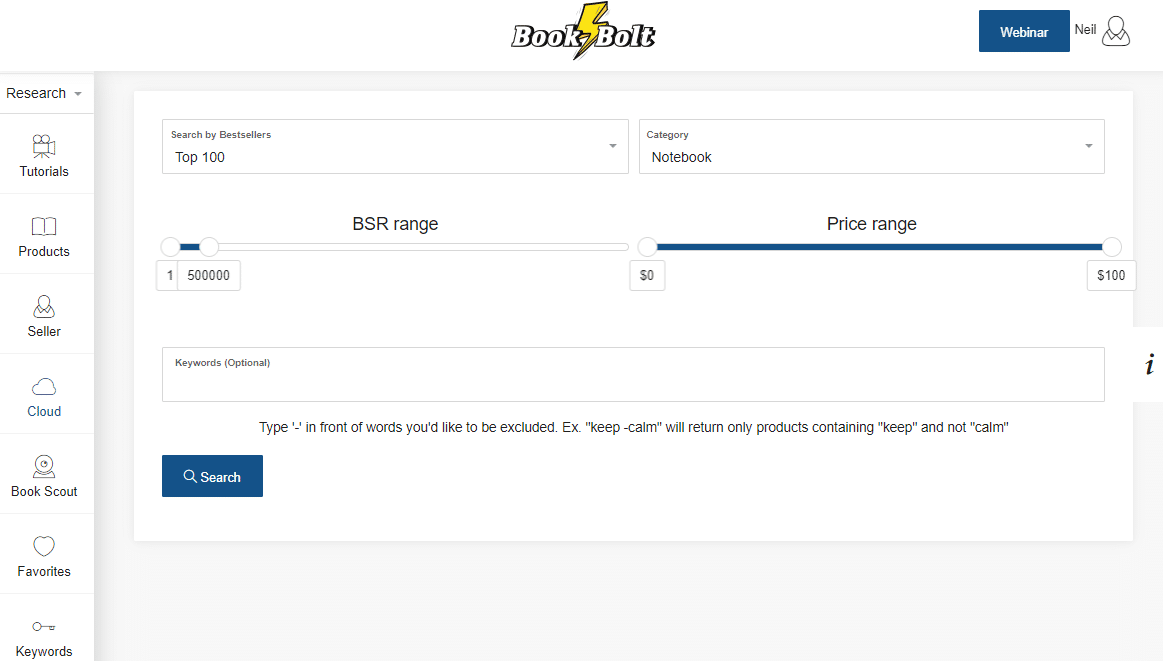 To explore this fundamental Book Bolt feature, log into your Book Bolt account and find "Cloud" on the left-hand menu. You'll see five different filters that you can use for your search. Let's say that you're not very experienced with creating books with more content and would rather prefer to settle for something easier like notebooks. Here's a step-by-step process to run your search.
Choose how many best sellers you want to see at once – We recommend sticking to the top 100 for starters to get a general idea.
Choose your category – For the sake of our example, let's choose the category "notebook".
Set a BSR range – The best seller's rank defines how well a product is selling in its category. The lower the BSR – the better a product is sold. We suggest leaving the recommended 500,000 BSR for your initial search as it offers a good balance in the results.
Choose a price range – If you are aiming to make more profit per sale, it's not ideal to look at the cheapest books. However, for your first search, you can leave the price range as broad as possible and segment it down in your following searches.
Select a keyword – You can also use a specific keyword to tailor your search but it's advisable to avoid doing this at the start, since the aim now is to collect as much information on the category as possible.
As a result, you'll get 100 best-selling notebooks along with some really valuable information. You'll be able to see their titles, authors, publishers, reviews, and prices. You'll also gain insights into their BSR over time, their average BSR for the past month, and their monthly sales. You can spot any price changes and how that influenced sales – and best of all – see the book's design.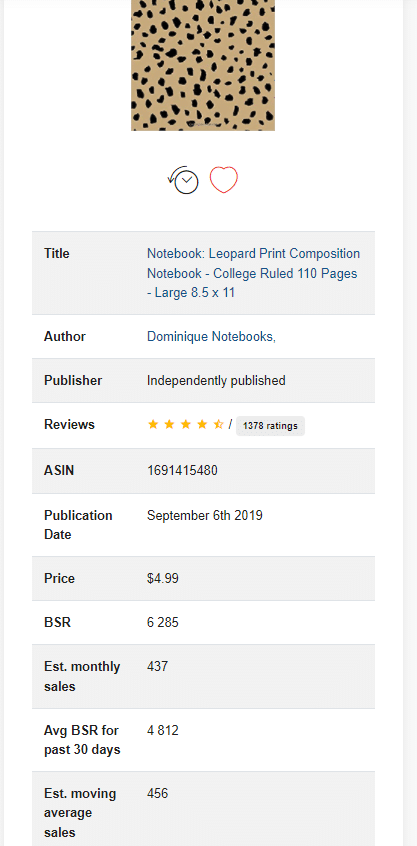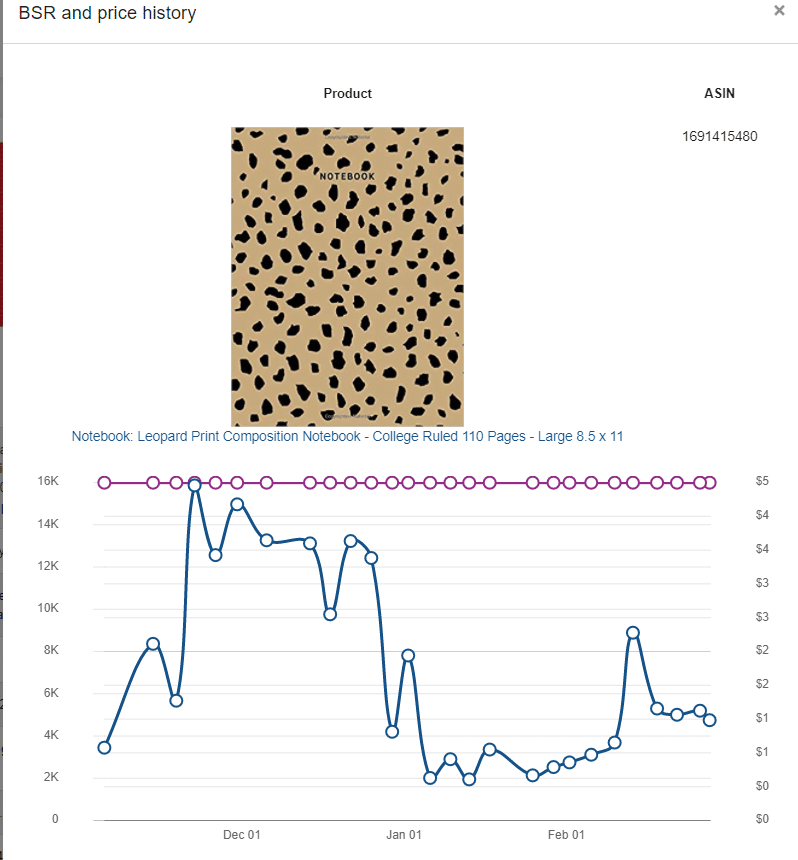 What Next?
So, how does this help you as a Seller and what can you do next?
You can now immediately spot what types of designs generate the most sales and use this to your advantage. Get inspiration, see if any specific themes reoccur among the best-sellers, and use this information to choose a niche. You can also use the BSR history data to see how price changes affect sales and use this to price your own product.
And although this is an amazing feature that you can utilize in a free trial, there's much more. By continuing to use Book Bolt as a regular subscriber, you can use the Chrome extension KDP Spy to get some of these insights straight on Amazon, which saves you time and makes your research process a whole lot easier.
Step 2: Find The Right Keywords
Next, you can make your free trial even more productive by using the keywords feature, also located on the left-hand menu. This is a great second phase of your research, now that you've gathered some ideas on what's selling in the notebook category from your "Cloud" search.
For example, imagine that you keep noticing notebooks with dog covers among the best-sellers when performing a "Cloud" search. This could be a pretty good niche to go into as a Seller. But let's not leave anything to chance and see how many people are actually searching for "dog notebooks" or related keywords.
Running a keyword search & using the insights
Type in "dog notebook" into the search bar and let the tool work its magic. Book Bolt, in return, will provide information on your keyword and related keywords. It will show you the Amazon search volume but also the Google search volume, the cost per click, and how competitive the keyword is.
How can this data be useful for you as a KDP Seller? If you're new to Amazon's print-on-demand business, you'll want to start with a less competitive keyword that still generates a decent amount of search volume every month. Order the Amazon monthly search volume results from highest to lowest. Compare how competitive the most searched for keywords are by looking at the CPC and Competition boxes.
In our case, we can see that "notebook dogs" generates 1,485 search volume, yet has a CPC of $0.00 and "no data" in terms of competition. You can use this keyword as a low hanging fruit and add it to your product title and description.
Note: The competition column is for how many people are bidding on the keyword on Google search. This is added to Book Bolt to find keywords that have less people interested in the niche as a whole.
The Next Steps
Naturally, the following steps are to start creating your low- or no-content books and optimizing their listings with the keywords that you know buyers are after. However, keep in mind that search volumes rise and drop all the time. A 3-day free trial may be a great way to see the potential of the software, but the truth is that Book Bolt can offer so much more when used consistently.
Things like seasonality, upcoming holidays, or other factors can influence how popular a certain keyword is. To always be ahead and stay competitive, you'll need to monitor how your selected keywords are performing and if necessary optimize them with related keywords.
Step 3: Design Low- And No-Content Books Like A Pro
The third and final step of your free trial exploration is the Book Bolt Studio. It's perhaps one of the best parts of using Book Bolt as it turns design creation into a piece of pie even for newbies and inexperienced users. The Book Bolt Studio is a drag-and-drop design software that allows you to create attractive no-content and low-content book interiors and covers in minutes.
How To Use Book Bolt Studio
Once you've logged in, go to the very left-hand corner menu, where you'll see "Research". Click on the dropdown menu and select "Create". Select the "Book Bolt Studio" and you're ready to get started.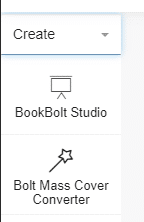 Here's what you need to do next:
Pick your options for the print-on-demand book that you want to create. There are a few different options – "paperback" and "hardcover", which define the type of book Amazon will be shipping to your customers. However, both options provide many premade interior templates you can use, so it's best to focus on designing a catchy cover. You can specify that option, too, in the pre-creation menu.
Next, select the trim size from the available options. The 6"x9" is one of the most popular book sizes but this depends on the category that you're in.
Choose the paper color from the available options. As a quick tip, the white paper interior is most popular if you want to avoid any creation issues.
Select how many pages you want your book to be. This will influence how big the cover is as you'll need a larger spine for more pages and a smaller one for fewer pages.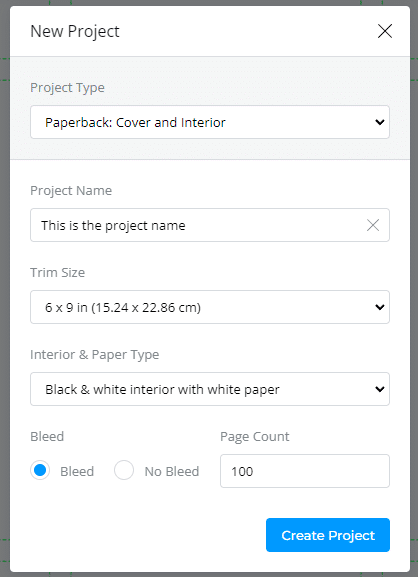 Next, you'll see a blank template of your book cover and interior.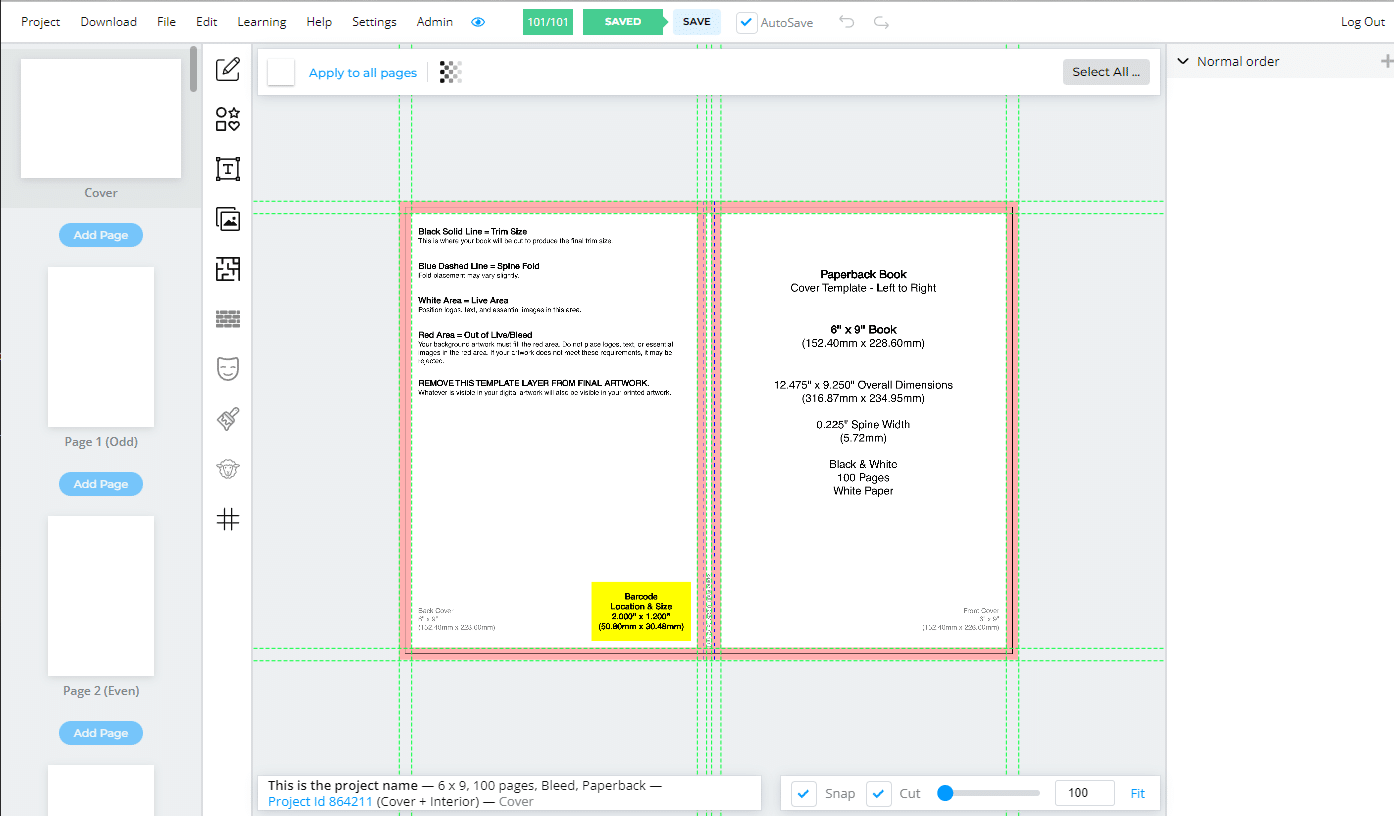 On the left-hand side, you'll notice a menu with available tools and features to use to customize your next book. Here are the tools that you can use to create a stunning book design:
Different text fonts and customization options
Adding/Editing Colors
Adding images
Using premade shapes
Adding layers
Creating your own drawings
Using effects
Exploring different masking options
In other words, you can completely transform the way your cover pages or interior looks and create a best-selling low-content book that buyers love.
What This Means For You As A Seller
The more you play around with the Book Bolt Studio, the more you'll realize that it's an ace up your sleeve. You can save a ton of money on professional graphic designers and create your own top-selling designs. Because you're working with templates, you can also quickly release new products with minimum effort. For example, you can create a notebook interior and simply change the cover page. This will give you a brand new product and a new money-making opportunity. You can even try selling in different niches without having to change the design completely.
There's More After Your 3-Day Trial
You might already be wondering whether a 3-day free trial will be enough to turn you into a top seller on Amazon. Unfortunately, the answer is no – three days are not enough to catapult you to KDP stardom.
Book Bolt is designed to provide an integrated solution for KDP merchants that is meant to be used continuously and simultaneously. For example, by running regular "Cloud" searches, monitoring your keywords, and adapting your book designs to what people are interested in, you're bound to enjoy consistent sales that are just not possible without all the relevant information.
And this is where our premium subscription comes in. Book Bolt offers 2 paid plans – a monthly subscription and a yearly deal. The former will cost you just $9.99 per month, while a 365-days plan will set you back a mere $89.99.
Book Bolt has a lot to offer, and we wholeheartedly recommend you try our free trial first. If you're serious about building a KDP low-content and no-content book business, the decision to move to a premium plan will be a no brainer for you.