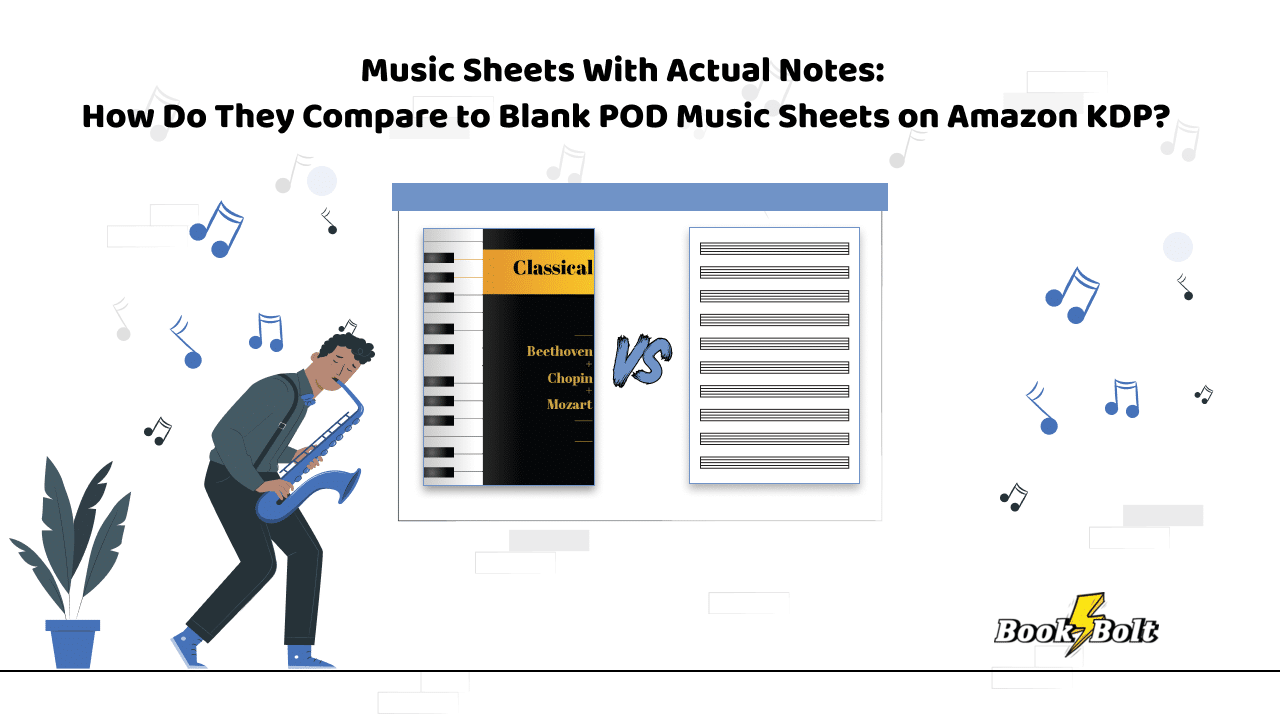 For musicians and composers, the process of translating melodies and harmonies into written notation is a crucial aspect of their craft. With the advent of digital publishing and print-on-demand (POD) services, musicians now have access to a wide array of options when it comes to acquiring music sheets.
Being aware of these options will give you an advantage as a POD bookseller on Amazon.
In the following sections, we compare blank music sheets to music sheets with notations to see which niche is more profitable.
The music sheet market
As you can imagine, when it comes to music sheets, expectations are that they come with notation. These products enable musicians to learn how to play a certain song on their chosen instrument via the use of music notes.
However, in reality, there is a second type of music sheet that allows musicians to learn music theory, practice note writing, and more. This process is an inevitable part of developing as a musician and requires the use of blank music sheets.
While both versions are available for sale on Amazon KDP, they differ in terms of popularity and most importantly – profitability.
Music sheets with notes
We used Book Bolt's Cloud tool to analyze the bestsellers in the music sheet category. Right off the bat, we discovered that "notes" were among the keywords that dominate listing titles and descriptions. This was the first indication that music sheets with notation are more popular than blank music sheets.
To confirm our theory, we researched the top-performing listings that specifically rank for "notes" or "notation".
A total of 51 chart-toppers appeared for the keyword "music notes", whose average BSR is 242 990. At the same time, best selling listings ranking for "notation" are fewer (13) but have a similar average BSR (248 997).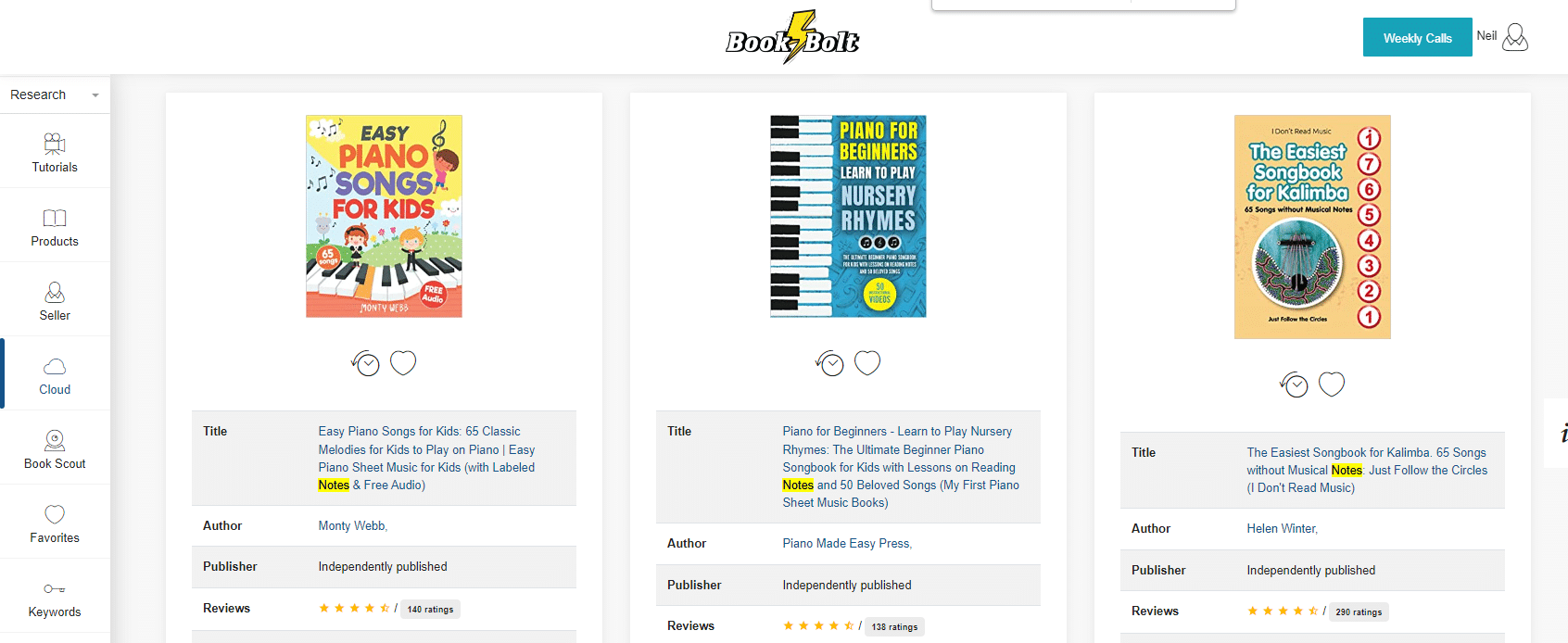 In terms of pricing, "music notes" listings are a bit more expensive than "music notation" listings.
Music notes
Lowest Price $4.98
Highest Price $29.99
Average Price $11.10
Music notation
Lowest Price $4.99
Highest Price $16.99
Average Price $8.50
Keep in mind that although this data can give you reliable orientation, it's not sufficient. Throughout our research, we noticed that a lot of listings don't include words like "notes" or "notation", yet fall under the category of music sheets with notes.
For example, listings like "Easy Piano Sheet Music for Kids: A Beginners First Book of Easy to Play Classics | 40 Songs (Beginner Piano Books for Children)" are not blank. They translate songs into music theory and help children learn how to play. At the same time, such listings are not featured in the insights from above, as they don't utilize specific keywords like "notes".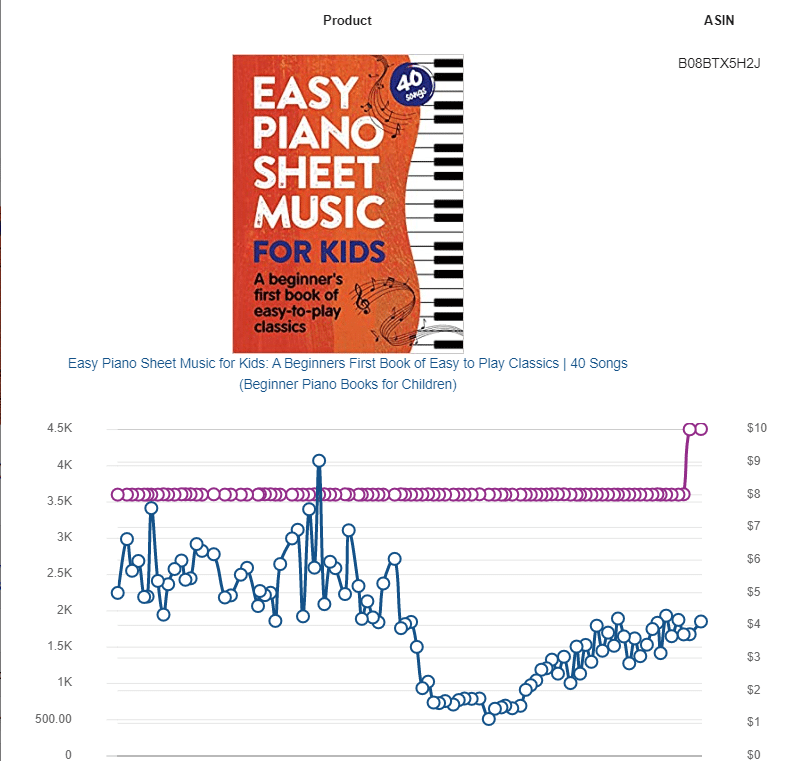 This particular example is a great way to prove the profit-making potential of the niche. The listing has a BSR of 1 869 and scores around 541 sales per month at a price of $7.99. This results in significant earnings from a single product.
How popular are music sheets with notes among shoppers?
Performing a standard search in Book Bolt's Keyword tool for "music sheets with notes" doesn't provide much data. We were only able to identify a few related keywords, like "music notation book", which has a monthly search volume of 2 384.
However, digging deeper uncovered the reality of the niche:
klezmer sheet music – 37 299 – high
scarlatti sheet music – 10 037 – high
mozart sheet music – 4 051 – high
All of these searches are related to composers and their specific musical notes. And while they're extremely popular among customers, they also go hand-in-hand with a high search volume. Put otherwise, you may find it more difficult to penetrate these niche segments, especially if you're a new entrant.
Blank music sheets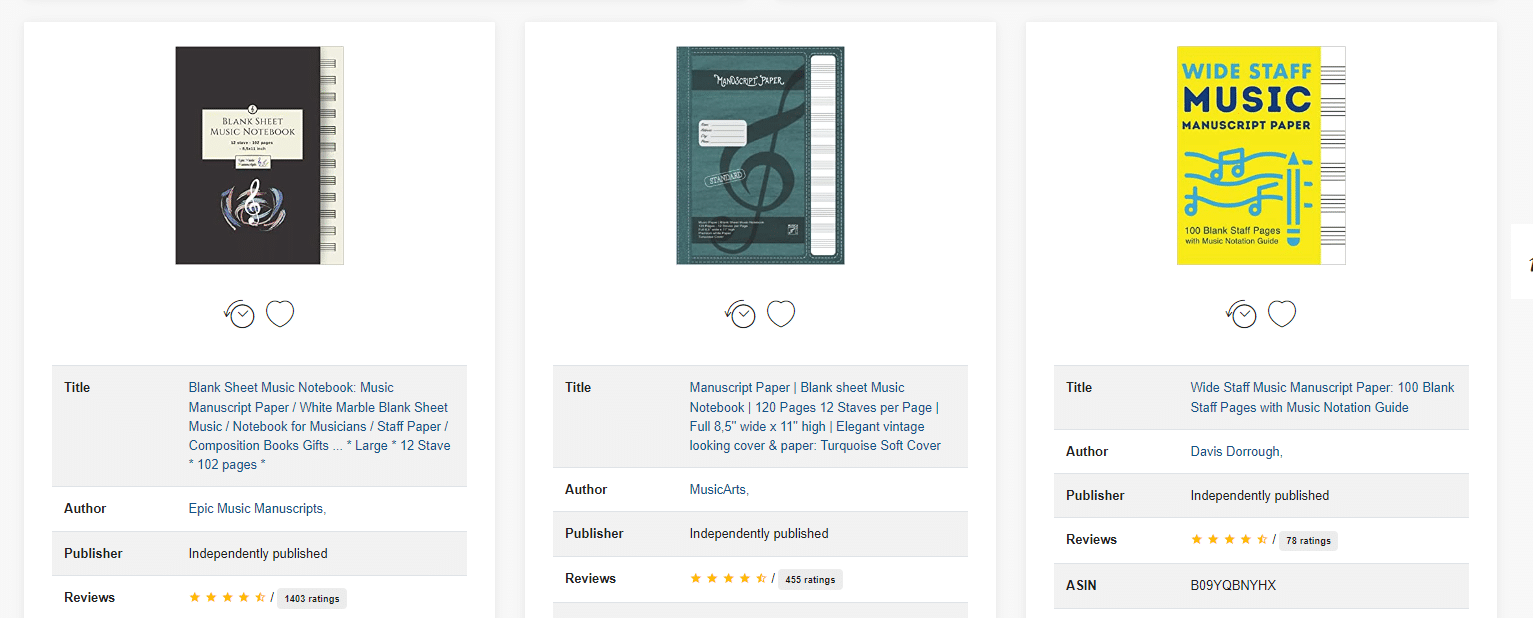 The blank music sheet space on Amazon KDP is much more straightforward to research. In the majority of cases, sellers offering this type of product will use the word "blank" in the listing title or description.
According to Book Bolt, a total of 59 listings ranking for "blank music sheets" have made it to the Cloud tool. These are the items that are considered top performers.
The average BSR of these bestsellers is 271 718, while their minimum, maximum, and average prices are as follows:
Lowest Price $3.99
Highest Price $15.99
Average Price $6.45
Based on this information, we can make several conclusions.
First, blank music sheets have a slightly higher average BSR than music sheets with notes. This suggests that they score fewer sales on average. At the same time, blank music sheets are priced lower, generating less royalties than sheet music with notation.
How popular are blank music sheets?
The search volumes of words related to blank sheet music are also lower than words describing music paper with notes:
blank music sheet notebooks – 6 477 no data
blank music notebook sheet – 6 424 – no data
blank music sheets notebook – 6 363 no data
blank music notebook – 6 047 high
blank music sheets – 5 828 no data
However, what stands out here is the level of competition. Usually, competition levels of "no data" describe words that are easier to rank for.
This means that by optimizing your listings for keywords like "blank music sheet notebooks" you can quickly boost your products higher in search results. And the better your rankings, the more visibility your items will enjoy.
Comparing the bestsellers
All of this is valuable information that can help you make the right decisions for your product portfolio. But it's also worth inspecting the bestsellers from both niches. This will help you see a real-life example of how profitable you could potentially become by entering one of these music sheet segments.
The "Blank Sheet Music Notebook: Music Manuscript Paper / White Marble Blank Sheet Music / Notebook for Musicians / Staff Paper / Composition Books Gifts … * Large * 12 Stave * 102 pages *" is among the best-performing products in the blank music sheet category. It's priced between the minimum and average rates in the niche ($4.39) and has a BSR of 11 394, securing around 382 monthly sales.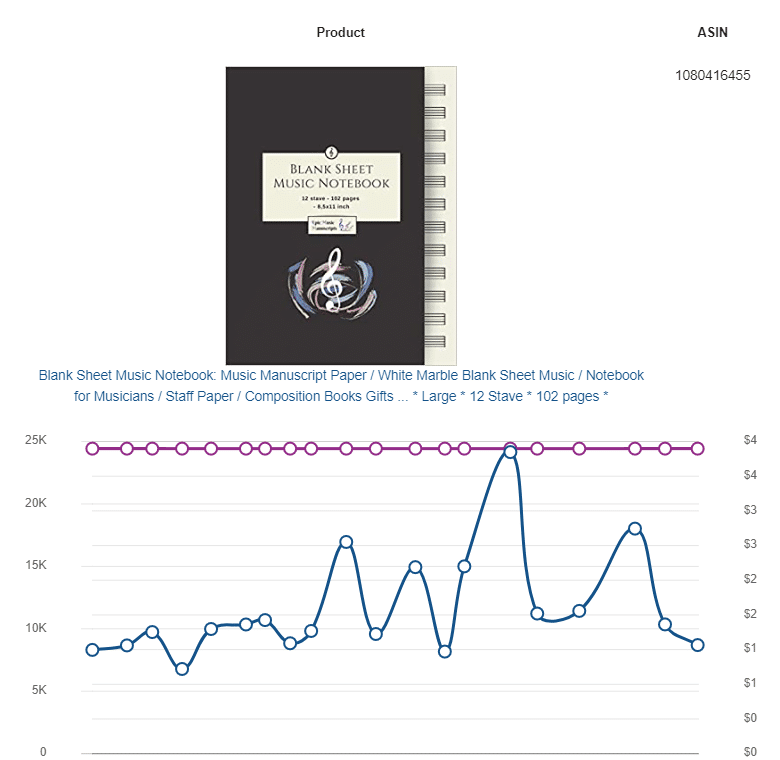 On the contrary, the "Easy Piano Sheet Music for Kids: A Beginners First Book of Easy to Play Classics | 40 Songs (Beginner Piano Books for Children)" listing we used as an example earlier sells the most in the music sheet category. It generates a lot more sales per month (541) and is also priced higher ($7.99).
Without a doubt, most sellers will strive to achieve performance similar to the second example. Why? As it yields more attractive profits.
In a nutshell
Overall, our research into the music sheet niche has helped us conclude that products with actual notes are the more lucrative option to explore. We recommend exploring this option if you're looking for ways to penetrate this specific market. They're more popular in terms of user search queries, they're priced higher, and real examples show that they result in more sales.
However, we also discovered that keywords related to blank music sheets are less competitive. They could be perceived as low-hanging fruit for new market entrants. In reality, no matter what decision you make, it's key to use Book Bolt as your powerful data-providing tool for informed decision-making.