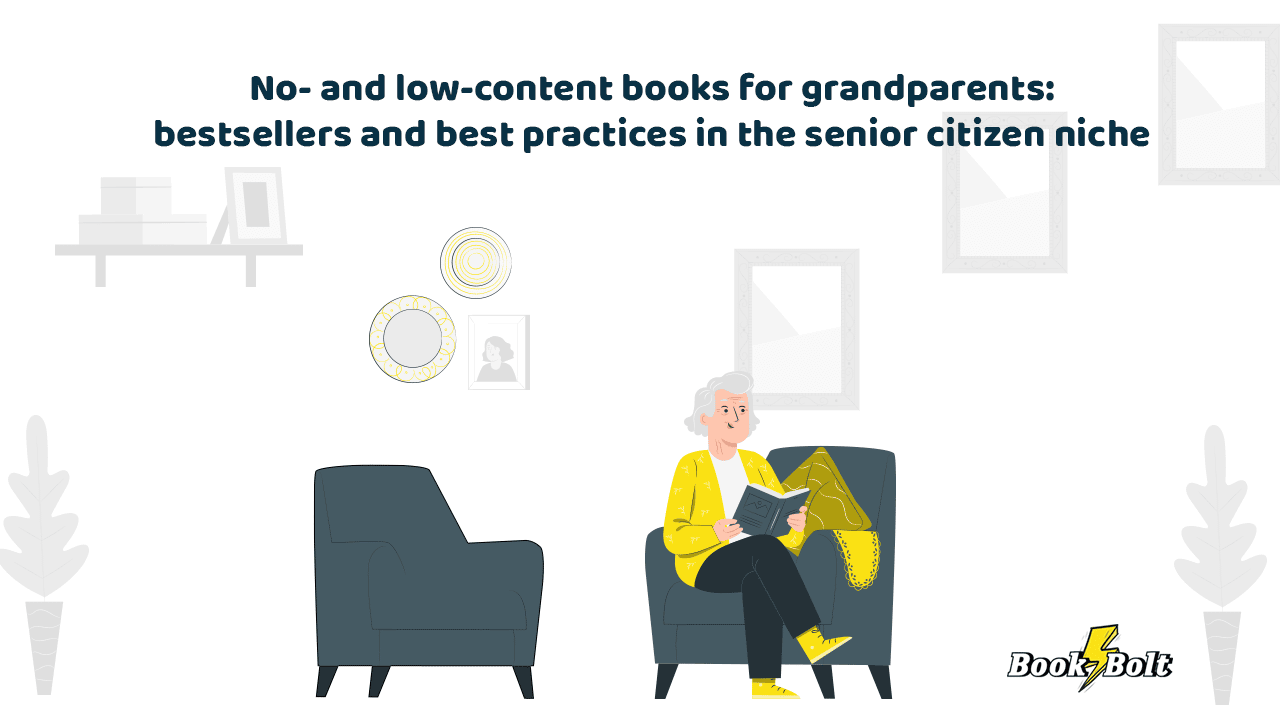 The United States of America has an aging population. In fact, according to the US Census Bureau, we're looking at approximately 54 million people, which can be classed as such. With considerable levels of disposable income, senior citizens represent a potentially boundless audience to target on Amazon KDP.
We conducted our own analysis of the senior citizen segment and their spending habits when it comes to no- and low-content books. Things we looked at include market size, best-selling practices, and scope for profitability.
Take a look at our findings below.
How big is the market for the senior citizens niche?
Using Book Bolt's "Products" module, we delved deeper into the senior citizens niche in order to determine the size and scope of the market for this target group. We did this by selecting some of the best-performing keywords and their associated best-sellers rank (BSR).
Here's what we found: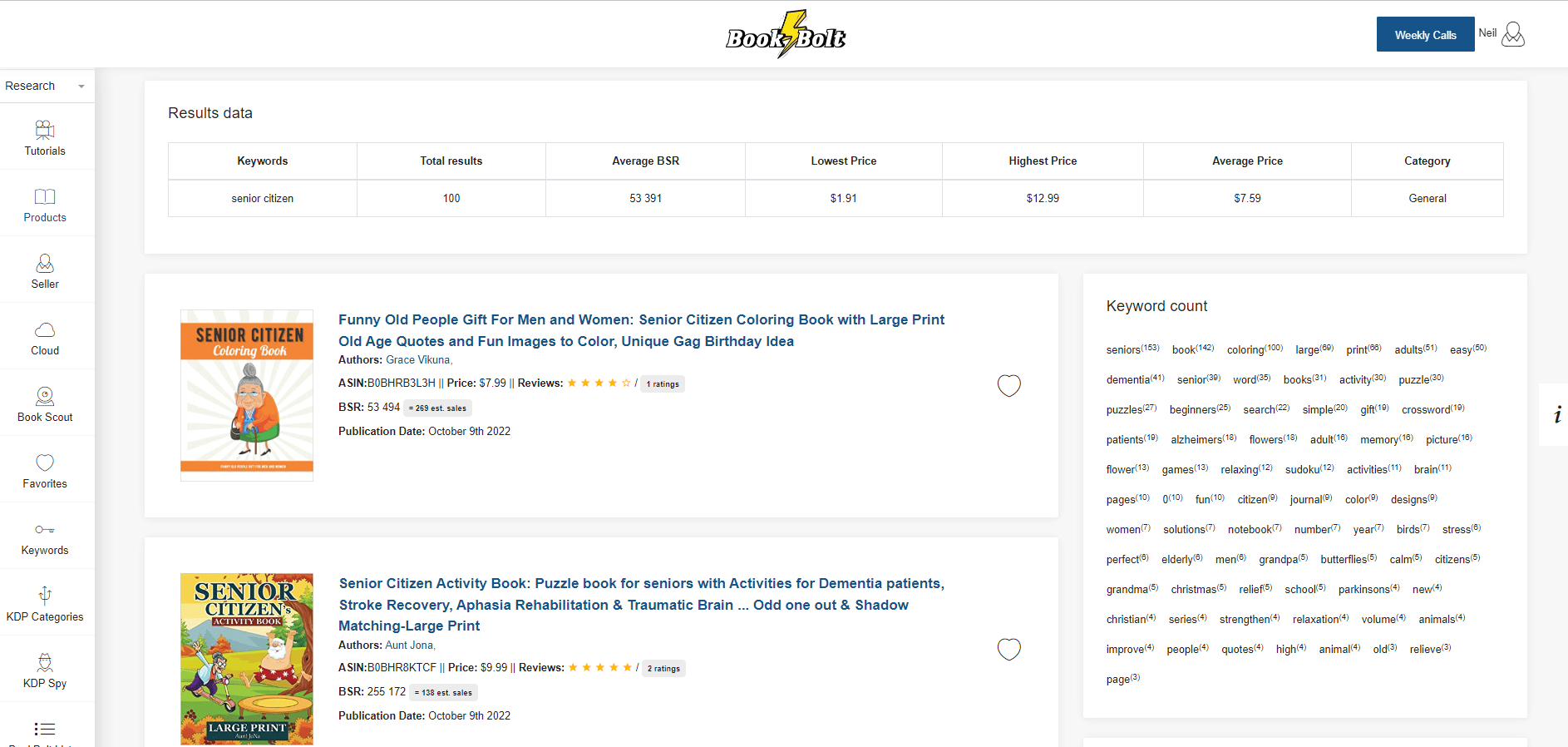 The keyword "senior citizen" gives us an exceptionally low BSR of 53,391. Other related keywords and their BSRs include:
"grandma" (1,451,770)
"grandpa" (1,356,054)
"grandmother" (1,584,238)
"grandfather" (2,570,751)
It becomes apparent that the shorter forms of "grandfather" and "grandmother", i.e. "grandpa" and "grandma" outperform their longer forms. However, what's truly astonishing is how big the difference is between the more general "senior citizen" term and their colloquial derivatives. This should immediately signal to you that no- and low-content books target the very class of senior citizens, as opposed to any given gender.
What does this mean?
That you should design your products around their usefulness to senior citizens as a whole, instead of male or female representatives of this segment.
Keywords, BSR and search volume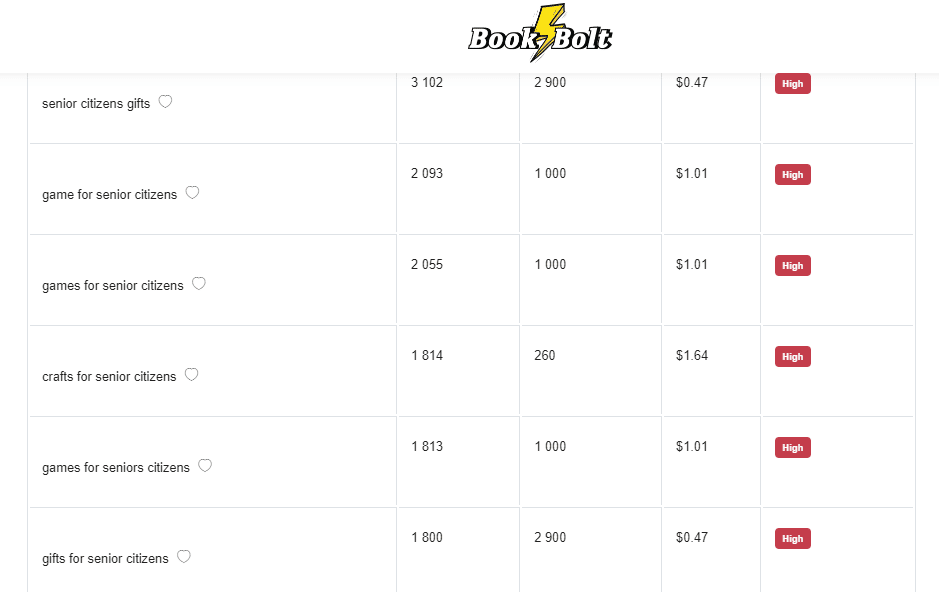 Related keywords are an excellent way of looking at what customers are searching for on Amazon, particularly in the senior citizens niche. As a result, we also dug deeper and explored these related keywords, alongside their BSR and search volume to give you a better indication of the market size.
Since there are so many popular keywords to go for, we prioritized their search volume instead of their BSRs. As a quick reminder, search volume is the clearest indication of consumer interest.
Here's what we discovered
"For seniors citizens": search volume – 9,711; BSR – 649,520
"Senior citizens gifts": search volume – 4,134; BSR – 658,380
"Senior citizens": search volume – 3,638; BSR – 42,451
"Senior citizen activities": search volume – 3,251; BSR – 579,171
"Senior citizen gifts for women": search volume – 3,240; BSR – 696,569
"Senior citizens games": search volume – 3,154; BSR – 768,123
"Gifts for senior citizens": search volume – 1,800; BSR – 13,530
It's interesting to note that there are numerous combinations of the seed keyword "senior citizen" alongside a high search volume and impressively low BSRs of under one million. In fact, "gifts for senior citizens" gets a lovely low BSR of 13,530 with a relatively high search volume. A clear indication that these types of books are selling well.
Regarding the keyword count, we also found that "seniors" appears in listings 142 times and is most often followed by these keywords: book (127), coloring (74), large (57), print (54), senior (38), dementia (36), puzzle (35), memory (19), Alzheimer's (15), notebook (14), brain (9), journal (9), and elderly (7).
From this, we can gather that senior citizens who are actively purchasing no- or low-content books on Amazon KDP are predominantly opting for large-print books (possibly associated with deteriorating eyesight), as well as books that stimulate the brain.
These revelations confirm our initial assumptions. No- and low-content books for senior citizens do indeed emphasize practicality and usefulness. They are mostly about helping our parents and grandparents cope with old age better.
Listings saturation
We now head over to Amazon.com to determine the number of listings for some of the higher search volume keywords with a low BSR.
We uncovered the following results:
"gifts for senior citizens" (over 6,000 listings)
"senior citizen" (over 9,000 listings)
"for senior citizens" (over 5,000 results)
"books for senior citizens" (over 2,000 listings)
From the latter, we can glean that the no- and low-content book market for senior citizens is not highly saturated at all, leaving a lot of space for sellers to enter this market successfully.
Pricing
Finally, we also explore the pricing of no- and low-content book products in the senior citizens niche to discover that the lowest price for these items is $3.99.
Meanwhile, the highest price is in the region of $12.99 and the average price can be found in the $7.90 range.
What are some of the best-selling merchants doing right?
Although we established that the market for senior citizens is not over-saturated, some sellers who have entered this niche are experiencing considerable success.
Here is a breakdown of two of the bestsellers in the space.
Activity book bestseller

The first top performer on our list is the "Stress Relief Memory Activity Book For Seniors: A Book of Relaxing Activities, Brain Puzzles and Exciting Games for Senior Adults to Strengthen Memory and Relieve Stress Easily". Created by Ellyse Mayfield, this book has done impressively well since its first publication on June 14th, 2022 reaching 464 sales at $10.99. The BSR is also incredibly low at only 4,353.
Puzzle book bestseller

Further to the abovementioned seller, we also explored the "Inspirational Word Search for Adults, Teens & Seniors: Large Print Word Search Puzzle Book to Keep the Brain Active & Mind Relaxed with Positive, Uplifting & Good Vibes Words". This item has been created by Pretty Puzzle Press and has some pretty impressive metrics. The book has sold 485 times at a price of $8.96, with a BSR of 3,066.
So, what are the best-selling strategies that you can emulate from these two sellers?
Title and description
Both of the listings' titles and descriptions are intelligently optimized. We see variations of the words "seniors" and "senior adults" included in the mix, as well as nods to the specific age group's needs. Namely, brain teasers, word searches, and puzzles to keep the mind active, and also to help relieve stress.
It's apparent that these sellers have really hit the nail on the head when it comes to targeting senior citizens' actual needs.
Cover designs
Furthermore, we see that the cover designs tend to provide previews of what's to be expected inside the book. They are colorful yet not obtrusive and distracting. The sellers have struck a fine balance between the art, colors and font size used on their covers.
Price
As a final point of analysis, we also observed that both sellers have priced their items very close to the average, which is an important sales strategy on two fronts.
On the one hand, a more expensive book will alienate a large group of buyers. On the other hand, a cheaply sold book will be seen as low-quality.
What is the profitability within this niche?
Regarding profitability, we used Amazon.com's KDP royalties calculator to help us determine whether these top sellers are making a decent amount of money from their efforts.
First, we take a look at the activity book.
At 155 pages for a paperback book that's being sold at $10.99, the royalties calculator shows us that royalties earned on this product amount to $3.88 per book. This number multiplied by 464 sales gives us profitability of $1,800.32.
The second bestseller above offers a product at 120 pages for $8.96. The royalties per item amount to $3.09, which gives us profitability of $1,498.65.
In summary, both sellers are making in excess of $1,400.00 per book, which is quite high compared to other niches that we've explored so far.
Our tip-list for sellers in the senior citizen niche
If you are convinced that you want to enter the senior citizens niche, then there are some best practices that you need to follow.
Here's our advice:
Optimize your title and description using relevant keywords, which have a high search volume and a low competition score. Focus on keywords revolving around "senior citizen" and indicate what kind of book you're offering. It's best to go for activity, puzzle and coloring books that emphasize brain health and mental fortitude.
When it comes to cover design, make sure you opt for large print letters to better reach and target your main audience. Be sure to use colors in a harmonious manner. Avoid alienating one gender by utilizing certain colors that tend to appeal to one gender only. A mix of colors means you can target both male and female senior citizens in one go.
Finally, be sure to price near or around the average of $7.90. What became clear from our calculations is that even if you're selling for one or two dollars less, you can certainly earn a sizable income in a short space of time.
In conclusion
The verdict is in. The senior citizens niche is killing it. With a caveat, of course. And that is effective targeting and knowledge of your target audience.
If you're wondering how you'll get all the right information, we highly recommend Book Bolt as the number one platform that will give you millions of insights at your fingertips.
For only $9.99 per month, it's a worthwhile investment in your no- and low-content book gig.