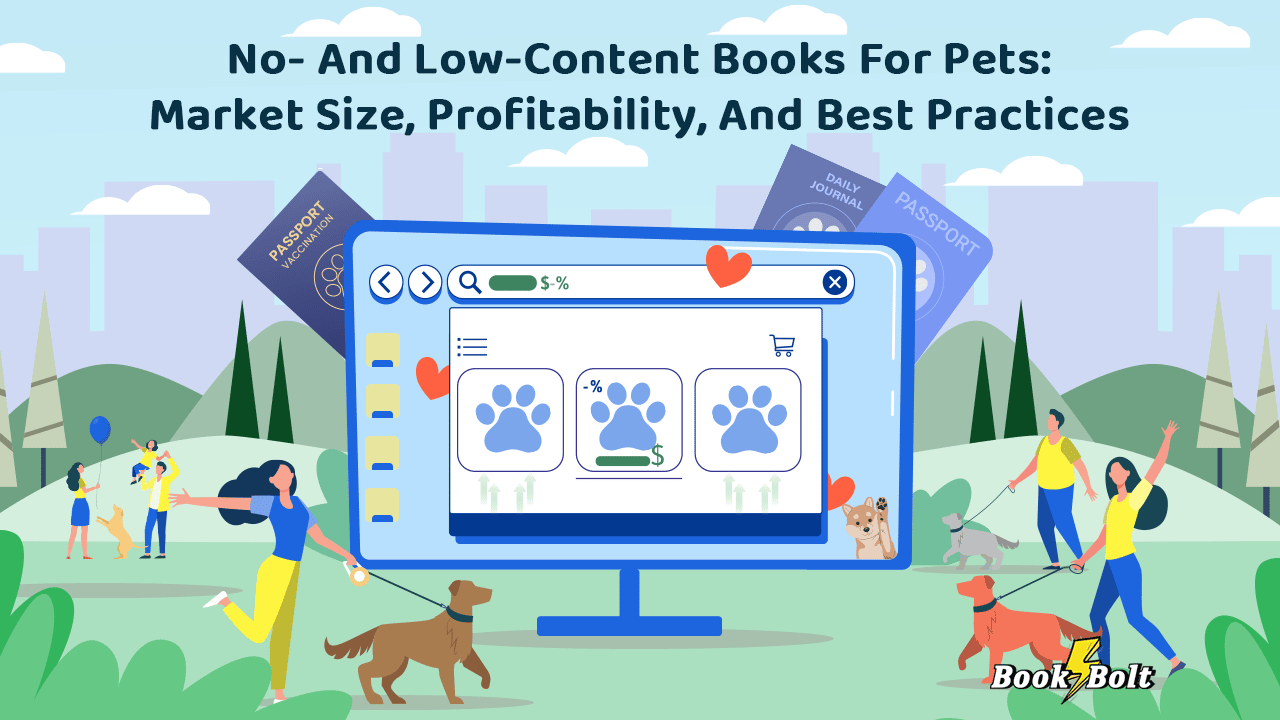 Pet care is a multipronged process. It necessarily involves visits to the vet and pet passports in the event of travel. But there's also logging time spent with pet sitters and even noting down cases when a pet has passed on to help a child cope with their grief.
All this can be done through utilizing no- and low content pet care books found on Amazon KDP. If you're a seller who is wondering whether the niche is worth exploring, this post is for you.
How big is the market for no- and low-content books for pets?
To determine the market size and scope for pet and pet care products on Amazon KDP, we used Book Bolt's Products module to find out the average best-sellers rank (BSR) for a variety of related keywords. The search results indicate that the keyword "pet" is quite broad and has a higher BSR of 1,279,048. Narrowing the search further reveals that the plural "pets" has a much lower BSR at 271,342, while "pet care" goes as low as 23,884, signaling huge demand and number of sales.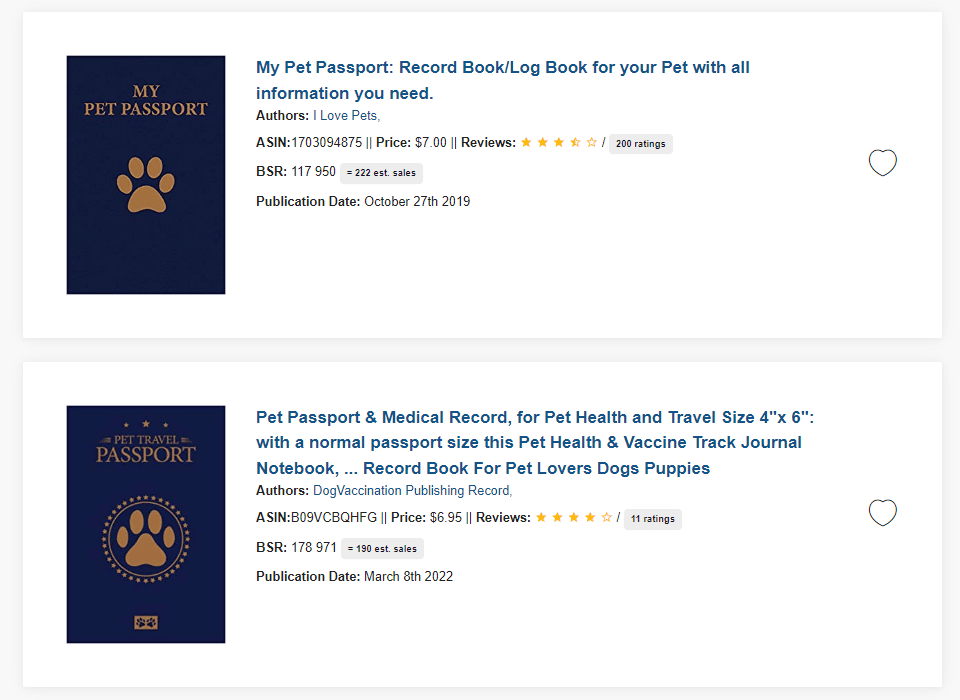 To explore the niche in even more detail, we also looked at related keywords of the best-performing keyword "pet care". But this time, we examine search volume.
We found that "pet care books for kids" gets a monthly search volume of 2,483, which is quite substantial. Other related keywords and their associated search volume include: pet care notebook (2,263), pet care journal (2,187), pet care planner logbook (2,062), and taking care of pets book (1,158).
Taking these related keywords one step further, we discovered that their BSR is as follows: pet care planner logbook (1,419,251), pet care journal (1,272,784), pet care notebook (1,266,637), and taking care of pets book (1,096,671).
It therefore appears that the most popular types of no- and low-content books for pets are related to pet care and that these books are typically logbooks, journals, and notebooks. These are the types of books we recommend you create to take advantage of the market and the associated demand.

Supply and demand in the pet market on Amazon KDP
Drilling down deeper, we also explored the keyword count to determine the scope of the supply for these book types. In essence, the keyword count indicates how many times certain pet-related keywords appear in merchant listings.
Our findings indicate that the different categories can be split up into:
Book types
Book: 90
Journal: 69
Record: 66
Log: 44
Notebook: 30
Passport: 30
Animals
Pet: 154
Dog: 31
Dogs: 13
Puppies: 12
Puppy: 8
Subcategories
Health: 62
Medical: 24
Vaccine: 21
Sitter: 14
Vaccination: 13
Travel: 12
This would indicate that the types of no- and low-content books match up to the monthly search volume mentioned above. Furthermore, there is a strong interest in dogs as pets as opposed to cats, hamsters, or rabbits and fish. Finally, the subcategories clearly show that sellers are targeting dog health, travel and pet sitting. This means that sellers who are using these keywords in their listings are accurately pinning their sales strategy on the fact that there's demand and searches for them.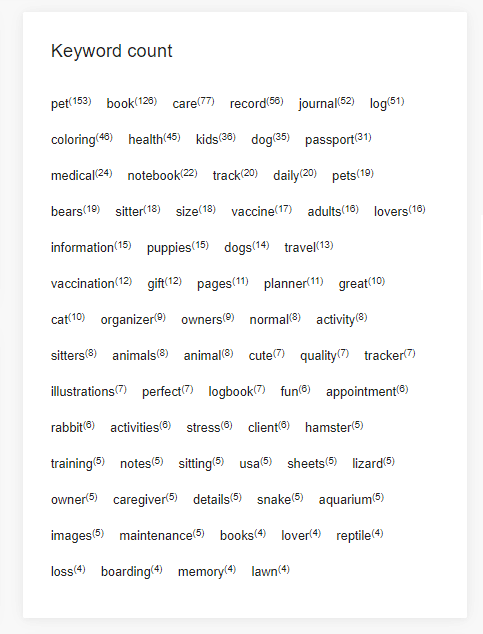 Next up, to determine the listings count, we headed over to Amazon to explore some of the related keywords and their number of listings on the platform. This is what we found:
Pet care journal: 70,000+ results
Pet care notebook: 4,000 results
Taking care of pets book: 2,000 results
Pet care planner logbook: 259 results
Therefore, while some subcategories of pet care no- and low-content books are still relatively underexplored, others may appear saturated. As a result, a seller would need to carefully consider what types of book products to offer their customers.

To conclude this section, we also explored the lowest, highest, and average price for pet care no- and low-content books. Our findings indicate that the lowest price is around $5.00, the highest price is $20.00, and the average price is $8.00.
What are some of the best-selling merchants/listings doing right?
Under the "pet care" keywords, we find that "Pet Health & Wellness Log Book: Medical Record Keeper and Monthly Pet Care & Activity Planner and Organizer Journal" is a best-seller.

Created by Cartba Publishing, the seller has done well to price their product just above the average at $8.99. Even though the ratings are relatively low at 27, the seller has made 166 estimated sales since the publication date on June 26, 2020. The BSR for this product is impressively low at 211,917.
What this seller has done right is optimize their listing's title by directly using a very well-performing keyword ("pet care") followed by no- and low-content book types such as "activity planner" and "organizer journal" as well as "log book" and "record keeper". The seller has also capitalized on the medical searches for pet care no- and low-content books and has used the words "pet health & wellness".
The description is highly detailed, indicating that the book is divided into seven separate sections, each of which deals with a different facet of pet health, wellbeing, and grooming. This is an excellent way of providing one's audience with sufficient information to ensure that they choose your product over others. Finally, the book is 120 pages long, which means the seller has gone just beyond the confines of Amazon's printing costs (37 to 108 pages) to reduce overall printing fees and maximize royalties. We'll talk about this strategy in more detail below.
A second well-performing seller is "You Were My Favorite Hello and My Hardest Goodbye: Pet Loss Books for Adults or Teens – Journal with Thoughtful Questions to Answer for Coping with … Keepsake Gift For Someone Who Has Lost a Pet".

Created by Captivating Journals, this item also has a significantly low BSR of 512.499. It has made many sales since the first date of publication on May 7, 2020 at a price just under the average of $8.00, at $6.99. Although it also has few ratings (17), it is a popular buy and it is evident that the seller is targeting children who have lost a pet.
The publisher of this item has cleverly used the keyword "pet" in their title twice and the title itself is catchy and original. The description is once again highly detailed and gives a complete breakdown of what the customer can expect to see inside. This is a 47-page book, which is the perfect length for children. The seller has done well to tailor their product to this particular audience.
How profitable is this niche?
Taking the two best-sellers mentioned above, we can use Amazon's KDP royalties calculator to see what profits they are walking away with.
In the first case above, the seller has made 166 sales at a price of $8.99. This means royalties of $3.10 per book and a total of $514.6 entering their account.
Meanwhile, in the second case, the seller has made a good chunk of sales at a price of $6.99. The royalties per item are $2.04.
As a result, we can see that this category can yield profits that go from $450.00 and reach the near $1,000.00 mark. This makes it a worthwhile consideration for entering this niche.
Our advice to sellers looking to sell no- and low- content books for pets
In terms of listing optimization in the pet care niche, we recommend that you focus on low-competition, high search volume keywords. Once you have identified these, ensure that you utilize them in a natural way in both your title and description. For example, you will see from what was mentioned above that "pet care" has significantly higher search volume and a low BSR compared to keywords such as "pet" or "pets". As a result, make your listing as focused on a high search volume keyword as possible.
Secondly, we look at the pricing strategies. There are some key takeaways to explore from the two best-sellers mentioned above. Whereas the seller with the lower sales figures sells just above the average of $8.99, the seller with a higher sales number sells at $6.99. The latter seller is making lower profits because of the lower price. This seller could, if they chose, even up their price by a dollar or two to see the performance of the new pricing strategy on their sales. The chances are that with such a high demand for pet loss and grief journals, the two-dollar difference will not impact the BSR and the number of sales.

It's also crucial to consider whether the cover designs are appropriate for the niche. In the case of the pet loss and grief journal, the title is nicely juxtaposed against a carefully crafted, yet simple cover, with a gray background, some pawprints, and the title. The pet health care and well being organizer and logbook, on the other hand, contains a highly simplified pattern with dog bones and paw prints on the cover in a repetitive pattern. This can be replicated and made even more original and unique with a bit of effort and some help from Book Bolt. However, in both cases, the design accurately speaks to the niche and target audience by utilizing pet-related patterns, which appears to be highly effective.

As a final point, it's also worth considering the number and quality of ratings and reviews. Although not a direct contributor to sales and BSR levels, they do act as social proof that your product is of a quality standard. In both of the examples mentioned above, we noticed that although neither of the sellers had a very high ratings and review count, they did have numerous positive reviews. This ultimately contributes to other customers' decision making processes and helps foster stronger sales.
In closing
The Amazon KDP pet and pet care market is quite large. There are over 90,000 listings on Amazon with BSRs going as low as the 20,000s. This, coupled with the fact that some sellers are selling over 200 items at the average or near-average price, means that there is scope for profit. It would be a worthwhile endeavor for you to consider jumping on this niche as it's evergreen and not related to seasonal factors.
Use Book Bolt to help you carve out a strong research strategy to guarantee your visibility. It will also help you make those crucial sales to boost your passive income side business. The Book Bolt subscription goes for only $9.99 per month and is one of the best tools on the market for helping you optimize your listings process.