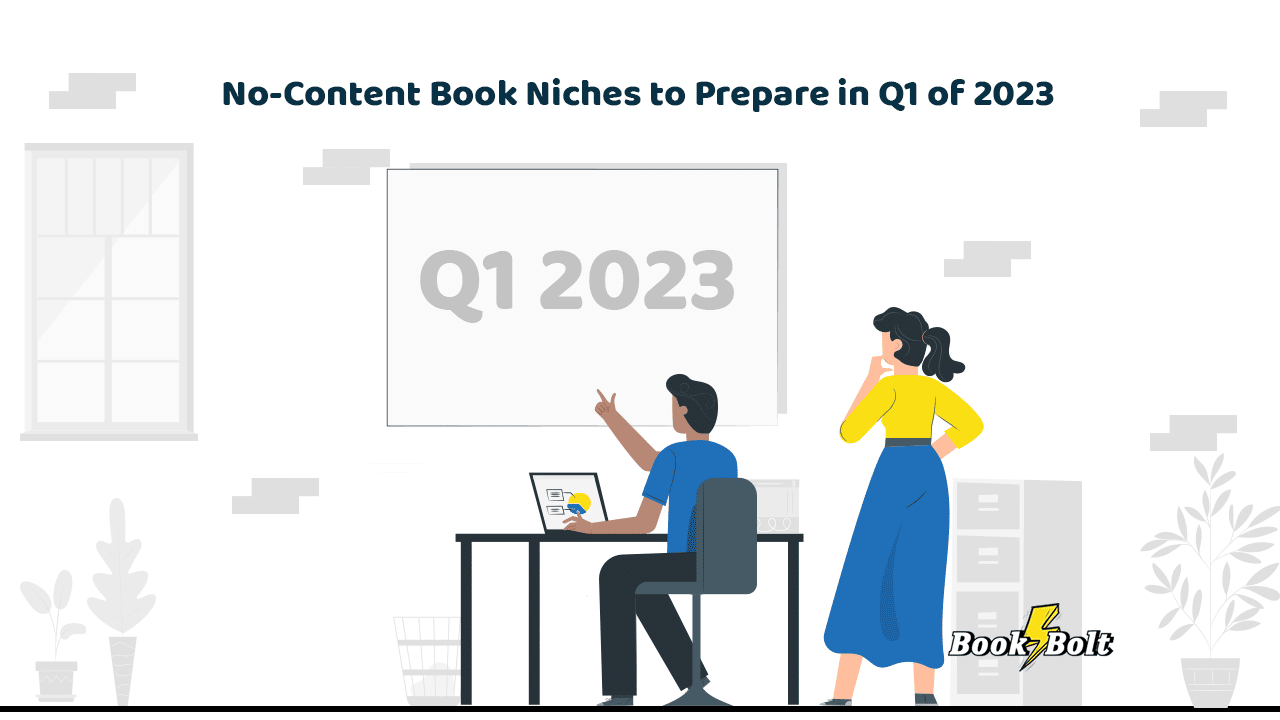 All around the world, Amazon KDP sellers are preparing for the first quarter of 2023. And for good reason. This quarter is extremely important because it contains multiple special events producing incredible search volumes from potential buyers. Naturally, this creates an opportunity to cash-in on the right niches and categories of no-content books.
In this article, we step back to the first quarter of 2022 and explore some of the most popular niches. We then make some predictions about the popular no-content book niches and categories that are expected to perform well during the quarter and beyond.
What were the most popular niches in Q1 of 2022?
Looking back at the first quarter of 2022, we noted multiple niches and categories of no-content books that made a great number of sales. And subsequently, were profitable for the sellers involved.
But before we get started, we would like to add a small reminder of what no-content books on Amazon KDP are. These are books with zero content in the interior (apart from their covers). They include notebooks, journals, music sheets, logbooks, trackers, planners, calendars and sketchbooks. The article will focus exclusively on these formats, but will also explore markets outside of the US.
Now, let's take a closer look at popular niches and categories.
Logbooks and trackers: New year resolutions
Q1 traditionally begins with a celebration of the new year. It is customary for many people to form new year's resolutions pertaining to the things they want to achieve throughout the year. Be it budget planning or weight loss, logbooks and trackers that cater to these needs are a crucial staple.
Other logbooks and trackers that were hits include those related to nutrition, health (blood pressure monitoring and medication), weather, inventory, maintenance, sales, baby/nanny, temperature, pregnancy, transactions, workouts, fishing, and others.
Planners and calendars: Daily activities throughout the year
Another important category is planners and calendars. These items are usually seasonal and are purchased either towards the end of the preceding year or at the beginning of the new year. They are essential in helping individuals keep track of their to-do lists and daily activities. And demand for them continues to grow.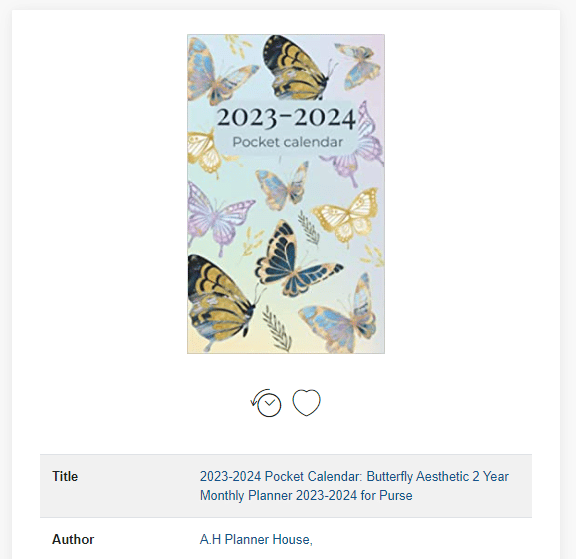 Notebooks and journals: Holiday themes
Looking beyond the North American market, we also see that January 26 is celebrated as Australia Day in Australia. This means that sellers catering to their audiences in the land down under offer Australia Day notebooks to be used or given as a gift.
Furthermore, February 1 marks the beginning of Black History Month, celebrating communities comprising African-American individuals. Notebooks themed around this event saw a spike in sales in the first quarter of last year as the tradition continues to grow strong and gain momentum.
In addition to the above, we also have notebooks with a spike in popularity related to important global events. For starters, the first quarter of 2022 (February in particular) was celebrated as the Year of the Tiger by the Chinese community. Tiger-themed notebooks were therefore a big frontrunner.
Other notebooks that were highlighted as profitable during the first quarter of last year were those linked to National Pizza Day (celebrated on February 9).
There is also Valentine's day, celebrated on February 14, which celebrates all types of friendships and meaningful relationships in addition to romantic love. Hence, couples' notebooks and couples' guided journals were a big hit last year.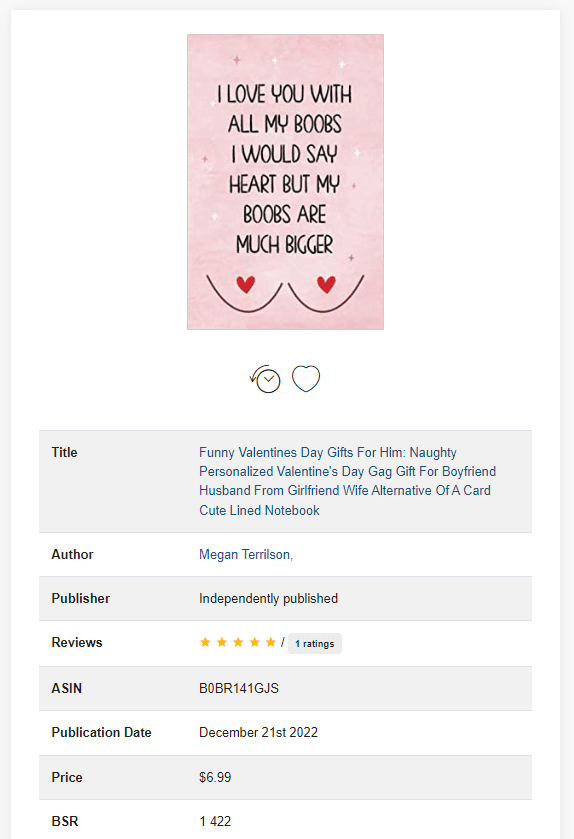 International Women's Day is celebrated on March 8 every year. Although this is a high-competition niche, you can break through all the noise by focusing on women and their different roles in the world. Notebooks and guided journals for women and their roles as mothers, teachers, aunts, sisters, etc. played a strong role in top-performing sellers' strategies.
Further notebooks that dominated the marketplace were those related to St. Patrick's Day, celebrated on March 17 by people of Irish descent all around the world. And lastly, we also have Mother's Day in the UK (celebrated on March 27), with a big surge in sales in notebooks and guided journals.
What are the current most popular niches?
With 2022 reviewed, we used Book Bolt's Cloud tool to give us a handle on what's trending now. We narrowed down our search to the top 100 items in different categories with a best-sellers rank (BSR) between 1 and 500,000 and prices between $0 and $100. Here's what we found.
Notebooks
In the notebooks category, several top contenders came to the fore. For starters, we noted that multiple sellers selling notebooks with graph paper for mathematics and science-related subjects sold exceptionally well. Other notebooks were linked to helping users store their passwords in safe places with "Shit I can't remember" notebooks coming out on top. Apart from these, gag gifts such as "How to live with a small penis" notebook or "Cooking with semen" notebooks were also strong contenders. And finally, notebooks linked to Valentine's Day for couples made it in the top 100 for the month as well.
Journals
We repeated the same search but selected the journal category for the next leg in our research process. Gratitude and guided prayer journals are trending during this period, as are journals that help one stay on track with their plans.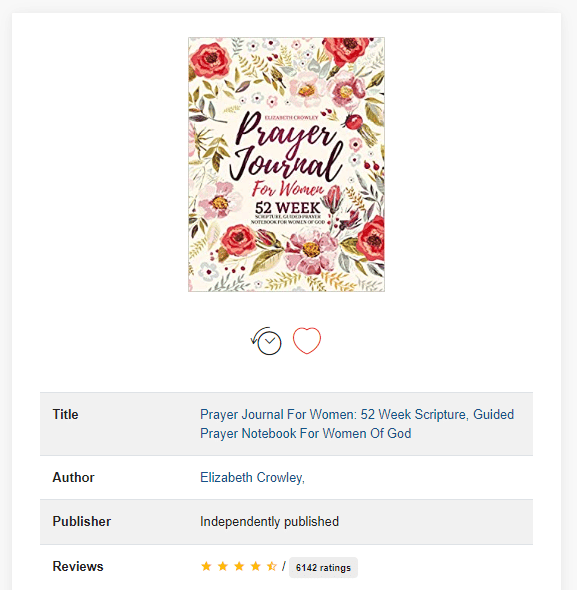 Often, the latter types of journals have quite catchy and humorous titles and covers, grabbing the audience's attention and resulting in multiple sales that go into the hundreds.
Music Sheets
The ultimate winner in the music sheets category is those no-content books that specifically cater to piano players or those learning to play the instrument.
Most of the best-sellers here have catered to teens and adults, although there are some exceptions to the rule. This is illustrated by the fact that there are some wide staff music sheets, enabling younger children who are still in the early phases of learning to practice their notes better.
Logbooks and Trackers
In the logbooks and trackers category, we see a repetition of the same trend as the first quarter of 2022.
This means blood pressure monitoring logbooks are still on top of the rankings, as are workout-related logbooks. Interestingly enough, no-content books related to password storage are also high on the list for this quarter. Money-saving trackers are a repeated trend on what occurred in terms of sales last year, too.
Planners and Calendars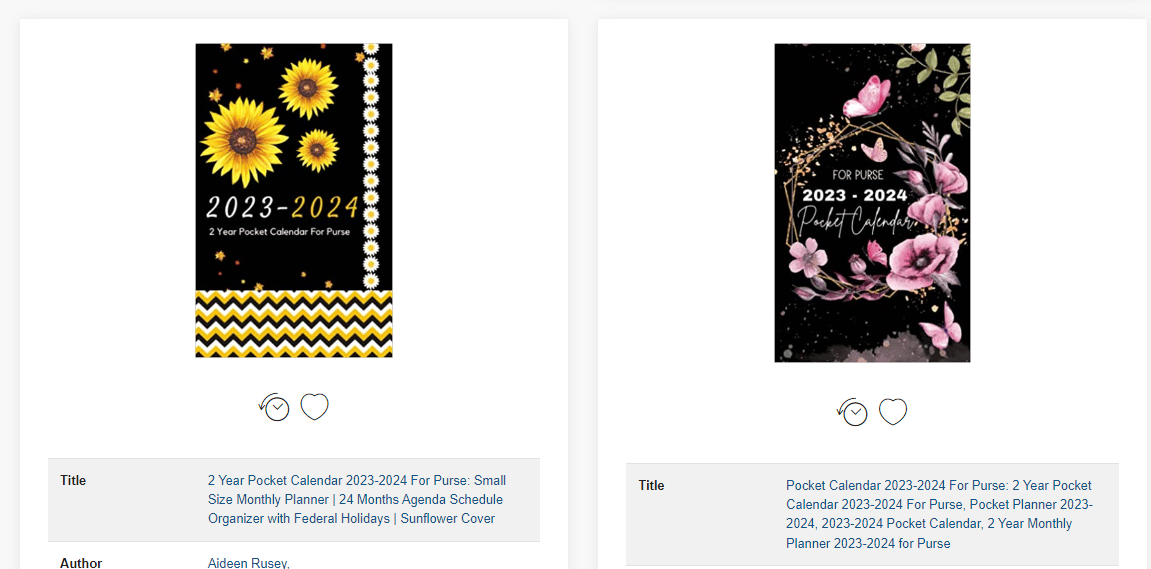 Planners for weddings, money-saving, those targeting African-American women and others are big hits so far this year.
Meanwhile, calendars for the current year and up to two to five years ahead are also dominating the scene.
Sketchbooks
Finally, we have the sketchbooks category. Here, because these are absolutely no-content books in the true sense of the word, we note that the covers are what makes them sell.
In this category, we have predominantly teenage-girl oriented covers with a focus on fashion design. However, manga and anime related sketchbooks have also topped the list with a significant number of sales.
What will be the most popular niches of Q1 of 2023 overall?
We anticipate that the most popular category niches in the first quarter of this year will be linked to the audience's New Year's resolutions and attempts at saving money, losing weight, remaining healthy (and monitoring health), as well as more fun versions such as couples' notebooks for Valentine's Day. As such, we're likely to continue seeing a big boon in notebooks and guided journals.
This is expected to be followed by logbooks and trackers. The rationale behind this is that it can be assumed that many people are seeking to start out the year by planning, monitoring, and tracking their progress as they continue into the year. Therefore, these no-content books are likely to continue seeking spikes in sales.
The last category we expect to perform quite well this quarter is that of planners and calendars. Because audiences want to stay on-track with their various types of planning, these no-content books are an excellent source of keeping information in one place.
What will be the most popular combinations of niches and product categories of Q1/2023?
In terms of combinations of niches and product categories, we foresee that no-content books such as notebooks and journals will remain a trend that is likely to continue throughout the year. This is because there is so much variety offered on the Amazon KDP marketplace, catering to unique tastes and needs. However, guided notebooks and journals will be particularly useful, targeting a predominantly female and devout audience.
As for logbooks and trackers, these not only make for great gifts, but are often purchased for oneself as well. The predominant niches to look out for here include those related to health and weight outcomes as well as those related to money, finances, and budgeting.
Finally, we have planners and calendars. In our view, planners will be a big hit as opposed to calendars, because many customers have already purchased their calendars towards the end of last year. However, planners are useful planning and organizational tools that can be expected to continue spiking especially as they relate to weddings or are associated with one's scope of work.
In conclusion
The first quarter of 2023 for Amazon KDP is exciting and holds a lot in store for both new and experienced sellers on the marketplace. If you haven't subscribed to Book Bolt yet, it's highly recommended that you do.
This nifty and incredibly powerful software tool will give you all the insights you need to plan ahead not only for the first quarter of this year, but beyond it as well.
For only $9.99 per month, it's a minute investment into your entire Amazon KDP side gig. Go on, give it a try! We guarantee you won't look back.