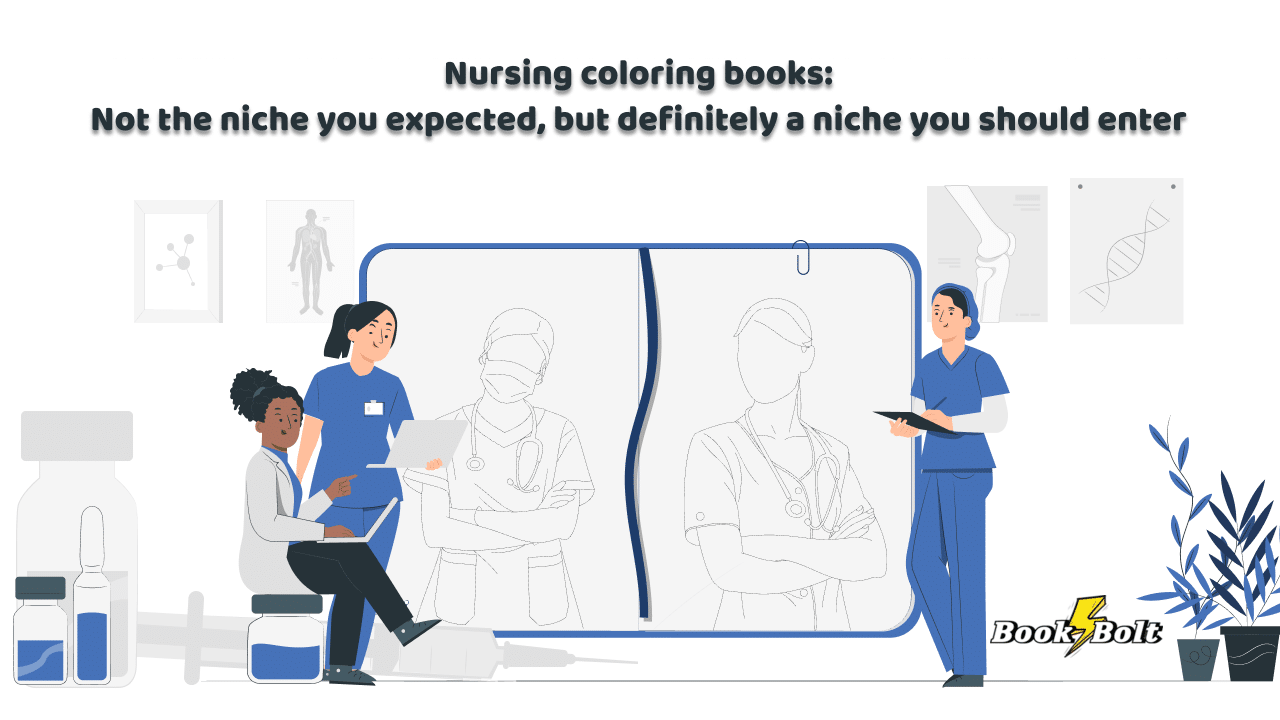 Nurses play a critical part in taking care of the sick and ailing. But their job is often stressful and as such, they need forms of stress relief. One of the best ways to do that is through coloring books specifically aimed at nurses.
If you are an intrepid author who wants to penetrate this niche, it's worth knowing that the top five sellers for the keyword "nurse" on Book Bolt have combined monthly sales of close to 1,500.
In this article, we'll show you how to successfully enter this niche.
How big is the market for nursing coloring books?
Because being a nurse and being in nursing are so closely related, we used Book Bolt to help us find the average best-seller's rank (BSR) for both terms.
A search for the term "nurse" gave us a BSR of 749,977, while a search for "nursing" gave us a low BSR of 243,623.
These are considerably low BSR levels and they signal that buyers are actively searching for them and purchasing them.
So, to figure out what the buyer-side of the equation looks like, we explored some of the most sought-after keywords in the nursing coloring book niche.
Keywords and search volume
The keywords buyers use to find nursing coloring books on Amazon KDP are crucial for sellers to be aware of. We discovered a total of 48 related keywords with a combined search volume of over 736,214, indicating nearly 800,000 searches.
The following list highlights the most relevant keywords and their search volumes:
"Nursing": search volume – 208,102
"Nurses": search volume – 38,814
"Nurse": search volume – 28,019
"For nurses": search volume – 11,305
"For nurse": search volume – 9,645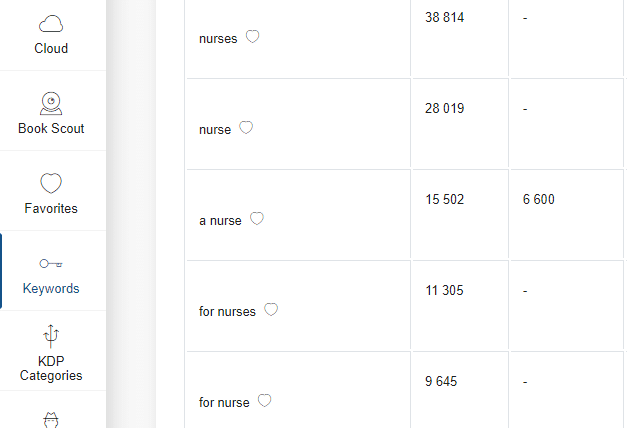 From this data, we can conclude that the highest search volume is associated with the profession of "nursing," while the specific job title "nurse" receives a lower search volume of around 38,000. Additionally, searches for "for nurses" and "for nurse" indicate that nursing coloring books are often intended as gifts or purchased by nurses themselves.
Keyword saturation
Keyword saturation reveals the seller-side of the equation by examining the most frequently used keywords in item titles. The following breakdown illustrates the usage structure of seller titles and provides insight into best practices:
Nature of book: coloring (165), book (149), colouring (9)
Niche: nurse (116), nurses (60), nursing (41), registered (8)
Additional words: funny (54), anatomy (40), adult (35), adults (30), students (29), women (25), swear (25), snarky (24), medical (21), school (20), fun (12), physiology (12), sweary (11), humorous (9)
Purpose of book: gift (47), gifts (31), stress (13), relief (12), relaxation (11), motivational (11), birthday (8), present (4)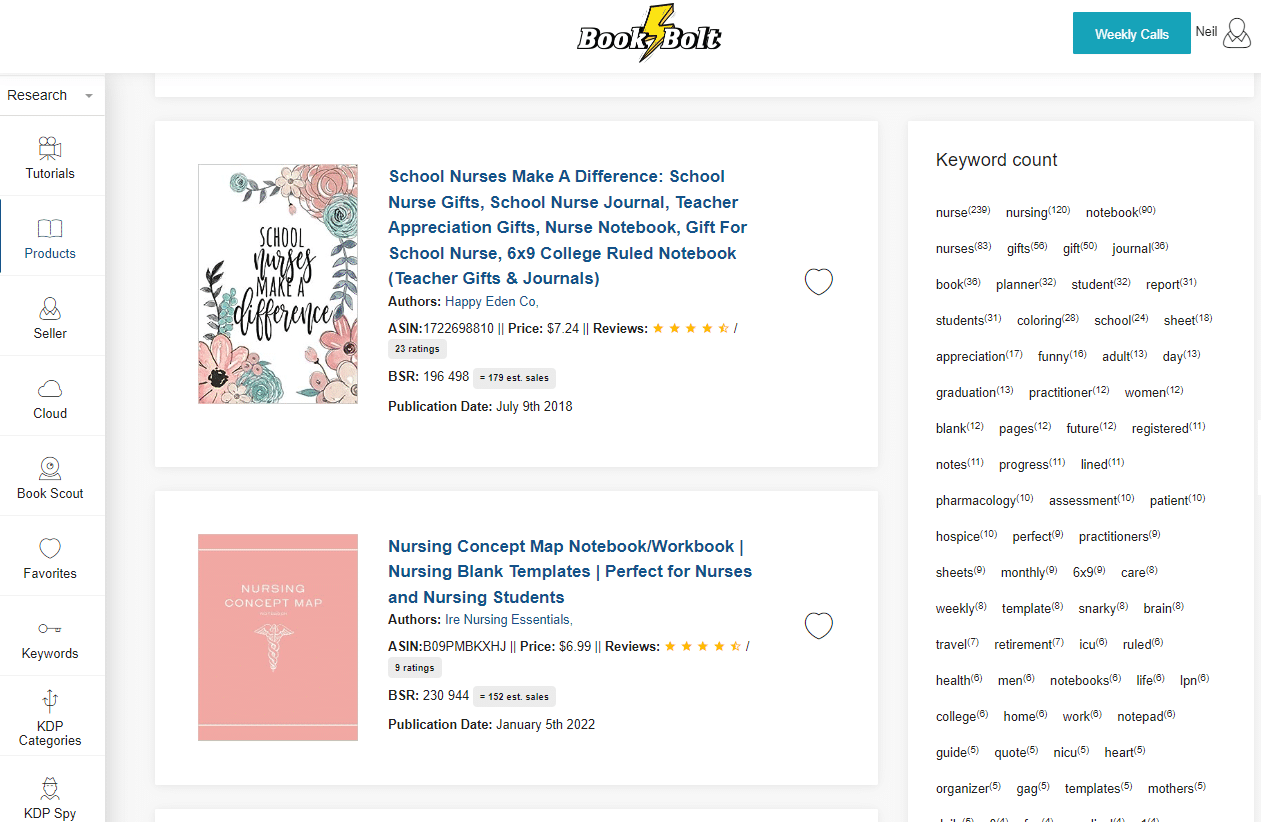 From the above, we can see that sellers are predominantly targeting coloring books for the US market based on the spelling of the word "coloring". In addition, the niche is clearly identified through the use of high search volume keywords including "nurse", "nurses", and "nursing".
Furthermore, most of these nursing coloring books are meant for adults and are created for the purpose of humor. Finally, these books are predominantly intended to be given as gifts although some may be self-purchased for stress relief and relaxation purposes.
Pricing
Pricing is an essential element of a well-rounded sales strategy. This is why we also explored the prices charged by sellers in terms of the lowest, highest, and average values.
This is what we found with the help of Book Bolt:
Lowest price: $4.99
Highest price: $14.09
Average price: $8.04
What are some of the best-selling merchants doing right?
While numerous best-sellers in this niche have sales exceeding 100 books, we focused on the top two sellers to analyze their strategies.
Seller 1:
Title: Nurse Coloring Book for Studying Pharmacology: Nursing Student Study Supplies – Cheat Sheets and Drug Cards for Nurses
Author: Nurse Nancy PubCo
Price: $9.95
BSR: 83,878
Sales: 242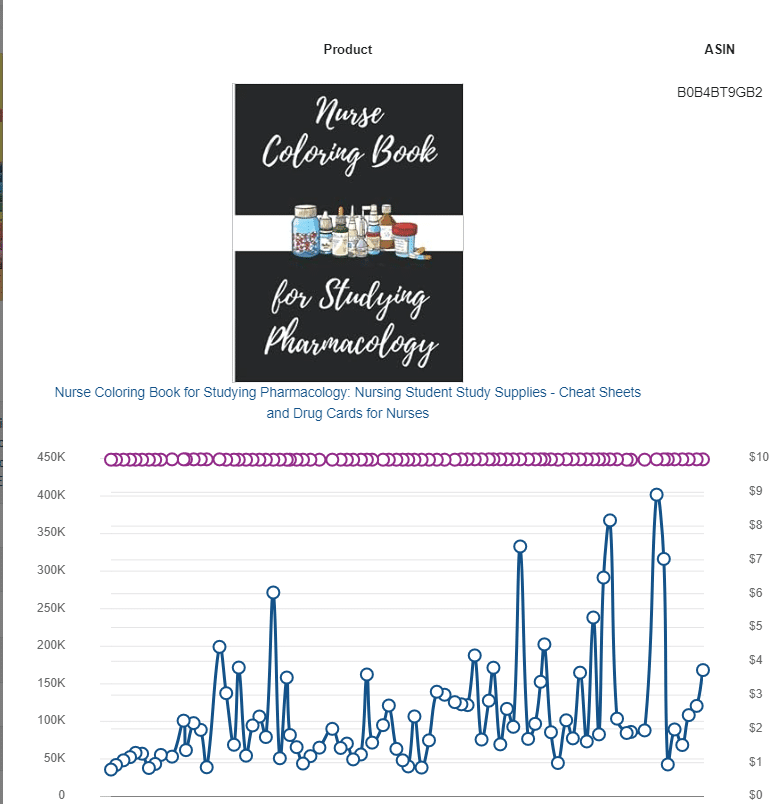 Seller 2:
Title: What Nurses Really Want to Say But Can't: Swear Word Coloring Book for Adults with Nursing Related Cussing
Author: Colorful Swearing Dreams
Price: $6.97
BSR: 37,352
Sales: 298
Keyword usage
We begin by analyzing the keywords used in both bestsellers' titles. Both include the words "nurse", "nurses", "nursing", and "for nurses". In addition, both contain the words "coloring book". Meanwhile, supplementary or additional words used to describe these books include "pharmacology", "nursing student", "swear word", "adults", and "cussing".
This nicely ties in with the high search volume keywords we identified above. Furthermore, these keywords are often used by sellers as we previously saw in the discussion above about keyword saturation.
Pricing
As mentioned earlier, the average price in this niche is $8.04. Seller 1 has opted to charge $9.95 for their book, which is slightly above the average. Meanwhile, seller 2 has opted to go under the average price at around one dollar below.
Both strategies have proven to be successful for them as we will see in the subsection below where we discuss the profitability in this niche.
Cover design
The cover designs of these books differ significantly, but they are professionally created, adhering to design hierarchy principles and ensuring alignment between the covers and title.
Seller 1 has opted to use a dark background with light-colored nursing items in the center of the book. On the other hand, Seller 2 has used a bright and vivid color pattern to indicate the book title, which is completely centered and matches the title of the listing.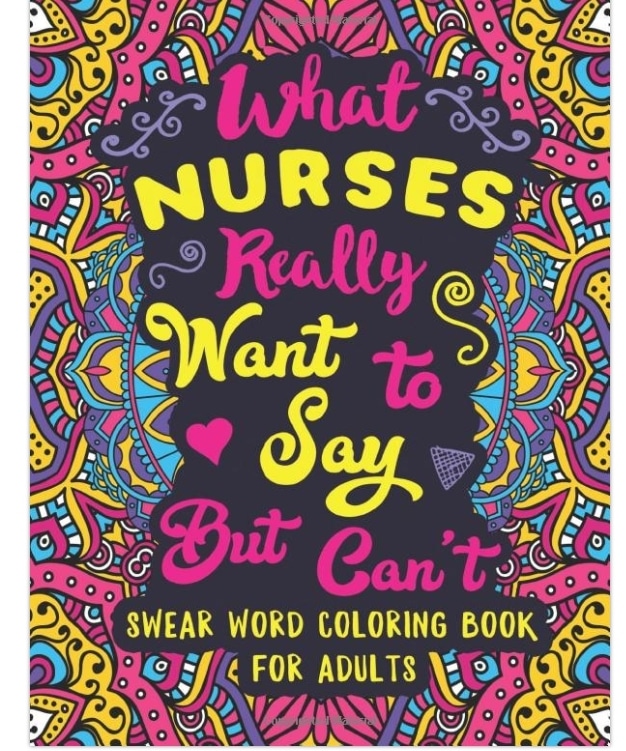 The attention given to cover design, coupled with effective pricing strategies and listing optimization, contributes to the success of these books.
What is the profitability within this niche?
To work out the profitability within this niche, we headed over to the Amazon KDP royalties calculator. We took the royalty amount for each book and multiplied it by the total number of sales.
Here's what we found:
Seller 1: $757.46
Seller 2: $399.32
It's evident that charging just a dollar below the average can really lower your profitability as seen in the difference between Seller 1 and Seller 2's profits. However, this niche is certainly worth exploring if you are interested in making upwards of $700.
Our recommendations
Making it big in the nursing coloring book niche doesn't have to be a challenge if you follow a couple of our suggestions for optimizing your listing.
Here's what we recommend:
Keywords: The seed keywords "nurse", "nurses", "nursing", and "for nurses" are an absolute must for inclusion in your listing titles. Additional words in your title should reflect the book's title on the cover, especially if it is humorous or helpful to nurses.
Prices: Charging around the average price in this niche is strongly recommended. That's because the difference of one dollar can mean you are earning either $300 or upwards of $700. Therefore, be careful and strategic with your pricing and use Book Bolt to help guide your efforts.
Cover design: Ensure that your cover is as flawless and professional as possible, irrespective of whether it's a coloring swear word book or a drug cheat sheet for nursing students. Use a solid dark background against which you place your carefully crafted design elements for greater cohesion.
Final remarks
As we wrap up, we hope you'll be able to use these suggestions to help you craft incredible nursing coloring books that allow you to enter this niche successfully.
Remember that we couldn't have done our research without Book Bolt and that we strongly recommend that you use it to help your sales, creation, and listing optimization process.
The software goes for only $9.99 per month, which is an absurdly low investment in your Amazon KDP side gig.