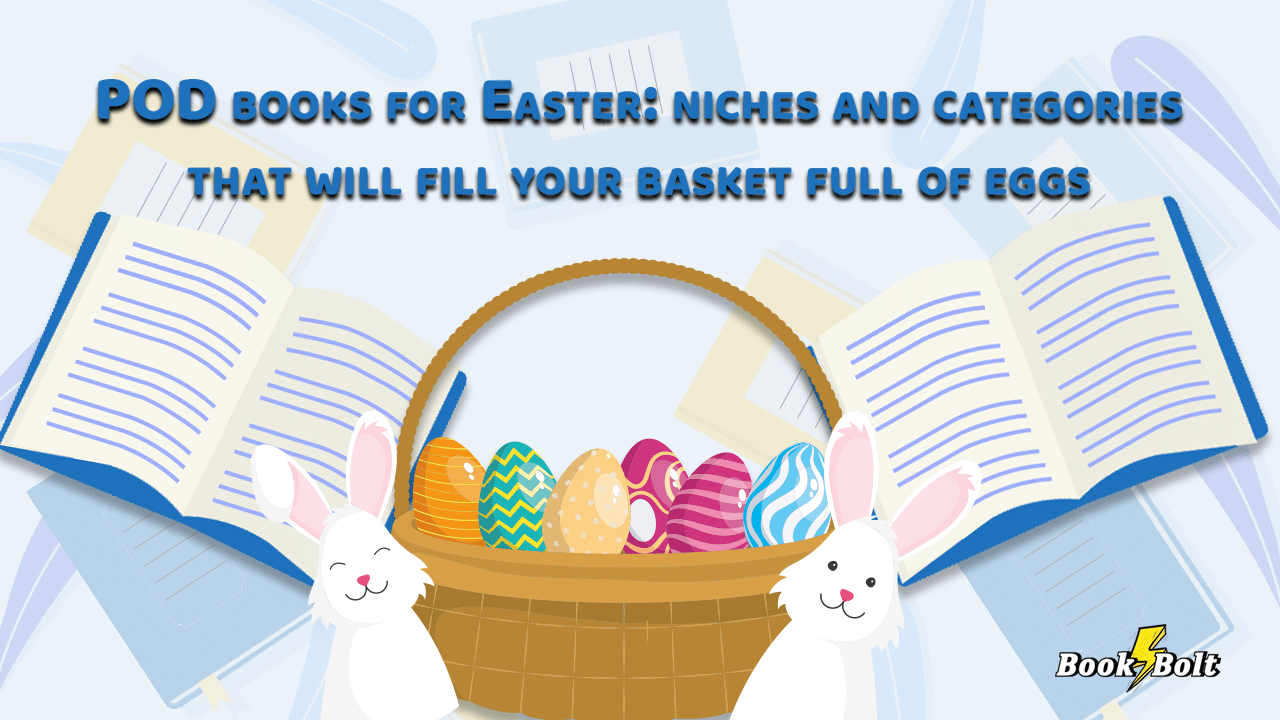 Spring and Easter time is an opportune moment for Amazon KDP sellers to fill their baskets with eggs by targeting Easter-themed print-on-demand (POD) no- and low-content books. Indeed, the niche and its multiple categories offer sellers the chance to take advantage of this seasonal, yet profitable trend.
But where should you focus your efforts for the greatest amount of success?
This article will give the answers.
How big is the market for Easter-themed POD books?
It's natural to assume that Easter-themed POD books are great basket fillers. A quick refined search for books on Amazon using the keyword "Easter" confirms this point with over 60,000 listings in this niche. But before you are tempted to throw in the towel thinking that it's an oversaturated market, you'll first want to take a look at our findings below.
An overview of the Easter-themed niche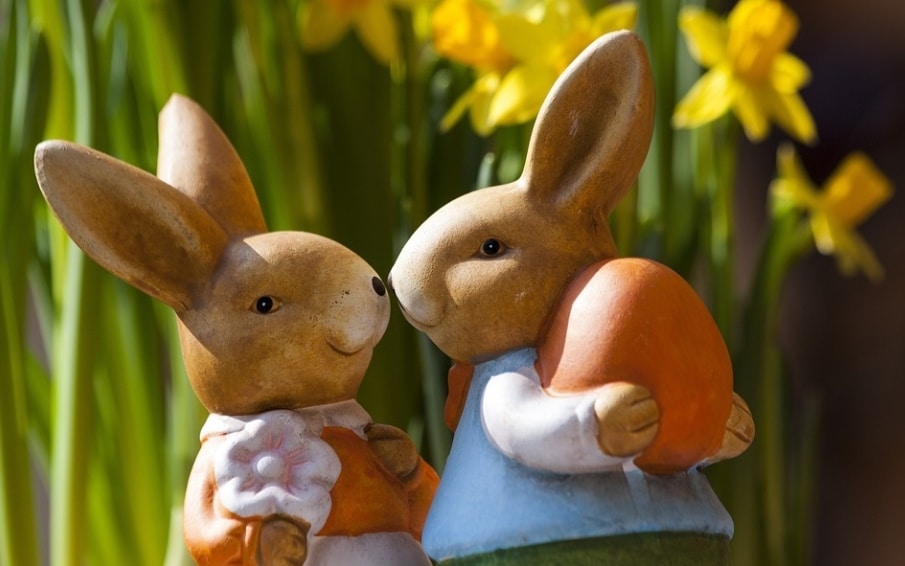 The Easter-themed niche shows strong potential for profitability. Using Book Bolt, we carried out a search using the "Easter" keyword and applied this to every category available.
Here's what we found:
Of the top sellers, there are only 7 notebooks with an average low best-sellers rank (BSR) of 262,665. The top seller among these has made 201 sales.
In the journal category, there are only 18 results with another low average BSR of 241,368. The estimated monthly sales for the bestseller here are 339.
In the coloring book category, we see over 100 results with an incredibly low BSR of 48,130. The highest number of sales by the best sellers in this category is 541.
Activity books give us over 100 results with another low BSR of 64,656 and a maximum number of sales at 885.
There were 19 results in the puzzle book category, with an average BSR of 158,728 where the top seller here has made 425 sales.
Sketchbooks yielded only 2 results with an average BSR of 316,511. The number of sales for the top seller here is 48.
Overall, we can pinpoint three categories that seem to be doing better than others. These are the activity book category, the coloring book category and the journal category.
Interestingly enough, we also discovered that some categories in this niche had 0 results. These no- and low-content categories include: music sheets, calendars, planners, comic books, guest books, logbooks, and trackers. This outcome could signal to sellers that there is an opportunity for sales in these undersaturated categories.
For example, Lent is a time before Easter where tracking one's health and fitness or eating habits could be done using a logbook or tracker. Music sheets for young children can have an Easter theme and can serve as a good basket filler, as can comic books.
Finally, calendars and planners don't appear to have as much relevance for the occasion. The same applies to guest books.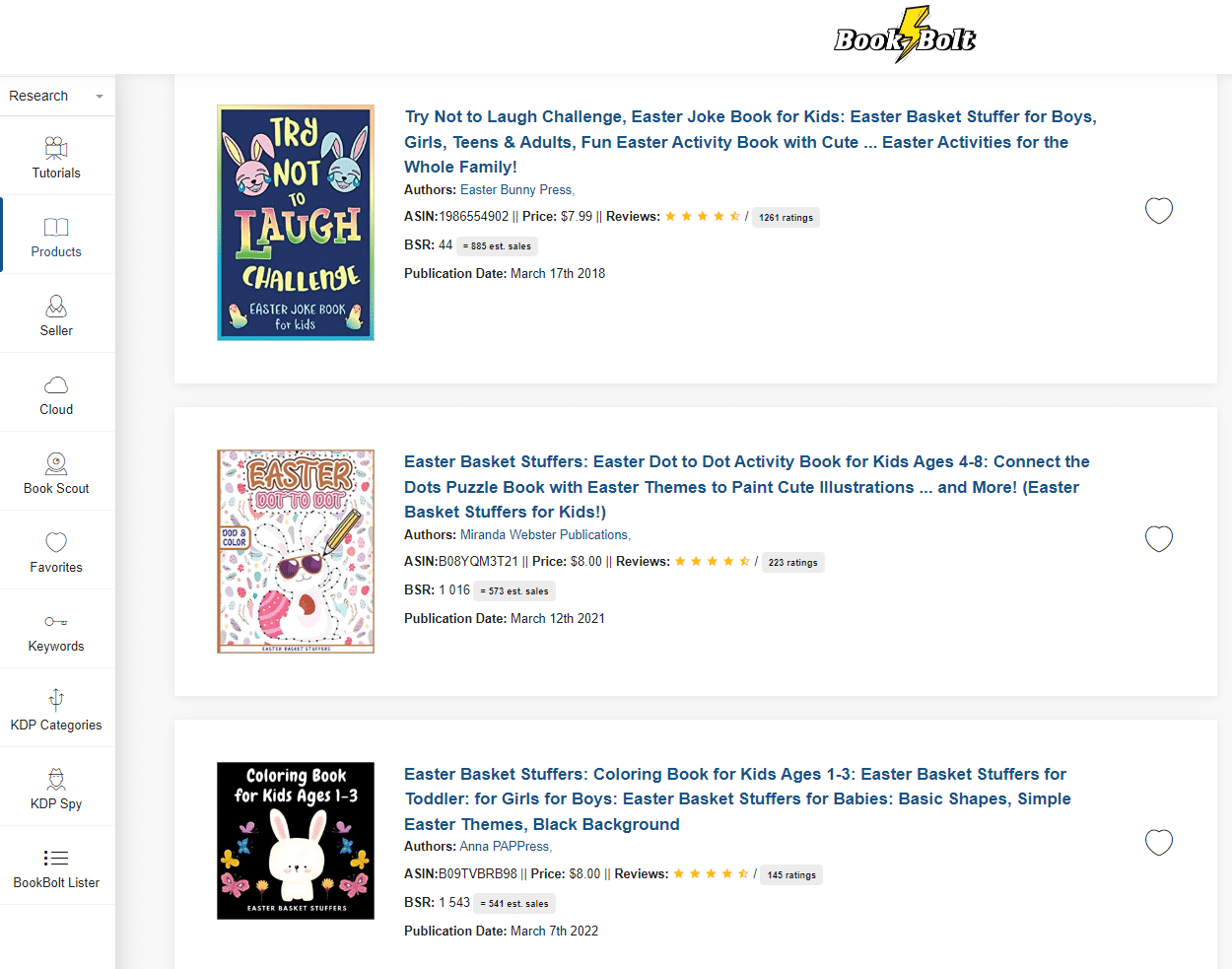 Keywords and search volume
Because activity books brought back the highest number of sales with a competitively low BSR, this is the category we will focus our attention on. With the help of Book Bolt's Products Search tool, we will now study the keywords with the highest search volume for activity books. Here are the results:
"Easter for": search volume – 2,580,882
"Bunny Easter": search volume – 81,511
"Easter": search volume – 39,411
"First Easter": search volume – 29,736
"Bunnys for Easter": search volume – 9,233
"Children Easter": search volume – 2,077
"Gifts for Easter": search volume – 1,501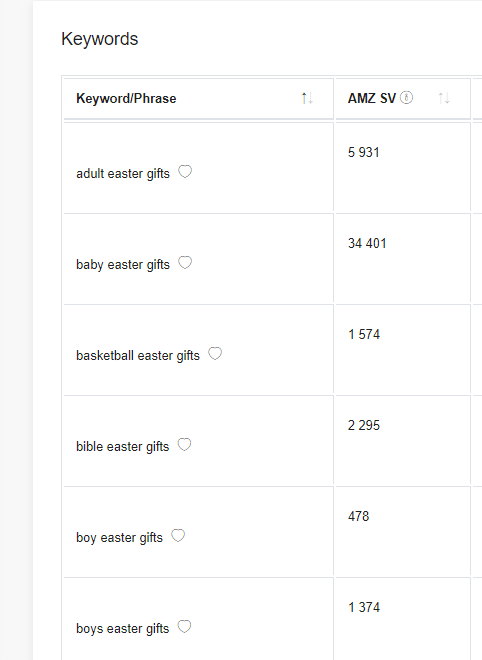 We can conclude that there is not only a high search volume for Easter-themed POD books, but that there is also a great variety of terms, too. What is also clear is that the holiday caters primarily to children, starting from as young as one-year-old.
Therefore, sellers who want to enter this niche will be well-advised to target children as opposed to adults. If you are after user intent, then these findings are a clear signal that the children's Easter niche is bound to be the most profitable of all.
Keyword saturation
It's also a smart idea to explore what keywords current bestsellers are using in their titles.
Below is a short summary of the most important and relevant keywords and how many times they appear in successful titles.
Easter (241)
Book (145)
Kids (122), and their related searches for:

ages (60)
girls (21)
boys (20)
toddlers (19)
preschool (14)

Activity (114), and their related searches for:

coloring (49)
mazes (49)
puzzles (21)
sudoku (14)
activities (11)

Basket (65)
Stuffers (47)
Gift (13)
This keyword saturation reveals several things. Firstly, the "Easter" keyword is used the most to denote the niche and seasonal product. The keyword "book" appears 145 times and this specifies that a seller is selling a book as opposed to any other product. Thirdly, we have the target audience. It's clear from these that kids, girls, boys, children, etc. are the main audience. This is reinforced by the fact that "adults" appears in only 8 of these titles.
It's also clear that in conjunction with the target audience, books are presented as basket stuffers and gifts and that these books contain a multitude of activities specifically for children.
All of this confirms our earlier findings that the primary combination of product and audience in the Easter niche is children's activity books. This is also the sub-niche that we advise sellers to target.
Pricing
Pricing your Easter-themed no- and low-content books right is an important sales strategy. This is why we also explored the lowest, highest, and average prices for activity books in the Easter niche using Book Bolt. We discovered that the lowest price is $3.92, the highest price is $10.99, and the average price is $7.06.
What are some of the best-selling merchants doing right?
Looking at some bestselling examples in the activity book category in the Easter niche, we identified two sellers with sales in the region of 800, which is quite substantial for Amazon KDP.
First up, we have Easter Bunny Press with their product titled "Try Not to Laugh Challenge, Easter Joke Book for Kids: Easter Basket Stuffer for Boys, Girls, Teens & Adults, Fun Easter Activity Book with Cute … Easter Activities for the Whole Family!" This book has made 800 sales and has an astoundingly low BSR of only 145. It sells for $8.00.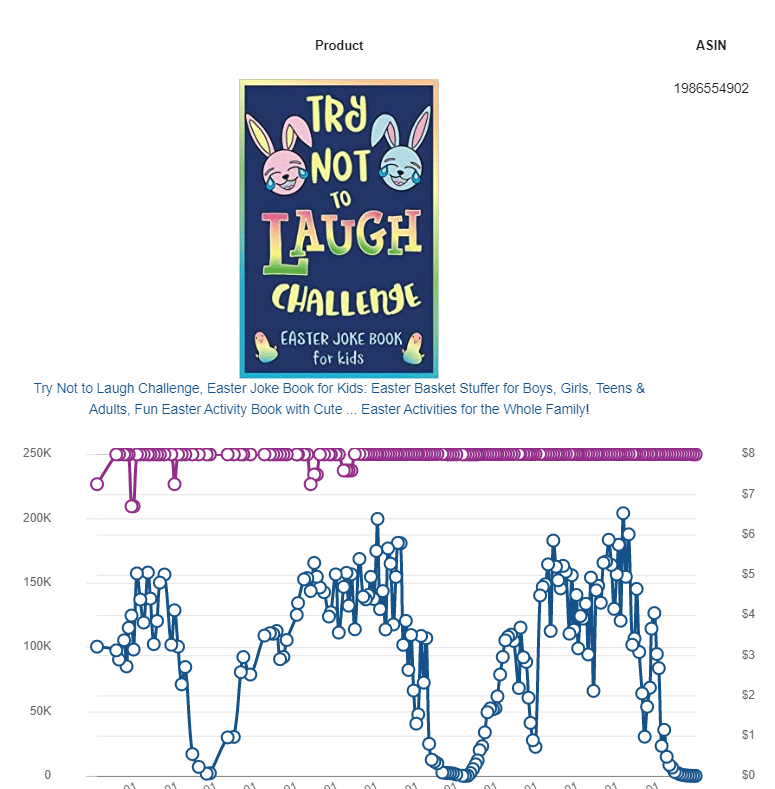 Next, we have Kidiart Press with their product titled "Easter Basket Stuffers for Toddler: Dot Markers Activity Book: for Toddlers, for Kids Ages 2-4: Easter Gift Idea for Girls and Boys". This item's BSR is an even lower 28 and it sells for $7.99. It has sold 885 times to date.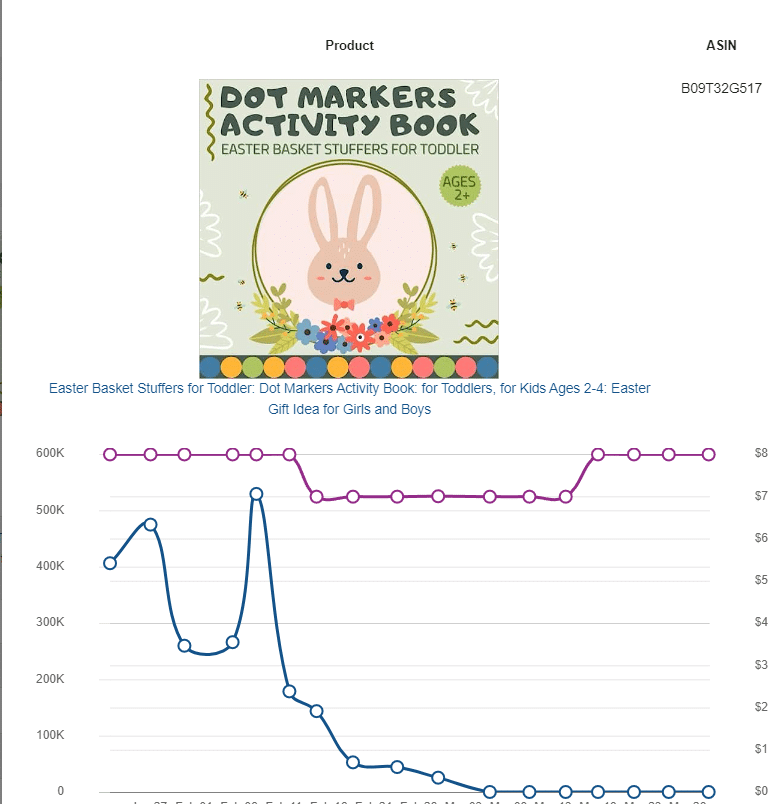 We will now explore these sellers' strategies involved in their success.
Keyword usage
For keyword usage, they have both used the words "Easter" and "book" to cater to users' search intent. Kidiart Press' product in particular indicates that it is an activity book, which is the category with the highest sales in this niche. Both sellers have also used keywords to indicate who their target audience is.
Therefore, keywords such as "boys", "girls", "teens", "toddlers", "kids", etc. confirm the earlier findings related to keyword saturation as used by bestsellers. Furthermore, these titles are not keyword stuffed but integrate the right keywords smoothly. This creates a better user experience overall.
Pricing
Interestingly, there is only a one cent difference between Easter Bunny Press and Kidiart Press. The former charges $8.00 for their products while the latter charges $7.99. Nevertheless, this is exceptionally close to the average of $7.00 that we indicated above for this category of products.
Cover design
Because both bestsellers primarily target children, their covers are suitable for their target audience. Easter Bunny Press has used a deep blue background and two cutesy bunnies to draw in their audience.
Kidiart Press, on the other hand, has used light pastel colors and one bunny in the center of the cover. This design strategy is good for the age groups being targeted, namely, young children.
What is the profitability within this niche?
To discover the profitability of these two bestsellers, we headed to Amazon KDP's royalties calculator.
Easter Bunny Press has made 800 sales at $8.00. The royalty per book is $2.63. When multiplied by the number of sales, we get profitability of $2,104.00.
Kidiart Press has made 885 sales at a price of $7.99. The royalties for this item are $2.64 meaning that this seller's profitability is $2,336.40.
This is possibly one of the most profitable niches we have seen so far and despite its seasonal nature, it is worth pursuing.
Our recommendations
Sellers who are keen to earn as much sales as the two bestsellers above will do well to consider following these strategies to maximize their profit.
Do not exclude the words "Easter" and "book" from your title. Better yet, make sure you include "activity book" in the title and specify that you are talking about puzzles, coloring-in pages, or anything else that makes these activity books stand out.
Price around the average of $7.00. A dollar above or below won't make a huge difference overall, but pricing too high or too low will alienate your audience.
Your cover design should consider your target audience, which in this case is predominantly young children. Since children believe in the magic of Easter and since bunnies are important symbols of this tradition, be sure to use cutesy bunnies on your cover, whether centered or scattered throughout the cover in an organized way.
In conclusion
Children are the ideal target market for Easter-themed POD books, especially when coupled with interactive activity books. Whether used as basket stuffers or gifts, this is a highly profitable niche that you don't want to miss out on.
We wouldn't have been able to carry out this research without Book Bolt. It simply would have taken us hours of painstaking manual work. But with its Cloud and Products Search tools, we were able to quickly gather insights and analyze them, too.
This is why Book Bolt is the smartest investment you'll make in your no- and low-content POD side gig.
And it's a mere $9.99 per month.