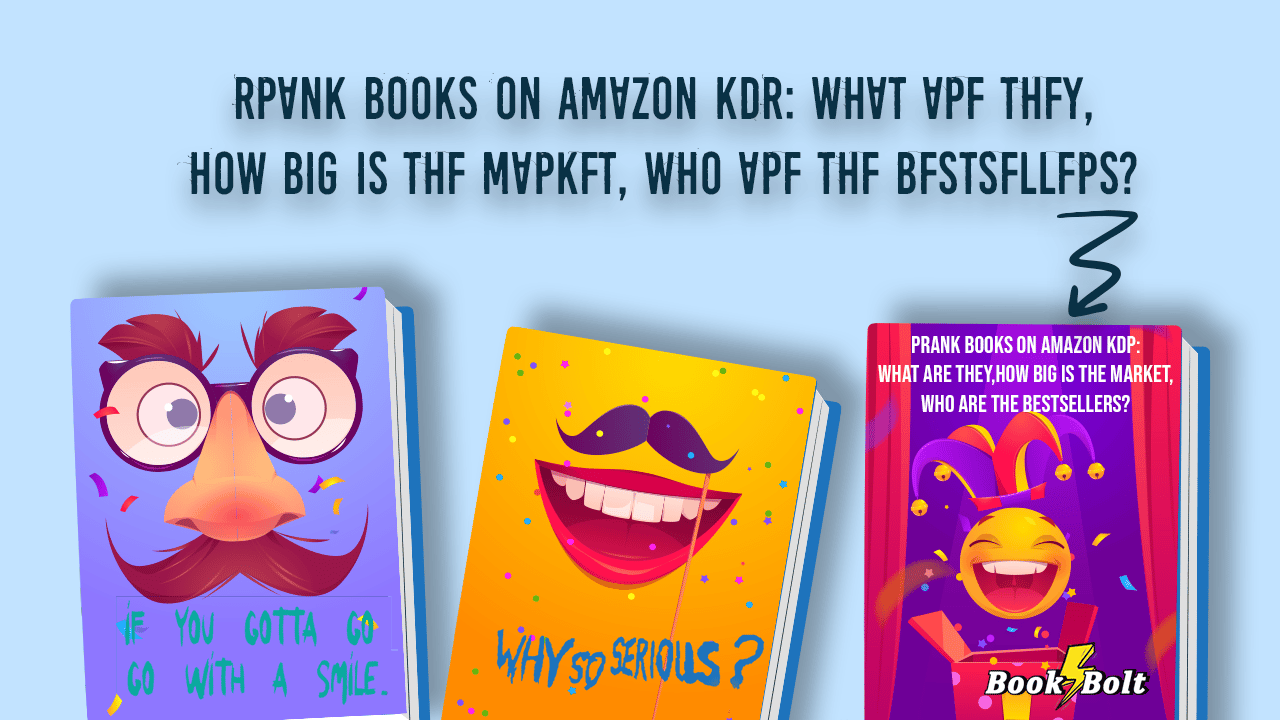 Everyone enjoys a laugh, and we all know that laughter is good for us mentally, physically, and emotionally. As such, it's not uncommon for people to play pranks on each other. And this is where no- and low-content prank books on Amazon KDP come in.
But what are prank books? In essence, they have a cover that depicts a controversial or humorous topic in a rather serious tone. They also appear to be classic works of creative or academic writing. However, that's where the differences end. Their interiors comprise little to no text and they're meant for eliciting a humorous reaction.
No- and low-content prank books are the domain of adults and are used as gag gifts. If you haven't explored this niche of books on Amazon KDP, it's time you did. Why? Because they're highly popular and generate many sales.
So, let's take a closer look at the market size and bestselling practices.
How big is the market for the prank niche?
Exploring the prank niche on Amazon KDP, we discovered that the search for the keyword "prank" gives us a best-sellers rank (BSR) in the region of 3,246,851.
Although the sister keyword "gag" yields a much lower BSR of 847,267, using Book Bolt's Product search module, we discovered more bestsellers in the "prank" category.
This is why our research will be primarily centered around this keyword.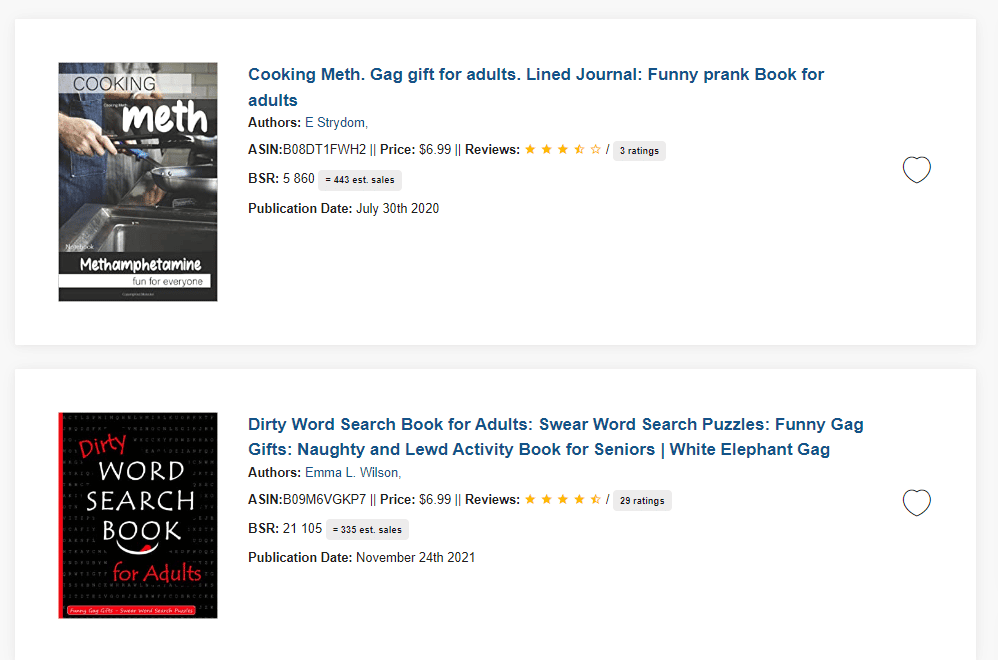 Keywords, search volume and BSR
It's impressive how many people search for prank-related books on Amazon KDP. And this presents an excellent opportunity for sellers who are looking to enter an evergreen niche.
The search volume and related BSRs are explored in more detail below to help give you an idea of some of the top performing keywords in the market.
"Pranks": search volume – 38,797; BSR – 543,641
"Gags and pranks": search volume – 34,129; BSR – 637,282
"Prank": search volume – 27,978; BSR – 3,246,851
"Prank gift": search volume – 11,313; BSR – 9,862
"Prank books": search volume – 2,632; BSR – 715,165
"Prank notebook": search volume – 2,483; BSR – 26,602
"Prank book": search volume – 2,265; BSR – 5,813
"Adult pranks": search volume – 421; BSR – 362,446
Based on the above, we can deduce that "prank notebook", "prank gift", and "prank book" are the search queries with the lowest BSR and comparatively high search volume in this category. It's worth keeping this in mind as you create your next prank book for adults.

It's also worth remembering that the books with one of the lowest BSR are used as gifts. This will influence the audience you are aiming to target.
As a final observation, it must be said that prank books enjoy incredibly low BSRs on average, making them an enticing proposition for sellers.
Keyword saturation
Taking our research process one step further, we also explored the keyword saturation, or the number of times certain keywords appear in listings, in order to cater to search queries.
Here are the most prominent keywords associated with "prank"-related items. Next to them, you'll find the number of times they appear in listings.
"Prank" (92)
"Gag" (80)
"Notebook" (73)
"Gift" (72)
"Funny" (69)
"Journal" (55)
"Gifts" (42)
"Adults" (37)
"Blank" (36)
"Lined" (32)
"Fake" (29)
"Joke" (27)
"Ruled" (16)
"Planner" (14)
"Diary" (14)
"Coloring" (14)
"Adult" (14)
"Dirty" (13)
The keywords currently used by sellers confirm that prank-related books are mainly targeted at adults and have a humorous theme to them. They are also predominantly purchased as gifts.
Another important point to make is that notebooks, journals, planners, diaries, and coloring books (in this order) are the most popular categories of books offered by sellers. This is not a coincidence, as "prank notebook", for instance, is one of the keywords with the highest search volume in the market.
Listings saturation
In terms of the number of listings on Amazon KDP, or the number of no- and low-content book products you're competing with, we discovered that a search for "prank notebook" yields around 10,000 listings. The same results appear for the keywords "prank journal".
This was done by exploring the number of listings on Amazon when refining the search query to "books" next to the search box. From this, we can gather that the niche is not over-saturated as yet, and there is scope for further exploration.
Pricing
When looking at the prices of these adult gag gifts, we also determined that the lowest price is in the region of $4.99, the highest is $10.98, while the average price is $6.70.

What are some of the best-selling merchants doing right?
The top-performing sellers in this niche exploit adult themes such as sexuality and drugs.
For example, one bestseller that we identified offers the "Cooking Meth. Gag gift for adults. Lined Journal: Funny prank Book for adults". The seller is E Strydom and they have successfully reached an incredibly low BSR of 8,919. This translates into a whopping 410 sales in 30 days at a price of $6.99.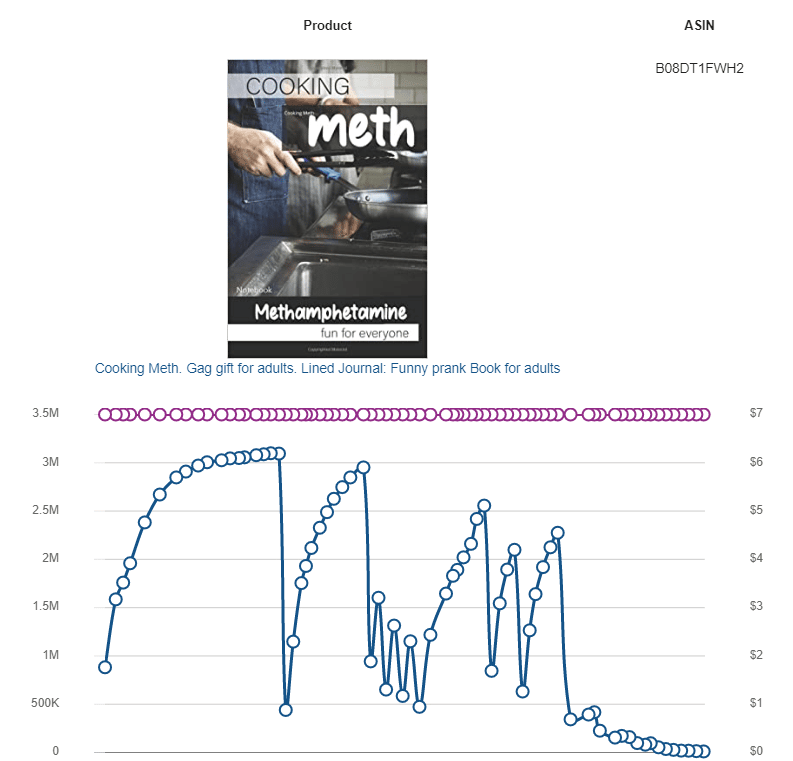 Another bestselling listing is the "How To Live With A Small Penis: Funny Inappropriate Novelty Notebook Disguised As A Real Paperback | Adult Naughty Joke Prank Gag Gift for Him, Men, Husband, Brother". Offered by seller Brian Torres, this item's BSR is a shockingly low 1,252 with 573 sales in the past month. It, too, sells for $6.99.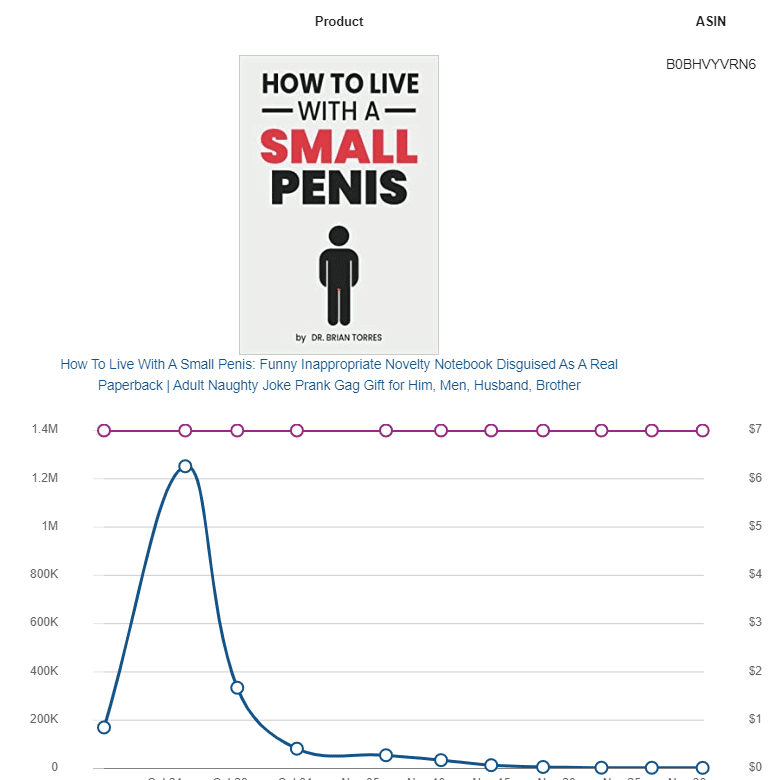 With this in mind, let's dissect their offering a bit further starting with keyword usage. While the first bestseller referred to above has used words like "gag gift" and "funny prank book", the second has a fully optimized title featuring a detailed description and using multiple high-search-volume keywords.
With regard to pricing, they have both opted to price a few cents above the average, which is $6.86.
And finally, their covers. Both sellers have approached these gag gifts by using imagery and on their covers that gives the illusion that the book is a real, high-text paperback.
This is a highly effective technique in terms of generating audience interest.
What is the profitability within this niche?
We headed over to the Amazon KDP royalty calculator, which gives us the royalty amount that each of the bestsellers mentioned above earns from these products.
Regarding the offering by E Strydom, the royalty amount is $1.90 per book for a book that's at 120 pages. Multiplying the royalty amount by the number of sales (410), we get profitability of $779.00.
Meanwhile, Brian Torres' product, which is around 110 pages, gives us a royalty of $2.02 per book sold at 573 sales ($6.99 each). And this, in turn, gives us profitability of $1,157.46.
In short, there is excellent potential to enter this niche with your own hilarious cover design that's well suited to adult humor.
Our recommendations
There are some key best practices that we can extract in the prank book market. They're worth following if you want to penetrate this niche.
Keyword usage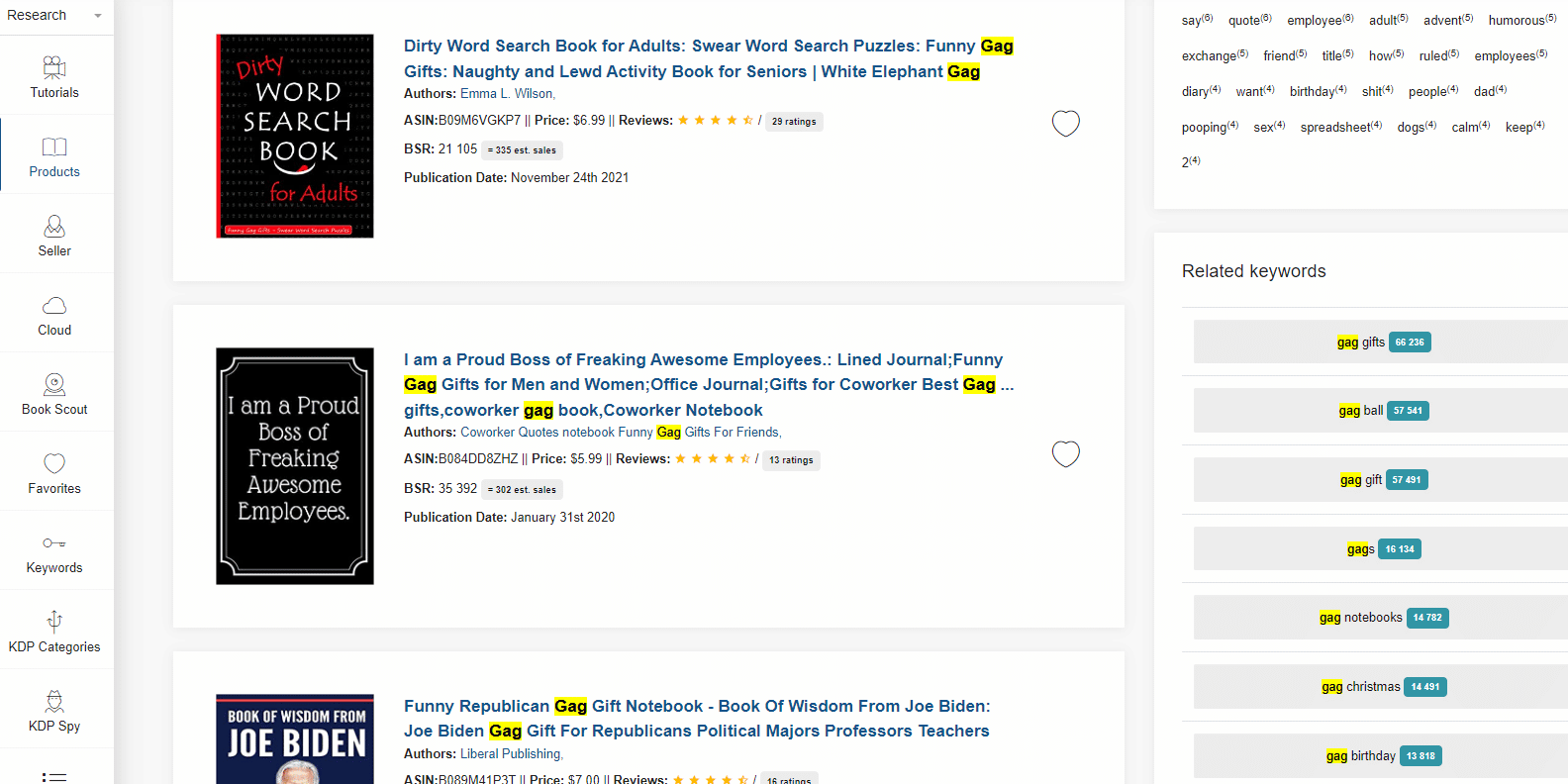 Intelligent keyword usage is essential in three aspects of your listing: the back-end where Amazon gives you seven keyword spaces to fill in, your title, and the description.
Using high-search-volume keywords, which include the seed keywords "gag" and "prank" is essential to make it to the top.
Creating a smooth and cohesive title that incorporates these keywords in a strategic way that's also easy to read is the way to go. The same principle should be applied to the creation of your descriptions.
Pricing
Despite the fact that the highest price for this category of no- and low-content books is just above $11.00, the best performing sellers price around the average in the region of $6.00.
Pricing around the average is a highly advisable route, as we've discussed numerous times in our blog posts.
Cover design
With regard to cover design, the most important thing is to give your audience the illusion that they hold a real paperback in their hands. The book's cover should be of a serious nature and use special design practices to achieve this goal. One such practice is the use of real-life imagery.
If you opt for graphic elements, make sure that they are suitably chosen to match the title of your book because there is a strong relationship between the two. This is an essential aspect of creating a cohesive product to present to your audience.
In conclusion
The prank niche on Amazon KDP has excellent potential. There's great profitability to be had and also high search demand for these products. This creates the perfect opportunity to take your Amazon KDP side gig to the next level.
Of course, none of our research would have been possible without the help of Book Bolt and its super-helpful modules.
For only $9.99, you're able to skyrocket your sales and get right to the top of Amazon KDP.