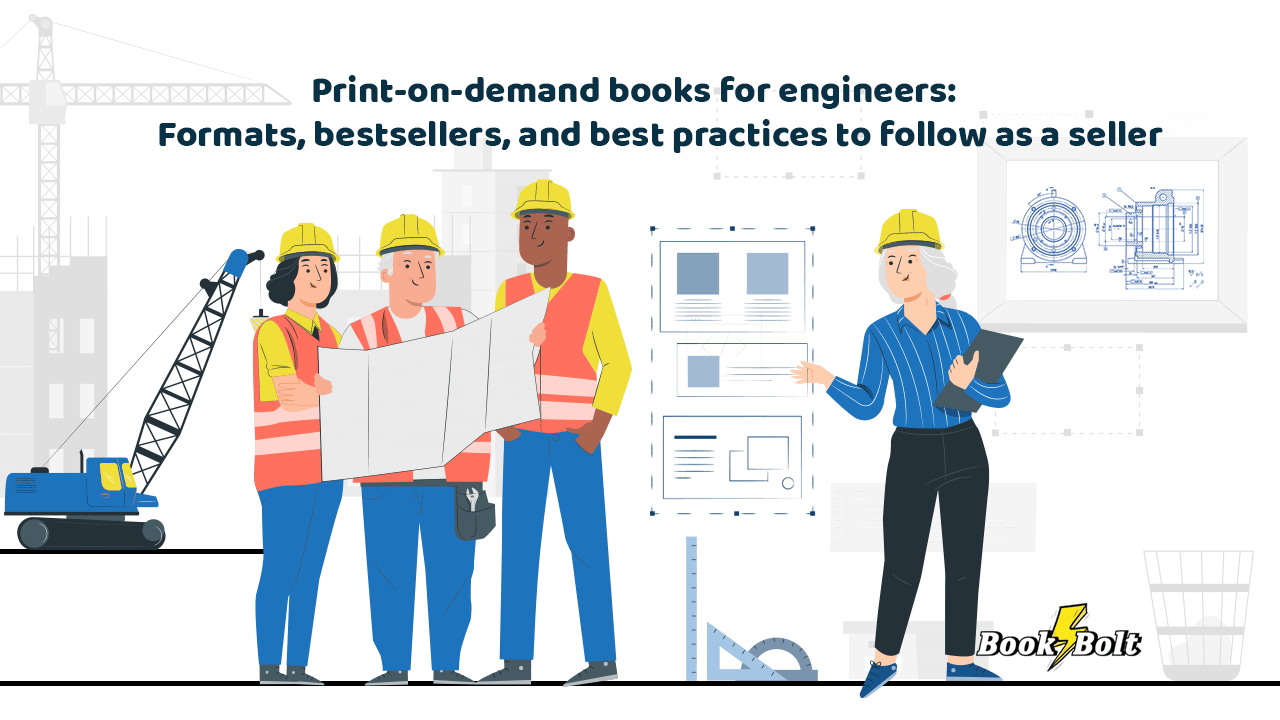 We find all types of engineers in a variety of fields. But one thing all engineers have in common is the utilization of math in their daily jobs. To keep equations and calculations neatly organized, they often make use of no- or low-content books.
Sellers who are interested in entering this niche on Amazon KDP will find that there is a large market for these book products and that there is scope for profitability. But creating a strong niche-entry strategy is crucial and there are some important best selling practices to follow.
In this article, we'll explore the size and characteristics of the no-content book market for engineers, and tell you about the tactics employed by the top performers.
Let's dive in.
How big is the market for the engineers niche?
There are few synonyms of the word "engineer" and it usually appears in search queries in either its singular ("engineer") or plural ("engineers") form. In addition, search queries also often make use of the profession's name ("engineering") to discover what they are looking for. In order to determine the size of the market for engineering books, we therefore headed over to Book Bolt's Product search module and conducted a search for this niche.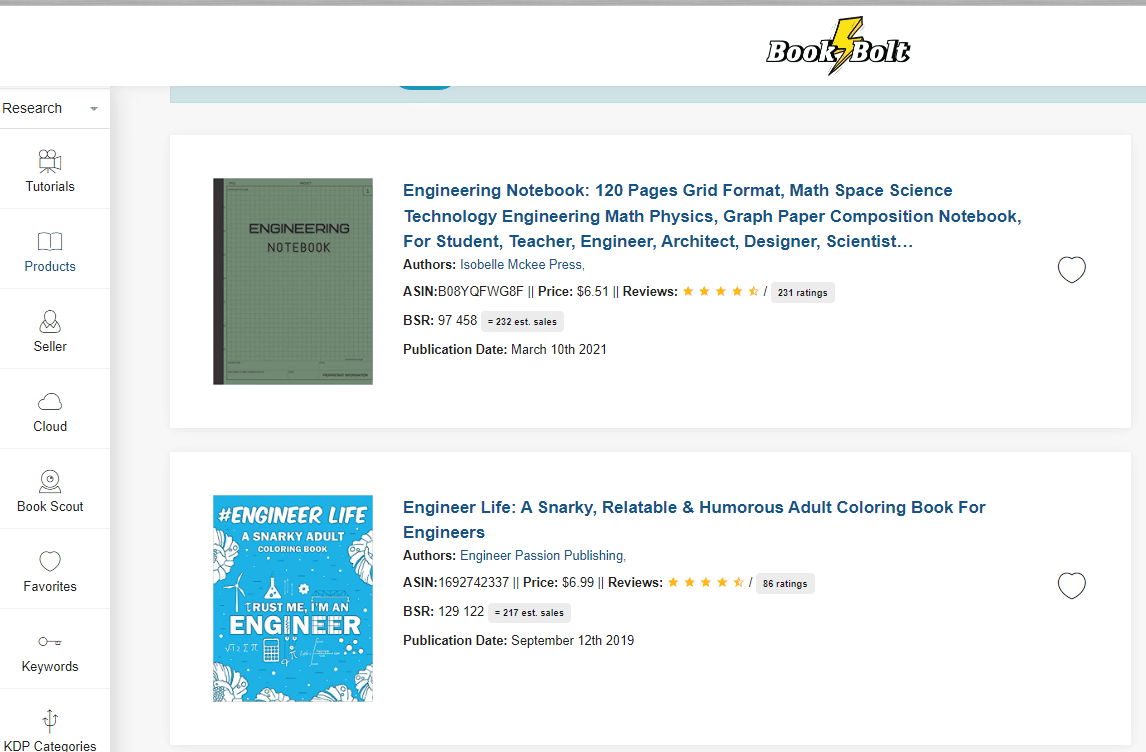 In terms of best-sellers rank (BSR), we noted the following related to each of the three seed keywords mentioned above: "engineer" (1,293,823), "engineering" (989,850), and "engineers" (344,867).
Whereas the first two keywords result in a comparatively low BSR, it's evident that the plural form of the keyword has high potential and is making sales through a BSR in the 300,000s.
Keywords, search volume and BSR
Apart from the three primary keywords referred to above, there are other related keywords that we explored in our research process. These keywords, together with their associated search volume and average BSR, can help us to dig even deeper into the market to discover its intricacies.
Our findings show the following results:
"Engineering": search volume – 28,368; BSR – 989,850
"Engineers": search volume – 22,513; BSR – 344,867
"Geotechnical engineering": search volume – 18,475; BSR – 1,353,370
"Aerospace engineers": search volume – 9,737; BSR – 1,348,326
"An engineer": search volume – 6,543; BSR – 101,500
"Aero engineer": search volume – 4,812; BSR – 1,353,370
"Future engineer": search volume – 3,581; BSR – 1,459,173
"Aeronautical engineer": search volume – 3,151; BSR – 28,206
"Biochemical engineer": search volume – 2,395; BSR – 1,353,370
"Black engineers": search volume – 2,077; BSR – 1,347,623
"Automation engineer": search volume – 1,650; BSR – 1,308,769
What becomes apparent from these results is that most engineering-related no- and low-content books have quite a high search volume, and a BSR that's not too high either.
Most search queries yield results in the region of 1.3 million BSR, but there are also some exceptionally well-performing keywords. These are "an engineer" and especially so, "aeronautical engineer".
Also to be noted here is that the most popular related keywords in the niche are representations of the type of engineering work one does. This is a good direction to follow if you're looking to enter the market. Simply cater your offering to the different fields of engineering.
Keyword saturation
Also important to note is what keywords sellers are using to get in front of their engineer audience. From Book Bolt's Product search module, we were able to extract the following keywords (and the number of times they appear in listings).
This time, we've omitted the seed keyword to show you the type of books and book characteristics mostly associated with the engineering niche.
"notebook" (125)
"graph" (43)
"journal" (33)
"ruled" (24)
"lined" (21)
"quad" (17)
"grid" (14)
"inches" (13)
"log" (12)
"composition" (9)
"blank" (8)
"isometric" (8
From this, we can gather that notebooks, journals, and logbooks are some of the most popular types of no-content books for engineers, although some coloring books do appear in the result. In addition to this, these books are generally lined with quads or grids, which ties in with the computational requirements that engineers have.
Listings saturation
To determine whether the market for engineering no-content books is saturated, we used Amazon.com. What we're looking for here is the number of listings for some of the best performing keywords.
We refined the search parameter next to Amazon's search box to "books" and clicked on the "search" button. From there, we noticed that "engineering notebook" came back with over 60,000 listings. This already signals that there's high competition in this niche.
Other refined keyword searches and their associated number of listings include: "engineering journal" (50,000), "engineering notebook graph paper" (50,000), and "engineering graph paper" (50,000).
Pricing
No discussion of market characteristics is complete without a note on the prices in the space.
A search on Book Bolt for the "engineering" keywords indicates that the lowest-priced sellers are charging $3.88, the highest are going for $29.99, and the average price is $7.48.

What are some of the best-selling merchants doing right?
Based on Book Bolt's insights, we discovered two best sellers that are performing well in this niche.
Firstly, there is Pexelio Publishing with their product titled "Engineering Notebook: 4×4 Quad Ruled Graph Paper Notebook For Engineer, 120 Pages, 8.5″ x 11″". This book has a low BSR of 231,024 reflected by the 152 sales made this month at a price of $4.99.

The second best seller is Isobelle Mckee Press. This seller's product is titled "Engineering Notebook: 120 Pages Grid Format, Math Space Science Technology Engineering Math Physics, Graph Paper Composition Notebook, For Student, Teacher, Engineer, Architect, Designer, Scientist…". With an even lower BSR of 97,458, this item has sold 232 times at a price of $6.51.

In terms of keyword usage, both sellers have optimized their titles and descriptions well by using high-search-volume keywords.
Their prices are both under the average price in this category of items.
Design-wse, they are also quite similar. They use a uniform color scheme and the cover itself is a preview of what the user will see inside, namely, graph paper. The only minor difference is that the titles are positioned in different parts of the book. One seller has opted to place theirs at the bottom right hand side corner of the book, whereas the other has opted to center it at the top.
What is the profitability within this niche?
To determine the profitability these two best sellers are enjoying as a result of their large number of sales, we used Amazon KDP's royalties calculator. This factors in aspects such as whether the book is a paperback or hardcover, the total number of pages, the asking price, and more.
For the first best seller identified above (Pexelio Publishing), we have a notebook that is 120 pages in length. At a price of $4.99 and 262 sales, royalties amount to $0.63 per book or $165.06 in total.
Regarding the second best seller Isobelle Mckee Press, we calculated 322 sales at a price of $6.51 and 126 pages. The royalties per book amount to $1.54, giving us a grand total of $495.88.
With this in mind, it becomes evident that these sellers are making quite reasonable profits from their books ranging from just under $200.00 to nearly $500.00. This makes the niche attractive to pursue.
Our recommendations
Based on the above evaluation, we extracted some best practices to help you refine and improve your sales strategy and listing optimization process.
Keyword usage
We start off with keyword usage. It must be remembered that keywords are used in three places: the title, description, and the seven keyword slots in Amazon's back-end. Both best sellers have made sure to incorporate the word "engineering" and "engineer" to capture the primary seed keywords in this category.
The descriptions are also very detailed and indicate the ideal target audience for these products, as well as what they get. In other words, customers will know that they're specifically getting graph paper notebooks for math calculations, which are ideally suited to designers, architects, different types of engineers, etc.
This is important to emulate, as it ensures that you speak directly to your potential buyers.
Pricing
Next up is pricing. The average price for this category of items is $7.54. Both bestsellers have opted to use a lower-than-average pricing strategy. The first sells at just above the lowest price (resulting in low royalties), while the second has opted to price just under the average (resulting in higher royalties).
It's also apparent that the higher price does not make a huge difference in reducing the number of sales. In fact, the higher price of around $6.00 has captured a wider audience.
This is why it's highly recommended to employ a pricing strategy that's as near to the median for the space as possible. Drastically low prices are often associated with poor quality as opposed to a great deal.
Cover design
The cover design is another important characteristic to discuss. However, while there is room for creativity by including numbers, equations, formulas, and other mathematical features, neither of our bestsellers has opted to do this. Instead, they have simply given a preview of the interior using a uniform color scheme and a title "Engineering Notebook". This means that covers that are not excessively fancy or detailed can be just as successful as those that are.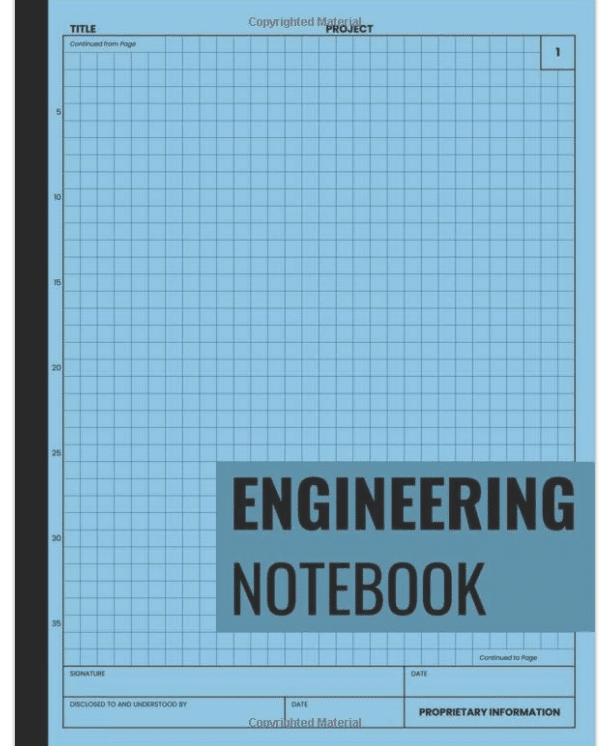 Wrapping up
Catering your no-content book products to engineers has been shown to be a strong niche to get into. Although the market appears competitive, some sellers are faring better than others.
The trick is to offer a product that's functional and well-optimized in terms of keywords.
The best way to achieve that? Book Bolt! For only $9.99 per month, you get access to millions of insights, ideas and functionalities to make the best of your time on Amazon.