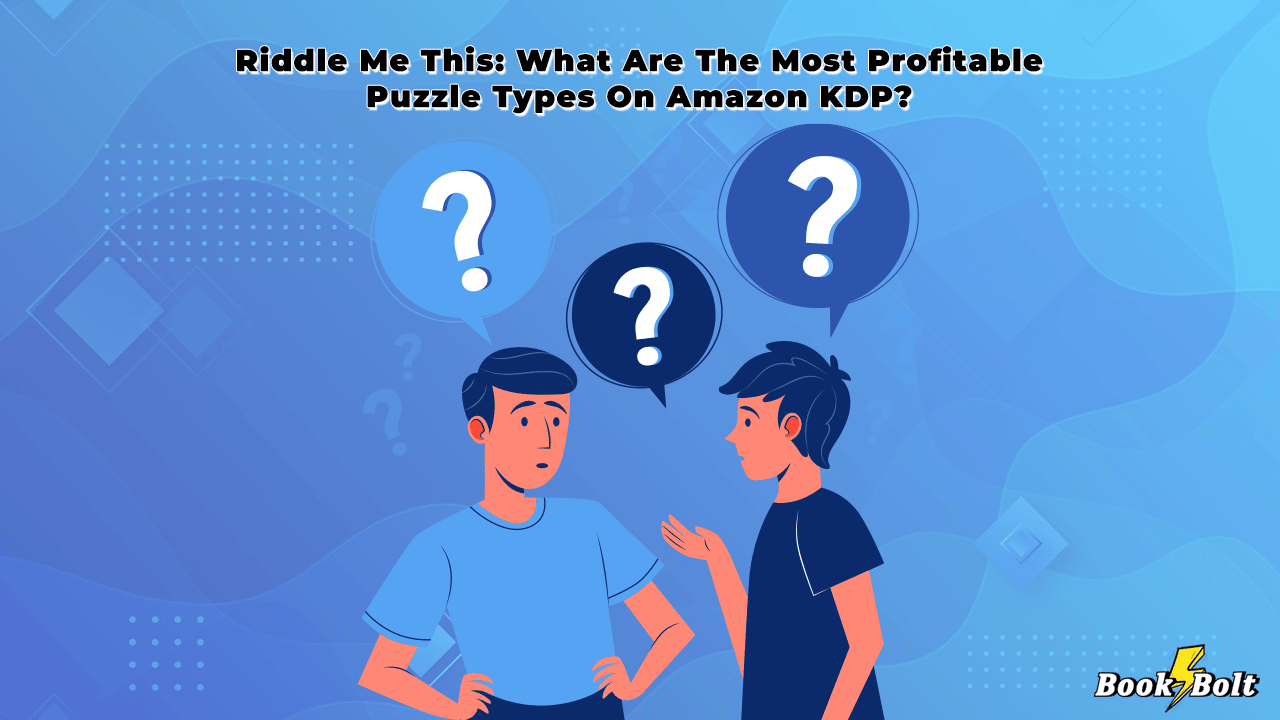 Puzzle books are among the most remunerative low-content book types on Amazon KDP. They're hands down one of the easiest book categories to create (if you have the right tools), consumers love them regardless of the season, and overall the market is not too saturated to limit entry. In other words, puzzle books are a lucrative niche to explore as a Seller.
However, there are different puzzle types to choose from. Naturally, some are more profitable than others. Using Book Bolt, we've dug into the different puzzle book types to share with you some valuable information on the puzzle book market.
Puzzle types on Amazon KDP and their market size
If you're just starting to get to know the puzzle book market on Amazon KDP, you've probably already noticed the rich diversity. There are more than 10 puzzle book types that you can sell on the platform:
Sudoku
Nurikabe
Crossword
Word search
Hangman
Cryptogram
Word scramble
Missing vowel
Mine finder
Maze
Kakuro
Connect the dots
Book Bolt's Puzzle Interiors can help you with the creation of all of the above. But where should you start?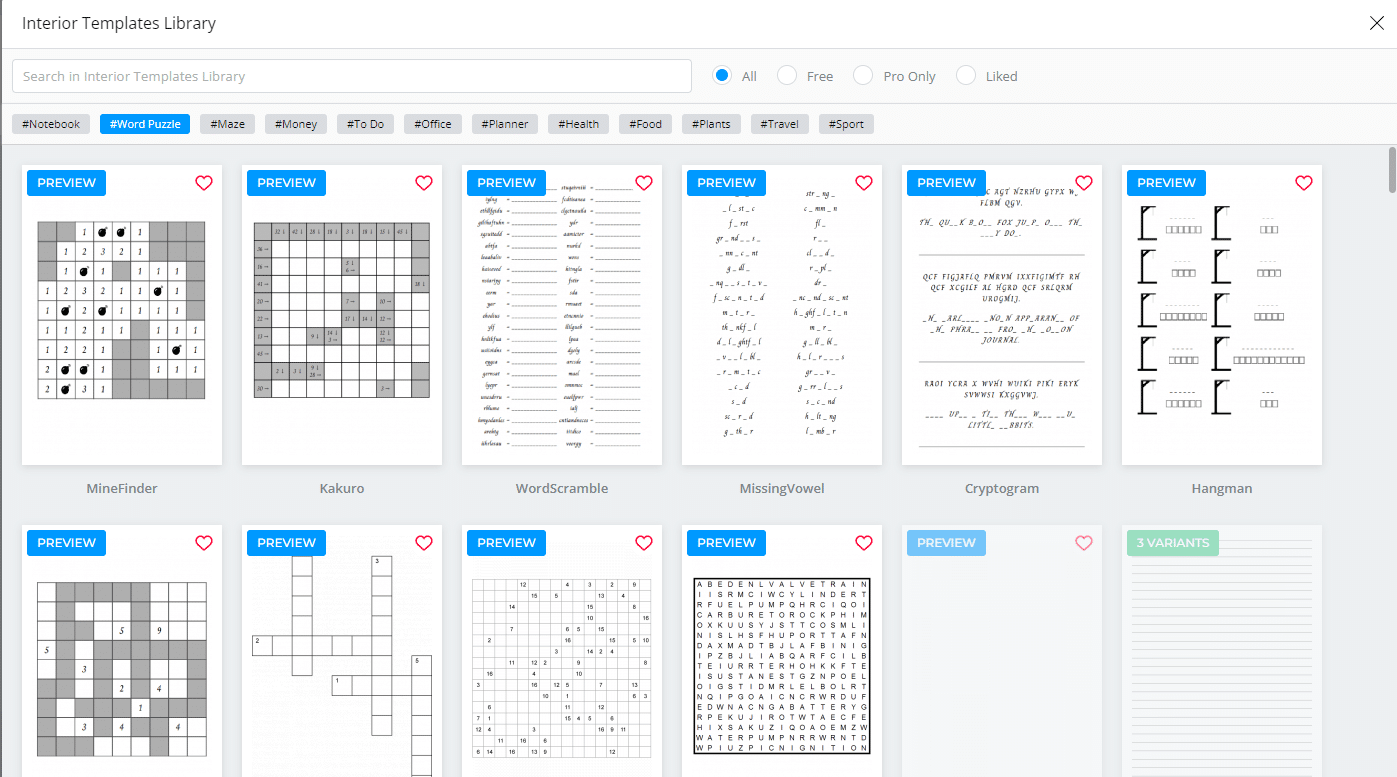 One way to find out is to observe the market size for each puzzle type. When it comes to market size, we always look at two key factors – the number of listings and search volume. The first reveals how many other Sellers are actively competing in the space. The second shows how interested buyers are in the niche.
Number of listings
Since we're only interested in listings that actually sell, we used Book Bolt's Cloud tool to see the 500 bestsellers in the puzzle book space. By looking at the keyword section, we saw how many listings used keywords related to specific types of puzzles. We discovered that 438 top Sellers used the keyword "word", which is related to both word searches and word scramble puzzles. 226 listings used "sudoku", 113 listings used "crossword", and 18 listings used "cryptograms".

There were no results for the rest of the puzzle types outlined above. This indicates that their market size is not very big in terms of competition. However, this is not the case with search volumes.
Search volume
Here is the monthly search volume for each puzzle type on Amazon KDP, along with the keyword competition:
Sudoku – 39,427 – low
Kakuro puzzle book – 36,635 – no data
Cryptogram puzzle – 35,633 low
Crossword puzzle – 34,798 low
Word searches – 31,506 low
Nurikabe – 16,690 – low
Maze puzzle book – 9,407 – no data
Mine finder – 6,322 – no data
Word scramble books – 5,954 high
Missing vowel puzzle book – 3,193 – no data
Connect the dots – 3,174 high
Hangman puzzle book – 3,046 high
It's easy to spot some recurring patterns. Again, sudoku puzzles, word search puzzles, crosswords, and cryptograms seem to dominate with more than 30,000 monthly searches for each. What's interesting is that there are other puzzle types with a significant market size in terms of buyer interest but with few existing listings on Amazon.
For example, "kakuro puzzle book" generates 36,635 searches every month. Yet there are only a few active listings on Amazon for the puzzle type. This is a tremendous opportunity that Sellers can take advantage of. By entering a space with high search volume and extremely low competition, you can effortlessly grab the low-hanging fruit and land easy sales.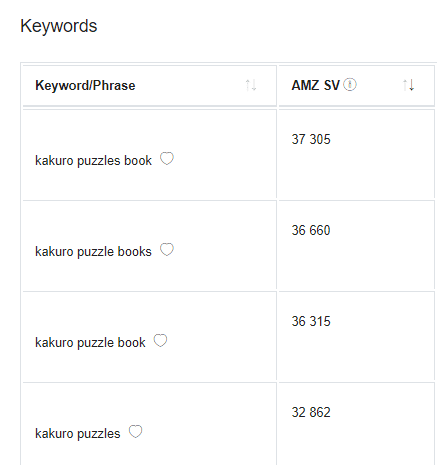 The discoveries from Book Bolt also suggest that puzzle types like 'connect the dots', 'hangman', and 'missing vowel' books are not worth the effort. They receive low search volume and won't expose you to a large audience.
The money-making potential for puzzle book categories
Now that we've covered the first step, it's time to consider the profitability of each puzzle book type. The royalties that you'll receive from your puzzle book sales depend on the price you've set on your listings. In order to stay competitive, you must abide by pricing averages in the niche.
Let's look at the lowest, average, and highest prices for each puzzle book type in horizontal order:
Sudoku: $4.25 – $8.68 – $18.99
Nurikabe: no data
Crossword: ​$4.99 – $8.19 – $15.97
Word search: $2.99 – $9.25 – $19.99
Hangman: $5.99 – $5.99 – $5.99
Cryptogram: $4.99 – $10.40 – $19.95
Word scramble: $2.99 – $9.26 – $19.99
Missing vowel: $5.97 – $6.98 – $7.99
Mine finder: $6.95 – $6.95 – $6.95
Maze: $5.95 – $7.92 – $10.99
Kakuro: $5.53 – $7.94 – $10.00
Connect the dots: $4.99 – $7.81 – $12.97
As demonstrated, the most profitable puzzle book types are sudoku puzzles, crossword puzzles, word searches, and cryptograms. Do these sound familiar? They should, since in the previous section we revealed that they're also the puzzle books with the largest markets.
For you as a Seller, this is a clear sign that these four puzzle types are the ones that deserve your attention. However, you can also experiment with others like "kakuro". The average price for kakuro puzzles is $7.28, which is very close to that of crosswords, which is $8.19. At the same time, the niche is attractive to buyers considering its search volume, but not exploited by other Sellers.

By using this type of logic, you can land your finger on exceptionally profitable niches that you can easily compete in.
A sneak peek into the bestsellers in the puzzle books space on Amazon KDP
So what makes the chart-toppers stand out from the rest in the puzzle book space? Why are some listings more successful than others?
Let's find out.
The number one listing in the puzzle book category is the "Summer Word Search Large Print: 1200+ Large Print Word Search Puzzle Books For Adults & Seniors To Keep Brain Active". It comes with a vibrant book cover, with yellow, turquoise, and red colors. It sells for $6.99, which is lower than the average price of word search puzzles. This gives the listing a competitive edge and makes it more attractive for buyers. Its current BSR is 935, with 613 estimated monthly sales.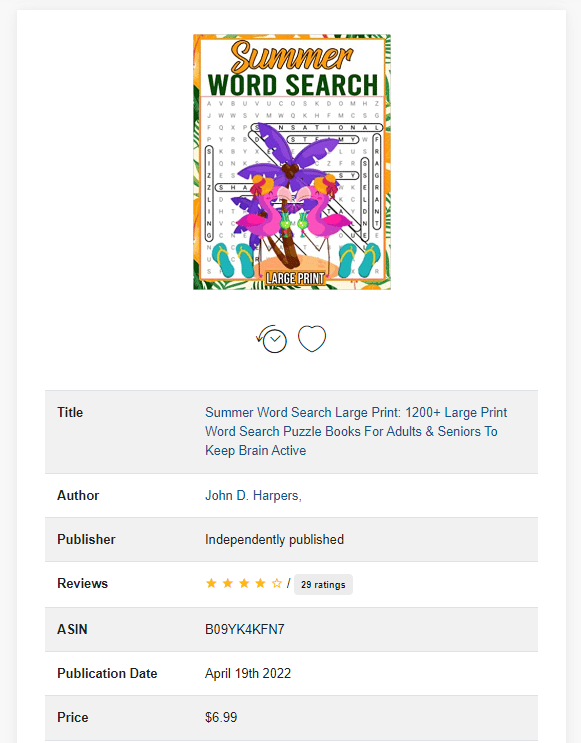 The listing is well-optimized for highly searched keywords like "word search", "puzzle books for adults", and "summer". It's positioned in the adult niche and targets a very specific audience – people who want to keep their brains active. It's also a combo of more than 1,200 puzzles, guaranteeing the buyer that it will satisfy the puzzle craving for some time.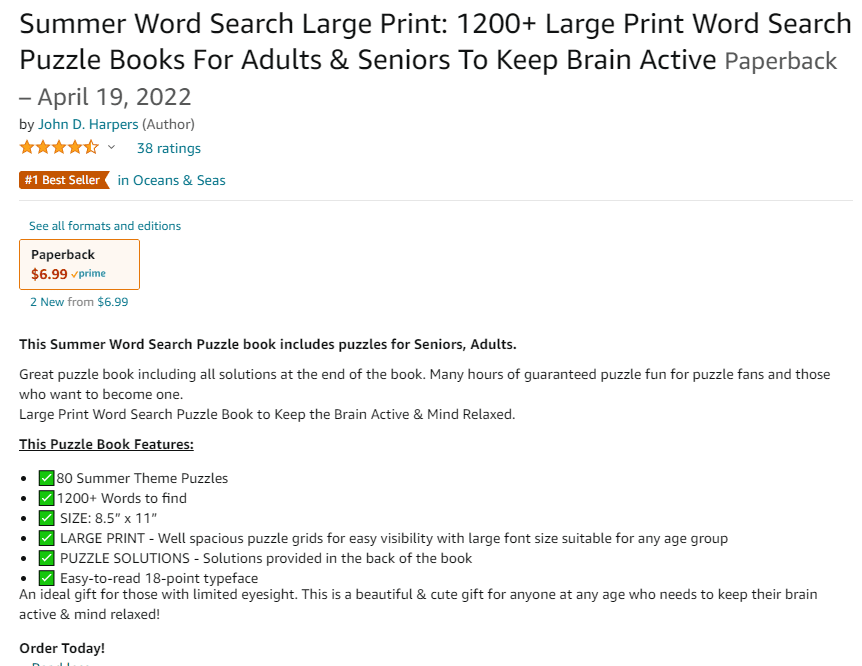 In addition, the product is part of a series, which is an extremely popular tactic in puzzle books. Why? Because this offers buyers peace of mind knowing that there's more to enjoy after they're finished with the first volume.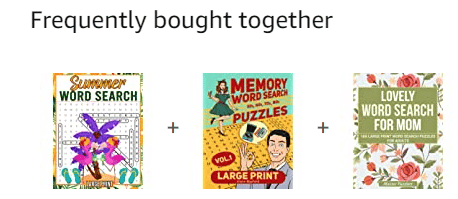 All of this information can be used as inspiration for your own puzzle book listings on Amazon KDP. By understanding what makes a product sell, you have the advantage of incorporating these best practices into your Seller strategy.
How to compete in the puzzle book niche
Let's say you've decided that it's time to diversify your Seller portfolio. You're ready to make the first steps towards competing in the puzzle book niche. What can you do to get a head start and stay ahead of the pack?
Position yourself in a profitable puzzle book niche
As we noticed, the choice of puzzle book type truly matters when it comes to scoring sales. We lifted the curtain to unveil that the most fruitful puzzle book types are word searches, sudokus, cryptograms, and crosswords. Focus on one or a few of these niches in order to enjoy higher traffic and more sales.
Target your puzzle books at the adult segment
Another key tactic is selecting the right audience. Regardless of which type of puzzle book type you choose, the dominating audience in the puzzle book sector is the adult segment. But let's add some proof behind the theory. The keyword "cryptogram puzzles" may have a 37,042 monthly search volume. However, "cryptograms for adult" has 38,026. In other words, more Amazon users search for adult puzzle books specifically.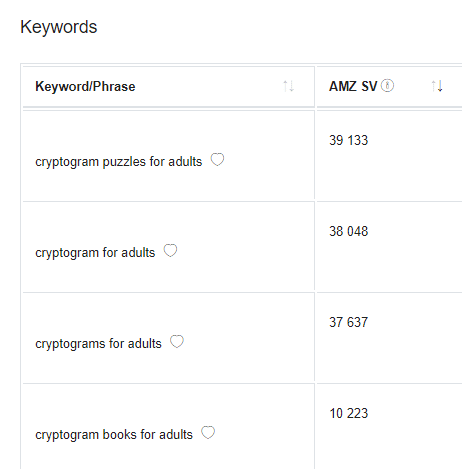 In fact, the keyword "puzzle books for adults" received an astonishing 96,873 search volume. Sure, it's a highly competitive keyword, but combining it with other, less competitive ones will help you increase your listing's visibility.
Create large print puzzle books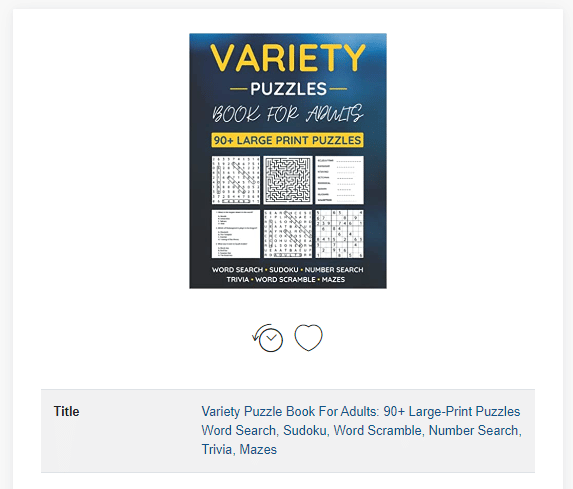 The majority of the top-performing puzzle books on Amazon KDP are large print. This is a clear indicator that buyers love this format and find it convenient. Make sure to describe this advantageous feature directly in the listing title. This will help you utilize it to grab attention from the moment someone sees your product.
Optimize your listings with niche-specific keywords
Don't forget that keywords are your secret weapon to higher ranking and more visibility. Research your niche well and select relevant keywords that receive enough search volume, yet have low competition. From our Book Bolt research, we concluded that kakuro puzzles are an example of a keyword with monumental potential. However, there are others related to specific niches, target audiences, seasons, and more.
Set prices around the average in the market

If you're just entering the puzzle book market, it's advisable to follow a safe and reliable pricing strategy with minimum risk. Put otherwise, it's best to set a product price that is close to the average price in the niche.
For example, if you've decided to sell crossword puzzles and you know that their average price is $8.19, a great starting strategy will be to price your listing at $6.99. This is a number slightly below the average, which also plays a psychological trick on consumers. Basically, you're asking for $7 but the subconscious understanding is that this is a price much lower than most other listings.
Sell puzzle books in volumes
Last but not least, experiment with the opportunity to sell puzzle books in series. A large portion of bestsellers in the puzzle book category sell volumes of puzzle book compilations. This creates loyalty in buyers and suggests that there are more products to be released from the series. If a consumer is happy with the quality of the first volume they've bought, they'll certainly come back for more. This can dramatically improve your sales performance on Amazon KDP.
Wrapping up
Puzzle books can be extremely rewarding and fun to create and sell. By having access to key insights like the ones we explored in this article, you'll be poised to make the right choices. A detailed look at the puzzle book space empowers you to enter the market with confidence, achieve your goals, and enjoy popularity and high sales volumes.