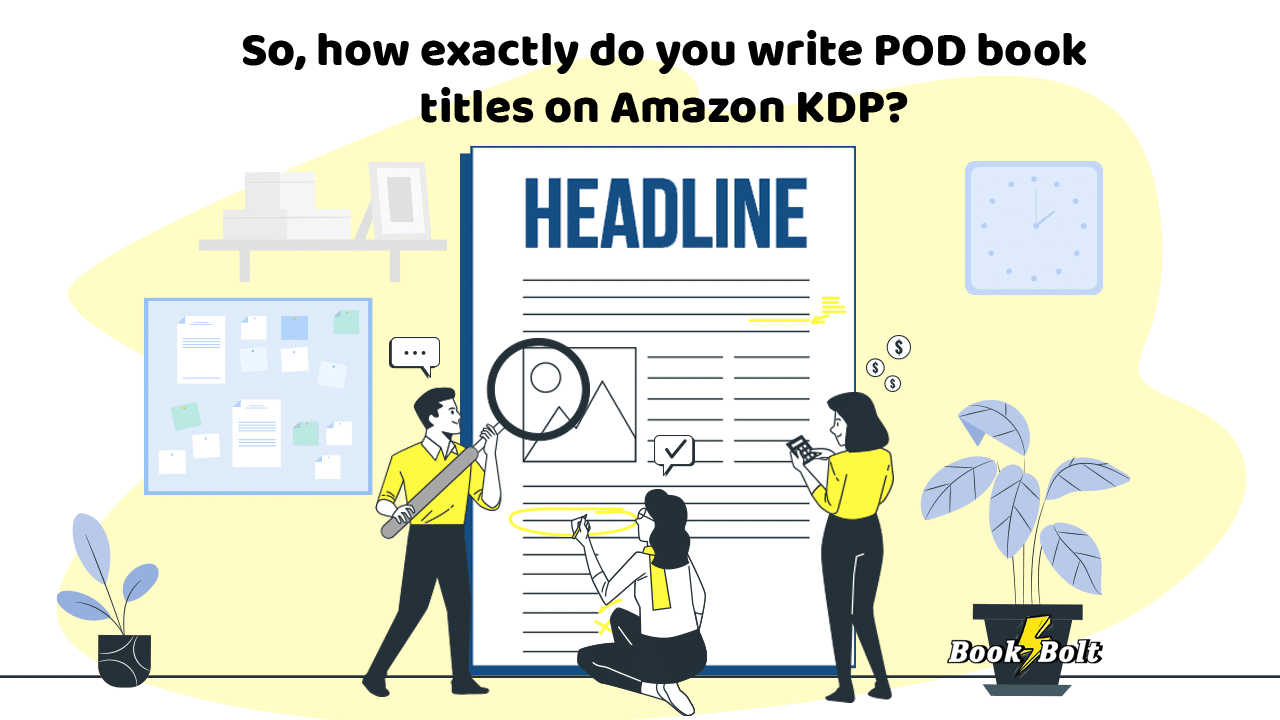 Crafting a compelling listing title on Amazon KDP can work wonders for your no- or low-content book's visibility. A good title is the key to unlocking the door to a vast world of potential buyers. It can attract, inform, and persuade users to click on your listings, while also setting expectations and differentiating your product from competitors.
So how can you write the perfect print-on-demand (POD) book title?
We'll introduce you to this craft in the following article.
What are the benefits of writing a good title on Amazon KDP?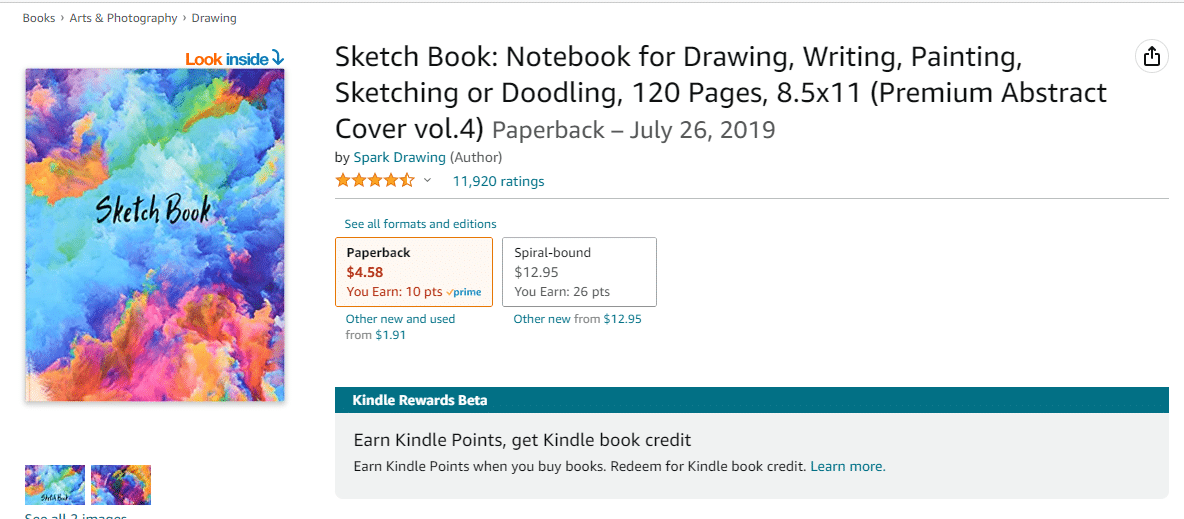 Listing titles are among the most essential factors determining the success of your KDP products. And this is no coincidence. It all stems from the advantages a good title offers.
A strong listing title captures the essence of your book and reflects your brand as an author. It can help you establish a distinctive identity and build a loyal following of shoppers who eagerly anticipate your next release. Most importantly, it can turn around your rankings.
Let's now look at the benefits of a flawless Amazon KDP title in detail:
Attracting attention – a clear, concise, and attention-grabbing title can pique the interest of potential users, inspiring action.
Listing optimization for Amazon SEO – Amazon's search algorithm relies heavily on keywords and phrases found in the book's title and description to determine the relevancy of your product. An optimized listing title can improve your product's visibility in search results, leading to more exposure and ultimately – sales.
Setting expectations – the title of your book can also set expectations for your customers. A well-crafted heading gives consumers a good idea of what your product is and what they can expect from it. This can help ensure that your book reaches the right audience and meets expectations.
Differentiating from competitors – a strong listing title can help differentiate your journals or notebooks from competitors in the same category or niche. This can lead to a competitive advantage.
Building brand recognition – a memorable and consistent low- or no-content book title can help build brand recognition for you as a POD book creator. If clients have a positive experience with one of your products, they will be more likely to seek out your other works, turning into loyal customers.
What are some of the problems resulting from a bad title?
Considering all of the above, it immediately becomes apparent that a poor listing title is a serious problem. But there's another crucial point to consider. Low- and no-content books rely heavily on their titles and cover images to capture buyers' attention, making a compelling title even more crucial.
Here are the issues that typically crop up from a lackluster listing title:
Lack of visibility – without a clear title, your listing risks becoming invisible to those who are searching for similar items. This can spell doom for your book's discoverability and sales potential.
Customer confusion – a vague or misleading title can also cause confusion for viewers, resulting in negative reviews and decreased sales. Avoiding such situations is paramount, especially when your book consists of minimal text.
Missing the mark with the audience – a title that doesn't convey the intended purpose or theme of the book can attract the wrong audience, consequating in additional challenges.
What constitutes a good title
Laying out these foundations is vital for understanding the importance of listing titles. But what makes a good title? Isn't this a subjective concept that is different for all?
No. As a matter of fact, there is a certain amount of science behind it all.
Here are the features that will help you create a title that leaves an indelible impression on shoppers' minds, but also gets you on Amazon's good books.
Descriptive
A good title should be descriptive, providing a detailed representation of what the no- or low- content book contains or what it's intended for. For example, a title like "2023 Monthly Planner: Organize Your Life and Achieve Your Goals" is more informative than "Monthly Planner."
The additional descriptive words in the title boost your visibility and also explain the purpose of the product to the user.
Unique
A unique title stands out in a crowded marketplace and helps your book differentiate itself from similar items. Avoid generic titles that could apply to any book in the same category.
For example, a title like "Unleash Your Creativity: A Guided Journal for Artists and Writers" stands out from the crowd. It's not just a "journal" but is specifically targeted to artists and writers who want to tap into their creativity.
Relevant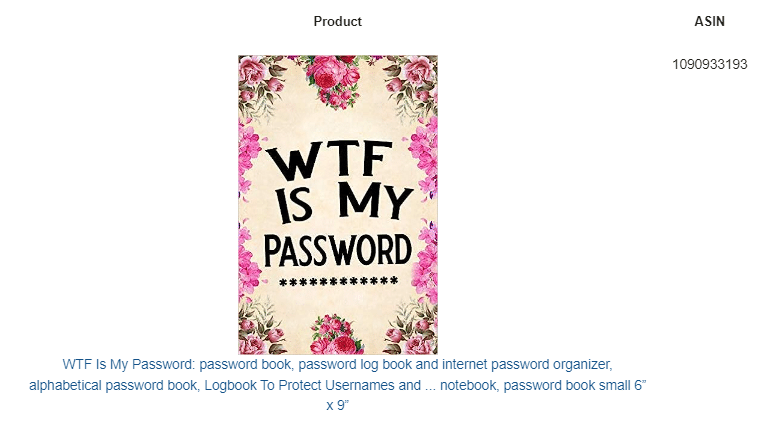 Remember, relevancy is a leading factor in Amazon's algorithm. A relevant title should reflect the content and theme of the book as accurately as possible. For example, if your product is a coloring book for kids in a particular theme, make sure your title conveys that.
For instance, "Ocean Animals Coloring Book for Kids: Fun and Educational Activity Book". This title clearly states the ideal audience (kids) and the theme (featuring ocean animals).
Engaging
After all, your ultimate goal is to make your listing more appealing than that of competitors. An engaging title is more likely to attract shoppers' attention and make them curious about your product.
For example, a title like "The Ultimate Guide to Bullet Journaling: Maximize Your Productivity and Creativity" is more engaging than "Bullet Journal."
Keyword-rich
A title that can position your listing in front of a bigger and more targeted audience contains strategic keywords. They can improve the ranking or your book's visibility in Amazon's search results.
Imagine you're selling a mandala coloring book. A title like "Mandala Coloring Book for Adults: Relaxing and Stress-Relieving Designs" includes niche-specific keywords that Amazon visitors may use when searching for similar items, such as "mandala coloring book" and "adults." It fully reflects the book's content and purpose.
Concise
A concise title is easy to read and remember, making it more likely to stick in viewers' minds. In some cases, a short and sweet title like "Fitness Journal: Achieve Your Health Goals in 2023" is all you need.
There's no need to opt for length if there isn't any additional  value to portray in this section of your listing.
How to write a good title
A well-crafted title is not just a collection of words, but a work of art that requires creativity, skill, and finesse. But most importantly, it necessitates research and informed decisions.
We offer a practical, step-by-step approach to creating high-performing titles on Amazon KDP.
Step 1: Conduct research
To begin, use Book Bolt to perform research. This will help you identify keywords and phrases that buyers are searching for in your niche.
Don't forget about Amazon's search suggestions. This can be a valuable resource for uncovering relevant keywords.
Start typing in a keyword related to your book and see what suggestions come up. Add a dash of creativity to the mix and research synonyms. This will help you land on additional trending words and phrases to the selected theme or sub-niche.
Step 2: Brainstorm
Use the research to brainstorm title ideas. Incorporate the relevant keywords and accurately convey the book's content and purpose. Try to come up with several options, and refine them as you go.
Step 3: Prioritize key information
When selecting the perfect title, make sure to prioritize the most important information. This includes the book's content, intended audience and purpose. These should be represented clearly and concisely in the title.
Step 4: Incorporate keywords
Use the keywords you gathered during your research. This can help improve the book's visibility in Amazon's search results and make it more discoverable.
We highly advise diversifying your title with long-tail keywords. These words or phrases are longer, more specific, and attract a particular audience. For example, "bullet journal for entrepreneurs" is a long-tail keyword that targets a niche audience and will be less competitive than a broader keyword like "bullet journal."
Step 5: Test and refine
Once you have a few possible titles, test them out and observe their performance. Where possible, make changes and adapt the title to the market to attract more interest.
Dissecting an example from the leaders
Let's put all of this in a real-life setting. Using Book Bolt, we identified the number one listing with the highest sales in the coloring book category.

"The Creative Toddler's First Coloring Book Ages 1-3: 100 Everyday Things and Animals to Color and Learn | For Toddlers and Kids ages 1, 2 & 3 (US Edition)" perfectly displays the following:
Use of long-tail keywords (toddler's first coloring book)
Use of strategic, niche-specific words & phrases ("coloring book", "animals", "learn")
Specific audience ("for toddlers and kids ages 1, 2 & 3")
Clear information about what the book provides (100 Everyday Things and Animals to Color and Learn)
All of this, combined with other optimization tactics, have enabled this listing to dominate the coloring book category on Amazon KDP.
Just a piece of the puzzle
Having a good listing title is pivotal for attracting potential buyers to your low-content or no-content book on Amazon KDP. However, it's just one part of the overall listing optimization mix.
There are other elements that play a significant role in shaping the success of your listing, including:
Book Description – а compelling book description provides consumers with an overview of the book's content and purpose. It should be written following some of the basic principles of titles (concise, accurate, specific). However, you can take advantage of a greater length to persuade your audience to take action.
Cover Design – а well-designed cover can make your book stand out among the competition. Ideally, it should be visually appealing, eye-catching, and synchronized with the book's content.
Categories and keywords – choosing the right categories and keywords is another element that must not be neglected. It helps the book appear in relevant search results and boosts its discoverability. When selecting categories and keywords, put yourself in the user's shoes and think about how they are likely to find your book. Luckily, tools like Book Bolt can offer outstanding support throughout this process.
Conclusion
Constructing the ultimate listing title on Amazon KDP doesn't have to be an obstacle requiring hours of your attention. Take the guesswork out of the process by using Book Bolt to your advantage. Follow the steps we shared above and craft a title that will lead to fruitful results and a boost in your popularity as a no- and low-content book seller.