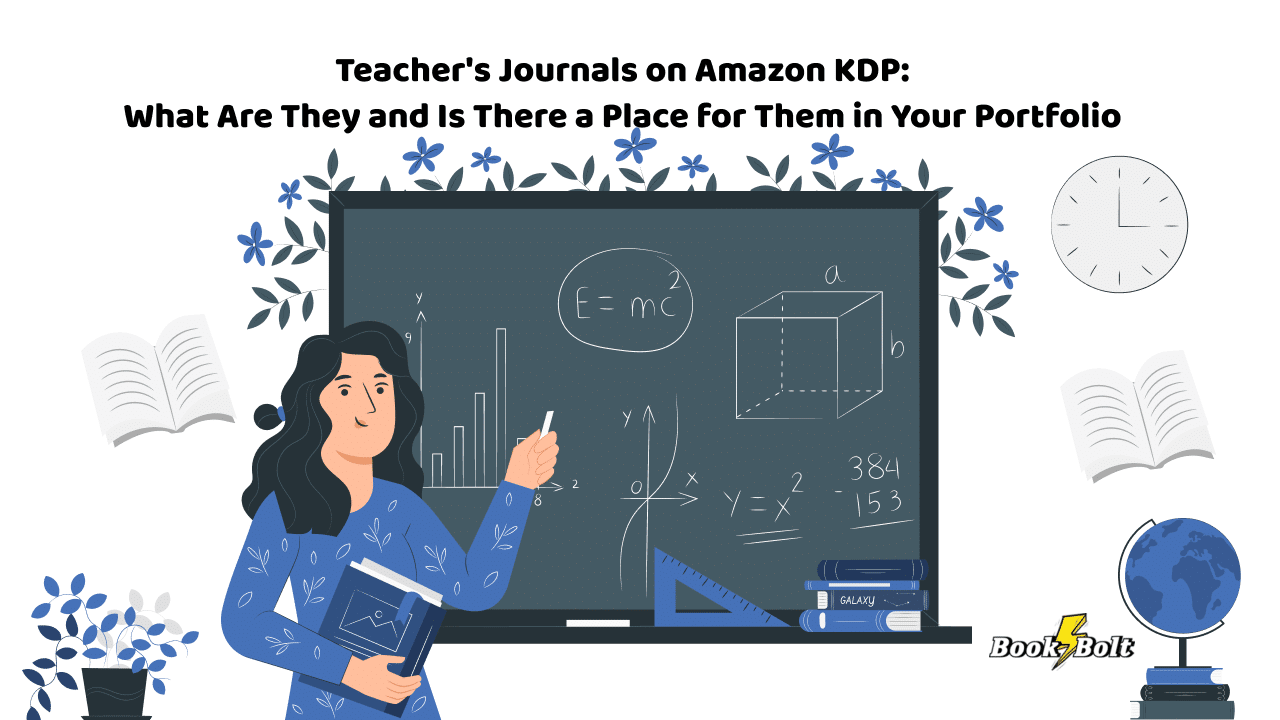 Teacher journals are no-content books that are given to teachers as appreciation gifts. To give you an idea of how popular they are, we're looking at a whopping 1,654 sales distributed among the top five bestsellers, as determined by Book Bolt.
With an average best-sellers rank (BSR) of only 785,902, these books should definitely be in your portfolio. And what better occasion to offer them to your customers than the end of the school year, which is just around the corner.
So, how big is the market for teacher journals?
Despite the BSR average for these books being in the 700,000s, the top bestseller in this category has an absurdly low BSR of only 5,646.
Other bestsellers have a BSR that ranges from the 20,000s to the 50,000s. This is incredibly low and indicates that there's room to maneouver in this niche.
With this in mind, we headed over to Book Bolt to get a better idea of the market.
Keywords and search volume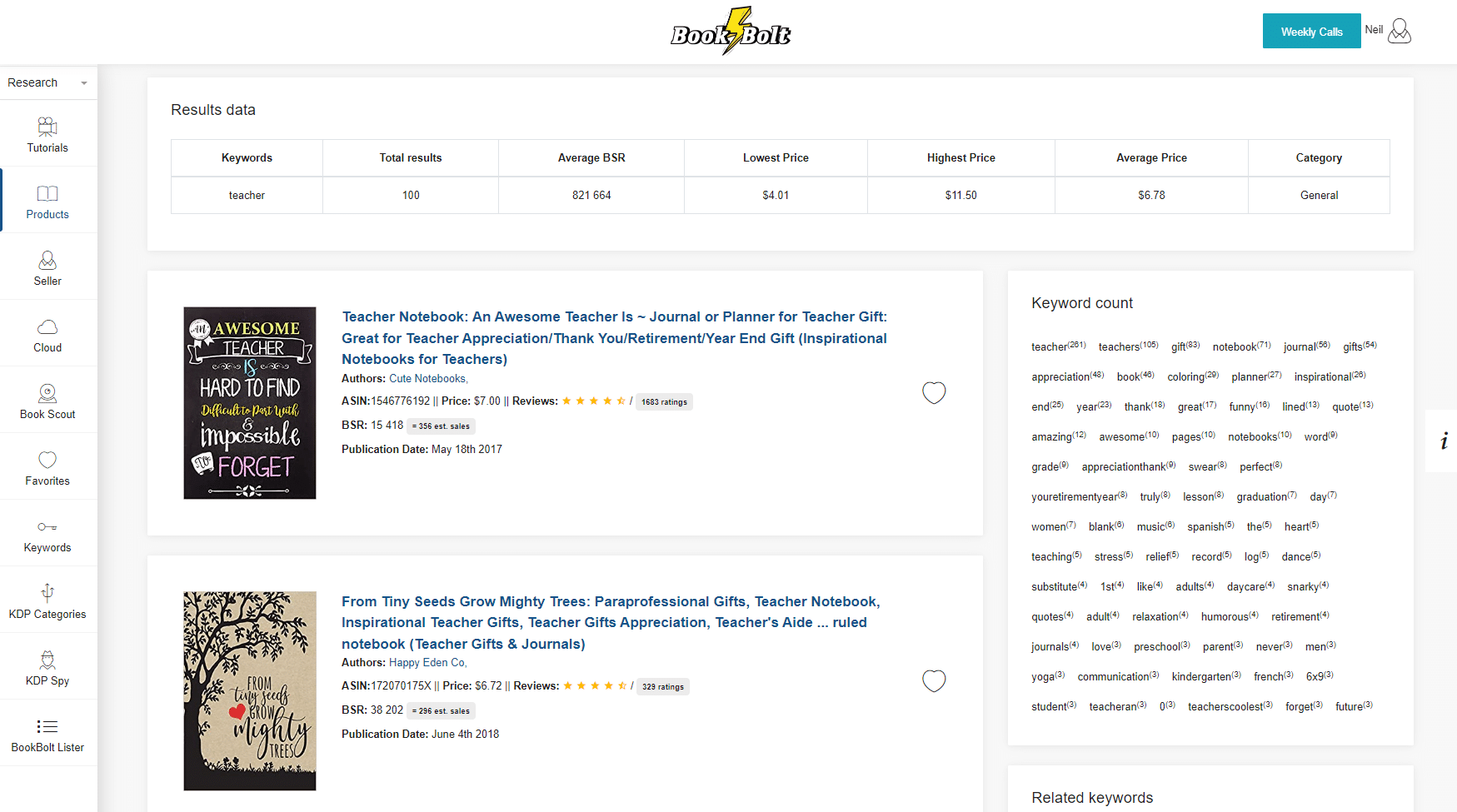 With Book Bolt's Products Search module, we discovered a total of 48 keywords and longtail keywords sporting a combined search volume of 484,064. With this kind of search volume, we need to carefully pinpoint which keywords should be used in your listing.
Here's what we found:
"Teachers": search volume – 232,465
"Teacher teacher teacher": search volume – 38,011
"Teacher": search volume – 15,255
"For teachers": search volume – 7,243
Based on this, we are looking at a 200k search volume for the plural keyword "teachers" and a significantly lower search volume for the singular keyword "teacher" at around 15k. All of the remaining keywords contain the word "teacher" with slight variations.
This is the reason why we are not covering all 48 of the top keywords discovered on Book Bolt. From this then, we can deduce that if you are going to compete in this niche, you need to use the plural term "teachers" in your listing.
Keyword saturation
Apart from the search queries used by buyers, we also explored the key terms used by sellers to help optimize their listings.
Audience type: teacher (292), teachers (73)
Book type: journal (105), notebook (89), planner (22), lined (12), blank (9), notebooks (9), ruled (7), book (7)
Purpose of book: gift (122), gifts (53), present (4)
Related keywords: appreciation (70) inspirational (35), great (29), thank (26), school (15), appreciationthank (13) youretirementyear (11), retirement (11), amazing (9) awesome (9), funny (9), grade (7), teaching (6), students (5), graduation (5), teach (4), preschool (4), kindergarten (4) hard
It's clear that targeting "teacher" and "teachers" as the audience type while simultaneously employing these keywords in titles is a good strategy.
Next up, sellers are targeting journals the most, followed by notebooks and planners.
It's also clear that these teacher journals are presented to teachers as gifts. This is evident in the fact that these gifts are associated with a teacher's retirement or as a thank you at the end of a school year or at a graduation.
The use of these keywords in listing titles means that sellers are actively targeting students who want to thank their teachers for their efforts. When we look at the bestsellers below, this insight will be made more apparent.
Pricing
Because pricing perfectly is such a crucial part of the sales process, we explored the lowest, highest, and average prices for these journals.
Here's what we got from Book Bolt:
Lowest price: $4.95
Highest price: $10.99
Average price: $6.82
What are some of the best-selling merchants doing right?
We identified two bestsellers whose listings generated in excess of 770 sales combined.
Firstly, we have "From Tiny Seeds Grow Mighty Trees: Paraprofessional Gifts, Teacher Notebook, Inspirational Teacher Gifts, Teacher Gifts Appreciation, Teacher's Aide … ruled notebook (Teacher Gifts & Journals)" by Happy Eden Co.

And secondly, we have "Teacher Notebook: An Awesome Teacher Is ~ Journal or Planner for Teacher Gift: Great for Teacher Appreciation/Thank You/Retirement/Year End Gift (Inspirational Notebooks for Teachers)" by Cute Notebooks.

Here's how they got to the top.
Keyword usage
Important to note is that neither of these sellers have used the plural form "teachers" in their listing title. Instead, they've opted for the singular word, which has a lower search volume. Despite this, they are still the bestsellers and are doing something right.
In particular, they are targeting words like "appreciation" and "gift" to signal what the purpose of these no-content books are. Furthermore, they are using words like "notebooks", "journals", and "planners" to try to cast a wider net and generate more interest in their products.
Pricing
With the average price in this niche being $6.82, both sellers have done exceptionally well to each price their products at $7.00. This strategy is powerful because it ensures that you hit the golden mean in pricing and thus earn more sales.
Cover design
The two bestsellers have vastly different covers. Whereas Happy Eden Co has opted to use a cutesy reference to teachers by saying "From Tiny Seeds Grow Mighty Trees", Cute Notebooks has created a cover that looks similar to a black chalkboard that is traditionally used by teachers.
In terms of Happy Eden Co, their cover beautifully matches the text. They have a tree surrounded by smaller plants to effectively mirror and convey the message that teachers have a massive impact on students and their growth.
As for Cute Notebooks, we have the following text in chalk-like style: "An awesome teacher is hard to find, difficult to part with and impossible to forget". This style is effective because it speaks to a broad range of teachers in the K12 range and can be applicable to teachers of any age group or grade.
What is the profitability within this niche?
Using Amazon KDP's royalties calculator, we determined that with over 300 and 400 sales respectively, our two bestsellers are earning the following profit:
Happy Eden Co: $686.75
Cute Notebooks: $890.43
Both of these bestsellers are making over $500 with their products, making this a highly attractive niche to get into.
Our recommendations
When it comes to selling teacher journals, it's worth noting that these gifts can be seasonal. This means that they'll earn you more at the end of a school year or at a teacher's retirement as opposed to mid-school year. However, if you want to thrive in this niche, there are a couple of things to consider:
Keywords: sellers that are making over $500 in this niche are using the singular word "teacher" instead of its plural form, which has a higher search volume. That's not to say that using the singular will fare badly for you. Instead, it's about combining the right keywords together to create the perfect listing title. This necessarily means including words like "gift" and "appreciation" as well as the fact that your no-content book is a journal to more accurately describe this product.
Pricing: with the two bestsellers identified here, we note that both have opted to price just above the average by $0.20 more. This is a strong sales strategy, which allows you to earn higher royalties per item sold without alienating your customers by pricing out of the ballpark.
Cover design: each of the two bestsellers mentioned here has used a completely different cover design. One has used the metaphor of a tree while the other has used a chalkboard. Much like chalk and cheese completely differ from each other, so do these two bestsellers. However, both have beautifully pinned down the magic that teachers create and their important roles in our lives.
Advertising: if you want to up your game on Amazon KDP in this niche, you will also want to try out paid ads. With a budget that you can afford, you can raise your book's visibility and improve your rankings, too.
Final remarks
Although at first you may have thought that teacher journals are journals that teachers buy for themselves, these no-content products are actually mainly presented as gifts to teachers.
If you want to make it into this profitable niche, you need to get as creative as possible with your cover design and price appropriately. You also need to make sure you use the right keywords in your title to capture this audience.
Because of its huge potential, the teacher journal niche is worth exploring. And there's no better way to do that than with Book Bolt. As your partner in the research, design, and uploading process, you can enjoy all of its functionalities for a low $9.99 per month.